How to Sell Photos Online: Best Practices and Where to Do It
Whether you're an amateur or a professional photographer, you can sell photos as one of the most lucrative ways to make money online. Best of all, it doesn't have to be a full-time job. Take beautiful images, upload them, and generate passive income.
But how do you sell pictures online? What are the best places to market your photos? Stick around as we'll answer all of the questions and help you start your business.
How to Sell Photos Online: Explained
We've broken down the process of selling photos online into three simple steps:
1. Decide on Your Photography Niche
Decide on a niche so people know what you specialize in. If you haven't decided on a business idea, experiment with different styles and pick a subject that you like. Do not forget to assess what's trending in the market as well.
After that, perform keyword research to analyze the search volume of keywords related to your niche. As a rule of thumb, anything over 1,000 average monthly searches is likely to bring profit.
Here are some ideas of photos to sell online:
People. Portraits and candids of people spark a lot of attention, and people can use them for their websites, posters, and flyers.
Business. Office-themed images tend to do well since many businesses need them.
Food. This still-life photography genre is popular for commercial use in various disciplines, from advertising to publishing.
Architecture. Take photos of iconic landmarks around you. These images are usually used by travel blogs and sites.
Objects. Many business owners look for single-subject shots, such as books, shirts, or other items, to feature on their product pages.
Nature. Photos of flowers and landscapes are customer favorites. Try taking close-ups to make your images stand out.
2. Choose an eCommerce Platform
There are tons of ways to sell your digital downloads for money. Perhaps you want to set up your own photography website, rely on an agency, or take part in a professional community.
For now, we will specifically talk about selling on stock and non-stock photography sites.
Selling your photos on stock photography sites is convenient as they take care of everything from hosting, marketing, to sales. Such examples are Getty Images and Depositphotos.
However, you don't have much freedom since you need to comply with rules around image resolution, themes, and equipment. In addition, the revenue for each photo is divided between you and the platform.
Non-stock photography sites, on the other hand, grant you the flexibility to control your brand. You can sell any photos you like, use any image format, and set your own pricing.
The downside is that you are responsible for handling the sales and promotion of your images. Although it may take longer to make a sale, you can receive more profit down the line.
Payment-wise, most stock photography sites will pay you monthly once you accumulate a certain amount. Meanwhile, non-stock sites pay whenever you manage to sell photos.
If you choose to sell on stock photography sites, there are two ways of licensing your photos: exclusive or non-exclusive.
Having an exclusive image means you only sell it on a specific site, and stock sites usually pay more for those pictures. Meanwhile, non-exclusive images pay less, but you can sell them everywhere.
3. Build an Audience
Everyone in the creative industry needs to build an audience to improve their online presence.
For starters, set up a portfolio on Instagram or Tumblr. Upload your best work, and then widen your reach by using hashtags. Utilize AllHashtags to get hashtag suggestions and insights into trending topics.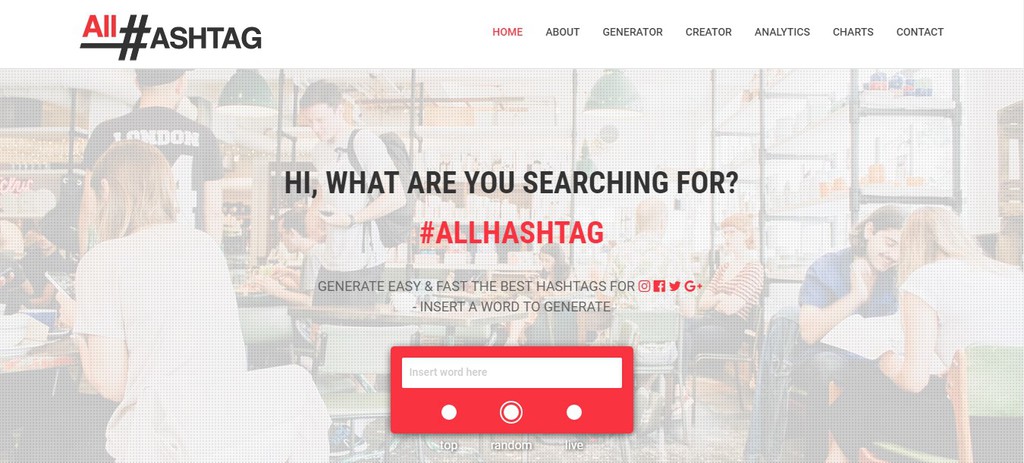 If you have the budget, take advantage of Instagram advertising or Tumblr sponsored posting to get fast results. You can set the target audience and get in-depth reports of your posts.
Last but not least, link your social media accounts to post on multiple sites at the same time. On Instagram, for instance, you can connect the account to Facebook and Twitter.
Tips to Maximize Sales and Profit from Selling Photos Online
Here are some useful tips to grow your online photography career:
Enhance your pictures. Edit the pictures to improve their quality, but avoid over-filtering. Use software like Photoshop or mobile apps like Snapseed.
Add multiple keywords. This strategy helps your photos to rank well in search results. Think of terms relevant to your image and mix them with niche-specific keywords.
Pay attention to details. Avoid using photos with visible brand logos. If your photo is of a person or a building, the involved parties must sign a model release form.
Top 10 Platforms to Sell Photos Online
We've compiled our selections of the best places to sell your photos online, so you can start selling right away.
1. Create an Online Store to Sell Your Photos
Having an online store is the best way to sell photos on the internet. Design the site to suit your brand, sell any photo you like, and retain full control over your work and pricing. Plus, you get to keep all the revenue to yourself.
One of the easiest ways to build a photo selling site is by using WordPress. It's very versatile with thousands of plugins that add extra features to your website. For instance, the Image Gallery plugin boasts gallery styles with many effects and customization options.

Use the WooCommerce plugin to add a shopping cart function to your store. Pick a theme, then edit the layout, font, and color. We recommend using visual editors like BeaverBuilder and Elementor to simplify your page-building process.
That said, using WordPress means you have to purchase a hosting plan to make your site live. Pricing starts at $0.99/month.
If you prefer to use an all-in-one solution, try website builders. They offer hosting, domain name, and an intuitive page editor in one package.
After that, establish your credibility through blogging. Share tutorials, tips and tricks, and other content to improve your website's ranking on search engine results pages (SERP).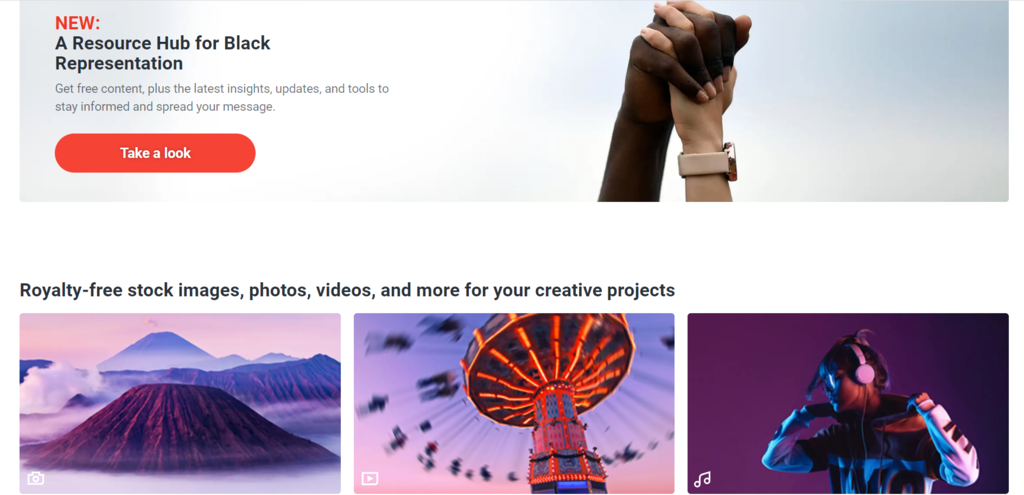 Shutterstock is a widely known photo selling site with millions of buyers worldwide. It provides royalty-free stock images, video footage, audio tracks, and vectors.
As a Shutterstock contributor, you'll earn a percentage of every purchase. The royalty fee ranges from 15% to 40%, depending on your tier.
Following the trends of mobile eCommerce, Shutterstock allows its contributors to upload images on the go with its mobile app.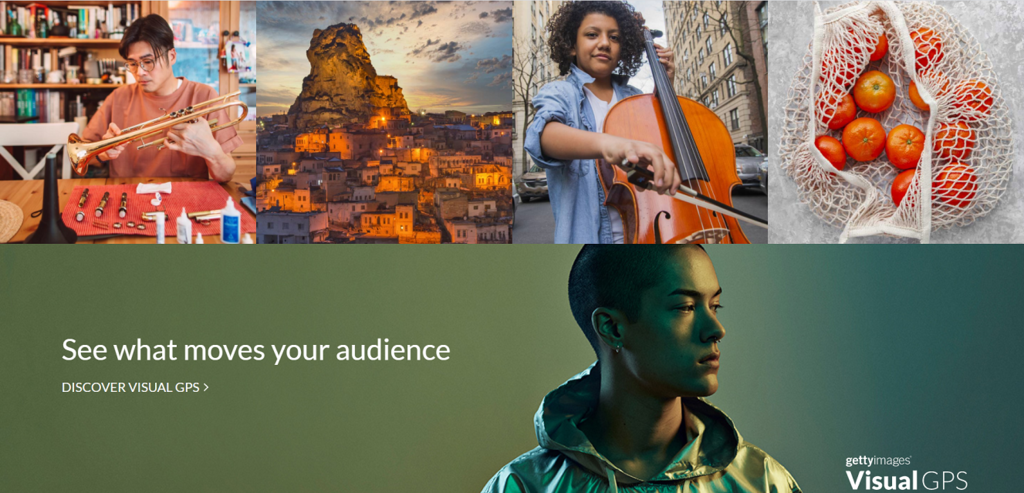 Getty Images is known for its vast stock photography library, popular among publishers and brands for its high-quality content.
To sell images here, download the app, fill out the form, and submit three to six photo samples. Your submission will be reviewed, and the result will be announced a few days after the submission. However, remember that Getty Images requires its contributors to be at least 18 years old prior to applying.
Based on the sales potential of your photos, the editors will sort you into Getty Images or its microstock branch iStock. The former is exclusive with a 20% fee rate, while the latter offers a non-exclusive contract with a 15% rate.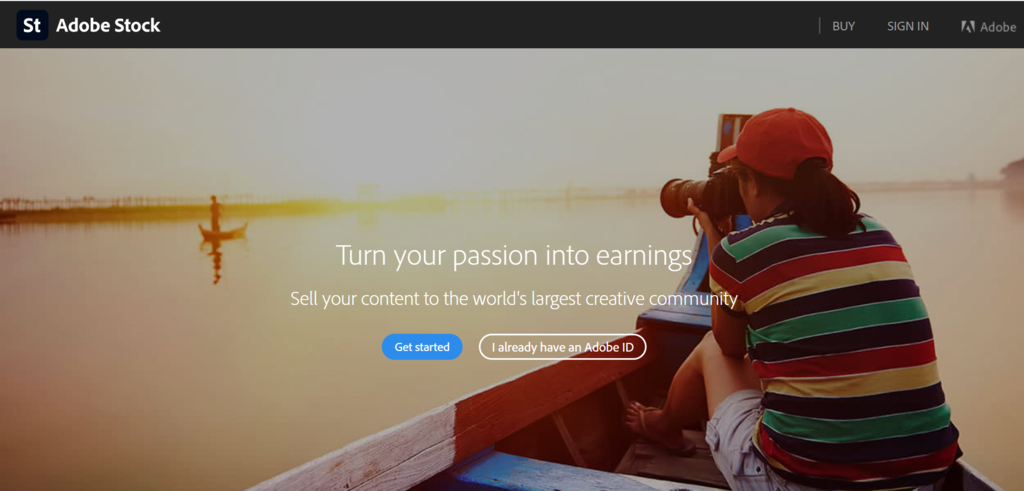 Formerly Fotolia, Adobe Stock is one of the most reputable sites for selling stock photos.
Adobe Stock offers a 33% royalty fee, which they will deposit into your account once you reach a $25 threshold. The percentage is not that high, but the terms are non-exclusive, so you can be making money by selling on other platforms.
Transferring images is seamless, as you can upload directly from their photo editing software or website. Not to mention the auto-tagging system, which will save you time as you don't need to insert all the keywords yourself.
Every photo on the marketplace will be available on Adobe apps, giving you the chance to increase your visibility in one of the largest creative communities.
Since the website offers a lot of prospects, Adobe Stock has strict quality control. Make sure to turn in your best work.
Pro Tip
Input your keywords in order of importance. Adobe Stock includes a handy auto keywording option that suggests up to 25 keywords for you, making this tedious task a lot easier. In the contributor site, you can add or remove terms and rearrange them in order of importance. Make sure to mention not just the subject of your photograph, but also any additional objects in the scene, as well as any action phrases that might be suitable (e.g., sitting, standing, etc.). Unlike some other services, Adobe Stock lets you edit your description or keywords after the photo has been approved.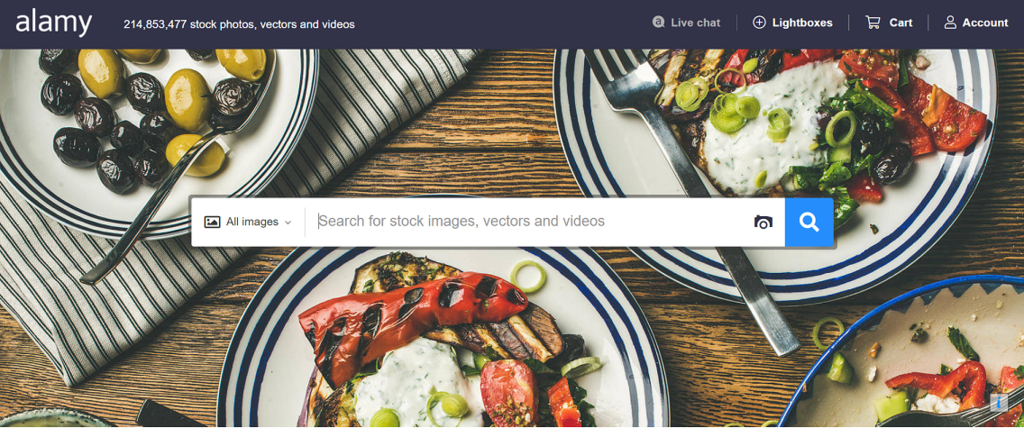 Alamy is a British-based website to sell stock photos and other resources like vectors, videos, and 360-degree panoramic images.
This stock photography site offers generous pay rates of 40% to 50% – depending on whether the image is exclusive or non-exclusive. The company will pay the royalty fee once your total balance is over $50.
The good news is that you can upload phone-taken photos via the Stockimo app. However, it's recommended to use a DSLR camera or equivalent to pass the quality check.
Since it's not as big as Shutterstock or Getty Images, you may need to work harder to increase your exposure. Either way, their royalty fees are higher than the industry average, so you can still earn more down the line.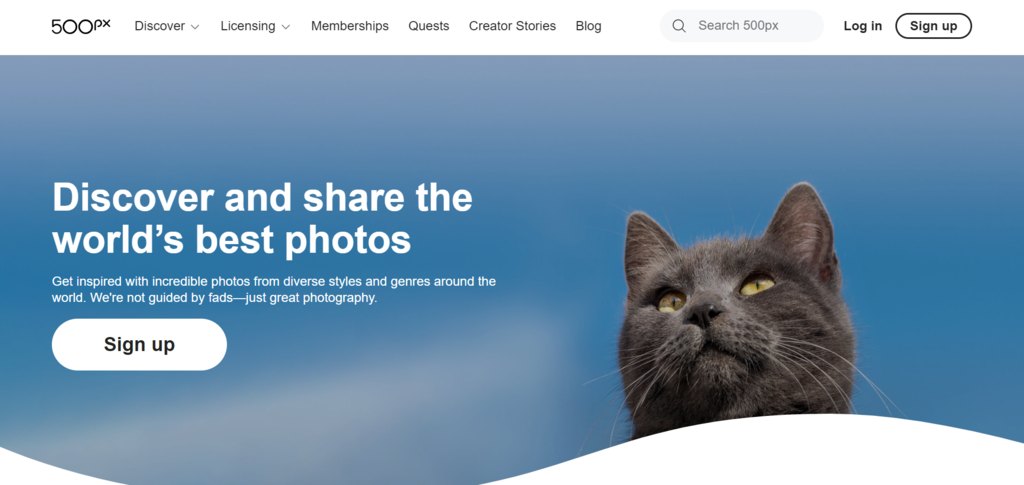 500px is a stock photography site with a community of 14.8 million members. You can connect with other photographers, hold workshops, and build your profile with the likes and views system.
Everyone is welcome to sell photos online, whether you're using a DSLR camera or a phone. Your photos can also rank in the editor's gallery, so be selective when submitting.
The royalty fee is 30% for non-exclusive and 60% for exclusive users. As an alternative, you can also earn extra income by participating in their Photo Quest Competitions.
There are a couple of membership categories. Going with the Free plan, you're allowed to upload seven photos a week. For heavy users, we suggest going with the Pro plan ($5.99/month) that comes with big ad campaigns and Adobe Creative Cloud.
The downside is that you'll have to pay to access the site's best features, which may take away a small portion of your revenue. Still, you can earn more by signing an exclusivity contract.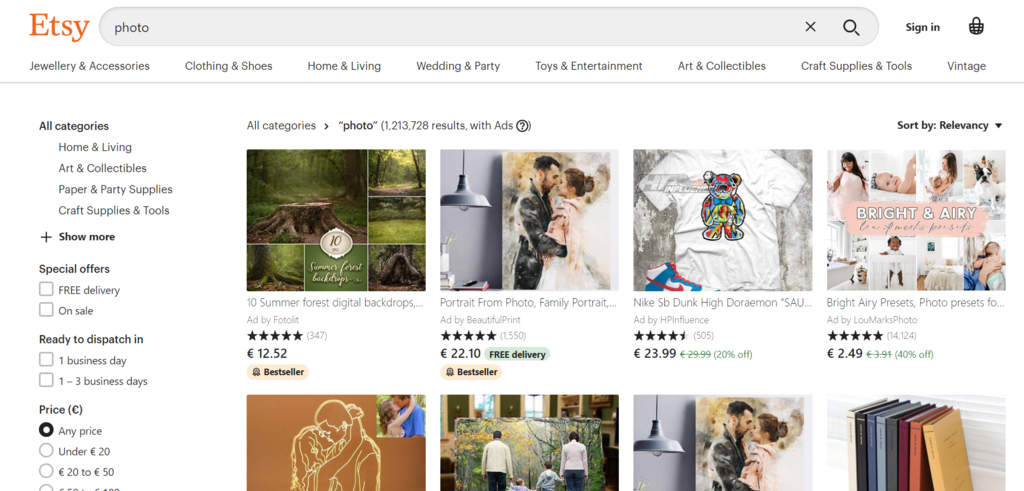 Known as a marketplace for selling handmade goods, Etsy is also a viable option to sell your photos to the 30 million active buyers it has.
Listing costs are minimal at $0.20. On top of that, there'll be a 5% transaction fee and a payment processing fee that amounts to 4.5% of the value plus $0.40. In total, you can take around 90% from selling photos on this platform.
Keep in mind that not everyone on Etsy will be looking for photos. Therefore, you'll need to promote your photos well. Be sure to customize the product titles, descriptions, and tags for your images. Utilize Etsy Stats to see the store's total visits, revenue, and traffic sources.
It may be challenging to sell on an eCommerce platform as big as Etsy, but you can always refer to its handbook for tips about branding, marketing, and pricing.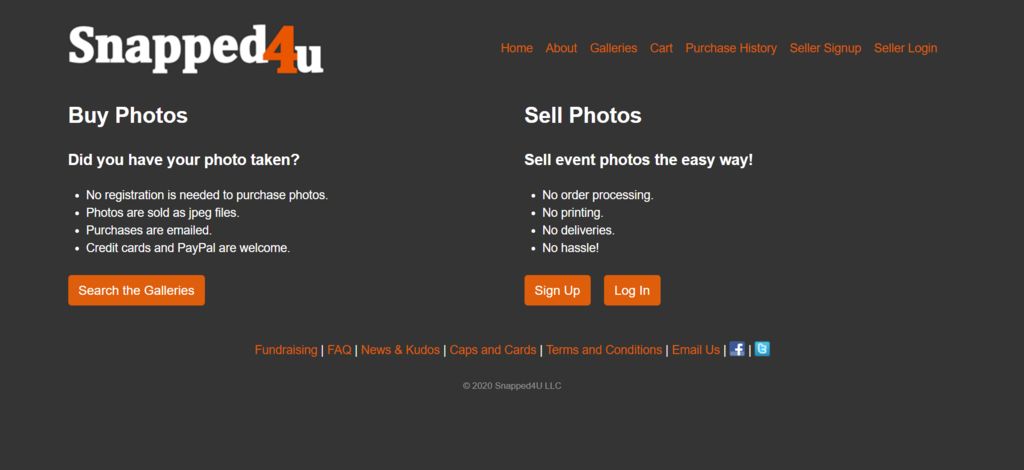 Snapped4U is a stock photo site for portrait and event photographers. After signing up, you will get a personal page to create event galleries.
This platform is convenient for shoppers and photographers. Users don't have to log in to view your work, and you can hold a private show by sharing a personalized URL.
Unfortunately, Snapped4u is not free. The registration fee is $10, and the site will take a $0.50 commission fee on photos priced b or less. Anything above that, and the fee is 10%.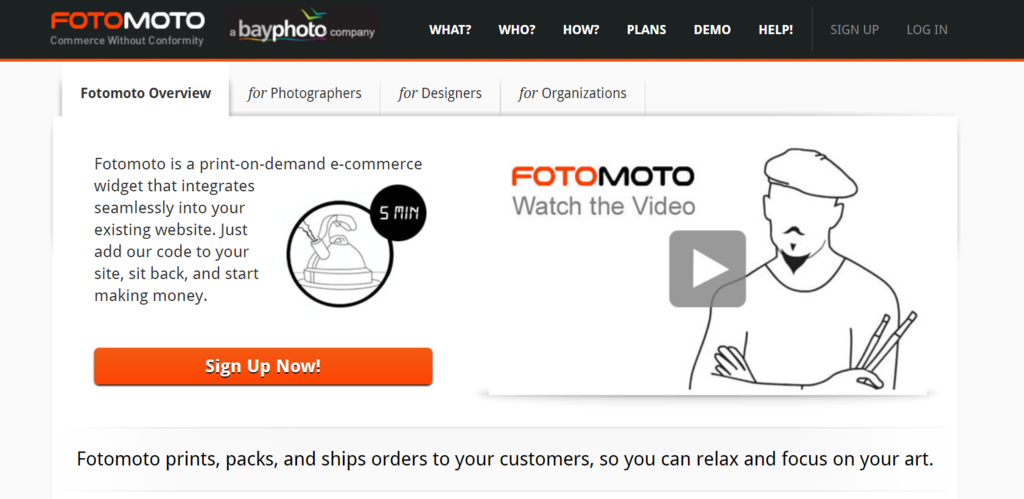 FotoMoto is a service to help you sell printed photos.
To use FotoMoto, you need to add the platform's code to your existing website. That way, your website will have a Buy Button, and the platform will handle all the printing, packing, and shipping for you.
You don't have to pay if you want to sell with FotoMoto as the most basic plan is free. The transaction fees are quite high at 22%, but you can reduce them by upgrading your subscription plan.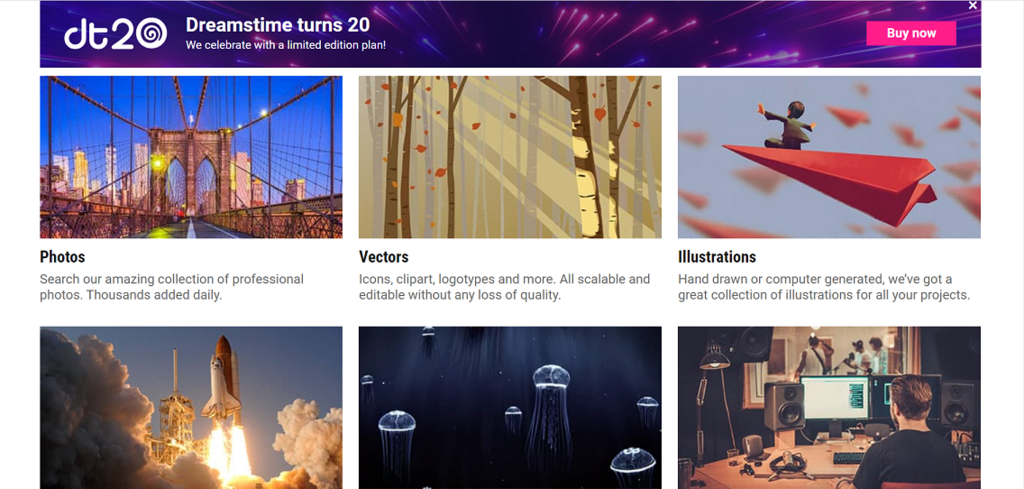 Dreamstime is one of the longest-running sites in the photography industry.
Using this site, you can sell stock images to an international audience and earn 20% to 50% from sales, depending on your level and photo license. The company will release the payment once your account reaches a $100 threshold.
Additionally, Dreamstime has a lot of incentive programs. Increase your exposure by writing for Dreamstime's blog, joining the monthly Assignment contest, and submitting editorial images to be featured on an exclusive page.
Unfortunately, Dreamstime has a weekly upload limit that resets every Sunday, and how much you can upload depends on your approval rating. For instance, users with a 50-80% approval percentage are allowed to upload half of the week's limit.
Frequently Asked Questions About Selling Photos Online
We'll be answering some of the most common questions about selling pictures online.
What Is the Best Way to Sell Your Photos Online?
It's a tough call — all of the sites above have their pros and cons. But if we have to narrow down our choices, here are our top three:
Building your own store — free from any constraints and, best of all, revenue sharing.
Adobe Stock — its intuitive features, along with the ever-innovative community make this site a valuable market to sell stock photos.
Alamy — offering a decent pay rate, Alamy is best for people looking to pursue a photography business as a secondary stream of income.
How Much Money Can You Make Selling Photos Online?
On average, you'll earn $0.25-0.40 per sale when selling on stock photography sites. However, the exact number depends on your royalty rate and the site's pricing method. The latter is crucial since some sites like Shutterstock decide the price for you.
Other factors that affect your earnings are image quality, photo subject, and how many sites you upload to.
Some photographers have even reported generating $500 a month from selling photos online. A tip here is to be persistent with your work and keep progressing.
Conclusion
If you want to sell your photos online, you need to decide your photography niche, choose an eCommerce platform, then grow an audience base to drive more traffic and sales.
There are many ways to sell images online. You can create a photography website, source stock photos to agencies, or sell on stock photo selling sites.
Once you know how to sell photos online and the best places to do so, you can start your business and earn money from photography.