Sell Photos Online: Best Websites for Selling Photos Online + Profit Tips
Selling photos is one of the best ways to make money online for those passionate about photography.
Businesses and advertisers always look to purchase images they can use on their marketing materials. As a result, there are many websites connecting these businesses with photographers.
From stock photography websites to building your own online store, we have compiled the top 10 best options to help you choose the best place to sell your photos online. We considered various factors, including the commission rate and special features.
On top of that, we'll offer useful tips on how to maximize profit when starting your online business of selling images.


Top 10 Websites to Sell Photos Online
The following are 10 of the best places to sell photos online. This list consists of various platforms, including microstock and stock photo sites, online marketplaces, a photo-sharing platform, and an eCommerce widget.
1. Your Own Website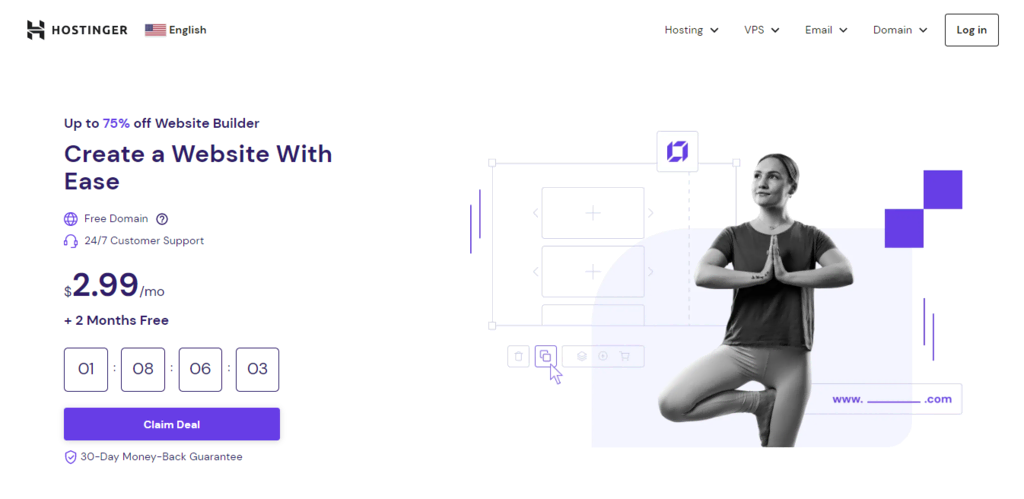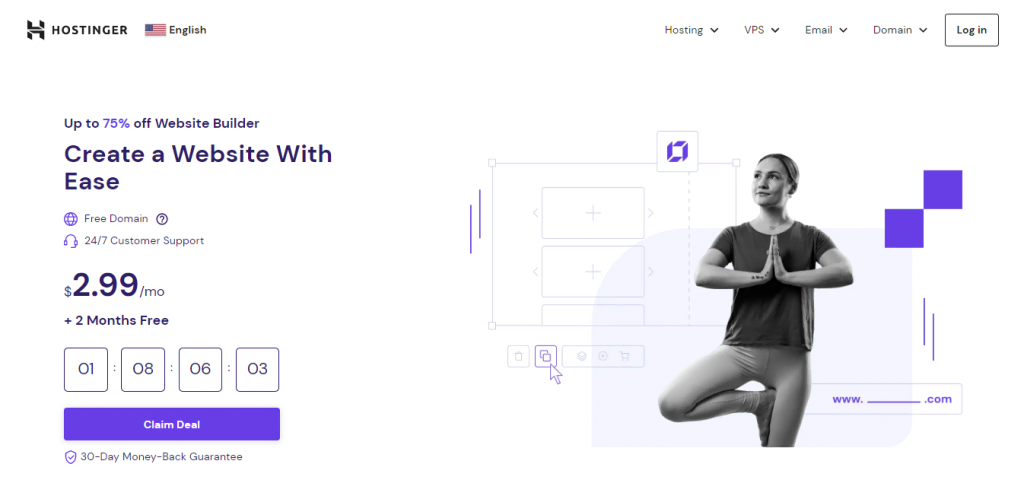 The best place to sell photos online is your own site. This method gives you full control over your online photography business, including its pricing, display, and terms and conditions. Most importantly, you get 100% of the profit from your sales.
There are two main ways to make your own photography website – using a content management system (CMS) or a website builder for photographers. A CMS has a steeper learning curve than a website builder, but it gives you more control over your site.
With a CMS, you will also have to purchase a web hosting plan and a domain name. On the other hand, most website builder plans typically already include elements like hosting, maintenance, and support.
Go with a CMS like WordPress if you want a more hands-on method, or build your own website using a website builder like Hostinger for a quick and hassle-free approach.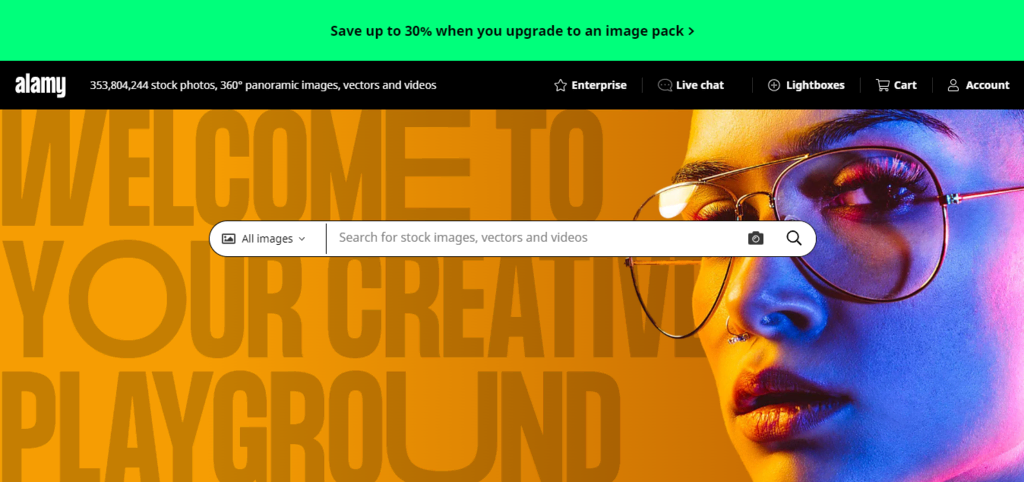 Alamy is a British stock photography website offering numerous images, vectors, and videos. It pays over $1 million every month to its contributors.
The stock agency offers various tools to track customer needs and sales. It also doesn't edit submissions, so creators have full control over their works. Alamy's contributor contract has a 45-day notice period, and you can start selling images online within 24 hours after uploading them.
There are three commission models: Alamy Silver, Gold, and Platinum. Alamy Silver contributors earn a 17-20% commission, Alamy Gold contributors get 34-40% from a sale, and Alamy Platinum contributors obtain 40-50%.
In addition, this stock photography site is a great place to sell your photos online if you're a student contributor, as you will earn a 100% commission for two years.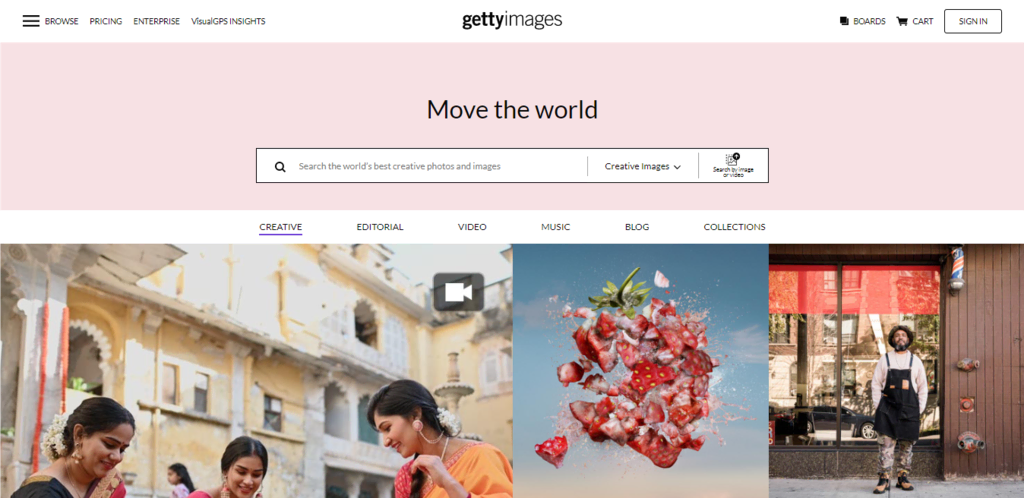 There are three different stock photography sites operating under Getty Images Holdings, Inc. – Getty Images, iStock, and Unsplash.
Getty Images is a stock photography website, while iStock is a microstock photography provider. Even though both are great places to sell your photos online, they differ in the number of sales and the pricing system.
Stock photo websites facilitate fewer sales compared to microstock websites, but they also offer higher prices. iStock contributors can earn around 15-45% commission, while Getty Images contributors get 20% for still images and 25% for video clips.
Acquired by Getty Images Holdings, Inc. in 2021, Unsplash is a previously free stock photography website. This stock site now offers Unsplash+, a paid tier providing customers access to curated content that can be used for commercial purposes. Those who sell stock photos on Unsplash+ get a one-time compensation of $5-$30/image.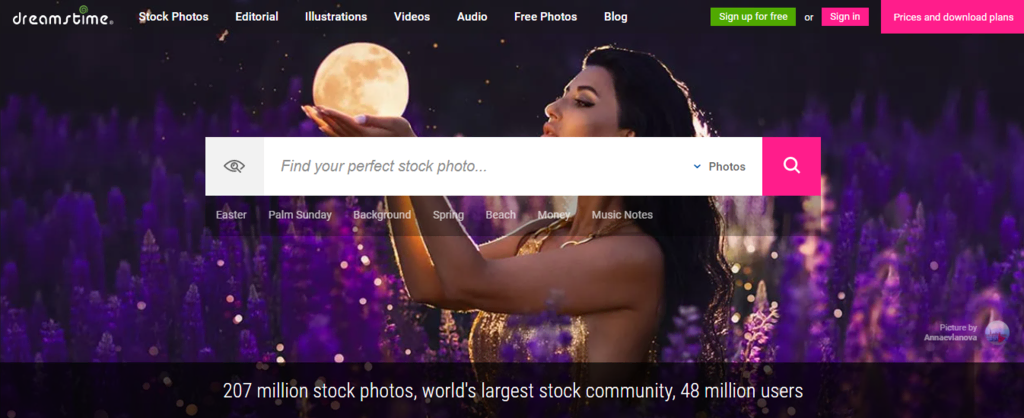 Dreamstime is a royalty-free microstock media provider with over 40 million users and a large library of over 200 million stock media files. In addition to stock photos, it offers vectors, video clips, and audio files.
The stock photo site offers contributors a 25-50% revenue share, with exclusive images receiving an additional 10% bonus. Furthermore, exclusive contributors get a 60% revenue share for all sales and an additional $0.20 for each approved submission.
It also has a referral program offering affiliates 10% of the gross value of their referee's transactions. This arrangement lasts three years after registration per referral and applies to contributors and customers referred to Dreamstime. To help affiliates, the platform offers tools such as links, badges, banners, and a WordPress plugin.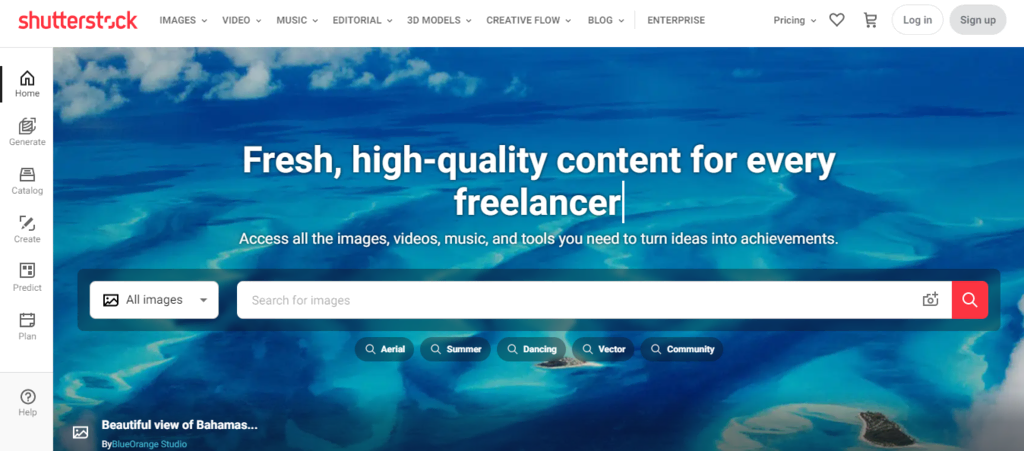 Shutterstock is a provider of stock media like images, vectors, video, and music. Over the last 15 years, it paid out over $1 billion to its contributors. The platform lets people submit content, create and share a personalized portfolio page, and track earnings.
A contributor's earning rate increases as more of their content gets licensed. There are six earnings levels for stock photos and videos, letting contributors earn 15-40% commission.
In addition, users can earn money by referring people to Shutterstock. When an artist signs up using your link, you earn $0.04 on images and 10% on videos when their work is downloaded. When a buyer signs up with your link, you can earn up to $200 on their first payment.

Integrated into the Adobe Creative Cloud platform, Adobe Stock is a microstock media provider offering a wide variety of high-quality assets. These include royalty-free images, illustrations, vector graphics, templates, music, and videos.
The stock photo website offers contributors numerous advantages. People can upload, keyword, and sell stock images using Adobe's machine-learning intelligence and import albums directly from Adobe Lightroom. Moreover, Adobe Stock artists also get free access to Adobe Portfolio, a tool that lets users create a portfolio website quickly and easily.
Regarding revenue share, Adobe Stock offers contributors 33% royalties for images, vectors, and illustrations and 35% for videos. You can also sign up for the Adobe Affiliate Program for extra income. If you promote Adobe Stock on your platform using its marketing banners or text links, you can earn $72 for a monthly payment or 8.33% of every single purchase.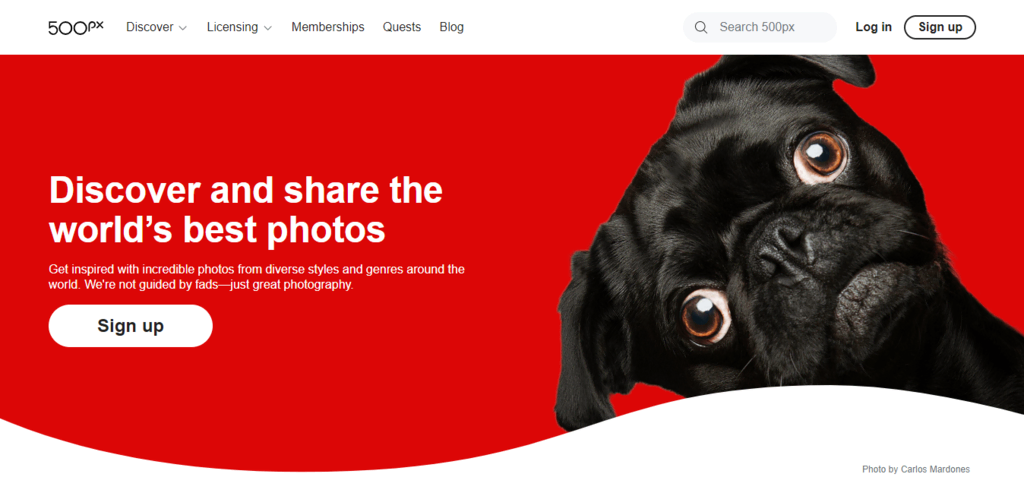 500px is a photo-sharing platform for photographers to sell photos online, connect with one another, give or receive feedback, and find work opportunities.
It comes with numerous useful features. For example, its Pulse algorithm constantly shows new photos and photographers, while its Statistics feature gives photographers insights into their photos' performance. The platform also offers Quests, which are weekly creative photo challenges people can participate in to win prizes.
There are three 500px membership levels: Free, Awesome at $3.99/month, and Pro at $7.99/month. 500px offers members of all levels the opportunity to become contributors. Free members can earn 60% of net sales when they license photos exclusively with the platform, while Awesome and Pro members get 100% commission.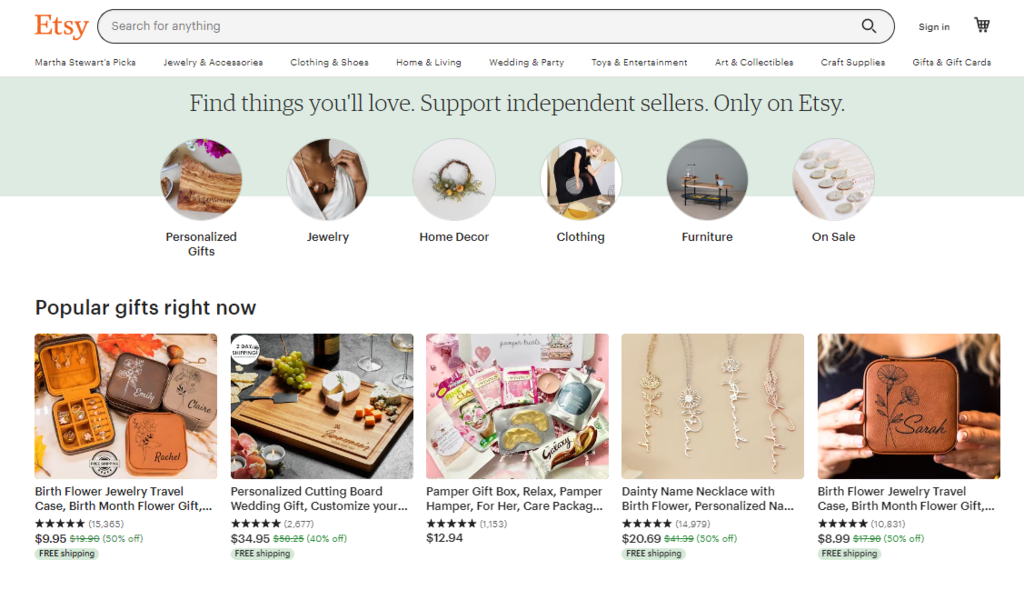 Catering to people interested in creative goods, Etsy is an online marketplace focusing on handmade or vintage items and arts and crafts supplies. Many also use the platform to sell photos online, both in the form of digital images and physical prints.
Etsy sellers are subject to three different fees – listing, transaction, and payment processing fees. It costs $0.20 to list an item. If it sells, Etsy charges a 6.5% transaction fee on the sale price, including shipping. If you use Etsy Payments to receive money, it also charges a 3% + $0.25 payment processing fee.
Signing up and starting a shop is free, but you can pay $10/month for Etsy Plus to get extra perks. In addition, sellers can sign up for Etsy's Offsite Ads program to have the platform advertise their products across the web. All sales from the program are subject to a 15% fee.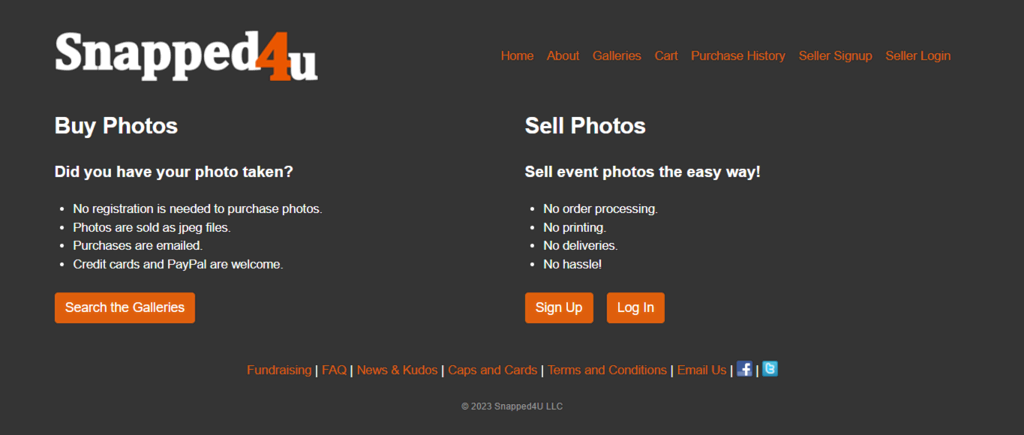 Snapped4U is an online marketplace specifically built for selling portrait and event photos. Photographers can create a gallery, set their own prices, and upload images in the .jpeg format. Then, they can send the photos via email after receiving payment from clients.
Each account owner has a Personal Page showing all of their active galleries. The user can also add an image and short bio as well as personalize their URL. Moreover, you can also choose to make a gallery private using a password.
Photographers can post pictures for free, but there is a $10 registration fee. Snapped4U also takes a commission for each sale.
US accounts are subject to a $0.50 commission fee for photos priced at $5 or less and 10% for photos above $5. On the other hand, non-US accounts are subject to a $0.60 commission fee for photos priced at $5 or less and 12% for the rest.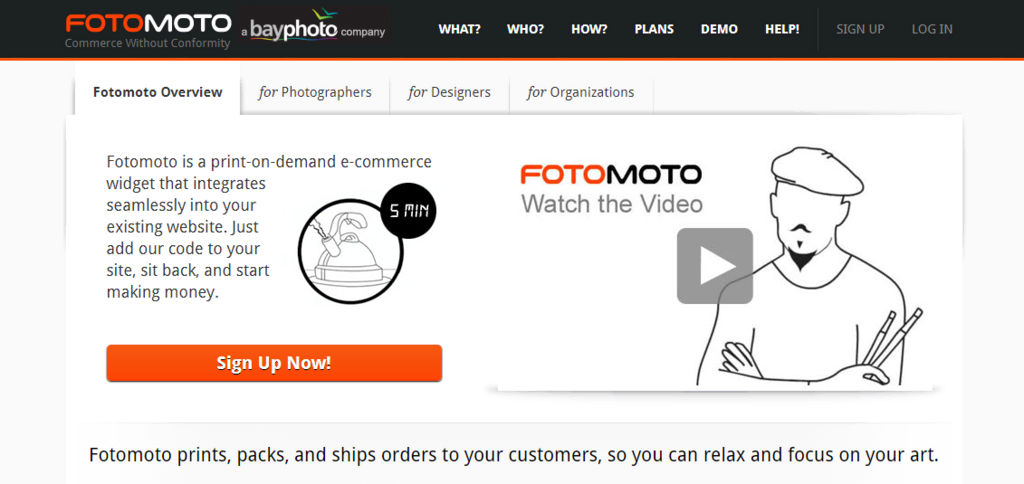 Fotomoto is an eCommerce widget offering print-on-demand services for selling digital products or photo prints. It integrates seamlessly with your website and supports numerous platforms, including WordPress and Joomla. Its intuitive dashboard provides users with useful customization and tracking tools.
To use the widget, users need to sign up, link their payment method to the Fotomoto account, and set up their online store. Once the Fotomoto shopping widget is added, Buy buttons will appear next to images on the user's site. After receiving orders, site owners can let Fotomoto's network do all the work or fulfill the order themselves.
The platform offers three subscription plans. The Free plan doesn't require the user to pay, but it charges a 22% transaction fee. The Pro plan is available at $10/month with a 12% transaction fee. Finally, the Pro Plus plan costs $25/month and charges 10% for a transaction.
Tips for Selling Photos Online for the Most Profit
Check out some of the most useful tips and tricks to keep in mind when you sell pictures online to maximize profit.
Choose Your Subjects Carefully
Figure out your target market and choose your subjects accordingly. Ideally, you want to select a photo type of high demand and broad appeal.
A great way to learn about the current market demand is to conduct research on popular stock photography trends. For example, you can conduct keyword research to find out the search volume related to certain photography styles.
Some examples of subjects to take photos of include people, food, architecture, and nature. Think about the kind of audience your photos appeal to. For example, stock photos of people in office settings are popular as they are widely used on business or corporate websites.
Pay Attention to Lighting and Composition
Learn basic photography techniques to create clean, sharp, and visually pleasing photographs. Consider the kind of lighting and composition that would complement your subject best.
For example, consider the light's intensity, direction, and quality. Intensity is the brightness of the light, while direction refers to where the light is coming from and the kind of shadows it casts. The quality of light refers to how soft or hard the light is.
In terms of composition, cut out unnecessary elements to emphasize what your photo points to. This is achievable through various ways, like getting closer to the subject or taking advantage of the depth of field. Try using the rule of thirds to find out the subject's ideal position.
Use Relevant Keywords and Descriptions
The practice of using relevant keywords and descriptions is part of search engine optimization (SEO). Optimizing images for search engines will make them easily searchable and identifiable. The photos will rank better in search results and appear under relevant categories or niches.
Use a straightforward but descriptive title. Describe what is happening in the photo, but avoid overexplaining. Include the appropriate keywords in both the title and description. Take advantage of all the features the photo-selling site provides for you to describe and categorize the image. These may include tags, location, size, and orientation.
Promote Your Photos Using Social Media
Social media is a great tool for building an audience and attracting potential buyers. Create a social media profile to showcase your best work, use hashtags to increase visibility, and interact with followers to drive engagement.
Set up accounts on multiple social platforms to widen your reach and target different audiences. This includes photography networking platforms like VSCO and Flickr, which let you connect with fellow photographers and gain inspiration.
Additionally, consider marketing your photos via sponsored posts, as they can help you target specific demographics and track statistics. Examples of such programs include Instagram Ads and Pinterest Ads.
Diversify Your Portfolio
Focusing on one niche or style may be a good idea for those just starting out. Down the line, however, diversifying your photography portfolio can increase the chances of people discovering and purchasing your works. Diving into several niches and exploring different styles and genres of photography not only help you maximize earnings but also expand your skill sets.
Creating works in several niches, genres, and styles means exposing your work to a wider range of target audiences. You can also sell photos via multiple platforms and tailor photos to each platform's demand. In addition, branching out into video production is another good idea for diversifying content.
Upload New Photos Regularly
Uploading new photos regularly while maintaining a high quality helps to keep your portfolio fresh and improve your skills.
Constantly providing new content also attracts more potential customers. This is because people will see the consistency in your photo production and quality through your regular uploads. People may even start to recognize your style and deliberately seek it out.
Enhance Your Pictures
Stock photo buyers expect a quality higher than photos they can take themselves. Therefore, it is a great idea to perfect photos using various photo-editing software.
Various edits can be necessary to produce clear and high-quality photos. For instance, you may need to remove an image's background, reduce its sharpness, or apply some color correction.
There is a wide variety of free or premium image-editing software. Examples of free options include GIMP and Pixlr. If you have the budget, however, we recommend using premium software like Affinity Photo or the industry-standard Adobe Photoshop.
Understand Your Legal Rights and Obligations
Before you sell your photos online, make sure to familiarize yourself with your legal rights and obligations in the stock photo industry.
Double-check whether your photos are legal before selling them. For example, your work must not contain copyright infringement. If your photo shows identifiable people and properties, you must obtain the proper release forms before selling the image. You also may not have full copyright ownership if you took the photo as an employee or got paid by a third party to take the photo.
When you upload photos on stock photography websites, you're not selling people the copyright. Instead, you are licensing the right to use your work in various ways. Some examples of permissions you can offer include exclusive rights, non-exclusive rights, and managed rights.
Also, check if you need a business license to sell photos online. Photographers might need to have creative and artistic licenses to pursue and monetize their talents.
Conclusion
Selling photos online is an excellent side hustle for a professional photographer or an enthusiast. There are many websites to sell photos online, each offering different commission rates and features.
If you still have trouble deciding which platform to use, take a look at our final recommendations of the best places to sell photos online:
Your own website – best for those looking for full control and flexibility.
Shutterstock – best for selling large and high-quality stock photos for billboards and print media.
Getty Images – best for creative and editorial stock photography.
Etsy – best for selling photography prints.
Alamy – best for student photographers.
There are some best practices to keep in mind to maximize profit when you sell pictures for money. Choose subjects carefully and think about lighting and composition. Increase exposure by using relevant keywords and descriptions and promoting your work via social media.
In addition to uploading new photos regularly, diversify the kinds of photos you take and enhance them using photo-editing software. Whichever site you use to sell stock photos online, don't forget to familiarize yourself with your legal rights and obligations. Good luck.
Sell Photos Online FAQ
This section provides the answers to commonly asked questions regarding how to sell photographs online.
What Types of Photos Sell the Best Online?
Earning money as a photographer will be easier if you sell pictures of nature, electronics, and business-related subjects. 

In addition, research shows that most best-selling photos are shot at dawn or dusk – snapshots without harsh lighting. Photos with unidentified subjects and images featuring customizable blank signs are also highly popular.
Is a Professional Camera Necessary to Sell Photos Online?
Not necessarily. The basic requirement is you need to produce photos that are sharp and of high quality. Technically, you can produce high-quality images with a very good smartphone camera, but we highly recommend getting a camera. 
How Much Money Can I Make Selling Photos Online?
How much money you make when you sell images online depends on many factors, like the platforms you sell on and their commission fees, contributor exclusivity, and your geographical location.

Most photo-selling websites or stock photo agencies typically offer contributors anywhere from 15-60% of revenue share.
Do I Keep Ownership of My Photos if I Sell Them Online?
Yes, in most cases. You retain full copyright ownership of your photos if you sell them online. When you sell photos online, you are not selling the copyright to those images. 

Instead, you are offering the license to use your images under the terms and conditions that have been agreed upon.