How to Start a Freelance Business in 2023 + Strategies for Success
Freelancing is a popular alternative to a traditional full-time job that enables you to choose your own work hours. Based on your services and expertise, you can also select projects that align with your interests and skills.
In this article, we will walk you through seven essential steps on how to start a freelance business. We will cover everything from finding the right niche to effectively managing freelance projects.
Following these guidelines will give you valuable insights into building a strong online presence, setting fair pricing, and attracting clients. We will also share some tips to help you start a freelance career.
Download Checklist: How to Start an Online Business
Why Start a Freelance Business
The global freelance industry is growing rapidly, with freelance platforms valued at $4.39 billion in 2022. To learn why you should tap into this market, let's explore some compelling reasons to start your own freelance business.
Flexibility and Independence
Running a freelancing business offers the flexibility to work during your most productive hours. Moreover, you have the independence to choose the clients and projects that resonate with you and align with your interests.
This flexibility enables freelance workers to achieve a better work-life balance, helping them to prioritize personal development and pursue other activities outside of work.
Pursue Your Passion
Unlike traditional employment, freelancing empowers you to pursue your passion and work on projects that ignite your creativity and enthusiasm.
Instead of being confined to a narrow job description, freelancing enables you to leverage your skills, expertise, and interests to select projects that align with your personal goals. The alignment between your work and passion can improve job satisfaction, motivation, and happiness.
By doing what you love, your freelance startup can become an opportunity to start an exciting journey of personal growth.
Large Earning Potential
As a freelancer, you can earn more by leveraging your skills, expertise, and reputation in the industry.
Unlike traditional jobs where a fixed salary may limit your income, the freelance industry allows you to determine your own worth. As you build a solid client base, your earning potential becomes virtually limitless.
Therefore, you can increase your income exponentially. If you keep working towards it, freelancing can provide you with financial stability and the ability to save for retirement.
How to Start a Freelance Business in 7 Steps
Let's dive into the practical steps to launch your new freelance business.
1. Choose a Freelance Niche
Selecting a niche that aligns with your skills, interests, and market demand is crucial when starting a freelance business. Here are a few reasons why:
Expert positioning. By focusing on a niche, you become an authority in that field. Future clients are more likely to trust you when they see you as a specialized expert, which can lead to increased demand for your services.
Attracting prospective clients. A well-defined niche helps to target your ideal clients effectively. When catering to a specific audience, you can tailor your services to address their unique needs.
Delivering exceptional value. A niche that aligns with your skills and interests enables you to deliver value to the target market. Your expertise and passion will be evident in your work, leading to satisfied clients and potential referrals.
There are a few ways to identify a profitable niche. First, start by evaluating your skills, strengths, and areas of interest. Consider what you are passionate about and what you excel at. These qualities will drive your motivation when you start freelancing.
Then, conduct market research to discover the demand for services within various niches. Look for a relevant freelance industry experiencing growth. Understanding the market demand ensures that your chosen niche has a sizeable pool of potential clients.
Once you pick a niche, the next step is to do a SWOT analysis, which stands for strengths, weaknesses, opportunities, and threats. It can provide valuable insights into your chosen niche's potential for success.
Strengths. Identify your strengths in the chosen niche, such as specific skills or experiences that set you apart from competitors. Leverage these strengths to build a strong foundation for your own freelance business.
Weaknesses. Recognize where you may have limitations or areas for improvement. Addressing weaknesses early on helps you proactively work on skill development and overcome potential challenges.
Opportunities. Explore opportunities within the niche, such as emerging trends or untapped markets. Capitalize on these opportunities to expand your client base and increase your own business growth.
Threats. Identify potential threats or challenges that may impact your success in the niche. Understanding and preparing for threats will enable you to develop strategies to mitigate risks.
Now, let's explore some popular freelance business ideas to help you get started:
Web designer or developer. Create attractive and functional websites using coding or no-code site creation platforms. You can take care of every aspect of web development, including hosting and optimization, or just web design.
Photographer. Capture meaningful moments for clients through photography. Specialize in genres such as portrait, product, or event photography to meet diverse client needs.
Video editor. Transform raw footage into compelling videos for marketing and social media purposes, combining your storytelling skills with technical expertise.
Graphic designer. Craft a visually engaging graphic design for multiple projects, such as banners, ads, and promotional materials, helping businesses establish their brand identity.
Copywriter. As a freelance writer, you make persuasive written content for marketing materials, website copy, and social media posts, communicating your clients' messages to their target segment.
Data analyst. Analyze and derive insights from diverse data sets, helping customers make data-driven decisions to optimize their operations.
Search engine optimization (SEO) consultant. Optimize clients' website content to improve search engine rankings and increase organic traffic.
Artist. Create and sell handmade crafts through local and online marketplaces.
2. Set Up the Freelance Business
As a self-employed individual, setting up your freelance business involves handling legal and financial aspects independently. This includes crafting freelance business contracts and managing your annual revenue.
Let's explore the key steps to establish your freelance business for success:
Choose the Right Business Entity
One of the initial steps in starting a freelance career is to register as a freelancer. You have several options to establish your business entity, each with its own legal implications and tax considerations.
The most common business entity for self-employed freelancers is a sole proprietorship. Operating as a sole proprietor means you and your business are considered one legal entity, providing a simple setup for your freelance business.
Alternatively, you may consider forming a Limited Liability Company (LLC). This structure separates your personal assets from business liabilities. As a business owner, this choice offers greater security for your personal finances.
Obtain the Necessary Licenses and Permits
To operate your freelance business legally, you may need specific licenses based on your location and the nature of your work.
Research the licensing requirements in your area and ensure you obtain any necessary permits for small businesses. Seeking advice from local authorities or professional advisors can help you navigate this process smoothly.
Complying with legal regulations not only safeguards your freelance business but also builds trust with your clients. Being licensed will assure them of your commitment to professionalism and adherence to ethical practices, fostering positive relationships.
Set Up a Separate Business Bank Account
Maintaining a clear distinction between your personal and business finances is a smart strategy for setting up a freelance business.
Open a separate bank account dedicated solely to your own business transactions. This simplifies accounting, making it easier to track income and expenses related to your freelance work.
Having a dedicated business bank account also streamlines your operations. It demonstrates a clear delineation between your personal and business finances, helping you manage your revenue efficiently.
3. Select a Platform to Run Your Freelance Business
Having a business website is essential for freelancers to enhance credibility and visibility in the competitive market. Hostinger is the ideal web hosting provider for your site, with features tailored to meet freelancers' needs.
Hostinger's user-friendly interface and intuitive website-building tools make it easy for freelancers to create a website that is both visually attractive and functional.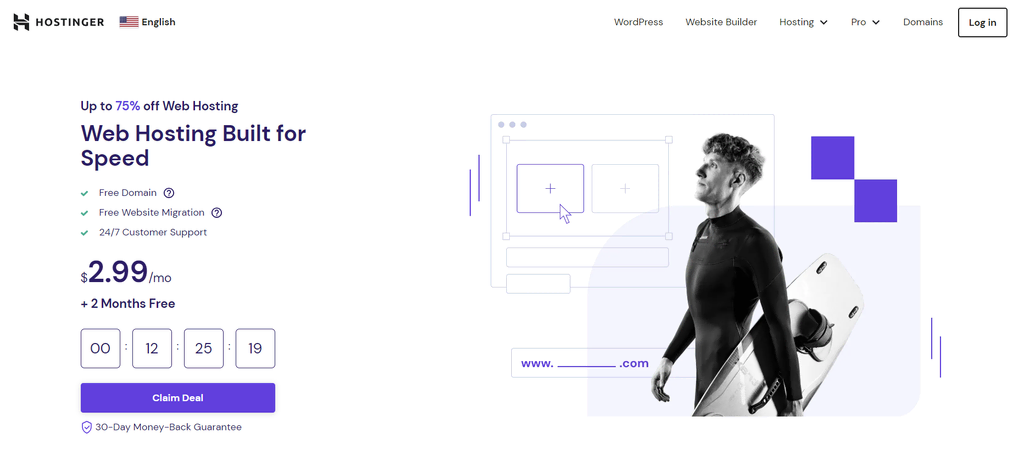 If you're a freelance developer managing multiple client websites, take advantage of our agency hosting package. Benefits include free website migration, advanced WordPress features like WP-CLI and MySQL databases, and an intuitive Pro Panel. You can also earn commissions through our Partner Program.


Other web hosting features for freelancers include:
Free domain name. Get started with a professional domain name that reflects your brand identity.
24/7 customer support. Hostinger's multilingual dedicated Customer Success team is available to assist you with any technical issues.
Fast website speed. Utilize LiteSpeed web server technology and advanced cache solutions to optimize website loading times.
Free SSL certificates. Encrypt your website's traffic with unlimited SSL certificates, earning visitors' trust.
Distributed denial-of-service (DDoS) protection. Defend your website against DDoS attacks with Cloudflare-protected nameservers.
Automatic backups. Safeguard your files with automatic backups to prevent data loss.
99.9% uptime guarantee. Ensure your website is up and running round the clock to provide reliable service for clients.
Global data centers. Benefit from our worldwide data centers for low latency and fast loading times.
The combination of these essential features, reliable hosting, and excellent customer support makes Hostinger the ideal platform to help freelancers establish and grow their online presence.
4. Price Your Freelance Services
Pricing freelance services correctly is crucial for attracting clients while ensuring your work is adequately compensated.
Consider factors like your skills, experience, market rates, and the value you provide to paying clients when devising your pricing strategy. Strike a balance between profitability and competitiveness.
There are several pricing models for freelancers. The first is project-based pricing, where you set a fixed price for the entire project based on its scope and complexity.
An alternative to that is retainer pricing. This is when you offer regular clients the option to retain your services for a specified period, providing predictable income for you and ongoing support for your customers.
A popular pricing method is hourly rates that charge based on the number of hours worked, suitable for projects with uncertain or evolving requirements. It forms the basis for daily or weekly rates, which are ideal for longer-term projects needing flexible pricing.
To understand which approach is right for you, follow these steps to determine your pricing:
Research market rates. Look up average rates in your niche and location to position yourself competitively.
Assess your expertise. Consider your skills, experience, and unique value to adjust your rates accordingly.
Evaluate project requirements. Examine the task complexity and deadlines to set appropriate pricing.
Analyze competitors. Be aware of competitors' rates without undervaluing your work.
Once you set your rates, it's important to communicate the value of your services to customers. Emphasize the results, efficiency, and expertise you bring to the table.
It's also crucial to test and adjust as you go. Remain adaptable and periodically review your rates to stay competitive and reflect your value.
5. Build Your Freelance Brand
Building a freelance brand is crucial to stand out in the competitive market. Your brand reflects who you are, what you offer, and how you provide value to clients.
By crafting a compelling brand, you can attract the right audience and set yourself apart from other freelance businesses.
Define Your Brand Identity
Start by understanding your values, mission, and unique strengths. Determine what makes your services special and how it can benefit your target clients.
Then, decide on the tone and personality you want to convey through your brand. You can start by brainstorming keywords that reflect your freelance business, like creativity, innovation, or reliability.
Design a Professional Logo
A visually appealing logo is the cornerstone of your brand identity. Create a professional logo design that represents your brand and resonates with your target audience. Your logo should be easily recognizable across different platforms and mediums.
However, getting a professionally-designed logo is expensive, while designing a logo yourself can be time-consuming.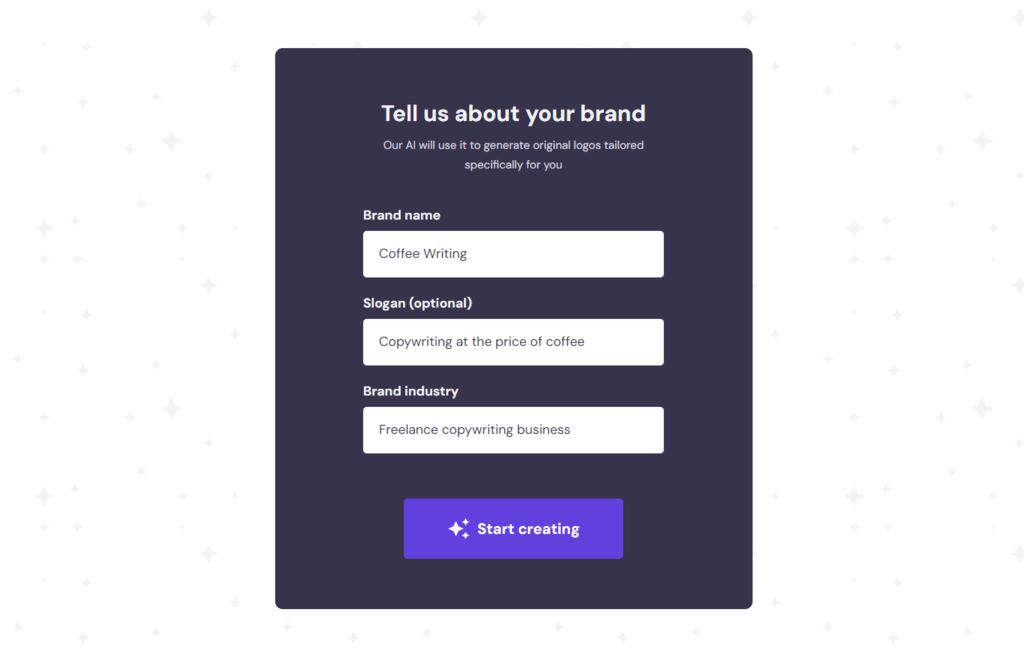 That's why we recommend leveraging tools like the Hostinger AI Logo Maker to ease the task. Simply enter the brand name, slogan, and industry of your freelance business, and the AI tool will generate a variety of logo options for you – all of which are customizable.
Build an Impressive Website
When starting a freelance business, your website becomes your digital office and a powerful tool to showcase your skills and attract clients.
Studies show that 94% of visitors' first impressions are related to web design. So, ensure that your website looks visually appealing and has a user-friendly interface.
The easiest way to create a good web design is with Hostinger Website Builder. Our AI-powered tools and templates are perfect for easily creating an impressive custom website.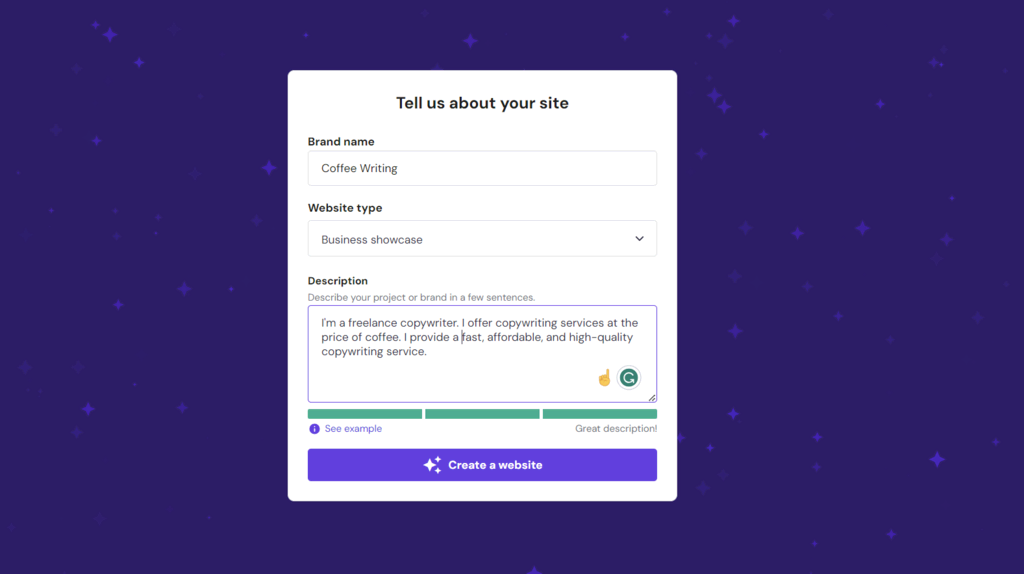 You'll have two options – our suite of designer-made templates or our advanced AI Builder.
If you choose the latter, simply describe your freelance website in a few words, and our AI Website Builder will design a professional-looking website for you instantly. For instance, below is an AI-generated example website for a freelance writer – made in just a few clicks.
Then, customize the generated site to reflect your brand. Via the drag-and-drop editing interface, you can showcase your portfolio, highlight client testimonials, and provide clear contact information.


Create an Online Portfolio
A compelling freelance portfolio is a powerful tool for demonstrating your expertise and past work.
Showcase your best projects, case studies, or client success stories on your website. Provide detailed descriptions of the work you have done, the challenges you have overcome, and the results you achieved for clients.
To drive traffic to your portfolio, make sure to implement some best practices for an SEO-friendly website. This includes optimizing images and using relevant keywords.
Make sure to also organize your portfolio website in a visually appealing and easy-to-navigate way to make a strong impression on potential clients. For the best user experience, be mindful of the mobile-friendliness of your site.
Engage with Your Audience
Consistently create valuable content and share industry insights to engage with your target audience. By actively interacting with visitors, you can build credibility, establish yourself as an authority, and attract new clients – all of which are aspects of a successful business.
Write informative blog posts, create videos, or host webinars to provide useful tips and demonstrate your expertise as a freelancer.
Our website builder provides a built-in tool to help you with content writing. With Hostinger's AI Writer, simply input the topic, and the tool will generate the text for you, saving you valuable time and energy.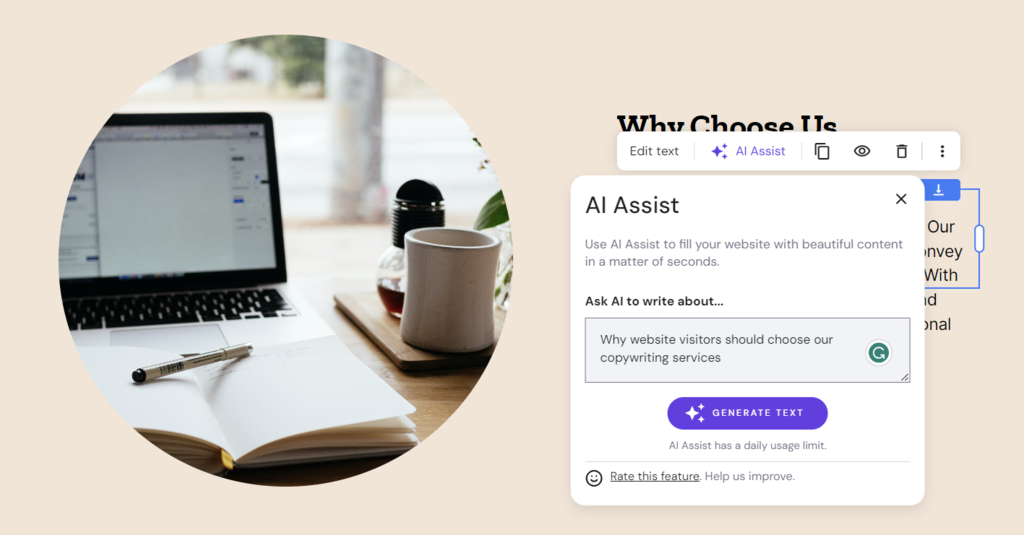 Additionally, use social media platforms to share your content, promote your freelance services, encourage discussions, and respond to comments and inquiries.
6. Find Freelance Clients
Now, let's discuss some effective approaches to get clients when you start freelancing.
Utilize Online Freelancing Platforms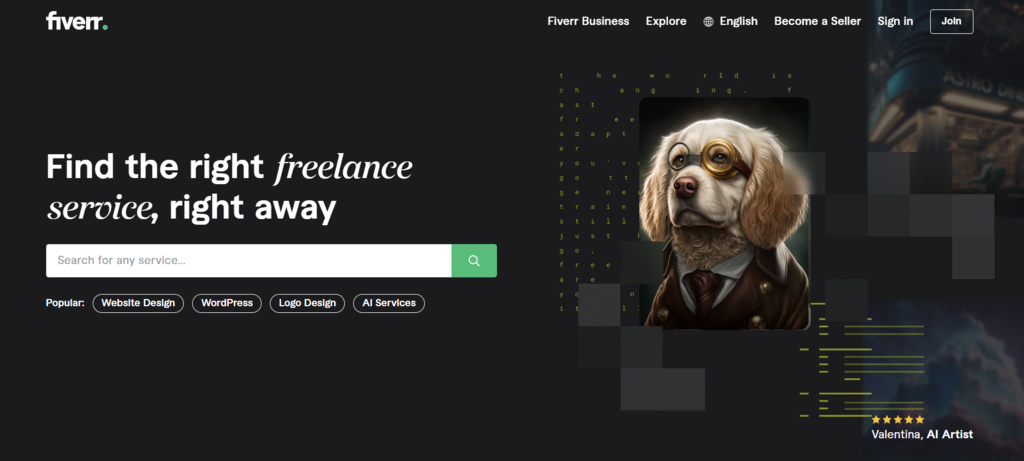 Freelance websites such as Fiverr and Upwork provide a platform for freelancers to connect with people looking for specific services.
Create a compelling profile that highlights your skills, experience, and past projects. Actively search for relevant job postings and submit well-crafted proposals tailored to each client's requirements.
Be proactive in building your profile, gaining positive reviews, and establishing a strong reputation on the platform. Make sure to also link your portfolio website to your freelance profile to drive more traffic.
Leverage Social Media
Social media platforms offer a vast network of potential clients.
Create professional profiles on platforms such as LinkedIn, Instagram, or Twitter, depending on your target audience. Share regular updates about your freelance work, industry insights, and trends related to your niche.
Furthermore, engage with freelance communities, join relevant groups, and contribute to discussions to increase your visibility and attract potential clients.
Network within Your Industry
As a full-time freelancer, it's good to attend industry events, conferences, and meetups to connect with professionals in your field. Join relevant associations or organizations to expand your network.
We recommend actively participating in online forums to establish yourself as an authority in your niche.
Freelance business networking enables you to build relationships, generate referrals, and gain insights into potential client needs.
Referrals and Word-of-Mouth
Provide exceptional service to your existing customers to encourage referrals and word-of-mouth marketing.
Happy customers are more likely to recommend your services to others, expanding your client base organically. Encourage satisfied new clients to leave testimonials on your website and share these on social media.
Offering referral incentives like discounts or bonus services can also motivate clients to recommend you to their contacts. This is good for both building client relationships and finding freelance clients.
Expand Your Online Reach
Having a strong online presence and practicing effective SEO is crucial for reaching more potential clients.
Hostinger Website Builder offers AI-powered SEO tools, like a meta generator, to ensure your website ranks higher in search results. Our free SSL certificates for enhanced security, fast load times, and 99.9% uptime guarantee also help boost search engine rankings.
Additionally, Hostinger Website Builder's integration with Google Analytics and Google Tag Manager provides valuable insights to optimize your website and attract more customers. That way, you can showcase your freelance business to a wider audience.
7. Manage Freelance Projects
Effective project management is essential for delivering high-quality work, meeting client expectations, and maintaining long-term client relationships. Here are some tips to help you effectively manage your freelance projects:
Set Clear Expectations
From the beginning of a project, establish clear expectations with your clients regarding deliverables, timelines, and communication channels.
Ensure that both parties have a shared understanding of project requirements and objectives. Clearly define the milestones and deadlines, and communicate any potential limitations or challenges affecting the project's timeline or scope.
Maintain Open Communication
Regular and transparent communication is key to successful project management as a freelancer. Establish clear channels of communication with your clients to ensure that expectations, deadlines, and project details are communicated and understood by both parties.
Keep your clients informed about the progress of their projects, provide timely updates, and promptly address any questions or concerns they may have. Be responsive to emails, messages, and calls, but be sure to set realistic response times.
Don't forget to discuss preferred communication methods, whether it's through email, project management tools, or video calls.
By maintaining clear and consistent communication, you minimize misunderstandings and foster a productive working relationship with your customers.
Utilize Project Management Tools
Consider using freelance project management tools to stay organized and streamline your workflow.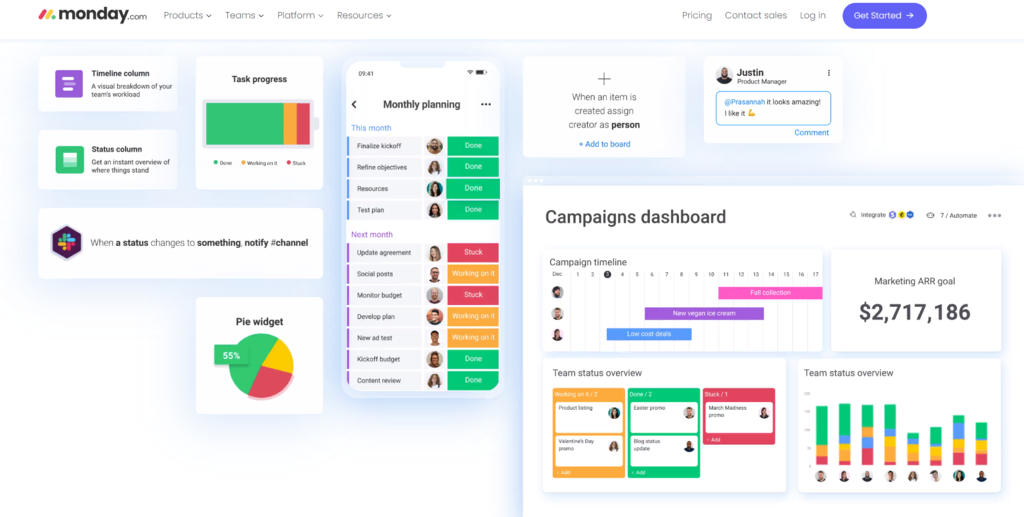 Tools such as monday.com or Hive can help you manage tasks, track project progress, and collaborate with customers and team members efficiently.
Furthermore, utilize shared document repositories or cloud storage platforms like Google Drive or Dropbox to store project files securely and facilitate seamless file sharing.
Prioritize Client Satisfaction
Providing excellent customer service and prioritizing client satisfaction will help you build strong relationships and secure repeat business. Strive to exceed client expectations by delivering high-quality work on time and within budget.
Be receptive to feedback, address any concerns or issues promptly, and maintain a professional and positive attitude throughout the project.
Exceptional customer service for freelancers goes a long way in differentiating yourself from the competition.
Show genuine interest in client projects and provide valuable insights and recommendations. Proactively address any concerns and be willing to go the extra mile to ensure client satisfaction.
By consistently delivering excellent customer service, you can retain customers and generate positive word-of-mouth referrals, significantly contributing to your freelance business success factors.
Tips for Effective Freelance Business
Now, we will explore some freelance business tips to help drive success.
Develop a Strong Online Presence
By building a strong online presence, you increase your chances of being discovered by potential clients and position yourself as a reputable freelance professional.
Create a professional website highlighting your portfolio, services, and contact information. Then, optimize your website for search engines to improve its online visibility. Regularly update your online profiles and demonstrate your knowledge and skills through blog posts.
Additionally, having a professional email is vital for effective client communication and a strong online presence.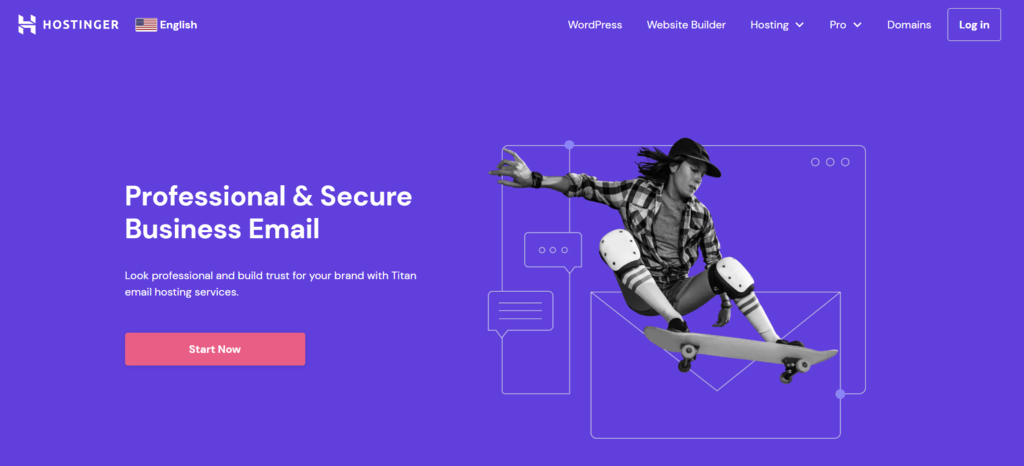 Hostinger's Business Email service offers a customized email address that matches your domain name. For example, if your domain is coffeewriting.com, your email may be customized to yourname@coffeewriting.com, showcasing your freelance business.
A custom email adds professionalism, credibility, and trust for customers. It also maintains brand consistency and solidifies your image, helping with freelance business growth.


Build Long-Term Client Relationships
Fostering long-term relationships with your customers is essential for the growth and sustainability of your freelance business.
Focus on delivering exceptional service and rewarding loyal clients with bonus services or discounts. Furthermore, consider offering incentives or referral programs to encourage ongoing client partnerships.
Building trust and demonstrating your commitment means increasing the likelihood of repeat business and referrals.
Continuously Learn and Innovate
To stay competitive and scale your freelance business in the ever-evolving market, it's important to continuously learn, develop your skills, and embrace innovation.
Stay updated with industry trends, emerging technologies, and best practices relevant to your niche. Gain experience by attending workshops, webinars, or conferences, and consider taking courses and getting certifications.
For example, if you offer graphic design services, sign up for online design courses on learning platforms like Coursera or Udemy to enhance your skills.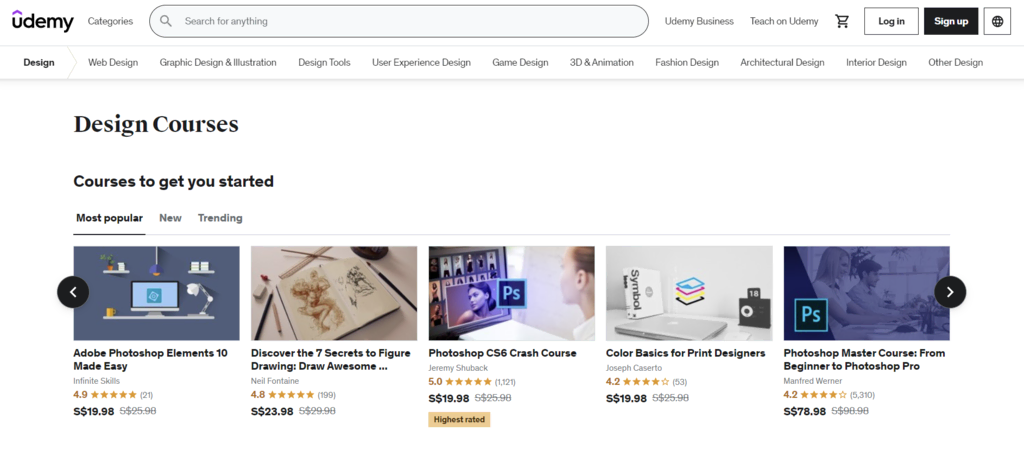 Network with other professionals in your field, join industry-related communities or forums, and seek mentorship opportunities. Embrace innovation by exploring new tools, software, or techniques that can enhance your workflow and expand your service offerings.
By continuously improving your skills, you position yourself as a valuable and sought-after freelance professional.
Conclusion
Starting as a freelancer may sound daunting, but it can be a worthwhile venture with the right approach. In this article, we have covered how to start a freelancing business in seven steps.
First, choose a niche that aligns with your skills and interests. Then, set up your business legally and financially to ensure a solid foundation. Utilize platforms like Hostinger to create a professional website and build your online presence. Make sure to also price your services strategically and focus on developing a compelling personal brand to attract clients.
Finding clients is possible through online platforms, social media, networking, and referrals. Once you secure projects, effective project management and excellent customer service are crucial.
Finally, continue learning and staying updated on industry trends to stay competitive and grow your freelance business. With these tips, you can embark on a rewarding freelance career.
How to Start a Freelance Business FAQ
The section below answers the most common questions about starting a freelance business.
What Is a Freelance Business?
A freelance business involves self-employment whereby individuals offer skills and services to clients without being tied to a specific employer. Freelancers have the freedom to choose projects, set schedules, and maintain a work-life balance.
What Are Some Effective Ways for a Freelancer to Balance Work and Life?
Set clear boundaries, create structured schedules, and prioritize tasks for effective time management. Remember to take breaks to prevent burnout. Open communication with clients also helps manage job expectations and define a clear work scope.
How Can I Keep My Freelance Business Growing?
Expand your skills, keep up with trends, market through your own website and social media, network, and seek referrals. Successful freelance businesses provide exceptional service, meet deadlines, deliver high-quality work, adapt to changing demands, and embrace new technologies to stay competitive.