14 Best eCommerce Platforms for Creating an Online Store in 2023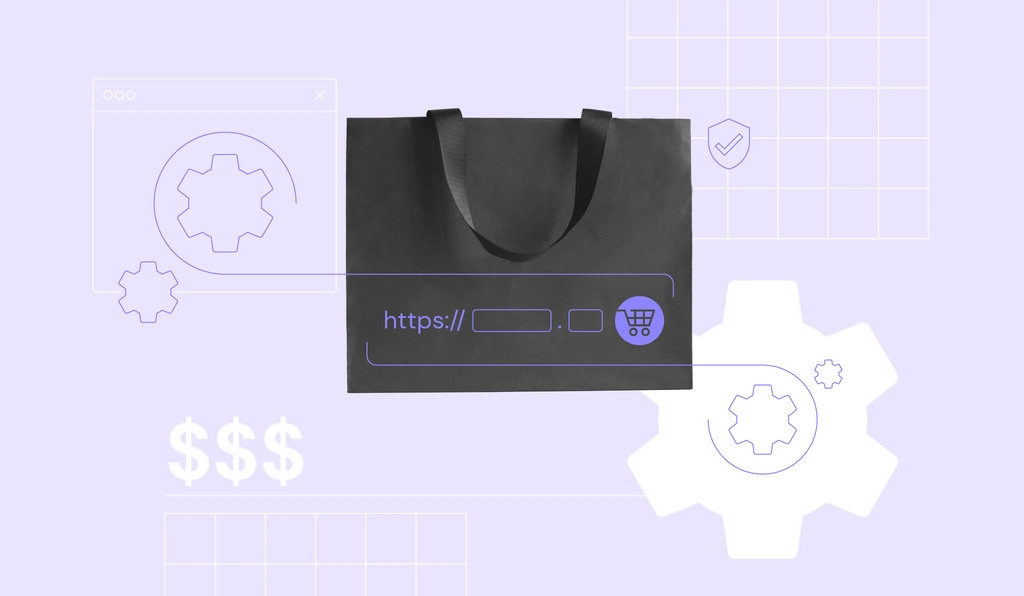 Owning an eCommerce website is the most crucial step businesses should take, considering the ever-growing trend of online sales globally. Companies of any size and industry can benefit from the various advantages of taking their business to the online market.
However, business owners need to consider many factors to ensure their online venture can grow and achieve the expected goals. One of these factors is choosing the right eCommerce platform to create online store opportunities for their business.
With numerous options available, finding the right one can be a challenge. That is why we've compiled a list of the 14 best eCommerce platforms for various business types, needs, and budgets to help you start an online business.
Download Website Launch Checklist
Best eCommerce Platforms – Quick Overview
To give you an overview of the options, here is a table comparing five eCommerce platforms according to the type of business they are best suited for.
| | | | | | |
| --- | --- | --- | --- | --- | --- |
| eCommerce platform | Best for | SaaS/ open-source | Pricing | Transaction fees | Rating |
| WooCommerce | All businesses types | Open-source | Free, premium extensions available | Depends on the payment gateway | 5/5 |
| Shopify | Small businesses | SaaS | $29-299/month | For third-party payment gateways | 4.5/5 |
| BigCommerce | Medium to large businesses | SaaS | $29.95-299.95/month | None, but there's an annual sales threshold | 4.5/5 |
| Magento | Large, enterprise-level businesses | Open-source, SaaS | Free (Magento Open Source)Custom rate (Adobe Commerce) | Contact for quote | 4/5 |
| Sellfy | Businesses focusing on digital goods | SaaS | Free, paid plans between $29-159/month | No, but there's an annual sales threshold | 4/5 |
14 Best eCommerce Platforms for Your Online Business
In this section, we will discuss the 14 best eCommerce platforms for creating an eCommerce website. The list includes the five platforms we compared in the previous section and nine others that can cater to more specific niches.
1. WooCommerce – A Great eCommerce Plugin for WordPress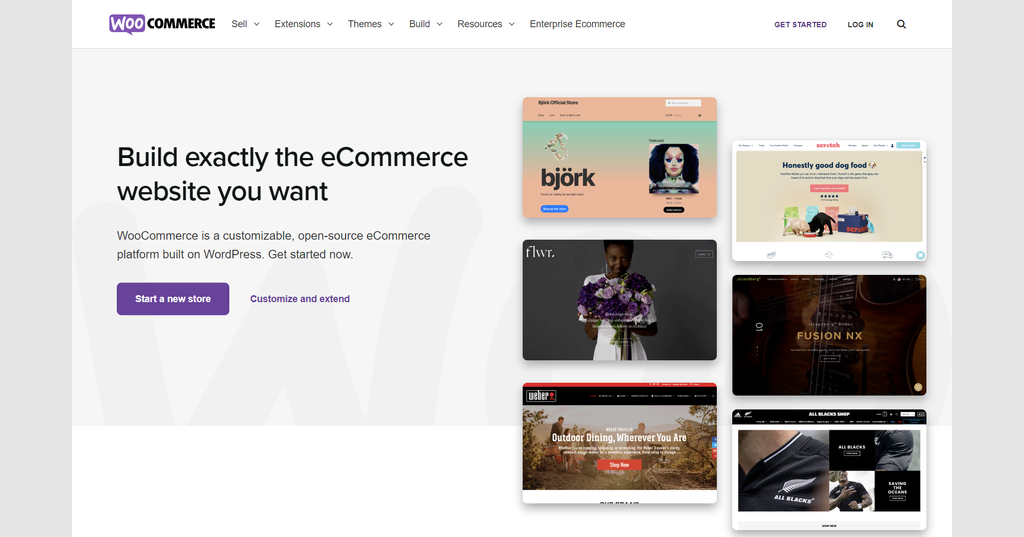 WooCommerce is an open-source eCommerce solution available as a WordPress plugin. It is the world's most popular eCommerce platform, with more than 12% of all online stores using it. The plugin lets you add essential online store functionality to your WordPress site and manage it with ease.
The platform's simple setup process makes it an excellent choice for both beginners and advanced users. Once you install and activate it, you can control your online store directly from the WordPress dashboard.
WooCommerce provides a range of eCommerce features, from inventory management to payment processing. Plus, you can expand its functionality with hundreds of extensions, which include store management, shipping, and marketing tools.
In terms of design, there are lots of third-party websites offering free and premium WooCommerce themes, such as ThemeGrill. Additionally, you can fully enjoy WordPress' customizable templates and install any of the themes and plugins available via the official directory.
To reach out to WooCommerce's customer service team, you'll need to submit a ticket, and the team will answer your question through live chat. There are no phone or email support options available.
That said, WooCommerce provides plenty of online guides and support forums where you can seek advice from professional web developers and everyday users.
Suggested Reading
Don't know which eCommerce platform to use? See how WooCommerce compares with other platforms through the tutorials below:
Pricing and Plans
WooCommerce is free to download and install. However, you'll need a domain name, hosting service, and a WordPress site.
Pro Tip
Hostinger's WooCommerce hosting plans include a free SSL certificate, a free domain name, and up to 100 domain-based email addresses.
Note that you'll need a WordPress.org website to install the free plugin. If you use WordPress.com, WooCommerce is included in its eCommerce plan, available for $45/month.
Other costs to take into account include store customization. While the WooCommerce Extensions Store offers plenty of free themes and add-ons, more specific designs or advanced features are only available as premium options.
Pros
Wide range of WordPress themes – integrates with WordPress, so it's compatible with WordPress' extensive theme catalog.
Additional eCommerce functionality – add more eCommerce functionality and features to your online store by installing WooCommerce extensions and WordPress plugins.
Large online community – you'll get the advantage of a large community to help solve any issues related to your online store.
Cons
Requires multiple extensions – WooCommerce doesn't come with many features by default, so you'll need to manually add them.
Verdict
WooCommerce is one of the best eCommerce solutions on our list for its versatility. By combining it with WooCommerce extensions, WordPress plugins, and themes, you'll achieve incredible flexibility in building your own online store.


2. PrestaShop – An Advanced Open-Source Platform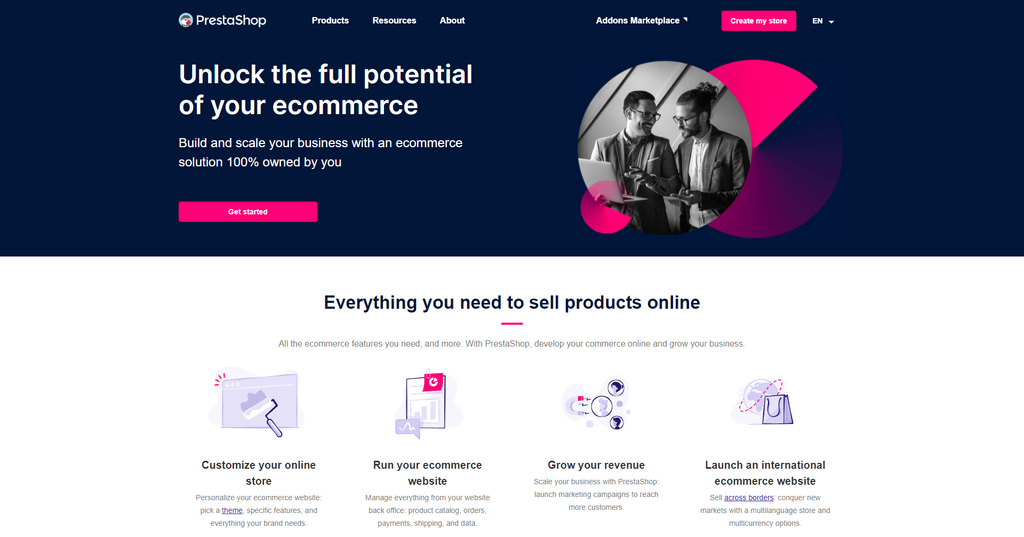 PrestaShop is a freemium open-source eCommerce solution widely used in Europe and Latin America. It is free to download – you only need to purchase a PrestaShop-compatible web hosting plan and install the software on your hosting account.
PrestaShop comes with various features, such as a product management system, multiple payment processors, and customizable checkouts. It also provides options for personalized products by letting customers upload custom designs.
Pro Tip
Read our PrestaShop tutorial for a full guide on how to maximize this eCommerce platform.
To add more eCommerce functionality to your online store, there are various modules on PrestaShop's add-ons marketplace. Available extensions include Mailchimp integration and website templates for different types of stores.
In terms of analytics tools, PrestaShop offers PrestaShop Metrics, which is provided as both a free and paid add-on depending on your plan.
The free version includes Google Analytics synchronization, an overview tab with essential KPIs and charts, and access to a three-month data history.
In addition to the free analytics features, the premium add-on provides real-time data, insights about acquisition and customer knowledge, and access to a 14-month data history.
Other than the payment options available via the marketplace, PrestaShop has also teamed up with PayPal to develop the PrestaShop Checkout module. It's free to download and lets you accept various payment methods. However, it charges commissions based on each store's monthly payment volume, payment methods, and location.
One of the unique features of this online store builder is PrestaShop Experts. It connects merchants with trusted agencies and developers whose services can help them develop and promote their online businesses. Merchants can set their budgets to find solutions within a suitable range.
Regarding customer support, this eCommerce platform provides official documentation and access to the user community. The Help Center offers support via videos, a community forum, and training courses.
Pricing and Plans
PrestaShop's software is free to install – you only need to purchase a hosting plan and a domain to use it. However, depending on your website's needs, you may have to pay for additional templates and modules.
If you are running on a strict budget, third-party websites like TemplateMonster offer free PrestaShop templates for different types of eCommerce stores.
PrestaShop also offers hosting with its fully-managed solution, the PrestaShop Platform. The Size M plan, suitable for eCommerce sites with up to 50 concurrent users, costs €450/month.
If your online store needs more resources or migration support, consider choosing the Size L or Size XL plans, which cost €650/month and €850/month each.
The PrestaShop Platform comes with several features not available with PrestaShop's free version, such as 24/7 hosting support, Git integration, and daily or hourly data backups. It is possible to request a demo if you want to try out the features before committing to a plan.
Pros
Advanced product management – easily create product categories, set a minimum purchase quantity, and customize notifications for out-of-stock products.
Customizable products – customers can select product variations and upload files for product personalization.
Comprehensive checkout options – design a one-page checkout and simplify the account creation process to decrease cart abandonment rates.
Cons
Limited free add-ons – you might need to install an additional template or specific modules, increasing the total setup costs.
Manual exchange rate – you'll need to create a cron job to enable automatic exchange rate updates.
Limited technical support – the technical support team can only be contacted via email. If you want expert support and speedy response times, you must purchase a Support Plan starting at €249/month.
Verdict
PrestaShop is one of the best eCommerce solutions for businesses that offer customizable products. It's great if you want to have an online store that has advanced product management and checkout options.
If you don't have people on your team to handle specific business functions, PrestaShop Experts can be a valuable solution to find partners from a curated list of experts and agencies.
3. Shopify – A Complete eCommerce Website Builder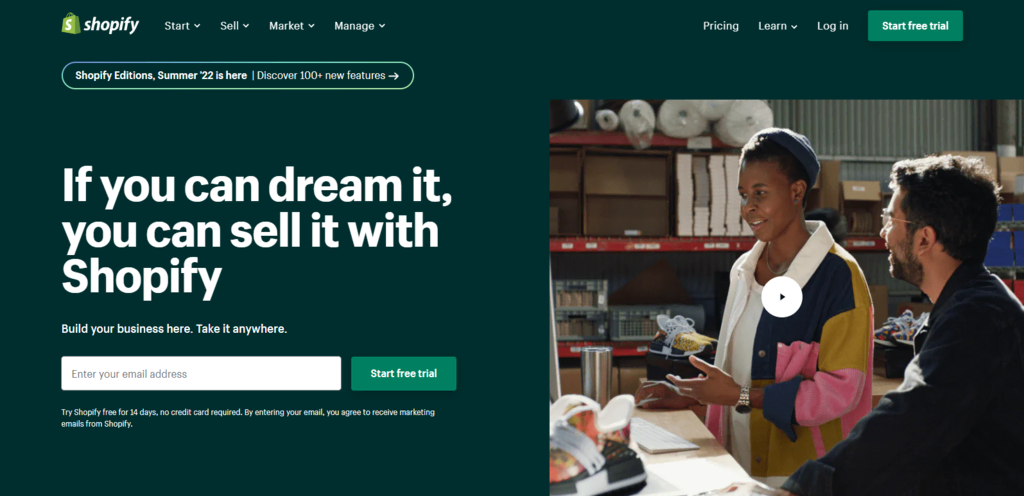 Shopify is a popular eCommerce website builder letting you create your own online store within minutes, thanks to its onboarding wizard and intuitive drag-and-drop builder.
This software-as-a-service (SaaS) eCommerce solution is also a great choice if you plan on launching a dropshipping business.
With its dropshipping app, Oberlo, users can source products from AliExpress suppliers, import items to their Shopify stores, edit listings, and place orders in bulk or individually.
In terms of customization, Shopify comes with pre-made templates, so users don't have to design a website from scratch.
One of Shopify's most useful built-in features is the abandoned cart recovery, available with all Shopify plans. It enables store owners to send emails reminding customers about unprocessed orders and inviting them to complete their purchases.
When it comes to security, all plans on this eCommerce platform come with fraud analysis. This security feature identifies potentially fraudulent orders paid with credit cards, lowering the risk of chargebacks.
Shopify is compatible with over 100 payment solutions. However, it charges additional transaction fees for third-party processors, ranging from 0.5% to 2% per transaction, depending on the plan.
To avoid this fee, customers in eligible locations can use Shopify Payments. It accepts credit cards, Google Pay, and Apple Pay transactions. It's also easy to set up and provides payment and cash flow reports.
Shopify offers 24/7 phone support, live chat, and email. This is particularly useful for beginners and store owners managing the site by themselves.
Pricing and Plans
Shopify has three pricing plans – Basic Shopify for $29/month, Shopify for $79/month, and Advanced Shopify for $299/month. It also offers a 14-day free trial, allowing users to test the platform before committing to a plan.
The Basic plan includes options for gift cards, real-time shipping rates, unlimited bandwidth, and unlimited products to sell online. Higher-tiered plans come with analytic reports, additional staff accounts, and more inventory locations.
This eCommerce platform also offers Shopify Lite and Shopify Plus plans. For $5/month, Shopify Lite features buy buttons that you can add to any existing website. It's also great for merchants who want to sell in person via a Point-of-Sale app.
Meanwhile, Shopify Plus is suitable for higher-volume businesses that require enterprise-grade solutions. It starts at $2,000/month, and the rate depends on each business's needs and size.
Shopify Plus also supports a headless solution, where your online store's front-end interface and back-end infrastructure are separate. It allows store owners to customize and launch new features without sacrificing the customer experience.
Pro Tip
See our full guide on headless eCommerce to learn more about why this solution can significantly boost your site's engagement and conversions.
Pros
Dedicated customer support – provides 24/7 support through various channels, including phone and live chat.
Built-in abandoned cart recovery – this helpful feature to drive conversions is available on all plans.
Fraud analysis – prevent chargebacks by identifying fraudulent transactions.
Cons
Additional transaction fees – applies if you use third-party payment gateways and accept card payments. The rates vary according to your Shopify plan.
Few free templates – Shopify's theme store has a limited number of free templates. However, third-party themes are available via ThemeForest.
Verdict
Shopify is an excellent option for small to medium-sized businesses looking for an eCommerce solution to sell online. It is easy to use and comes with a collection of templates and plenty of third-party integrations.
Larger-scale businesses that want the convenience Shopify offers can opt for Shopify Plus. If you're looking to sell on social media or integrate Shopify features with an existing website, try Shopify Lite.
4. BigCommerce – Best eCommerce Solution for Large Businesses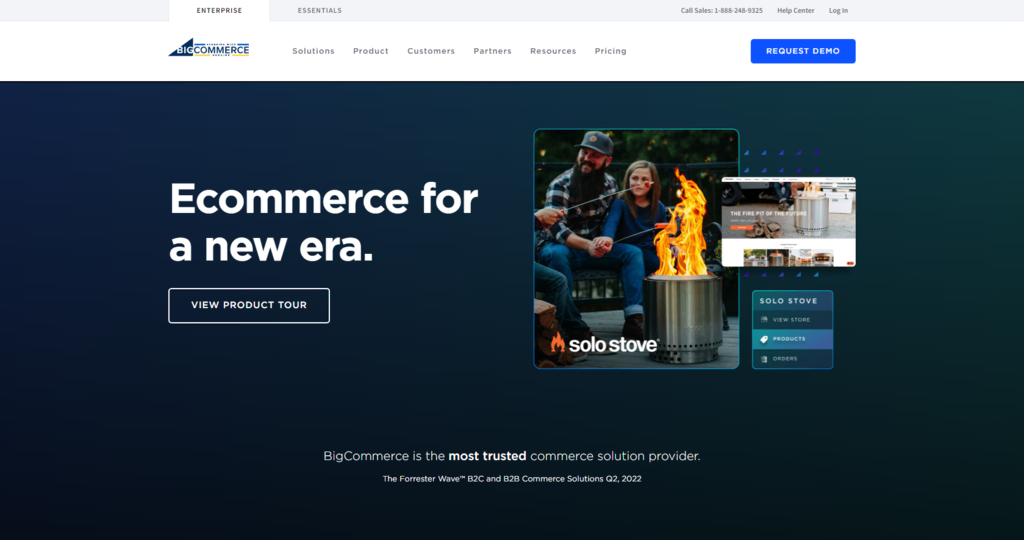 BigCommerce is a SaaS eCommerce website builder that is a reliable option for medium to large businesses, such as B2B companies or wholesalers.
It accommodates businesses in any niche and industry and is also a great option for building an online presence for a brick-and-mortar store.
One of its standout features is the Channel Manager for multi-channel selling. With this tool, eCommerce business owners can connect their stores to different marketplaces while keeping their inventory management tasks in one place.
For example, users can list products on Amazon, Google Shopping, and Facebook, expanding their reach to a broader audience. BigCommerce will automatically import the product information and synchronize any changes made across all connected channels.
This platform also has a customer segmentation feature to categorize consumer groups based on their background and shopping habits. It enables you to provide a personalized shopping experience, offering specific item recommendations and promotions.
As BigCommerce mainly targets large businesses, some of its settings are pretty advanced. These include automated sales tax and shipping settings.
BigCommerce also offers social media integration and search engine optimization (SEO) features such as rich snippets, custom URLs, and a content delivery network (CDN) to help your site load faster. These features can drive more traffic to the website and improve its search engine rankings.
Another aspect to note is that BigCommerce supports headless commerce. This means you can use the platform to manage the functionality of your online shop, while the content and visuals are handled via a content management system (CMS).
For example, you can integrate BigCommerce with WordPress to modify the front-end without affecting the back-end. It also allows developers to work with the technology or programming language they prefer, regardless of the front-end platform.
Headless commerce is gaining popularity, especially among enterprise businesses, since it enables them to integrate complex eCommerce requirements with impactful content and engaging visuals.
Pricing and Plans
BigCommerce offers three main pricing plans, ranging from $29.95/month to $299.95/month. In addition, this eCommerce platform provides an Enterprise solution, available for a custom price calculated according to the business needs and sales volume.
The platform doesn't charge transaction fees, but it has an annual sales threshold. Each tier has its own limit, starting at $50,000/year for the Standard Plan. Exceeding this amount will require site owners to upgrade their plans accordingly.
BigCommerce comes with plenty of features by default. However, if you want to redesign your online store, the BigCommerce Marketplace offers themes ranging between $150-300.
Pros
Multi-channel selling – manage your inventory in one place, even when selling across multiple platforms.
Unlimited staff accounts – set specific permissions so that each team member can only access certain tasks.
No transaction fees – no additional fees for using third-party payment gateways.
Personalized shopping experience – the customer segmentation feature helps provide a tailored experience for each customer depending on their shopping habits.
Headless commerce support – enables businesses to apply changes to their sites without compromising their eCommerce infrastructure.
Cons
Annual sales limit – you'll need to upgrade your plan if you exceed the threshold, or the platform will charge an extra fee if you're already using its highest non-custom plan.
Steep learning curve – the advanced tools may not be suitable for beginners.
Verdict
BigCommerce is a great online store builder for large-scale businesses, thanks to features such as advanced analytics tools and bulk order management.
Even though it comes with excellent tools, BigCommerce might not be the best option for small businesses since its basic plan is more expensive than most competitors.
5. OpenCart – Best for International Selling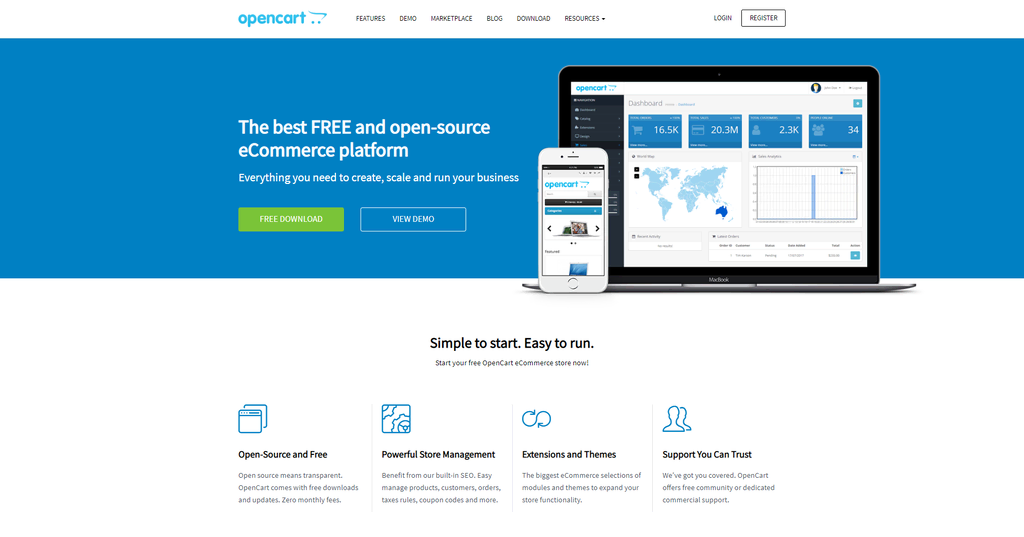 OpenCart is an open-source self-hosted eCommerce software with plenty of built-in tools. It has an intuitive dashboard that provides all the information needed to stay on top of your store's performance, such as total order volume and eCommerce sales analytics.
In terms of customization, this eCommerce platform uses a module system. It's not as intuitive as drag-and-drop eCommerce website builders but simple enough to enable first-time users to create their online store easily.
It comes with a mobile-friendly theme by default, but if you want to use other themes, there are compatible ones on third-party websites like Template Monster.
What makes OpenCart an excellent choice compared to other self-hosted solutions on this list is its built-in advanced features. It comes with a multi-store admin, unlimited products, product filtering, and a marketing analytics tool. On other popular eCommerce solutions, these tools are often only available through extensions.
The multi-store feature enables you to manage multiple stores from one interface. Admins can choose a different theme for each store, localize store settings, and set different product prices.
OpenCart also has a built-in affiliate system and lets you set different rates for each affiliate partner. It comes with 36 payment methods, which include PayPal, bank transfers, and cheques.
This eCommerce platform has a marketplace offering thousands of additional extensions for various purposes, such as advanced shipping solutions and abandoned cart recovery. If the default payment processors don't suffice, you can also download more payment options here.
Moreover, OpenCart offers multiple currency and language options by default. With other popular eCommerce solutions like WooCommerce and PrestaShop, this functionality is only available with a plugin.
Pricing and Plans
OpenCart has no monthly fees, and the software is free to download – you will only need web hosting and a domain name to get started.
Users can also choose from various free and paid extensions from the marketplace to create an extensive online store. Premium extensions start at $20.
Pros
Guest checkout – provides an option for site visitors to shop without creating an account.
Advanced built-in options – there are numerous integrated features, so users don't need to add many extensions.
Multiple currencies and language support – great for attracting a global audience.
Cons
No drag-and-drop website builder – the only option to customize your store design involves using OpenCart's module system.
No built-in SEO features – to optimize your online store for search engines, you need to utilize extensions.
Verdict
With plenty of advanced features, OpenCart is an effective eCommerce solution for medium to large businesses. Its built-in multi-currency and multi-language features make it an excellent choice for selling internationally.
6. Magento – A Feature-Rich Platform for Medium to Large Businesses

Magento is an eCommerce-oriented CMS suitable for creating medium to large-scale online stores.
This eCommerce platform offers two solutions – Magento Open Source and Adobe Commerce, the latter of which is hosted software.
Magento Open Source offers plenty of pre-designed templates via its marketplace and third-party sites like ThemeForest.
Users can save their pages and content templates to reuse them across multiple sites. Moreover, Magento provides content staging, so users can tweak their web design in a different environment to avoid downtime on the live site.
Magento supports digital product sales such as memberships, subscriptions, and services. To add extra functionality to your site, like themes, analytic tools, and payment methods, purchase them through the Magento Marketplace.
Since Magento is an open-source platform, tech-savvy users can edit or add custom code as needed. As such, it is one of the best eCommerce platforms for those looking for a highly customizable and powerful online store.
In terms of support, Magento has a large community that includes many developers who can help with technical issues. Keep in mind that some may charge a fee for their assistance.
On the other hand, Adobe Commerce provides a page builder and tools like data reporting and customer segmentation. Its features use advanced algorithms and AI technology to analyze consumers' behavior, offering them personalized shopping experiences and product recommendations.
Like BigCommerce, Adobe Commerce also supports a headless solution. While BigCommerce integrates with WordPress, Adobe Commerce enables its users to integrate headless elements into their existing eCommerce site by using the Adobe Experience Manager.
Furthermore, it also offers the Magento PWA Studio, which helps developers create app-like experiences for mobile eCommerce sites. It's a valuable feature considering that mobile commerce is projected to grow by 68% in 2022 as more people shop via mobile devices.
Pricing and Plans
Magento Open Source is a self-hosted solution that is free to download and use. Your only expenses will be a hosting service, a domain name, and an SSL certificate. Depending on the host, you may need to install Magento manually.
You can also purchase a theme and several extensions to improve the performance of your eCommerce shop. While there are plenty of free extensions available, business owners may want to check out the premium options starting at around $25.
In contrast, Adobe Commerce is a paid cloud-hosted eCommerce platform catering to enterprise-level companies requiring advanced services. To get a full custom pricing breakdown, contact Magento's sales team.
Pros
Staging environment – update your Magento site safely and avoid potential losses due to downtime.
Customer personalization – enhance customers' shopping experience by providing personalized product recommendations.
Wide range of payment processors – there are more than 300 payment gateways to choose from via Magento's marketplace.
Cons
Limited customer support – ticket support is only available if you have an Adobe Commerce account. Users of the open-source platform must rely on Magento's knowledge base, documentation, and community forums.
Steep learning curve – beginners may find the platform complicated to navigate and set up.
Verdict
Magento is one of the best eCommerce solutions for those that favor advanced features. However, site owners will need some experience or the help of a developer to establish a complete online store.
If you plan on launching a large-scale eCommerce business that needs advanced features, the platform's hosted solution is worth considering.
7. Shift4Shop – A Feature-Rich eCommerce Software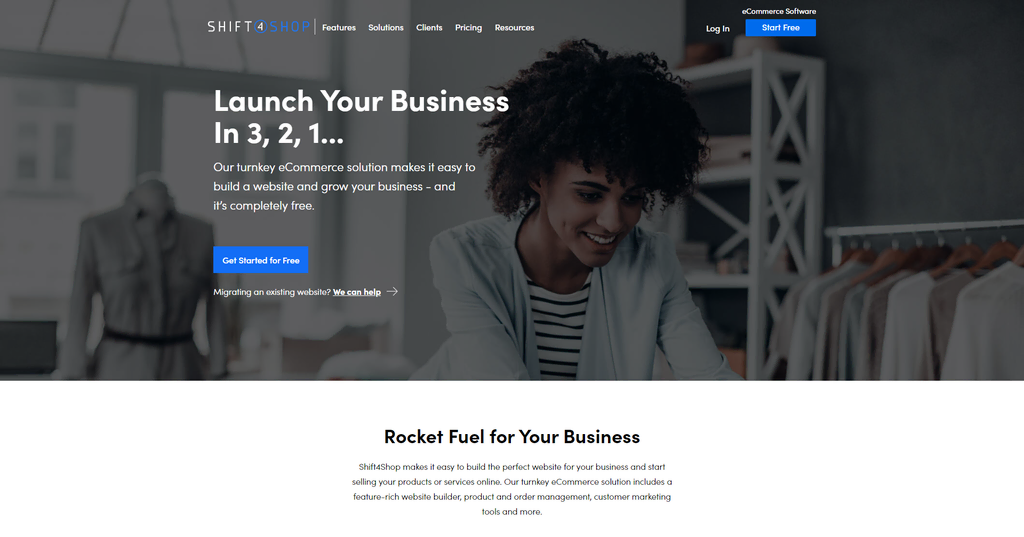 Shift4Shop is a SaaS eCommerce solution that has an intuitive, user-friendly interface similar to the WordPress dashboard. Its built-in website builder lets users design a site quickly, making this platform convenient for site owners with minimal technical knowledge.
Shift4Shop's features include SEO tools, abandoned cart recovery, and advanced product management. It stands out among other eCommerce platforms on this list as it features checkout customization.
Users can opt for a three-page or one-page checkout method to provide a more convenient customer experience. There's also an option for guest checkout to prevent customers from abandoning their carts.
That being said, Shift4Shop still provides an option for creating customer accounts. With it, visitors can keep track of their order status and access a feature that automatically places their orders for recurring purchases.
Shift4Shop also supports digital downloads and event ticket sales. It will automatically send an email with an encrypted download link to buyers, so you don't need to do it manually for each order.
In terms of payment methods, this platform is integrated with the Shift4 payment system. It supports credit cards and digital wallets like Google Pay and Apple Pay.
Some other notable features of Shift4Shop include 100+ free themes, fraud protection, website migration assistance, and inventory management and SEO tools.
Pricing and Plans
Shift4Shop's main plan is free to use. It includes domain registration, web hosting, and a website builder. Other features include unlimited products, an integrated blog, and no revenue limits.
This eCommerce site builder also offers an Enterprise plan for high-volume businesses. Costs start from $1,999/month and include unlimited staff user accounts, automatic software updates, and a customer relationship management (CRM) solution.
Pros
24/7 customer service – round-the-clock tech support is ready to help you with any issues.
Feature-rich – Shift4Shop has plenty of built-in advanced features, enabling you to create great eCommerce sites without hassle.
Multiple checkout options – have the choice to design a single-page checkout process and enable guest checkout so customers can make purchases quickly.
Digital downloads – expand your niche and sell software, eBooks, photos, or online courses.
Cons
Limited extensions library – compared to its competitors, Shift4Shop has fewer apps available to extend your store's functionality.
US-only free plan – the free plan is only available for US-based merchants.
Verdict
Shift4Shop is an excellent choice for making a basic online store. With its free plan, users get many built-in features that would otherwise cost a premium on other eCommerce platforms.
8. Big Cartel – Best for Artists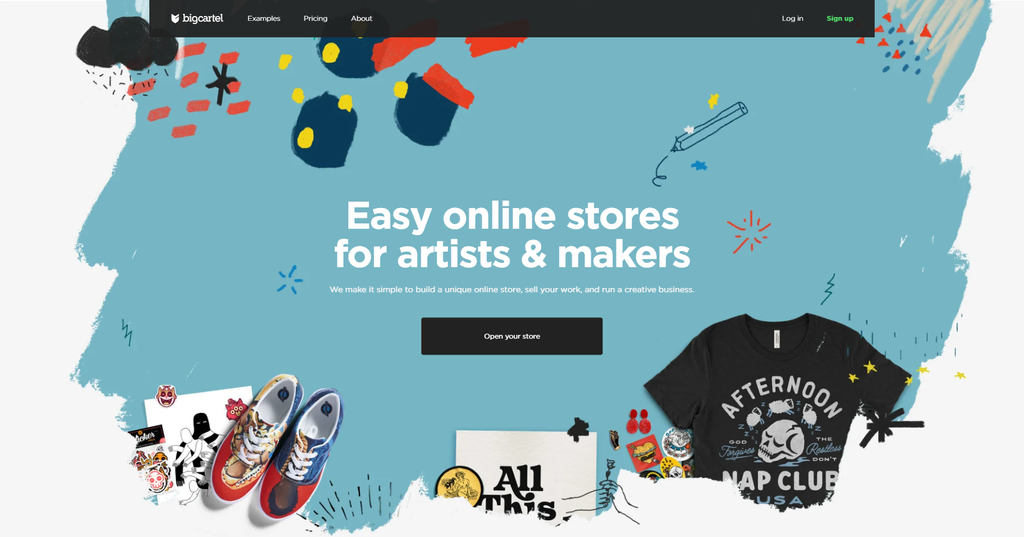 Big Cartel is a cloud-based eCommerce solution that mainly targets creative freelancers and artists.
It offers an easy process for users to build their own store. Simply pick a theme, upload product images, add the prices, and you're ready to sell online. Big Cartel also has a click-and-drag customization tool that makes it easy to design your website.
However, if you want to personalize the site further or add custom features, you'll need basic coding knowledge to use its theme code editor.
Big Cartel's features are relatively basic compared to other platforms like Shopify and BigCommerce. It lacks some key elements, such as customer login options and a product review section.
To access functions like analytics tools and support for digital products, you'll have to use third-party extensions and add-ons. Furthermore, Big Cartel supports a limited number of payment gateways – only Stripe, Apple Pay, and PayPal are available.
The upside is that Big Cartel supports in-person sales. This is very useful for artists and creators who often sell their goods at events like craft fairs, bazaars, or exhibitions.
Note that Big Cartel is not in itself PCI-compliant, meaning each store owner is responsible for adhering to PCI regulations themselves.
Creating an eCommerce store with Big Cartel gives you a URL containing the bigcartel.com domain by default, but all its plans enable you to connect a custom domain. We recommend doing this, as it will improve your branding and can help customers find the website more easily via search engines.
Pricing and Plans
Big Cartel has three plans. The free plan allows merchants to list up to five products with one image per item. This plan's features include real-time statistics, shipment tracking, and sales tax autopilot.
The other two plans let merchants list up to 50 and 500 products, priced at $9.99/month and $19.99/month, respectively. Both allow sellers to display five images per product and offer the same features, including theme code editing, inventory tracking, and bulk editing.
Big Cartel doesn't charge listing fees, and apps and integrations are generally free to download. Still, you have to pay the subscription or transaction fee set by each extension.
Pros
Free plan available – for small businesses and individuals, the free plan is an excellent option to start selling online.
Similar features across the paid plans – select any premium plan without compromising on features. The only difference is the number of products you can list.
Wide selection of free themes – speed up the process of website building with various options to customize your eCommerce business.
Cons
Limited payment processors – it's only compatible with three payment gateway platforms.
Complex customization – Big Cartel's paid plans come with a theme code editor, but it requires basic coding skills to use.
Verdict
Big Cartel is an excellent platform for artists who want to start selling online. However, it's not the most beginner-friendly platform on our list, as you need to install third-party apps to enable more features and edit code for further theme customization.
However, if you simply need a straightforward site to sell online and aren't looking to customize the website too much, the standard features of this platform are sufficient.
9. Volusion – Best for Dropshipping Businesses

Volusion offers a user-friendly, straightforward interface. Combined with the drag-and-drop eCommerce website builder and free themes that suit various niches and industries, users can create their stores within minutes.
This hosted platform is also suitable for dropshipping businesses. It has dedicated dropshipping tools letting you configure vendors and custom shipping costs. Additionally, Volusion provides abandoned cart reports and an option to activate product ratings and reviews.
Volusion comes with an advanced inventory tracker that enables you to monitor the store's inventory status and set low stock notifications. There's also an analytics tool that provides in-depth reports, helping you better manage and scale your online business as needed.
Furthermore, a mobile app is available with all the tools necessary to run your eCommerce business on the go. Sellers can easily update prices, snap product pictures, and check the inventory from their phones.
If you need assistance, Volusion's customer service team is contactable 24/7 via live chat, email, and phone. However, phone support is not available for users of the Personal plan.
Pricing and Plans
Volusion offers a 14-day free trial and four plans ranging from $35/month to $299/month, based on the business' yearly Gross Merchandise Volume (GMV).
The most affordable option, the Personal plan, is for eCommerce stores with a GMV/year of up to $50,000. On the other hand, the Business plan is suitable for eCommerce stores with a $400,000 GMV/year.
The most advanced plan on this eCommerce platform, Prime, comes with custom pricing upon request, as it's aimed at eCommerce stores with a GMV of more than $500,000/year.
In general, the more advanced the plan, the more products you can list and the more staff accounts you can create to handle the eCommerce store.
Volusion Payments, the platform's own payment solution powered by Stripe, charges no transaction fees. Third-party payment gateways are available but with transaction fees – 1.25% for Personal plan users, 0.65% for those on a Professional plan, and 0.35% for sellers on the Business plan.
All Volusion plans come with unlimited bandwidth, built-in SEO features, social media integration, and free mobile-friendly themes.
Pros
PCI compliance – Volusion ensures its sellers are PCI-compliant, regardless of the plan they are on.
Advanced features and tools – includes tools like a store management app, inventory tracker, and barcode generator.
SEO-ready – enables you to customize meta descriptions, title tags, and URLs to make your pages SEO-friendly.
Cons
No dedicated tools for blogging – you'll need to use a platform like WordPress to launch a blog for content marketing, then integrate the URL to your Volusion site.
US-based supplier options – the dropshipping solution only accommodates US suppliers. Even though international shipping is available, this is an important factor to consider if you run a dropshipping business outside the US.
Transaction fees – users who want to activate third-party payment processors are subject to transaction fees, which depend on their subscription plan.
Verdict
Volusion may be the best platform if you run a dropshipping business, as its dedicated features make it easy to custom-connect vendors. However, the US-centric supplier options can be a significant drawback, especially if you target an international market.
10. AbanteCart – Great for Beginners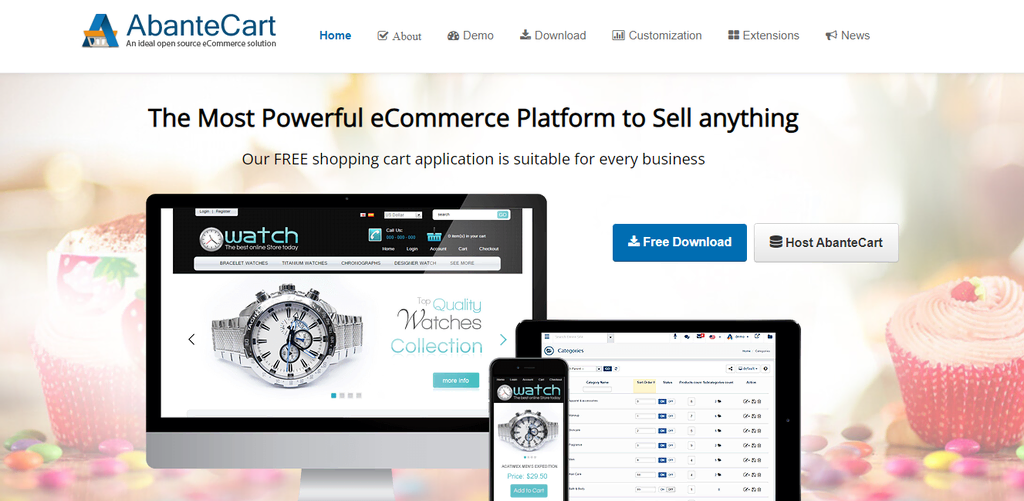 AbanteCart is an open-source eCommerce platform. It's a good option for those who don't have a technical background since it offers a beginner-friendly interface with comprehensive tools.
Some notable features include multi-store management, a customer dashboard, and product customization.
The multi-store feature enables you to manage numerous storefronts from a single admin interface. Each shop can have separate settings, including themes, products, and categories. Meanwhile, the product customization feature allows customers to personalize their purchases by adding text or uploading images.
The customer dashboard is one of AbanteCart's most unique features. It lets customers see their order status and history, as well as access their purchased digital products. It's also possible to add more functionality to your customers' dashboards via extensions available on the marketplace.
Adding products to AbanteCart is a two-step process that takes only a few minutes – the platform provides tooltips to help you at each step. This eCommerce platform also enables you to embed products in an existing website or blog, which is excellent for attracting more customers and generating sales.
This eCommerce software has no limit for product listings and the number of media files you can display for each product. That makes it a good alternative to Big Cartel, which limits users of its most affordable plan to displaying one image per product.
Furthermore, AbanteCart supports digital product sales. It provides all the necessary tools for their management and fulfillment, such as digital product licensing, which users can get as separate extensions.
In addition, AbanteCart's marketplace offers tools for payment processing and social logins. There are also themes, but their designs are quite outdated compared to most other eCommerce platforms reviewed here.
Pricing and Plans
AbanteCart is one of the best free eCommerce platforms on this list. You only need a suitable web hosting plan and a domain name to use it.
While some of the themes and extensions on AbanteCart's marketplace are free, premium options start at $10.
Pros
Easy product management – add new products to your eCommerce store by following a few simple steps. There are also plenty of user manuals to help you get started.
Product embedding – embed products in an existing website or blog to drive more sales.
Customer dashboard – buyers get a comprehensive dashboard to manage their accounts, orders, and digital products.
Cons
Limited customer support – customer support is available as a premium service. Sellers will need to rely on existing documentation or reach out to other users via the community forum for help.
Outdated themes – the available themes look less modern compared to other platforms, which means you may have to extensively customize them.
Verdict
With a user-friendly interface and plenty of great features, AbanteCart is a good option for newcomers and small business owners looking for a free eCommerce solution.
11. osCommerce – Tons of Free Add-Ons

osCommerce is free eCommerce software that you can download and install on your hosting platform. It's easy to set up – you don't need any technical experience to build an online store.
Compared to most eCommerce platforms on this list, osCommerce's demo website and dashboard designs look quite outdated. However, it offers easy web design customization, letting you custom-create a modern-looking storefront.
This platform has a large and active user community forum with over 300,000 members, so there are many users you can reach out to for help. It also has an extensive repository of documentation to help you configure your eCommerce website.
If you need to add extra functionality to your eCommerce website, the App Shop has thousands of free add-ons. osCommerce also gives the option for users to host their eCommerce website with their dedicated hosting service.
Pricing and Plans
osCommerce is free to download and use – simply have a hosting plan and a domain name ready to run your eCommerce website.
If you want to use osCommerce's hosting service, costs start at $4.99/month. All plans include a free SSL certificate, FTP access, and eCommerce-optimized servers. The most affordable plan grants you around 10 orders and up to 500 visits per day.
Pros
Free add-ons – there are various extensions that are free to download.
Dual solution – sellers have the freedom to use osCommerce for free by self-hosting their own online stores or opt for the all-in-one hosted solution.
Cons
Outdated look – the interface and the default store design are outdated. However, they function well and you can tweak them to fit your brand better.
Not entirely scalable – it lacks some features to support large-scale businesses.
Verdict
osCommerce enables its users to set up a highly customizable online store thanks to its collection of free add-ons. This platform also has a large and active community to help you resolve any issues during the site development and maintenance process.
12. CubeCart – For People Looking for Simplicity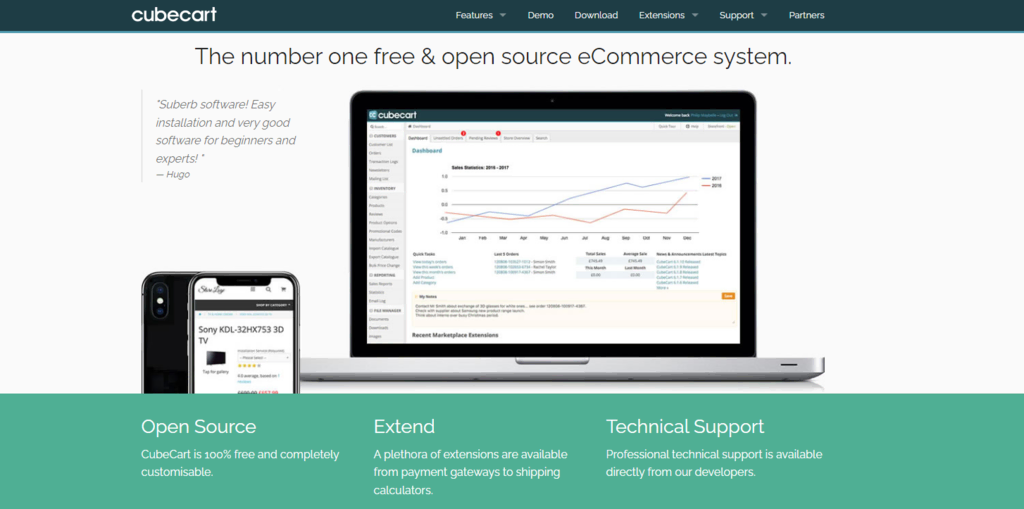 The open-source CubeCart is an excellent eCommerce software choice for those looking for simple and easy-to-use tools.
Compared to most other platforms on this list, CubeCart's dashboard looks rather plain, but it offers all the features you need to run a successful eCommerce store, from product management to sales tracking.
It has a built-in newsletter function, which is an excellent way of keeping customers informed about your products and promotions. This is a notable plus point considering that most eCommerce platforms require extensions for this type of feature.
CubeCart also comes with a built-in image editing tool, accessible from the store's admin panel. It's not as sophisticated as other tools in the market, but it's handy to crop and resize images on the go to optimize your website's performance.
This eCommerce platform also offers its own plugins and themes. There aren't many options available, but some notable ones include a customer loyalty and rewards plugin and third-party payment integrations with PayPal and Stripe.
Pricing and Plans
CubeCart comes in self-hosted and hosted solutions.
With the self-hosted option, the open-source eCommerce software is free to download. You will only have to pay for a web hosting service and domain name. The platform recommends running it on a Linux hosting solution.
On the other hand, the hosted eCommerce option comes in three different plans. The Unmanaged plan costs $33/month and includes basic customer support via live chat and email.
The other two plans, Managed and Managed+, cost $53/month and $79/month, respectively. They come with additional customer support, including store transfer assistance from another host, minor coding tweaks, and extensions management.
Pros
Excellent customer service – CubeCart provides live chat and email support in all hosted plans.
Feature-rich – comes with many useful built-in features, minimizing the time you need to find and manage extensions to expand the site's functionality.
Cons
Limited extensions library – there aren't many options available compared to other eCommerce platforms.
Verdict
CubeCart is one of the best open-source eCommerce platforms in the market for those who prioritize ease of use, as it comes with many built-in features for running a functional online store.
Like Magento, CubeCart is an eCommerce platform that offers both hosted and self-hosted software. Beginners can benefit from the hosted plans, as the platform provides managed services to help them with various aspects of setting up a website.
On the other hand, the self-hosted solution is available for experienced users who want more freedom and control over their store's infrastructure.
13. Joomla! – Complete Control and Flexibility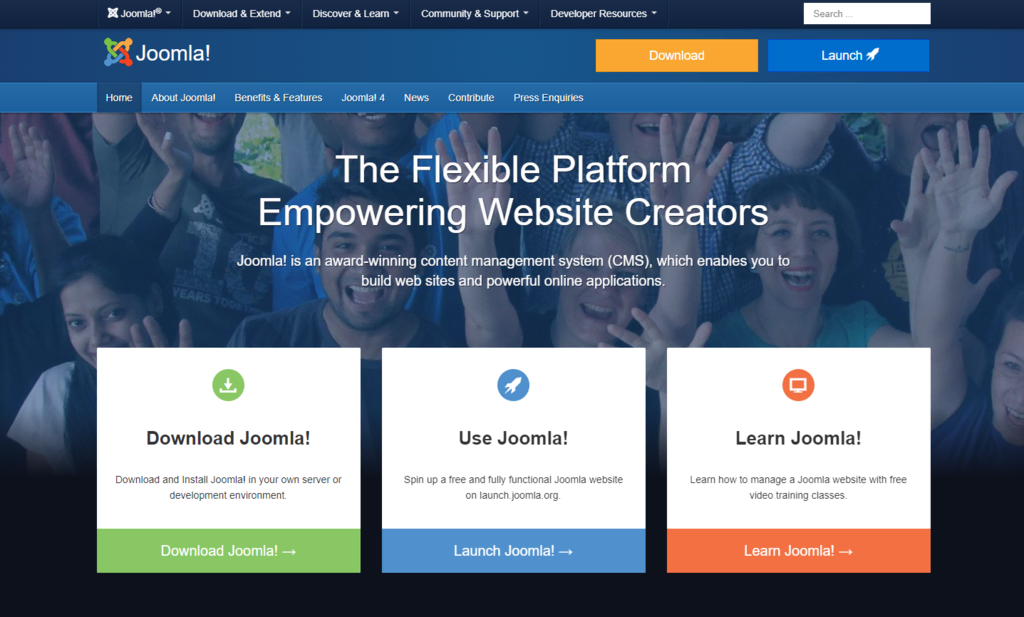 Joomla is an open-source CMS that is one of the more popular rivals of WordPress. However, it's not a dedicated eCommerce platform. You'll have to install an extension to add the shopping cart functionality to your site, similar to adding WooCommerce to a WordPress site.
Joomla provides several eCommerce extensions for its users. One of the most well-known is the freemium extension named J2Store. It's easy to install and offers extensive documentation to help you navigate the setup process.
J2Store's features include product management, eCommerce templates, and order management. It also has an extension to enable various types of transactions, such as subscriptions, ticket bookings, and partial payments.
This makes J2Store a flexible solution suiting different types of industries, products, and services. What's more, there are over 70 payment plugins, free and premium, that cover well-known providers, including PayPal, Stripe, and Authorize.net.
J2Store doesn't have an eCommerce analytics extension. However, Joomla's extensions library offers analytics tools that you can use on your online store. Additionally, Joomla has built-in SEO features that let you edit meta descriptions, focus keywords, and modify the robots.txt file.
Compared to WordPress, Joomla has a steeper learning curve. Its dashboard uses quite advanced website development terminology, and its navigation is not beginner-friendly. However, Joomla provides several forums and tutorials to help beginners build an eCommerce site to suit their online business needs.
Pricing and Plans
Joomla's open-source software is free to download, but you'll need to get web hosting and a domain name to use it. Hostinger offers Joomla-optimized hosting plans, which already include a free SSL certificate and 24/7 support.
Meanwhile, the J2Store extension is available in free and pro versions. The pro version starts at $79 for six months and includes features like coupons, email templates, and invoice templates. You'll also get the PayPal plugin for free.
While J2Store's extensions are limited and mostly premium, Joomla's extensions are more varied, and many are available for free.
Pros
Multiple shopping cart extensions – plenty of add-ons are available to enable eCommerce functionality on Joomla sites.
Great flexibility – just like WordPress, Joomla offers excellent flexibility to customize the website to your liking.
Extensive product types – J2Store supports physical products, digital downloads, subscriptions, and ticket bookings.
Cons
Limited free extensions – only a few free extensions are available on J2Store. You even have to pay to add a payment gateway extension to the site.
Lack of integrated eCommerce functionality – features like analytics tools, abandoned cart recovery, and marketing tools aren't available by default, so you'll have to get extensions.
Verdict
Joomla is a great alternative to WordPress, offering similar flexibility to create an online store.
It comes with an active community and plenty of documentation. However, since it's not an eCommerce platform, you'll need to add eCommerce functionalities to the site using both Joomla's and J2Store's extensions.
Since it's not as intuitive and easy to use as the other platforms on this list, Joomla is more suitable for advanced users or those willing to take some time to learn their way around this CMS.
14. Sellfy – Best for Selling Digital Goods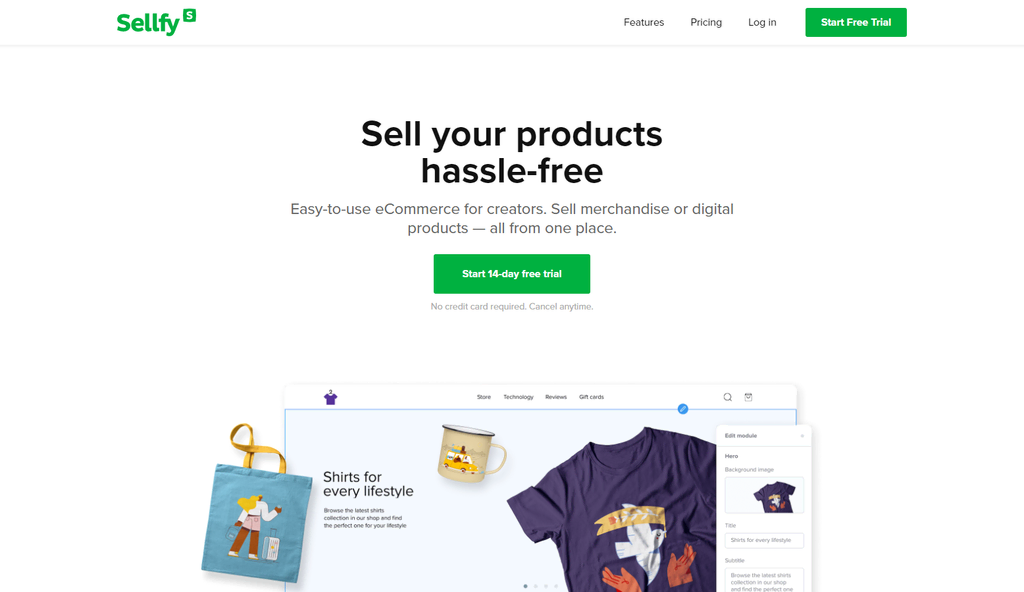 Sellfy is an eCommerce platform designed to sell merchandise and digital products. Online store owners can let their customers purchase and download files directly from the website. It also enables you to embed buy buttons and share product links directly to your social media profiles, such as Facebook and YouTube.
Most notably, this platform has a Pay What You Want feature, which is excellent for collecting donations or testing prices for a new product. Set a minimum fee and let customers manually input the amount they want to pay for a specific product.
Another great feature is its automatic store translation for buttons and checkout pages, which is set according to each visitor's location and preferred language. It is also possible to manually translate product categories, email templates, and other aspects of the store.
In terms of digital product security, Sellfy comes with anti-fraud measures such as limited download attempts, unique download links, and PDF stamping.
This eCommerce platform is also PCI-ready. However, it only offers PayPal and Stripe as payment processing options.
Pricing and Plans
Sellfy offers one free version and three paid plans ranging from $29/month to $159/month.
There is no annual sales limit using the free plan, but you can only list 10 physical or print-on-demand products. Your online store will also use the .sellfy.store domain – custom domains are only available with the premium plans.
The paid plans are based on an annual sales threshold. With the Starter plan, users can sell for up to $10,000/year, while the Premium plan has a sales limit of $200,000/year.
If you exceed the sales limit, you'll have to upgrade to the next subscription level. Otherwise, you'll be charged a 2% overage fee on the revenue that surpasses the limit.
All paid plans allow users to list unlimited products, including digital and subscription products. The Business and Premium plans also provide an abandoned cart recovery feature and an option to remove the Sellfy branding from your eCommerce site.
This eCommerce platform offers a 14-day free trial and doesn't charge any transaction fees.
Pros
Supports various types of products – sell digital, physical, print-on-demand, and subscription products all from one platform.
Advanced built-in features – includes the Pay What You Want tool, automatic translation, and ad tracking.
Cons
Limited payment gateways – only compatible with PayPal and Stripe.
Verdict
Sellfy is an eCommerce platform that best suits businesses primarily selling digital items and merchandise. It's also an excellent option for entrepreneurs selling physical, print-on-demand, and subscription products.
It charges no transaction fees and is beginner-friendly with simple store setup, product customization, and site maintenance procedures.
How to Choose the Best eCommerce Platform for Your Needs
eCommerce platforms help you create an online store without hassle. Before selecting one for your business, there are some key features to consider.
In the following sections, we will discuss the main factors to assess when researching various eCommerce platforms.
Pick the Most Intuitive One for You
Managing an online store is a challenging task. Therefore, you must choose an eCommerce platform that makes the process as seamless and intuitive as possible.
Look for a user-friendly interface enabling you to easily list items, accept online payments, and manage inventory.
If you opt for a SaaS platform, all you need to do is create an account, choose a plan, and start building the site. This type of eCommerce platform generally takes care of security and updates for you, so it's great for beginners.
If you choose an open-source eCommerce platform, you'll need to find a hosting provider and purchase a domain before downloading and installing the software. You'll also be responsible for updating features and implementing the proper security measures, so this option is best for more experienced users.
Pay Attention to the Core eCommerce Features
An important aspect to consider is the number of products you can sell. Some eCommerce solutions greatly limit product listings in their more affordable plans. Make sure that your chosen platform allows you to list all or at least an adequate number of items on your online store.
It's also crucial to look for features that help to enhance the customer experience, like personalized product recommendations or a shipping tracker.
Overall, here are some key eCommerce features the platform should offer to help you manage your online store:
Product filtering and categorization – helps customers find specific products easily, especially if the store offers a wide variety of items.
Product variations – if you sell items in different sizes or colors, the platform should enable you to add and manage all product variations.
Promotions, discounts, and coupon codes – having the option to offer these can help you generate more sales, especially during the holiday season.
Inventory management – so you can track product availability in real time to keep up with demand.
Abandoned cart recovery – the platform should provide an automated tool to send emails to customers reminding them about their carts so you can recover lost sales.
Shipping – have the freedom to offer various delivery methods so your customers can select their preferred option, decreasing cart abandonment rates.
Consider Its Design and Customizability
Web design plays an important role in improving customers' shopping experience, encouraging them to browse longer on your online store and driving purchases. It's such a significant factor that 38% of people will leave an eCommerce site if they find its web design or content unappealing.
A good eCommerce platform should offer attractive and customizable website templates or themes so users don't have to design the site from scratch. We especially recommend finding a platform offering responsive, modern designs to ensure your website's mobile-friendliness.
Many eCommerce platforms also come with intuitive drag-and-drop functionality. It's a great feature for beginners who don't have experience with web development and design. This type of visual editor helps you build a website quickly without needing to edit code.
Look For Suitable Payment Options and Third-Party Integrations
Among the most crucial elements to look out for is how the platform processes online transactions. Giving your customers various payment options will improve their shopping experience, ultimately benefiting your eCommerce store's conversions.
Examine the default payment gateways and check whether you need to pay to integrate popular processors. Having a variety of third-party payment providers is important, as it can make or break a sale.
Check if there are any transaction fees to consider when developing your pricing strategy. It's also important to note if the platform charges a percentage of revenue if you surpass your plan's sales threshold.
Don't Forget SEO and Other Marketing Features
eCommerce marketing features are crucial for expanding your customer base, promoting your brand, and growing your eCommerce business.
Here are some marketing tools you should look for in an eCommerce platform:
SEO – increase the organic traffic of your eCommerce site by optimizing it for search engines. These tools should enable you to add meta descriptions and create SEO-friendly URLs.
Social media integration – 57% of customers follow brands on social media to receive information about new products. So, integrate your brand's social channels to strengthen its relationship with customers and drive sales.
Mailing list subscription – create email marketing campaigns and subscription-only content to improve communication. Add sign-up buttons or banners and send newsletters about ongoing promotions, product launches, and special deals.
Analytics – analyze your site's traffic sources and customer behavior to optimize your growth strategy. Adjust the website's layout, content, and marketing materials to generate more sales.
Another great resource to have in your chosen eCommerce platform is blogging tools, as they can help strengthen your marketing campaigns and SEO strategy. Sharing informative articles about your business and utilizing relevant keywords will also help the website become more discoverable.
Find the Best Value for Money
When looking for the best eCommerce platform for your business, consider the long-term costs. Pick several eCommerce platforms or plans that suit your needs, then compare their features and expenses.
If you choose a SaaS eCommerce platform, you'll have to pay monthly or yearly subscription fees. Meanwhile, if you opt for a free and open-source platform, you'll need to purchase hosting and domain names and pay their renewal fees.
Keep in mind that there might also be additional costs for themes, extensions, or integrations.
Overall, make sure to choose a reliable and scalable eCommerce platform within your budget that can adequately support the growth of your business.
Check Their Customer Support Quality
It's not uncommon that you may encounter issues when building or maintaining your website. So, choose an eCommerce platform with reliable customer support and extensive documentation to help you solve any problems.
Note that all eCommerce platforms have different levels of support. Some may be limited to email and ticket support, while others may provide 24/7 phone or live chat support.
Having access to any type of support is useful, but consider your expertise and needs. For example, if you have no experience building or running sites, you may find that 24/7 support is preferable.
Conclusion
There is no one-size-fits-all solution when it comes to choosing the right eCommerce platform for your online store. The best approach is to look closely at each platform's services and features to ensure that it fits your budget, goals, and business needs.
For that reason, we have shortlisted the five best eCommerce solutions based on different categories:
WooCommerce – most flexible. This WordPress plugin is one of the most popular eCommerce solutions. It is highly customizable, easy to set up, and suitable for any type of online store.
Shopify – best eCommerce platform for small businesses. Provides beginner-friendly features and third-party integrations that make starting an online store easy.
BigCommerce – best eCommerce platform for medium to large businesses. Lets you sell on multiple channels, offers a customizable enterprise plan, and supports headless commerce.
Magento – most extensive features. Offers staging environments to reduce downtime during updates, an AI-based personalized shopping experience, and various extensions.
Sellfy – best eCommerce platform for selling digital goods. Supports various types of products, from digital to print-on-demand.
It is also important to consider these seven factors when choosing the best platform for your online store:
Ease of use
Core eCommerce features
Design and customizability
Available payment methods and third-party integrations
SEO and marketing tools
Value for money
Customer support quality
Now that you know the pros and cons of the 14 best eCommerce platforms, it's time to make your choice and start building your eCommerce site.
Best eCommerce Platforms FAQ
Here are some answers to the most frequently asked questions about eCommerce platforms
Why Use an eCommerce Platform?
Using an eCommerce platform means you can access features that are specifically designed to streamline various online sales processes. This frees up your time to focus on other important tasks, such as improving product quality and maintaining good customer relationships.
What Are eCommerce Platform Options?
There are two common types of eCommerce platform options – open-source and software as a service (SaaS). The former is often free and better suited for users looking for control and customizability, while the latter is an all-in-one solution best for those looking for convenience and ease of use.
Which Platform Is Best for eCommerce?
The best eCommerce platform for you depends on the size and complexity of your online store. Some of the most popular eCommerce platforms include WooCommerce, PrestaShop, Shopify, and BigCommerce.
What Is the Fastest eCommerce Platform?
When measuring page loading speed, Shopify tends to be the fastest eCommerce platform. Magento and PrestaShop are also relatively fast platforms, while the speed of a WooCommerce store depends on the quality of its web hosting provider.