15 Best eCommerce Platforms to Build Your Online Store in 2021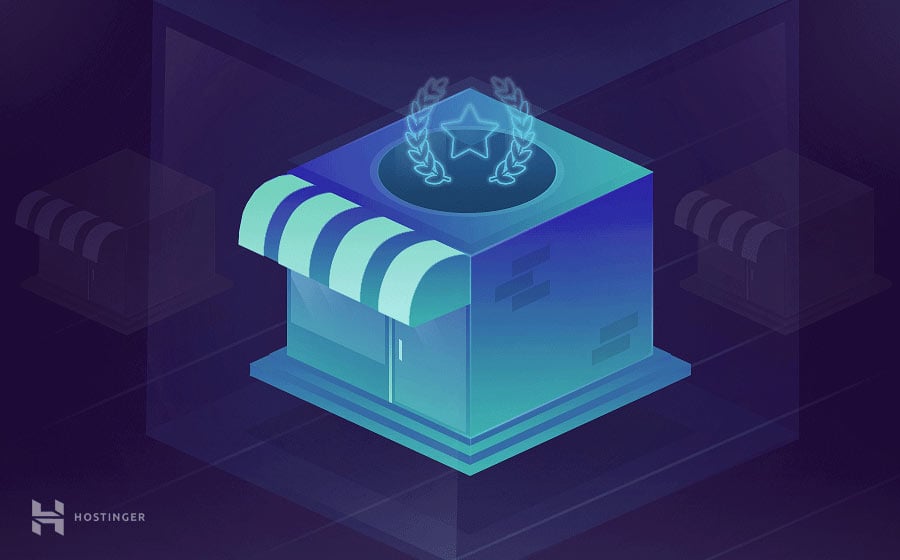 There's a lot of work that goes into setting up an online store – you have to process payments, deal with clients, and manage inventory. However, the first hurdle you need to deal with is choosing which platform you're going to use.
That is why picking the best eCommerce platform is essential, as it will make dealing with inventory and processing payments much more accessible.
In this article, we'll list the best eCommerce platforms available today and discuss what to look for when picking one for your store.
15 Best eCommerce Platforms for Your Online Business
We have a lot of ground to cover here since there are many great options to choose from, each with its pros and cons.
We want to help you pick the best eCommerce platform based on your needs and business niche, so here's a hand-picked list of the best eCommerce platforms available today.
1. Zyro eCommerce – Powerful and Affordable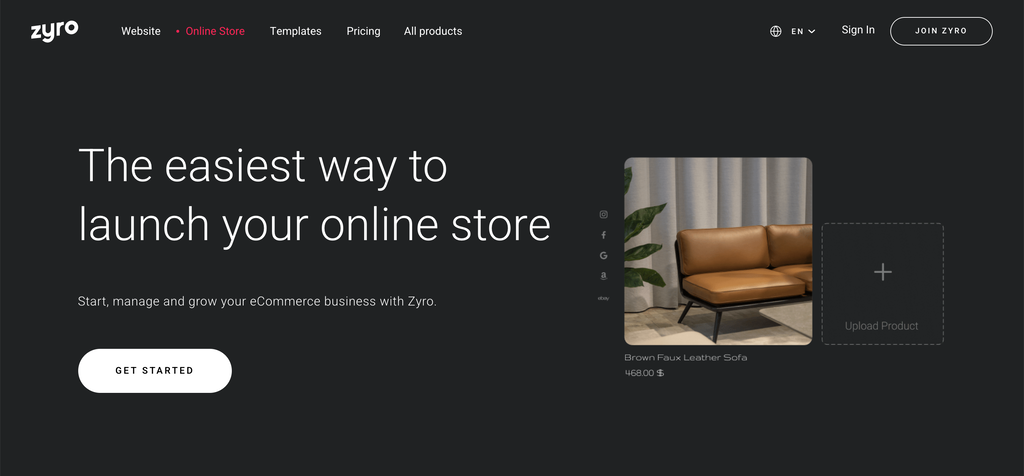 Zyro is somewhat of a newcomer on this list, but it has quickly proven itself as one of the best eCommerce building solutions. Focused on being beginner-friendly yet packing a lot of incredible features, Zyro allows you to build your online store in a matter of minutes.
It offers several designer-built online store templates to choose from, which are easy to customize using the drag-and-drop editor functionality. These web designs are also mobile-optimized by default, meaning your store will quickly adapt to any screen your customers might be using to access your website.
Most importantly, inventory management is straightforward and easy to do. Additionally, Zyro offers AI-based tools for online marketing, such as the business name generator or the content generator.
If you prefer an eCommerce website builder that provides phone support, if you'd ever need help, Zyro might not be for you. Nevertheless, you can still reach its 24/7 support team via live chat or email.
Zyro is one of the most affordable and reliable options on this list and excellent no matter what type of online store you plan to build. If you can't wait to start working on your online business, consider picking up the best eCommerce website builder that is Zyro.
Pros
Beginner-friendly and affordable
Easily scalable if you ever want to expand your business
Multiple payment options
Many of the available free themes are specifically designed to be used for online stores
Cons
Lacks some of the more advanced eCommerce features when compared to other options on this list
No available phone support
Pricing and Plans
Zyro offers two eCommerce plans, which are eCommerce for $8.99/month and eCommerce Plus for $13.99/month.
For starters, the basic eCommerce plan is one of the most affordable options on this list when compared to most website builders and offers such features as unlimited bandwidth, email notifications, discount coupons, gift cards, and complete order tracking.
While the eCommerce Plus plan is best for people who want to grow their business as it provides more advanced tools such as abandoned cart recovery, options for selling your products on social media, and multilingual stores.
Verdict
Offering affordable plans and a simple-to-use editor, Zyro is an excellent choice for small businesses that are just getting started or have no coding knowledge. However, if you own a larger firm, there's plenty Zyro has to offer as well.
2. WooCommerce – An Excellent Platform for WordPress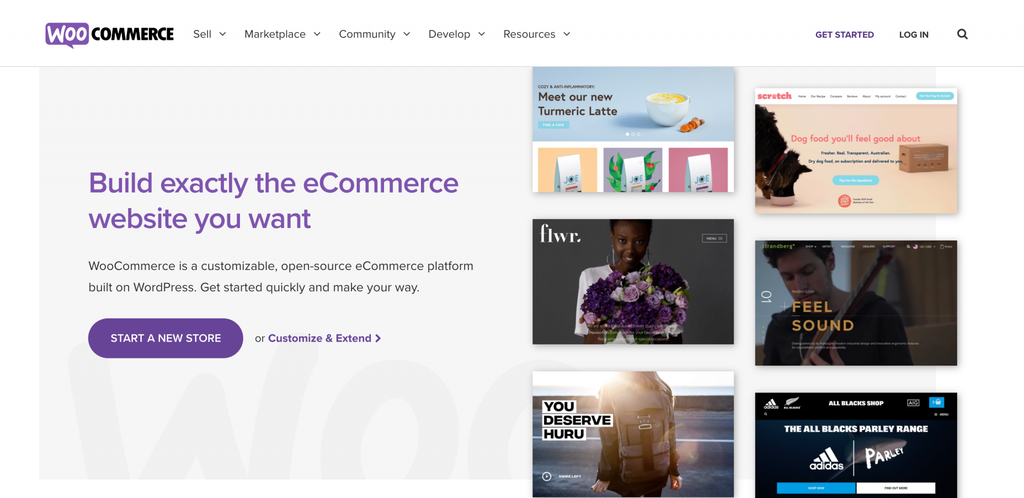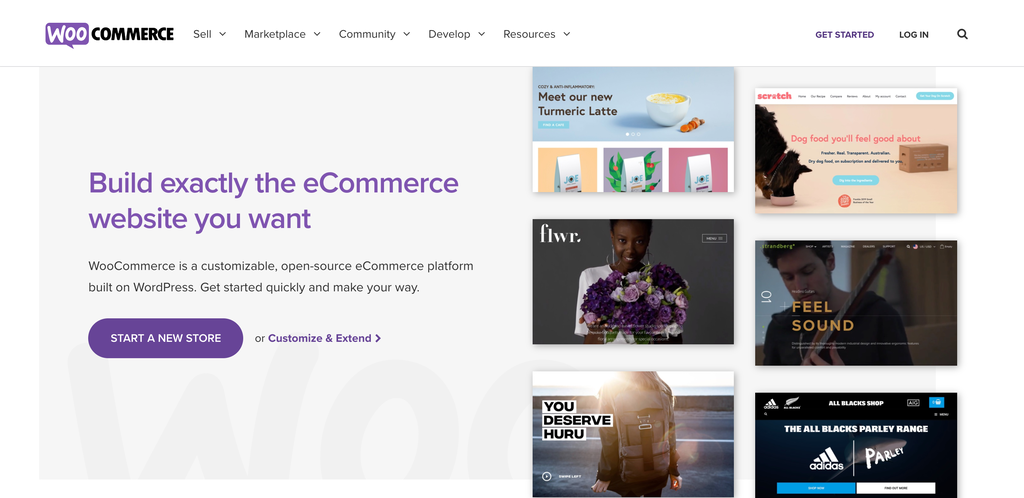 Unlike the other entries in this roundup, WooCommerce is not a standalone eCommerce platform but is instead specifically built with WordPress in mind.
WooCommerce does a fantastic job of adding eCommerce functionality to the platform and is one of our favorite eCommerce choices on this list. WooCommerce is an excellent choice for all business types – from beginners to professionals alike.
It integrates itself perfectly with WordPress' dashboard that's already intuitive enough for beginners to pick up quickly.
WooCommerce can handle all of the basics one might need – from publishing items for sale to processing payments. Plus, you can further extend its functionality by using dedicated extensions, of which there are hundreds available.
For example, there are options to integrate nearly every payment processor available or make use of email marketing tools.
If you're looking to set up a simple WordPress-based online store, it's hard to beat WooCommerce ease of use. However, scaling the platform to its full potential does require several extensions to be added and managed.
Also, WooCommerce's customer support can't be reached through phone or email. You'll need to submit a ticket first and wait for the team to answer your question through live chat.
Nevertheless, this eCommerce plugin for WordPress offers plenty of online guides and support forums, providing insights from professionals, and average everyday users.
Furthermore, if you're looking for more WordPress-specific eCommerce plugins, check out our guide here.
Pros
Perfectly integrates itself with WordPress
Customize your store using dedicated WooCommerce extensions and themes
Has one of the largest online communities out there
Cons
Adding both basic and advanced functionality requires multiple extensions
One of the pricier options on this list
Pricing and Plans
Though WooCommerce is free to use, you should keep additional costs in mind, such as finding a web host, registering a domain name, getting an SSL certificate, and paying for any extensions you want to use.
Should you want an all-in-all solution, consider choosing one of our WooCommerce hosting plans starting at $3.99/month to $14.95/month.
Verdict
If you want complete control in personalizing your store's design and functionality, WooCommerce is the perfect eCommerce platform for you.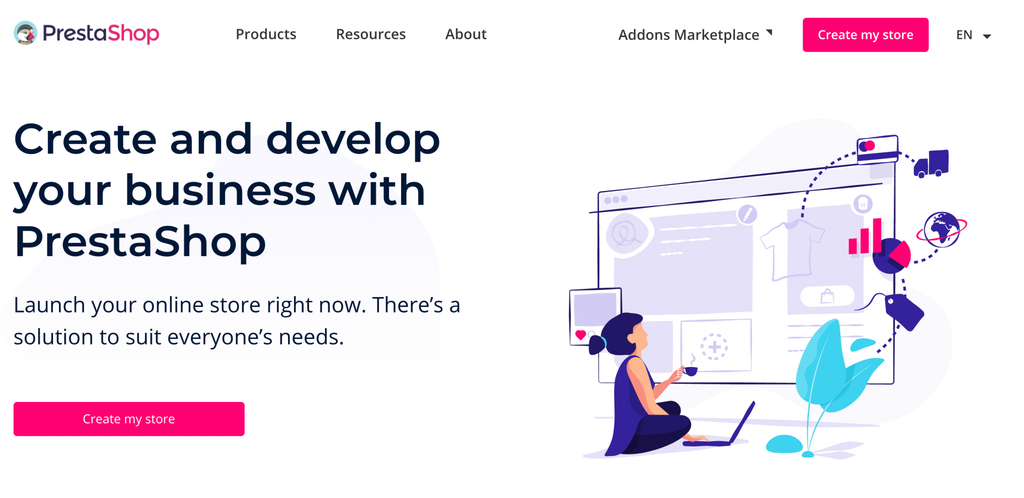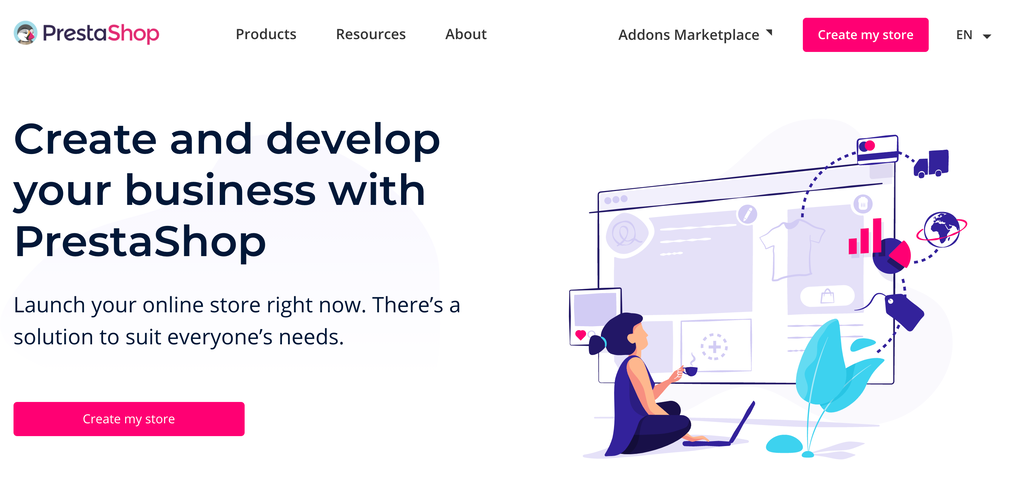 Unlike WooCommerce, PrestaShop is a dedicated eCommerce platform. Its goal is to help you set up a beautiful online store as quickly as possible, and it succeeds in that aspect wonderfully.
On top of being easy to use, PrestaShop packs an astounding number of features. It includes powerful product management functionality, multiple payment options, customizable checkouts, and much more.
Aside from its built-in tools, you can also extend the platform by using additional plugins and themes. It offers analytics tools and customer support without the need for any other modules.
Compared to WordPress, however, PrestaShop provides a very different experience, so you should test both of them to see which one best fits your needs.
Pros
Offers advanced product management settings and multiple payment processing options
Checkout experience customization
Manage support queries via the platform itself
Cons
A steeper learning curve for more of its advanced features
Can get a bit slow at times
Pricing and Plans
Prestashop is a free eCommerce platform, but you still need to purchase a hosting plan and a domain. If you're looking for Prestashop hosting plans, we have three options available that range from $2.89/month to $9.99/month.
Verdict
Prestashop is one of the most beginner-friendly open source platforms out there. It has a wide range of modules, giving plenty of options to upgrade and customize your eCommerce site effortlessly.
4. Magento – Best Solution for Startups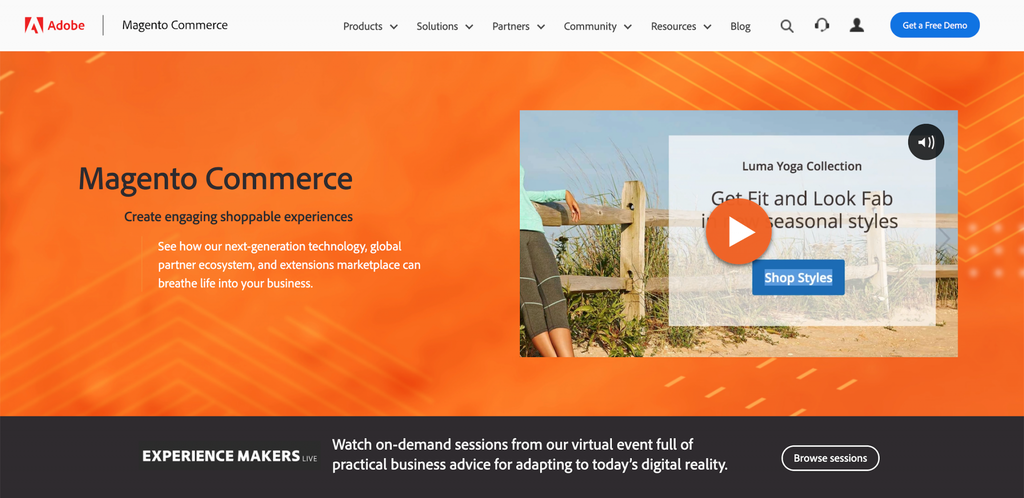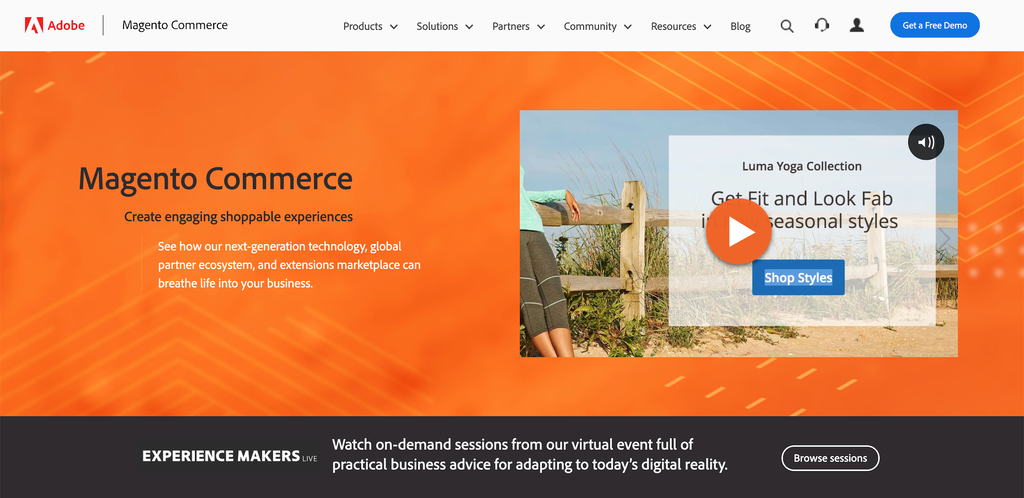 Unlike our previous picks, Magento mainly targets larger-scale businesses, but it comes far ahead of its competition when it comes to flexibility. It's a robust platform that enables you to create both small and large scale online stores.
You need to have some web development experience if you want to use it as your go-to eCommerce platform. That's because it is not the most beginner-friendly option on this list.
However, it makes up for it with its wealth of features. For example, it's built with SEO in mind, heavily focuses on security, and enables you to use various themes and plugins.
In our opinion, Magento is the best eCommerce platform for startups. It offers a lot of flexibility, all the eCommerce features you would want, and a perfect fit for companies with in-house developers.
Pros
An incredibly scalable eCommerce platform that's perfect for large online stores
Built with SEO and security features in mind
Supports multiple currencies and tax rates
Integrates well with almost any payment processor
Cons
Has a steep learning curve and can be tough to use if you don't have experience with web development
Pricing and Plans
Like WooCommerce and Prestashop, Magento is free to install. Still, the cost of using it will depend on the web hosting, domain name, additional security features, and extensions you plan to pick up.
Hostinger offers three Magento hosting plans starting at $9.99/month to $56.99/month.
Verdict
You should consider using this open-source platform if you want to build a medium to large size business, have a global audience, and need total freedom to modify your store.
5. Shopify – Best for Small Businesses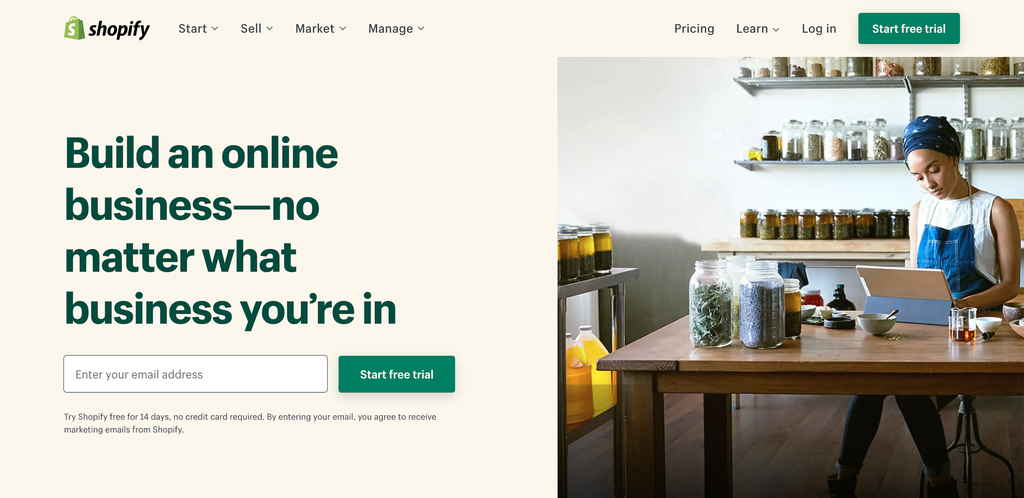 Shopify is one of the most popular shopping cart platforms, powering over 500,000 businesses worldwide. This online store builder provides all of the tools needed to create a fully functional eCommerce site, ranging from performance analytics to SEO tools.
Setting up a website is simple with Shopify, as even beginners can create their own eCommerce site within minutes, all thanks to its intuitive drag-and-drop interface.
One great feature that comes built-in with all Shopify plans is the abandoned cart recovery option. With this function, users can reconnect with customers who leave products in their shopping cart without completing the sale.
Shopify offers multiple popular payment gateways to choose from, including PayPal and Authorize.net. However, if you want to use a third-party payment processor, you will have to pay additional transaction fees.
To avoid these additional costs, you must use its built-in payment system called Shopify Payments, which offers similar credit card fees as Stripe or Braintree.
Shopify has 24/7 phone support, live chat, and email support, ensuring that its customers can get direct help from the team in a matter of minutes.
Pros
Provides tons of additional tools to help you scale up your online business
Outstanding customer support
Built-in abandoned cart recovery
Cons
Additional transaction fees may apply
A limited selection of free templates
Pricing and Plans
Shopify has three available pricing plans, such as Basic Shopify for $29/month, Shopify for $79/month, and Advanced Shopify for $299/month. It also offers a 14-day free trial, allowing users to try the platform before choosing their plan.
Its starting plan includes options for gift cards, real-time shipping rates, unlimited bandwidth, and an unlimited number of products to sell.
Should you want to get professional reports, increase the number of staff accounts and inventory locations, you can upgrade your plan at any time.
Verdict
By offering ease of use, a collection of helpful features, and plenty of third-party integrations, Shopify is an excellent option for small to medium-sized stores who want to scale up their business.
6. BigCommerce – Best for Large Businesses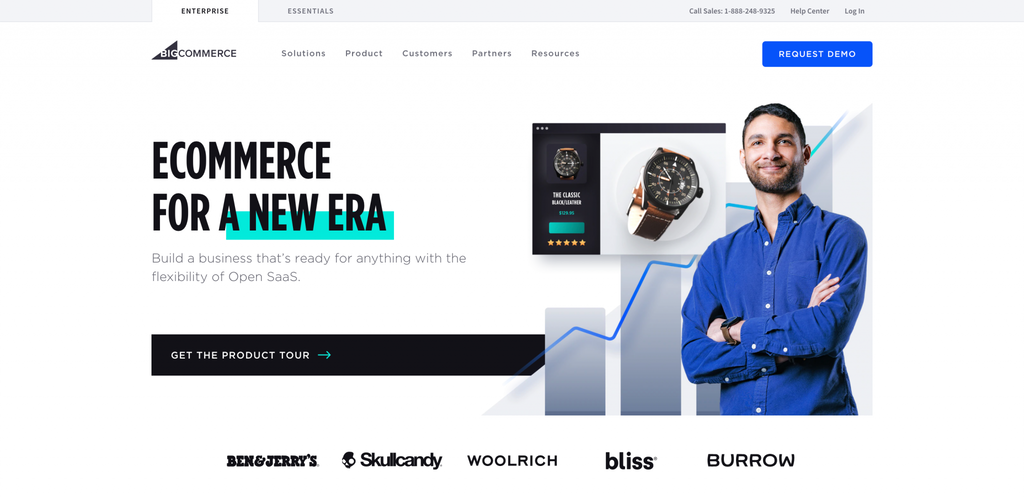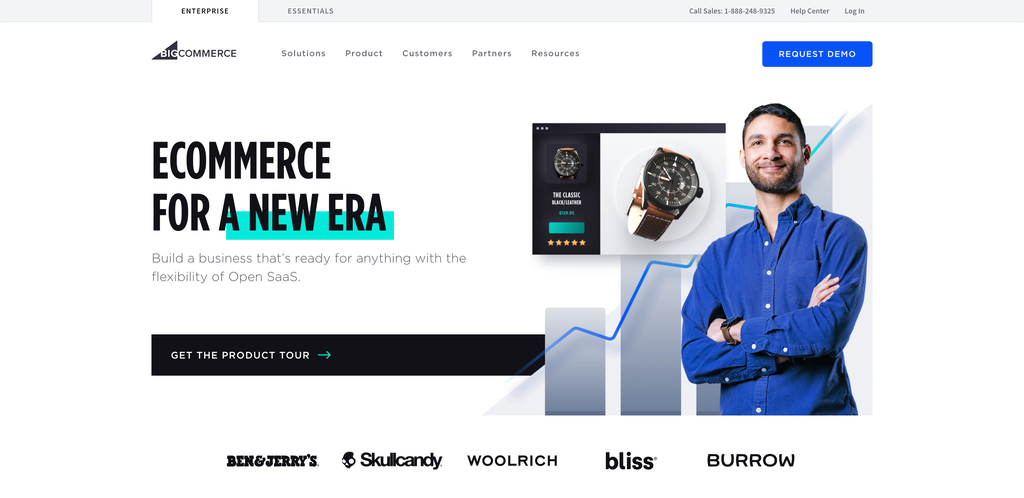 Another excellent platform for eCommerce sites is BigCommerce. Packed with unique tools and features, this website builder is a reliable option for creating and managing medium to large businesses.
What makes BigCommerce great is the multi-channel selling feature, called the Channel Manager. With this tool, business owners can connect their stores to different marketplaces while keeping inventory management tasks in one place.
BigCommerce comes with social media integration and helpful SEO tools, including microdata, custom URLs, page titles, and CDN, which will help you drive more traffic and achieve a higher rank in the search engine results.
Like Shopify, BigCommerce also provides the abandoned cart recovery, yet this feature isn't available on all of its plans.
Another plus of using BigCommerce is that it has no transaction fees. However, this selling platform has an annual sales threshold, which will automatically upgrade your plan if your sales reach over $50,000 for one year.
Pros
Advanced multi-channel feature
Impressive options for SEO
Unlimited number of staff accounts
No additional transaction fees are needed
Cons
Includes an annual sales limit that might hinder some of your business-related choices
There's a small learning curve to follow when learning how to use its more advanced tools
Pricing and plans
BigCommerce offers four pricing options ranging from $29.95/month to $299.95/month, except for the Enterprise level plan that comes with a custom price that relies entirely on your business needs.
An unlimited number of products you can sell, real-time shipping rates, and gift cards are some of the features you'll get with the BigCommerce Standard plan, which is entirely suitable for businesses that are just getting started.
Verdict
Packing a ton of helpful tools, BigCommerce might not be the best solution for small-scale online stores. Its cheapest Premium plan alone is more expensive than most of the competitors.
However, BigCommerce is one of the best eCommerce platforms for enterprises and large-scale businesses. It features advanced analytics tools and helps you handle bulk orders and manage shipping options with ease.
7. 3dcart – More Payment Options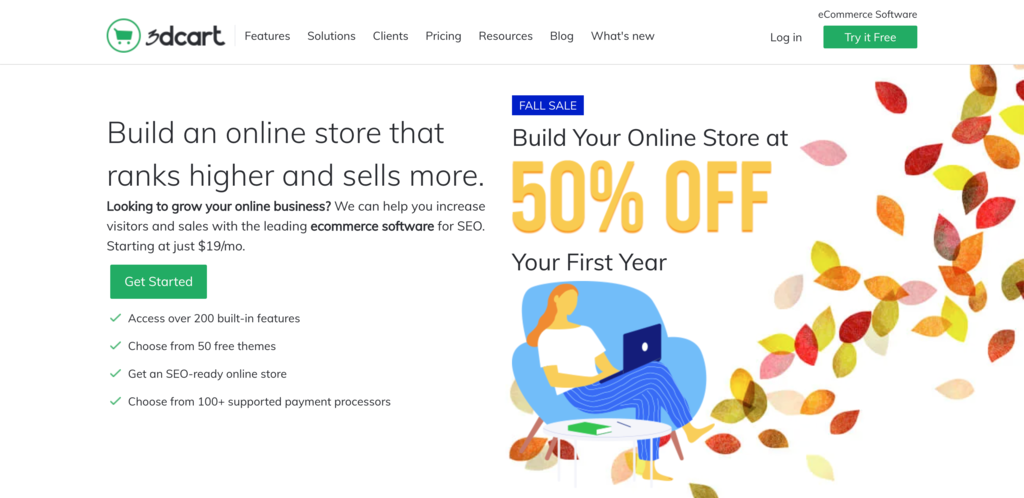 3dcart is a website builder that offers more than 200 pre-built features and no transaction fees. However, if you're an absolute beginner and have no prior technical knowledge of using such a platform, 3dcard might not be the best solution for you.
For example, the interface is not exactly visually appealing, its operations are somewhat challenging to understand, and it takes quite an effort to customize your store. Overall, if you're looking for a more straightforward solution, you better look elsewhere.
Despite all that, 3dcart has plenty of built-in blogging tools, helping users increase their ranks on SERPs by sharing helpful articles or other pieces of content. What's more, your blog section will also match your site's theme, giving a consistent look across your site.
3dcart also partnered up with Zapier, an automation tool that allows you to personalize your eCommerce website with more than 1,000 third party apps, such as HubSpot, Zendesk, and Mailchimp.
What's great, 3dcart offers over 160 payment gateways, which are more than what other online store platforms have to offer. These payment methods are also integrated into your store, meaning you won't need to tweak a single line of code to activate them.
In terms of help and support, 3dcart's team is really helpful and ready to assist you through live chat, email, phone, or social media.
Pros
Supports more than 160 third-party payment gateways
Splendid customer support
Hundreds of built-in features and tools
Cons
Customizing your website's design requires HTML or CSS knowledge
No mobile app support
Pricing and plans
Besides a 15-day free trial, 3dcart offers five pricing plans ranging from $19/month to $299/month.
If you're looking for one of the most affordable options on this list, picking up the Startup Store plan might be the right solution right off the bat.
Nevertheless, should you want more advanced features like feedback survey functions or having up to five hosted email accounts, you should start with the Basic Store plan instead.
Verdict
Though it doesn't offer such usability and creative control as Shopify or Zyro, 3dcart is a reliable option for those who want to get their business started at a lower price, plenty of payment options, and helpful blogging tools.
8. Big Cartel – Best for Artists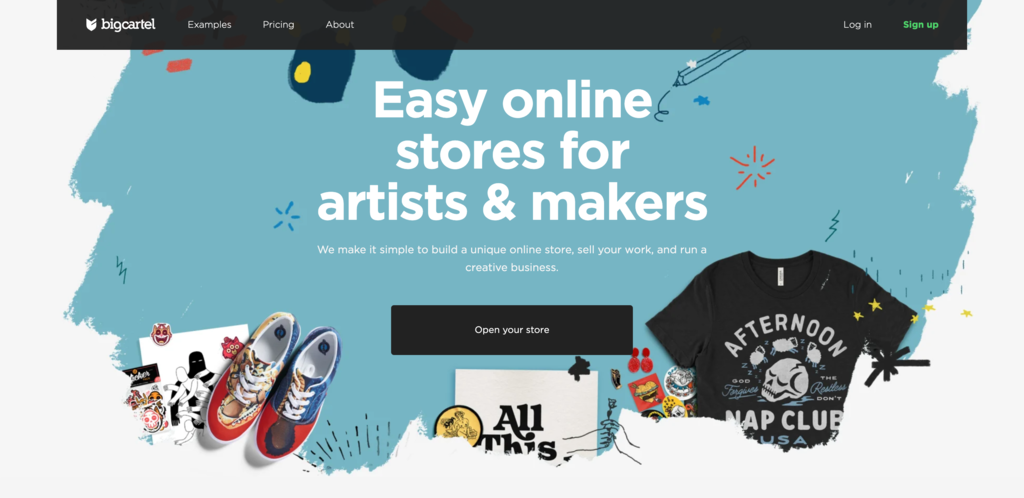 Big Cartel is a cloud-based eCommerce software aimed for creative freelancers and artists. Anyone can start their online store for free and sell up to five products with this platform.
Building eCommerce stores with Big Cartel is relatively straightforward – simply pick a theme, upload your product images, add the prices, and you're all set.
Its click-and-drag customization tool makes it easy to shape your website, however you see fit. However, if you want to tweak the site any further, you'll need some basic coding knowledge.
In comparison, the list of available Big Cartel's tools is rather basic when set against Shopify or BigCommerce, for example. It's also missing some essential sales tools, such as login options for customers and product reviews.
To unlock additional functions like selling digital products or accessing analytics tools, you'll have to use third-party extensions and add-ons, which you can find here.
Big Cartel doesn't support as many payment gateways as other platforms on this list – only Stripe and PayPal are available. It's also not PCI compliant, which means eCommerce store owners will need to follow operational standards when processing card payments from their website.
Pros
Offers a Free plan for those who're just starting out
Includes a huge selection of free themes
Cons
A limited number of products you can sell
Lacks some of the features and tools compared to others
Requires basic coding knowledge to customize the theme further
Pricing and Plans
There are four paid plans for Big Cartel, ranging from $9.99/month to $29.99/month. These Premium plans include such tools as Google Analytics, sales tax autopilot, theme code editing, inventory tracking, and bulk editing.
The only distinguishing difference between each plan is the number of products you can sell. For example, when you pick their highest-priced plan, you'll be able to sell up to 500 items.
Verdict
Big Cartel is a great solution for artists who wish to sell their products or services and don't mind some of the limitations the platform brings.
9. Volusion – Best for Dropshipping Businesses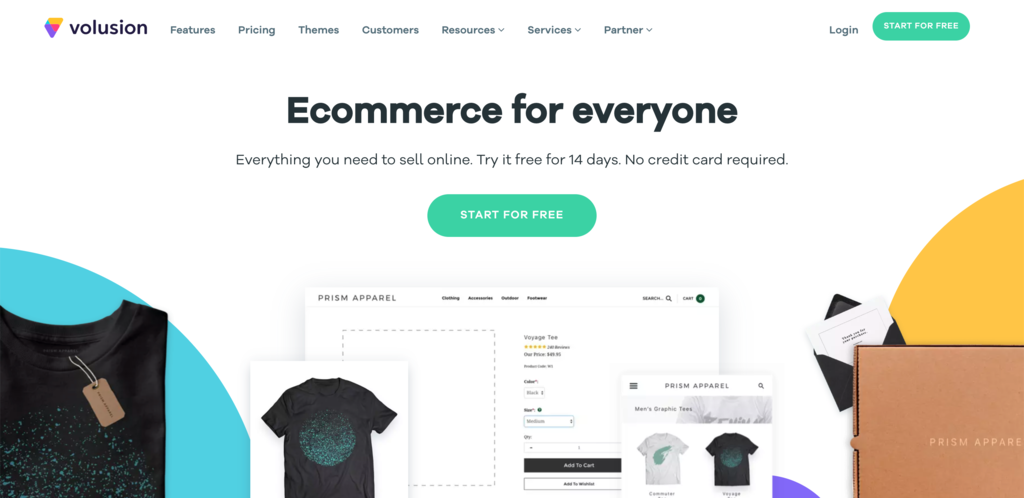 Volusion is one of the oldest shopping cart platforms in the business, and it allows you to sell both digital and physical products. It offers plenty of free themes, which feature industry-focused designs.
This platform offers a dropshipping tool that helps you find thousands of products, compare retail and wholesale prices, and add your choices with only a few clicks.
What's more, Volusion lets users sell on the go using its impressive mobile app, allowing them to update prices, snap product pictures, and check the inventory from their phones.
Volusion's analytics and inventory tools are a great addition to the overall package as it gives you an in-depth look at your eCommerce store, helping you better manage and scale your business as needed.
Should you need help with your site, Volusion has a 24/7 support team that can be reached via phone. However, this is not included in its lowest-priced plan.
Pros
Offers features specifically oriented towards dropshipping
Impressive analytics tools
Transparent inventory and marketing system
Cons
No dedicated tools for blogging
Can get a bit slow at times
Pricing and Plans
Volusion offers a 14-day free trial and four hosting plans ranging from $29/month to $299/month.
With each plan comes both unlimited products and unlimited bandwidth, an automatic tax calculator, and synced inventory. However, to use third-party gateways, you must get at least Volusion Startup plan.
Verdict
If you want to start a dropshipping business, where analytics tools are essential for you, then picking up Volusion is definitely worth a try.
10.   OpenCart – Best for International Selling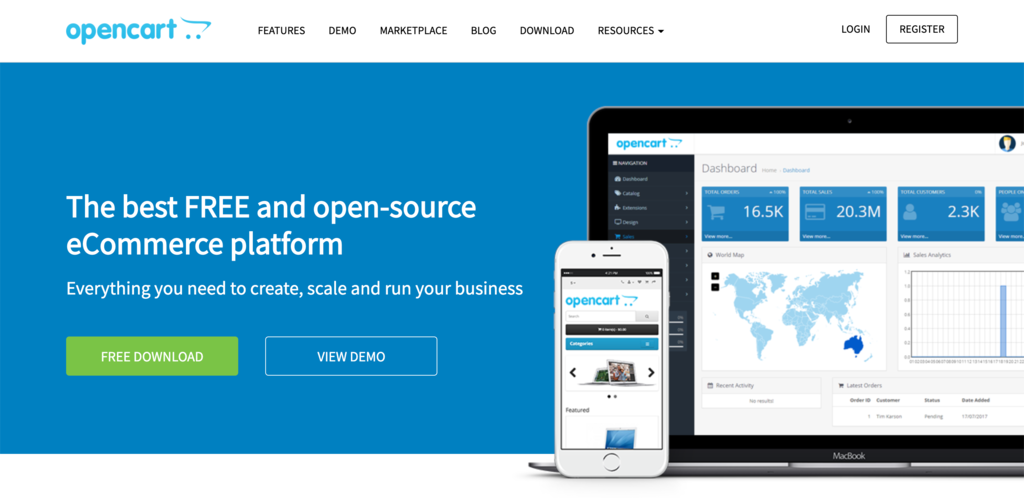 The best way to describe OpenCart is to say that it fits between WooCommerce and PrestaShop in functionality. It offers a lot more free eCommerce tools right out of the gate when compared to WooCommerce, but it doesn't quite reach the number of available features that PrestaShop has to offer, for example.
OpenCart shines with its overall dashboard design – it's intuitive, modern-looking, and it provides you with all the information you need to stay on top of your store's performance at a glance.
Customizing your OpenCart store is easy, thanks to the platform's module system. It's not as intuitive as more modern page builders, but it's easy enough to pick up even if you've never created an online store before.
What's more, OpenCart comes with multi-currency and language options. For instance, with other popular eCommerce platforms such as WooCommerce and PrestaShop, you would need to use a separate plugin for that.
OpenCart is an excellent option if you're looking for a platform that's easy to use, simplifying the whole page-building process. It might not pack as many features as other eCommerce platforms out there, but it's more than enough for small businesses to thrive.
Pros
Beginner-friendly and intuitive
Plenty of gateway options and built-in SEO features
A very active community
Cons
It doesn't offer as many built-in features as other platforms on this list
A lot of OpenCart themes look a bit outdated when compared to more modern standards
Pricing and Plans
OpenCart is a self-hosted platform that you can download for free. However, you need to find a provider to host your store and purchase a domain name before getting started.
Verdict
With its built-in multi-language and currency tools, OpenCart is a more suitable option for business owners who want to focus on international sales.
11. AbanteCart – Hassle-Free and Great for Beginners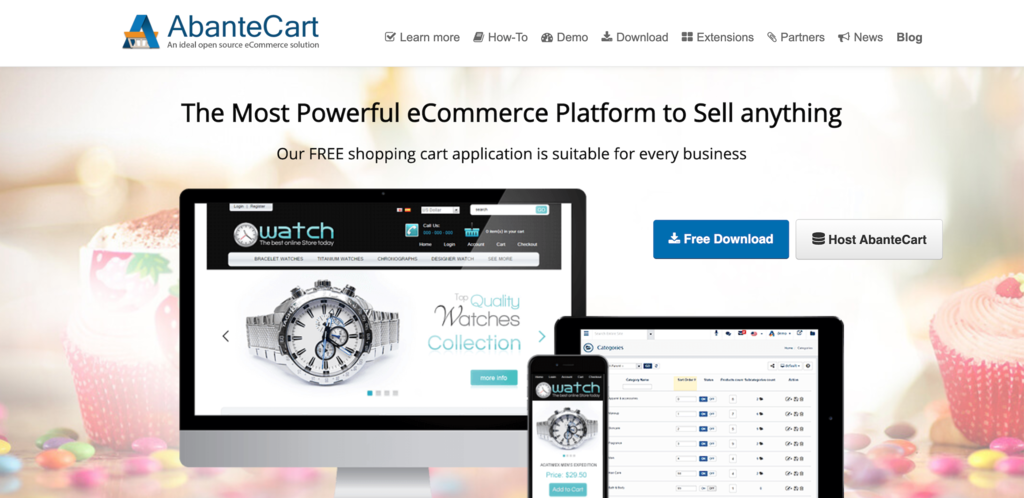 AbanteCart is a rather less known eCommerce platform on this list, but it still offers several great features. While its interface can appear somewhat underwhelming, the platform itself is effortless to pick up for a complete beginner.
One of our favorite aspects of AbanteCart is how easy it is to add new products to your store from the dashboard. It's a two-step process that takes only a few minutes, and the platform provides you with tooltips to help you out at each step of the way.
It's open-source, which means that it supports custom themes and extensions. However, the platform could benefit from more modern-looking themes.
If you're looking for an easy-to-use eCommerce platform, AbanteCart is an excellent pick. Despite its lack of variety when it comes to themes, you still have many great features and tools to choose from.
Pros
Allows to add and manage new products without much hassle
Built-in SEO functionality, supports additional extensions and themes
Cons
Its online community is relatively small
Some of the themes are somewhat outdated
Pricing and Plans
This open-source eCommerce solution is free to download and use. However, getting a hosting plan and a domain name is necessary while some of the extensions and themes have a price tag as well.
Verdict
AbanteCart offers a user-friendly interface and plenty of useful features, making this platform a worthwhile option for newcomers and small-scale stores.
12. osCommerce – Tons of Free Add-ons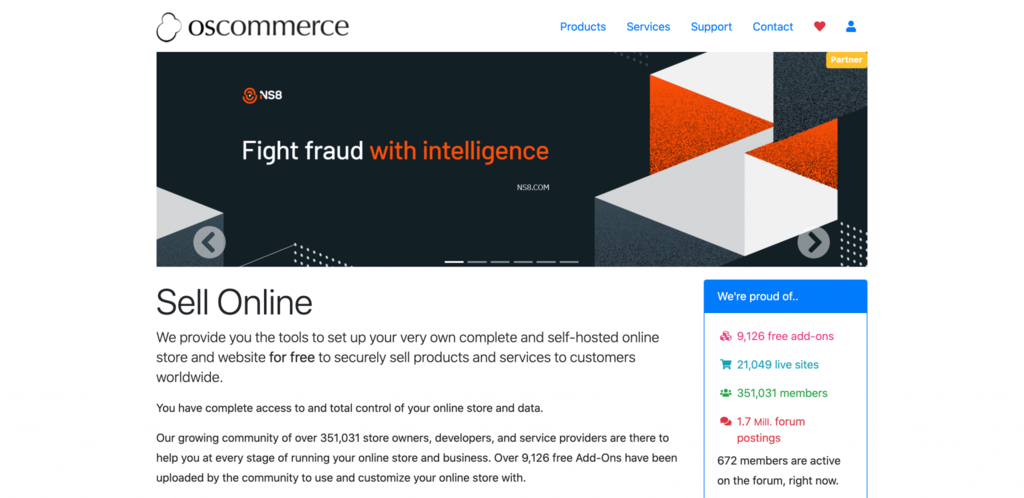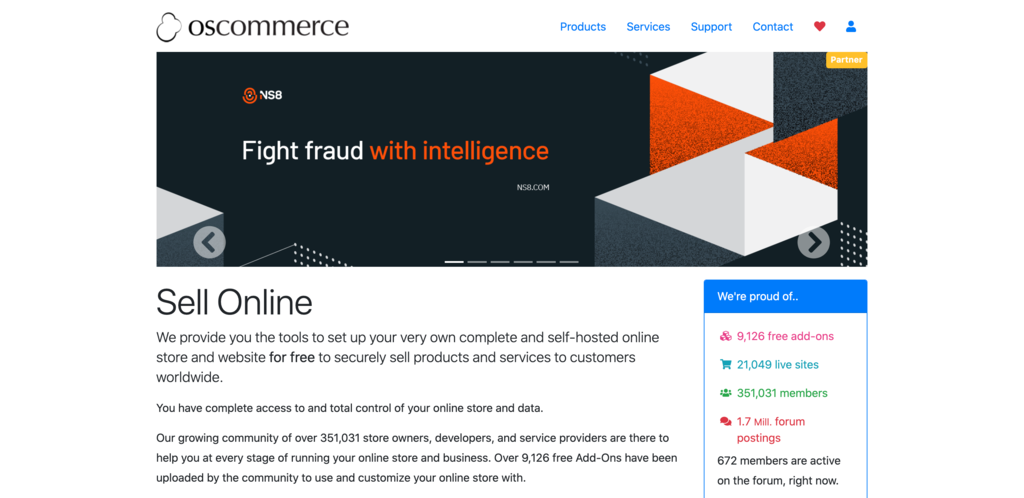 osCommerce shares a lot of similarities with other eCommerce platforms we've checked out so far. For example, it's easy to set up, and you don't need any technical experience using similar platforms to get your first store online.
When you first start using osCommerce, you might notice its dashboard looks a bit outdated. Despite that fact, it packs a lot of expected and more advanced features, more or less at the same level as AbanteCart.
osCommerce has the distinct advantage of having a very active community, with the addition of thousands of free add-ons to choose from. That gives you an edge when it comes to customizing your store.
In our experience, osCommerce performs excellently for small businesses. However, it starts to stumble once you reach a more extensive product catalog. In some cases, this can be due to poor hosting performance, but it seems to be a common theme with the platform
However, osCommerce is one of the best eCommerce platforms if you're looking to set up a small-scale online store.
Pros
Setting up an online store is quick and simple
Offers thousands of free add-ons
Features a large community that is ready to help
Cons
Doesn't scale as well as other platforms on this list
Its dashboard appears somewhat outdated
Pricing and Plans
Like other open-source eCommerce platforms, the total fee of using osCommerce will depend on your hosting plan, domain name, and extensions.
Verdict
osCommerce allows its users to set up an extendable and highly customizable online store with thousands of add-ons to choose from. It also has a large and active community that can help you set up and maintain your site.
13. CubeCart – For Those Who Are Looking for Simplicity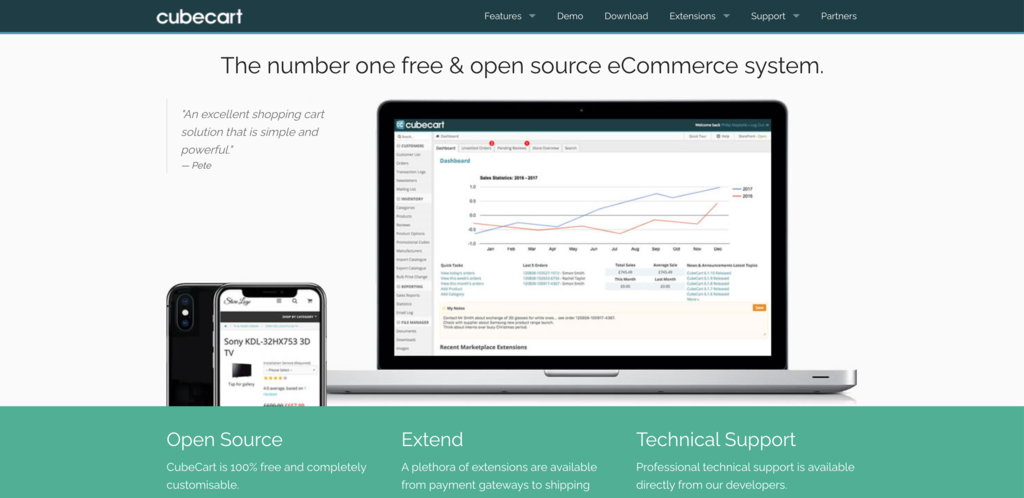 CubeCart proves that looks can be deceiving at first glance. When you first log into the platform's dashboard, it looks rather lackluster. However, you also get a lot of creative freedom to play with.
The platform offers all the features you'd need to run a successful eCommerce store, from product management to sales tracking. However, it doesn't stop there. You can use CubeCart to send newsletters to your customers, which is a fantastic way to improve your sales count.
It's little details like that which make CubeCart such a great eCommerce platform. Another outstanding example is the basic image editing tools you can use from your admin panel. It's no Photoshop, but cropping and resizing your images can help you improve your product pages.
CubeCart also supports its own plugins and themes. There aren't that many available options, but the platform is good enough on its own for small to medium-sized stores.
It offers a lot of quality-of-life features that other similar competitors do not. However, since it doesn't provide many extensions, we would primarily recommend CubeCart for small-scale businesses.
Pros
A flexible and easy-to-use platform with lots of quality-of-life improvements
Open-source and free to download
Cons
Its selection of extensions isn't anything to write home about
Pricing and Plans
While CubeCart is free to download, you need to pick up your own hosting plan and custom domain name.
Verdict
CubeCart is one of the best open-source eCommerce platforms available with tons of small yet powerful features, including its surprisingly well-made image editing tools.
If you own a small business and are looking for a simple eCommerce solution, you should consider picking up CubeCart.
14. Joomla! – Complete Control and Flexibility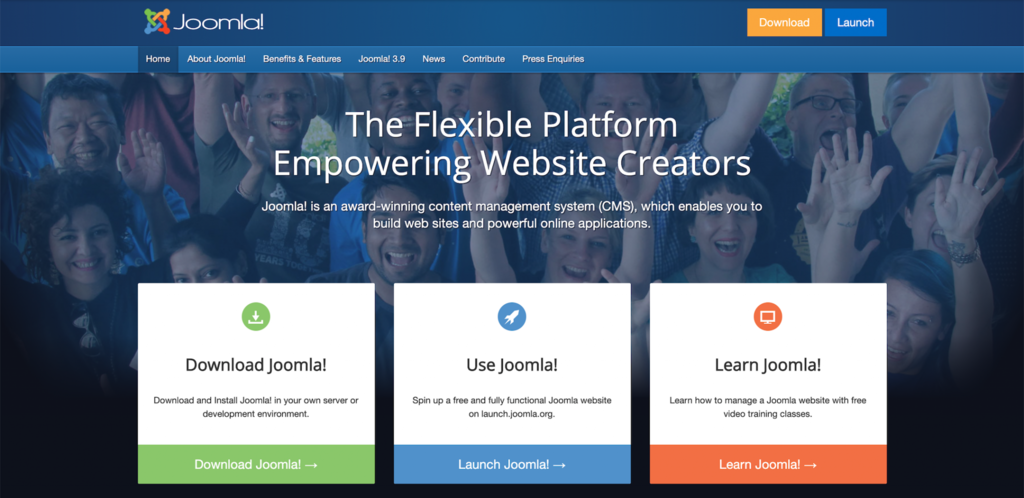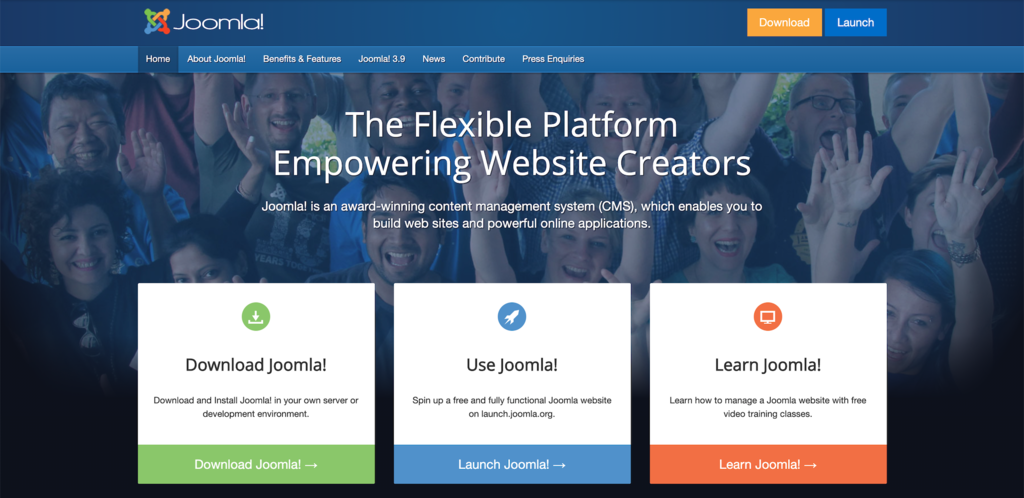 While Joomla! usually ends up in top CMS lists, you can use it to make your online store as well. All you have to do is install an extension, similarly to how you would setup WooCoomerce with WordPress.
Based on community reviews, J2Store is one of the best free extensions for the job. However, there are other options to consider as well. Just as WordPress, more technical knowledge is needed to take full advantage of the platform. However, that brings more freedom to build your eCommerce shop to your personal needs.
Overall, Joomla! is simple to use and learn, and it's one of the more popular rivals of WordPress.
Pros
Multiple free shopping cart extensions available
Gives you total control and flexibility over your online shop
Cons
Some of the free extensions are very limited
May lack the dedicated functionality compared to a full-fledged eCommerce platform
Pricing and Plans
Joomla! is an open-source content management system, meaning you'll need to get web hosting and a domain name. However, when it comes to its eCommerce extensions, most of them are free to use.
Verdict
Should you want similar flexibility as WordPress, picking up Joomla! is a great alternative. This CMS offers many impressive built-in tools, thousands of extensions, multilingual capabilities, and a responsive community.
However, Joomla! is not a dedicated eCommerce platform, which means that it's not as intuitive and easy to pick up as other options on this list.
15. Sellfy – Best for Selling Digital Goods
Sellfy is an eCommerce platform designed to sell both digital and physical products, but it better excels at offering the former.
Using this service, store owners can let their customers shop, purchase, and download the files directly from the website. They can also add an unlimited number of digital products to their store, though Sellfy recommends that each file be less than 5 GB in size.
This platform allows you to embed items and "buy buttons" on your social media profiles, such as Facebook or YouTube. Furthermore, Sellfy will provide a user-friendly checkout experience no matter the device your customers are using.
Sellfy has a great "pay what you want" feature that allows customers to choose the price for your product – you can set the minimum fee first and let them decide what they want to pay for a specific product.
In terms of payment security, Sellfy includes anti-fraud measures, such as limited download attempts, unique download links, and PDF stamping.
However, Sellfy's users can only use Paypal and Stripe as their payment gateways.
Pros
Specializes in digital products with an option to sell physical goods as well
Easy-to-use and packs a lot of useful features
Cons
Has a limited choice of payment processors
Pricing and Plans
Sellfy offers a 14-day free trial and three pricing plans ranging from $29/month to $129/month.
With the Sellfy Starter plan, users can sell up to $10,000 per year, add a custom domain, and use discount codes. However, if you exceed the sales limit, you'll have to upgrade to the next subscription level. Otherwise, you'll be charged a 2% overage fee on the revenue amount that surpasses the limit.
Verdict
For businesses that mostly sell digital items, using Sellfy can make the whole shopping experience much more intuitive. Also, setting up an online store, customizing products, and maintaining a site doesn't require much effort when using Sellfy.
What Features Should You Look For in an eCommerce Platform?
Starting your own online store is a great way to make money online. It doesn't matter if you sell digital or physical products, there are many ways to make use of such a website.
To create a fully functional site, you should look for these essential features when choosing your eCommerce platform:
Ease of use – platforms that offer usability make it simple for users to build, edit, and manage their sites.
Design – having a well-thought-out web design is essential to make your products pop out, making customers stay longer on your site. A proper eCommerce platform should also make its templates customizable, giving freedom for users to fully tweak their site design.
Site building features –  great eCommerce platforms offer additional functions for blogging, email marketing, and SEO, which can help take your online business to the next level.
Integrations – third-party plugins and extensions can help expand your online business, providing you with more options to mange your website.
Customer support – ensure your chosen platform includes tech support and tutorials on how to build and maintain your online store.
Value for money – pick a platform that offers a price plan that best suits your business and budget.
However, those are just the basics when it comes to proper eCommerce practices.
Here are some other aspects you should keep an eye out for when looking for the best eCommerce platform for your business:
Set up product categories. If you're selling a number of different items, you need to keep your products organized. This will not only help you manage your inventory but greatly enhance your website's user experience.
Product page customization options. You should be able to create unique pages for each product that contains comprehensive information and looks great at the same time.
Sales and discount functionality. Customers love to get discounts, which is also an excellent way to drum up new customers.
Support for multiple payment processors. Many people like to use their preferred payment processors every time, so offering multiple options is an excellent way to increase your website's overall user experience.
Analytics information. In short, the more you know about your customers, the more you can optimize your store to increase conversions.
For example, the best eCommerce platform for startups might not be ideal for a one-person operation. That is why you need to consider your options first before committing to one of these platforms.
Conclusion
These days, it's easier than ever to build an online store, but that doesn't mean all eCommerce platforms are equal. It's important to make your choice that best fits your business ideas, goals, and budget.
In our opinion, both Zyro and WooCommerce are incredible options for small and medium scale businesses.
While you can't go wrong by picking BigCommerce as your go-to eCommerce platform if you own a large firm and want to take your business online.
However, there's plenty of other options to choose from depending on your specific needs and requirements. Here's a quick recap of what we've discussed so far:
What do you think is the best eCommerce platform? Have we missed anything? Share your thoughts with us in the comments section below.