The Best Sites to Sell Online: 10 Marketplaces for Selling Goods or Running a Business
Selling on eCommerce marketplaces is a lucrative way to earn money online. Whether you're starting a new online business or seeking passive income, numerous platforms and sites enable you to sell items fast online. 
To optimize revenue, selecting the right platform for your product type and target market is vital. This article explores the top online-selling sites and platforms that can be lucrative for your upcoming venture.
We will also talk about how you can create a website to sell products online without third parties involved, with zero commission and no hidden fees, using an online store builder!


10 Best Sites to Sell Online
We've made a list of the ten best online-selling sites for your online business:
1. Your Own Online Store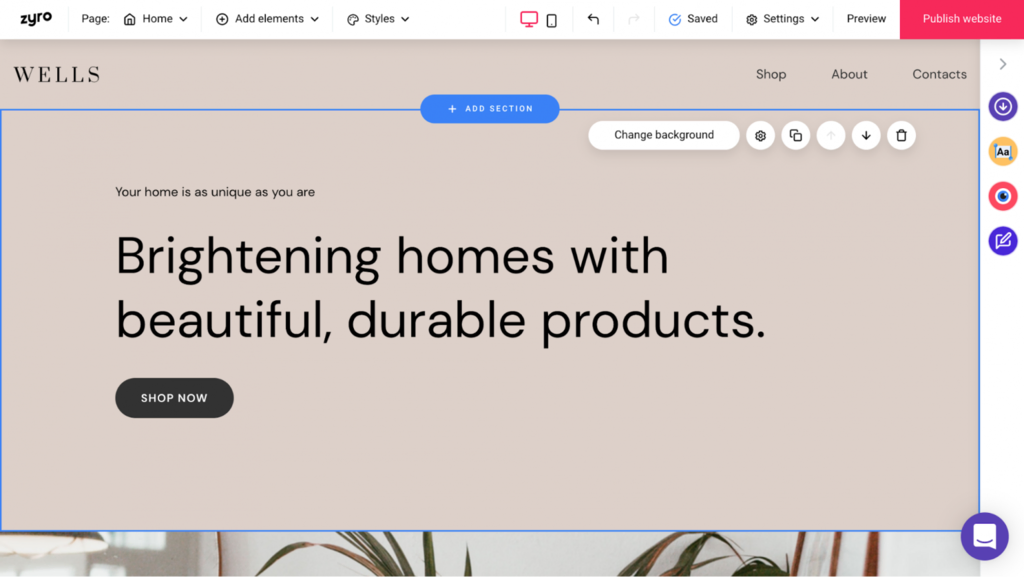 One of the best places to sell online is with an eCommerce website of your own. It allows for conducting business directly with customers, without any middleman profiting from your sales.
Furthermore, a custom-built online store provides more ways to create a unique shopping experience that fits your preferences. Admittedly, however, it can potentially be challenging to build and maintain.
One of the easiest ways to start an online store is to use a site builder like Hostinger. It's a beginner-friendly platform that allows you to design a website without any coding knowledge.


The process simply involves signing up, getting a domain name, selecting a template, and editing the storefront. All that is left is to hit the publish button and start selling on the internet.
Another method is to use open-source eCommerce software like WooCommerce or PrestaShop. This option has a slightly steeper learning curve since users have to set up the web hosting themselves.
However, it offers more flexibility – users can install extensions to create an online selling solution that suits their liking.
Pro Tip
Already have an online store that needs a reliable hosting solution? Consider Hostinger's specialized eCommerce hosting plans starting from $9.99/month.
Also, remember that having a smart digital marketing plan can lead to success as an online store owner. This list of eCommerce marketing strategies should point you in the right direction.
Pros and Cons of Having Your Own Online Store
Here are the benefits of using an eCommerce website to sell products online:
Control over branding. Your business name won't be attached to a third-party marketplace, so it'll be easier for customers to remember. What's more, there is more freedom to modify the storefront design.
Sell on your own terms. No need to comply with someone else's system on what items to sell and how to market them. You can even create your own online clothing store or sell digital products.
Higher profit margins. Platforms like Hostinger and WooCommerce don't charge any listing or commission fees.
With that, there are some drawbacks to take into account:
High investment. Since there is no existing customer base, driving traffic will require a lot more effort. Most likely, you will spend the first few weeks on marketing before generating any profit.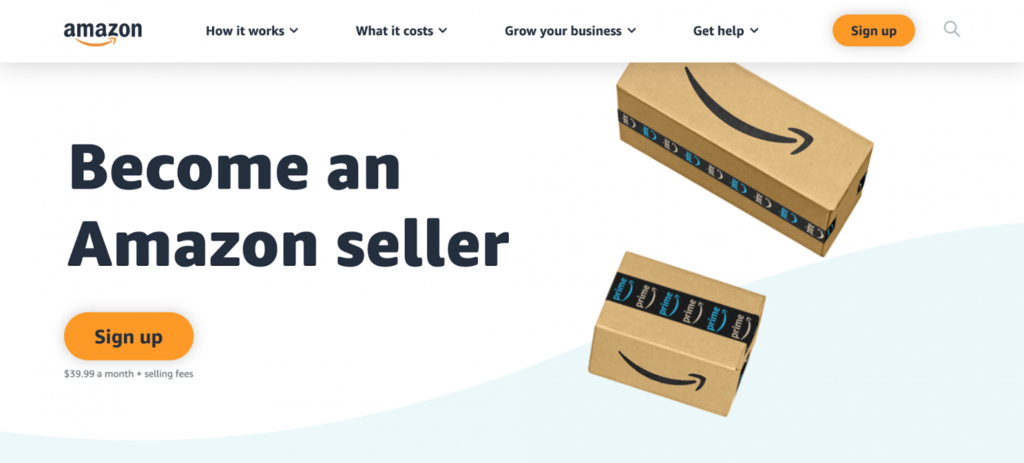 When it comes to online selling sites, Amazon is a frontrunner. As the number one destination for product searches, it is a top pick among entrepreneurs looking to start a multi-million dollar empire.
One reason for its success is it offers a wide range of products for various audiences. Since everything is already on the market, however, it can be difficult to know which items will be profitable. If you need assistance, this tool can help decide on what to sell.
To get started on Amazon, you must first choose a selling plan.
The Individual package costs $0.99/item, and it's best for those who want to give the platform a try. However, you won't be able to use the advanced features or sell inventory in restricted item categories.
On the other hand, the Professional plan has a monthly fee of $39.99. This option will grant access to tools for managing inventory and advertising on the Amazon platform.
Referral fees also apply to all Amazon sellers. The amount will depend on the type of item, ranging between 8% and 45%.
Pros and Cons of Amazon
Below are the pros of selling online on Amazon:
Large customer base. The website receives around two billion visits a month from all around the world, so building traffic will be much easier.
Branding tools. For those who own a trademarked brand, consider enrolling in Amazon Brand Registry. It enables creating a branded storefront and enhancing the product detail pages with a custom design.
Product recommendation algorithm. This feature will automatically cross-sell a customer's chosen product with other relevant items from your store to increase sales.
On the other hand, make sure to consider these cons:
Competition. You will rival with millions of other sellers and Amazon's own product line.
Expensive. The fees for the selling plan and referrals can add up and lower the profit margins. Not to mention, an investment in advertising may be necessary to get customers' attention.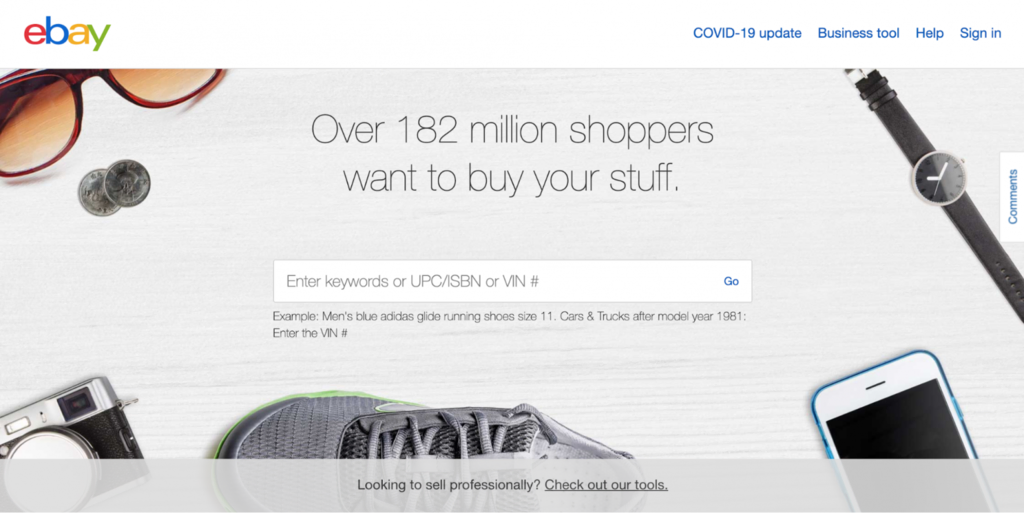 eBay is another popular platform to sell online. Similar to Amazon, the product categories are diverse, but more people use it to search for secondhand goods.
What makes eBay different is its auction pricing system. Users can set a starting price for potential buyers to bid on until they agree to an offer they like. This feature can be excellent for those looking to make extra income quickly.
Sellers can register for a Personal or Business account to get started on eBay. Both options allow listing 200 items for free each month, and eBay will charge a 30-cent insertion fee per item once you exceed the amount.
A final value rate will apply each time someone purchases an item. The percentage depends on what you're selling, but the standard is 10%.
eBay also offers Store plans for those looking to sell regularly. There are packages for casual sellers, small business owners, and enterprises, ranging from $5.45/month to $2,999.95/month.
Each plan includes a higher number of free listings and discounts to third-party business tools. Plus, it's possible to customize the storefront page and use Promoted Listings for advertising.
Pros and Cons of eBay
Here are some reasons why you should list your items on eBay:
Seller protection. The automated monitoring system will ensure all transactions comply with eBay's policies. The Unpaid Item Assistant will review cases where a buyer hasn't paid within two days. In this scenario, eBay will return the final value fee.
Private listing. This feature will anonymize the buyers' information in public view, which can be beneficial for selling sensitive or high-ticket items on eBay.
Integrated shipping options. eBay sellers can get discounted rates from USPS, FedEx, and UPS, and display real-time shipping rates based on the shopper's location.
Nonetheless, you'll want to keep the following aspect in mind:
Budget shoppers. eBay's reputation as a marketplace for cheap secondhand items may make it unsuitable for businesses looking to maximize revenue.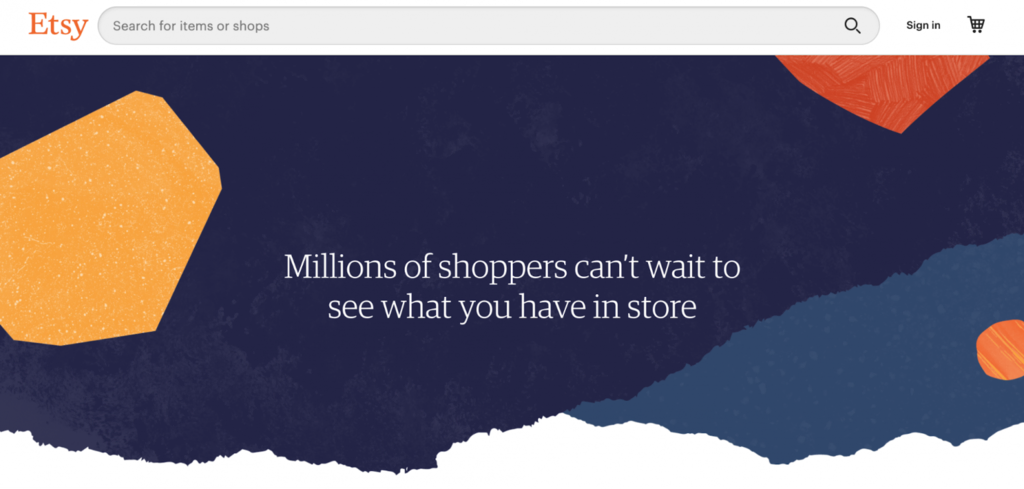 Etsy is one of the best-selling platforms for artisans, craft enthusiasts, and thrift flippers to put their creations up for sale. This online marketplace only allows handmade items, crafting tools, and vintage goods dated 20 years or older.
Selling on Etsy costs $0.20/item, along with a transaction rate of 5%. Payment processing fees also apply, but the amount varies by the seller's location.
Additionally, users may get charged 15% for making a sale through Etsy's off-site advertising feature. This tool will display listings on Google, Bing, Facebook, Instagram, and Pinterest.
To grow your business, consider subscribing to Etsy's Plus plan for a monthly fee of $10. It comes with advanced storefront customization, back-in-stock emails, and Etsy Ads credits. You may also use the .com domain for the store's URL.
One way to set yourself apart on Etsy is by specializing in a product category.
For instance, the shop Planner Kate only sells merchandise for decorative journals. This way, they become the go-to person for such items.
Pros and Cons of Etsy
Etsy has some winning features to help your business succeed, such as:
Facebook and Instagram shop integration. Make the products purchasable on both platforms. It's also possible to upload social media posts using the Etsy website and app.
Built-in analytics. Etsy Stats will reveal the store's performance data, including traffic source and volume, conversion rates, and total revenue.
Custom website. Use Pattern to build a web store. It will serve as a separate sales channel from your existing shop, which is excellent for targeting non-Etsy users.
However, there are several disadvantages:
Recommendation to other shops. The product page will cross-sell products from other sellers, which can prevent customers from converting.
Competition. With more independent businesses selling on Etsy, it is becoming more challenging to grab customers' attention. You may have to compromise by lowering prices.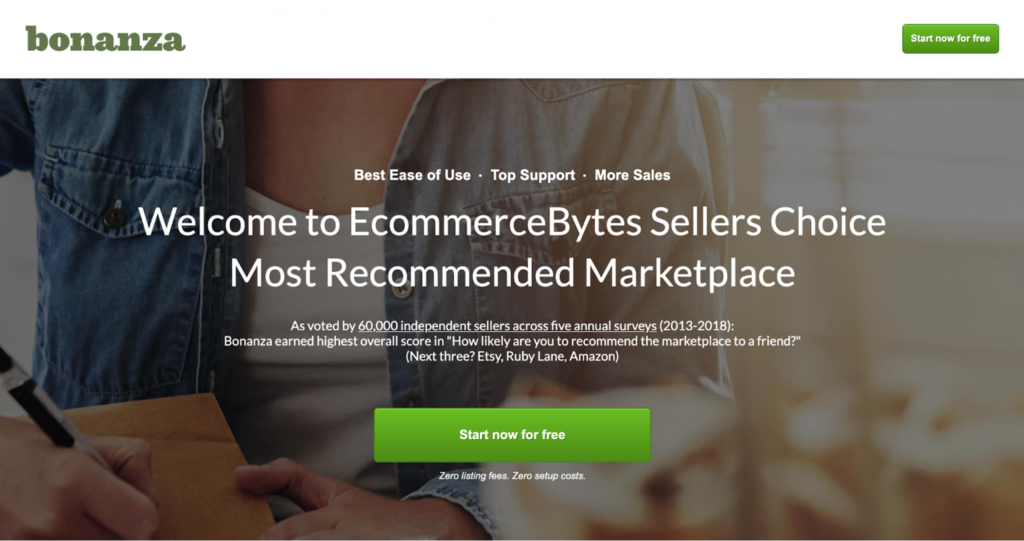 Bonanza's name may not be as familiar as other online selling platforms, but it has become popular among independent business owners. In fact, it was the second top-rated marketplace on EcommerceBytes in 2020.
Bonanza's standout feature is its Hand-Picked Lists, where users can make a thematic collection of items for public viewing.
This function can help promote products to a targeted audience. Bonanza will also feature the most attractive hand-picked lists on their homepage to drive traffic.
If you want to sell on Bonanza, simply create an account and pick a payment option. Then set up a Booth and list your items for sale.
The platform doesn't charge for listing, but users will have to pay a Final Offer Value fee for each item sold. The standard rate is 3.5%, whereas products that cost more than $500 will get additional charges.
There are also paid membership options to boost traffic and sales, ranging from $25/month to $167/month. All plans include Google Analytics integration, advanced stats, and featured placement on Bonanza's search results.
Pros and Cons of Bonanza
There are some advantages to selling items on Bonanza:
Multi-channel synchronization. The platform allows importing inventory from eBay, Amazon, or Etsy, so users can save time and start selling. The system will also update the item's status if it's no longer available.
Best Offer option. This feature lets customers negotiate prices with the seller, which can make your listing more attractive. Set an acceptable minimum amount and have Bonanza automatically approve offers that meet the criteria.
Advertising network integrations. Display products through any of Bonanza's partners – Google Shopping, Bing Ads, and eBay Advertising. Choose to pay between 9% and 30% of the Final Offer Value to spend on the ads.
On the same note, make sure to keep these disadvantages in mind:
Less exposure. Since Bonanza isn't as widely recognized, building traffic will be slightly more difficult.
Limited inventory. Bonanza restricts the total number of items to 75,000 for most sellers, which can be a problem when your business has grown.
Pro Tip
If selling on a marketplace isn't enough for you, take it to the next level and create a marketplace of your own. There are still many unfilled niches with little competition, so if you decide to jump on the bandwagon, it can be a profitable venture.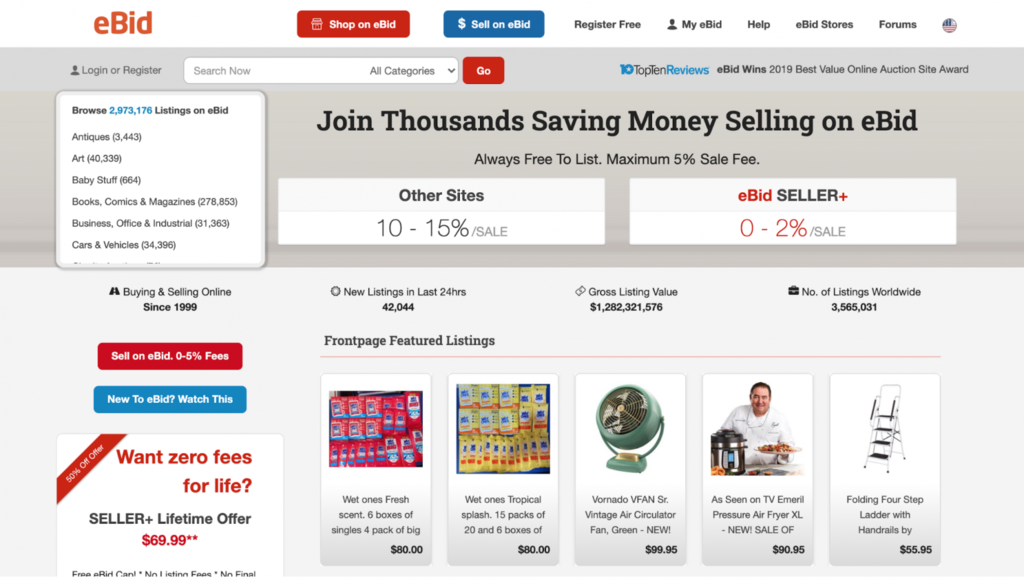 If you're looking for online selling sites like eBay, eBid is an excellent alternative. It mainly uses an auction pricing model and charges lower fees compared to its competitors.
Getting started requires signing up as a seller and choosing a product category to post a listing.
There are no listing costs on the standard account, and users will only have to pay 5% of the Final Value Fee for every successful sale. Note that there are additional charges for certain features, such as displaying listings on the front page.
If you want to sell items regularly, consider upgrading to the SELLER+ plan. eBid will charge 0% of the Final Value Fee.
The plans cost from $1.99 to $100, depending on the subscription period. Other benefits include private auctions, scheduled bidding times, and a BuyNow button to let shoppers purchase the item without making an offer.
Pros and Cons of eBid
Here are several benefits of using eBid:
Product importer. Users can upload listings in bulk by importing their item data from other online marketplaces to eBid via a feature called Ninja Lister.
Platinum Listing. This feature grants access to all SELLER+ plan benefits by paying a low listing fee of $0.05. As a result, you can boost sales without upgrading the account.
Money-back policy. If a bidder hasn't paid after being reminded the second time in three days, report the issue and eBid will return the Final Value Fee.
On the other hand, there are some drawbacks to take into account:
Limited customer service. eBid's support options are only a help center and ticket submission.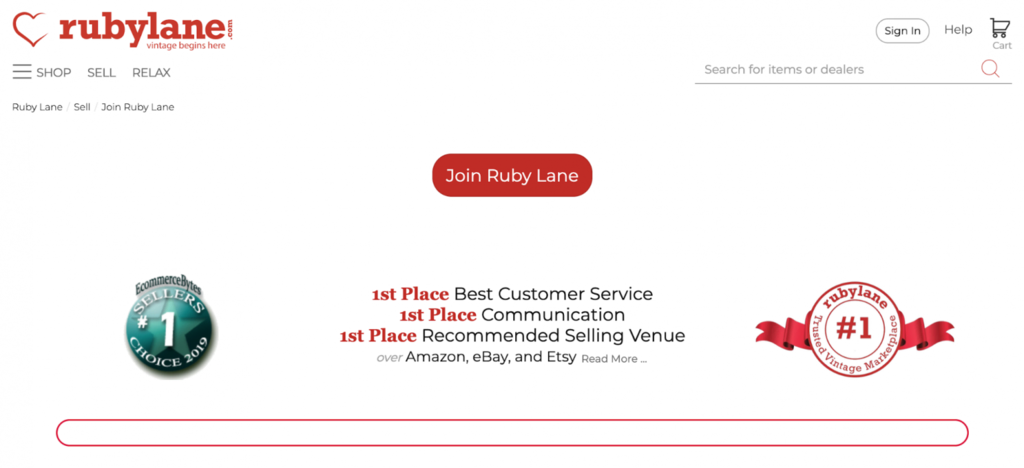 Ruby Lane is one of the best websites for selling antiques, collectibles, and vintage goods.
They mainly allow items older than 20 years, but newer goods are acceptable so long as they're not bought in the past year. Make sure to read the requirements before signing up, as each product category has specific price limits and rules to comply with.
If you're selling up to 50 goods, Ruby Lane will charge $54 for maintenance. There are additional costs per item added that exceed the amount and a service fee of 6.7%.
It doesn't offer any membership options to reduce costs, but sellers can receive $300 worth of credit through a referral program.
One aspect to keep in mind is Ruby Lane's main user base is women between 40 and 70 years old. You may benefit more from the platform if your products can cater to this demographic.
Pros and Cons of Ruby Lane
Below are some pros of Ruby Lane:
Strong buying intent. Since the platform attracts a niche market, the shoppers are usually more likely to make a purchase.
Free featuring. Sellers can qualify to promote their stores on Ruby Lane's homepage if they conduct business exclusively on the platform, have added at least seven items in the past week, and use the Advanced Image Processing feature.
Offer-based pricing. Allow shoppers to negotiate prices and automatically accept offers within the desired range. This feature can be useful if you're not sure about an item's retail value or are selling a high-demand item for a limited time.
Nonetheless, you'll want to look out for this con:
Complicated free shipping. The platform doesn't have a built-in function to enable free shipping. You have to change the total order price after processing the purchase, and send the buyer new charges to provide such a possibility.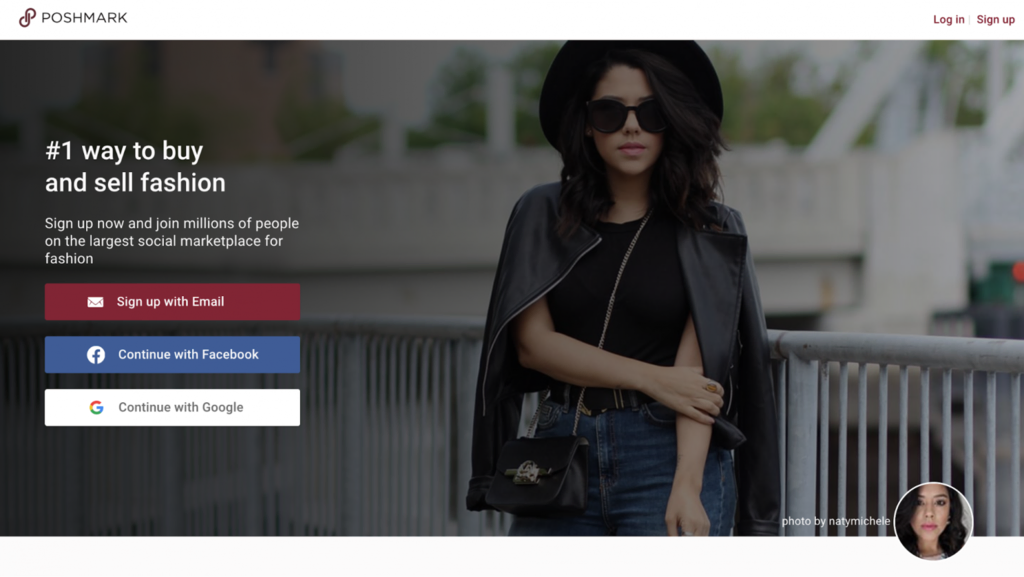 If you want to sell used fashion, beauty, and home decor items, consider Poshmark. It's a consumer-to-consumer marketplace primarily for making an income out of unwanted goods. Many have also started a reseller business through the platform.
Users can download the app or use the website to create a listing. Then add the item pictures, fill in the description, set the price, publish on the Poshmark site, and share the post on social networks to drive traffic.
Poshmark charges fees for services like the handling of the financial transaction and customer support for buyers. The rate is 20% of the final sale for items that cost more than $15. If it sells less than that amount, you will only have to pay $2.95.
Since the app's interface looks similar to Instagram, many expert sellers consider good pictures essential for success. They also emphasize establishing a consistent brand design on your profile to make a strong impression on viewers.
Pros and Cons of Poshmark
Poshmark's standout features include:
Pre-paid shipping labels. After processing an order, sellers will receive a ready-to-print shipping label from USPS. Poshmark's fees already include the cost of using this service.
Price drop tool. If you lower a listing's price by 10%, Poshmark will automatically notify buyers who have liked the product.
Virtual selling events. The Posh Party feature allows sellers to submit their products to a thematic collection for a limited time. It's an excellent way to promote items to a targeted audience without having to organize a discount sale.
On the other hand, there is a catch:
Weight limits for shipping. Sellers will have to pay excess shipping fees if the order weighs more than 5 lbs.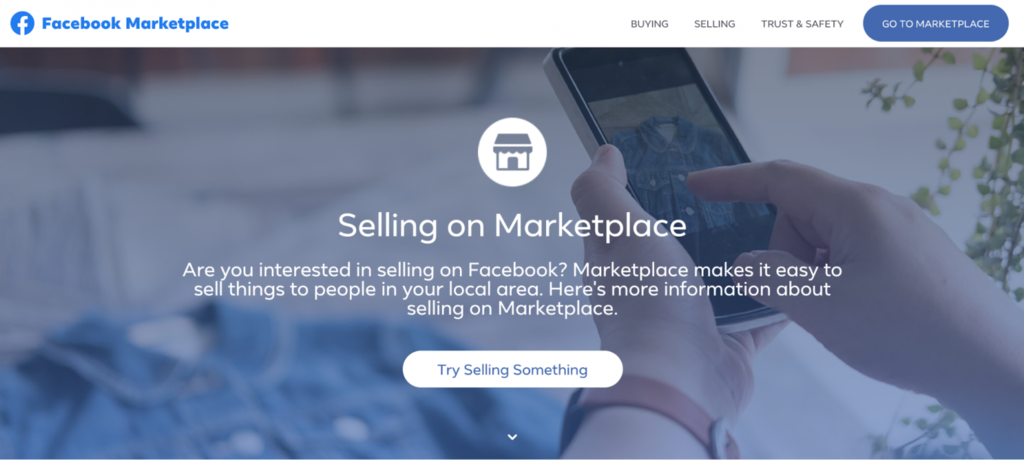 With the rise of social shopping, Facebook Marketplace has become one of the best sites for selling online. There is no cost to list an item, and all you need is an account to get started.
To create a new listing, click the Marketplace tab on the homepage. From there, users can upload the item's photos, insert the description, set the location, and publish the post.
Initially, Facebook Marketplace was intended for users who want to buy and sell locally, as sellers have to arrange in-person pick-ups and payments. However, those in the US can now enable a Checkout feature to process online payments and ship orders nationwide.
In this case, selling fees will apply. The cost is 5% for shipments that are over $8. If it's less than that, the platform will charge a flat rate of $0.40. Facebook is waiving these costs until the end of this year.
Business owners can also work with a Facebook listing partner to manage inventory on the Marketplace. Nonetheless, this feature may come at an additional cost.
Pros and Cons of Facebook Marketplace
The pros of selling on Facebook Marketplace are:
Easy communication. Use Facebook Messenger to answer customers' questions in real-time. Some locations also allow for payments via the Messenger app to speed up the transaction.
Community engagement. To increase sales, consider joining a Facebook Buy and Sell group that may be interested in what you're selling. This group category allows sellers to list items and buyers to search for products.
Targeted ads algorithm. It categorizes Facebook's massive user data by factors like demographics, interests, and user behavior, so that the most relevant audience can find the listings. Set your own ad spend and timeline to avoid going over budget.
Meanwhile, this is the main con:
No seller protection. There are no policies in case of issues like scams or missing payments from the buyer. Make sure to check the potential customer's profile and previous Marketplace activity before conducting business.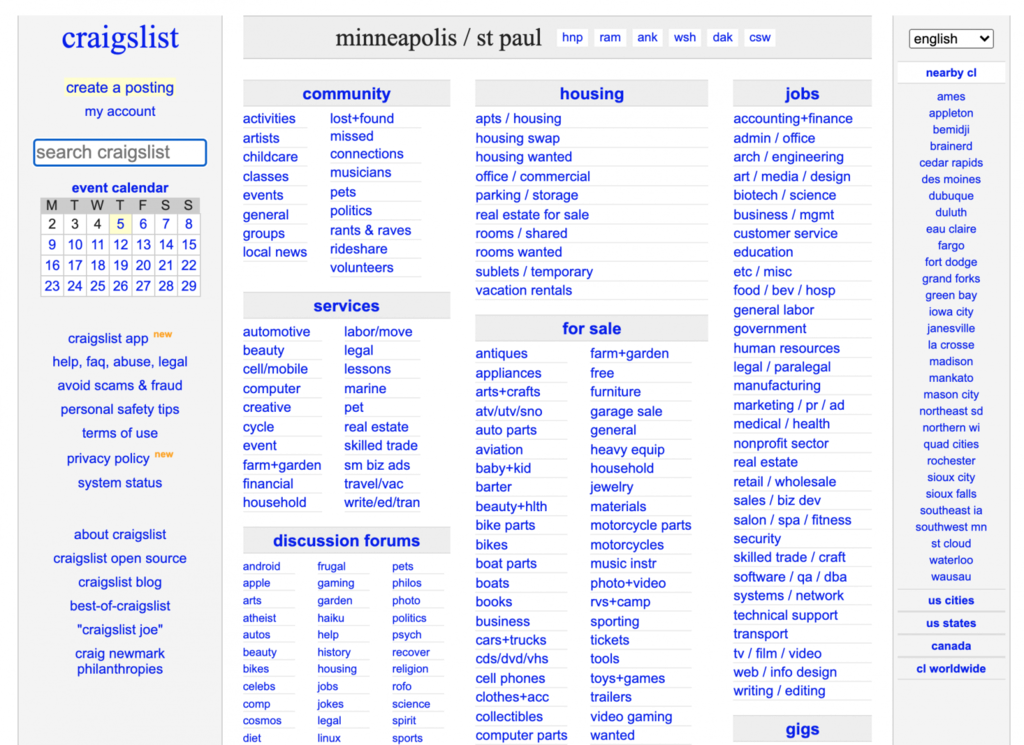 Last on the list is Craigslist, a forum website that has turned into an online selling platform.
People mainly use it to find great deals on used goods in their local area. It doesn't have a built-in system to receive payments or ship orders, so buyers and sellers must meet face-to-face or set up their own process to complete the transaction.
Unlike other sites to sell your inventory on, there's no need to register for an account to create a listing. Nevertheless, having one will make it easy to edit your posts and renew them when they expire.
Choose your location, posting type, and product category to begin. Then insert the item's information, fill in the contact details, and upload some photos.
Craigslist charges zero commission fees for most product categories, except for certain types of housing and vehicles in the US or Canada.
Pros and Cons of Craigslist
Let's look at the advantages of selling on Craigslist:
Ease of use. The plain and straightforward design makes it easy for users to create and manage listings quickly.
Anonymous posting. Only include a phone number or email address on the posting to protect your identity. Consider specifying whether buyers can make inquiries about other commercial interests to limit unsolicited interaction.
Affordable. Those looking to sell without compromising on profits should like Craigslist's lack of fees.
Below are the disadvantages:
Limited reach. Whether or not you're able to sell an item depends on if there is a demand for the product in the area.
Lack of support. Users can only request assistance via the contact form. Also, you have to handle disputes on your own if an issue arises, as Craigslist doesn't provide seller protection, unlike most other eCommerce sites.
Picking the Best Online Marketplace for You
When picking a website for selling online, one aspect you may want to keep in mind is the business model.
Casual sellers can benefit more from sites like Facebook Marketplace, where the setup is quick and easy. Users can choose whether to conduct business locally or online and pay a small fee for shipping and payments.
On the other hand, small business owners may want an online marketplace with more marketing features to scale their ventures. Bonanza is an excellent choice – the selling fees are not as high as its competitors, yet it offers some options to promote your listings.
Medium to large-scale businesses can look to sites like Amazon. The financial investment may be more demanding, but you can reach a wider market, resulting in more revenue.
The product type can also be a deciding factor. Online selling sites like Ruby Lane and Etsy appeal to a niche market, whereas eBay is able to cater to various types of buyers.
Finally, consider how much control you have over what and how you sell online.
For those looking to maximize profits and build a brand, creating an online store will be a good option. Although it requires more effort, your business will stand out more easily to the target audience.
Before making a choice, make sure to weigh the pros and cons of each online selling site. Calculate the fees that may apply to figure out how much money you can make on the platform.
Let us know which online marketplace you end up picking, and best of luck!
Online Selling Sites FAQ
Here are some frequently asked questions about online selling sites.
What Are the Best Online Selling Platforms?
The best eCommerce platforms depend on what you're looking for. If you want to join popular marketplaces, try selling on eBay, Amazon, or Etsy. Those who prefer selling on social media platforms can try Instagram or Facebook.

However, we recommend building an online store using a CMS like WordPress or a website builder like Hostinger Website Builder to establish your brand.
Are There Any Free Online Selling Sites?
Yes. Some websites, such as Craigslist, Nextdoor, and Facebook Marketplace, charge no fees to list your product online.
Which Selling Platform Has the Lowest Fees?
The online selling platform with the lowest fees among the options discussed in the article is Craigslist, which generally charges zero commission fees for most product categories.