Affiliate Marketing vs Dropshipping: Profitability, Key Differences, and Similarities
Affiliate marketing and dropshipping are two popular methods to make money online – they don't require much investment since you don't have to worry about the shipping process and product stock.
Furthermore, affiliate marketing and dropshipping are more than suitable for beginners as you won't need much business knowledge to start.
However, it might be difficult to decide which is a more profitable business model.
This article will compare dropshipping vs affiliate marketing from various aspects, including their profits, ease of start, and earning potential. We will also include a comparison table of their pros and cons.


Affiliate Marketing vs Dropshipping: Basics
Simply put, affiliate marketing refers to promoting other business brands to help them generate more revenue, while a dropshipping business allows you to sell another company's products under your own brand name.
Another main difference between affiliate marketing and dropshipping lies in the payment process – while affiliate marketers are paid based on a commission rate, dropshippers earn money directly from their customers.
That said, both also share a few similarities:
Low startup costs
No need to store inventory and ship the goods
Relatively low-risk business models
Now, let's go over each definition in more detail.
What Is Affiliate Marketing
Affiliate marketing is a business model where you can earn money online by recommending products or services to your audience.
You will get a unique affiliate link that redirects potential customers to the merchant's site, allowing them to buy a product or a service.
Thanks to conversion tracking, the affiliate website will know which affiliate the sales come from.
As a result, when someone makes a transaction via your affiliate link, you will receive a percentage of the sale as your commission.
Most affiliate programs offer a fixed commission. In addition, some programs might pay you for free-trial users, leads, website clicks, or app downloads.
Many companies, such as Apple, Fiverr, and Sephora, use an affiliate marketing program to grow their business.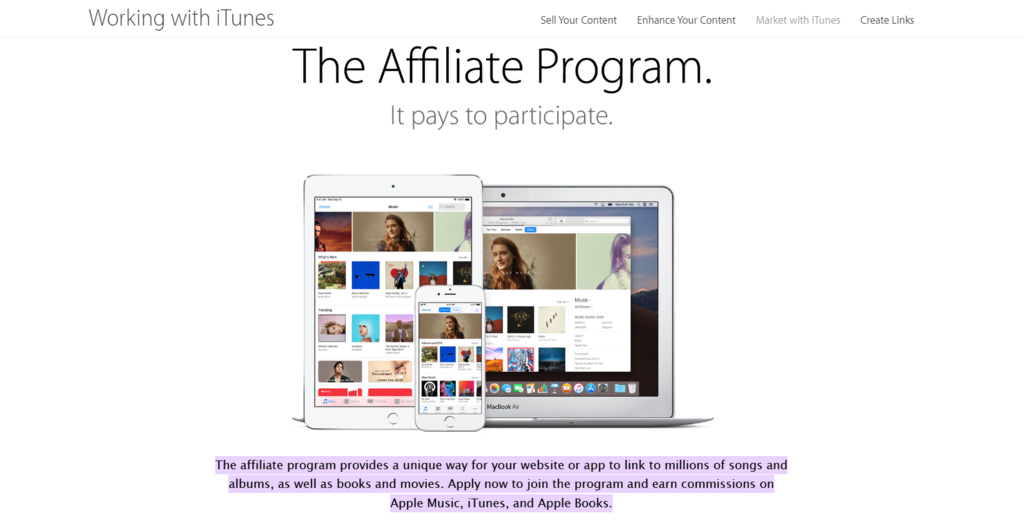 What Is Dropshipping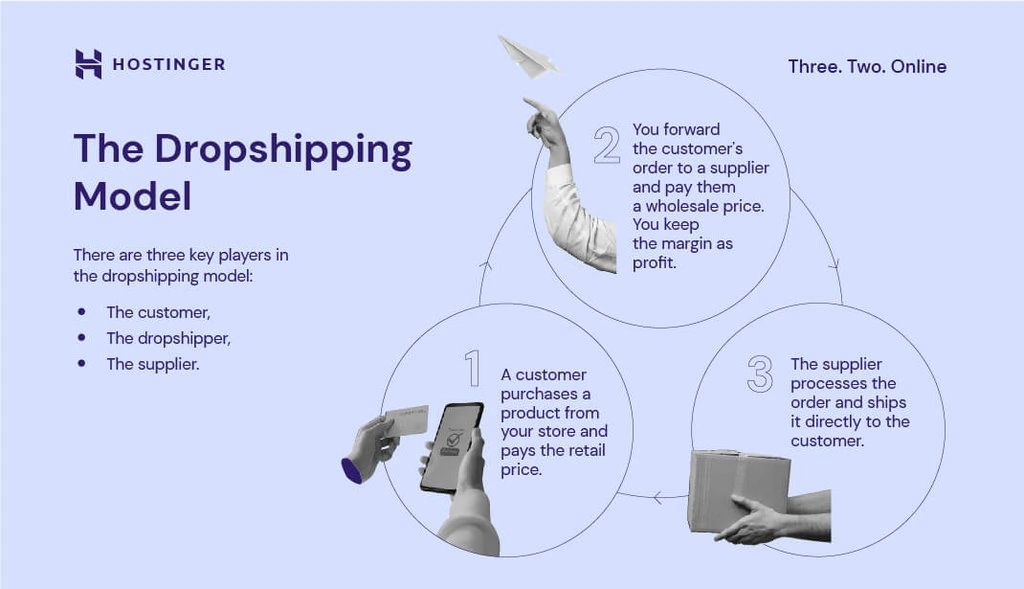 Dropshipping is an eCommerce business model that allows you to sell products from different suppliers on your own website. To start a dropshipping business, you don't need to carry inventory and ship products to customers.
Moreover, it enables you to determine your own product prices. In general, the profit you make will be your selling price minus the wholesale price. However, you'll be responsible for creating marketing campaigns and handling customers' complaints.
Then, once you receive an order from customers, you'll need to forward and pay it to the supplier. Next, the supplier will complete the customer's order on behalf of your eCommerce store.
With a solid business foundation and the right strategy, it is possible to build a successful eCommerce business through the dropshipping model.
Ease of Start
While both businesses are relatively easy to start, setting up an affiliate business is simpler than opening a dropshipping store. It is because you don't need to build a retail website and provide customer support, allowing you to focus on the marketing efforts.
In fact, you can start an affiliate business at no cost, especially if you already run a blog or have many followers on your social media accounts. Also, you can easily find affiliate programs through affiliate networks that provide various merchant options, such as ShareASale, Avangate Affiliate Network, and ClickBank.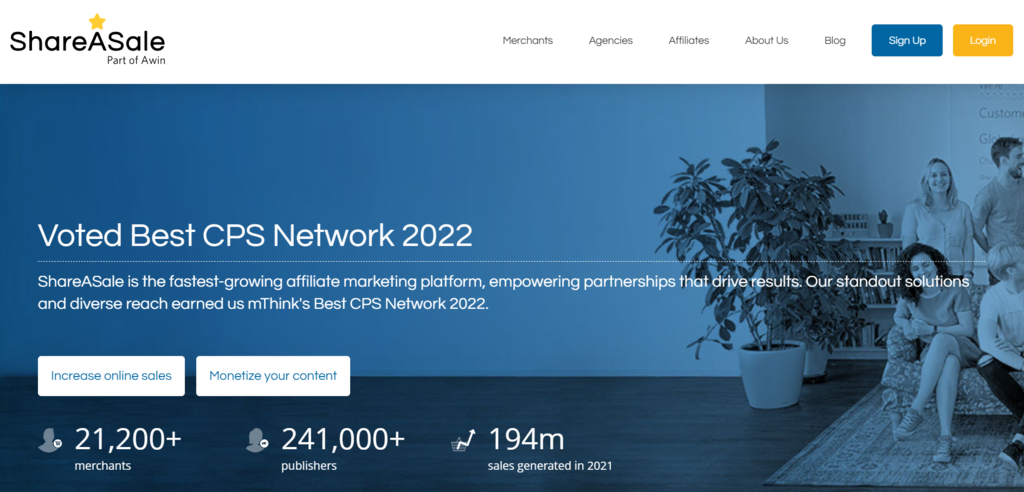 Before joining the program, define your niche and find the products that relate to your audience. These will help you avoid making affiliate marketing mistakes.
Furthermore, remember to optimize your content by using the right keywords and following the best SEO practices. Doing so will improve your content visibility on search engines, generating more traffic to your site.
On the other hand, a dropshipping business model takes more effort as you'll need to organize many tasks, such as conducting market research, finding dropshipping suppliers, setting up the retail price, and managing customer support. You will also need to communicate well with your suppliers to solve wrong orders, product returns, and delivery errors.
Keep in mind that you'll need to find dropshipping suppliers you can trust as you will be relying on their products. Choosing the wrong suppliers can damage your business, so it is better to consider aspects like their reputation, product quality, and service.
To help you find the right supplier, go to some dropshipper supplier websites, such as Modalyst, Doba, and SaleHoo.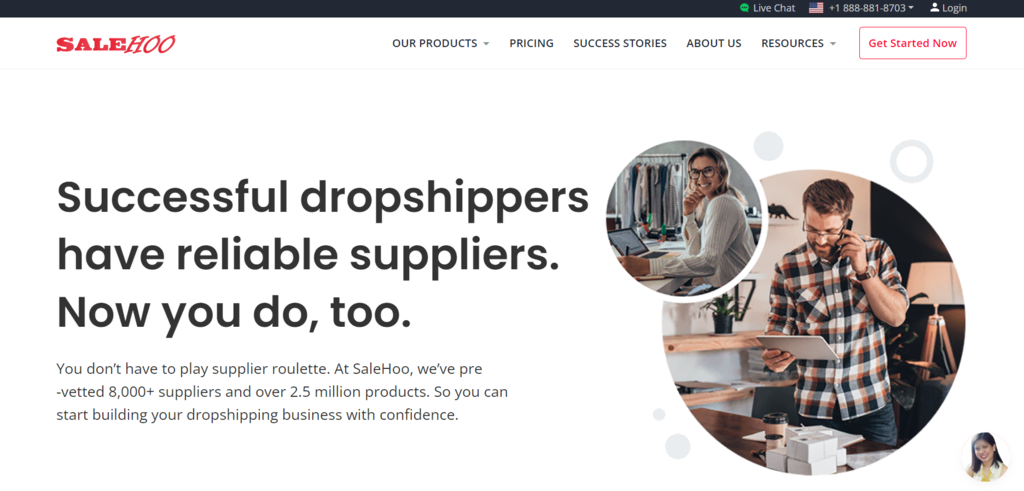 What Is More Profitable: Dropshipping vs Affiliate Marketing
When it comes to a profit, you can usually earn more money with dropshipping than with an affiliate marketing business. This is because you can decide the profit margins, making it possible to have high-profit margins of more than 30%.
For example, you can buy a product from a supplier that costs $15 and sell it to your customers for $30. Furthermore, if you can provide high-quality products for customers, you will get repeat orders from them.
Meanwhile, affiliate marketers usually get an average commission between 5% to 30% of the sale. Although some digital products like web hosting or online courses may offer a high commission, this target niche is very competitive.
Additionally, with an affiliate marketing model, customers might not revisit your website after they go to the referred site. However, if you constantly offer new products, it is possible to generate a high profit.
Affiliate Marketing vs Dropshipping: Earning Potential
A dropshipping model provides a more steady income since it can bring loyal customers to your online store.
As for affiliate marketers, you will only be the referrer of a business and have no control over the product offer, including selling prices. This will potentially reduce your earning potential compared to a dropshipping business.
Moreover, affiliate sales are one-off transactions that are not beneficial in the long run. This is because customers don't usually click twice on the same affiliate link for the same product.
In an affiliate marketing business model, your role is to help other companies to increase their brand exposure, making their products popular. Once they gain popularity, more customers will directly visit their official website.
However, with an affiliate marketing business, you might start earning sooner as it takes less time to set up.
Affiliate Marketing vs Dropshipping Pros and Cons
Like other business models, dropshipping vs affiliate marketing comes with its own pros and cons. Check out the comparison table below:
| | | |
| --- | --- | --- |
| | Pros | Cons |
| Affiliate marketing | Easy to start | Low commissions at the start |
| | No need to manage customer support | No control over pricing |
| | Low-startup expenses | Affiliate links can be removed or hacked |
| | Great source of passive income | Limited to some advertising |
| Dropshipping | Build your own brand | Needs customer support |
| | Higher profit rates | No control over the quality of the service |
| | Instant payment | Price competition with other businesses |
| | Easy to scale | |
As a result, affiliate marketing is best for those who want to earn passive income and have an audience on social media platforms or their own websites.
Meanwhile, we recommend starting a dropshipping business for those who want to generate income by building a new brand in the eCommerce industry.
Now, let's analyze dropshipping vs affiliate marketing pros and cons in more detail.
Affiliate Marketing Advantages
Easy to Start
To become an affiliate marketer, all you need is to sign up for an affiliate program and start including your affiliate links in your content. Aside from that, there are no specific certifications or licenses to join the program.
Many affiliate marketers use social media platforms or websites to promote their products and share their affiliate links. That's why learning how to create a website or a blog might be a good option to share your content with your audience.

No Customer Support Required
As an affiliate marketer, you won't be responsible for inventory management, delivery processes, and customer orders. Also, you are free to promote the product on different platforms, which helps you build a solid audience.
Your job is to encourage your target audience to buy the product through your affiliate link, making you focus on establishing an effective promotion to increase the conversion rate.
Low Start-Up Expenses
When joining an affiliate program, there'll be no upfront cost to be a partner. The only expenses will be your marketing costs, such as buying a hosting space or running an ad campaign.
Great Passive Income Source
The affiliate marketing route enables you to earn money anytime and anywhere. By implementing an effective marketing strategy, generating more conversions from your affiliate links will be easy. That's why finding the right platform and promotion ads for your products or services is crucial.
Affiliate Marketing Disadvantages
Low Commissions at the Start
It will take some time to generate conversions through your affiliate links as you have to get high traffic and attract visitors to click on the links. Therefore, you might have to spend money on ad campaigns, which can be more costly than your commissions. As a result, you may earn less money from your affiliate marketing business at the beginning.
In addition, some programs only allow you to cash out once you've reached the target sale number or after a long sales process. Therefore, you might not know when you will get paid, making planning your finances more difficult.
No Control over the Pricing
By promoting products from other brands, you will not have control over the price and the product. As a result, you cannot make the product more suitable for your audience, including changing its image and description.
Affiliate Links Can Be Removed or Hacked
Many customers might see an affiliate link as suspicious or spammy since it typically consists of unstructured numbers and letters. As a result, they may directly go to the website instead of clicking on your link. It will make your marketing efforts less successful and reduce your affiliate commission.
Furthermore, affiliate links are vulnerable to hackers who can steal your commissions. For this reason, you should use link cloaking. Furthermore, it will make your links more professional and trustworthy.
Limited to Some Advertising
Since you have signed up for an agreement with a certain company, you may have restrictions in promoting their products or services. For instance, some programs might not allow you to advertise on certain social media marketing platforms, reducing your earning potential.
In addition, if you violate any terms and conditions, the company might ban you from being an affiliate partner.
Dropshipping Advantages
Build Your Own Brand
Running a dropshipping business is a great way to start your own business and build your brand. As the store owner, you will have full control over the pricing and the business's operations, which can bring many benefits to your online business in the long term.
For example, you can create a strong brand image for your product to improve customer loyalty and brand recognition.
Higher Profit Rates
By having full control over your product's pricing, it is possible to achieve higher profit rates. Even with marketing costs, it can result in more income than being an affiliate marketer. However, when raising the product's price, ensure it is reasonable and competitive.
Also, since any terms and conditions do not bind you, you will have the flexibility to promote your products in various ways. You can even add an affiliate program to your dropshipping store to increase sales.
Instant Payment
With the dropshipping model, you can have your payout after the customer pays for the product on your online store. This way, you can withdraw your money anytime you want.
Moreover, it will improve your cash flow, making you flexible in managing and growing your business.
Easy to Scale
In a dropshipping business, you will have a higher chance to attract customers and make them repurchase your products compared to affiliate marketing.
It also allows you to sell various products worldwide, reaching a wider audience. You can also easily retarget your audience through various marketing campaigns to convert the sale.
Furthermore, you can optimize your landing pages, web design, and product descriptions according to your branding. As a result, it will increase your site traffic and conversion rate.
Dropshipping Disadvantages
Customer Support Needed
Since dropshipping websites are eCommerce stores, you should provide customer support services to ensure your client's order process is successful. Thus, you'll have to take responsibility and coordinate with the supplier if there's any problem with the customer's order.
Fortunately, there's a good option to simplify this workload by hiring virtual assistants from freelancing websites like Fiverr and Upwork.
No Control Over Quality of the Service
With a dropshipping business, you will have no control over the shipping service and the product's quality as you won't keep the stock locally. This can cause customers problems, such as shipping delays or product defects.
Many dropshipper suppliers deliver the products at their convenience, which might result in your customer's product not arriving on time. Receiving complaints about your products being late will impact your business performance, leading to negative reviews and loss of customers.
Price Competition With Other Businesses
As dropshipping is a low-risk business model, more people are starting their online stores using this method. As a result, it makes the industry more competitive, which means there'll be other merchants that sell the same products as yours, mainly for popular niches.
You will have to compete with others in terms of pricing, encouraging you to keep your own prices low to stay competitive. Unfortunately, this may result in lower profits for your business. For this reason, you'll need a good pricing strategy and analysis to succeed in the market.
Conclusion
Dropshipping and affiliate marketing are excellent business models for making money online. They're suitable for everyone who wants to start a new low-risk business with a limited budget. However, it is crucial to choose the right one for your business based on your needs and goals.
Here are the main aspects to consider:
Key differences. With the affiliate marketing business model, you will promote another company's products, whereas dropshipping lets you sell products with your brand name.
Ease of start. Affiliate marketing offers an easier start as you'll only need to join an affiliate program from a company or an affiliate network. Moreover, it doesn't cost any money.
Profits. Dropshipping typically provides higher profit margins since you can decide your selling price. Meanwhile, most affiliate programs offer a fixed commission.
Earning potential. Both have the same earning potential, but dropshipping provides a more steady income as you can get repeat orders from customers.
In short, if you are looking for a great business model with minimum effort to manage, an affiliate model might be the best option. Alternatively, if you want to build an online business with your brand name, dropshipping can be an excellent choice.
Whether you choose affiliate marketing or dropshipping, both require hard work and time to be successful. If you have any further questions, leave us a comment below.