75 out of 175 million websites in the world use WordPress. And, millions of content pieces circulate the web. Don't you think it would be nice if we could automate the process of fetching our favorite content for us? The good news is, we can do that with WordPress RSS Feed.
How so? Let's break it down.
What is RSS Feed?
Sometimes people refer to the RSS Feed as RSS or simply – the feed. RSS stands for Rich Summary Text or Really Simple Syndication. It is a type of web feed that enables users and applications to get regular updates from their websites of choice.
Think of a YouTube channel. People subscribe to a channel because they want to get notified every time the channel publishes a new video. The RSS Feed works exactly the same way: it notifies you about new posts.
While we could bookmark and access our favorite websites every time we want to check for an update, it's a bit time-consuming.
You can just visit the website once, subscribe to its feed, and receive the updates automatically. Not only does RSS simplify users' information flow, but it also allows content syndication. It means that the WordPress site owners can distribute their content more comfortably.
Even though the RSS Feed has been around since 1999, many people are still not familiar with it. But, considering its user-friendly nature, you should definitely try it out!
How to Use the RSS Feed in WordPress?
Before going further, let me introduce you to the main features that make up this system.
WordPress sites: The place where content is stored and managed.
RSS Feed: Your WordPress site creates a structured XML document every time you publish something new. We refer to this as feed, which contains the summary and metadata of your content.
Feed reader (news aggregator): this is an application which gathers and groups the feed from multiple websites, into one single interface.
How it works is really simple. You only need to subscribe to the websites using a feed reader. Every time the site updates new content, the feed reader will fetch the content for you. You can also get notified about updates on your email or mobile phone, depending on the settings provided by your feed reader.
WordPress, by default, has provided its users with a built-in feed reader. If you already own a WordPress site, you will need to log in to your account through wordpress.com. You will then see the "Reader" button at the top-left corner of your page.
Once you are inside. You can start exploring any topic to read, as well as subscribing to any blog of your choice. Every new update from them will appear directly on your Readers' page.
If you are not on WordPress yet, we highly recommend you to use Feedly. With its simple and intuitive user interface, Feedly should be at the top of your choice. It is available both as a browser add-on or a mobile app for iOS, Android, and Kindle. You can search for certain topics, categorize your feed, and mute any notifications you don't feel like getting. Simply put, it makes everything extra easy.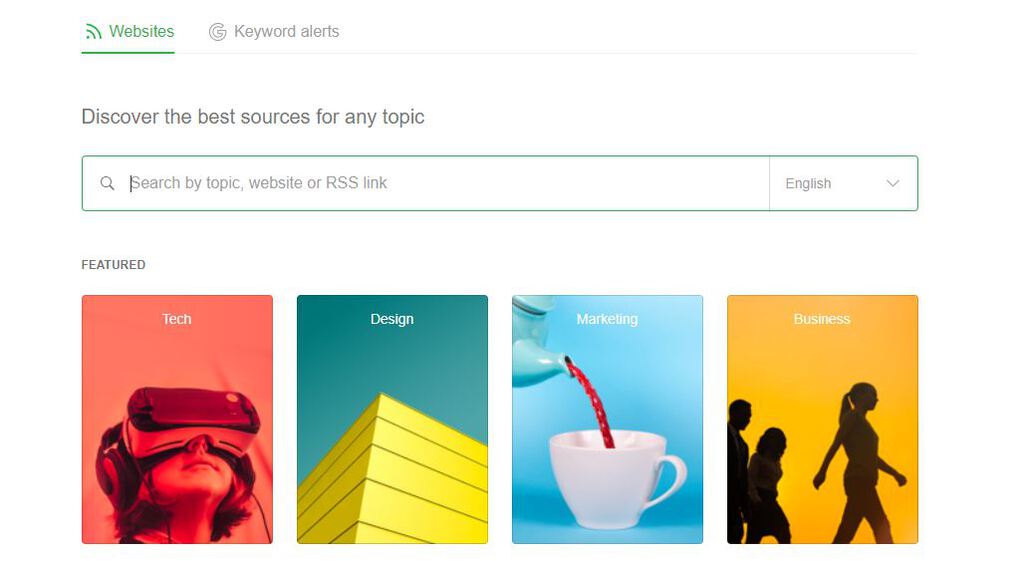 Other notable feed readers that you could try: The Old Reader, Inoreader, and Feeder.
A feed reader automatically sorts out your feed, so you don't have to do it yourself. However, if you want to know how content feed looks like, you can access it by adding /feed/ to any blog's URL.
Let's say that you want to access the feed of example.com/blog/. In this case the WordPress RSS feed URL will be example.com/blog/feed. You can replace example.com with any domain name. The page will look like this: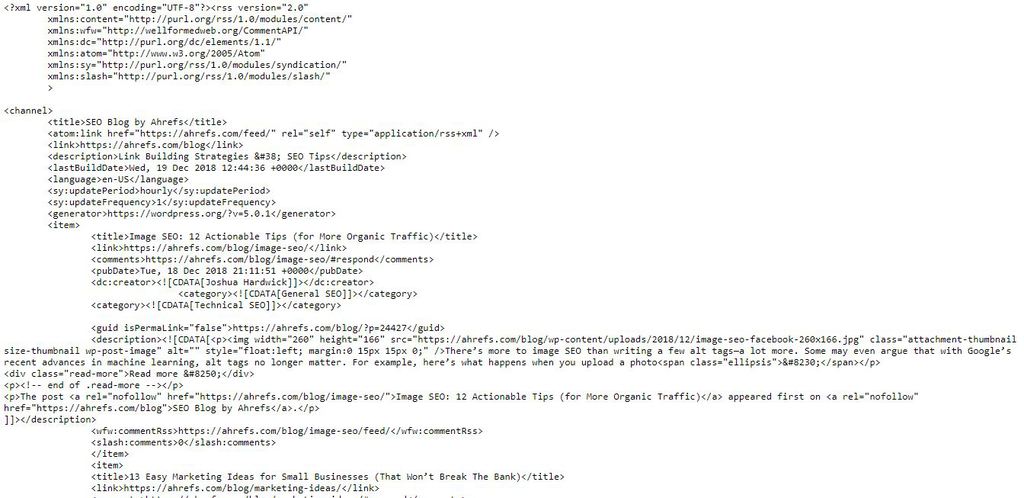 If you are curious about our content feed, you can access it the same way by typing hostinger.com/blog/feed/, and it will generally look the same: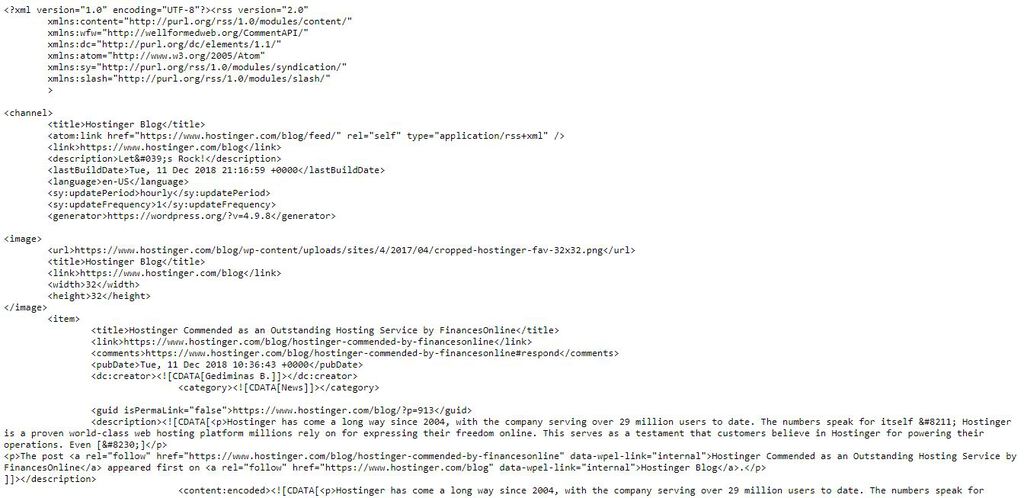 While some browsers have a built-in feed reader, we do not recommend using them. They lack the ability to interpret the feed well.
For example, every time Google Chrome won't be able to read the feed properly, you will see this text: "This XML file does not appear to have any style information associated with it. The document tree is shown below."
The whole idea of using a feed reader is to simplify our information flow. Unless you are an advanced user, why bother doing it the hard way?
Practical Use of RSS Feeds
Some people may think that the RSS Feed is an outdated concept, considering the rising popularity of Facebook, Instagram, and Youtube. However, we believe that the RSS Feed is still as relevant as ever. There are some practical features of the RSS Feed that we may take for granted.
Webmasters' side
The RSS Feed is a powerful tool to help your site grow. Therefore, if you are a web owner, you don't want to miss these potentials:
A massive opportunity for content syndication.
The RSS Feed makes your content available for the general public. Anyone can access and subscribe to your site if they want to. To encourage this behavior, you can promote your RSS Feed to your visitors by making it visible. How so? Use a widget or thumbnail, put it on your sidebar, combine it with interesting text. You will definitely see results in no time. You can also integrate it with IFTTT to promote your content on your social media channels. If this is done properly, a big surge of traffic is on the horizon!
A companion to your email marketing strategy.
Don't just sell products or send reminders through your email. First, you need to promote your feed to expand your email list. Put a 'call to action' button that allows it to subscribe to your feed. This way, your subscribers can access your new content directly from their email.
Extra customization
I am sure that you have put so much effort into your blog's appearance. Your theme is beautiful and your interface enhances positive user experience. But, what about your RSS Feed? Actually, you can add text, images, different styling, and even ads to each post on your feed. Although it requires knowledge of php and may not be for beginners, it is still worth mentioning.
Users' side
Flexibility and simplicity are the top reasons why everyone should use the RSS Feed. You don't need to browse through 20 different websites to read great content.
Just subscribe to your preferred websites and they will 'feed' you with their content updates, pun intended! This also helps if you don't have a stable internet connection.
Moreover, most feed readers provide you with a search function. You can mark your favorite topics, let the reader inform you when the new one is up and group them into an archive for further reading.
Conclusion
Think of the RSS Feed as a subscription feature. It is indeed that simple. It doesn't matter if you are a webmaster or a user, everyone can reap all the great benefits with ease.
Now that you know, give it a shot and explore it yourself!
If you have any questions, kindly drop us a comment below.