Attract More Clients for Your Business With Hostinger WordPress AI Assistant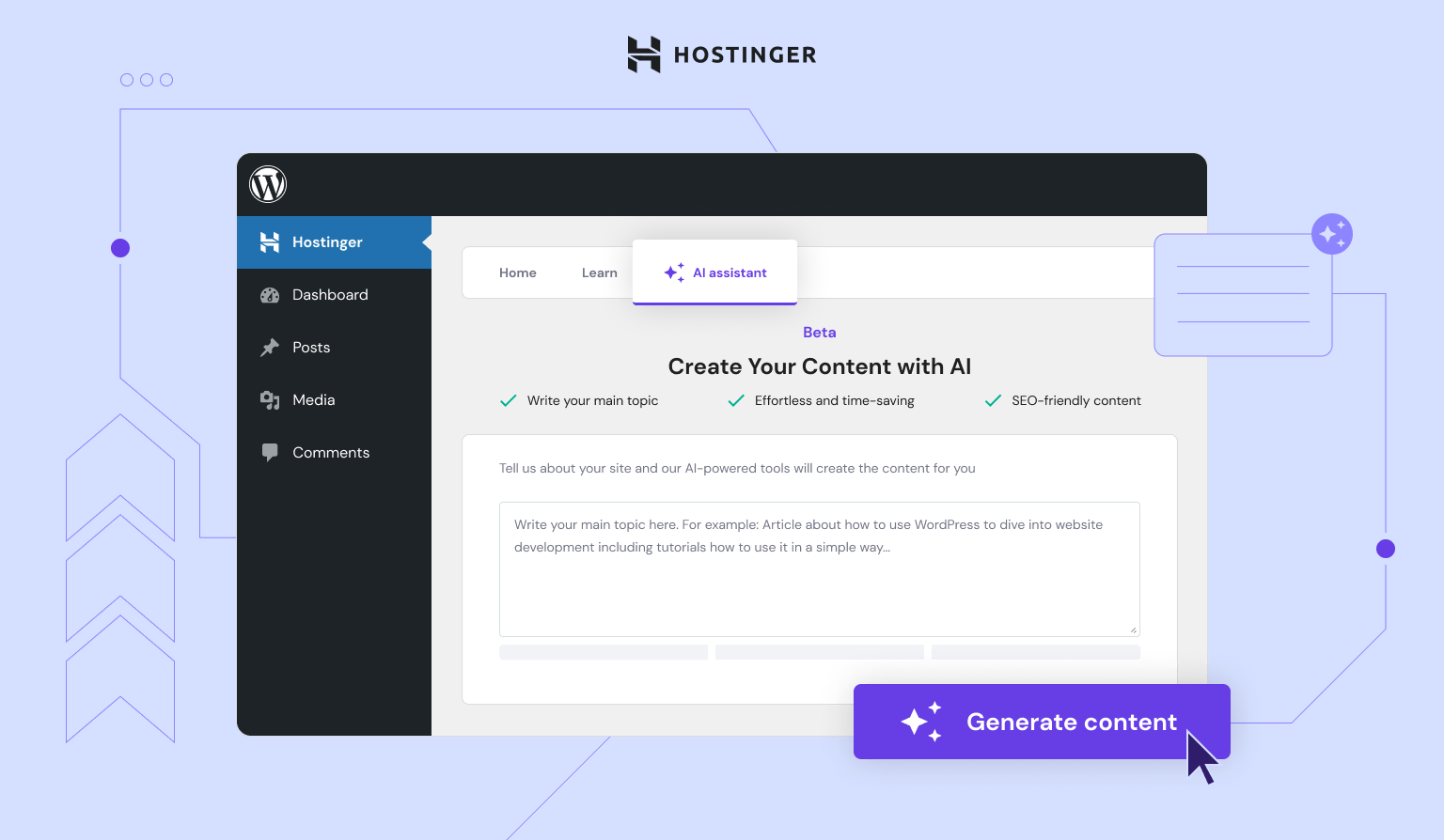 Quality content helps you attract more visitors and keep them engaged. Luckily, you don't have to be a copywriter or hire one to publish lots of great content on your website. Leave it to our WordPress AI Assistant, a plugin that comes free with our Business web hosting and cloud hosting plans.
Keep reading to find out what Hostinger's AI Assistant is, how to use it, and its benefits to content creators, business owners, and website administrators.
What Is AI Assistant?
Created by Hostinger, AI Assistant is a WordPress plugin that automates your post creation with artificial intelligence (AI). It helps you effortlessly generate engaging content for your WordPress website.
All you have to do is share an idea for your post, and the AI will handle the rest. It will analyze the input and automatically create a well-structured and SEO-friendly blog post with a title, introduction, paragraphs with headings, and conclusion.
The more precise and detailed your query is, the better the quality of the content. For example, you can specify the preferred keywords, the post's audience, the text's length, and other criteria to ensure your content is precise and useful.
The current version of the AI Assistant plugin can generate blog posts whenever you need new content for your website, helping keep your website fresh and updated. The plugin works best in English and supports over 50 other languages, including Spanish, French, German, and Chinese.
Who Benefits From AI Assistant?
Every user who values productivity, efficiency, and the ability to leverage AI technology to enhance their content creation workflow can benefit from our AI Assistant. It is designed to cater to a wide range of online hustlers, including:
Content creators
Business owners
Website administrators
Web developers
Everyone else seeking to streamline content creation.
What Are the Advantages of Using AI Assistant?
The plugin offers several advantages useful for web beginners and even professionals alike:
Fewer expenses. Automating the content creation process reduces time and cost significantly.
Increased productivity. AI Assistant enables website owners to update their websites more frequently.
Higher visibility. The plugin generates SEO-friendly content, helping the websites rank higher on search engines and, ultimately, drive more organic traffic.
Let's say you own a cafe and want to attract more clients. Using AI Assistant, you can regularly update your blog with interesting recipes, baking tips, and stories behind its specialty products, enticing potential customers and keeping them returning for more.
Or you are a developer with a potential client who owns a car dealership service. In that case, you can offer not only website creation services but also deliver a fully-functional website with proper content. It can include blog posts with detailed descriptions and specifications of the latest car models the client has in stock or educational articles about car maintenance and safety.
How to Use AI Assistant?
AI Assistant is available for our Business web hosting and cloud hosting clients. It is installed automatically if you select that you want to use AI features during the WordPress onboarding.
Also, you can install AI Assistant directly from hPanel's Members Area. Head to your WordPress website management dashboard, and you will see the option under the Tips to Improve section.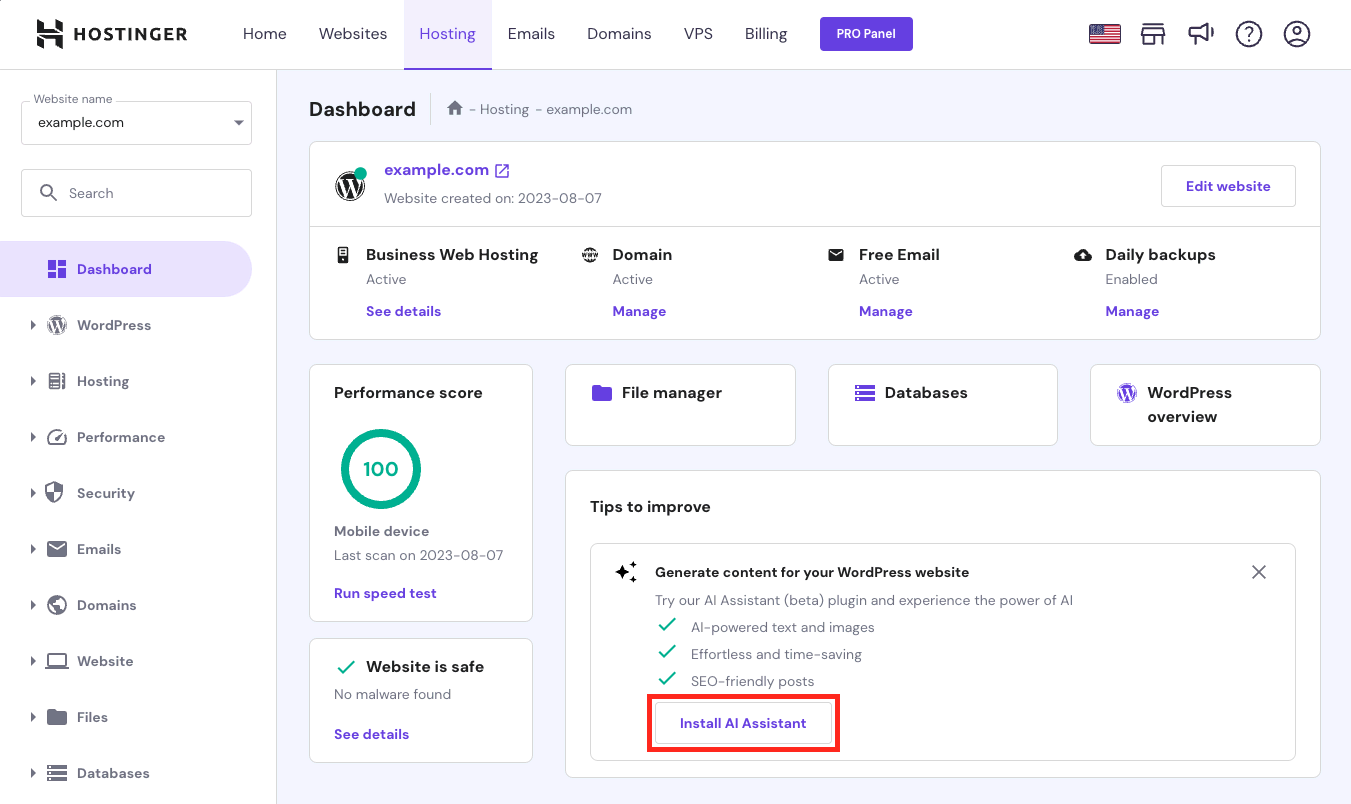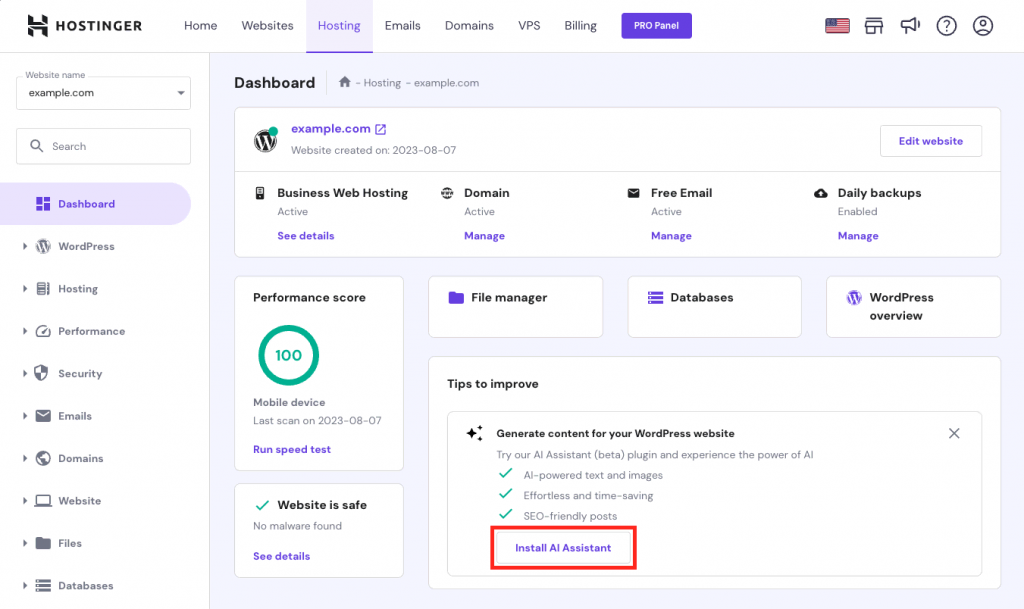 Soon, you will be able to install AI Assistant through the main Hostinger plugin. Note that you may need to update the Hostinger plugin manually to use AI Assistant.
To generate content with AI Assistant, log in to your WordPress dashboard and select the Hostinger menu item on the left-side panel. AI Assistant is in the top bar on the right.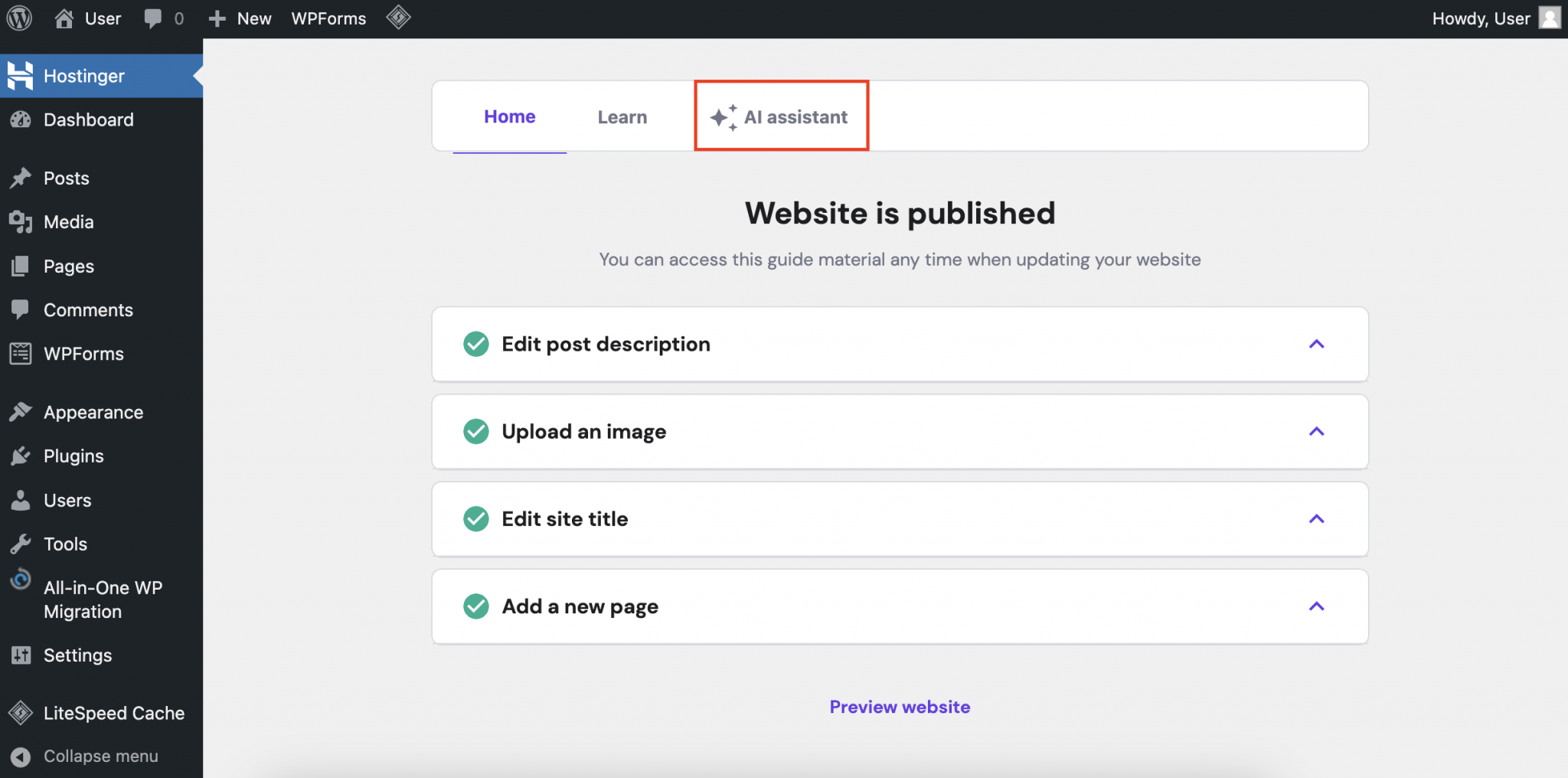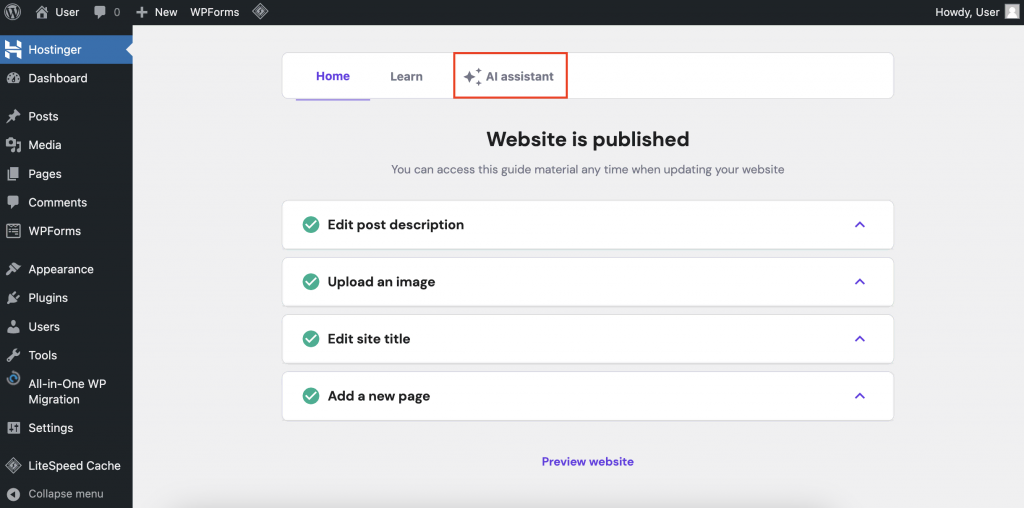 Select it, and enter the topic you want AI to write a blog post about. It can be anything from food to nature, financial tips, and space exploration.
Click Generate content below, and the AI will start analyzing your request.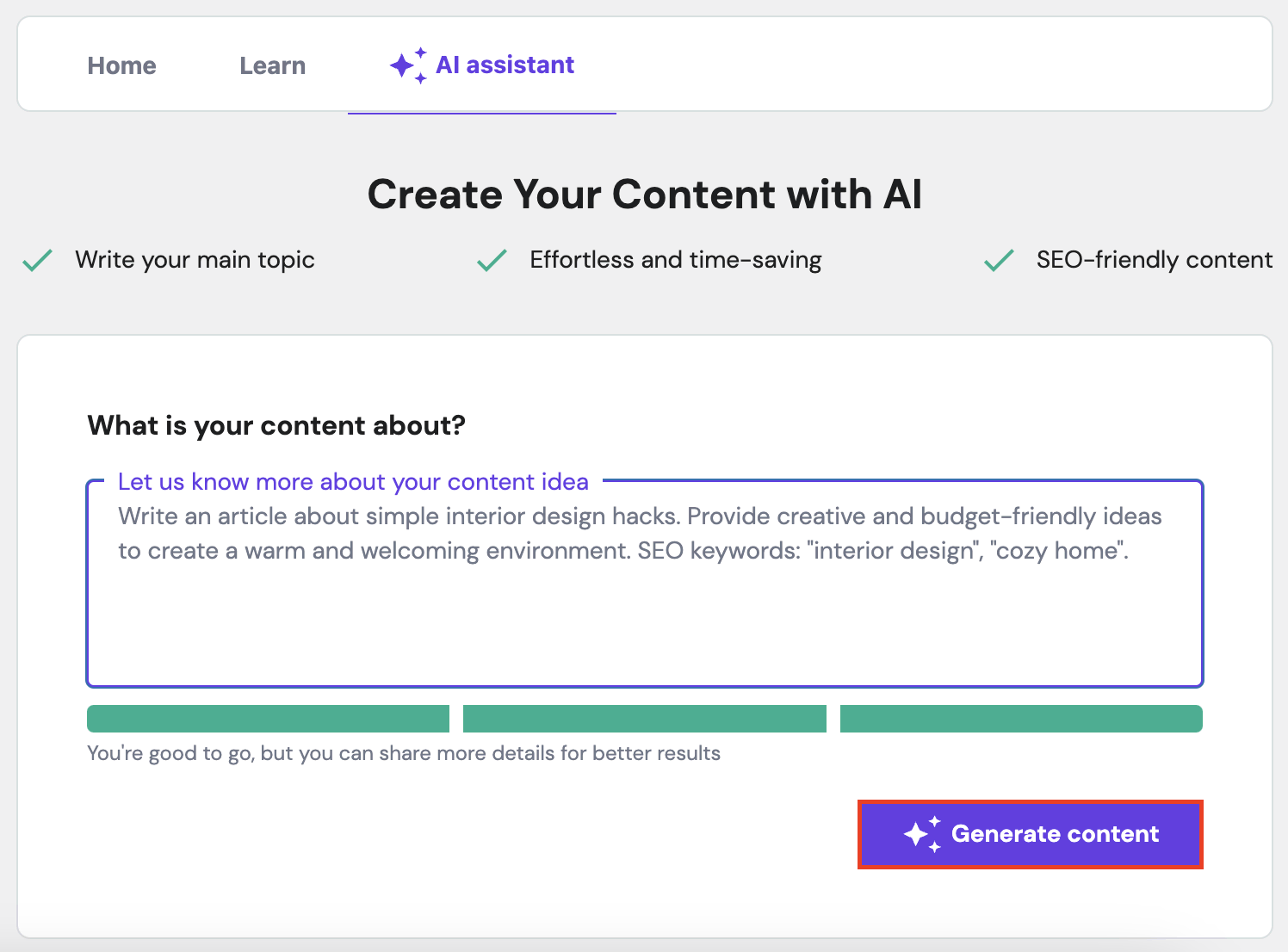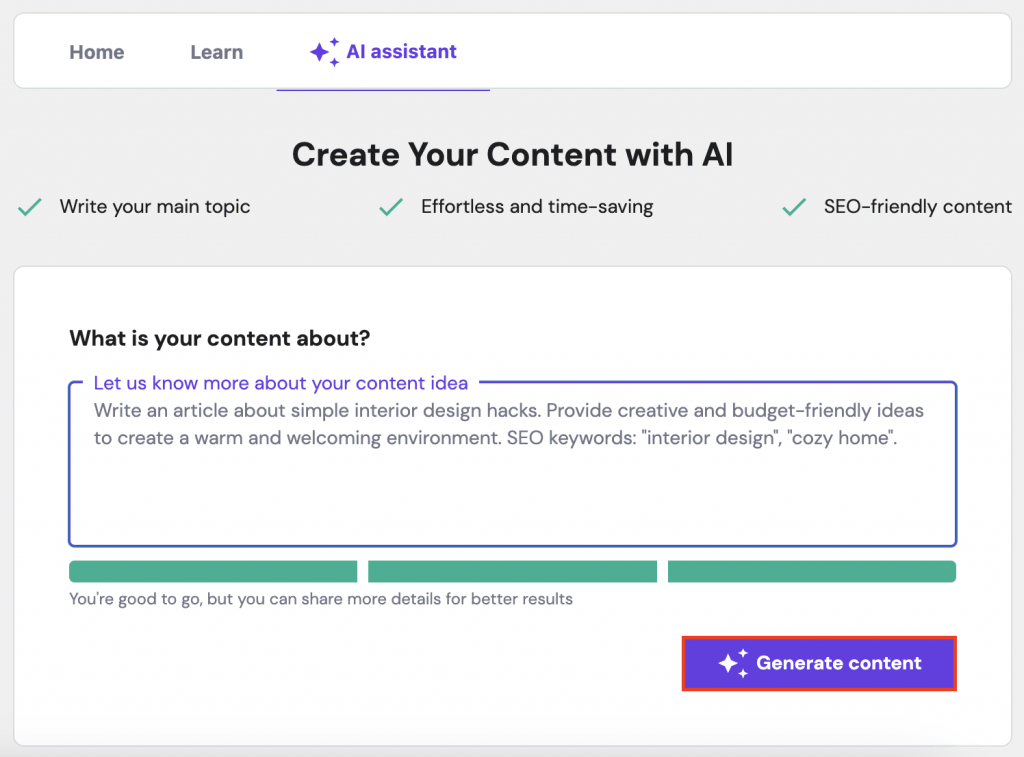 In a few moments, your blog post will be ready. If you are not happy with the result, select Generate content again, and the AI will regenerate the response.
Otherwise, select Edit as a draft at the bottom of the page to review and proofread the blog article.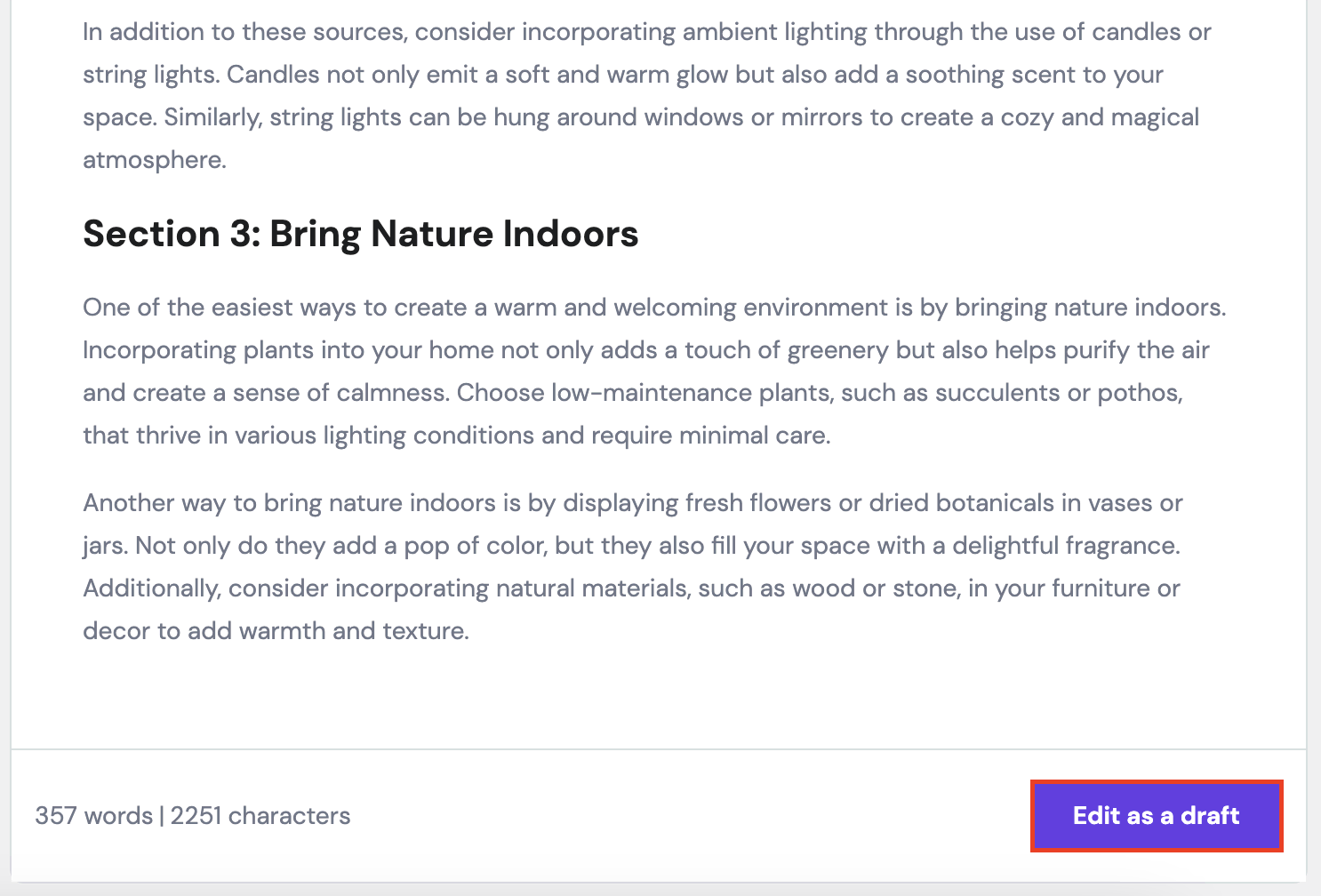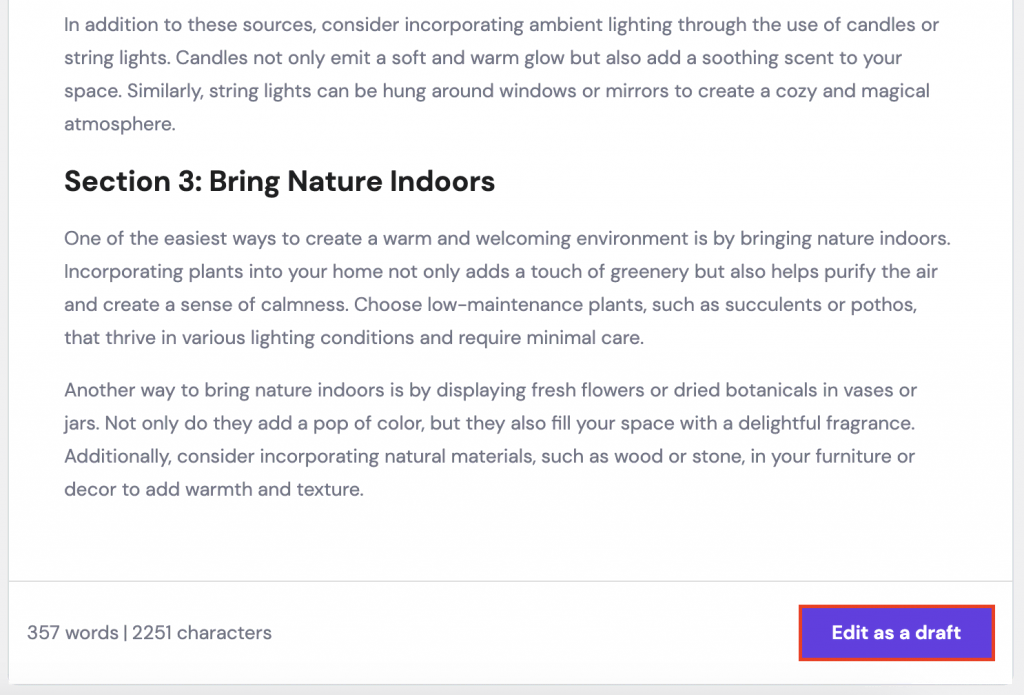 When you are satisfied with the result, select Publish.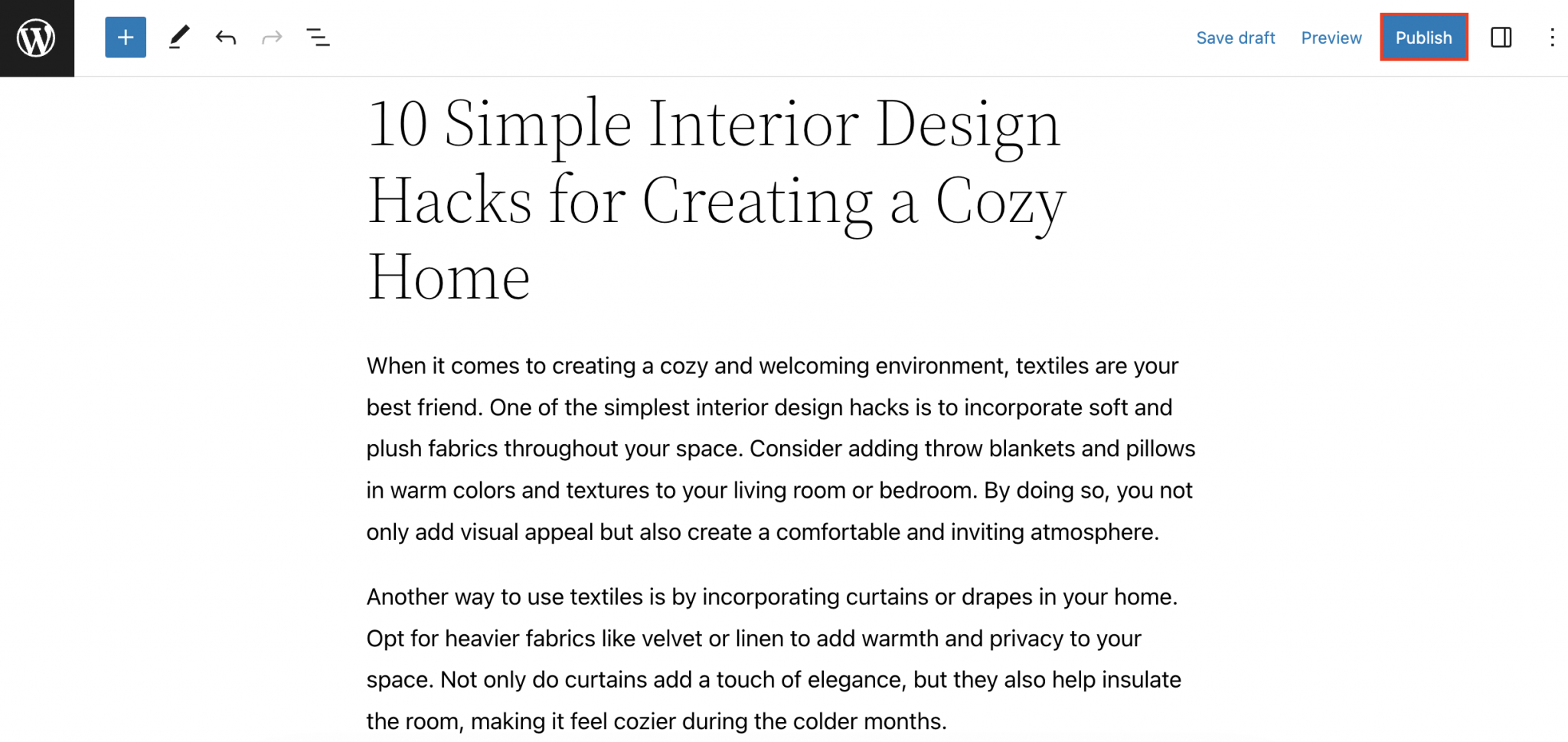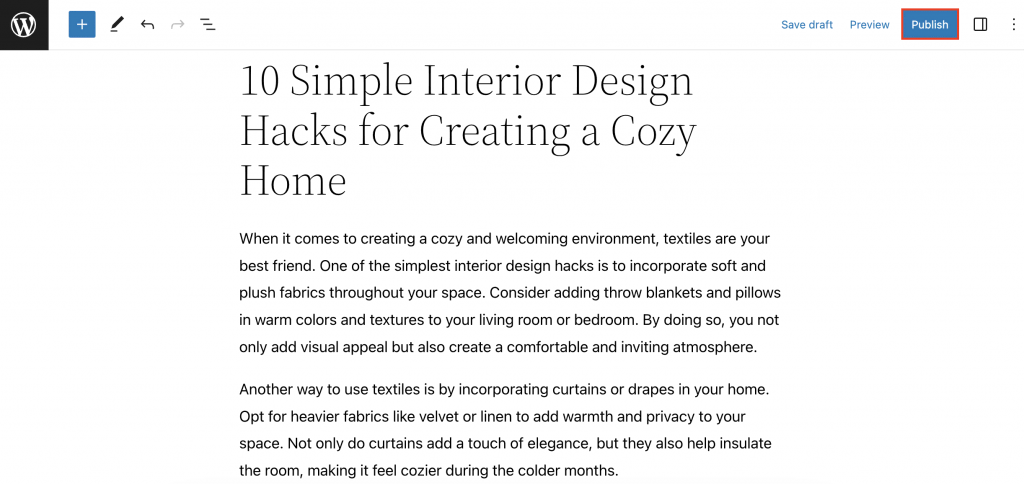 What's Next?
We are working hard on the AI Assistant updates. In the upcoming weeks, it will be able to generate more kinds of content, including unique pages for your website or even product descriptions for an online store. Also, the plugin will automatically select royalty-free images best suited for the content it generates.
More improvements will come later, such as adjusting the content to more specific needs and controlling its length and tone.
Go ahead and try our new AI Assistant to generate captivating blog posts, attract new visitors, and boost traffic effortlessly. Ideal for content creators, business owners, and WordPress users, AI Assistant redefines productivity and efficiency, revolutionizing your online hustle. Embrace the future of content generation and stay ahead of your competition.