Do you have a business and website to run? Feeling overwhelmed because you have to update your site frequently and complete the clients' orders? You're not alone. Fortunately, all of those things can be done easily with the help of WordPress project management plugins. And we're here to share with you the five best management plugins available on the market.
Management with Plugins
WordPress as a project management platform? Sounds unusual, doesn't it? At first glance, it might be so. But turns out, there are a lot of WordPress project management plugins out there so you can manage your site and your projects in one place.
Implementing management plugins can do wonders for the success of your business. It enables you to plan, organize, and monitor all projects with ease. And the best part is, you don't have to spend a dime if you choose not to.
So are you ready to make a change to your project management?
5 Top WordPress Project Management Plugins
We've compiled the top five WordPress management plugins to help you make the right decision. Most of them are free, but some require premium subscriptions. Don't worry though, we'll be covering the free and premium features separately so there'll be no confusion on your part.
These plugins below are chosen based on their core features, additional features for advanced and easier management, ratings & reviews, ease of use, and their price.

Launched in 2018, Zephyr Project Manager is a relatively new player in the industry of WordPress project management plugins. But despite its age, this plugin is no less impressive than its older competitors.
One of the most outstanding features of this plugin is the fully functional Android app. You can manage your projects on the go and stay up to date.
With the free version of this plugin you can:
Create unlimited projects and tasks.
Set the start and end date.
Plan tasks with the built-in calendar.
Upload files, documents and add comments.
Receive email updates on various activities: overdue tasks, completed tasks, deleted tasks, etc.
Create teams and easily assign tasks to the team members.
Generate an automatic progress chart for your projects.
As for the professional edition, you can get it for only $20 — without other recurring fees! It allows you to integrate your Asana projects with Zephyr, customize the frontend project manager page, modify the custom field of your projects, and so on.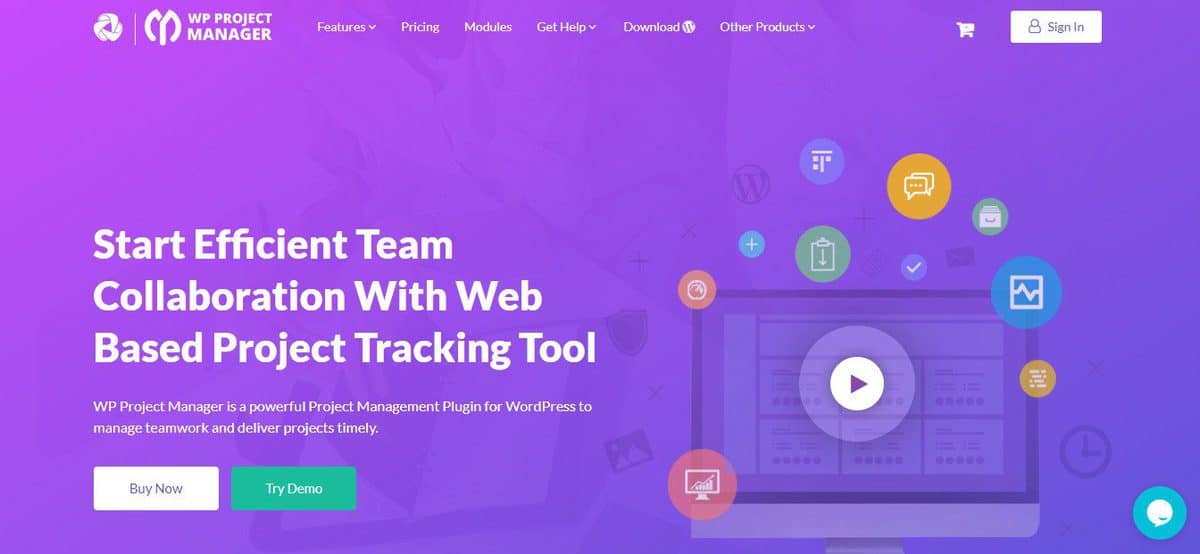 WP Project Manager is the most popular WordPress management plugin in this list with more than 5000 active installations. It's designed for all kinds of use, whether it's personal or business. Therefore, even with the free version of this plugin, you can:
Create to-do lists as much as you want.
Add unlimited members.
Overview of all the projects with its details (tasks, team members, comments, etc).
Send emails to all members along with attachments.
Create milestones and assign tasks on them.
Mark tasks as complete or incomplete.
See the progress of projects.
Archive completed projects.
Choose from three subscription plans if you want to enjoy the premium features (modules). Two of the plans also have an impressive list of modules which expand what you can do with this plugin. Some examples are modules for BuddyPress, Stripe Gateway, and Gantt Chart.
You can start as low as $79/year which includes built-in private messenger, folder and file management, frontend support, role assignment, and automatic daily digest emails.
Meanwhile, the two other plans are priced at $149/year for five licenses and $249/year for 10 sites, each with different premium features and add-ons.

UpStream allows you to manage any type of project easily within your WordPress dashboard. The user-friendly interface and walkthrough guide make it easy for you to create projects, collaborate with team members, and overview all the projects at once.
Here are some of UpStream's feature:
Allow your clients to view the projects via the frontend.
Track your progress through milestones.
Discussion board.
Built-in user roles.
Track bugs and issues and assign them to other users.
Create your own categories.
Add custom fields and create your own statuses.
Upload media files and choose who can see them.
Keep track of each project through a log activity.
You can buy all premium extensions like email notifications, calendar view, and project timeline if you need to. The price is $79/year for professional (one website) and $149/year for an agency (10 websites). Meanwhile, the basic version —  which only includes two extensions — is priced at $49/year.

Just like what the name suggests, Project Panorama is a management plugin that focuses on creating a beautiful project overview visualization.
Hence, this WordPress management plugin is distinctive for its charts and interactive dashboard that help team members and clients to see the progress of their projects quickly and easily.
Unfortunately, this plugin does not come with any free version. The prices range from $89 to $229 for all the core features and additional add-ons. And if you want to some add-ons that are not included in your plan, it's possible to purchase them separately.
The core features of this plugin include:
A clear diagram overview of the number of projects. It also states the amount of active and completed projects and the number of projects under a particular category.
Easily view who are your clients and team members.
All clients have their own dashboard. They also can approve the documents or ask for some changes.
Email notifications.
Responsive customer support.
Official free add-ons for integration with Woocommerce, Gravity Forms, Sprout Invoices, and Checklists.

Kanban Boards is known for its Trello-like interface — it uses boards and cards to visualize the progress of your tasks. You can use this plugin to track sales, scheduling content publishing, and many more.
If you're not familiar with Trello, you might be confused with the concept of boards and cards. Basically, the boards are the statuses of the projects (start, on-progress, finish) and cards are the name of the tasks. You can move the cards to their appropriate boards as your tasks progress.
This WordPress project management plugin has tons of features, some of them are:
Easy team collaboration by assigning tasks to team members.
Multi-language support.
Mobile friendly.
Works on multiple sites.
Ability to group tasks by projects.
Create custom views by using filters and search. You can also bookmark them for easier access in the future.
A pro version is also available which allows you to comment on tasks, attach files, receive email notifications, use color codes for your tasks, and many more. To enjoy those features, you can get an annual subscription for $149/year or purchase a lifetime license for $499.
Summary
A project management tool is essential to keep you and the team on track. Luckily, you don't have to go far to search for one. There are many WordPress project management plugins that are equal to — if not better — than the usual management tools.
Let's take a quick look one more time on the best WordPress project management plugins available:
Zephyr Project Manager — an impressive set of features for the free version.
WP Project Manager — excellent management plugin with plenty of additional modules.
WordPress Project Management by UpStream — simple interface with complete features.
Project Panorama — extensive features with a beautifully-designed dashboard.
Kanban Boards — track your projects with ease with boards and cards.
So what are you waiting for? Install one of these plugins and your project management will never be the same!