Wix vs WordPress: Which Is the Better Platform to Build a Website?

There are a lot of platforms you can use to make a website. However, we can divide most of them into two categories: website builders and Content Management Systems (CMS). Wix is an excellent example of a website builder, while WordPress represents the latter.
If you're new to creating websites, choosing which type of platform to use can be a challenge. To help you out, in this article we're going to compare Wix and WordPress in several categories, including:
Ease of use
Site management
Performance
Security
Customizability
eCommerce
Pricing
Support
SEO
Afterward, we'll sum up the advantages of using each platform, so you have all the details you need to make an informed decision. Let's talk WordPress vs Wix.
An Introduction to WordPress vs Wix
Before we go any further, it's important to understand the fundamental differences between Wix and WordPress. As we mentioned earlier, although they both enable you to build websites, they aren't the same kind of platform.
Wix is what's called a website builder. That means it offers you the tools you require for building a website easily, without needing to touch a line of code. It does this using a visual builder that relies on pre-built elements or 'blocks', which you can add to any page and re-arrange at will: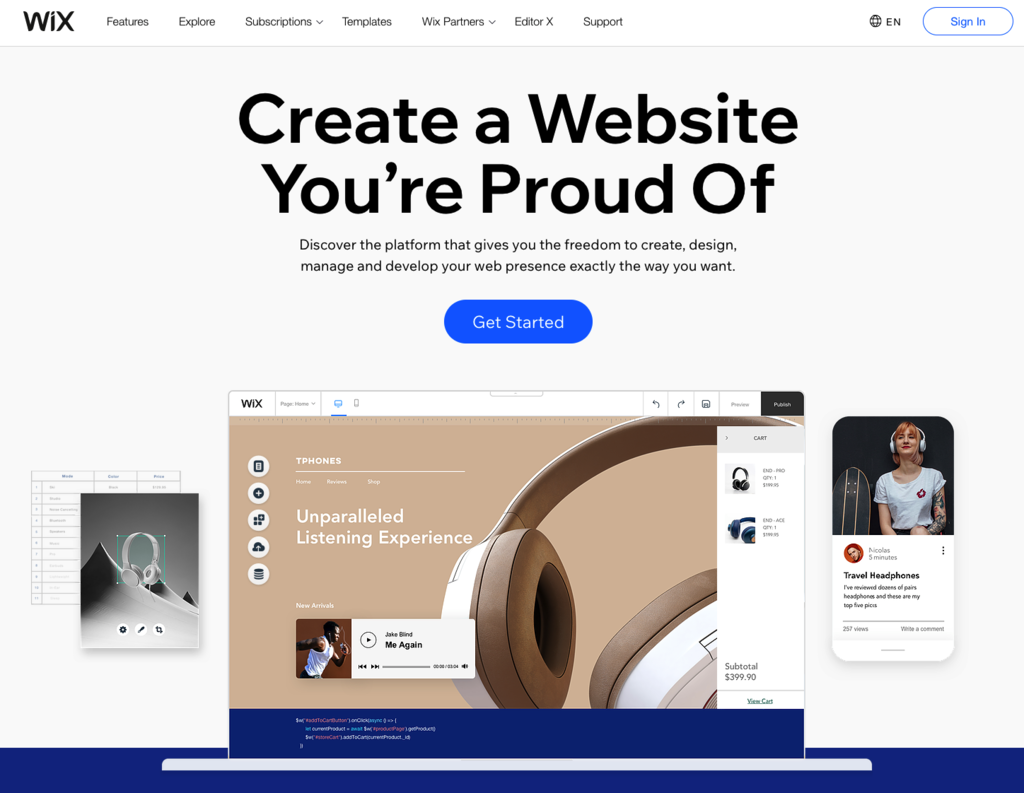 Over the past years, these types of platforms have skyrocketed in popularity, because they allow you to build a website without a background in development and they have a lower learning curve. However, there are limitations to what you can accomplish using a website builder.
WordPress, on the other hand, is a Content Management System (CMS). That's a fancy term to describe platforms that enable you to create and manage vast libraries of content, alongside all the tools you need to create the rest of your website: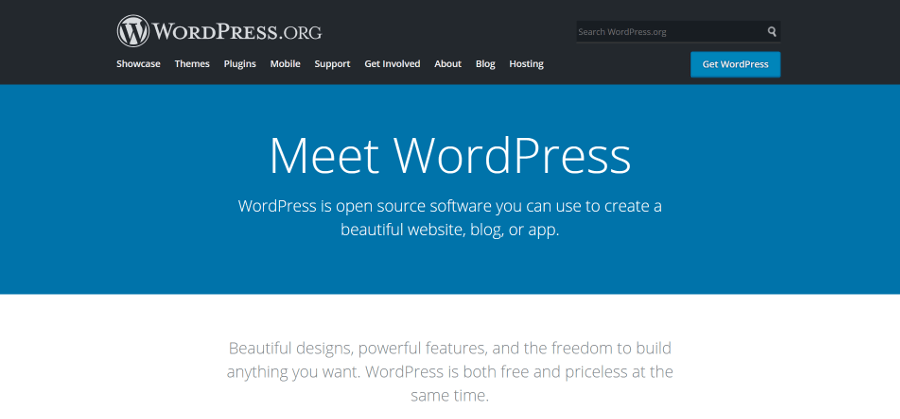 Although WordPress was once primarily a blogging platform, it has long outgrown that classification. These days, WordPress powers over 35% of the web and can be used to create nearly any type of website. Over the next few sections, we'll break down why the platform is so popular, and help you decide whether to use WordPress vs Wix.
Nevertheless, there's one crucial distinction you need to understand before we move forward. Perhaps the biggest difference between a website builder and a CMS is that a CMS is self-hosted. This means that with Wix, your site will automatically be stored and displayed by the platform's own servers.
With WordPress, on the other hand, you'll need to find your own web host and purchase a plan in order to make your site live. This takes a little more work but also gives you a lot more control over your site's performance, security, and optimization. Plus, you can find WordPress hosting plans for a very low price per month.
There is a version of the platform that's hosted for you, called WordPress.com (as opposed to WordPress.org). It's a lot like Wix and has the same kinds of limitations. In this review, we'll be focusing on the self-hosted WordPress.org version.
Now that we've introduced our two contenders and their major differences, let's see how Wix and WordPress stack up in a direct comparison.
Wix vs WordPress: Ease of Use
First up, let's talk about ease of use. Our benchmark here is whether each platform is accessible to someone who is completely new to building a website. Ideally, you should be able to login to either Wix or WordPress and start using it effectively right away, without having to devote weeks or months to study it.
Right off the bat, we can tell you that Wix is fantastic when it comes to ease of use. As soon as you create an account, you'll be given the option to answer a few questions and see site suggestions or create your first site on your own. You'll get access to a clean dashboard that makes it easy to find the options you want: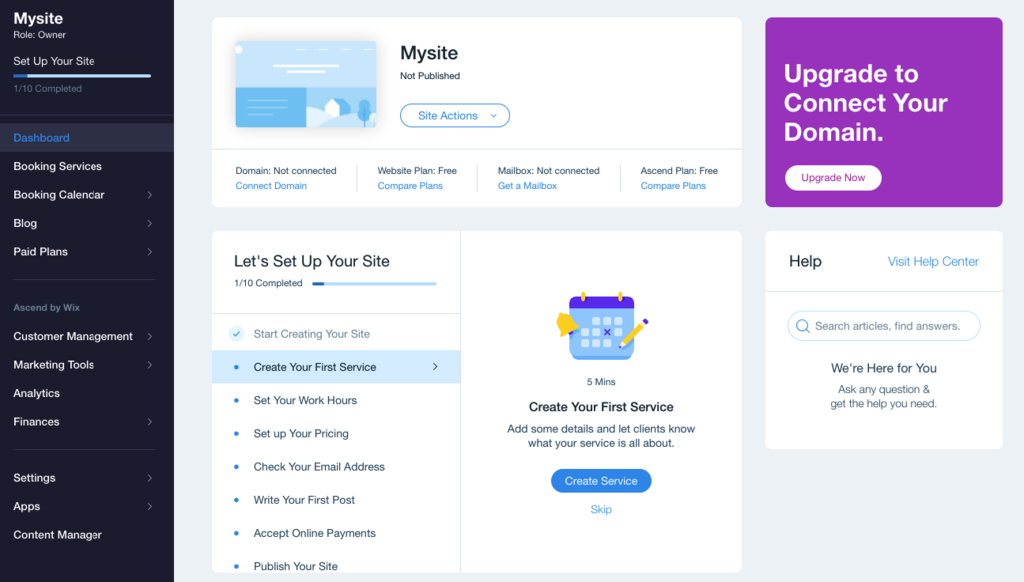 There are a few features here that might be somewhat advanced for a beginner to web development. For example, you'll probably need to look through the platform's documentation if you want to use its Customer Relationship Management (CRM) options, as well as its marketing tools, however, there is an easy to Help search bar to quickly send you in the right direction.
Once you open up the Wix website editor itself, you'll quickly see why the platform is so popular. The Wix editor is very simple to use. You can add elements like text and images in seconds using the menu on the left, create new pages, and even manage app integrations.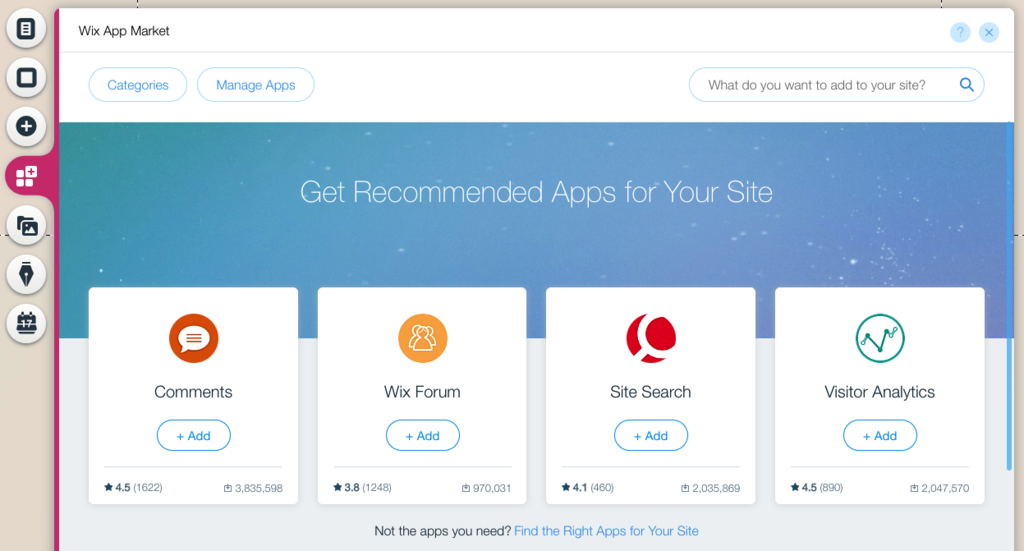 On a moveable menu, you have a collection of tools you can use to edit your page and elements' styles, which is very reminiscent of a photo editor. Wix even enables you to use templates to set up modern-looking pages in minutes. If you go with a template, you can always edit its individual parts to make the design unique. With its the Strip guidelines and the drag and drop feature, you can easily move any elements around in seconds.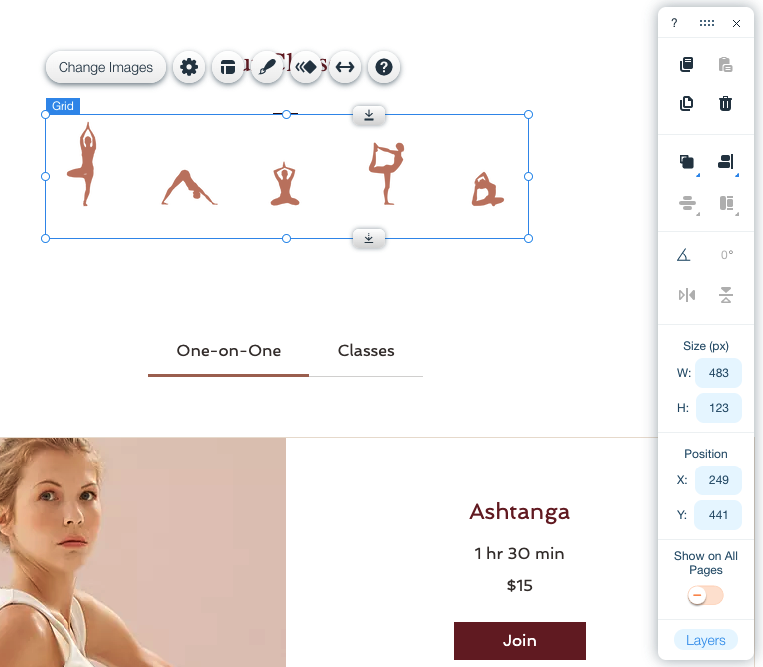 Ultimately, Wix offers the kind of experience where you can start using the platform and set up a great-looking homepage for your website in a couple of hours (or less). That's useful, particularly if you've never created a site before.
As it turns out, WordPress is no slouch either when it comes to ease of use. Once you install the platform on your web host of choice, you'll get access to the famous WordPress dashboard. It includes a lot of options, but it's easy to understand what each of them does with a quick look around.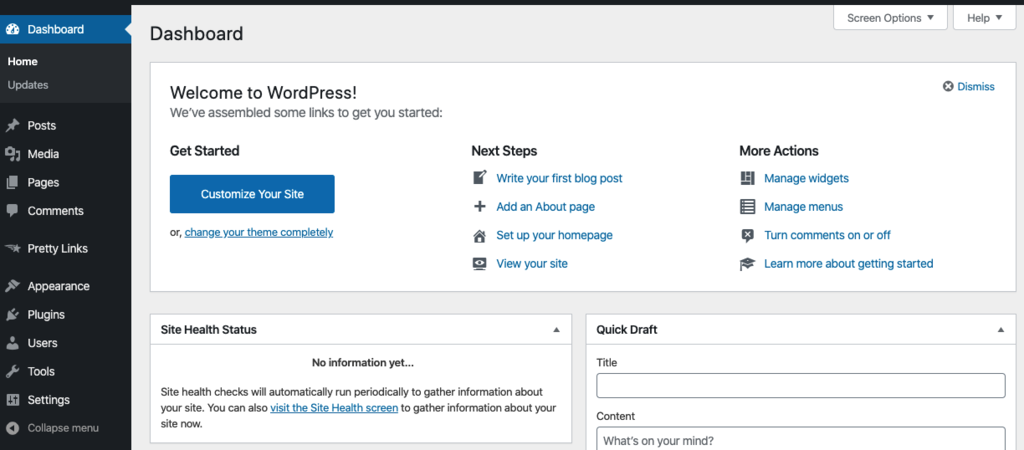 Having a lot of options to customize your website isn't a bad thing. However, it does mean that WordPress has a somewhat steeper learning curve than when using Wix for first-time users.
The same becomes apparent once you move on to page and post creation. Setting up either of these elements is simple, and you can do so with a few clicks.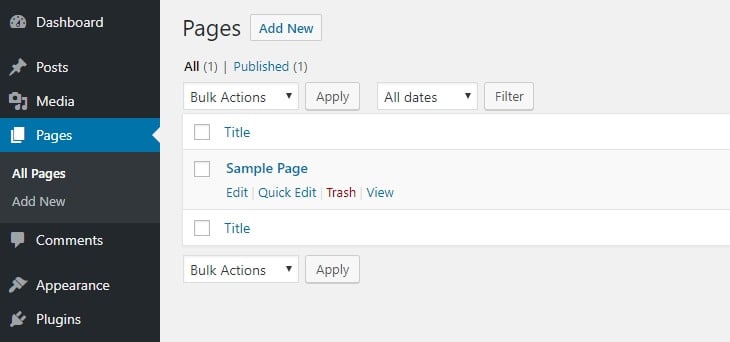 However, editing those pages and making them look exactly as you want them to is a bit more involved. To do that, you'll need to find a WordPress theme that fits your website style, and learn how to customize it.
Keep in mind that a lot of WordPress themes these days include their own page-builder tools, and there are also plugins that can add this functionality. In other words, if you want an experience that's more like Wix while still using WordPress, it's possible to get it quite easily.
Ultimately, Wix is the easier to use out of the box than WordPress. Keep in mind that once you learn the ropes, there's a lot more you can do with WordPress than with Wix. Even so, round one of the Wix vs WordPress comparison goes to Wix.
Wix vs WordPress: Site Management
For this next section, we'll focus on the options both platforms provide to help you manage your website. By management, we're referring to a whole host of diverse but vital actions, such as updating it, performing troubleshooting, cleaning out old posts, and more.
First, let's take a look at Wix. When it comes to site management, Wix's pitch is that it keeps things simple, so you don't have to worry about the little details. For example, you don't need to concern yourself with updating the platform, since it does that by itself in the background.
Likewise, Wix also makes it easy to duplicate, delete, and even transfer your website: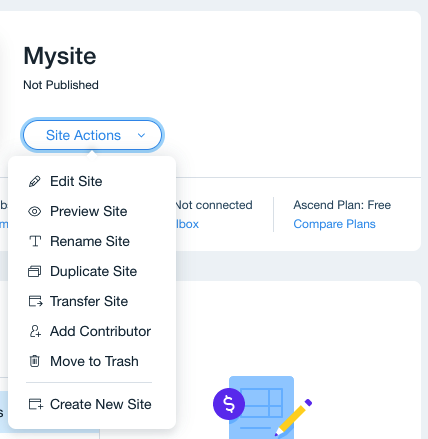 However, once you start digging a little deeper, you'll notice that Wix lacks some functionality you may want access to down the road. For example, its Search Engine Optimization (SEO) options are rather lackluster:

WordPress, on the other hand, provides access to a whole host of site management options right from the get-go. For example, it allows you to customize your URL structure, which is something you can't do with Wix: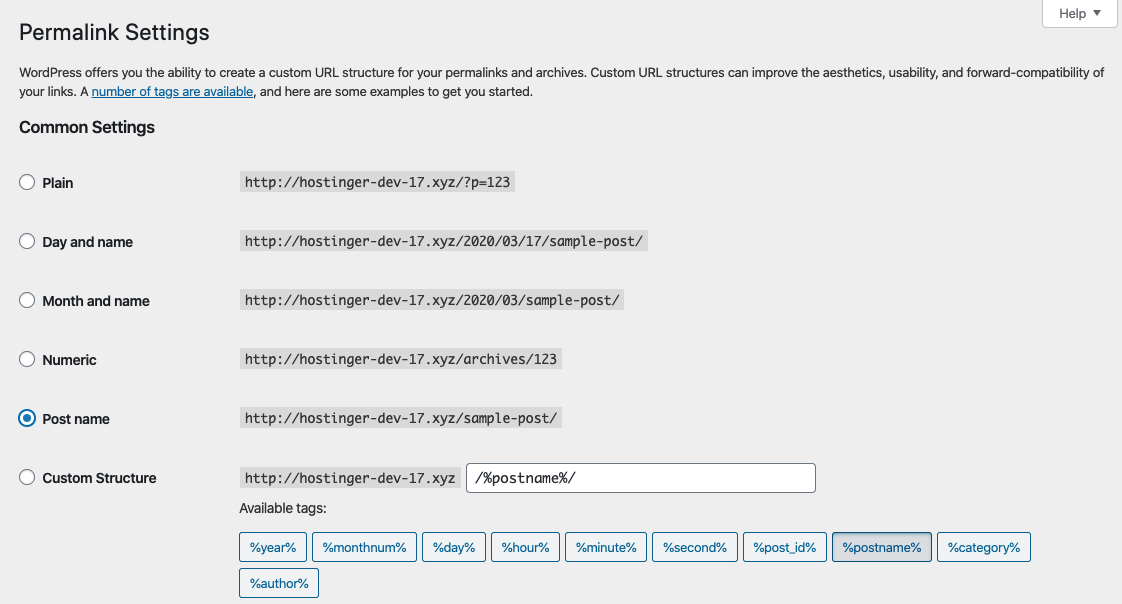 For more advanced features, you can always find WordPress plugins your site needs, and in many cases for free. For example, the Yoast SEO plugin helps you to rank higher in search engines, and even improve your content's readability:

Overall, Wix provides you with a more straightforward experience when it comes to managing your website. However, WordPress offers a lot more depth and options, which is critical for running a website successfully. For this round of Wix or WordPress, the winner is WordPress.
Wix vs WordPress: Performance
It's a bit harder to compare WordPress and Wix when it comes to performance, due to the different ways each platform is hosted. However, let's look at the key differences.
As mentioned earlier, Wix is a hosted platform. That essentially means you're paying for access to a website builder and hosting, all within one package. Wix doesn't enable you to make customizations that can alter the fundamental performance of your website.
Instead, the platform's team takes care of making sure all sites are loading as fast as possible, at least on paper. During our tests, we found that Wix pages do tend to load rather quickly. Wix provides you with solid loading times, partly thanks to automatic image optimization and the use of a Content Delivery Network (CDN).
To put it another way, Wix can be a good option if you're the kind of person who doesn't want to worry about having to fine-tune your site's performance. The downside is that you have no control over how well your site runs, and you have few options when it comes to seeking out better options.
With WordPress, you can use whatever hosting plan you like. This enables you to shop around for the best fit, and decide exactly what kind of performance and how many resources your website needs. Hostinger, for example, offers excellent performance with our shared hosting packages.
Plus, there are a lot of other ways you can squeeze even better performance from your WordPress website. The platform doesn't include options such as image optimization and CDN integration right away. However, you can easily add them, by using plugins such as WP Smush:
As you can see, there's a recurring theme throughout this Wix vs WordPress comparison. If you're willing to put in a little extra work, WordPress often takes the edge over Wix. When it comes to performance, WordPress enables you to ensure that your site is always running in top form, however, Wix will handle it all for you, if you want.
Wix vs WordPress: Security
Ideally, whichever platform you choose to use should be unbreachable. No one should be able to access your accounts without permission or get their hands on sensitive data. However, the sad truth is that there's no such thing as a 100% secure platform.
The best you can do is limit your risks as much as possible, by choosing a platform that has a strong reputation when it comes to security. On top of that, there are also ways to increase your website's security manually (depending on which software you use).
Hosted platforms like Wix are often more secure out of the box, largely because of two factors:
Users can't edit the underlying software's core functionality, so there are fewer security vulnerabilities.
These platforms are self-updating, so outdated software isn't a concern.
That is not to say that Wix is perfect from a security standpoint, however. In the past, it's suffered some major security breaches. However, this isn't a common occurrence at all, and Wix definitely scores well in this area.
With WordPress, the situation is a bit more complex. Since the platform powers such a large percentage of the web, it's one of the biggest targets for online attackers. After all, finding a single small vulnerability can often be enough to target millions of sites, which is a strong incentive.
That being said, WordPress itself is very secure. If you follow a few smart practices, such as updating your site, themes, and plugins, whenever possible, you're already well ahead of the pack. WordPress and its community release frequent patches designed to protect your site from the latest threats.
Plus, with WordPress, you also get to play around with advanced security plugins and settings. These enable you to lock down areas of your website further. In other words, just as with performance, you can customize your WordPress site to make it as unfriendly as possible to hackers, spammers, and so on.
When it comes to security, we have to declare Wix vs WordPress a tie. Both offer secure experiences that you need but Wix has an edge if you don't want to deal with security yourself. However, WordPress sites have the potential to be far more secure, as long as you're willing to put in some research and effort.
Wix vs WordPress: Customizability
Whichever platform you choose should provide you with enough options to build any type of website you want. The more you can customize your website, the more types of projects you'll be able to tackle, which is essential.
Even if you're only planning to build a simple website, we recommend that you keep your options open. At some point, your website might grow to the point where you feel the need to access more advanced features. You may even want to expand what it does, such as adding an online store to your blog or a portfolio to your business site.
Wix is no slouch when it comes to customizability. The Wix site enables you to add a lot of useful functionality to your website, such as comment sections, forums, live chat, and even online stores.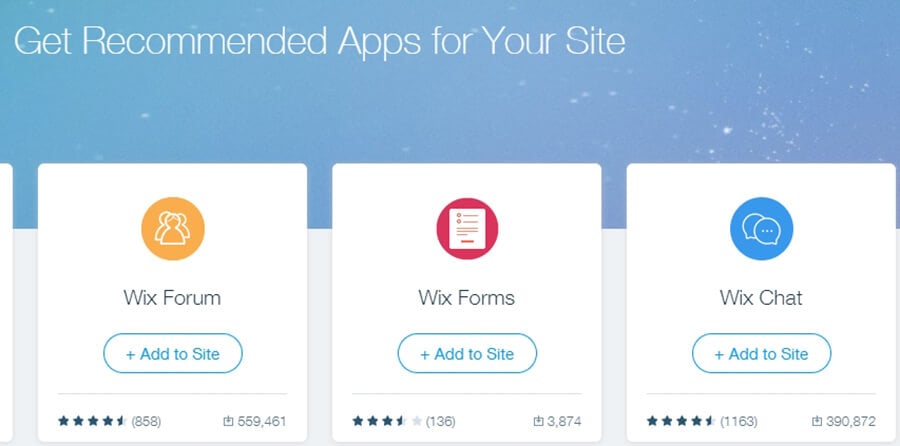 Likewise, the platform provides you with a lot of styling options, including themes and the tools you'll need to edit your site's look and layout.
What about WordPress? Right off the bat, we can tell you that WordPress is in a league of its own when it comes to customizability. When you use this platform, you get access to thousands of themes and plugins. These can alter your site's appearance and functionality dramatically, enabling you to create unique websites with almost any feature you can imagine.

The best thing is that a lot of the best WordPress plugins are free, which means you can set up advanced functionality without having to strain your budget. It's a common saying that whatever you want to add to your site, there's a plugin out there to help you do it.
Finally, it's also worth remembering that WordPress is an open-source platform. This means that if you're more technically inclined, you can edit any aspect of its code, and alter its functionality and look by hand. If you have any experience with web development or you're not scared to follow online guides, you can create WordPress websites with features Wix can't hope to match.
For those reasons, we have to give a clear win to WordPress when it comes to customizability. The WordPress site is easier to use when you compare Wix to it. The blogging platform has all of your needs in one place.
Wix vs WordPress: eCommerce
In this day and age, people are selling more and more products online. Let's take a look at how each platform compares in setting up an online store.
With Wix, you have the option to add an online store to your website, however, you can only add eCommerce with a paid plan. The Wix eCommerce plans come with all the features you will need to sell products, though, it lacks in comparison to other add-ons, such as Shopify.
WixStores accepts credit or debit cards, with the exception to UnionPay only available to some users. PayPal or other payments not mentioned on the Wix site are not accepted.
WordPress website builder, on the other hand, supports eCommerce sites and the free WordPress plugin WooCommerce is already being used by 26% of the top 1 million sites using eCommerce.

WordPress has other free eCommerce plugins available to help users sell everything from services, products, subscriptions, events, etc. You will still need to pay for a transaction fee but the plugins are free to install. Some well-known WordPress plugins are WooCommerce, BigCommerce, and Shopify.
When it comes to eCommerce it is easy to see that WordPress is the way to go. With numerous free plugin options, it allows you to have more flexibility and choices. Whereas with Wix, you will need to sign up for the eCommerce paid plan to receive the same benefits.
Wix vs WordPress: Price
When it comes to money and commitments it's important to know what value you are getting for the price you pay. Wix and WordPress take quite different stands when it comes to this. Let's take a look.
Wix offers four premium plans for your website and four premium plans for your Business and eCommerce. Each starting with a basic plan you can move up in size and features as you need more or your business grows.
Like most plans, the longer you sign up for a plan the better deal you will get. For example, Wix's popular Unlimted plan will be $22/month, but with an annual subscription comes out to $17/month.
Without the basic Wix plan, you will have branded advertisements on the top and bottom of your site and cannot use a custom domain name. In order to use additional Wix features like eCommerce, you will need to upgrade your plan.
WordPress is open-source, meaning it is free for anyone to use. However, with WordPress, you will need your own domain name and web hosting. Costs vary depending on what you are looking for. With Hostinger you can get check out the web hosting plans and easily start your WordPress websites in just a few clicks.
With thousands of free WordPress themes and WordPress plugins, you can keep your site's budget relatively low. However, if you decide to use premium WordPress themes or plugins, then your prices will start to raise.
In the end, WordPress is better in comparison to Wix. WordPress offers a flexible basic plan with the addition of your choice of web hosting, Whereas Wix is limited to the number of plans you can choose from.
Wix vs WordPress: Support
When you are just starting out, or developing your website, having a good support team is helpful. Let's take a look at what kind of support WordPress and Wix have.
WordPress has one of the largest communities, so there is already an extensive library of tutorials and information to help you get your answers. However, there isn't always a nice line that separates the good answers from the bad ones.
Using WordPress, your customer support will come from your web-host. With Hostinger you will have a dedicated team, 24/7, to answer any of your questions.
Wix provides a dedicated support team to help its users troubleshoot any problems along the way. It has already created tons of articles, tutorials, and videos to go along with their help forums. In addition, Wix offers email and scheduled over phone support as well.
In the end, it depends on your web host. Because Wix is already a web-host, it stands over WordPress in this regard. However, if you have a web host that provides an amazing support team as well, the winner could be swayed.
Wix vs WordPress: SEO
In this day and age, SEO (Search Engine Optimization) is a word becoming more and more common, especially when you use sites like Wix and WordPress. So if you want to optimize your site, which will be better: Wix or WordPress? Let's take a look.
Looking at Wix, you have the ability to optimize your site by changing your page titles, meta descriptions, and the option of different heading tags. You can also easily add alt tags to images and customize your URL.
In addition, Wix offers sitemaps which make it easier and faster for crawling. It is also very easy to connect your site to Google Search Console, Google Analytics, Bing Webmaster Tools, etc.
That being said, WordPress also offers all of the SEO tools that Wix does. However, in addition to those tools, WordPress gives more ability in the control you have over these tools. WordPress allows you to optimize the speed of your site and gives you access to advanced options for indexing and crawling.
In the end, SEO should focus more on the quality of content and not the platform, but WordPress takes the win over Wix in the SEO department. Like it was previously mentioned, the only difference between Wix and WordPress it the number of plugins that WordPress offers in comparison to Wix.
Before we wrap up, let's take a minute to sum up what we've learned so far by comparing WordPress and Wix.
Wix Advantages
A lot of people think Wix is a platform just for beginners. These days, however, it offers a number of key advantages:
It's incredibly simple to use with a natural learning curve.
It's designed to help you create attractive websites with an intuitive visual builder.
You get solid security and performance right out of the box.
The platform offers a lot of customization options and third-party service integrations.
When it comes to WordPress vs Wix, we recommend that you use the latter if you're looking for streamlined website creation and management process. If you're new to building websites and you have a simple project in mind, using Wix can be a strong option.
WordPress Advantages
There's a reason WordPress commands such a huge share of the market among CMS platforms. In fact, there are several reasons, including:
It's relatively easy for a beginner to pick up, but offers enough options for experienced developers to enjoy it as well.
The platform comes with an almost unmatched level of customizability, thanks to its open-source nature and a vast collection of WordPress plugins and themes.
You get a lot of options to help you manage large libraries of content.
You'll have almost total control over your site's security, performance, and hosting.
Comparing Wix vs WordPress is a challenge because the platforms are so different at a fundamental level. However, by now, you should have all the information you need to choose well.
It's no secret that WordPress can take a little longer to get comfortable with. However, it offers a much more in-depth experience, while still remaining beginner-friendly. If you don't mind doing a bit of research and some hands-on learning, you're often better off choosing WordPress, since it will allow you to create almost any type of site you want.
Conclusion
Creating a website takes work, but if you're using the right platform, the process becomes much easier than you might expect. Wix, for example, helps you to create simple websites easily thanks to its intuitive page builder. However, the platform stumbles when it comes to more advanced projects, which is why we're more inclined to recommend WordPress.
What are your thoughts on the Wix vs WordPress debate? Share them with us in the comments section below!