Wix vs WordPress: Which Is the Better Platform to Build a Website?
Wix and WordPress are two popular options to consider when creating a website.
Download eBook: Build Your First Website in 9 Easy Steps
In this article, we'll compare Wix vs WordPress and break down which performs best in the following categories:
Ease of use
Themes
Plugins and tools
Security
Customizability
eCommerce features
SEO
Pricing
Support
At the end of this article, we'll sum up the pros and cons of each platform and provide our recommendations on what type of users Wix or WordPress are best suited for.
An Introduction to WordPress vs Wix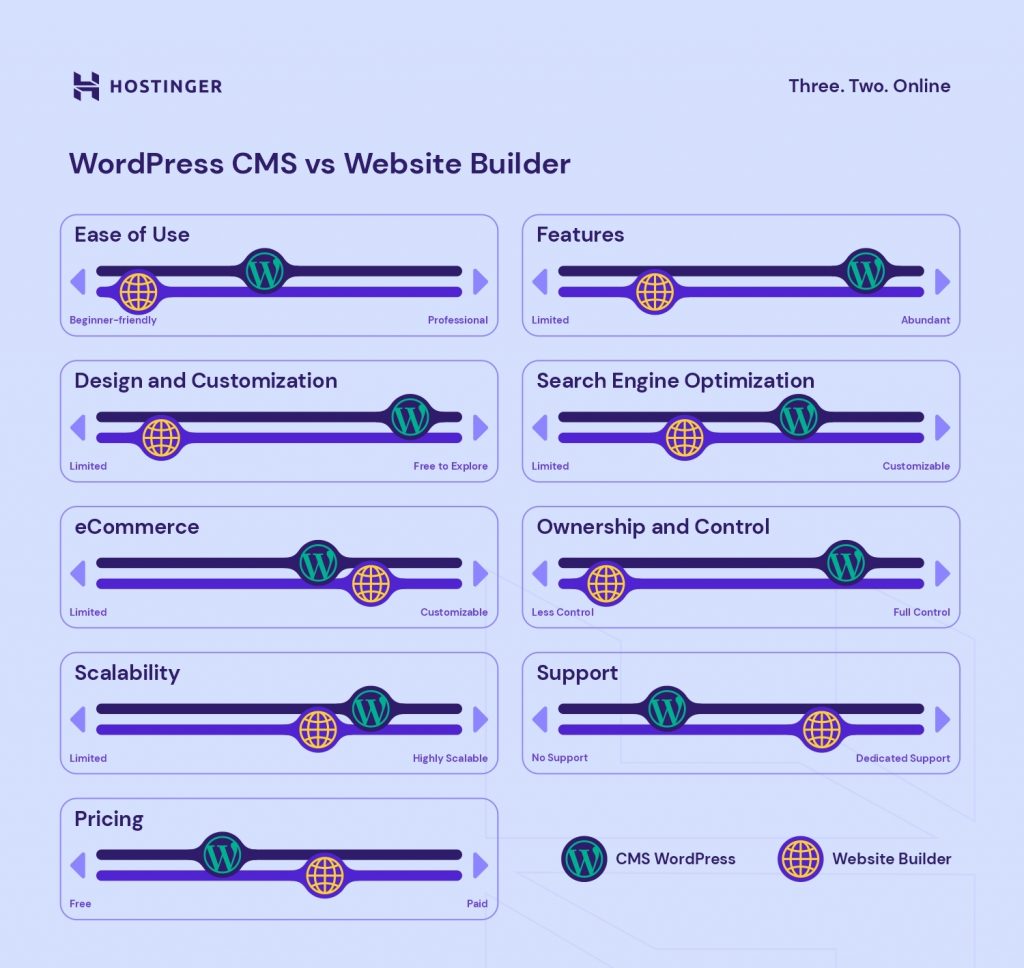 When comparing the two, it's important to understand the fundamental differences between Wix and WordPress. Although both enable you to build websites, they are two very different types of platforms – one is a website builder, while the other is a CMS.
Wix is a website builder that provides an all-in-one solution for website creation. It's easy to use and offers lots of technical support, so it's excellent for beginners.
As with other website builders, Wix offers users all the tools required to develop and design a website from scratch without touching a line of code. It's especially easy to rearrange site sections with the drag-and-drop interface, pre-configured themes, and website templates.
Over the past years, Wix and other site builders have skyrocketed in popularity as they are easy to use and enable users to publish a site quickly. However, there are limitations to what you can accomplish using a website builder.
WordPress, on the other hand, is a content management system (CMS). It's open-source software that provides users with a graphical user interface to create and manage vast content libraries.
Although WordPress was primarily a blogging platform, it has long since outgrown that status. These days, it's possible to create nearly any type of site with WordPress.
Although it may seem like Wix and WordPress offer similar capabilities, there's one crucial distinction between a website builder and a CMS – the latter is a self-hosted solution.
Wix sites will automatically be stored and run on the platform's servers. With WordPress, on the other hand, you'll need to find a web host and purchase a hosting plan to launch your site.
Thus, using WordPress takes a little more work but gives you a lot more control over website performance, security, and optimization. Plus, you can find WordPress-compatible hosting plans at affordable prices.
Wix vs WordPress: An Overview of the Features
Now that we've introduced the two platforms and their major differences, let's see how Wix vs WordPress stack up in a direct comparison.
Over the next few sections, we'll break down how the two platforms perform in different categories to help you decide whether to use Wix vs WordPress.
Ease of Use
First up, let's talk about usability. Our benchmark here is whether someone who has never created a website can start using the platform right away, without needing to dedicate weeks or months to study it.
Wix is fantastic when it comes to ease of use. To create an account, simply access their website and fill in your information and website details.
Once that's set up, you have the option to answer a few questions so that Wix will make suggestions based on them. Alternatively, opt to design your Wix site using an array of template options.
You'll then get access to a clean dashboard that is easy to navigate. For example, on the left side, find tabs to create a site's Blog section, see the site Analytics, and configure Marketing Tools.
As soon as you access the dashboard, Wix will also prompt you to finish the website building process and start publishing content via their website creation progress bar.
Once you open the editor screen, you'll quickly see why the platform is so popular. The Wix editor is straightforward to use. With the navigation bar on the left side of the screen, users can add elements like text and media files, create new pages, and manage app integrations.
The Wix editor also offers many tools to edit page elements and blocks, making site customization a smooth and straightforward process. For example, easily change image sizes and block placements using the drag-and-drop interface.
Even with a pre-designed theme, the Wix website builder enables users to adjust and edit the template to their own specifications.
Ultimately, Wix's usability is great for beginners and users with limited experience or technical skills. With Wix, users can design and set up a website easily and launch it in a matter of minutes.
Compared to Wix, WordPress' setup process is more involved and its usability has a steeper learning curve.
There are multiple ways to get started, but the easiest is to find web hosting that offers automatic integration with the platform. After that, it's a matter of simply following the steps the web host provides to install WordPress on your hosting account.
Once WordPress is installed, it's easy to see why the WordPress dashboard is so popular. It offers a variety of configuration options categorized by topic or usage.
Although it might seem overwhelming at first, the dashboard is pretty intuitive.
If you're unsure of where to start, try creating the site's first web page by navigating to Pages -> Add New. Then, start exploring the different tabs to configure everything from site settings, plugins, appearance, and posts.
Note that it usually takes users more time to completely design and curate their WordPress site to their exact specifications, since WordPress has limited built-in features. However, that can be easily fixed using WordPress themes and plugins.
Additionally, users who want to extend the functionality of their WordPress website can do so by coding. This is one of the most popular features that WordPress offers – flexibility and control.
It's therefore no surprise that WordPress is generally preferred by site developers. However, beginners who are still learning to code can find expert tips in WordPress's many support forums and learning resources.
Verdict: Which One Is Beginner-Friendly?
When it comes to ease of use, Wix is the clear winner.
Although WordPress gives you the option to code and create essentially any type of website, its tools take some getting used to. On the other hand, Wix has a quicker setup time and offers more beginner-friendly features.
Themes
Both Wix and WordPress have extensive theme libraries, which is an important factor in creating an engaging and visually appealing website. Having a vast library to choose from is also a great starting point to create a site that stands out from the crowd.
The Wix template library has more than 800 pre-designed themes, all of which are written in HTML5, fully responsive, and customizable.
Each theme has built-in tools to help site owners adjust and customize their site design. Rearranging sections, pages, and the overall layout of your Wix site is pretty straightforward, thanks to the platform's intuitive design interface.
Wix categorizes each theme into website types – for example, Business, Store, Creative, and Community. Within these broader categories, Wix's templates are divided into different niches, such as Finance and Law, Home and Decor, and Architecture.
An alternative to using pre-made themes is Wix ADI (Artificial Design Intelligence) builder. Based on your answers about preferences and website purpose, this website template generator builds a custom theme that's still completely customizable.
One big downside to note is that Wix doesn't allow users to switch templates. Therefore, although you can customize the general layout and design of the site, the core theme and user interface will remain the same.
To switch Wix templates, you'll have to start a new website with a new theme and transfer your plan to it. However, some features and functionality simply cannot be transferred, meaning that you'll need to reconfigure these from scratch.
WordPress, on the other hand, has an extensive library of 8,000+ free and premium themes to install. Some are developed by WordPress, while the vast majority are from third-party developers.
Most users start with free WordPress themes. However, since free themes come with limitations, many opt for premium WordPress themes which can cost anywhere between $25–$299.
Choosing a premium theme from the start is especially beneficial for users who want to launch a website with built-in functionalities. For example, some premium WordPress templates have automatic integrations with eCommerce gateways, offer a website building tool, or have SEO-friendly features.
WordPress users who prioritize a visually appealing website should also consider investing in premium themes since they tend to have a more contemporary design and smooth user experience.
Also, since WordPress is open-source, users can customize a theme's source code to add specific features. What's more, users have the option to hire their own developer and upload a completely custom theme to their WordPress site.
Verdict: Which One Offers Better Themes?
Between Wix vs WordPress, the latter is the clear choice when it comes to themes and freedom of customization.
If you're a beginner, Wix's 800+ themes provide plenty of options and sufficient opportunity to customize your site. However, intermediate and advanced users tend to find Wix limiting since its design capabilities are geared towards beginners.
On the other hand, WordPress is a great choice for both beginners and experts alike. Not only does it have thousands of free and premium themes to choose from, but users have the option of editing the themes' source code or uploading a custom theme.
Another crucial factor is that, unlike Wix, you can switch the WordPress theme as often as you'd like. This means upgrading themes or doing a whole website rebrand is easier on WordPress.
Plugins and Tools
Extensions are an important part of any platform, as they enable users to develop and expand existing site features and functionalities. Both Wix and WordPress offer a vast library of plugins or apps.
Wix has an App Market with over 250 free and premium extensions, which are categorized by usage, such as Services and Events and Communication. Alternatively, users can navigate the explore tab on the Wix App Market to find new releases, team picks, or the most popular apps.
While there are apps Made by Wix, others are developed by third parties. However, every app on the App Market integrates seamlessly with Wix websites, so there's no need to worry about incompatibility issues.
If you're still unsure about an app, most Wix apps have an introductory video and images of how the app would look on your Wix dashboard. Many paid plugins also offer a 30-day free trial that you can install by clicking Add to Site.
Every app page also has information outlining any site requirements for the app – such as what plan you should be on, a link to the developer website, and pricing plans.
In contrast, WordPress has a vast collection of 59,000+ free plugins to choose from.
As an open-source platform, WordPress' plugin directory is community-built. Not only can any developer upload their own plugins to WordPress, but other users can also contribute to their code. It's also easy to install plugins – both through your WordPress dashboard or via the official directory.
However, unlike Wix, there's no review process for WordPress plugins. So, users will have to be more careful when analyzing plugin options to avoid accidentally downloading a bad plugin, which can negatively impact site performance.
There are some best practices to follow to ensure that you install only the best WordPress plugins:
Research and read plugin reviews. It is a simple but effective way to avoid a badly-coded plugin, outdated plugins, or plugins with malicious script.
Install plugins correctly. This applies especially to users who want to manually upload their own plugin or third-party apps.
Be selective about plugins. Avoid installing too many plugins to maintain the integrity and performance of your site.
Regularly update and delete plugins. Make sure to keep up with plugin updates and remove inactive plugins from your WordPress site.
Verdict: Which One Has a More Robust Functionality?
It's a tie between Wix vs WordPress in this category as they both offer great plugin options.
Wix stands out in terms of reliability and compatibility, since all extensions in their App Market are tested for functionality. This is great for beginners or users who want to quickly add features to their site without needing to do further research or tests.
On the other hand, WordPress stands out for its extensive plugin library and open-source nature, which is ideal for intermediate to advanced users.
Not only does this mean there's practically a plugin for every feature you can think of, it also means users have endless opportunities to customize the features of their WordPress site.
Security
The platform you choose plays a crucial role in the website's security and protection against cyberattacks and malware. Due to their nature, Wix and WordPress have different approaches.
Hosted platforms like Wix enable users to be more hands-off when it comes to security. Compared to CMSs, website builders can be more secure because of three main factors:
Users can't edit the software's core functionality, so there are fewer security vulnerabilities.
These platforms are self-updating, so outdated software isn't a concern.
There are built-in security features like website security monitoring, DDoS protection, and SSL/TLS protocols.
That is not to say that Wix is perfect from a security standpoint, though, since it suffered some major security breaches in the past. However, these breaches are not commonplace, so Wix generally scores well in this area.
With WordPress, security depends significantly on the web host and the measures you take to fortify your website. Compared to Wix, WordPress users will have to adopt a more hands-on approach.
The web host plays a critical role in keeping your website safe since WordPress itself offers limited built-in security features. That's why we recommend opting for a hosting provider with strong security measures that conducts regular monitoring for you.
All of Hostinger's WordPress hosting plans, for example, use Cloudflare-protected nameservers to shield your DNS infrastructure from DDoS attacks. Most WordPress hosting plans also include a free and secure CDN that regularly blocks malicious traffic and caches content.
There are also a few best practices you can implement to further secure your WordPress site. For example, make sure to regularly update your WordPress website and keep track of new security patches. Also update all installed plugins and themes, and remove the ones no longer in use.
A benefit of using WordPress is that users can install advanced security plugins to match the needs of their websites, which isn't possible with Wix. In other words, you have ultimate responsibility and control over securing your WordPress website.
Verdict: Which Platform Is More Secure?
When it comes to security, we're declaring a tie between Wix vs WordPress. Both offer secure experiences, but Wix has an edge if you don't want to deal with security yourself. However, WordPress websites have the potential to be far more secure, as long as you're willing to put in some research and effort.
Wix is a great option for beginners. However, since security features are fixed and not generally customizable, this might not be the best option for large websites or online stores that need stronger security measures.
WordPress, on the other hand, is an excellent choice for users who want ultimate control over the security of their websites. WordPress itself is quite secure and, depending on the hosting provider and security plugins installed, users can adjust their security measures as needed.
Customizability
Next, let's discuss each platform's customization options.
As a website builder, Wix stands out for its intuitive user interface and visually appealing Wix editor. Access the editor via your Wix dashboard and click on Edit Site. Then, start adding and customizing elements.
This website builder has easy-to-use tools and a drag-and-drop interface that enables users to easily rearrange sections, write content, and add media. You can also add web pages, manage the site's theme and colors, set backgrounds, and insert installed apps.
The platform also offers a premium customization option called Wix Editor X, which you can add to your Wix plan for an additional fee. This is a great add-on option for developers or enterprise-level businesses requiring more sophisticated tools.
Prices range between $17–$165/month. The most expensive option includes built-in payment gateways and customer account creation.
Wix's Editor X comes with various features to help customize your site. In terms of design, these include custom menus and a CSS grid. For businesses, Editor X offers workflow management tools and options to create a membership website.
WordPress, on the other hand, is a highly flexible and customizable platform. This is largely due to its various plugin options, but it's also because users have the freedom to edit their WordPress site's code to fit any specifications.
As the most popular CMS, WordPress is known to offer great flexibility. However, it's important to note that customization is limited by your skills and the time you invest in it.
For example, although WordPress is beginner-friendly, it may take inexperienced users more time to learn and navigate the platform's customization options. In contrast, web developers and tech-savvy users won't have issues with WordPress' more complex editing options.
One of the standout features of WordPress is its Gutenberg editor. This is a slightly newer addition to the platform, and it works similar to a drag-and-drop page builder.
An alternative to coding, the Gutenberg editor introduces a new way of editing content with blocks. With it, users can easily create instant page layouts and add elements like media files and titles, reducing the need for plugins or coding.
Verdict: Which One Offers More Flexible Customization?
We're awarding this round to WordPress.
Although Wix offers sophisticated and streamlined tools for site design, it doesn't beat WordPress' ultimate freedom of customization.
Users can edit just about anything on WordPress with advanced coding, plugins, or with the built-in Gutenberg editor.
If you're a beginner, consider installing one of the many page builder plugins available for WordPress. Some popular options include Elementor and WP Page Builder.
eCommerce
One of the most popular reasons why people start a website is to sell online. Here's how Wix vs WordPress differ when it comes to eCommerce features.
Wix has dedicated plans for users who want to make money online. From $17/month, the eCommerce plans enable users to activate secure online payments, create customer accounts, and list unlimited products.
On more premium plans, Wix users can access built-in currency conversions, an automated sales tax tool, and integrations with dropshipping platforms.
It's useful to note, though, that compared to other website builders like Shopify, Wix's core eCommerce features aren't as comprehensive or popular among users. Wix also has relatively high transaction fees, at 2.9% + $0.30 compared to Shopify's 2%.
To create an online store on WordPress, users have to add the eCommerce functionality to their sites with plugins. The downside is that you'll have to spend some time browsing through different plugins for shopping cart, checkout, and payment features.
Nowadays, however, there are many guides and articles to help you discover the best eCommerce plugins. There are also several popular plugins that provide an all-in-one solution, such as WooCommerce.
If you don't want the hassle of installing an eCommerce plugin on your WordPress site, Hostinger offers a WooCommerce hosting solution. In addition to the standard hosting resources and features, this plan offers users automatic WooCommerce installations and optimized speed and performance.
Keep in mind that WordPress eCommerce plugins have different transaction or processing fees, so be sure to take these costs into account. However, many of them are free to install, and most fees aren't charged until you make a sale.
Verdict: Which One Is Better for Building an Online Store?
When it comes to eCommerce capabilities, WordPress is the way to go. Although this platform doesn't offer built-in online shopping features, it's easy to upgrade and scale your website with the many plugins available for eCommerce.
With Wix, on the other hand, users have no choice but to upgrade to more costly plans to unlock eCommerce features. Plus, it doesn't offer the same flexibility for choosing eCommerce extensions that WordPress does.
SEO
Search engine optimization (SEO) tools and features are important factors to consider when choosing a platform, as they'll significantly affect how users can market and optimize their site.
With Wix, users can perform key SEO tasks to help improve their rank on search engines. These include editing page titles, meta descriptions, alt tags, and URLs.
Additionally, Wix comes with SEO features for users who want to go a step further, such as editing the robots.txt file. The platform also has tools for submitting a /sitemap.xml to Google each time your site goes through major content updates.
A standout SEO feature of this platform is their Wix SEO Wiz tool, which walks you through the key processes for site optimization. To help get their sites crawled and indexed faster, users can also verify their website with Google Search Console via the Wiz tool.
Additionally, Wix has over 80 free and premium SEO and marketing extensions available via their App Market, such as the Site Booster app. This is great for users who want to extend the SEO capabilities of their site beyond Wix's built-in options.
WordPress, on the other hand, offers all the SEO capabilities that Wix does and more. Users on this platform have complete control over the structure of their site, giving them more freedom to extend their site's SEO capabilities.
There are also significantly more options for SEO plugins on WordPress, ranging from free to premium, to help users with their SEO strategy.
For example, MonsterInsights is known for its comprehensive Google Analytics dashboard and options to track Google AdSense and affiliate links. Similarly, Yoast SEO is among the most well-known SEO plugins with both on-page and off-page SEO capabilities.
If set up and configured correctly, WordPress sites can outperform the ones built on website builders such as Wix. There are also various WordPress SEO tips that you can follow to improve site performance and drive traffic, such as enabling breadcrumbs and content caching.
Verdict: Which One Is More SEO-Friendly?
Although Wix offers great built-in tools and takes the guesswork out of SEO, it doesn't beat WordPress' strong SEO capabilities.
In addition to providing plenty of information and tips about all things SEO, WordPress site owners can completely edit and alter their website structure to be even more SEO-friendly.
WordPress also offers plenty of renowned plugins to help build your site's SEO strategy. Many of them come with features like internal linking suggestions and site redirects.
However, something to keep in mind with WordPress is that developing the site's SEO strategy will take some trial and error. Since new websites start on a clean slate SEO-wise, it's best to research and follow some of the best WordPress SEO practices.
Pricing
In this section, we'll take a look at the differences between Wix vs WordPress pricing. As two very different platforms, they both feature a variety of starting and maintenance costs.
Wix offers four premium Website Plans ranging from $4.50–$24.50/month and three premium Business and eCommerce plans priced between $17–$35/month. All plans are scalable, so you can upgrade features as needed.
The most affordable Connect Domain plan includes an SSL certificate and 24/7 customer care but doesn't provide a free custom domain. Sites on this plan will also display Wix ads, so most users tend to start with the Unlimited plan at $12.50/month.
Entrepreneurs or small business owners who are planning to create personal portfolios or business websites should opt for their Unlimited or VIP plans, which cost $12.50/month and $24.50/month, respectively. These plans have bigger storage space and unlimited bandwidth, and offer extras like the Visitor Analytics app.
On the other hand, users wanting to launch an online store might opt for one of the Business and eCommerce plans. The most affordable Business Basic plan comes at $17/month and includes integrated payment management systems, an abandoned cart recovery feature, and unlimited product listings.
To access even more advanced features, users can upgrade to their Business Unlimited plan at $25/month or Business VIP plan at $35/month. They include a built-in product review feature, integrations with online marketplaces, and an automatic sales tax calculation tool.
Aside from their core plans, Wix offers a free plan with very limited features and capabilities. It also has many downsides, like an assigned wixsite.com URL and unremovable ads.
WordPress, on the other hand, is open-source and therefore free to download and use. You can install it directly from the website, but the easiest way to install WordPress is via your web hosting account.
To run a WordPress site, essential costs include web hosting, a domain name, and an SSL certificate for security. Prices vary greatly depending on the web host you choose, so it's best to find a hosting company that offers plans which include all these essentials.
For example, Hostinger's WordPress hosting plans range between $1.99–$11.59/month, and most include unlimited bandwidth, a free website domain, and an SSL certificate. All hosted WordPress plans also come with servers optimized for WordPress, auto-updates, Cloudflare protected nameservers, and 24/7 customer support.
Verdict: Which One Has Better Value for Money?
This round goes to WordPress. It is open-source, and the WordPress software itself is free. Opting for this platform also means you get more control and flexibility over website maintenance costs.
In contrast, although Wix is an all-in-one solution, it can be pricier in the long run. On top of the monthly plans, most users opt for premium extensions or themes, meaning that costs can add up quickly.
Support
A crucial factor to consider when choosing a platform to build your own website is the customer support service.
Wix provides 24/7 customer support for all plans and priority customer support for high-tiered plans. Its dedicated support team helps users troubleshoot issues and sort out the technicalities of setting up an account.
In addition, Wix has a comprehensive Help Center where users can find articles about everything, from optimizing site performance and account management to traffic analytics. There's also a community forum for those who prefer to find discussion-based tips and solutions from other users.
In contrast, the customer support WordPress users receive depends significantly on their chosen web host since there is no WordPress support team.
A significant plus point of WordPress, however, is its extensive library of support and learning materials. You can find information and best practice tips on installations, maintenance, customization, and security processes.
WordPress also has one of the largest and most active user communities, from beginners to site developers and experts. Access community knowledge and participate in web development discussions via their community support forums.
Verdict: Which Platform Provides More Extensive Support?
Due to the nature of each platform, this round goes to Wix as its users enjoy 24/7 customer support no matter what plan they're on.
On the other hand, the quality of customer support you receive with WordPress really depends on the service quality of your web host – so make sure to consider this decision thoroughly.
Pros and Cons: Wix
Wix is an incredibly useful website builder with various features and streamlined tools. However, it may not be a suitable option for everyone.
Opt for Wix if you don't have much technical knowledge or experience in creating websites. With a drag-and-drop interface, it's an easy-to-use platform that doesn't require users to know how to code. Website essentials like performance and security are also taken care of by Wix.
Users who want an all-in-one solution should also opt for Wix. Creating a website on this platform means you don't need to worry about web server maintenance, install updates, or look for web hosting.
However, note that Wix does come with some cons. For one, it may be more expensive to maintain in the long run since it's costly to scale your site. Compared to WordPress, Wix is also quite limiting in terms of customizability.
If you're thinking about using Wix for an online store, the website building platform offers fewer built-in and integrated eCommerce features compared to Shopify or WooCommerce, for example.
Pros and Cons: WordPress
There are many reasons why WordPress has such a large market share compared to other CMSs. For one, WordPress is a powerful platform that comes with unmatched levels of customizability thanks to its open-source nature and a vast collection of plugins and themes.
WordPress is also possible for beginners to pick up while offering enough tools and capabilities for experienced developers to enjoy. Another great aspect about WordPress is that users get ultimate control over their site's security, performance, and hosting.
Compared to Wix, however, it can take some time to get comfortable with WordPress' tools and interface. Some technical knowledge is needed to maintain a WordPress site, and coding skills are a plus point.
Since it's a self-hosted solution, users will also have to take care of back-end technicalities. These include finding web hosting, ensuring site performance, and conducting general updates.
If you opt for WordPress, it's important to find good web hosting or managed WordPress hosting since this will significantly impact site performance and security.
Conclusion
When choosing between Wix vs WordPress, it's important to remember that the two platforms are vastly different in type and require varying setup and maintenance tasks.
Wix is a website builder that's a great all-in-one solution for beginners and users who want to launch a website quickly. It takes very little time to set up, and it's also excellent for those wanting to take a more hands-off approach when it comes to maintenance.
On the other hand, WordPress is a powerful platform to create any type of website, which is why it's the most popular CMS worldwide.
Although it takes some time and effort to launch and maintain, the WordPress CMS is excellent for users who want ultimate control and customizability for their websites. It's also an ideal option for developers or users who need to create advanced projects, such as an eCommerce site.
If you're still unsure which one to choose between these platforms, check out other WordPress alternatives.
We hope this article helps you decide between Wix and WordPress. Good luck!