WordPress Auto Update – a Comprehensive Guide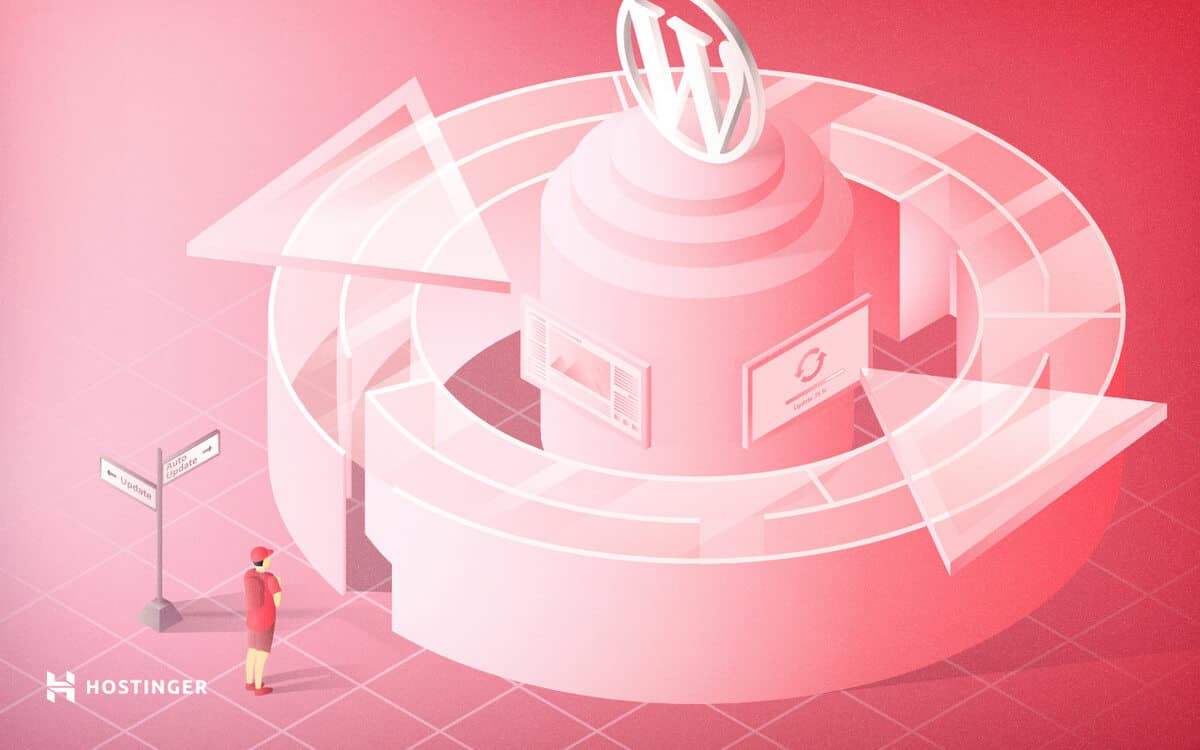 Enabling automatic updates for WordPress will keep your site secure and healthy while saving time. Here's everything you need to know!
WordPress updates ensure good performance and security. Default updates handle WordPress core files – known as minor releases. Other changes help keep up with the latest technology.
Updates are completely free, fix bugs, offer better performance, and integrate new features – like the recently released Gutenberg to improve user interaction. What's not to love?
Updating WordPress is definitely a great choice, but there are many ways of going on about this. Updating affects important files and folders in WordPress. If you modified any core files, the update will erase the changes.
Types of WordPress Auto Updates
As of writing, the latest release is WordPress 5.1 Beta 1. Automatic updates are available since version 3.7.
There are different types of WordPress updates:
1. Core updates
Core updates are divided into:
Core development updates take place on development stages for testing new features
Minor core updates deal with security and maintenance, set as default in every WordPress installations
Major core updates are upgrades containing new features and bugs fixes
2. Plugin updates
3. Theme updates
4. Translation files updates
In short, there are four types of WordPress auto updates. While core updates have three subcategories.
Managing Auto Updates Using the wp-config.php File
How do you want to manage WordPress auto updates? WordPress allows modifying the wp-config.php file, making it easy to toggle updates on and off.
First, let's start with disabling auto updates. Simply add the following in your wp-config.php file:
define( 'AUTOMATIC_UPDATER_DISABLED', true );
Please note that minor core and translation file updates are set as default intentionally to ensure performance.
Next, you can add the following constant to modify core updates:
define( 'WP_AUTO_UPDATE_CORE', true );
True means development, minor and major updates are enabled
False means development, minor and major updates are disabled
Minor means minor updates enabled, development and major updates disabled.
Using API Filters
Instead of using constants, you can use API filters. Filters are functions that allow you to manipulate variables. Using API filters gives more control so you can target specific types of auto updates or plugins for any modifications.
For example, if you want to disable all automatic updates, you can use:
add_filter( 'automatic_updater_disabled', '__return_true' );
Or, if you want to update all core types only, add the following filter:
add_filter( 'auto_update_core', '__return_true' );
You can set individual changes:
add_filter( 'allow_minor_auto_core_updates', '__return_true' );
add_filter( 'allow_major_auto_core_updates', '__return_true' );
To allow development updates:
add_filter( 'allow_dev_auto_core_updates', '__return_true' );
If you want to do the opposite, just change the value true with false to disable any of those.
Auto updates only apply to plugins and themes under special circumstances controlled by the WordPress team. To update themes and plugins automatically, simply use the following filter:
For plugins:

add_filter( 'auto_update_plugin', '__return_true' );

For themes:

add_filter( 'auto_update_theme', '__return_true' );
Notification Emails
As an administrator, you'll get information from WordPress about updates via email.
The emails you receive are:
A result email, which informs about successful updates like: "Your site has updated to wordpress (version number.)" It means auto updates are working. You don't need to worry about these emails because as stated in the email: "No further action is needed on your part. For more on version X.X, see the About WordPress screen"
A notification email. When you receive a notification email like "WordPress (version number) is available. Please update", it means you need to update manually. It could mean that auto updates failed.
A debugging email. You will receive this email while an in-development version or a critical case occurs.
But, you can always disable notifications depending on the email types.
To disable receiving result emails, use the following filter:
apply_filters( 'auto_core_update_send_email', '__return_false' );
To disable receiving notification emails, use the following filter:
apply_filters( 'send_core_update_notification_email', '__return_false' );
To disable receiving debugging emails, use the following filter:
apply_filters( 'automatic_updates_send_debug_email', '__return_true' );
API filters are great for a specific setup. You can create custom rules to receive emails for some instances but prevent incoming emails for the ones you don't need.
Managing Auto Updates Using Plugins
If you're not comfortable with lists of code to manage WordPress auto updates, we suggest this plugin.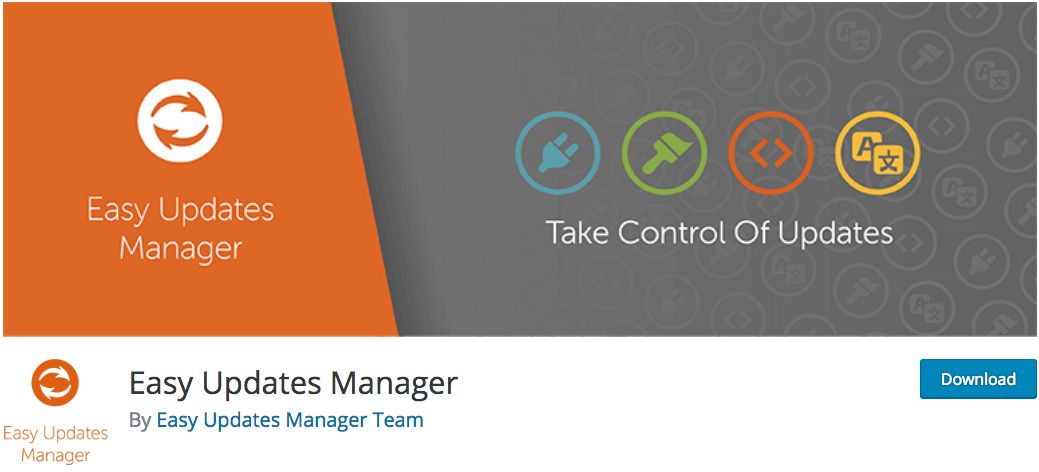 Easy Updates Manager is one of the best WordPress auto-update plugins. It's free, easy-to-use, powerful, and with a long list of settings like disabling or enabling core, plugin, and theme updates. If you want more than basic features, you can get the premium license for $29/year.
Installing this plugin is easy. Access your WordPress Dashboard and search for Easy Updates Manager from the plugin menu. Then install and activate it. After that, go to the Configure option to manage your preferred settings.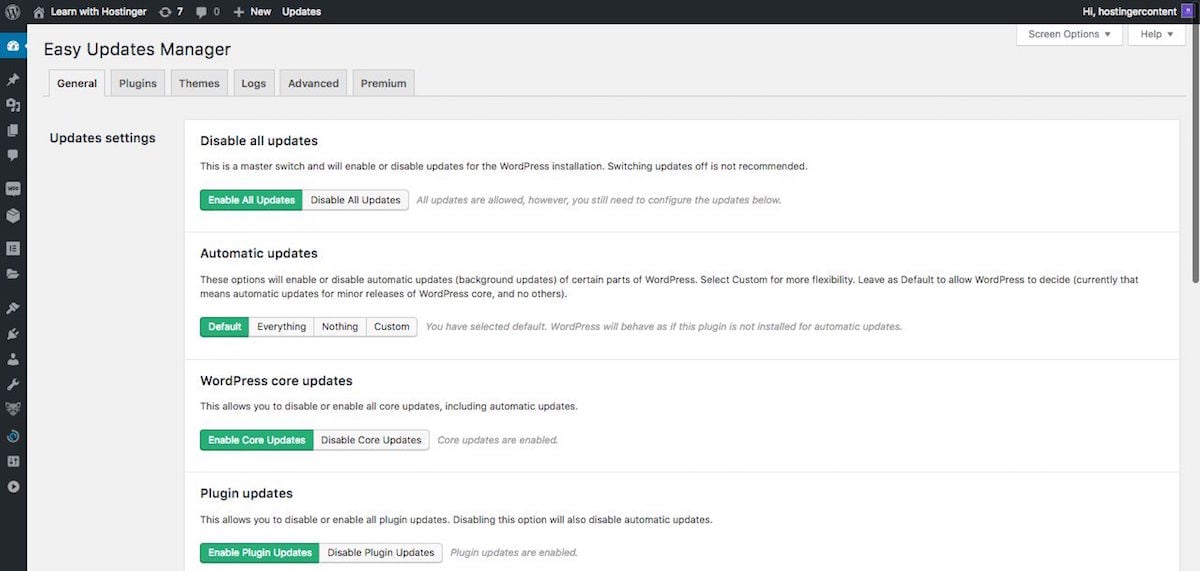 Conclusion
WordPress updates are pretty easy to handle. We highly recommend keeping your website up to date for performance and security reasons, but now you can update on your own terms. Happy updating.