If you decided to stop blogging and want to uninstall WordPress this tutorial is just for you. You will learn how to completely delete WordPress blog from your hosting account.
Take that WordPress comes in two versions: WordPress.com and WordPress.org (self-hosted). This tutorial will show you how to uninstall self-hosted WordPress. For instructions how to remove blog created on WordPress.com, see this page.
What you'll need
Before you begin this guide you'll need the following:
Access to your hosting control panel
Step 1 — Making a backup
First of all, it is recommended to make a backup. Maybe someday you will want to restore your website. We have a detailed tutorial on how to backup your website, you can check it here.
Option 1 – Deleting WordPress through Softaculous
If you have installed your WordPress CMS through Softaculous App Installer, you can remove WordPress with just a few mouse clicks. If you installed WordPress manually, proceed to Step 3.
To do that, login to your control panel and open Softaculous App Installer.

Now locate and press on WordPress icon. It should be on the Top Scripts page.

Your should see your current WordPress installations. Locate Options section and press on red X.

The confirmation screen should appear now, click on Remove installation.
Once the WordPress is deleted you will receive a notification which will say that installation has been removed successfully.

Option 2 – Deleting WordPress Manually
In order to completely remove WordPress, you will need to delete all its files and erase database.
Step 1 – Removing WordPress Files
You can use FTP client or File Manager to delete all files. In the following example, we use File Manager, but the process is similar on FTP client.
Access public_html directory (or the directory where you installed WordPress) and select all of the files. Afterwards, press on Delete button.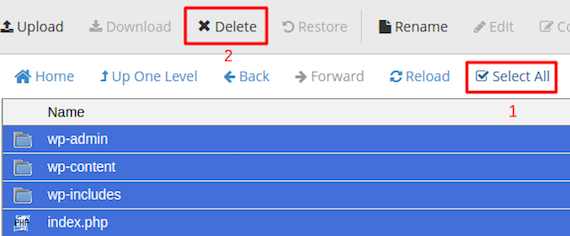 After pressing Delete a confirmation window will pop-up, click on Confirm to delete all of the files.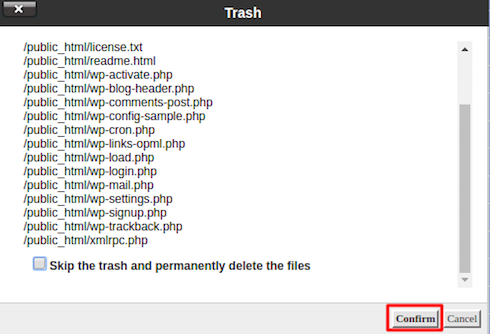 You have now deleted all of your WordPress files.
Step 2 – Erasing WordPress Database
In this step you will erase WordPress database. Login to hosting control panel and navigate to MySQL Databases section (it can look different depending on your hosting provider).

Once you are in MySQL Databases section, locate and delete your WordPress database. It should not be a problem if you have only one database. However, if you do have more than one database, refer to this tutorial on how to determine which database is used by your WordPress.

WordPress
Conclusion
By finishing this tutorial you have learned how to completely delete (uninstall) WordPress from your hosting account manually and through Softaculous.