How to Enable WordPress Push Notifications: Reasons, Walkthrough, and 10 Plugin Recommendations
One of the challenges of running a website is getting people to come back to it after they've left. If you already provide engaging content, you need to focus on staying in touch with your visitors. Here's where WordPress push notifications offer an elegant solution to this issue.
This article will showcase how to use a WordPress push notifications plugin and share our pick for the best push notification plugins.
Download Ultimate WordPress Cheat Sheet
What Are Push Notifications?

Push notifications are short, clickable messages that pop up on users' devices. They alert them about any new updates or offers from websites they've subscribed to.
On desktop devices, push notifications typically appear on the top corner of the screen, while on mobile devices, they appear in the notification area. Keep in mind that they can appear even when the user's browser is not open.
Push notifications are not as intrusive as pop-ups, as users can set when and how often they want to see them.
In the past, push notifications were only applied to applications and system updates. Nowadays, it is becoming more and more common for websites also to implement this feature.
Why Use Push Notifications on Your WordPress Website?
Push notifications for WordPress can be a very effective marketing tool for your business, as they incentivize readers and customers to come back to your site. They help convert casual website users into subscribers or repeating customers.
Due to their effectiveness, web push notifications are now ranking high among other marketing channels such as social media platforms, SMS marketing, and email marketing, often performing better than these tried-and-true methods.
Here's a short list to see why web push notifications are a great marketing tool for your WordPress site:
Better visibility.

Users can check your updates without opening their inbox since the notifications will appear directly on their desktop or mobile screens. They'll be able to read your content simply by clicking on it, resulting in

brand recall

and higher conversion rates.

Higher click-through rate.

The average

click-through rate

(CTR) of push notifications is 12%, at least

twice higher than email marketing

. Moreover, targeted campaign notifications can increase the CTR up to 30%, enabling you to boost conversions.

Users can control how they receive the notifications.

Unlike pop-ups, users can choose whether they want to receive push notifications or not. This means your subscribers are already interested, to begin with, making it more likely for them to engage with your notifications.
Clutter-free.

Companies can send

marketing emails

each day, potentially cluttering people's inboxes and driving them away. On the other hand, push notifications can be scheduled to expire automatically. This helps your update stay relevant and not get lost among spam messages.

Works both on desktop and mobile devices.

You don't have to build a separate app to allow users to receive notifications from you.

Requires less attention than a marketing email.

Notifications are much shorter than email or social media updates. This means they need a

shorter attention span

to interact with, which relates to recent media consumption habits.
United eXtra Electronics, for example, managed to grow its eCommerce sales by 100% with the implementation of web push notifications. Their re-engagement rate also increased by four times, showcasing how notifications help maintain return visitors.
While a WordPress push notification can bring many benefits, overuse can result in a bad user experience. This may result in your subscribers stopping their subscriptions due to information overload.
To maintain a good balance, think about how you might react in your subscribers' place. If a website sends too many notifications, it can get troublesome. Using web push notifications sparingly will make sure that your subscribers treat each one as an exciting prospect.
How to Add Push Notifications to WordPress for Free
There are lots of free and paid WordPress push notifications plugins to choose from. Keep in mind that each push notification plugin offers different browser and mobile support, so you should choose a plugin that will fit your needs.
Also, check your WordPress website traffic to know whether the free plan will be sufficient for your site or will you need to upgrade to a premium one. We recommend using Google Analytics for this measurement.


Google Analytics also allows you to see which browsers your visitors most frequently use when accessing your site. If, for example, the Analytics report shows that 50% and 30% of the traffic comes from Chrome and Firefox, you would need to choose a plugin that supports both browsers.
For this tutorial, we will use the OneSignal plugin to guide you in adding web push notifications to your WordPress site.
OneSignal is a WordPress push notification plugin with over 100,000 active installations and is rated 4.4/5 on the WordPress directory. It offers a free plan and premium plans ranging from $9 to $99/month.
1. Install the OneSignal Plugin
First of all, install the OneSignal plugin. Here's how to do so:
Open your

WordPress dashboard

.

Navigate to

Plugins -> Add New.

Search for

"OneSignal"

via the search bar.

Once it's installed, click the

Activate

button.
The plugin will create a new tab in your dashboard called OneSignal Push. Open it, and you'll see a new page outlining the rest of the steps you'll need to follow.
2. Set Up a OneSignal Account
Now that you have installed and activated OneSignal, you will need to create a OneSignal account to use the plugin. Follow these steps to set up your OneSignal account:
Open the OneSignal home page. The link is provided in your dashboard's OneSignal tab, under the

Setup -> Overview

section.

Sign up using your email address. It's also possible to sign up using your

GitHub

,

Google

, or

Facebook

account

OneSignal will send a confirmation message to your email address. Click the confirmation button included in the email, and you will get access to your OneSignal dashboard.
3. Create a Push Notification App
Once you've created a OneSignal account, OneSignal will prompt you to add your app or website. Follow along these steps to achieve this: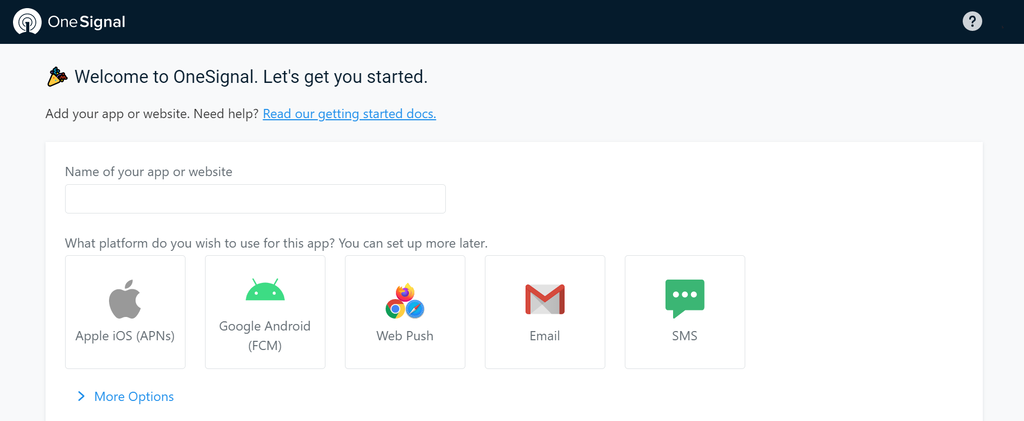 First, set a name for your app. You will use this name for internal identification purposes. For this example, we chose

WordPress Push Notifications

as the name of our app.

Choose a platform that you wish to use for this app, which is

Web Push

.

Click the

Next: Configure Your Platform

button at the bottom of the page to continue to the next step.

This will direct you to the

Web Configuration

window. Under the

Choose Integration

section, select

WordPress Plugin or Website Builder

.

This will expand a selection of supported website builders and content management systems (CMS). Click on

WordPress

to select it.

Scroll down and enter your site name and URL.

Indicate whether your WordPress site uses

HTTPS

or not. OneSignal recommends using HTTPS on your domain since HTTP comes with

several limitations

, including the inability to migrate from OneSignal.

Click

Save

to move on to the next step.
This section also offers an option to set a notification icon, making the alerts more recognizable.
4. Configure the OneSignal Plugin
After saving the app configuration in the OneSignal dashboard, it's time to configure the WordPress plugin. You'll see a new page showing the APP ID and API KEY. Here are the following steps you need to do to configure the WordPress plugin:
Keep the

Web Configuration

page open. Copy the

APP ID

and

API KEY

that are located in the

Configure WordPress Plugin

section.

On another tab, return to your WordPress dashboard, then navigate to the

OneSignal Push -> Configuration

section. Paste the

APP ID

and

API KEY

to the

App ID

and

REST API Key

field, respectively.

In the OneSignal Label field, type in the name you chose during the previous step. In this example, that's

WordPress Push Notifications

.

Scroll down to the

Prompt Settings & Subscription Bell

section. This section provides an option to prompt new users to subscribe automatically. Turn off the toggle if you want users to decide for themselves whether they wish to subscribe or not.

Scroll down further to change the text of your subscription messages. Use the default messages or create custom messages for various actions.

On the

Welcome Notification Settings

section, you'll see that OneSignal will send a welcome message via a push notification when someone subscribes to your website. Customize the message or disable it through this section.

Finally, choose whether to send automatic notifications whenever you publish a new post via the

Automatic Notification Settings

section.

Click

Save

on your WordPress dashboard and hit the

Finish

button on your OneSignal dashboard.
Note that it's best to activate the automatic push notification if you only publish a new post once or twice a week. If you publish a new post daily, your push notifications may begin to feel like spam.
If you don't turn on automatic post notifications, the alternative is to send one out within the WordPress editor each time you're about to publish a new post. This way, you have complete control over which piece of content gets its WordPress push notifications.
Now that your OneSignal plugin is good to go, a OneSignal will pop up, allowing you to subscribe to your push notifications when someone visits your website. If they decline, the message won't appear again, so you won't risk bothering uninterested visitors.
10 Alternative Plugins to Set Up WordPress Push Notifications
In this section, we will go through our recommended WordPress push notification plugins other than OneSignal. We will cover each plugin's features, price, and the type of sites that best suits the plugin.

Plugin Stats:
Downloads:

3,000+

Rating:

4.1/5

Notable features:

push notification analytics,

A/B testing, include CTA within notifications

Best suited for:

all types of websites

Price:

free (

$25-$50/month

premium plans)
PushEngage Web Push Notifications supports all browsers, including Google Chrome, Safari, and Samsung Internet.
Get better engagement by creating user segments based on various attributes, such as browser, interests, and location. This helps send more relevant notifications for a better response rate.
It's also possible to schedule WordPress push notifications in advance, which can come in handy as a reminder for time-sensitive offers or events. Set the alert to be sent in the subscribers' time zone so that they can see it during their active hours.
This plugin also offers tools for testing and analyzing WordPress push notification performance. With its A/B Testing feature, test multiple parameters for push notifications for WordPress and decide which one works best for the site.
Moreover, its Push Analytics provides data on how each of the notifications performed. Analyze which day, push notification, and campaign gave the best results to make informed decisions in push notification strategy.
PushEngage offers free and paid plans. The free plan is suitable for websites with up to 2,500 subscribers, while the $25/month plan can serve up to 100,000 subscribers. The $50/month option suits websites with up to 500,000 subscribers. There's also the Enterprise plan that caters to websites with unlimited subscribers, the price of which is available by request.


Plugin Stats:
Downloads:

400+

Rating:

4.2/5

Notable features:

Integrated analytics, customer data collection, Push Traffic Monetization

Best suited for:

eCommerce and commercial websites

Price:

free (

$9-$299/month

premium plans)
Push Notifications for WordPress by PushAssist enables setting up push notifications for most major browsers, such as Chrome, Firefox, and Safari.
It's one of the few free WordPress push notification plugins that offer the segmentation feature, allowing users to send push notifications to a particular set of audiences based on various attributes, such as location, interest, and purchase record.
PushAssist allows users to check how their push notifications perform and offers insights into notification views, clicks, and subscription rates.
Moreover, it also provides valuable insights about customers' behavior, including data on how they prefer to interact with brands, search for new products, and make purchase decisions.
With its Push Traffic Monetization feature, it's possible to monetize push notifications. Invite advertisers to send targeted push adverts to subscribers and earn additional revenue from them according to the cost-per-click rate. Withdraw the generated revenue every month directly via authorized payment gateways.
This plugin stands out thanks to its intuitive interface and ease of use. It offers various plans, with its free plan suitable for websites with under 3,000 subscribers and premium plans that range from $9-$299/month for websites with subscriber counts numbering around 3,500-75,000.


Plugin Stats:
Downloads:

200+

Rating:

4.4/5

Notable features:

push notifications for abandoned WooCommerce carts, push notification analytics, custom push notifications

Best suited for:

WooCommerce sites, eCommerce sites

Price:

free (

$19-$3265/month

premium plans)
Push Monkey Pro integrates push notifications with WooCommerce. This helps send abandoned cart reminders to customers and site users.
This plugin's browser support includes Chrome, Safari, and Firefox. In terms of OS, it supports Windows, MacOS, and Android.
Push Monkey also provides push notification analytics, which helps see push notifications' performance, including users' engagement and usage data. It also lets you customize push notifications with users' own branding.
Its granular filtering system helps decide and control what type of content users want to notify their push notification subscribers about. Filter content based on custom post types or by category to make them less cluttered.
This plugin is free for websites that have up to 100 subscribers. If the site has more, opt for its premium plan, ranging from $19-$3265/month.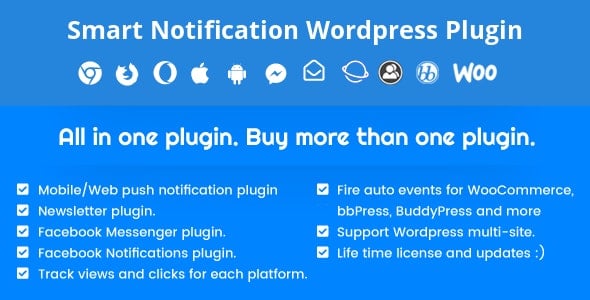 Plugin Stats:
Downloads:

2,076+

Rating:

4.6/5

Notable features:

multi-channel support, iOS support, popular plugin integration

Best suited for:

all types of websites, sites with a focus on iOS users

Price:

from

$99

to

$999
Smart Notification WordPress Plugin is an all-in-one plugin that allows managing multiple marketing channels altogether – push notifications, Facebook messaging, and an email newsletter. It allows to easily coordinate and sync marketing efforts, helping reach more subscribers than using one channel only.
It supports major browsers like Chrome, Firefox, Opera, and mobile OS like Android and iOS. Since there aren't many quality WordPress push notification plugins on the market that support browser notifications on iOS, this plugin stands out among the rest.
It offers integration with other popular plugins such as WooCommerce, which means this plugin can send abandoned cart notifications.
Smart Notification also allows users to include images on the notifications, making them more appealing to subscribers.
Moreover, it supports localization and translation, which allows reaching an international audience.
Smart Notification is a premium push notifications plugin, with two licenses offered at $99 and $999 each.

Plugin Stats:
Downloads:

1,000+

Rating:

5/5

Notable features:

notification

drips, team access, segmented notifications

Best suited for:

publishers' websites, eCommerce sites

Price:

free (

$85-250/month

premium plans)
Free Web Push Notification Tool by iZooto specializes in helping publishers engage with their audience using web push notifications. While this plugin works best for a blog or a news site, iZooto also offers plans for eCommerce websites.
It supports major browsers, including Chrome, Safari, and Firefox. In addition to web push notifications, iZooto also lets users manage app push notifications for their mobile app.
iZooto sends targeted push notifications to retain loyal customers and create repeat buyers. Segment the audience based on various attributes, including location, device, and on-screen behavior, making them more engaged with the content.
With its notification drips feature, create automated series of notifications to welcome and help new subscribers engage with the website. These "drips" will guide them to act according to the intent.
It's also possible to include images, a notification icon, or call-to-action (CTA) buttons on the notifications to make them more appealing and actionable.
iZooto also allows collaboration with the team in managing push notifications. Assign team members with different roles, making the workflow run much more effectively.
Besides the free plan, iZooto also offers the Rise plan at $85/month that is ideal for bloggers, and the Grow plan at $250/month is suitable for publishers who want to run everything in autopilot mode.
Lastly, there's the Enterprise plan for media companies that require exceptional support and control, costing a rate that is available upon request.

Plugin Stats:
Downloads:

600+

Rating:

4.7/5

Notable features:

rich media notifications, CTA inclusion, user feedback

Best suited for:

all types of websites

Price:

free (

$49-249/month

premium plans)
Beamer is an announcement helper that describes itself as both a notification center and changelog.
It allows people to know about the critical updates to the site, such as the latest news, newest products, and special offers. It helps to generate engagement and convert website visitors into paying customers.
This plugin allows users to incorporate images, videos, and GIFs into notifications, making them more eye-catching. It's also possible to include CTA links in them, directing to the page users want subscribers to go to.
Send custom notifications to groups of visitors based on specific attributes, such as location and demographics. This helps to share messages to a more targeted audience, making them more effective.
It also allows users to collect user feedback or reactions to the announcements. These inputs can be used to make better decisions in the future.
Beamer offers a free plan and several premium plans that range from $49 to $249/month, which can serve websites with 5,000 to unlimited visitors.

Plugin Stats:
Downloads:

1,000+

Rating:

4.3/5

Notable features:

eCommerce-related notifications, A/B notifications, advanced statistics

Best suited for:

WooCommerce websites

Price:

free (

$12-69/month

premium plans)
PushAlert allows visitors to subscribe to push notifications and to create them automatically when publishing a post. It supports major browsers like Chrome and Safari and various OSs, including Android and Linux.
If a website is an eCommerce site powered by WooCommerce, PushAlert provides automated eCommerce-related alerts. That includes abandoned cart notifications and price-drop and product back-in-stock alerts that can help boost sales. It also comes with shipment notifications that allow customers to track their orders.
This plugin's Advanced Targeting allows targetting specific subscribers based on various parameters, such as interests, device, and location. This helps with user engagement and may result in higher conversions.
It also provides multilingual features. Set a single notification to be sent in multiple languages so subscribers will automatically receive notifications in their language.
In addition, the timezone-based scheduling will help send push notifications when subscribers are active, helping gain more engagement and higher revenue.
PushAlert makes it easy to review how notifications work through its A/B notifications and advanced stats.
The A/B notifications allow to create two variants of the same notifications with different titles, messages, and images, and then the algorithm will assess which one works best.
Meanwhile, the advanced stats will help see which notifications are more engaging with real-time click-through rates.
PushAlert offers a free plan for websites with 3,000 subscribers. Its premium plans start from $12/month for 3,000 subscribers to $69/month for 5,000 subscribers. All plans' subscriber limits can be upgraded with an additional fee.


Plugin Stats:
Downloads:

700+

Rating:

4.9/5

Notable features:

targeted notifications, abandoned cart reminders

Best suited for:

eCommerce websites

Price: €1/month

per 1,000 subscribers
WonderPush is a WordPress web push notification plugin that allows sending push notifications to desktops or mobile devices.
It supports Chrome, Edge, Opera, and Firefox, both their desktop and Android versions. This allows users to add web push notifications to AMP pages and lets visitors subscribe to the web push from mobile sites.
It provides various subscription interfaces, such as a browser prompt or a bell widget at the bottom of the page. WonderPush offers abandoned cart reminders for WooCommerce websites as well.
The plugin offers the option to restrict push notifications based on language, tags, or events, allowing reaching a specific audience. The dashboard also provides real-time push notification analytics for insightful data.
WonderPush is also GDPR compliant, ensuring the platform safely manages both the user's and customers' data.
WonderPush is a freemium plugin that lets users try its service for 14 days, costing €1/month per 1,000 subscribers once the trial is over.

Plugin Stats:
Downloads:

90+

Rating:

5/5

Notable features:

self-hosted, custom notifications, notifications statistics

Best suited for:

small and medium websites

Price:

free
Perfecty Push Notifications is an open-source push notification plugin. It's self-hosted, so there's no need for API keys to integrate with third-party WordPress push notification providers.
All the functionality is included in the plugin, and the information is processed and stored in the WordPress server. Therefore, the notifications can be sent directly from the server for free.
It allows users to customize notifications, such as changing the notification icon and incorporating an image for more appeal.
Perfecty Push Notifications provides the notification statistics in the dashboard for a convenient quick check of notifications' performance.
As it's still in its first stable version, the features are still somewhat basic. This can be beneficial for small websites that are just starting to implement push notifications to their site or medium websites that need complete control of their information.

Plugin Stats:
Downloads:

800+

Rating:

5/5

Notable features:

drip feed, custom permission prompt, notification monetization

Best suited for:

blogs, eCommerce, media websites, agencies

Price:

free (

$4-800/month

premium plans)
Gravitec offers automated push notification campaigns, which can be helpful marketing tools for increasing site traffic.
It supports both the desktop and Android versions of Chrome, Microsoft Edge, Opera, and Firefox. It provides support for Safari as well, but only for the macOS version.
Its Drip Feed feature helps to set up a series of onboarding campaigns to send to new subscribers. Direct their user's journey by welcoming and guiding them through the website to increase their engagement and loyalty.
The permission prompt is highly customizable. It's possible to change the prompt's location, choose when to display it, or make it multilingual, so site visitors can better engage with it.
Gravitec offers a free plan for up to 10,000 subscribers. Its premium plan ranges from $4/month for 1,000 subscribers to $800/month for 200,000 subscribers, including premium features such as priority support and removable Gravitec copyright. The latter can make notifications appear as white labels.
Conclusion
WordPress push notifications are an excellent way to keep your subscribers up to date with the latest publications, become more familiar with your brand, and boost conversions.
Their message brevity and eye-catching appearance make push notifications more accessible and actionable, resulting in a more effective marketing channel for website owners.
Install a push notification plugin to add this functionality to your WordPress site. We've taken a look at several WordPress push notifications plugins, each of them offering various functionality.
PushAssist, for example, is best suited for eCommerce websites, iZooto works best for media websites, and Smart Notification WordPress Plugin is optimized for managing multiple marketing channels.
With everything in mind, remember not to send too many push notifications to your subscribers. Keep them simple, engaging, and your visitors will be sure to check them out.
Was this tutorial helpful?