Reach More Visitors Faster With Hostinger CDN Beta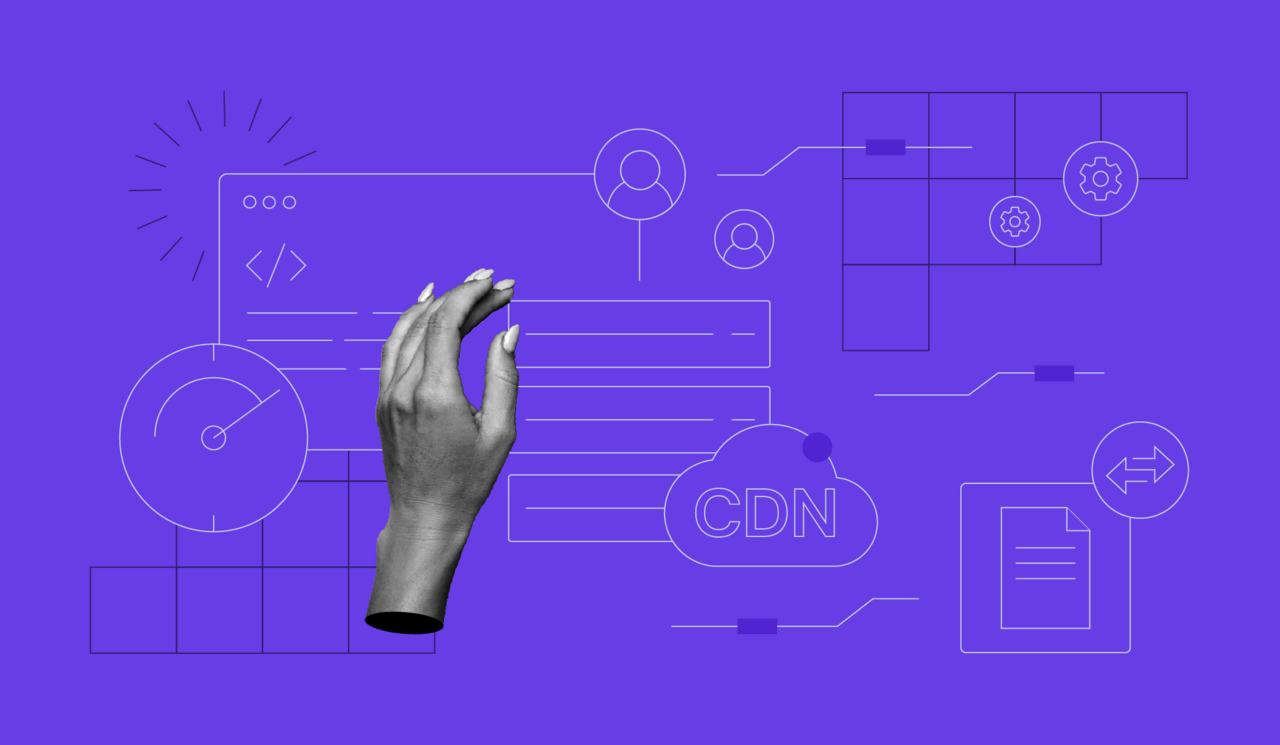 Are your visitors leaving because your site takes too long to load? You're not alone – slow website speed and high bounce rates are common problems for many website owners.
Meet Hostinger CDN – our in-house CDN solution. Available for clients of Business Web Hosting and above, this brand-new beta feature significantly improves website performance and security.
This custom-built feature will replace our previous third-party CDN integration. This way, you can get all the performance boosts your site needs while managing everything in one place.
CDN: An Easy Solution for Your Website Performance
Generally, web content is delivered from a single origin server. This can be problematic if you have visitors from all over the world – the further the server is from your target audience, the slower the site will load.
A CDN (Content Delivery Network) can solve this problem and more. It's a network of globally-connected servers that work together to distribute your web content, no matter where your users are.
With it, your site will be cached and delivered from an edge server nearest to the visitor rather than the origin server.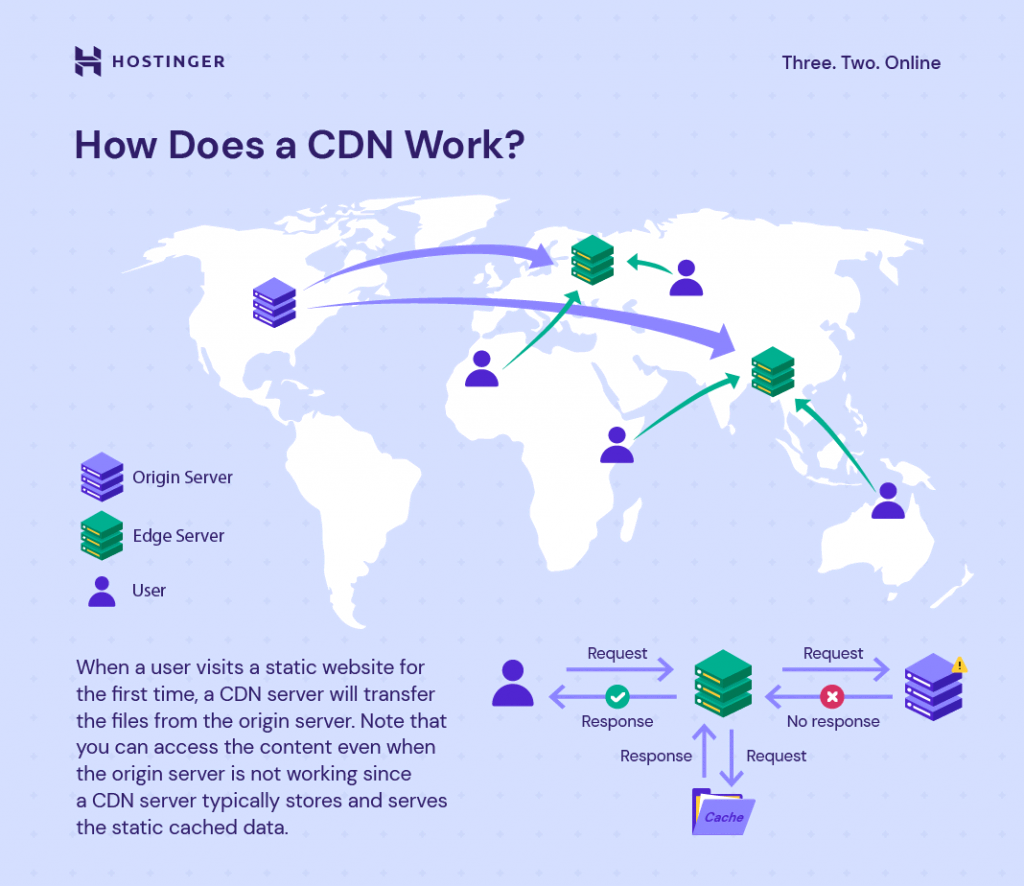 Enhanced performance is the main appeal of using a CDN, especially if your target audience is located in different regions.
Expect your website to use much less bandwidth and have higher uptime, even during peak traffic hours. Get a better user experience, lower bounce rates, and higher chances of ranking on search engine results pages without spending a fortune.
All You Need to Know About the Hostinger CDN Beta
With our custom-built CDN, you can see speed improvements with just a few clicks. Based on our tests, our solution can reduce page load time by up to 10% and page size by nearly 50% on average.
Check out the features of our CDN beta:
Static website caching. Your static web content will be automatically cached across all edge servers, reducing the origin server's load and improving site speed.
CDN bypass mode and cache purging. These features can disable and flush the cache that's been previously delivering your content. As a result, whenever you make changes in development mode, visitors can see them right away.
CSS and JavaScript minification. Remove redundancies in your code to decrease your website file size and enhance speed.
Data center rerouting. If your CDN data center is experiencing issues, the system will automatically disable it and redirect your site's traffic to other data centers. No need to worry about downtime.
Built-in website security. Our CDN comes with DDoS mitigation, SSL/TLS encryption, and a web application firewall by default to protect your site against malicious attacks. Both your and your visitors' data will be safe.  
Load Visuals Faster With Smart Image Optimization
Images can add significant weight and load time to your website. To tackle this problem, we've introduced Smart Image Optimization in Hostinger CDN.
This feature will automatically resize and compress all your images for desktop and mobile devices – so they will no longer slow down your website. Select your preferred picture width and quality to maintain a pleasant viewing experience.
We've also added WebP Image Compression. With this, all your visuals will be automatically converted to WebP, a modern image format with high quality and small size. Google has found that this extension can reduce file sizes by up to 35% for JPEGs and 80% for PNGs.
Try Hostinger's CDN Beta Today
The built-in CDN beta version will soon be available for clients of Business Web Hosting and above using the UK, US, Singapore, Brazil, and France data centers.
To access the CDN zone, simply log in to your hPanel and open your hosting dashboard. Then, navigate to the sidebar menu → Performance, and select CDN (Beta).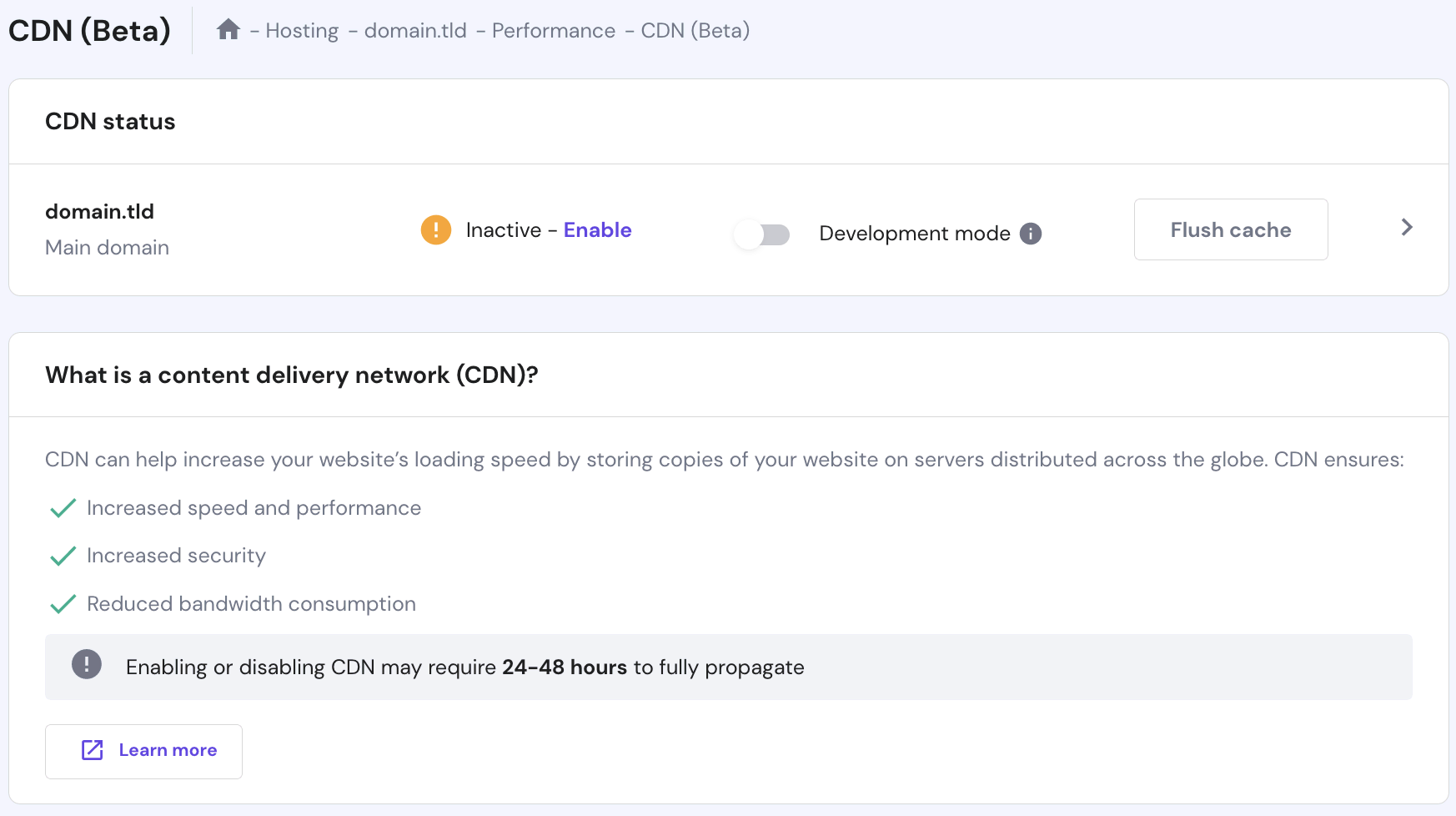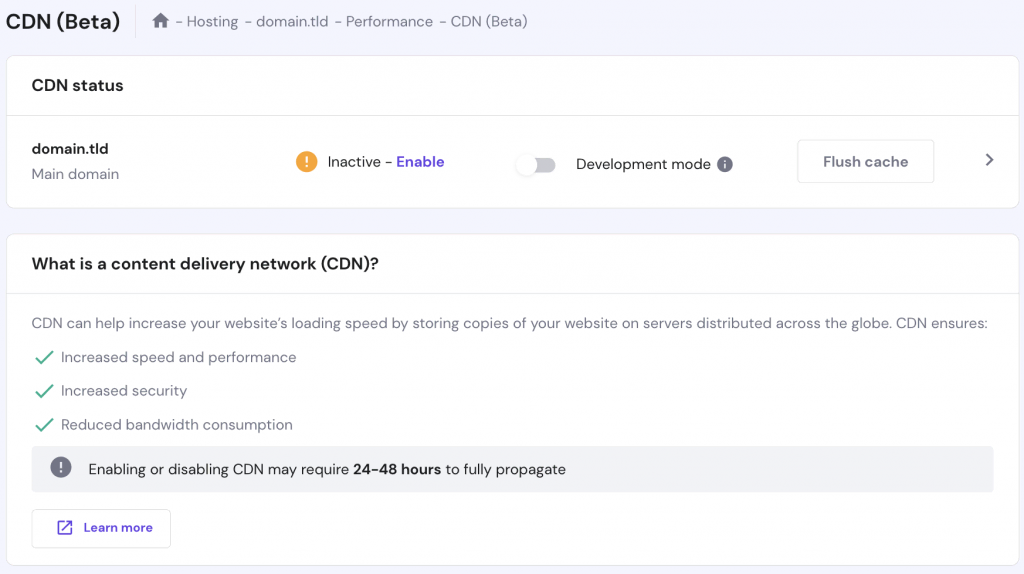 If you click the arrow sign next to Flush cache, you can activate the WebP image compression, CSS and JavaScript minification, and Smart Image Optimization features.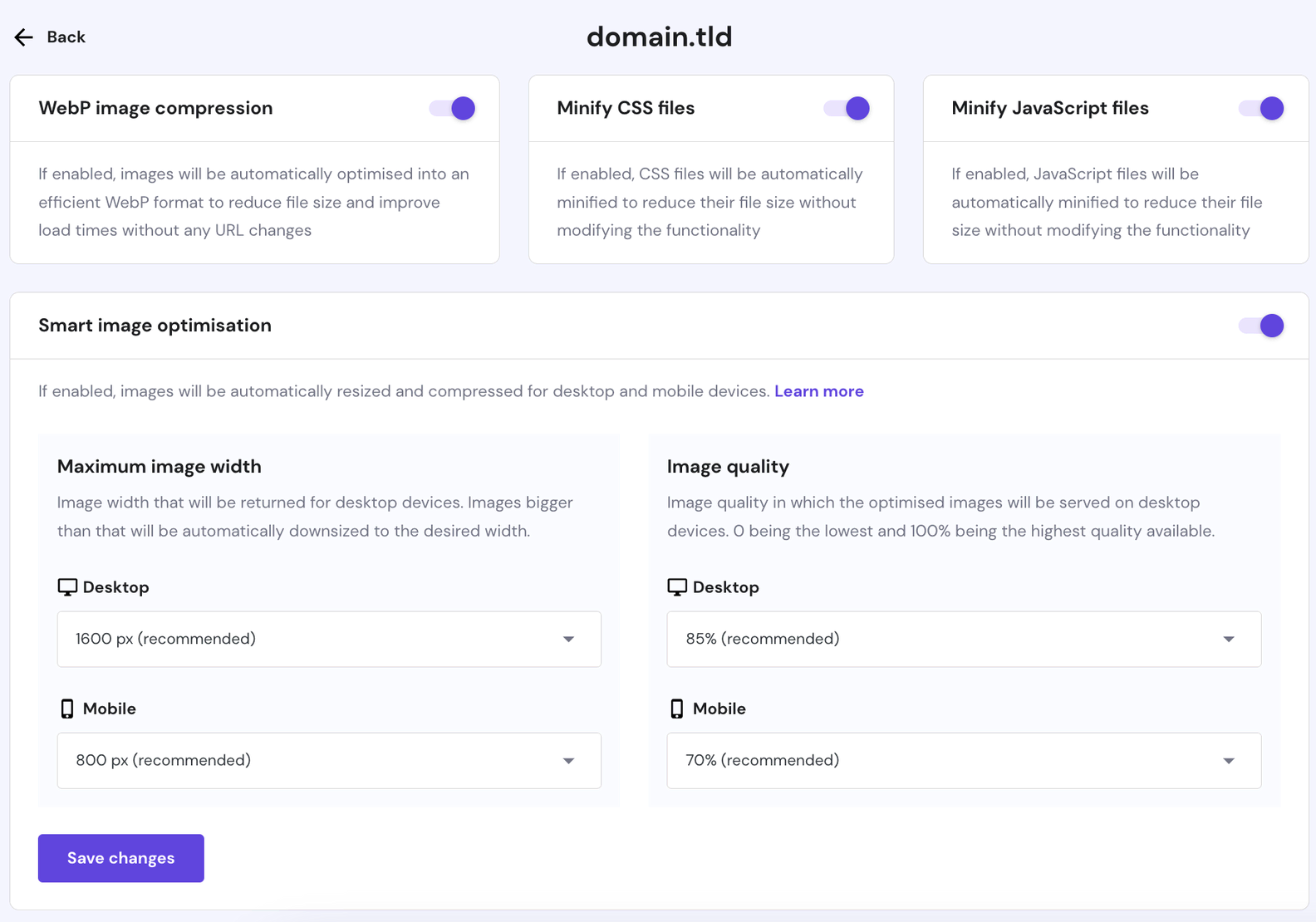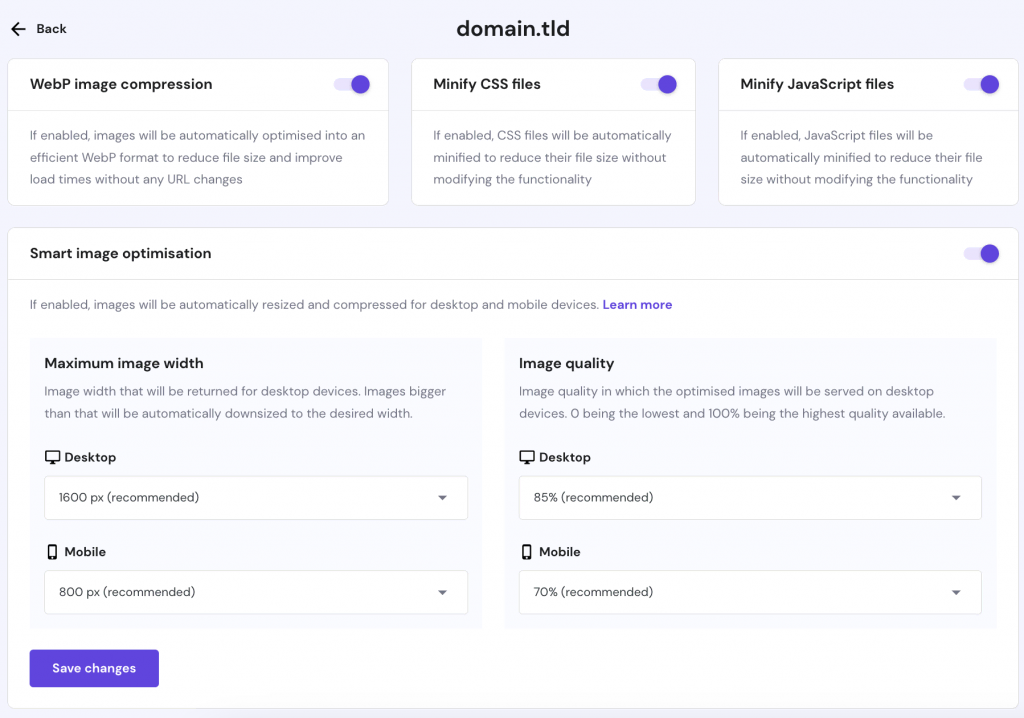 This feature is being beta tested. It will improve as we gather and implement more suggestions from you! Enable the CDN for your website today, and let us know your feedback in the comment section below.