Choosing the best WordPress eCommerce themes can be tough. There are countless themes out there and all of them promise their features will best suit your business. To make it easier for you to choose a theme for your e-shop we have highlighted the only best ones for you. In this article, we will show you the criteria of a great eCommerce theme and then recommend 10 free WordPress eCommerce themes you should try.
What to Look For in WordPress eCommerce Themes
Attractive Design
The first impression is crucial for your online store. Your design will affect the visitors next course of action. If a visitor finds your site to have a tedious look, they will most likely move on to a different one. So, we have handpicked the most appealing themes that make sure you will impress your customers at first sight. In addition, they are also open to customization.
Easy Navigation
In some cases, online stores are like offline stores. Your consumers may know exactly what they want. But, they will spend more time to take "a little tour" in your store. They may also see discount offers, best selling products, and other product categories. Therefore, your theme should support the customers' behavior and make sure they can go back and forth to find what they want easily.
Speed Optimization
A good-looking interface is not the only thing that makes your visitors stay on your online store. Another thing that matters is your website's speed. According to Forrester Research, almost half of the respondents expect the website will be fully opened in 2 seconds. Further, 40% of the respondents will leave if the loading time takes more than 3 seconds. Therefore, your theme should support page speed optimization to make sure your visitors don't wait too long.
Supported plugins
WooCommerce itself is a powerful plugin to run a WordPress based eCommerce. However, you still need additional plugins to manage your online store. You need plugins to add a contact form, help you with SEO or check the shipping cost. Your theme must support every plugin you need.
Responsive
Having a responsive website in 2018 is a must. Mobile users are growing and you can turn them into your loyal customers. Statista's study shows that 86% of customers do online shopping via their smartphones. Thus, it is important to please them with an interface that makes it easy to navigate even on a small screen. Fortunately, you don't need to download and install the theme one by one to check whether it is responsive or not. All of the themes we recommend here are up to snuff.
10 Best WordPress eCommerce Themes
Here is a list of the best WordPress eCommerce themes, based on popularity, features and design:
If we're talking about the best WordPress eCommerce themes, ShopIsle should be at the top of the list. ShopIsle has a simple, yet modern and elegant look. This theme gives you a full-width slider on the homepage. You can use this slider to show your featured products and new products, throw in a discount code or a voucher if you so wish.
The classy and modern touch of ShopIsle continues into its product section. The theme displays your products stylishly. The customers can hover the cursor over the product image to zoom in and get a more detailed picture. The checkout page is also informative to show all products purchased and the price.
ShopIsle is open to customization. With the help of SiteOrigin Page Builder, you can customize your store's appearance easily. ShopIsle also gives you a stunning about us page and a prearranged contact form built by Contact Form 7 plugin. Lastly, you can engage your customers since this theme is social media friendly.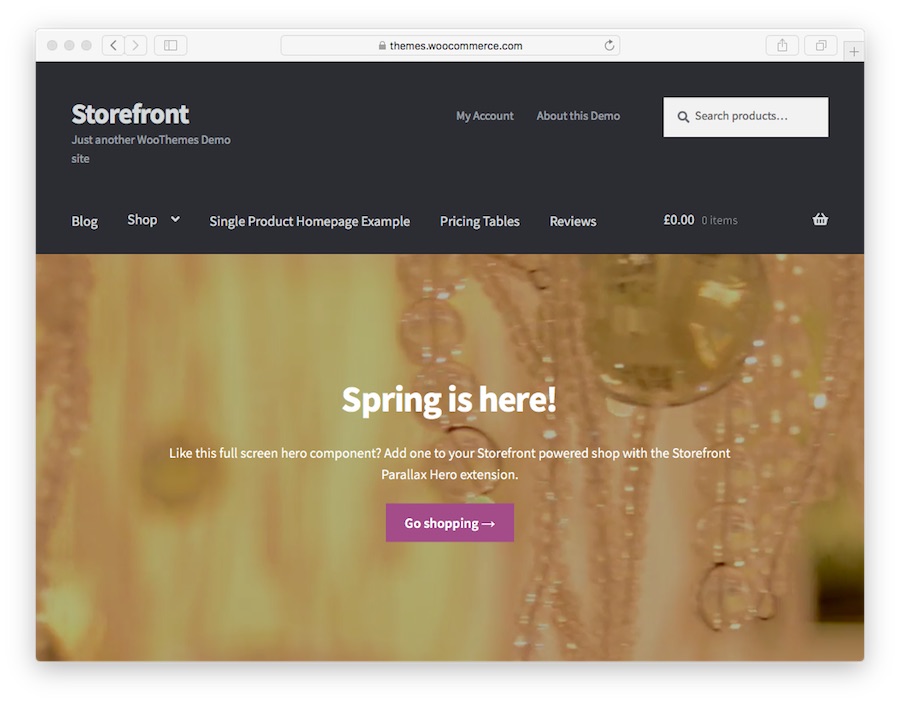 The second best free WordPress eCommerce theme comes from the creator of WooCommerce. Since this theme is already designed and developed to support WooCommerce, you can start selling instantly.
You will love how StoreFront displays your products. The product inventories and management has been largely developed. Your visitors can navigate your products by every product category. You can also show the available size and colors without any hassle.
The StoreFront has provided some color scheme choices. With a single click, you can change the whole color scheme in your online store. If any of the inbuilt ones don't work for you, you can build your own online store by its various layouts, color options, and cool widgets. For those who love to code, you can add additional features and functions using the custom codes.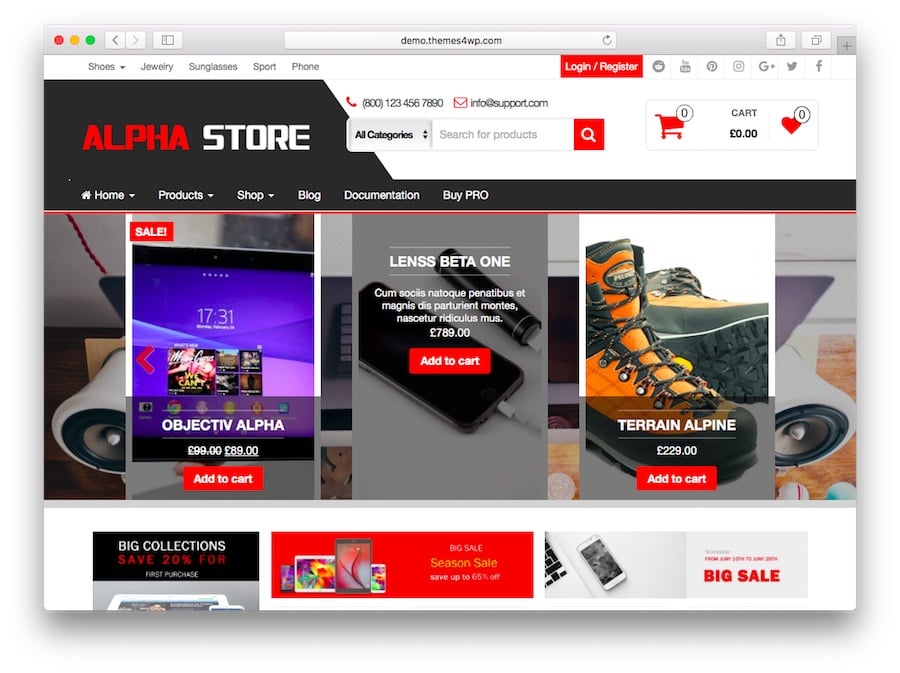 Developed on Bootstrap and CSS3, Alpha Store turns into a fully responsive, fast, and weightless WordPress eCommerce theme. Obviously, this eCommerce theme also supports WooCommerce.
Alpha Store comes with a live Customizer. No technical skills are required to do any of the customizations for your online store. If you need something easier, you can integrate the theme with SiteOrigin page builder. This plugin will help you to create whatever you like in your pages simply by drag and drop.
Speaking about features, Alpha Store is one of best free eCommerce theme with well-endowed features. It will give you two main menu locations and a footer widget area. Alpha Store also gives you a choice to add an additional menu in the left or right sidebar. It opens WooCommerce shortcodes if you want to make any customization to its code. Moreover, you can add social media icons to your website too.
With Alpha Store, you can add additional features you need in your online stores. It is recommended to install WooCommerce related plugins such as Wishlist, product comparison, and quick view.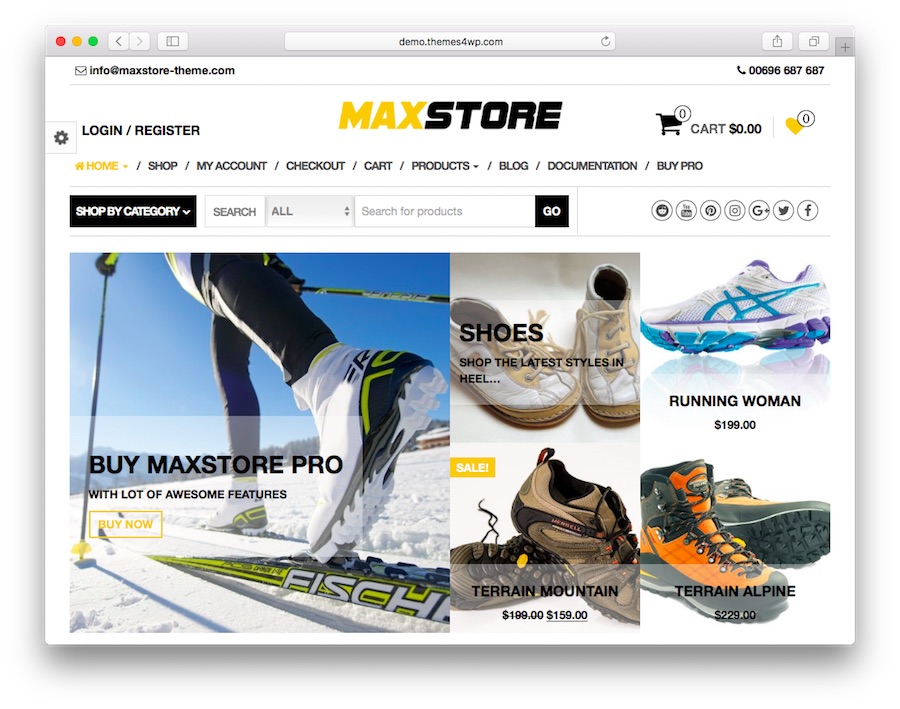 If you need an extra recommendation for simple eCommerce theme with seamless WooCommerce integration, take Max Store with you. Whatever business you are in, Max Store will suit you well.
Max Store's default look is already stunning. The product categories are displayed on the homepage. A smooth animation makes the product presentation look more modern and stylish.
But if you want something that requires a little effort to maximize its beauty, Max Store is highly customizable. Even for the beginner, bringing a new look and feel of your website couldn't be more simple. You don't need to touch any line of code to configure any of the theme options and settings.
Even if you make a lot of changes to the design, Max Store will keep it responsive so that your online store fits any screen resolution. This theme is also a nice pick to get a better Google Rank since it supports Yoast SEO, the most powerful WordPress plugin. At last, Max Store is able to compress all of the files and optimize them so your online store will run fast.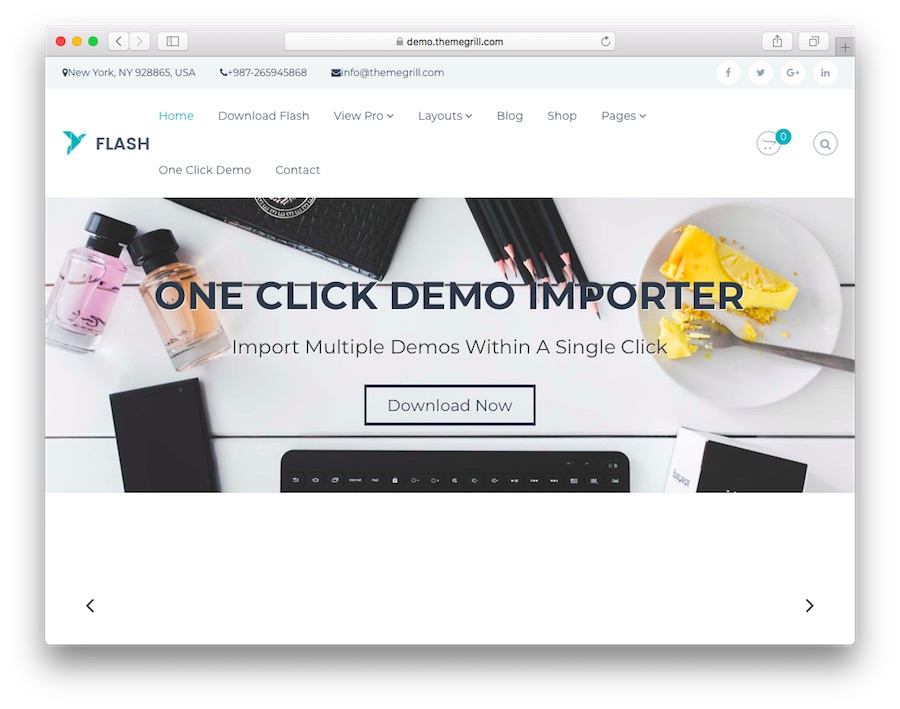 Flash is one of the best Multi-Purpose WordPress themes for 2018 with more than 20,000 downloads at WordPress.org. Flash, like the other themes, will do a great job to build your online store with little to no trouble.
Flash has a deep integration to WooCommerce, SiteOrigin page builder and Flash Toolkit plugins that help the beginner to build a complete online store. WooCommerce stands as a powerful eCommerce platform. SiteOrigin page builder will assist the users to build website pages by drag-and-dropping. While the Flash Toolkit plugin will take a role as a sidekick plugin that provides more than 12 widgets.
Developed by ThemeGrill, Flash is featured by the ThemeGrill Demo Importer plugin that can import the demo theme in a click. In the free version, you have 6 stunning demo choices, tons of site layouts, multiple color options, various blog layouts, multiple Google fonts support, and beautiful header styles. One outstanding WordPress eCommerce theme!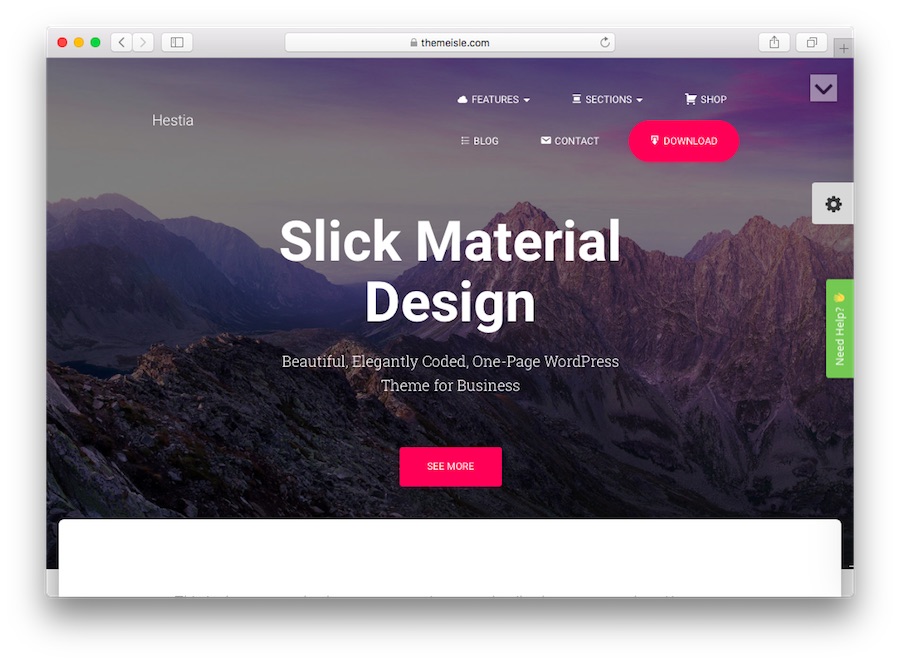 Hestia is another great Multi-Purpose WordPress theme that will also build your online stores to stand out. With its sleek design and deep integration with WooCommerce, you can build modern and professional online stores that keep your customers coming back again and again.
Hestia comes with Live Customizer. So, it is super easy to edit and modify any kind of elements or designs. You can also see the modifications you make in real time. In case you enjoy designing or using other page builders, feel free to integrate the plugins with Hestia. Designing an online store with Hestia is also a lot of fun. Hestia comes with mass features such as multiple modern fonts and icons, tons of beautiful layout designs, mega menus, and much more.
The features mentioned above are not all of what Hestia's capable. With Hestia, you can also add custom backgrounds as well as change the color scheme. You have an option to add portfolio and galleries too. The best part is Hestia can compress all the rich features and optimize the speed so that your website will run fast.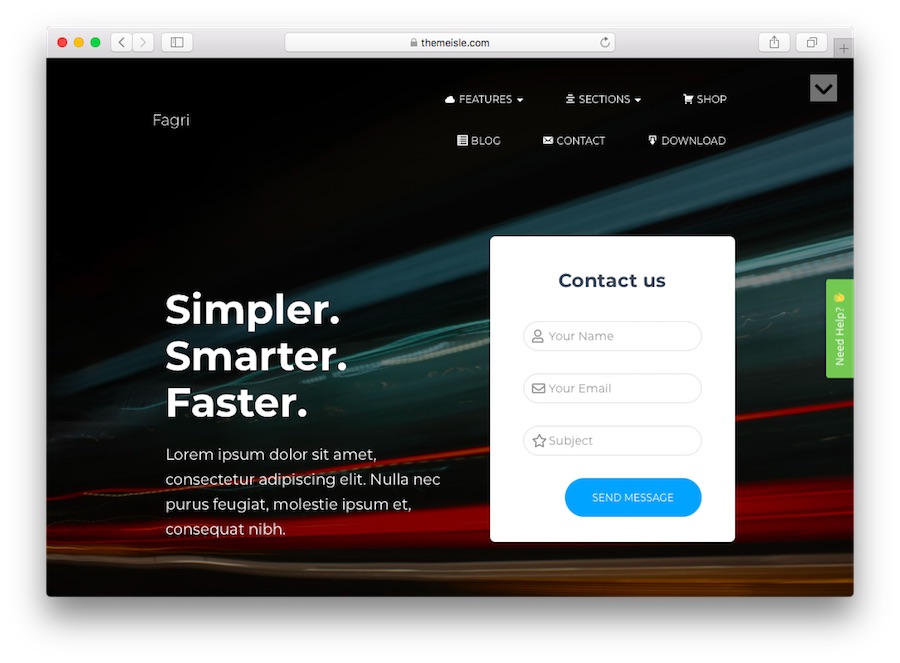 If you are looking for another recommendation of a WordPress eCommerce theme that supports flexible page building, Fagri can be your option. By default, Fagri is bundled with Elementor. It's an impressive page builder plugin that will help you to change your website tone and look in a few clicks. Fagri is also fully compatible with other page builder plugins such as the SiteOrigin page builder.
Therefore, Fagri is fully customizable. With Fagri, you can set any image, slider, or even a video as your background. You can also mix and match your color scheme. In addition, Fagri provides a powerful mega menu that will help you to organize your product categories.
If you want to skip all of the designing and jump to releasing a ready-to-launch online store, let Fagri do the hard work. Fagri has an option to set up and install all you need in less than one minute. Impressive!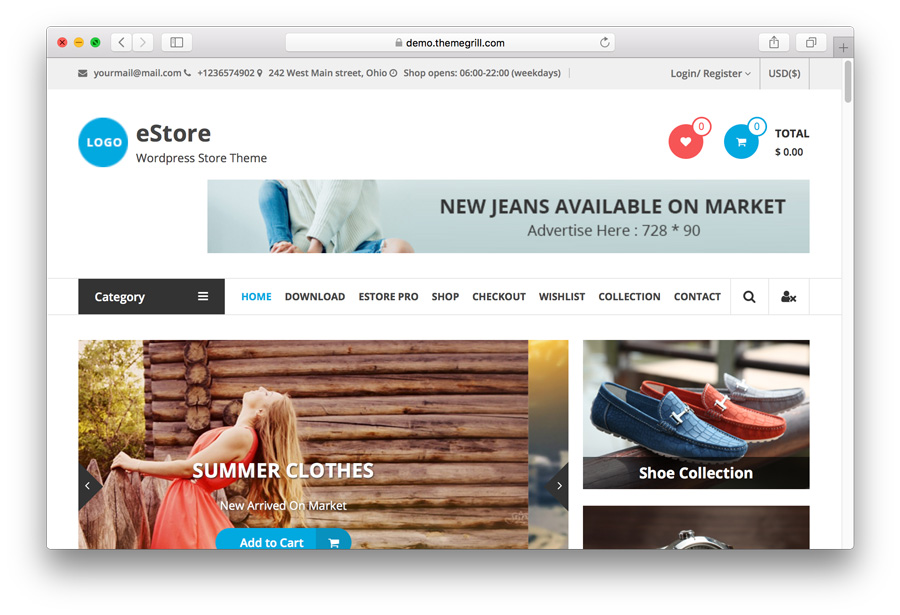 eStore is another best WordPress eCommerce theme from ThemeGrill. Although it is free, ThemeGrill packs eStore with tons of compelling features. There are 10.000+ eCommerce websites out there that trust eStore as their theme.
eStore is highly customizable. It gives you 3 custom menu locations along with right sidebar and left sidebar. This theme also has 10+ widget areas with 12+ custom widgets. In the free version, eStore also gives you 4 different layouts which can be applied in a few quick steps. Moreover, eStore provides layout options for individual pages and posts.
eStore is also compatible with YITH WooCommerce wishlist plugin. Just like its name, you will add a wishlist which can be shared in social networks. eStore also let you have Category Colors. With this feature, you can give labels different colors for different product categories. Last but not least, eStore is translation ready.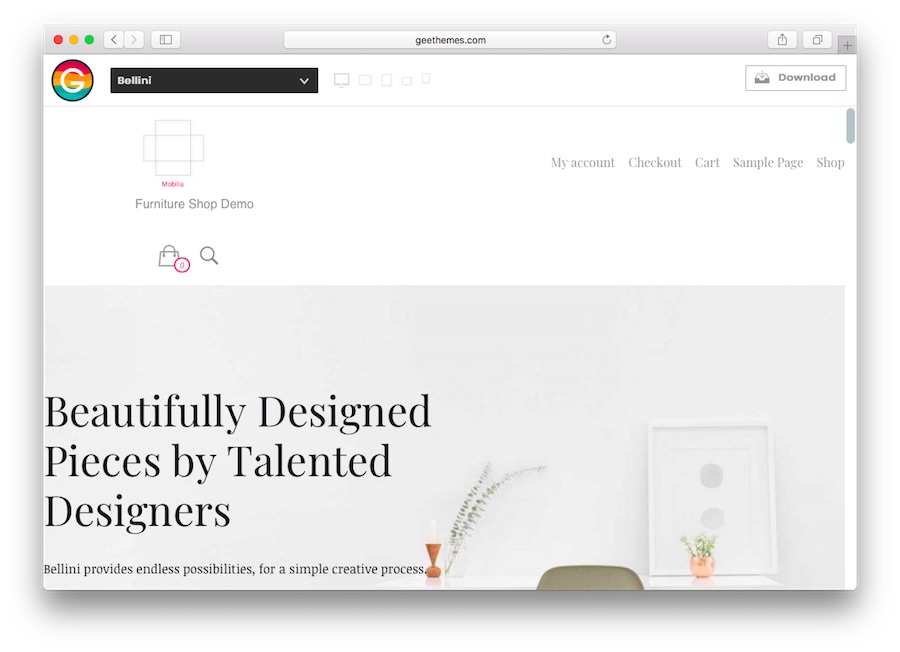 Bellini has a clean and modern design that will fit every business you're in. Focusing on full-width images and bold typography, Bellini has an enticing manner to grab your visitors attention.
Similar to other themes we have before, Bellini is open to customization. You can change almost every element. Modifying the color schemes, fonts, sliders, and layouts is extremely easy. You can also upload and set your online store's logo as your branding effort.
If you need any additional plugins to build your online stores extensively, Bellini supports various powerful WordPress plugin such as Yoast SEO, MailChimp, JetPack, and SiteOrigin page builder.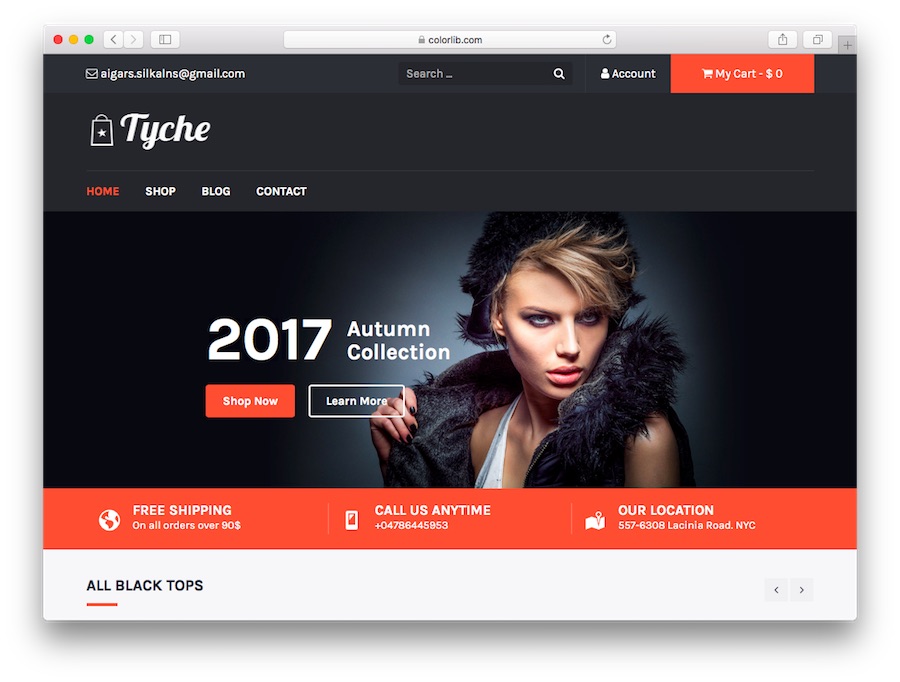 Tyche is a free WooCommerce WordPress theme that comes with a sophisticated design and vibrant colors. Integrated with various WooCommerce plugins, this theme is open for massive customization to create a professional look for your online store.
We love how Tyche displays products in such a lively manner. You can see a stylish and modern touch in each section. You can show your best products on the media slider on the homepage or display them based on their categories. Tyche also lets you create different colored labels for each product category.
The beauty of Tyche doesn't stop there. Tyche is retina ready. It means Tyche presents all elements such as images, text, and color with high sharpness. In addition, Tyche comes with a stunning header, modern social media icons, contact forms, additional CSS, and great checkout page design.
Conclusion
There's definitely a lot of themes eCommerce themes for WordPress out there and choosing the best one for your business might become a headache. It's like picking a pair of boots: you're going to wear them a lot so they should definitely be as comfortable as possible. Doing your research helps a bunch because to save time you will probably be inclined to keep using a theme you're familiar with. So, best practice would be to try finding a theme that best works for you and stick with it. Of course, there's nothing stopping you from playing around with all the themes you can find!