13 Professional Services Website Examples for 2023 Built With Hostinger Website Builder 
A professional online presence is necessary in this fast-paced digital landscape. As businesses and service providers strive to stand out in a competitive market, their website design plays a pivotal role.
To showcase Hostinger Website Builder's capabilities in shaping modern digital identities, we'll present a curated selection of 13 professional services websites built with our website-building platform. Each website in this list embodies efficiency, aesthetics, and user-friendliness.
These real-world examples show how individuals, small businesses, and organizations create engaging, mobile-friendly, and highly functional professional websites tailored to their unique needs.
Download Website Launch Checklist
Top 13 Professional Services Website Examples
Here are 13 professional services website examples you can draw inspiration from.
C-GEM caters to sustainability enthusiasts and agroecology advocates, offering valuable insights for green agriculture. The website's commitment to agroecology is visually evident in its earthy color schemes and nature-inspired visuals, reflecting the essence of sustainable farming.
The professional website homepage showcases vibrant images of flourishing crops and regenerative landscapes, setting the tone for C-GEM's mission. Its intuitive navigation ensures easy access to articles, case studies, and resources.
A standout feature is C-GEM's interactive knowledge hub, providing a wealth of information on agroecology, from its principles to practical implementation.
In an era where mobile-friendliness is paramount, C-GEM's site excels with its responsive design. It's also optimized for search engines, ensuring discoverability for those interested in agroecology.
humaid.communication is a great example of a professional services website in the communication and public relations field. The website shares news from around the world, including Africa, America, and Asia.
The website uses a minimalist design. Its homepage features a dynamic project documentation slideshow and a thoughtfully chosen color scheme. For easier navigation, humaid.communication organizes its projects based on continents.
This approach helps set the tone that complements humaid.communication's goals.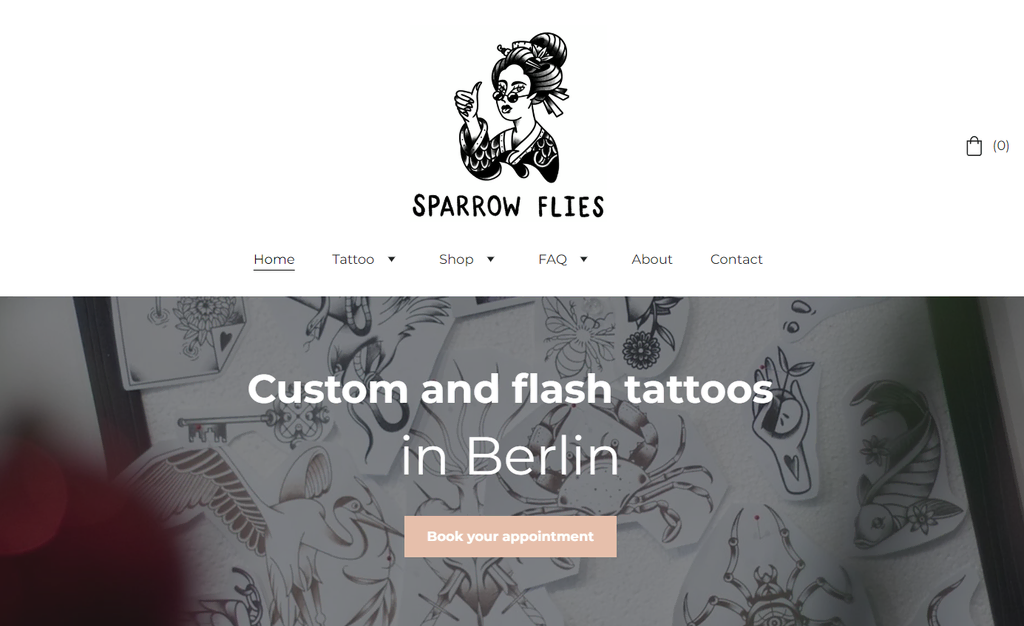 Sparrow Flies is unlike any other typical tattoo parlor website. Its aesthetically pleasing and intuitive design makes it among the best industry-specific service websites built on Hostinger Website Builder.
Sparrow Flies has a unique black-and-white logo and a link to a photo gallery on its homepage, which highlights the tattoo artist's craft. The website also offers an FAQ page with a comprehensive list of tattoo-related questions and answers.
The small business website features an About page with the tattoo artist's bio. This page helps establish trust with potential clients as they explore the website.
In addition to the Recent Tattoos photo gallery, the website has a Wanna-dos page. Here, visitors can explore the tattoo artist's original tattoo designs for future clients.
With clearly defined sections for the homepage, services, portfolio, and contact details, visitors can easily explore this website. Scheduling appointments is also simple with a streamlined and integrated booking system.
Overall, the website design perfectly blends edginess and elegance, mirroring the spirit of the tattoo industry and the artist's unique style.
Vovo Architects' professional services website is a captivating showcase of modern architectural design.
The website's clean design targets potential customers looking for exceptional consulting services in residential and commercial architecture. Color-wise, the palette is a mix of neutral tones, conveying a warm, professional feel.
Vovo Architects' homepage features a series of impressive projects. Each project page is complemented by high-quality images and clear descriptions, offering a comprehensive understanding of the firm's capabilities.
This business website only features two items in the menu bar – Home and About Us, making navigation simple. For contact details, visitors can go to the site's footer.
By immediately showcasing Vovo Architect's excellence in engineering services, this website aims to build credibility from the first glance.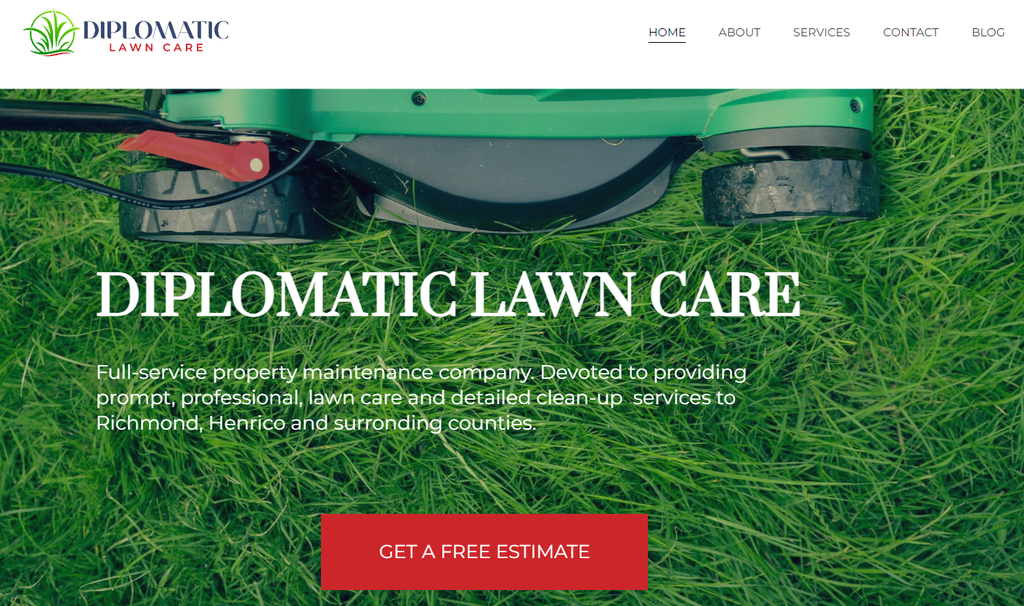 Diplomatic Lawn Care's site is a showcase of simplicity and functionality. The professional services website design focuses on user-friendliness so visitors can easily access essential information.
On its homepage, you'll see a vibrant image of a lush, well-manicured lawn, setting the tone for the company's expertise in lawn care. Its navigation is intuitive, so users can easily explore services like mowing, edging, fertilization, landscape design, and cleanup.
This growing company uses some of the best calls to action for its web pages. They also contribute to offering a smooth user journey.
For example, the GET A FREE ESTIMATE CTA on the homepage redirects a potential client to the Contact page to complete a form. Meanwhile, View Our Services on the About page brings visitors to the Services page.
On top of all, the website's responsive design ensures a seamless experience across devices, making it more convenient for homeowners or businesses seeking top-notch lawn care services.
Fire and Ice is a multi-faceted creative hub for the artist's photography, illustrations, and short stories. It has a visually stunning homepage featuring a slideshow of the artist's photographs.
The navigation is intuitive, with clearly defined sections for each category. The About Me page stands out as it shares the artist's stories on art, culture, and life – perfect for building a memorable brand.
The web design ensures a seamless experience on both desktop and mobile devices. Not only does it improve accessibility to a wider target audience and attract new clients, it also helps boost the site's ranking on search results.
GIVAGO is a professional services website offering a good blend of music and personality. The website design shows the artist's musical passions and endeavors, creating a special experience for fans and newcomers alike.
Throughout the website, you'll see vibrant, music-themed visuals. It uses some animation, making the design elements more interactive.
The Music page lets you stream songs directly from the website, facilitating an instant connection with the artist's creativity.
Additionally, the professional website offers behind-the-scenes content, encouraging visitors to take a more intimate look into the artist's creative process and life on the road.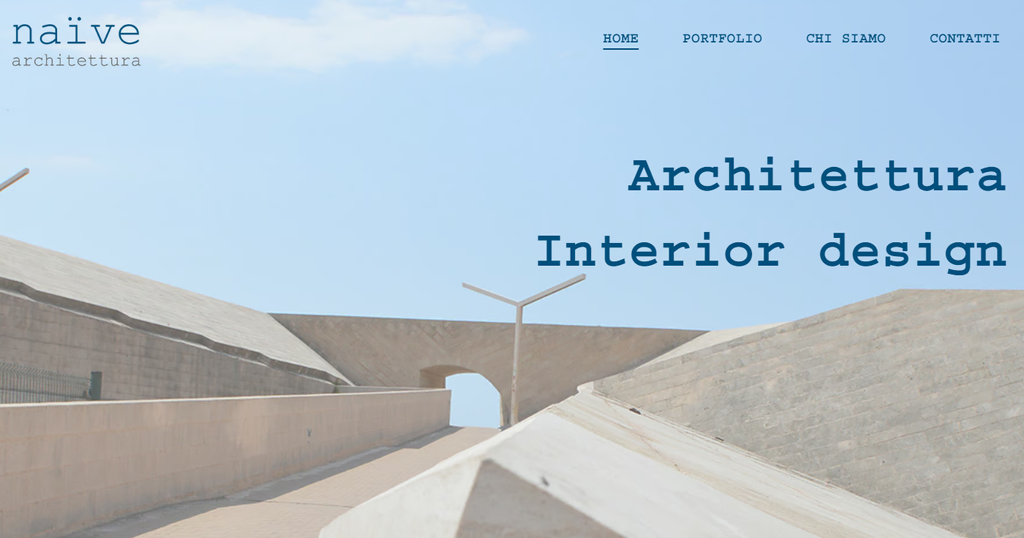 Naïve Architettura offers an exquisite testament to a clean web design in the architectural innovation and design sphere.
Naïve Architettura's professional services website is aesthetically pleasing, combining white, blue, and beige. The homepage features a stunning visual display of the service provider's architectural achievements.
The Portfolio page serves as a digital gallery showcasing Naïve Architettura's previous works. Each project, including interior design and renovation, is presented with meticulous detail, emphasizing the firm's commitment to craftsmanship and aesthetics.
Navigation is seamless with intuitive menus, allowing you to easily jump from the homepage to the Portfolio, Who We Are, or Contact page.
This user-friendly approach ensures visitors and potential clients can effortlessly discover the breadth of Naïve Architettura's expertise.
This professional services website encourages visitors to explore the artist and producer's vibrant artwork, characterized by vivid colors, bold typography, and strong composition.
Navigation-wise, this professional services website is user-friendly. The artist/producer offers a well-organized portfolio section for easy exploration.
One of the website's key elements is integration with video hosting platforms, including Vimeo and YouTube. This integration enhances the user experience, giving deeper insight into the artist and producer's work.
The Contact page and social media links are available on the website footer. Although still under development, an integrated online shop is also available if you want to check out the artist's preset packs.
The Petra Therapy professional consulting website is a haven for dog owners seeking the best care for their furry companions. This online platform combines professionalism with a heartfelt dedication to improving the health and well-being of dogs.
The website's design is clean and easy to use. Although information-packed, this professional services website is well-organized, so visitors can conveniently navigate it.
One standout feature of this business website is the Happy Clients section, where the dog physiotherapist shares client testimonials. Serving as social proof, this section helps build trust among potential clients as they see the positive experiences of others.
Another notable feature is the Articles page. Here, the dog physiotherapist shares valuable insights and tips. It's not just a source of information – it's a testament to the dog physiotherapist's passion for helping dogs.
Farmacia Gorostizaga is a trusted online destination for those seeking pharmaceutical expertise and high-quality healthcare products.
The professional services website uses a clear layout with ample white space. Navigation is simple, making it easier for visitors to access its services, product catalog, and store location.
This professional services firm allows patients to place their orders on the website via telephone, WhatsApp, and form.
The pharmacy has an informative blog with professional advice on medications and health concerns. This blog educates visitors and showcases Farmacia Gorostizaga's commitment to community well-being.
Repair Paintball offers professional services in marker repair and maintenance. If you're looking for a simple yet effective service website inspiration, Repair Paintball can be a great example.
Its homepage only contains a navigation bar, hero image, and footer. While using photographs as background images, texts are readable due to the smart color choice and typography.
On the Marker Service page, discover Repair Paintball's professional services. This business website also has a photo gallery with social media links attached.
One of its standout features is YouTube integration, where the company shares informative videos on marker repair and modification tips. This demonstrates a commitment to educating customers and empowering them to maintain their equipment effectively.
Fox Forwarding aims to be the ultimate solution for seamless transport logistics. The company offers three professional services – road freight transport, large export, and warehousing.
Fox Forwarding's website offers efficiency and user-friendliness for its target audience. On the homepage, you'll encounter a split screen and a call-to-action. The navigation menu simplifies your journey, granting easy access to the Home, Services, and Contact pages.
You can explore its Services page for more detailed information about Fox Forwarding's professional services and get a quote.
How to Make a Professional Service Website
Creating a professional service website doesn't have to be a daunting task. With Hostinger Website Builder, you can quickly get your professional services website up and running.


After signing up for Hostinger Website Builder, here's a general guide to get you started:
Choose a template. Start by selecting a business-centric template that aligns with your brand. Preview the design to ensure it resonates with your vision.
Create the main page. Keep it clean and focused to encourage visitors to stay longer on your site and take your desired action. Use a compelling headline and strong calls to action to guide visitors.
Add more pages and sections. In addition to About Us and Contact pages, a Services page is essential to detail what you offer. You can also include a FAQ section to address common queries.
Customize the layout. Use the drag-and-drop feature to position elements wherever you want. Make sure to check the site navigation to ensure a smooth user experience.
Add high-quality multimedia. Upload images, GIFs, or videos that are relevant and engaging to maintain your audience's attention. If you have a Portfolio page, high-quality images can showcase your work in the best light.
Incorporate SEO elements. Use keywords and meta descriptions to make your site search engine-friendly. This will help your site rank better on the search engine results page (SERP).
Connect social media. Link your social media accounts for increased engagement, trust, and website traffic.
Test user experience. Before going live, test the site's usability and make necessary adjustments. Optimize your website for mobile devices to reach a wider audience.
Publish. Once satisfied, hit the Publish button to make your site live.
By following these steps, you'll have a functional professional services website – and one that stands out among the crowd.
Conclusion
An excellent web design helps improve user experience and credibility. However, getting it right can seem tricky. Whether it's the website's color scheme, typography, or CTAs for landing pages, every element should serve its purpose effectively.
We've shared 13 examples of service provider website design built on Hostinger Website Builder. Here are our three top picks and why they stand out as inspiration:
C-GEM. It offers a user-friendly, industry-specific website design with clear navigation. This professional services website also has an extensive library of educational articles and case studies, helping raise awareness of agroecology.
Sparrow Flies. Its website design caters to a niche audience while offering a unique look compared to similar service provider websites. Moreover, the logo, FAQ section, and Wanna-dos page add to the website's individuality.
Diplomatic Lawn Care. This website is designed with a clean layout, making it easy for visitors to find relevant content. The company uses excellent call-to-action practices, which help improve conversions and user journeys.
We hope this article has shed light on how Hostinger Website Builder can help host your industry-specific services online. Make your site stand out by taking inspiration from the above business service websites.
If you have any questions or thoughts, let us know in the comments.