WooCommerce vs Shopify: Ease of Use, Customization, Scalability, Security, Price + More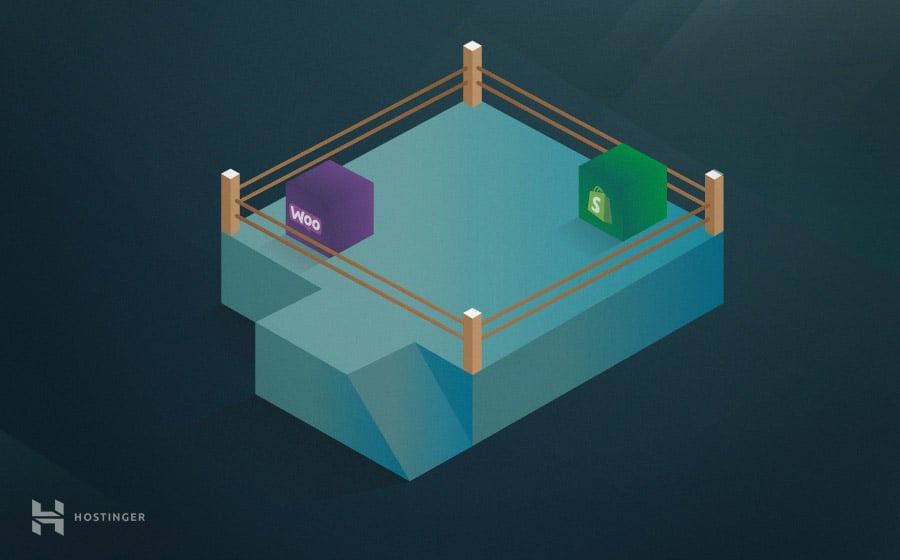 If you are looking for a way to make money online, starting an eCommerce store is worth giving a shot at. Especially with the increasing number of people who shop online, it's the best time to launch your own business.
Anyone can create an online store quickly and easily with the help of eCommerce platforms. When talking about the best services to start with, two names usually come first in people's minds – WooCommerce and Shopify.
WooCommerce is an open-source WordPress plugin that can turn a website into an online store, while Shopify is an all-in-all shopping cart platform that comes with built-in web hosting.
Both of these eCommerce platforms are powerful, making it challenging to decide which one to use. To help you make the right choice, we will show you a detailed comparison of WooCommerce vs. Shopify.
Download Website Launch Checklist
Elements of an Effective eCommerce Platform
Every eCommerce platform has its pros and cons. The best service to get you started depends on your specific needs, level of web experience, type of business, and budget. That's why it's crucial to research thoroughly before choosing an online store solution.
To find the best eCommerce platform for your online business, make sure that you check the following elements:
Ease of use – allows beginners to set up an online store quickly and easily.
Features – provides essential tools to build a fully functional eCommerce website.
Themes and customizability – includes a wide range of templates and flexibility to customize the site layout.
Plugins and extensions – comes with many add-ons to improve the site's functionality.
Marketing and SEO – contains features that can improve the online store's ranking on search engines and attract potential clients.
Payments and shipping – supports various payment gateways and shipping methods.
Scalability – lets an eCommerce site grow without affecting its performance.
Security – protects customers' data when running transactions in a store.
Customer support – provides help whenever users face any issue.
Pricing – offers the best value for money.
Depending on your store's needs, you might also want to look for other eCommerce features, such as reporting, abandoned cart recovery, product variations, and inventory management.
Now that you know what criteria to consider when choosing an eCommerce platform, it's time to see a detailed comparison of WooCommerce vs. Shopify.
Ease of Use
An eCommerce platform should be user-friendly, easy to navigate, and have a straightforward setup process. This helps users start an online store without technical knowledge or learning to code.
Let's take a look at how WooCommerce and Shopify compare when it comes to ease of use.
WooCommerce
WooCommerce is self-hosted, meaning it's essential to purchase a hosting plan and domain name to use this eCommerce plugin. Users also need to install WordPress to activate WooCommerce. Some hosts even provide specialized WooCommerce web hosting plans, where WordPress is already set up.
Installing WooCommerce is easy – simply go to the official WordPress plugins directory from your dashboard and type the plugin's name in the keyword box.
As soon as it's activated, WooCommerce will launch a setup wizard and guide users through all the necessary steps to get their store up and running.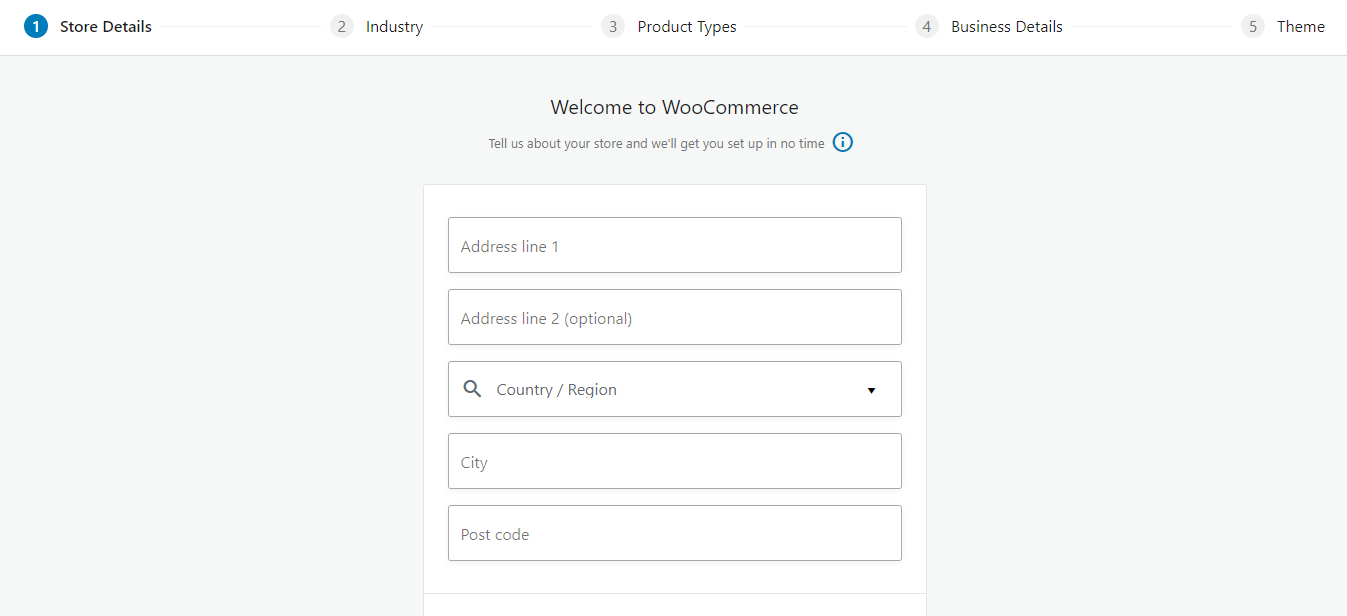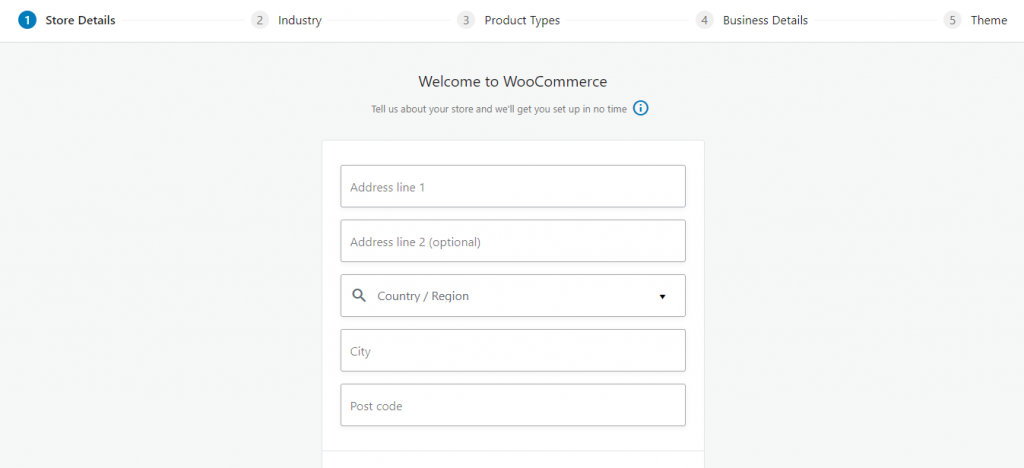 The setup wizard will ask several questions about the store, from where it's based to its industry. This process helps WooCommerce tailor the back-end system to fit your needs.
Adding products to a WooCommerce store is simple, especially for people who are familiar with WordPress. It can be done with a few clicks, allowing users to spend less time setting up their eCommerce site.
To import products in bulk or update hundreds of products with new information, users can utilize WooCommerce's product CSV importer and exporter.
Overall, WooCommerce gives users total control to modify their online store. However, it can have a steep learning curve, especially for those who are new to WordPress.
Shopify
Shopify is a fully hosted eCommerce store builder, so there is no need to find a hosting provider to use this service. Its setup process is also straightforward – it doesn't require that you install or manage any software.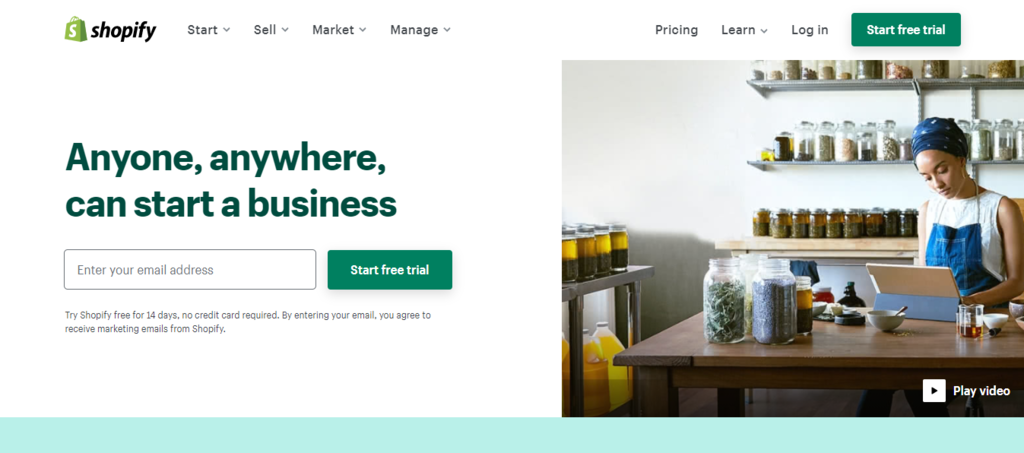 To use Shopify, you need to sign up and create an account using your credentials, including name, contact number, email address, and store name.
After creating an account, Shopify will direct you to the main dashboard. From there, it will walk you through the customization process and give several tips for setting up the store.
Shopify offers an intuitive drag-and-drop interface, making it easy to manage products, sales, and inventory.
Compared to WooCommerce, getting a store live is faster and simpler with Shopify. This eCommerce site builder is the best option for people who have no website building experience and are just starting to sell online.
The Verdict
Shopify comes out on top in this comparison between WooCommerce vs. Shopify's ease of use – setting up an eCommerce website is a straightforward process with this service.
Shopify is also beginner-friendly, making it easy for anyone without coding knowledge to get the most out of this platform.
In contrast, WooCommerce has a steeper learning curve and requires extra effort to manage an eCommerce site, especially for users unfamiliar with WordPress.
Features
Since your online business relies on your platform, it's vital to look for a service with all the shopping cart tools needed. Some of these features include inventory management, track orders, and product variations.
Let's see what Shopify and WooCommerce offer in terms of selling features.
WooCommerce
WooCommerce allows you to sell almost any type of product, from physical items to digital content. It's also possible to add as many products as you want and create endless product variations with this eCommerce solution.
Moreover, WooCommerce allows users to track their stock level, hide out-of-stock products from the storefront, and enable backorders. They can also organize products by categories, tags, and attributes, helping customers find what they want without hassle.
Using WooCommerce's upsell and cross-sell feature, sellers can attract customers to add more items to their cart or buy a more expensive product version.
Besides, WooCommerce makes it easy for store owners to run and manage their online store anywhere with its mobile app. Using this tool, users can also create products, process orders, and monitor stats in real-time.
This self-hosted platform also comes with a product-rating and review tool out-of-the-box, showing customer's feedback on the product's page. Displaying reviews can help to increase your store's credibility and measure customer satisfaction.
Another perk of using WooCommerce is that it allows you to include unlimited images and galleries to show off your products. Users can also set a featured image to highlight the best photo of an item.
All in all, WooCommerce has all the tools necessary to create an online store. If you need more features, feel free to use custom code or add extensions.
Shopify
Shopify offers powerful features from the start. One of them is the customer profiles, showing the customers' shopping habits, contact info, and order history at a glance. This tool helps business owners to understand their customers' needs and wishes better.
Shopify also includes customer groups to categorize and export customer lists based on purchase history and location.
To encourage visitors to repeat purchases, Shopify users can enable customer account creation at checkout. However, there is also an option to check out as a guest without creating an account.
Additionally, Shopify lets users display video and 3D assets on product pages, increasing conversion rates.
Shopify also integrates with apps like Inventory Source, Ordoro, and eCommHub, making it easy to set up a dropshipping business.
Another attraction of using Shopify is its built-in point of sale (POS) functionality – this tool lets merchants sell in physical locations using mobile devices.
Other than that, Shopify comes with additional built-in tools that aren't available in WooCommerce. One of them is the abandoned cart recovery. This tool can automatically send an email to customers inviting them to complete the purchase.
Shopify also supports multiple sales channels and social media integration, letting users list and sell products on eBay, Amazon, Instagram, and Facebook. It's an excellent opportunity for a business to reach a wider audience at no extra cost.
The Verdict
Shopify stands taller in this WooCommerce vs. Shopify round. It has more sales tools built-in, including the abandoned cart recovery and multiple sales channels.
Although WooCommerce includes plenty of tools from the start, it relies on plugins for most of its additional functions.
Themes and Customizability
A store's web design can influence customers' purchasing decisions, but many users don't have the skills needed to create an attractive website or the budget to hire a web designer.
Hence, it's essential to pick an eCommerce solution that provides a collection of appealing themes that can be modified to reflect the store's brand. The platform should also offer flexibility, letting users rearrange elements and product listings to their liking.
Let's see the comparison between Shopify vs. WooCommerce in terms of design and customizability.
WooCommerce
How good a WooCommerce store looks will solely depend on the user's web design skills and the WordPress theme they choose.
WooCommerce works with all WordPress themes on the market that follow the plugin's standard recommendations and best practices.
Still, it's better to look for themes that are made explicitly for WooCommerce. It helps to maximize speed and site performance as well as to eliminate theme or plugin conflicts.
One example is Storefront, an official WooCommerce theme that is responsive by default and free to use. It also comes with a selection of child themes that suit many types of businesses.
Since WooCommerce is open-source, many web designers and developers create WooCommerce themes for various industries and purposes.
Some marketplaces that offer hundreds of WooCommerce themes are ThemeForest, Elegant Themes, and TemplateMonster.
In terms of customization, WooCommerce gives users the freedom to edit any part of their site, from the homepage design to the buy button. To make the modification process more manageable, use WordPress page builders like Elementor and Beaver Builder.
Other than that, it's also possible to hire a developer to create a theme specifically for your eCommerce website.
Shopify
Shopify has over 70 store templates available. These templates are responsive by default, meaning the store will quickly adapt to visitors' devices to access the website.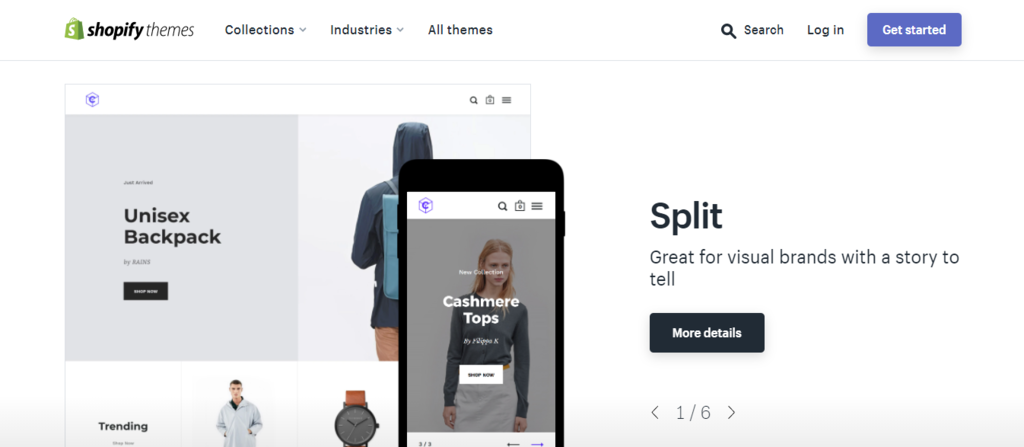 Thanks to Shopify's drag-and-drop editor and intuitive theme settings, beginners can tweak any element of their storefront and build an attractive eCommerce website in a matter of minutes.
However, this tool can limit your control – it's only possible to modify the store to the extent Shopify allows.
Only nine Shopify themes are free, while the premium ones go as high as $180. With such a low number of theme options, your store can look similar to other merchants' sites.
The Verdict
WooCommerce has the edge over Shopify in terms of web design and customization. The open-source plugin offers limitless customization, allowing anyone to use its code to tweak their site freely.
Even though Shopify has a pre-built drag-and-drop editor that makes the customization process faster, it also limits users' control to modify the website.
Plugins and Extensions
Installing third-party extensions or plugins can add extra functionality to certain areas of a business website. For instance, a merchant might need a customer support app to receive and manage support tickets.
Both WooCommerce and Shopify have a large extension directory and support many third-party services, but let's consider which platform offers a better choice of add-ons.
WooCommerce
WooCommerce is great because it integrates with both WordPress plugins and the extensions available on WooCommerce's app store.
WordPress offers more than 55,000 free plugins, allowing users to build a site without limitations. Also, there are many other third-party WordPress plugins available on websites like CodeCanyon and CodeGrape.
WordPress plugins are not explicitly designed for WooCommerce, but most of these add-ons interact nicely with WooCommerce.
WooCommerce's official app store has over 500 extensions for almost any function, including tools for store management, subscriptions, payments, and marketing. Just like the other WordPress plugins, the process of installing a WooCommerce extension is quite simple.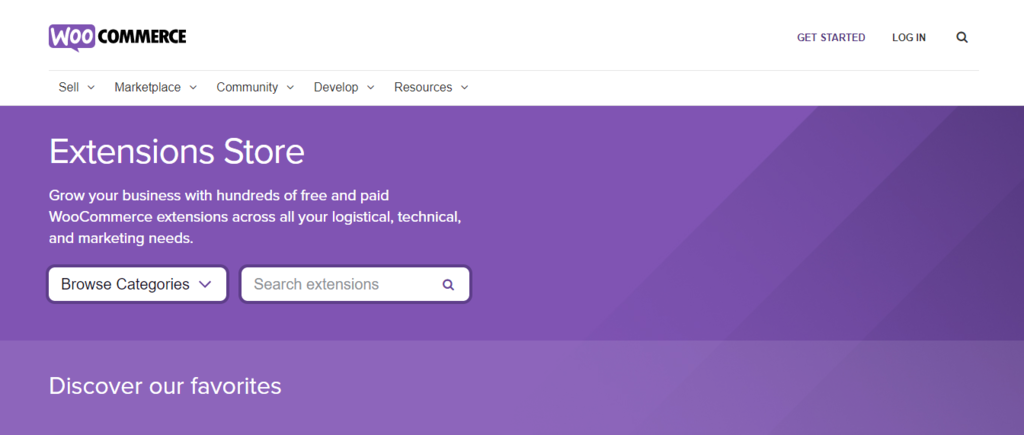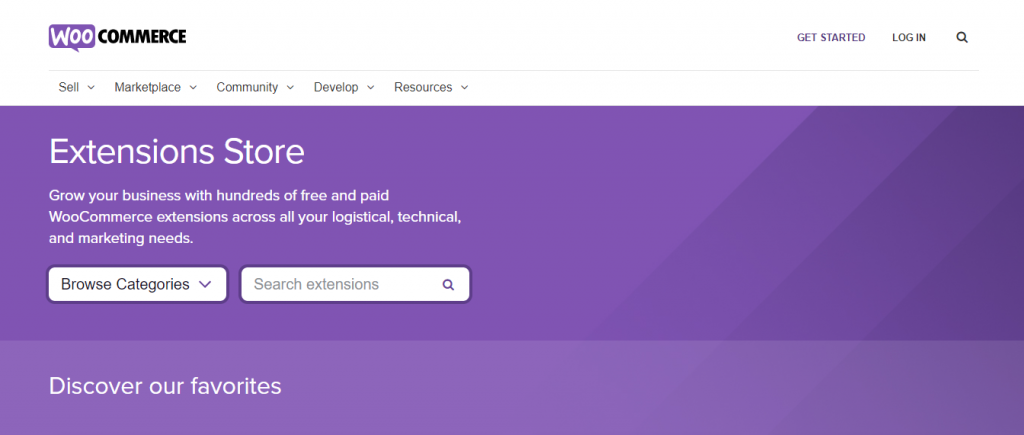 Some of the WooCommerce extensions are expensive, which can cost up to $299. However, these add-ons only require one-time payments.
Shopify
Besides offering many core functions, Shopify also has an app store with thousands of free and paid third-party add-ons. It also provides several extensions developed by Shopify itself.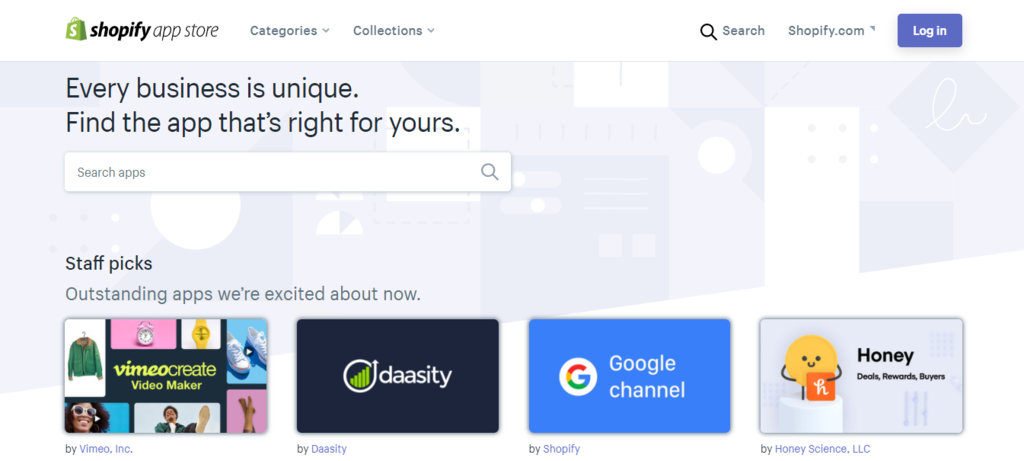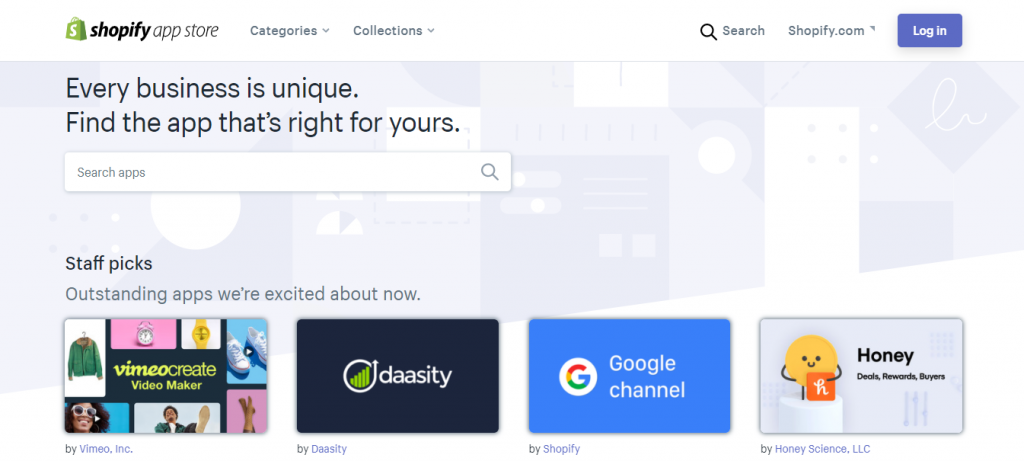 Shopify's app store provides many different features, including data capture, accounting, advanced reporting, multi-currency selling, and countdown apps.
However, most apps on the Shopify store come with monthly subscriptions, which can make the total costs of using this website builder even higher.
The Verdict
The winner of this WooCommerce vs. Shopify add-ons comparison is WooCommerce, as there are many more plugins available for WooCommerce than Shopify. Also, most of WooCommerce's premium add-ons charge a one-time fee, unlike Shopify's monthly subscriptions.
Marketing and SEO
An eCommerce platform should feature the proper marketing and analytics tools to help sellers grow their business and measure their success. It also needs to offer search engine optimization (SEO) benefits, allowing the site to rank higher on search engines.
Let's see which platform has more to offer in terms of marketing and SEO in this WooCommerce vs. Shopify comparison.
WooCommerce
With built-in analytics, WooCommerce gives business owners access to robust data tracking to help them develop effective marketing strategies.
Moreover, users can give discounts or create special offers for their clients with WooCommerce's coupons feature. It is possible to enable the coupons for the whole shopping cart or specific products on the website.
If you want to start an email marketing campaign, simply connect your store to Mailchimp. WooCommerce provides an email service plugin that you can activate during the setup process.
This tool sends a personalized message to a customer's email address based on their previous purchases and other data, helping you engage and build relationships with them.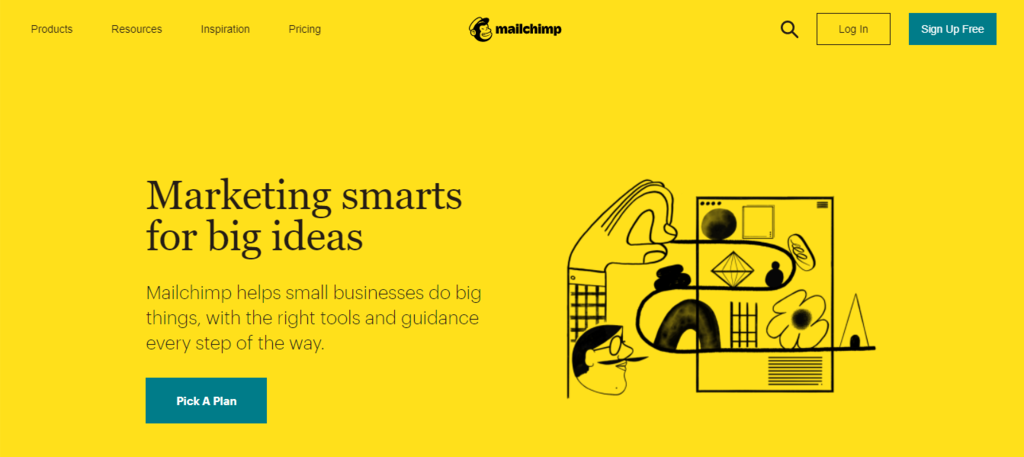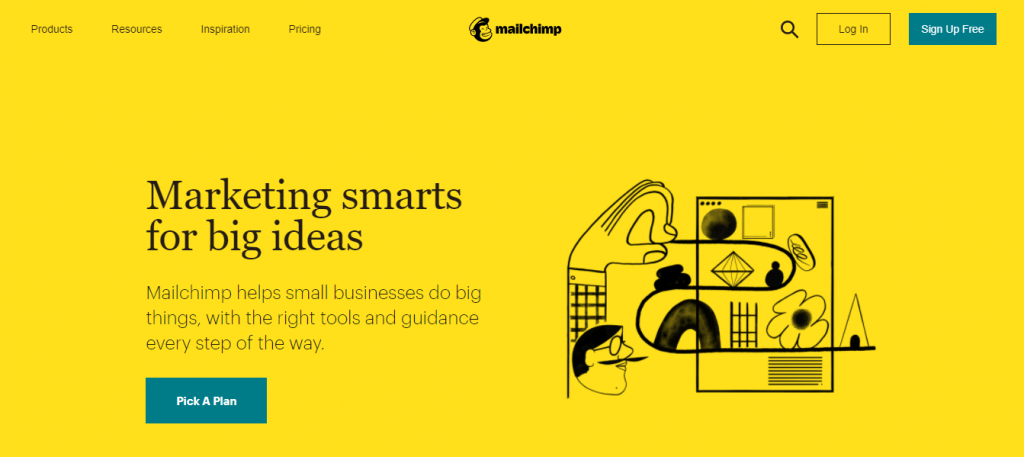 For example, WooCommerce can automatically send emails to people who didn't complete their purchases on your eCommerce store, and you can customize these messages to fit your business.
One of the greatest advantages of WooCommerce is that it's integrated with WordPress, a reliable and SEO-friendly content management system (CMS). For sellers who want to improve their SEO with content marketing they should look no further than WordPress.
This CMS makes it easy to add and edit the content's meta tags and customize URLs. These features help the site rank high for specific terms or keywords, so people can easily find the store on a search engine.
Besides, many other SEO methods and plugins can increase a WooCommerce site's ranking on search engine result pages (SERPs).
Shopify
Shopify provides all data needed to craft successful and targeted marketing campaigns.
For instance, Shopify has traffic or referral reports showing where visitors came from and how they found the online store. It also uses customers' cookies to gather information on how often they visit the eCommerce website.
Besides, Shopify has an email feature that can send branded newsletters to customers. It's an excellent tool for sellers who want to share important news and updates, keeping their audience updated on their brand and products.
With Shopify, users can also create gift cards for their eCommerce website. This feature is temporarily available for all Shopify plans for the duration of the current pandemic.
Shopify includes all the necessary features to boost a site's ranking on SERPs when it comes to SEO. For example, it will automatically generate XML sitemaps with your products and blog posts, allowing Google to quickly find your essential web pages.
Other than that, Shopify offers a built-in blogging platform, letting users publish and categorize articles, moderate comments, and create lookbooks on their Shopify website. This is an advantage for freelancers and bloggers that rely mainly on their blog to make money.
This helps Shopify users engage with their customers and create content to direct potential clients to their online store through different search queries.
The Verdict
WooCommerce has the upper hand in the Shopify vs. WooCommerce marketing and SEO round. Besides offering many tools to promote an eCommerce website, it's also built on WordPress, a reliable SEO-friendly blogging platform.
Although Shopify has a wide range of marketing features, it doesn't include as many SEO benefits as WooCommerce.
Payments and Shipping
To increase sales, sellers need to provide payment methods that are suitable for their customers. That's why choosing an eCommerce platform with multiple payment options, and one that supports several payment gateways is vital.
Let's find out how Shopify and WooCommerce compare when it comes to payment integrations.
WooCommerce
WooCommerce doesn't offer a specific payment gateway, but this eCommerce plugin comes with PayPal and Stripe payments by default. It also supports payment options such as credit card payments, checks, bank transfers, and cash on delivery.
Remember that WooCommerce doesn't charge any transaction fee, but the third-party payment gateways you choose will. Make sure to check the transaction fees of each provider before selecting a payment method.
WooCommerce supports geolocation to detect the visitors' addresses and make tax and shipping calculations simpler.
Besides, WooCommerce also provides several features to help users save time and money in shipping, such as shipping labels. It allows users to print out address labels directly from their WooCommerce dashboard with ease.
Sellers can also offer several shipping options, giving their customers the option of pickup, local delivery, or shipping. It's also possible to restrict options based on the customer's location.
Other than that, WooCommerce allows users to define specific rates for different products. For instance, they can add additional charges for heavy products or offer free shipping for particular locations.
Shopify
Similar to WooCommerce, Shopify supports all popular payment gateways, including Amazon Pay and 2Checkout. It also provides multiple payment methods, from credit cards to manual payments.
However, Shopify charges extra transaction fees on all purchases made through third-party payment gateways, and the costs vary depending on the plan you choose.
The only way to avoid Shopify's fees is by using the platform's payment solution, Shopify Payments and powered by Stripe.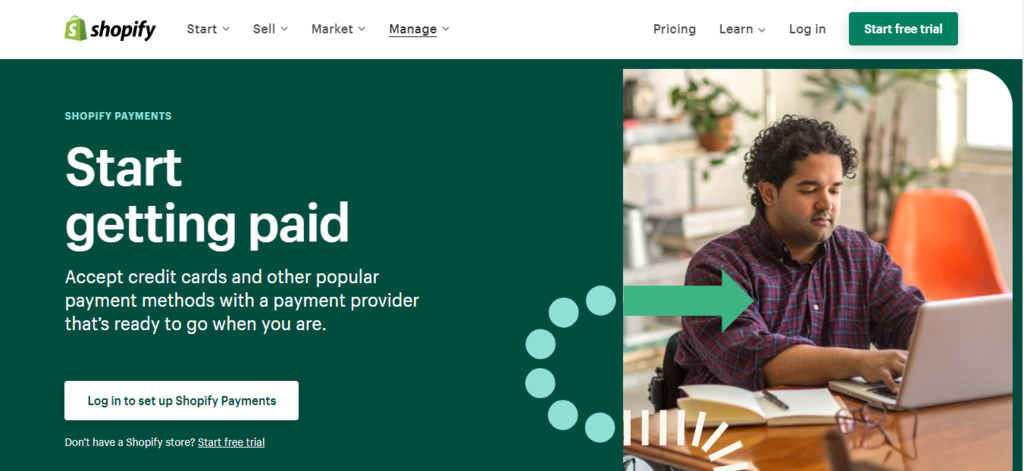 Shopify Payments' credit card fees depend on your pricing plan, starting from 2.9% + $0.30 per transaction. Nevertheless, it's only accessible to merchants based in certain regions.
If you are a US-based merchant with an account with major shipping carriers such as USPS, UPS, and FedEx, Shopify allows you to connect it to your online store. It will generate automatic shipping rates based on your agreement with the carrier.
Shopify also lets you set free, real-time, price-based, and weight-based rates. However, merchants from other locations who want to add an automatic shipping rates calculator to their store need to get one of Shopify's shipping apps.
The Verdict
In this WooCommerce vs. Shopify payment and shipping comparison, WooCommerce comes out on top. It doesn't charge transaction fees for using a payment gateway, allowing you to save a lot of money.
Meanwhile, the only way for Shopify users to avoid paying a surplus is to use Shopify Payments, but it is not available in all regions.
Scalability
Scalability is a site's ability to keep up with an increase in content, traffic, and pages. If the website isn't scalable, it will load slowly or even go down entirely.
For people focused on growth, it's vital to pick an eCommerce platform with a flexible hosting infrastructure that can handle traffic surges without crashing their website.
Especially if you organize a big sale or launch a new product, you want to make sure that all visitors can access the page and complete their purchases without problems.
Now, it's time to see whether Shopify and WooCommerce are scalable.
WooCommerce
To ensure their website can scale up, WooCommerce users need to choose a hosting provider with growth capabilities. This includes increasing their storage space, bandwidth, and other resources necessary to maintain the shop's performance.
Therefore, it's essential to research the providers available and choose the best web hosting plan for your needs. Still, when your WooCommerce store grows and demands more resources, you can easily upgrade to a more accommodating plan.
Besides, WordPress is one of the most scalable platforms available – it gives users freedom over the customization of their site. They can freely add or remove any tool that may improve or damage the site's performance.
Shopify
Once a Shopify store starts growing, sellers can upgrade their Shopify plans without worrying about web hosting. It helps them focus more on their business rather than fixing day-to-day website problems.
However, since Shopify is a closed platform, the scalability options are limited to the options it offers. On the other hand, WooCommerce users are free to choose from a wide range of hosting services, making it easier to find a hosting solution that fits their websites' needs.
The Verdict
WooCommerce stands taller than Shopify in this Shopify vs. WooCommerce scalability comparison.
WooCommerce users have more freedom to scale their stores without being limited by fixed pricing plans. On Shopify, your growth capabilities go as far as what the platform provides.
Security
Security should be a priority for any site, especially for online stores that accept payments online and keep the customers' personal information. A site with security issues will be vulnerable to cyberattacks and malware.
That's why it's vital to pick an eCommerce solution with security tools like data backup, secure socket layer (SSL) protection and that complies with the Payment Card Industry Data Security Standard (PCI-DSS).
Now let's see the Shopify vs. WooCommerce comparison in terms of security.
WooCommerce
WooCommerce software code is written with security in mind. It's also audited regularly by Sucuri and hundreds of WordPress core contributors.
However, since WooCommerce is a self-hosted platform, it's the user's responsibility to secure their site.
The first step to ensuring the website is secure is by choosing a hosting provider that offers protection, especially for its physical servers.
It's also essential to get an SSL certificate, protecting the site from data breaches, phishing scams, and other cyber threats.
Many eCommerce platforms like Shopify offer an SSL certificate for free, but WooCommerce users need to purchase it themselves. If you use any of Hostinger's shared website hosting plans, you'll get this certificate at no extra cost.
You should also follow other practices to secure your store, such as keeping the site updated and creating regular backups.
Also, make sure that your eCommerce site complies with the PCI-DSS – following this standard can protect cardholder data from hackers and thieves.
Shopify
Because Shopify is a hosted platform, this service will take care of most security measures to ensure your website is safe from hackers.
Unlike WooCommerce, Shopify automatically updates its features, allowing users to get and use the latest tools hassle-free. It also includes a free SSL certificate from the start.
Shopify is PCI-DSS compliant by default, which means a merchant can start processing credit and debit card payments from day one.
However, Shopify has no automated backup functionality that will let you quickly restore data and files. That's why it's necessary to regularly back up your website information by exporting them from your Shopify admin as CSV files.
You are also responsible for password security, user permissions, and third-party apps.
To help secure your Shopify store effortlessly, try using third-party security apps like Rewind and Locksmith.
The Verdict
Shopify comes out on top as the winner in this Shopify vs. WooCommerce round. It includes an SSL certificate and is PCI-DSS compliant by default.
Even though users still need to back up their data regularly, they won't have to care for the software and other tools updates.
In contrast, WooCommerce doesn't provide pre-built security, so users will be responsible for securing their eCommerce website.
Customer Support
Another important feature that an eCommerce service should offer is customer support. When sellers face a problem like slow-loading pages or even a website crash, a support team can assist them with the issue.
For users who are new to web development, it's wise to pick a platform with a support team that is available anytime. Those who prefer to use self-help resources should look for a service with a large support community.
Let's compare Shopify vs. WooCommerce based on their customer support to see which one offers the kind of service you need.
WooCommerce
WooCommerce is an open-source plugin with no direct support, but there are many ways to find help when using this eCommerce solution.
For instance, it offers extensive documentation with hundreds of how-to materials and video tutorials for WooCommerce and its extensions. It also provides a public support forum to assist its users.
Moreover, many blogs on the internet cover WooCommerce topics. It's also easy to find other community forums where store owners and developers share solutions to technical issues.
Another place to get help is with your hosting provider's support team. However, keep in mind that they are mainly responsible for your web server and hosting plan issues.
If you purchase any WooCommerce theme or extension, it's also possible to reach the developers for help or ask questions about their products on their support forums.
Finally, reach out to WooExperts to get a dedicated support team ready to offer in-depth consultations or create a custom design to fit your business. However, you have to pay the expert a fee according to the project's scope.

Shopify
Shopify is known for its excellent customer service. The support team is available 24/7 and reachable via live chat, phone, and email.
It also has a help center with extensive documentation, how-to guides, and video tutorials for users who want to fix issues independently.
Besides that, Shopify provides community discussion forums for various topics, including marketing and accounting.
If you want to learn more about selling online or other topics to help grow your business, go to Shopify Compass – it offers plenty of free eBooks, video series, and webinars.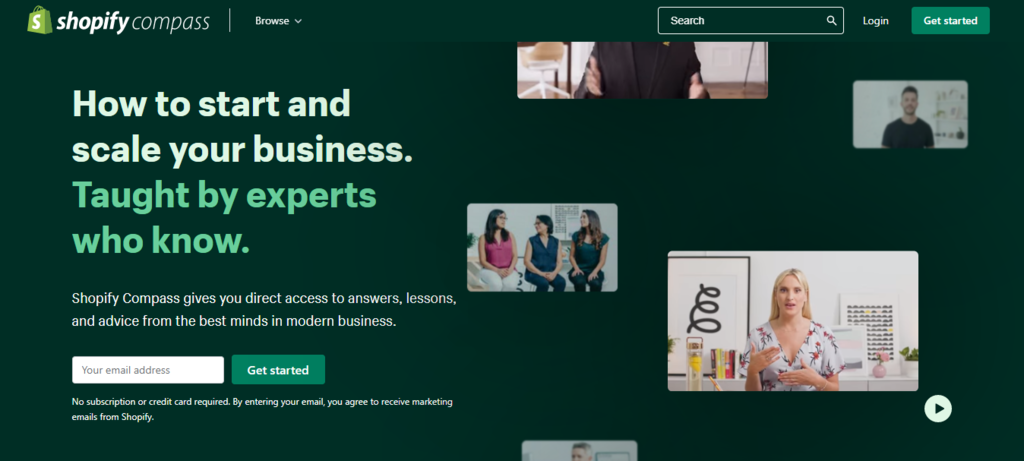 Like WooCommerce, Shopify also offers Shopify Experts for business owners who want to work with Shopify's approved eCommerce designers, developers, or marketers.
The only downside is that Shopify doesn't provide support for any third-party themes or apps.
The Verdict
Both WooCommerce and Shopify offer great support. WooCommerce has a massive community of users, making it easy to find solutions on the web for any site problem.
Meanwhile, Shopify has a 24/7 customer service team ready to help users whenever they face technical issues.
Pricing
Cost is one of the most important factors when looking for an eCommerce platform. Users need to evaluate the upfront costs and other long-term fees when managing their business.
Otherwise, they might end up with a platform that doesn't fit their budget. Let's see how much money you might spend when using WooCommerce and Shopify.
WooCommerce
What makes WooCommerce appealing is that this eCommerce solution is free to use. Still, there are some additional costs you need to consider, such as web hosting, a domain name, and an SSL certificate.
Getting started with Hostinger can cost as low as $1.99/month. The domain registration starts from $0.99/year, depending on the extension you choose.
Consider opting for Hostinger's Business Shared Hosting ($3.99/month), which includes an SSL certificate and domain name out-of-the-box.
Remember that your hosting costs may increase as you start growing your store and getting more visitors, but the domain name fees stay the same.
The cost of starting a WooCommerce store can also add up if you purchase paid extensions. However, many of these add-ons are one-time purchases. Plus, there are usually plenty of free alternatives.
Besides, there are tons of WordPress and WooCommerce free themes, meaning there is no need to purchase a paid template to build an attractive WooCommerce store.
Shopify
Shopify offers three regular pricing plans, which are Basic Shopify ($29/month), Shopify ($79/month), and Advanced Shopify ($299/month).
It also has Shopify Plus, a plan that caters to larger-scale merchants – the price starts at $2,000/month.
Shopify's plans include web hosting, an SSL certificate, and a myshopify.com domain name by default. What's more, these options have unlimited bandwidth, meaning users won't be charged based on their site traffic.
However, some of the Shopify features are limited by the pricing plan you choose. For instance, its lowest-tier plan lets you create two staff accounts, meaning you'll need to upgrade to a higher-tier option only to set more staff permissions.
Like using WooCommerce, the cost of using Shopify will start adding up as your store grows and needs more apps. Besides, most add-ons of this platform come with monthly subscriptions.
It's also important to keep Shopify's transaction fees in mind. It will charge 2% per transaction if you use a third-party payment gateway instead of Shopify Payments.
The Verdict
WooCommerce stands taller in this WooCommerce vs. Shopify pricing comparison.
Starting a basic WooCommerce store costs lower than Shopify, and there are tons of free plugins and themes available for WooCommerce users. Plus, this eCommerce solution doesn't charge transaction fees.
Although Shopify has straightforward pricing plans, the monthly cost of using this service can be expensive when you start adding some paid add-ons.
It's also essential to use Shopify Payments to remove the additional transaction fees. Other than that, Shopify plans don't include a free custom domain.
Who Is WooCommerce Best Suited For?
WooCommerce is an excellent choice for people who look for a cost-effective solution and want to have complete control of their online store.
Here are the main benefits of using WooCommerce:
Cost-effective – this open-source platform can be used and installed at no cost.
Flexible and scalable – WooCommerce gives you more freedom to customize the store to your liking.
Community support – WordPress and WooCommerce have many users worldwide, so it's easy to find tutorials from various sources on the internet.
Customizability and functionality – there are tons of free and paid themes and extensions available.
SEO-friendly – this eCommerce platform is integrated with WordPress, which can help boost your SEO strategy.
These are a few factors to consider before using WooCommerce:
Learning curve – beginners unfamiliar with WordPress will take more time to learn how to use WooCommerce.
You are in charge of your store – besides managing their business, sellers will also be responsible for maintaining other aspects such as hosting, security, and backups.
Who Is Shopify Best Suited For?
For users who look for a hassle-free way to build an eCommerce website, then Shopify might be the best platform to start with. Unlike setting up a store with WordPress, the process is much faster and easier with Shopify.
Here are some reasons why you should use Shopify:
Beginner-friendly – it takes as little as a few minutes to build a great eCommerce store with Shopify for users with no coding knowledge.
Hosted platform – Shopify includes web hosting, security, and backups from the start, allowing users to only focus on the business.
Transparent pricing – users will know how much they need to pay every month.
24/7 support – sellers are free to contact the customer support team whenever they face technical issues.
However, make sure to consider this before choosing Shopify:
Limited control – Shopify doesn't offer the same level of customization as WooCommerce.
Lack of free templates – it comes with only a few free options.
Transaction fees – unless Shopify Payments is available in your region, Shopify will charge extra fees for all purchases on your store.
Conclusion
Both Shopify and WooCommerce are excellent eCommerce platforms, but each service has its pros and cons. Choosing one of them will depend on your preferences.
Let's recap each aspect we have compared:
Ease of use – Shopify is suitable for beginners who want to start an eCommerce business without much effort.
Features – Shopify provides tons of features from the start.
Themes and customizability – WooCommerce has plenty of themes and flexibility to create an excellent eCommerce site.
Plugins and extensions – WooCommerce offers a wide array of extensions, and most of the paid options only require a one-time payment.
Marketing and SEO – if you look for an eCommerce solution with plenty of marketing and SEO features out-of-the-box, WooCommerce should be your choice.
Payments and shipping – unlike Shopify, WooCommerce won't charge any transaction fee for using third-party payment gateways.
Scalability – the options to scale a Shopify store are limited to what this service offers. Meanwhile, WooCommerce users are free to choose a hosting plan that provides enough resources for their site.
Security – Shopify equips its users with a free SSL certificate and PCI-DSS compliance by default, and it takes care of software and other features updates. On WooCommerce, users are responsible for their site's security.
Customer support – Shopify has 24/7 customer support, while WooCommerce comes with a lot of self-help resources.
Pricing – with many cost-effective hosting plans available, WooCommerce can cost less than Shopify.
All in all, WooCommerce is the best option for users who want more freedom to customize their site's design and pick a hosting service. If you are looking for a simpler way of building an eCommerce store, Shopify can be a better choice.
After going through the WooCommerce vs. Shopify comparison, we hope you can decide which platform is the right one for you.
Was this tutorial helpful?