You definitely want to build, are building or toying with the idea of creating an online shop. If this sounds like you, this WooCommerce vs Shopify comparison is a detailed and unbiased review of both ecommerce platforms will help you to decide which ecommerce platform to choose.
Unlike many other WooCommerce or Shopify comparison posts that leave you with more questions than answers, we take a deep dive into each ecommerce platform in terms of installation, features and pricing among other things.
In other words, you and I will test drive each platform, so that you can choose the best ecommerce solution for your unique needs.
Real quick though, comparing WooCommerce and Shopify is akin to comparing a 4WD SUV with manual transmission to a 2WD minivan with automatic transmission – each has its perks, but we all know which delivers more torque to beat any sort of terrain.
Without further ado, let's get this over and done with.
WooCommerce vs Shopify: Installation
First things first, how easy to install is either platform? Our reasoning here is you won't enjoy your experience on WooCommerce or Shopify if installing either presents a challenge. Let's begin with WooCommerce.
WooCommerce Installation
WooCommerce is a popular ecommerce plugin for the equally popular WordPress content management system (application framework).
Aside: If you have never heard a thing about WordPress, you must surely live under a rock. All the same, WordPress is simply a platform for creating all manner of websites including online shops.

Once you create a website on WordPress, you can convert it (or a part of it) into an online store using an ecommerce plugin such as WooCommerce.
Now that we are on the same page, how do you install WooCommerce? For starters, you will need a working WordPress installation.
For absolute beginners, setting up WordPress is a walk in the park. You simply need a:
If you would love to learn more about installing WordPress, we recommend you read How to Install WordPress or How to Install WordPress on any machine with Docker if you'd like to test WordPress on your PC first.
On the other hand, if you have a working WordPress site, you just need to install the WooCommerce plugin like any other plugin. Here, the steps to follow:
Login to your WordPress admin dashboard and navigate to Plugins -> Add New:
On the next screen, search "WooCommerce" and install the first result as shown below:
Activate WooCommerce, which installs WooCommerce on your site adding two menu items i.e. WooCommerce and Products to your WordPress admin menu.
Quick Setup Wizard
Next, click the purple Run the Setup Wizard button that appears at the top of your WordPress admin screen: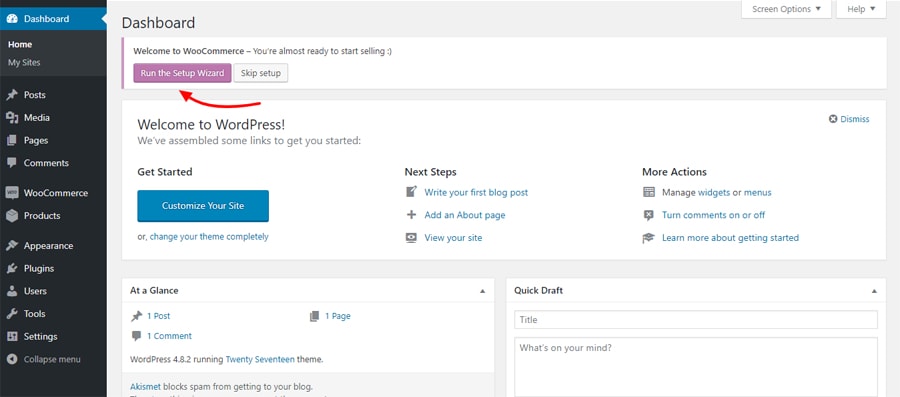 This setup wizard takes you through all the settings you need to have your online shop up and running: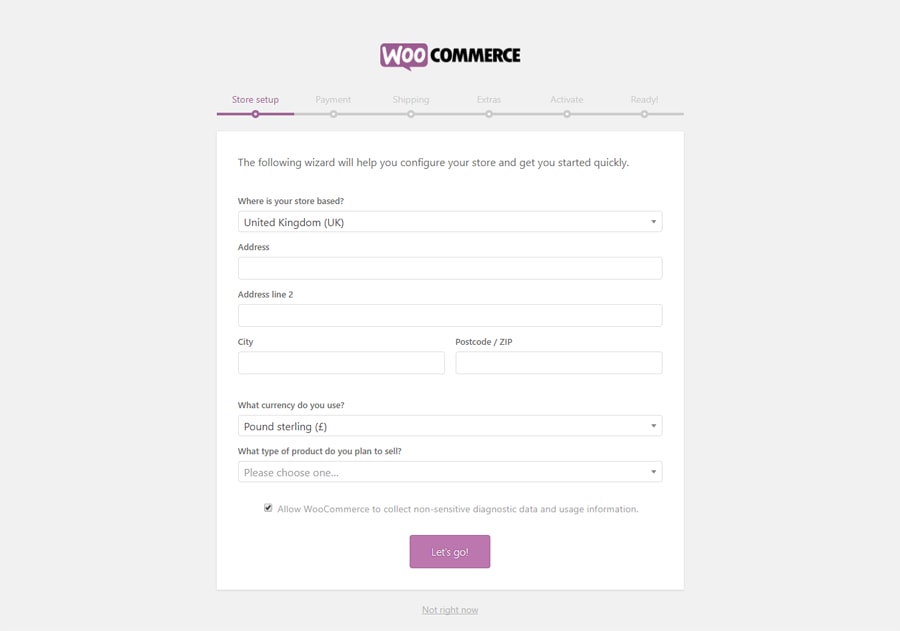 Enter your store's address, currency and type of product you plan to sell on the first screen (see image above).
Screen number two offers you a couple of payment options including (but not limited to) Stripe, PayPal and offline payments. Choose the payment methods that work for you and click Continue keeping in mind you can add other payment gateways later: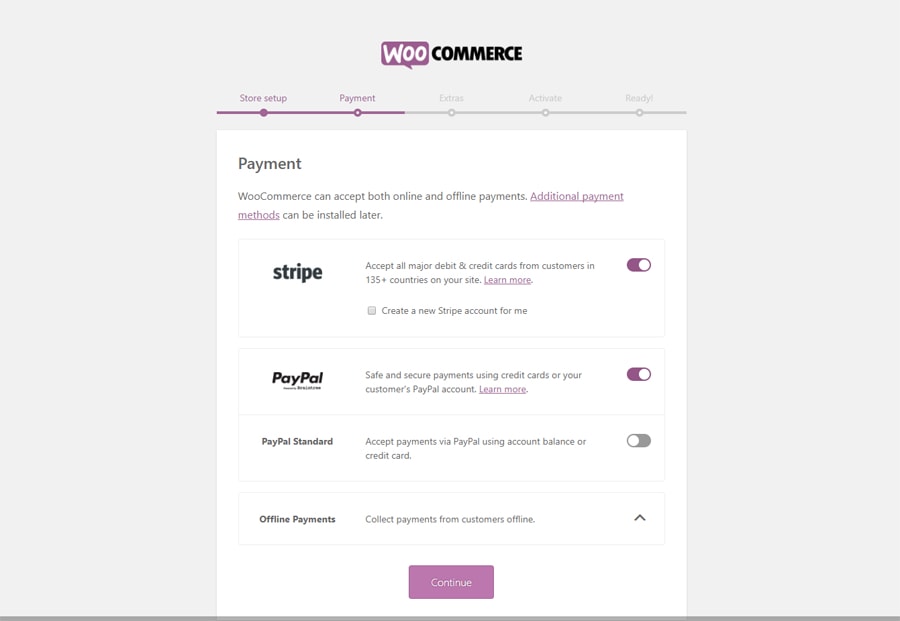 On the Extras screen, you can choose to activate automatic tax calculations: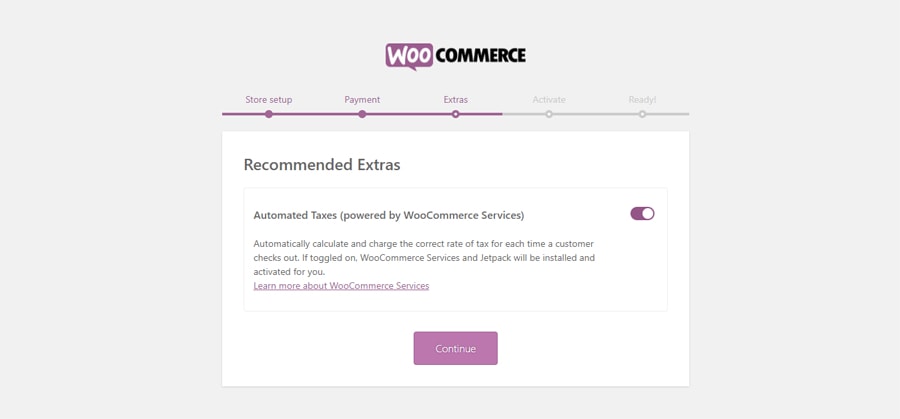 Activating the feature above will also install and activate WooCommerce Services and Jetpack automatically.
Note that this screen might offer you a different extra e.g. the free StoreFront WooCommerce theme depending on the options you chose at the beginning of the setup wizard.
Next, connect your store to Jetpack for better security, backups, store stats, site monitoring and product promotion among other things: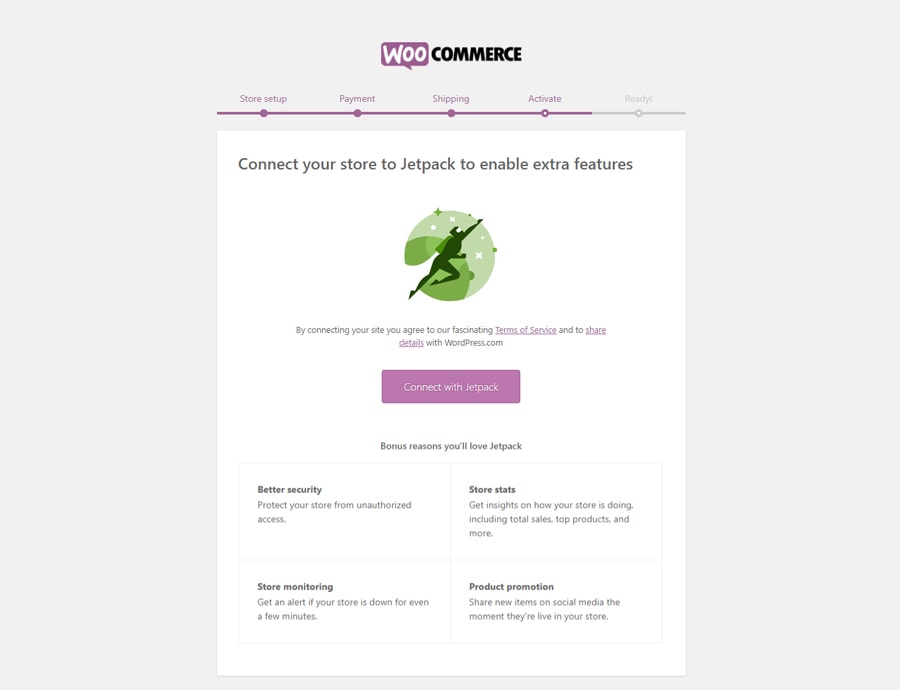 Note that connecting your store to Jetpack requires a WordPress.com account. However, the process is free and as simple as A, B, C we don't expect you to run into any problems.
After connecting Jetpack to your online store, you'll be redirected to the last page of the WooCommerce Setup Wizard: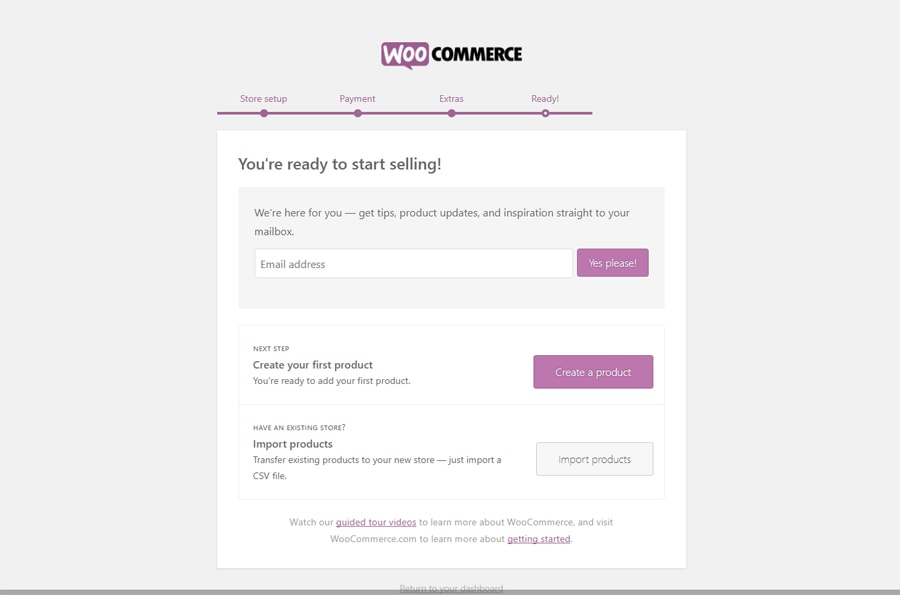 Adding A New Product in WooCommerce
Assuming you're starting from scratch, clicking on the Create a Product button in the image above takes you straight to the Add New Product page within your WordPress admin area: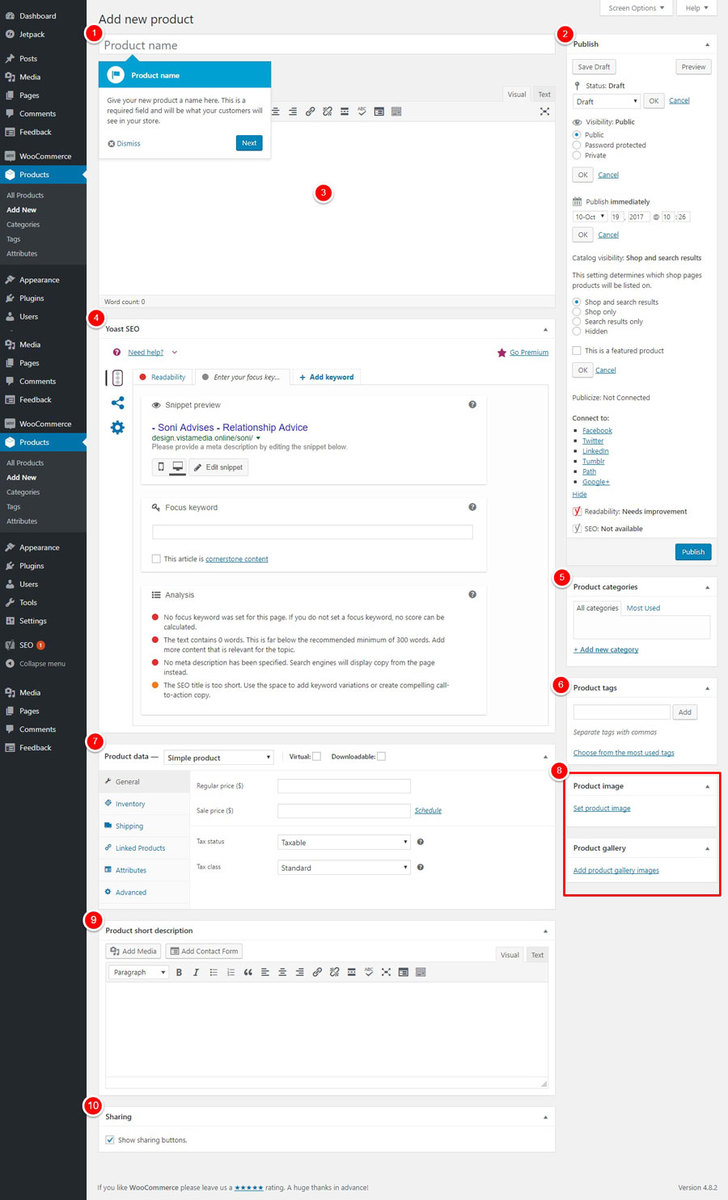 As is very much evident, WooCommerce offers you a tutorial (in form of beautiful tooltips) to guide you through the process of creating your first product. We also have an in-depth WooCommerce tutorial if you need a more detailed guide on how to setup WooCommerce on WordPress.
See image above for the corresponding numbered sections. You can add so much detail to your products including:
Product name
Save product as a draft, preview the product, automatically share your new product to social media, change product visibility, schedule product, change catalog
Write long product description (This could be good for SEO too)
Optimize your product's SEO via the Yoast SEO plugin
Categories
Tags
Your product data i.e. price, product type, taxes, inventory, shipping, linked products, attributes etc
Images
Short product description that's displayed alongside your main product image
Other details depending on your plugins and other site settings
And here's a dummy product we created in less than 3 minutes: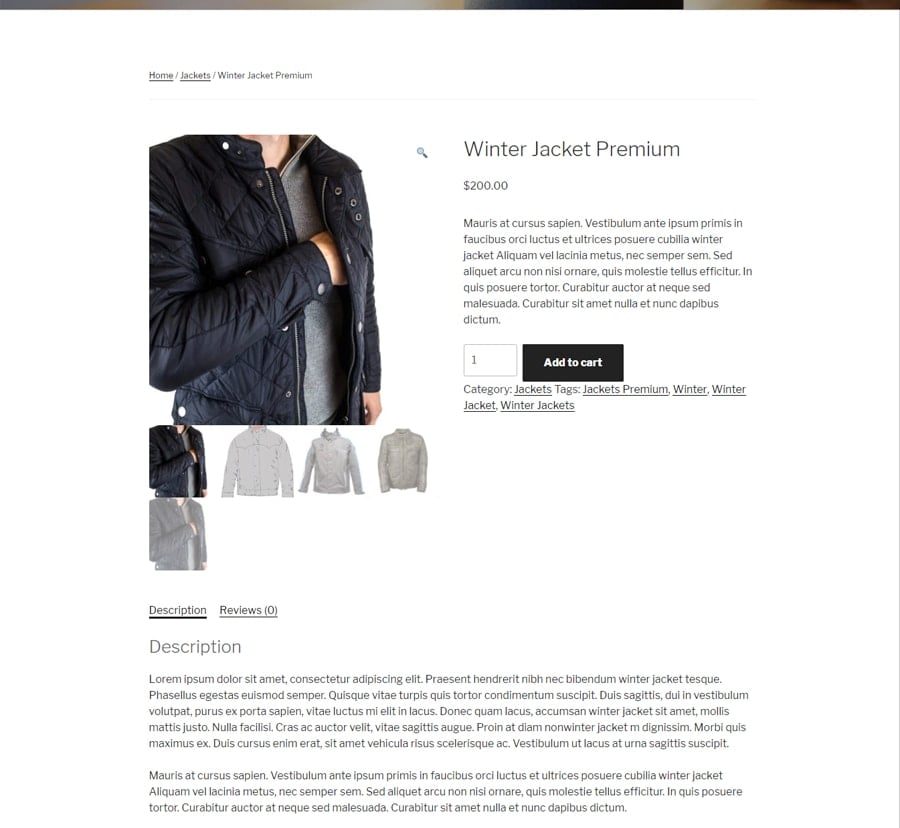 In our example above, we are using the default Twenty Seventeen WordPress theme without sidebar widgets or any other modifications. WooCommerce creates the rest for you including adding breadcrumbs, a SEO friendly URL and the Add To Cart button.
Additionally, WooCommerce creates the requisite pages for your store i.e. Shop, Checkout, Cart and My Account pages.
At this point, you can start selling right away using WooCommerce. Just post up your products, customize your WordPress theme if need be and send some traffic to your new online store.
Now, let us see how Shopify stacks up in the installation/creating first product department.
Shopify Installation
Unlike WooCommerce that you perch on WordPress, Shopify is more a standalone ecommerce platform. You don't "install" Shopify on your website. Rather, you sign up to the ecommerce service same way you sign up to services such as email or Facebook.
They start you off with a subdomain i.e. yourstore.myshopify.com, where you store lives. You'll still need to purchase your own custom domain (i.e. yourstore.com) from Shopify or a third-party domain registrar.
Moreover, the monthly fee you pay Shopify for the ecommerce service covers hosting as well, which means you needn't get a 3rd-party host.
With that in mind, let's sign up to Shopify and create a dummy product to give you a better idea of the setup process from store creation to posting your first product.
Head over to Shopify.com and hit the Get Started button:
Enter your email address, password and store name on the next screen to start a free 14-day trial:
Describe your business on the next page the best way you know how:
On the next screen, add your business address:
You can choose a starter design for your online shop or leave this step for later.
You will be redirected to your Shopify admin area, which looks like this:
Not bad at all. User interface looks awesome and all the necessary features you'd need to get started are there out in the open.
Additionally, Shopify offers you a Start Exporing button at the top that takes you through the process of adding a new product.
Adding A New Product in Shopify
Click Products on the Shopify admin menu and then the Add Product button: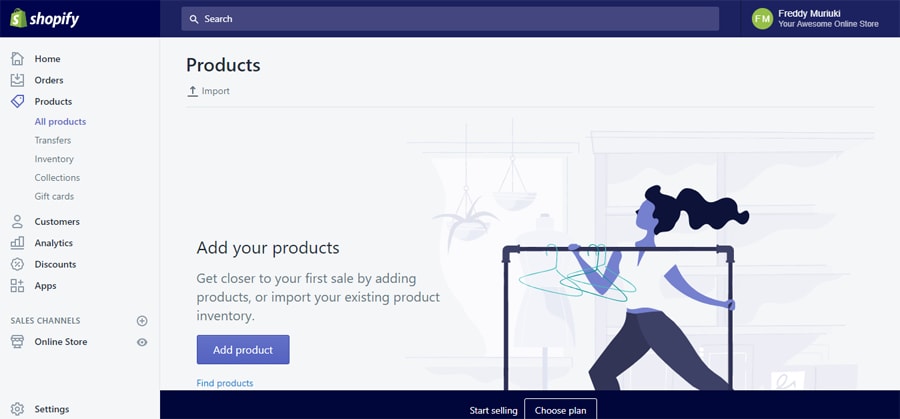 You can add new products or import existing products. On the next screen, you encounter an intuitive product editor. Just like WooCommerce, this Add New Product page ships with a couple of features to jazz up your products: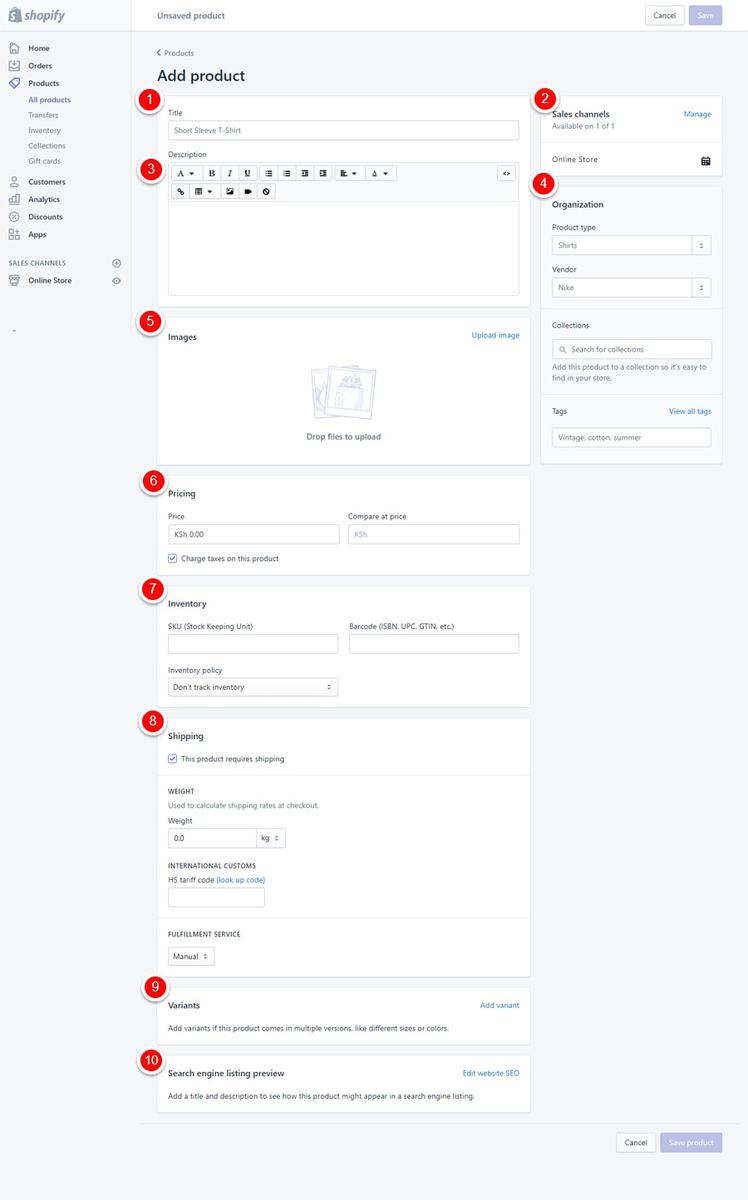 You can:
Add Product title
Change sales channel
Write product description
Organize your product using type, vendor, tags and collections
Attach images and rearrange them using drag-and-drop
Set pricing
Track inventory
Add shipping details
Specify product variants such as colors, sizes
Setup SEO
After adding your product details and hitting the Save product button, the product editor leads you to a preview screen where you can confirm if everything is in order: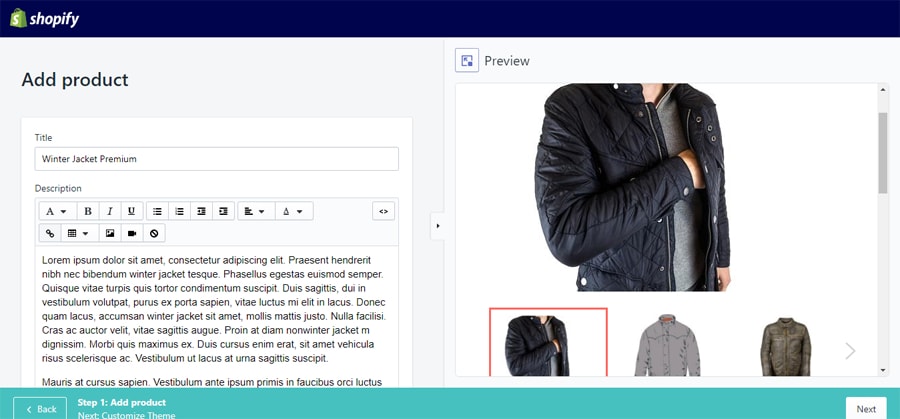 Hit the Next button at the bottom right. This takes you to the Theme Editor that we will skip for the time being.
We went ahead and created a dummy product that we posted to our trial Shopify store that's using one of their free themes. Here are the results: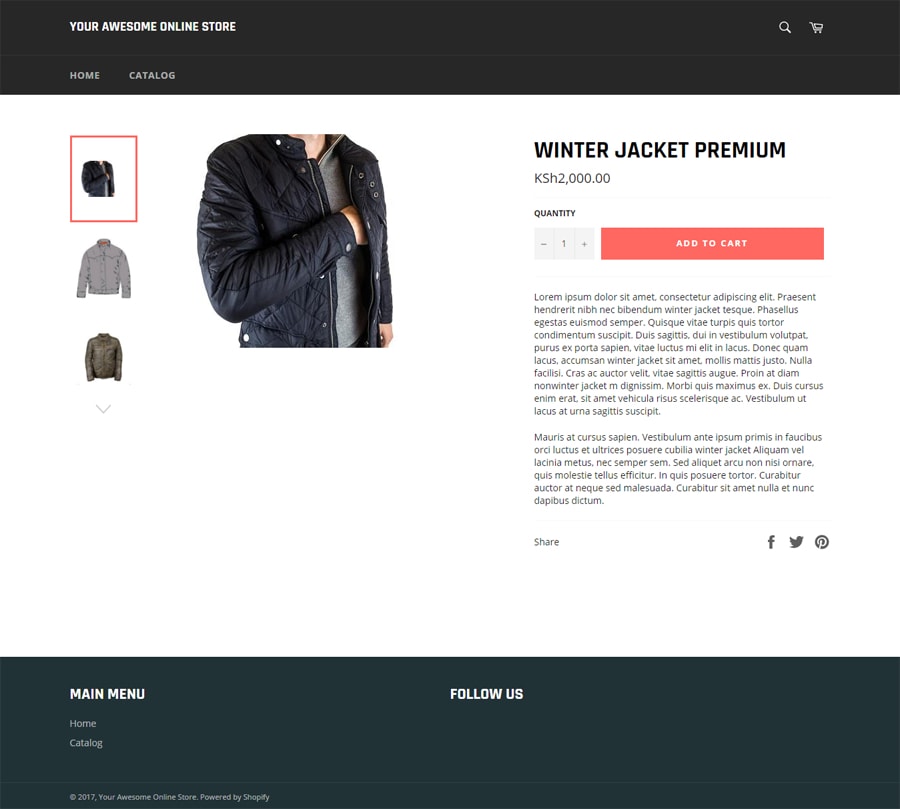 At this point, you cannot sell anything using your newly created Shopify estore unless you choose one of their paid plans. Moreover, your online store is invisible to the public unless the visitor has a password.
WordPress vs Shopify Installation Main Takeaways
Both installation processes are super-duper easy
WooCommerce offers you more settings at the initial setup stage than Shopify (e.g. you can choose currency)
The product editor in WooCommerce comes with more product settings compared to Shopify's product editor
WooCommerce is free and you can start selling with WooCommerce immediately after installation. Shopify is paid and you need to choose one of their paid plans before starting.
Shopify ships with a SSL certificate (HTTPS) but you need to acquire a SSL certificate on your own for your WooCommerce store
WooCommerce Vs Shopify: Features
No Shopify vs WooCommerce comparison post is complete without pitching one ecommerce platform against the other in terms of features.
But as we've touched on a couple of features as we outlined the installation process, so we shall keep this section lean just the way you like it.
WooCommerce Features
WooCommerce ships with plenty of ecommerce-specific features suitable for store owners as well as web developers.
Built by over 350 contributors from across the globe, WooCommerce is nothing short of impressive in terms of design options, extensibility, performance, security and support.
Design Options
As we've already mentioned, WooCommerce is an ecommerce plugin for WordPress, the CMS that powers ~26% of the internet at the time of writing.
Since both WordPress and WooCommerce are open-source projects, there's virtually unlimited design options at your disposal. Firstly, you can edit WooCommerce's code to build anything you like.
Secondly, there are thousands of free and premium WordPress themes that are compatible with WooCommerce.
Better still, there are countless WordPress themes that are specifically made for WooCommerce. On top of that, you can easily customize any theme to suit your specific needs.
As an example, the Themeforest (TF) Marketplace is home to more than 10,800 WordPress themes, including mega themes such as Avada and Total WordPress theme. The average price of a premium WordPress theme on TF is $60.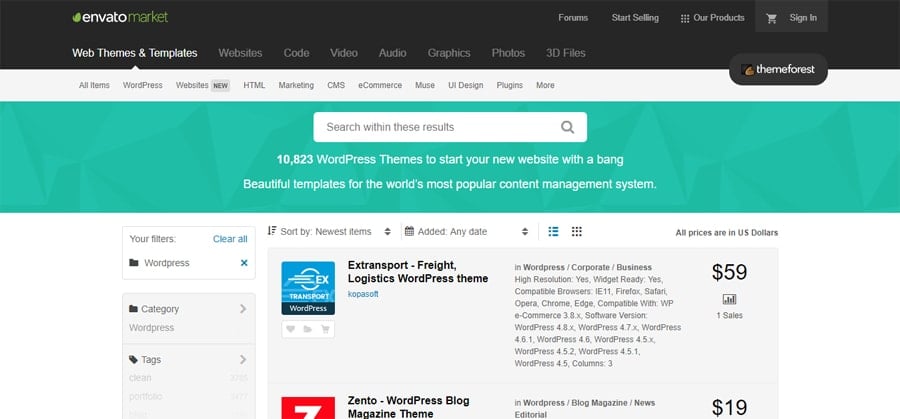 Keep in mind that most premium WordPress themes ship with tools such as the Visual Composer Drag-and-Drop Page Builder, one-click demo sites, premium sliders and amazing support among other goodies.
Moreover, there are thousands of free WordPress themes from reputable theme shops and the WordPress theme repository. If you cannot pick the right theme for your shop, take a look to our list of best free WordPress theme here.
Additionally, WordPress ships with an intuitive theme customizer that helps you to change how your online store looks in real time.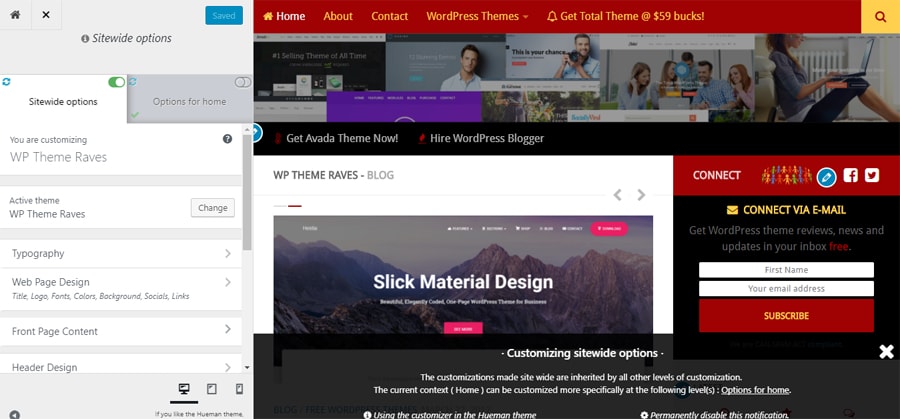 The number of options you get within the customizer depends on your theme – the more advanced the theme, the more options to customize the theme you'll get.
As such, the only limit to the kind of online store you can create using WooCommerce and WordPress is your imagination.
Functionality
In our world, design means naught if you lack functionality. Well, WooCommerce shines in this area what with a horde of free and premium extensions and thousands of free and premium WordPress plugins.
There are numerous WooCommerce-compatible WordPress plugins for crucial functionality such as:
In simpler terms, the WooCommerce-WordPress combo offers you design freedom and extensive functionality to create any online store under the sun. No other ecommerce platform, Shopify included, can rival WooCommerce in this area.
Shopify Features
In terms of basic ecommerce features, Shopify isn't that far behind compared to WooCommerce.
While it might take this platform a million years to get to WooCommerce's level in terms of overall feature offering, Shopify focuses on getting you up and running quickly without the technicalities.
They will force you into one of their ready-to-go plans, and while this is great if you'd like to start an online store quickly, it comes at the expense of all the extra features that make WooCommerce the more robust ecommerce solution.
Design Options
The Shopify theme store offers you 61 high quality themes, of which 10 are free. These themes are built by state of the art agencies ensuring the templates are modern and future-proof.
They are mobile-friendly, which is great for your mobile visitors. The average cost of a Shopify theme on their theme store is about $160 bucks.
Additionally, you can hire developers to build you custom Shopify themes or buy third-party themes. At the time of writing, the ThemeForest marketplace hosts more than 525 Shopify themes with an average price of $60: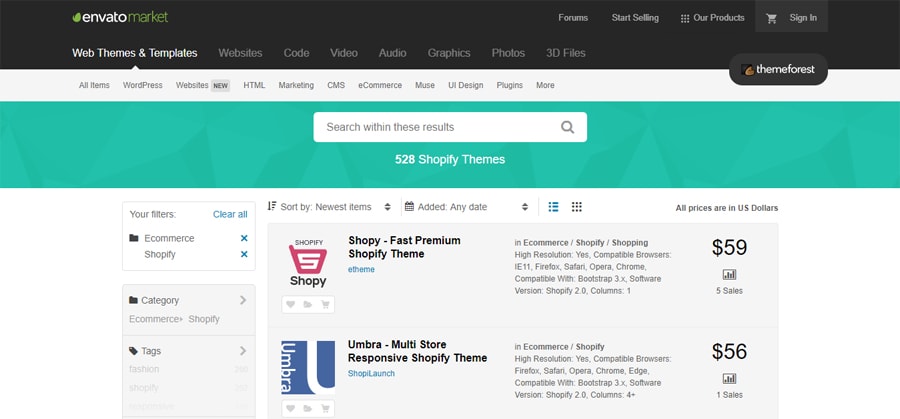 Moreover, Shopify ships with a live theme customizer that helps you to bend your theme of choice whichever way you desire. It is, however, not as advanced as the theme customizer in WordPress: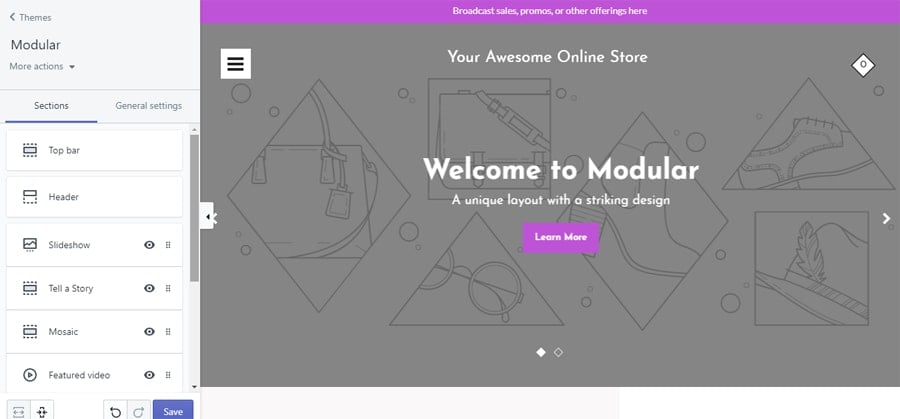 Just like WordPress, the number of options you get within the Shopify theme editor depends on the theme you choose. The more advanced the theme, the more the options.
Functionality
Unlike WooCommerce that comes with a wide range of extensions and plugins, the Shopify App Store offers a significantly lesser number of apps.
These apps help you with:
There two main disadvantages of Shopify apps. Firstly, there's a tiny number of apps compared to WooCommerce. Secondly, premium Shopify apps attract recurring monthly fees with some as high as $1,500 per month.
Premium WooCommerce extensions attract one-time fees, which means Shopify costs you more than WooCommerce for the same functionality.
WooCommerce vs Shopify Design Options/Functionality Main Takeaways
WooCommerce taps into the unbridled power of WordPress, meaning you get more themes and plugins than Shopify
Premium WooCommerce themes are way cheaper than official Shopify themes
WordPress/WooCommerce themes have more features and are more extensible than their Shopify counterparts
You might pay more for the same functionality at Shopify than WooCommerce due to the former's monthly pricing scheme
For the perfect beginner who has never heard of Shopify or WooCommerce, it's arguably easier to start an online store on the latter than the former. All the same, installing WordPress + WooCommerce is a matter of point and click although it takes more steps
You can use both WooCommerce and Shopify to sell digital/physical goods
You can use both platforms to sell both online and in your stone-and-mortar store using POS
WooCommerce vs Shopify: Performance and Security
Speed
Out of the box, both ecommerce platforms are built for excellent performance and security. Shopify offers you high-quality hosting, which means your store performs admirably well in terms of speed. All the same, you might slow down your site if you configure apps incorrectly.
On the other hand, the performance of your WooCommerce-based online shop in terms of speed depends entirely on your host. If you start off with low-quality hosting, you will run into performance problems down the line.
Best is to start with WordPress hosting that is free of problems such as 503 service unavailable errors, slow speeds and regular downtimes among other things.
Security
In terms of security, Shopify starts you off with a free SSL certificate meaning your store is secure. Without a doubt, you need to observe all other website security precautions like using secure passwords and only obtaining themes/apps from trustworthy sources.
WooCommerce and WordPress offers you plenty of security options including security plugins such as iThemes Security. Plus, you can always install free SSL (Let's Encrypt) or purchase a SSL certificate from a 3rd-party provider. Follow other WordPress security procedures such as using secure passwords and updating your WordPress installation, themes and plugins.
When all is said and done, both platforms offer you sufficient performance and security features your online store needs.
WooCommerce vs Shopify: Pricing
These two ecommerce platforms have different pricing schemes. We urge you to go with the platform that meets your needs but keep an eye out for out-of-the-pocket expenses that might tank your operating budget.
WooCommerce Pricing
WooCommerce is a free plugin that you can use to setup a completely functional e-store without purchasing any premium extensions.
To get your store online, however, you must have:
A domain name, which costs about $10 bucks per year
Hosting, which starts at about $2 bucks per month (You can always upgrade later as your store grows)
SSL certificate for secure transactions – Free with Let's Encrpypt. SSL certificates start at $9 bucks per year but prices vary greatly, which means this is just an average benchmark figure
A premium WordPress theme that costs $59 one-time fee
A basic ecommerce site using WooCommerce will set you back about $10 every month. There's no upper limit to how much you can spend on your online store since this depends on your specific needs.
While WooCommerce is free, its premium extensions cost money. On WooCommerce.com , there are more than 300 WooCommerce extensions with varying prices. Most of these plugins cost less than $60.
On the WooCommerce official website, they are offering a bundle of 19 extensions for $299, which translates to about $16 per extension.
Keep in mind you can start a fully functional e-store using the base WooCommerce plugin only. Additionally, you can purchase 3rd-party WooCommerce extensions on CodeCanyon for as little as $5.
And with thousands of free WooCommerce extensions, you might never need premium extensions at all.
Shopify Pricing
Shopify offers you a free 14-day trial on a subdomain. However, you cannot sell anything (or test the checkout process) using this free trial. To start selling, you must sign up to one of their paid plans.
At $9 per month, you can spring for the Shopify Lite plan that lets you sell on Facebook, add products to any website, chat with customers on Messenger and catch credit card payments.
Other plans include Basic Shopify at $29/month, Shopify that costs $79/month, the $299/month Advanced Shopify plan as well as the Shopify Plus plan for large businesses.
If you'd like to move from the free subdomain to a custom domain i.e. yourstore.com instead of yourstore.myshopify.com, you'll shell out an extra $14 if you choose to register your domain via Shopify.
Shopify premium extensions attract recurring monthly fees, so you should be on the lookout for extensions that might have a huge impact on your revenue.
From basic arithmetic and the monthly pricing model, Shopify is more expensive to run than WooCommerce.
WooCommerce vs Shopify: What Others Says
We looked around and here is what other readers had to say about WooCommerce vs Shopify:
***

WooCommerce vs Shopify Conclusion
We pick WooCommerce over Shopify any day. Why? We appreciate the larger feature catalog and the unlimited design capabilities WooCommerce offers.
Shopify has many bottlenecks in terms of design options. Further, the pricing locks you in a platform that isn't portable. You can easily move a WooCommerce store to another platform but we can't say the same of Shopify.
Additionally, WooCommerce offers you complete control over your ecommerce store. On the other hand, Shopify controls your store – data and everything, which means you're at the mercy of their business policies.
Both platforms offer amazing support, which is commendable for the developers. Nonetheless, WooCommerce has a large community.
If you install WordPress on your computer, you can test-drive WooCommerce extensively without incurring any costs. Shopify won't even let you test the checkout process without putting some money down.
At the end of the day, WooCommerce offers you a powerful and customizable ecommerce solution that can handle anything you throw at it. Shopify, on the other hand, offers you an expensive service to run a basic ecommerce store without all the great design and extensibility options that come with WooCommerce.
Over to you, which is your favorite ecommerce platform? WooCommerce vs Shopify?