10 Shopify Alternatives to Consider for Your eCommerce Store in 2023
When it comes to launching an online store, Shopify often tops the list as one of the best eCommerce platforms. However, despite being a well-known name in the eCommerce industry, Shopify may not be the right choice for everyone.
Considering its hefty transaction fees, running an online store with Shopify can be costly in the long run. Plus, its limited blogging features and configuration settings can give you enough reasons to look for Shopify alternatives.
This article will cover the 10 best Shopify competitors, detailing their features, pros, and cons. We will also compare these platforms based on different use cases, helping you pick the best Shopify alternative for your needs.
Download Checklist: How to Start an Online Business
Quick Comparison of the Best Shopify Alternatives
Before starting an online business, here's a brief comparison of the top 10 competitors to Shopify:
| | | | | | |
| --- | --- | --- | --- | --- | --- |
| Platform | Ease of Use | Customization | Pricing | Key Features | Ideal For |
| Hostinger Website Builder | Easy | Moderate | $2.99/month | A drag-and-drop interface, 150 pre-made templates, AI tools for website building and content creation | Beginners |
| WooCommerce | Easy | High | Free | Compatibility with most WordPress themes and plugins, large user community | WordPress users |
| Magento Open Source | Hard | High | Free | High customization capabilities, developer forum for continuous learning | Advanced users |
| Adobe Commerce | Hard | High | Requires a custom quote | Headless commerce architecture for better performance and front-end customizability | Large enterprises |
| PrestaShop | Hard | High | Free | Local currencies, multilingual support in more than 65 languages | Global businesses |
| OpenCart | Hard | High | Free | Multi-store management, unlimited product categories | Users with multiple stores |
| BigCommerce | Easy | Moderate | Starts at $29/month | Integrations with popular marketplaces like Amazon, eBay, and Walmart | Online stores of all sizes |
| Shift4Shop | Easy | Moderate | Starts at $29/month | Back-in-stock notifications, Google Customer Reviews Integration | Online stores of all sizes |
| Gumroad | Easy | Limited | Free, but with a 10% cut for every sale | Secure digital downloads, widgets for embedding products into websites | Digital artists |
| E-junkie | Easy | Limited | Starts at $8/month | Purchase links for selling products on multiple platforms | Digital product sellers |
Top 10 Shopify Alternatives in 2023
In this section, we will take a closer look at the top 10 Shopify alternatives for building a successful eCommerce store. Listed in no particular order, each platform comes with its unique selling points. Choose the one that matches your needs and budget best.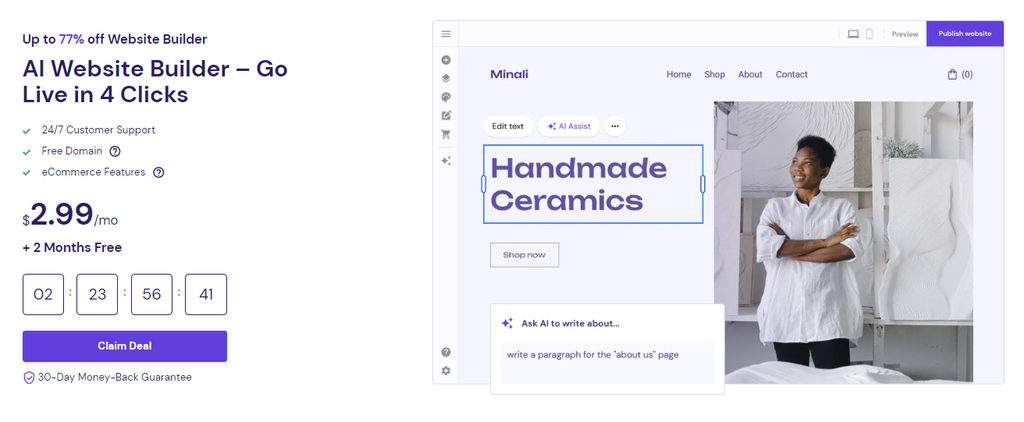 Hostinger Website Builder is one of the best eCommerce website builders designed for those without technical know-how.
One of its key selling points is AI integration. Simply describe your eCommerce business, and the machine learning algorithm will build a fully functional website in minutes.
After that, use the drag-and-drop editor to create new pages, move elements around, and customize the site design to your liking.
Packed with built-in eCommerce features, you can easily sell up to 500 products, manage orders and inventory, and integrate over 20 secure payment methods. Service-based business owners can also enable appointment bookings with a few clicks.
Moreover, this online store builder has built-in search engine optimization (SEO) tools and third-party marketing features, helping you generate more traffic to your eCommerce sites.
Plans and Pricing
Priced at just $2.99/month, Hostinger Website Builder comes bundled with web hosting, a domain name, lifetime SSL certificates, and 24/7 customer support.


Pros:
Quick setup. Choose from 150 pre-made templates or use AI to generate a website instantly. After that, customize your site's layout using the drag-and-drop editor.
AI tool integration. Write unique content, predict user behavior, and improve visibility on search results with built-in AI tools.
Advanced eCommerce features. Create an online store effortlessly with inventory management, multiple shipping options, and over 20 payment methods.
No transaction fee. Hostinger Website Builder does not charge any transaction fees, allowing you to maximize profit. Meanwhile, Shopify charges an extra fee if you use other payment gateways other than Shopify Payments.
Cons:
Moderate customization. While it offers an intuitive editor, the customization options may not be as extensive as open-source platforms.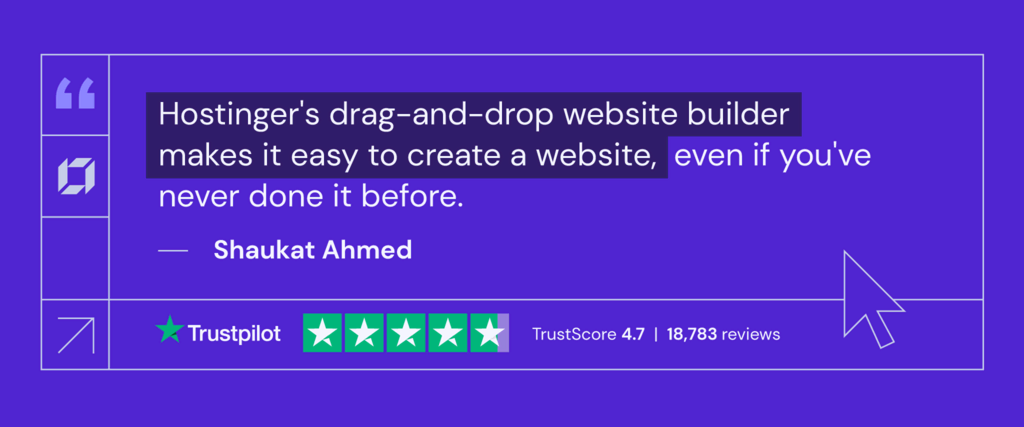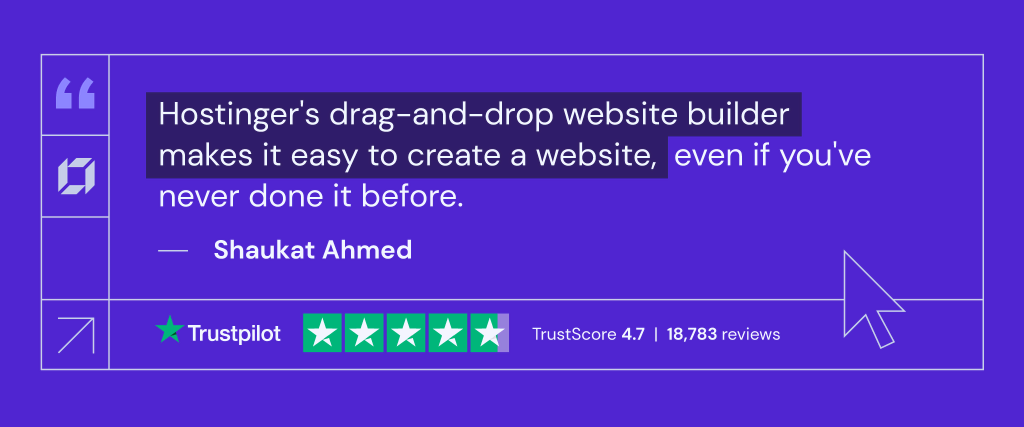 2. WooCommerce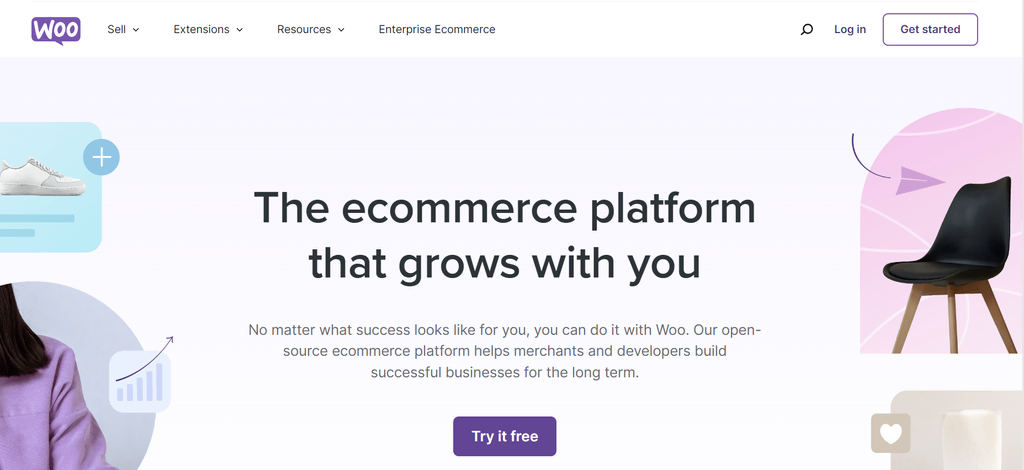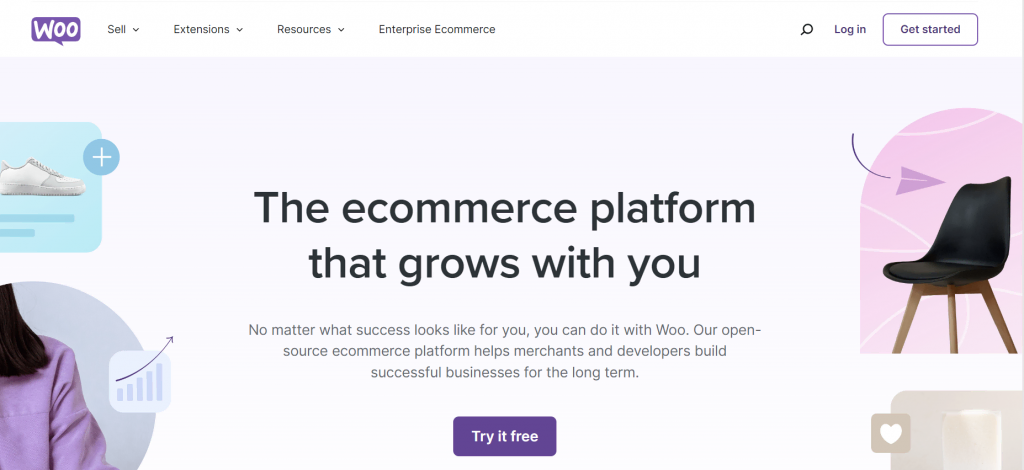 WooCommerce is a flexible, open-source shopping cart plugin for building a user-friendly online store.
This WordPress plugin supports most free themes and plugins. As such, you can customize your WordPress site and enhance its functionality without paying extra money.
To access additional features, download third-party add-ons directly from the WooCommerce store. It offers over 170 payment processing providers, 200 shipping extensions, and many more store management tools.
However, you must get a web hosting account, domain name, and SSL certificate before using this eCommerce platform.
Luckily, a dedicated WooCommerce host like Hostinger makes the setup process simple. Starting at $3.99/month, our WooCommerce hosting includes a free domain name and unlimited SSL certificates.
After securing a plan, install WordPress in one click and start selling your products with WooCommerce.


Plans and Pricing
This platform is free to use, making it one of the best Shopify alternatives for those on a budget. That said, additional extensions for advanced features come with a price tag.
Pros:
WordPress compatibility. Customize your online store's look and eCommerce functionality with a wide selection of themes and plugins. This Shopify alternative also benefits from regular WordPress updates to address security vulnerabilities.
Large user community. WooCommerce has a big community of users and contributors, so you can easily find guides and documentation to maximize its potential.
No additional fees. Unlike Shopify, WooCommerce doesn't charge monthly fees or take a cut out of your transactions.
Cons:
Requires a learning curve. This plugin is best for users with some level of WordPress and coding knowledge. Online store owners with no prior website-building experience may find the platform overwhelming at first.
No dedicated support. Compared to the dedicated support offered by Shopify, WooCommerce only provides support through FAQs and documentation.
3. Magento Open Source

Magento Open Source is ideal for businesses that require a high level of customization and scalability. Built on open-source technology, you have full control over your eCommerce website's look, content, and functionality.
Its community forum lets you interact with other seasoned developers. This is beneficial for improving and adapting your online store to the evolving user needs.
Although more suitable for developers, beginners can also use the Magento 2 builder for seamless content creation, catalog management, and payment gateway integration. In fact, over 390 payment extensions are available on the Magento marketplace.
Creating an SEO-friendly site is also easy, thanks to features like metadata for products, image alt tags, and search engine-friendly URLs.
Plans and Pricing
Magento is free to use, making it a budget-friendly Shopify alternative. However, since it's a self-hosted eCommerce platform, you must choose and buy a web hosting plan before installing Magento.
Pros:
Highly scalable. As an open-source platform, Magento offers extensive customization capabilities.
Developer forum. Connect with a network of Magento users, developers, and industry experts. This ecosystem fosters collaboration, education, and thought leadership, helping you continuously improve your eCommerce website.
4,000+ third-party apps. Integrate powerful tools for every aspect of your business, including accounting, marketing, sales, and customer relationship management.
Cons:
Complexity. Magento is not as user-friendly as Shopify – it requires advanced development skills.
Web host dependant. The performance and security of your existing website rely heavily on your chosen hosting provider.
No dedicated support. Customer support is only provided through articles, documentation, and user forums.
Suggested Reading
Compare Magento with other eCommerce platforms in more detail by reading these tutorials:
4. Adobe Commerce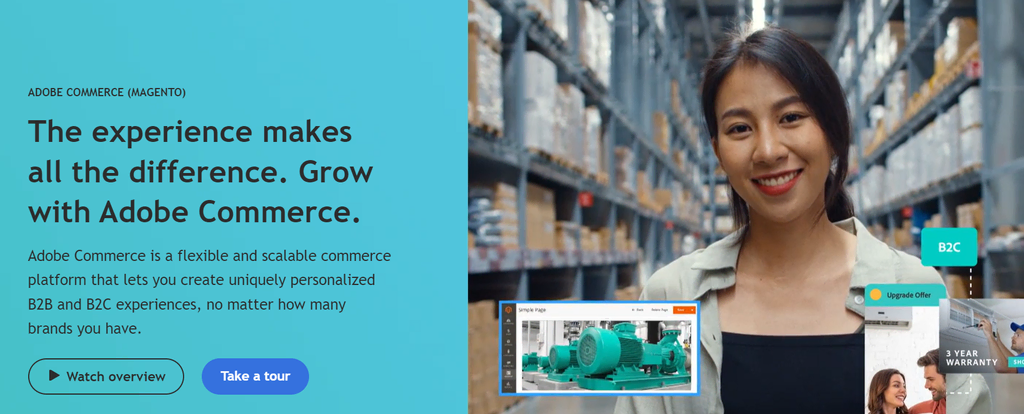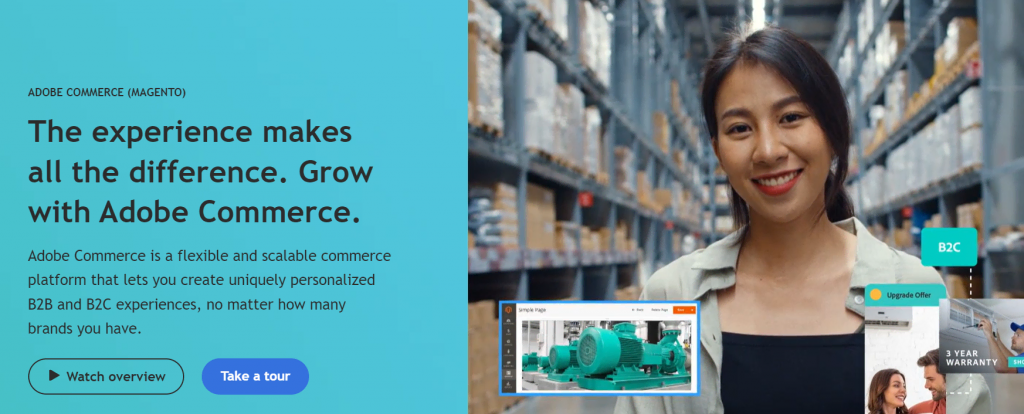 Adobe Commerce, previously known as Magento Commerce, is a cloud-based platform built for large eCommerce businesses and B2B enterprises.
It uses a headless eCommerce architecture, which separates the front end of your online store from its back end. This gives you more flexibility to modify the store's design, layout, and user interface.
Another advantage of headless commerce is the ability to deliver a consistent experience regardless of the platform. Whether customers shop from a desktop browser or mobile app, your online store will perform equally well.
To boost the user experience further, Adobe Commerce uses AI to enable personalized site search and product recommendations.
Plans and Pricing
Unlike most eCommerce platforms that offer straightforward pricing tiers, you must contact Adobe Commerce's sales team to get a custom quote.
The cost is based on two key metrics: your annual Gross Merchandise Value (GMV) and Average Order Value (AOV).
Pros:
Better performance. Headless commerce removes unnecessary back-end code, resulting in faster load times.
Omnichannel capabilities. Provide a seamless and consistent shopping experience across multiple platforms and touchpoints.
Adobe integrations. As part of the Adobe Experience Cloud, this platform grants you access to a suite of powerful analytics and marketing features.
Cons:
Non-transparent pricing. The lack of a clear pricing structure makes it difficult for businesses to plan their budgets accurately.
Unfeasible for small businesses. Adobe Commerce's pricing scales as your business grows. While this approach may be manageable for larger enterprises, small businesses with a narrow profit margin will struggle to invest in other critical areas.
5. PrestaShop


PrestaShop is a highly customizable eCommerce platform built using PHP and MySQL programming languages.
In addition to offering SEO tools like a URL cleaner, meta tag optimizer, and automated sitemap generator, this platform supports over 250 payment and transaction options. They include cards, virtual wallets, and cash on delivery (COD).
Selling physical or digital products to international clients is also easy. You can set local currencies and create content in over 65 languages.
Plans and Pricing
Although the software is free, PrestaShop is one of the several Shopify alternatives that require setting up and managing your own hosting.
Consider our PrestaShop hosting, starting at just $3.99/month. It helps you save time by offering everything you need to sell online, including a custom domain name and a one-click PrestaShop installer.
Pros:
Comprehensive features. Grow your eCommerce website with over 600 built-in eCommerce tools and third-party integrations.
Multilingual support. Reach global customers with ease, as PrestaShop supports over 65 languages. You can also integrate your own translator.
Budget-friendly. PrestaShop doesn't charge monthly fees or take a commission on your sales.
Cons:
Steep learning curve. With many configuration options, setting up an eCommerce store using PrestaShop may take longer than on Shopify. Luckily, Hostinger users can install PrestaShop with one click.
Paid support. PrestaShop only provides free support through its forums, guides, and documentation. To get technical help from an expert, you will have to purchase the PrestaShop Support Plan, starting at around $260.
Suggested Reading
Check out these in-depth comparisons to see whether PrestaShop is the better option for you than Shopify and Magento:
6. OpenCart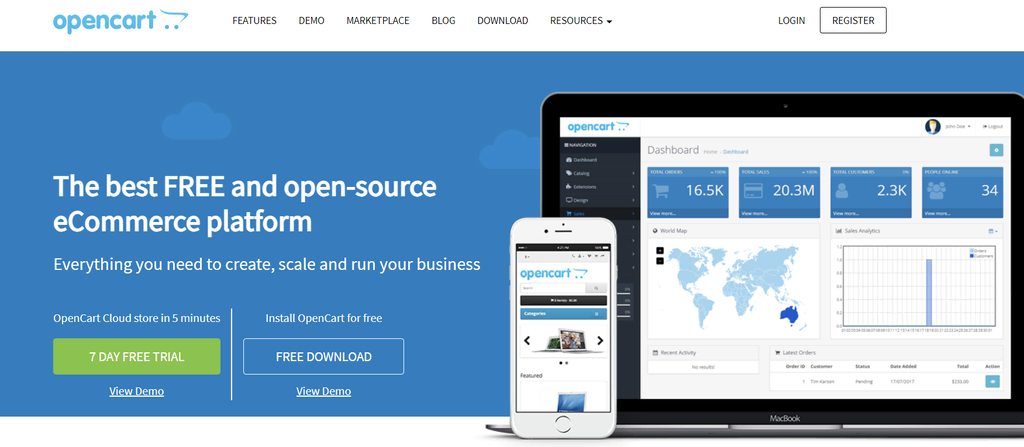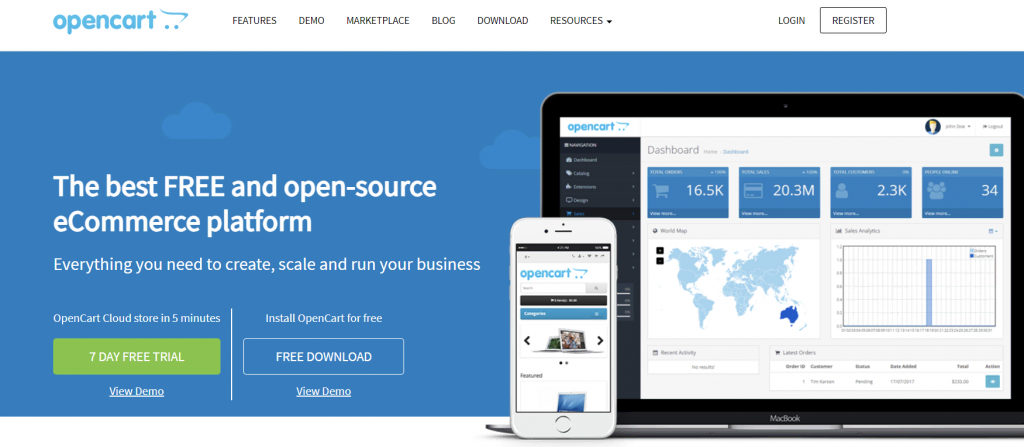 OpenCart is an open-source eCommerce solution for managing several eCommerce stores from a single back end.
Scaling your online business is effortless, thanks to OpenCart's unlimited products and categories, multiple currencies and languages, and various shipping options. Plus, you can insert relevant keywords and edit the meta information to boost visibility on search engines.
OpenCart also comes integrated with 36 payment processing gateways and allows you to accept earnings in various currencies.
Plans and Pricing
OpenCart offers a free and paid plan. To use the free version, you must purchase web hosting services separately.
If you're looking for a hosted solution, OpenCart Cloud offers three plans – Bronze at $59/month, Silver at $99/month, and Gold at $199/month.
Hosted on Amazon Web Services (AWS), these plans provide a quick and easy way to set up an OpenCart online store.
Pros:
Limitless possibilities. Upload unlimited products and manage different eCommerce stores from a single location.
Multilingual support. The platform is available in over 40 languages, making it easier to sell products to customers from different countries.
No transaction fees. OpenCart doesn't charge transaction fees or take a cut out of your revenue.
Cons:
Steep learning curve. To make the most of OpenCart's capabilities, you need some level of technical know-how. For beginners, this platform will take time and effort to master.
Paid support. Free support only comes through a community forum, blog posts, and documentation. To access OpenCart's dedicated support, purchase its Enterprise Services – starting at $50 for a one-time password reset and up to $300 for a software update.
7. BigCommerce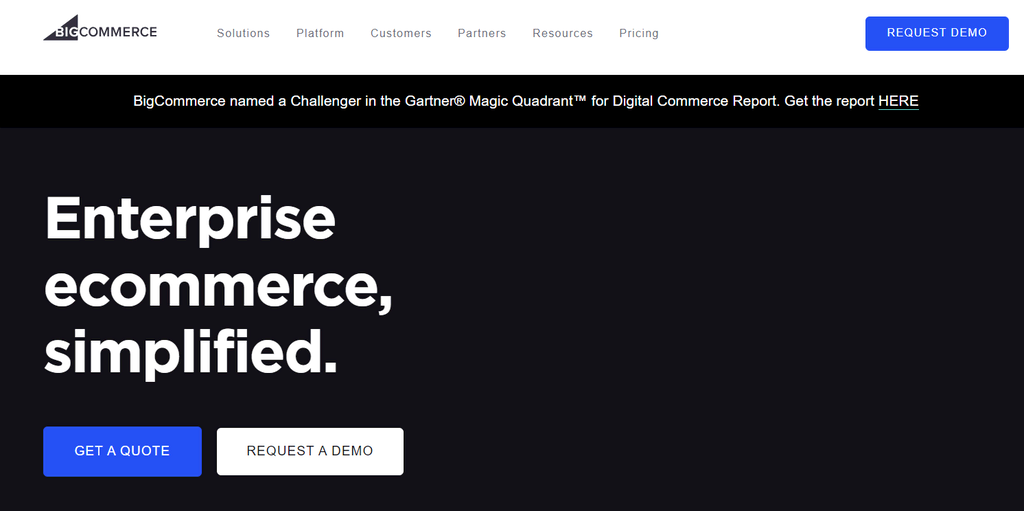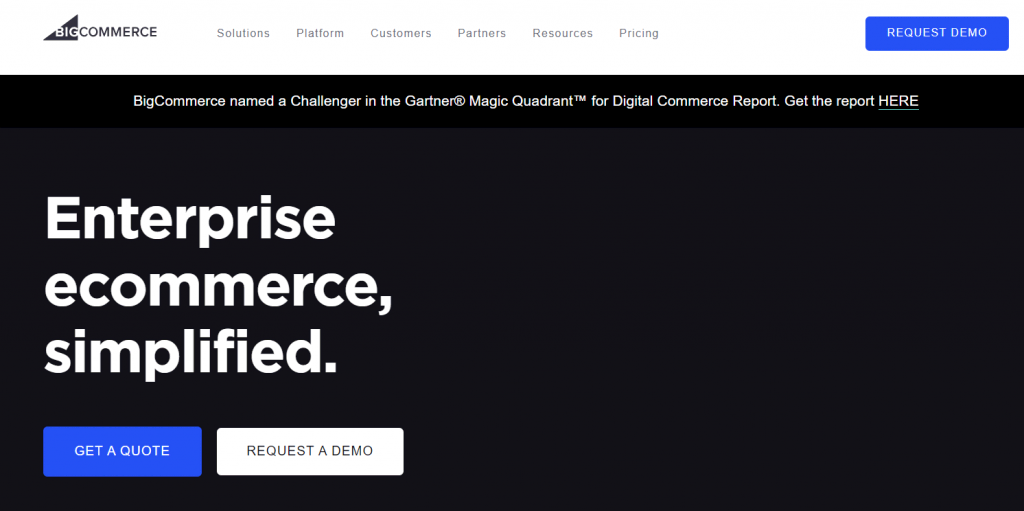 A direct Shopify competitor, BigCommerce is equipped with advanced features to help you create any kind of online store.
At first glance, the two giant eCommerce brands appear relatively similar. However, upon closer inspection, you will notice that BigCommerce offers more features than Shopify for lower prices.
For example, the BigCommerce Standard plan ($29/month) comes with professional reporting functionality, a built-in rating and review system, over 100 local currencies, and real-time carrier shipping rates. These features are missing from Shopify's equivalent Basic plan, which costs $39/month.
Other notable BigCommerce features include unlimited product variants, a single-page checkout, and point of sale (POS) integrations. You can also connect with popular marketplaces like Amazon, eBay, and Walmart to boost conversions.
Plans and Pricing
BigCommerce offers four plans – Standard at $29/month, Plus at $79/month, Pro at $299/month, and Enterprise, whose price is only available upon request. Note that these are prices for an annual subscription.
Pros:
Real-time shipping rates. This feature lets you deliver a more accurate and streamlined checkout process.
No additional transaction fees. BigCommerce does not take a commission from your sales.
Multi-channel selling. Manage several online stores on Amazon, eBay, and Walmart in one place.
24/7 support. If you run into errors, this platform offers dedicated support via chat, phone, and email ticket.
Cons:
No free plan. Although BigCommerce doesn't offer a free plan, it has a 15-day free trial period.
Sales limit. Each plan has an annual sales limit. After exceeding the threshold, BigCommerce will automatically upgrade your plan at a higher cost.
No multilingual functionality. There is no built-in multilingual feature for your online store. However, you can use a third-party app to implement it.
8. Shift4Shop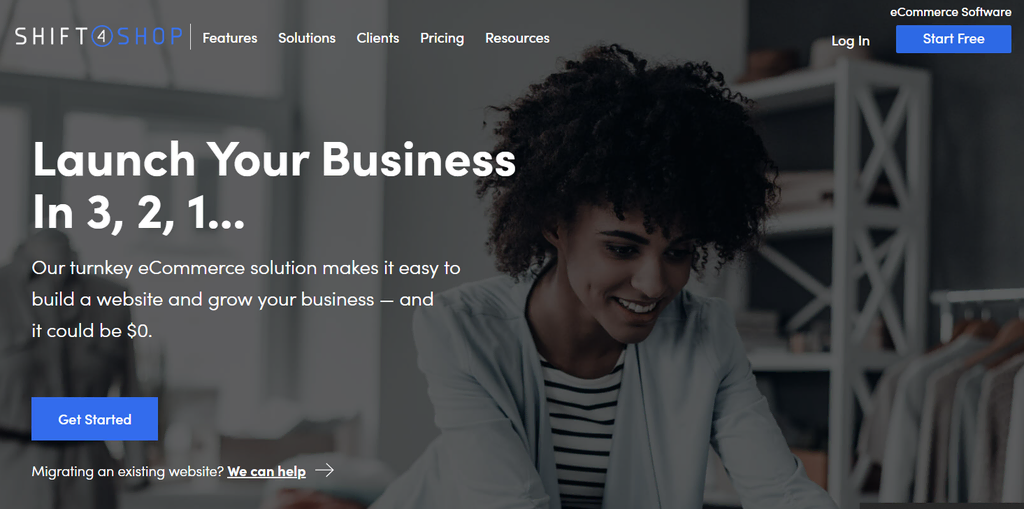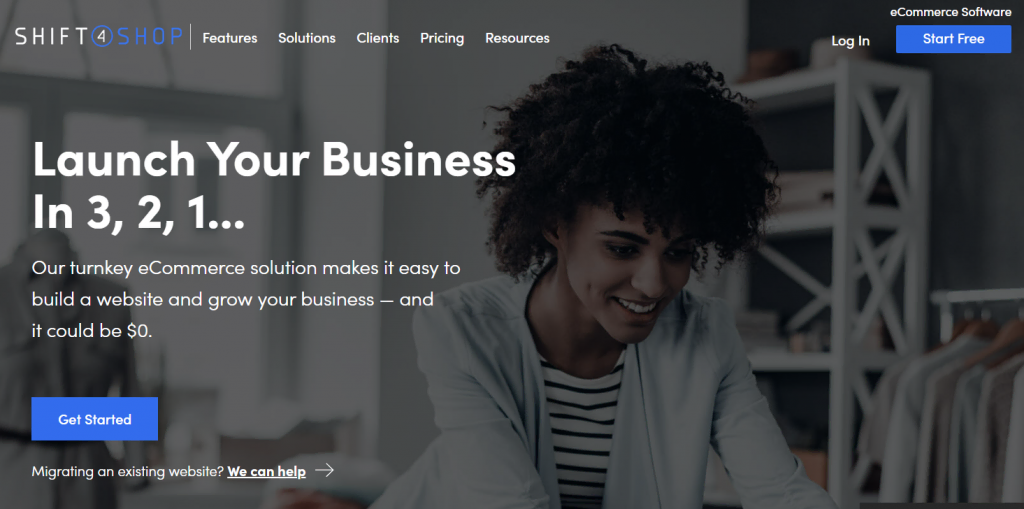 Shift4Shop, formerly 3dcart, is a dedicated eCommerce platform that allows US sellers to run an online store for free. However, to unlock this benefit, your business must generate at least $500/month in sales through Shift4, its native payment processor.
The platform provides numerous built-in features, such as an affiliate program, Google Customer Reviews integration, loyalty rewards, and back-in-stock notifications. In comparison, Shopify users typically get these features through additional apps.
In terms of SEO, Shift4Shop allows you to modify image alt tags, create XML sitemaps, and generate clean URLs for better website optimization.
When using the platform, you will receive online payments via Shift4 by default. Fortunately, Shift4Shop also supports over 160 payment providers, including PayPal, Google Pay, and Apple Pay.
Plans and Pricing
Shift4Shop offers four plans – Basic at $29/month, Plus at $79/month, Pro at $229/month, and the free End-to-End eCommerce plan, which is only available for US merchants.
Pros:
Affiliate program. Joining the Shift4Shop Affiliate Program lets you earn commissions and unlock an alternative income source.
Unlimited product variants. Users have the freedom to create as many product variants as they want using Shift4Shop.
Dedicated support. Shift4Shop's support team provides round-the-clock technical support through phone, live chat, and a ticket system.
Cons:
Limited features for design. While customizable, the pre-made templates have certain limitations. Creating unique designs may require advanced coding skills.
Conditional free plan. The free plan is only eligible for US businesses using Shift4 to process at least $500/month in sales. Otherwise, users must opt for one of the paid plans.
9. Gumroad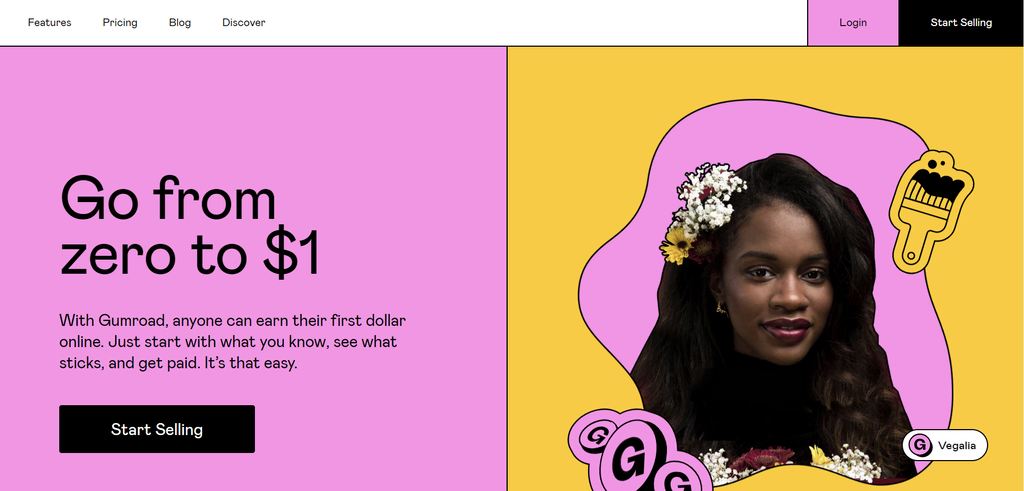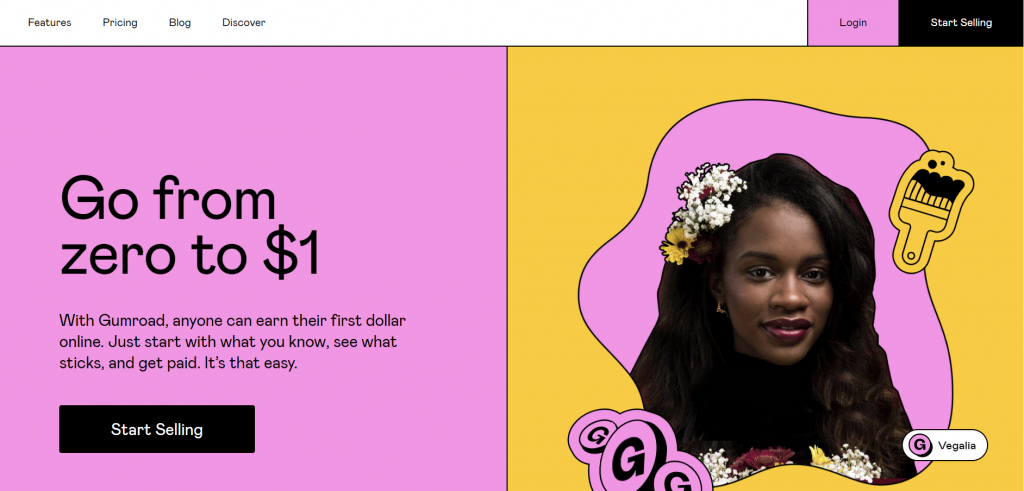 Gumroad is a hosted online marketplace for artists and creators. Users can directly connect with prospective customers and sell digital and physical products, as well as memberships.
Known for its simplicity, setting up a Gumroad store, adding products, and customizing its storefront feel straightforward. You can also integrate tools like Zapier to automate tasks and Printful to promote on-demand printing services.
To facilitate transactions, Gumroad supports six different payment gateways, including Discover, Visa, Mastercard, AMEX, Diner's Club, and PayPal.
Plans and Pricing
Signing up for Gumroad is free, and no monthly fee is involved. That said, this platform charges a 10% flat rate for every sale. You may also pay extra costs for credit card processing and PayPal fees.
Pros:
No monthly fee. Unlike Shopify, you can create a free Gumroad account. This makes Gumroad an accessible eCommerce platform for those on a tight budget.
Seamless integration with websites. Easily embed individual products or entire collections into existing websites using the Gumroad Overlay or Embed widgets. Note that this feature may require HTML editing skills.
Dedicated support. If you face any issues, reach out to the support team via a contact form or email.
Cons:
Limited payment channels. Gumroad supports common payment methods, but niche ones like cryptocurrency aren't covered.
No bump offers and upsells. Its eCommerce offering doesn't offer the ability to include bump offers or product upsells at checkout.
Transaction fees. Gumroad charges a transaction fee of 10% for every successful sale.
10. E-junkie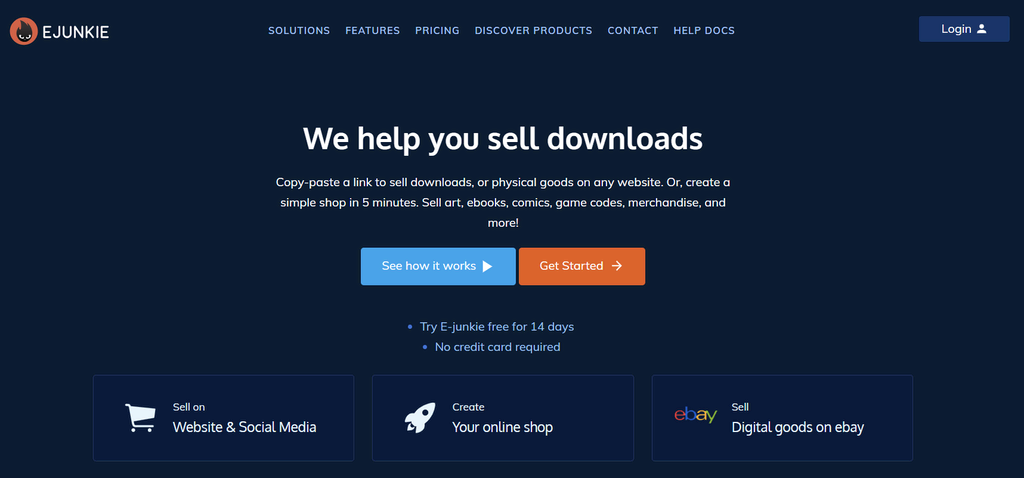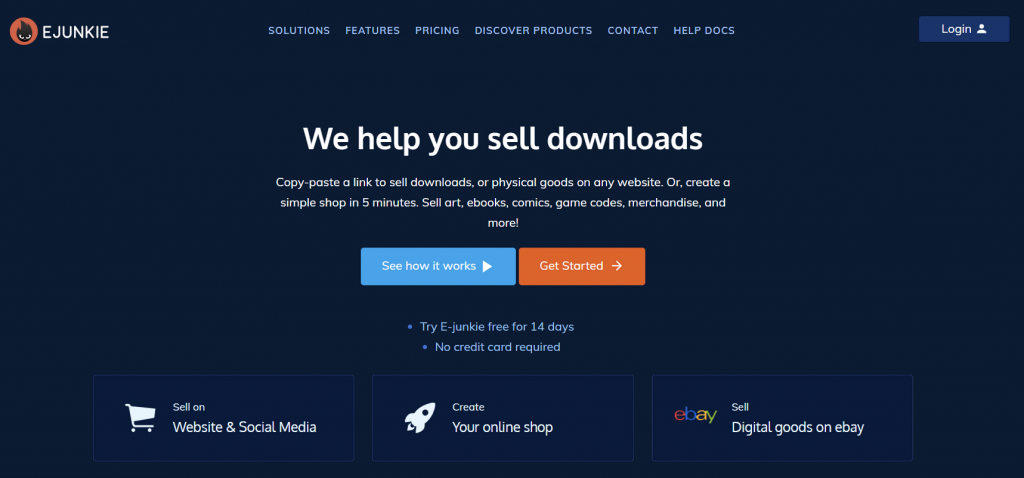 E-junkie is a shopping cart software and digital delivery service focusing on digital goods, such as file downloads for music, books, and software. However, you can also use this alternative to Shopify to sell physical items that require shipping calculations.
Integrating E-junkie with your website is easy. Simply copy the cart code or the button from E-junkie's seller admin page, then paste it onto your web page.
In addition to supporting 15 payment gateways, E-junkie also supports various third-party integrations, such as Zapier, MailChimp, and Acutrack.
With prices ranging from $8 to $40/month and no limit on bandwidth or the number of transactions, this hosted platform is more cost-effective than Shopify.
Plans and Pricing
E-junkie provides four pricing options – $8/month, $10/month, $20/month, and $40/month.
Only the top-end $40 plan offers unlimited products and download storage. Its lower-tier plans have product and download storage limits:
$8 –10 products and 200 MB
$10 – 40 products and 2 GB
$20 – 150 products and 8 GB
Pros:
Multi-channel selling. Sell products on E-junkie's marketplace or use E-junkie's purchase links to sell products through social media, messengers, email, and other digital platforms.
No transaction limit or fee. This platform puts no restrictions on bandwidth and the number of transactions. There is also no transaction fee for every sale made.
Dedicated support. You can reach out to E-junkie's customer support team via a contact form and email during business hours.
Cons:
No free plan. E-junkie does not offer a free plan, but it provides a 30-day free trial period.
Product limits with lower plans. To sell an unlimited number of products, you have to go for the $40 plan. In comparison, Shopify's Basic plan allows you to sell unlimited products for $39/month. However, Shopify charges a 1% transaction fee when selling more than 50 products.
Which Shopify Alternative Is Best for You?
Choosing the right eCommerce platform is crucial for your long-term success. There are several options available, so be sure to select the best eCommerce platform that matches your budget and needs:
Best value for money: Hostinger Website Builder, Shift4Shop, BigCommerce
Best for control and flexibility: WooCommerce, Magento
Best for global eCommerce: PrestaShop, OpenCart
Best for small businesses: Hostinger Website Builder, WooCommerce, PrestaShop
Best for scalability: BigCommerce, Magento
Best for selling digital goods: Gumroad, E-junkie
Best for large enterprises: Adobe Commerce
If you're still unsure which platform to use, consider getting Hostinger's eCommerce hosting first. This one-stop solution allows you to quickly install multiple eCommerce platforms, including WooCommerce, PrestaShop, and OpenCart.
Each eCommerce hosting plan also comes with our AI-powered website builder, so you can make a website in no time.


Conclusion
Shopify is a powerful eCommerce platform, but it may not be the perfect choice for everyone.
Expensive plans, hefty transaction fees, and limited configuration options are some of the reasons why you should look for alternatives to Shopify. When weighing your options, consider your specific needs, budget, and technical expertise.
For instance, open-source platforms like WooCommerce, Magento, PrestaShop, and OpenCart are suitable for advanced users who want extensive customization.
On the other hand, beginners should look for a more user-friendly option like Hostinger Website Builder. Equipped with AI tools and a drag-and-drop editor, Hostinger Website Builder enables you to build an eCommerce site effortlessly.
We hope this article has helped you choose the best Shopify alternative to kickstart your online journey. If you have any further questions or feedback, don't hesitate to leave a comment below.
Shopify Alternatives FAQ
Find answers to commonly asked questions about the best Shopify alternatives.
What Is Better Than Shopify?
For beginners, Hostinger Website Builder is a capable alternative. It's packed with useful AI tools and an easy-to-use interface for your online store. On the other hand, open-source platforms like WooCommerce are ideal for users with advanced web development skills.
What Are the Key Factors to Consider When Choosing a Shopify Alternative?
Consider usability, design flexibility, SEO capabilities, payment gateway options, and pricing plans. Also, evaluate the platform's scalability and customer support.
Are There Alternatives to Shopify That Offer More Design Flexibility?
WooCommerce is compatible with most WordPress themes, giving you plenty of layouts to choose from. Moreover, as an open-source eCommerce platform, it enables precise customization if you have the technical skills.
Can I Move My Existing Shopify Store to a Different Platform?
Yes, it's possible to migrate your Shopify store to another platform. However, the specific process depends on the platform you're switching to. Some platforms offer built-in migration tools, while others may require manual data transfer or third-party services.