Magento vs Shopify: Which Platform Should You Use for Your Online Store?

When it comes to hosting eCommerce sites, picking the right platform to power your store is essential. If you don't do your research, you might find out too late that you don't have access to the features you need. In turn, that can hamper your store's growth and cost you money. The good news is that we're here to introduce you to two of the top options: Magento and Shopify.
In this article, we're going to compare Magento vs Shopify on several key criteria, including:
Ease of use
Store management
Performance
Security
Customizability
By the end, you'll know how to pick which of these two platforms is the best option for you. First, however, let's get familiar with Magento vs Shopify!
An Introduction to Magento vs Shopify
Most eCommerce platforms fall into one of two types: hosted and self-hosted software. With hosted solutions, you don't need to worry about procuring a server or setting up the software, since that's all taken care of for you.
Self-hosted platforms, on the other hand, do require you to find a hosting provider and install the software you want to use. That means a bit more legwork on your end, but the trade-off is that this kind of platform tends to be far more flexible.
Shopify is a hosted eCommerce platform. With it, you can create a modern store in record time, thanks to an intuitive drag-and-drop builder and a broad collection of stylish themes: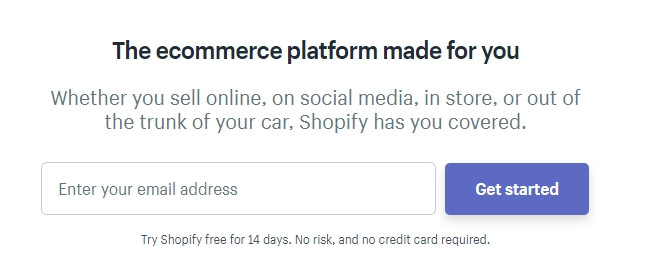 Magento, on the other hand, is a self-hosted eCommerce platform renown for its broad set of features. With Magento you can build anything from a modest store to an online retail empire: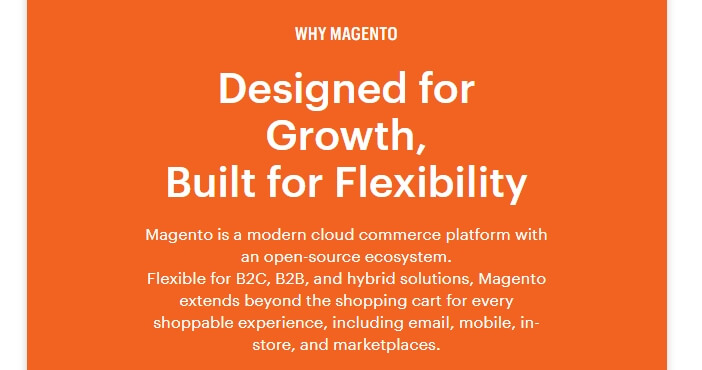 As you might gather from those brief descriptions, Magento and Shopify are two very different platforms. That means you need to know exactly what each of them offers, if you want to figure out which is a better fit for your store. Let's talk Magento vs Shopify!
Shopify vs Magento: Ease of Use
If this your first eCommerce site, then you're probably looking for a platform that won't take a year to learn. Shopify, for example, offers a remarkably simple experience from the moment you set up your account to the point when you publish your first product.
To get started, all you need to do is create a free Shopify account and choose a name for your store, and you'll get access to your dashboard right away: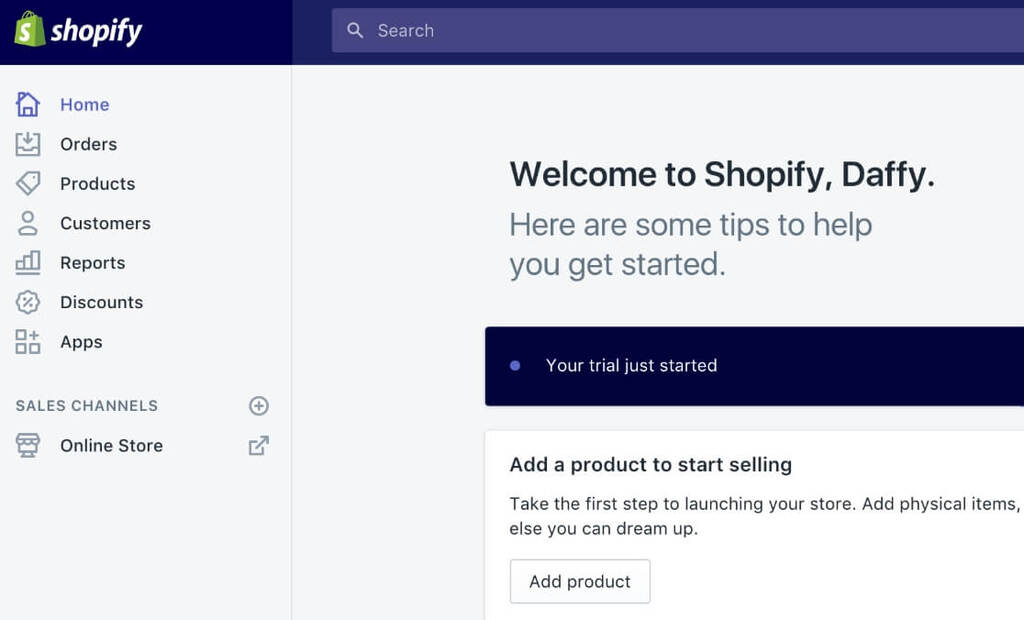 The platform will set up a demo store using its default theme and placeholder products, which you can play around with to get a feel for how Shopify works:

If you don't like the platform's basic theme, you can always switch things up. Shopify offers a wide selection of free themes to choose from, as well as several premium options: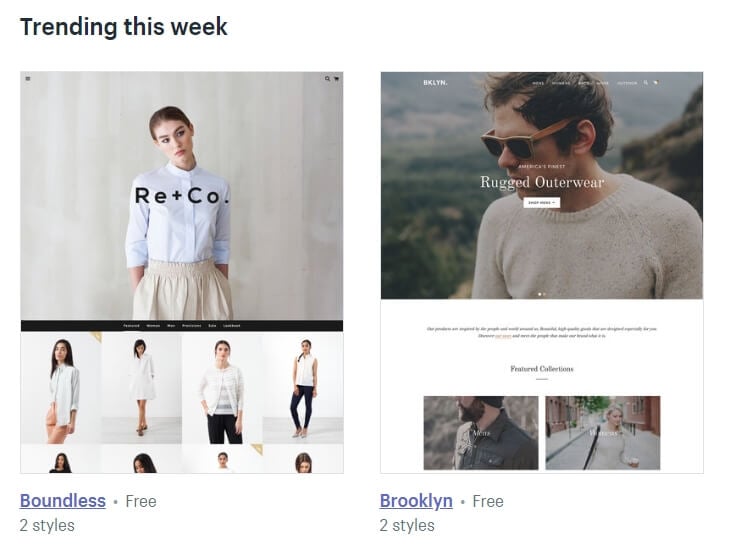 Adding a product in Shopify is also a simple process. You just need to jump to the Products tab and click on the Add product option. On the next screen, you can configure all the details for your new item, from its title to a description, images, pricing, and more: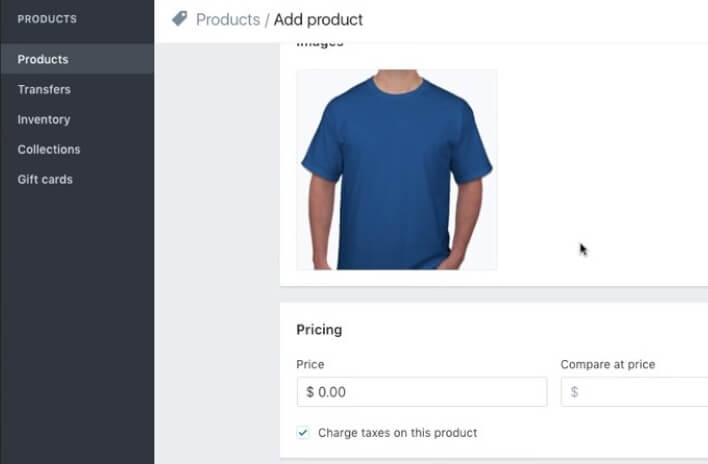 Overall, setting up a Shopify store couldn't be easier. Adding all the products you need and tweaking its style can take a while, but that's hard to avoid when you're creating a store from scratch.
Moving on to Magento, the process is a bit more involved. You're using a self-hosted platform now, so your first move will be to find adequate hosting. At Hostinger, for example, we offer plans for Magento users starting at less than $5 per month, which are excellent options for a starter store:

Once you've secured hosting, you'll want to install Magento's Community version on your new server. When that's done, you'll get access to your new website and dashboard:

As you can see, Magento offers you a lot more options to play with out of the box. From your dashboard, you can monitor your sales, view your recent orders, find out what products are viewed most often, and more. Right now, your store itself should look pretty bare:

To fix that, you'll want to tinker with your store's design, which you can do by installing a theme. Then you can launch right into publishing your first product, by going to the Products > Catalog tab and clicking on the Add Product button: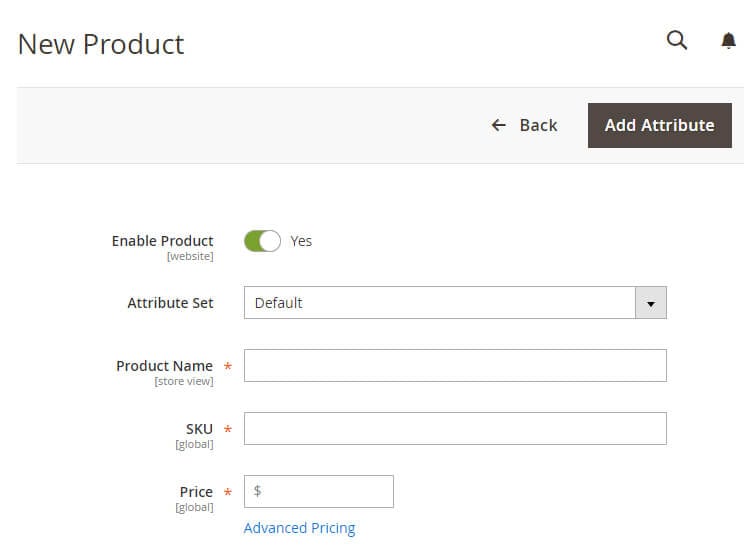 If you like having options to customize your products, you're going to love Magento. Its product editor is world-class, although it packs so many options that you'll need a while to get acquainted with all of them.
Overall, when it comes to ease of use, there's really no competition between Magento vs Shopify. The latter wins hands down, since it's far easier for a beginner to pick up and set up a new store with. That's not to say that Magento is an inferior option, of course, but it does feature a steeper learning curve.
Shopify vs Magento: Store Management
Next up, let's talk about site management. We're going to evaluate the options each platform gives you to customize your store's settings.
After you set up your first products with Shopify, you'll still need to configure a few more aspects of your store before you can start selling. For example, you'll want to set your shipping rates and methods: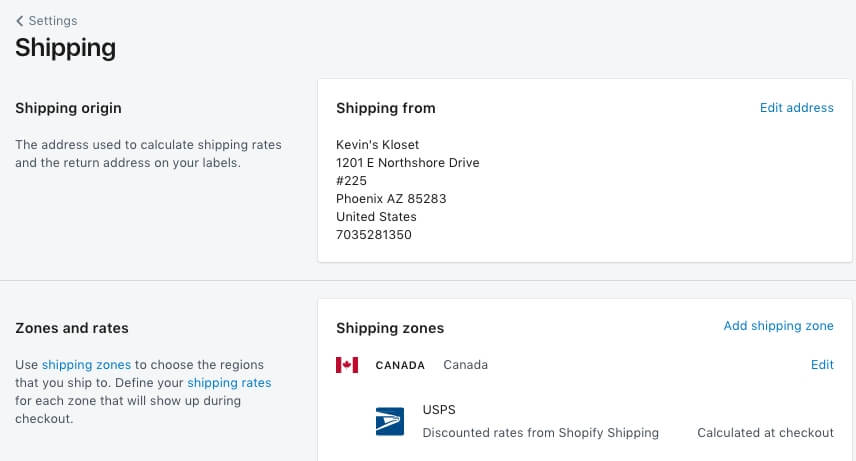 When it comes to payments, Shopify supports multiple methods. To choose your favorite one, go to the Settings > Payment providers section and enable the Accept credit cards option. By default, Shopify will enable you to accept credit cards through its own payment processor:

Keep in mind that Shopify charges a fee for processing payments, so take that into consideration when determining your budget.
Finally, you'll also need to configure the way you want to handle taxes through your store. As a merchant, you can't avoid the subject of taxes. With Shopify, you get a dedicated Taxes screen where you can configure what kind of products you'll be selling, and how shipping will work: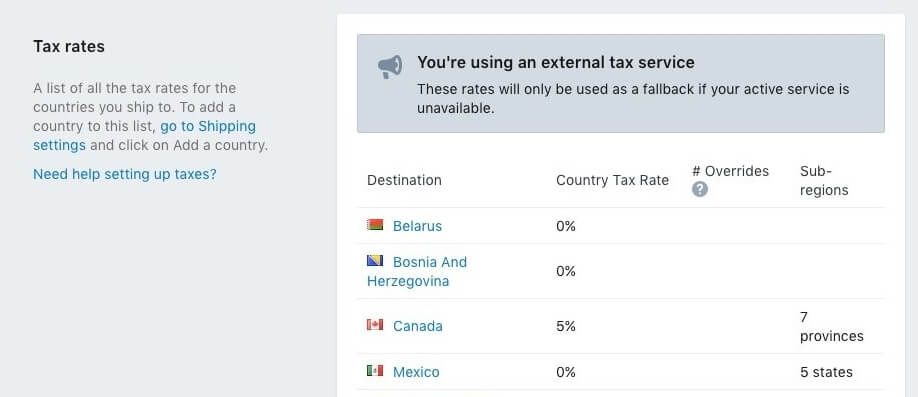 Overall, Shopify does a great job of making the process of handling your store simple and clear.
Where Shopify favors simplicity, Magento enables you to customize almost every aspect of your eCommerce experience. For example, you can configure what payment processors you want to use from the Stores > Configuration > Sales > Payment Methods screen: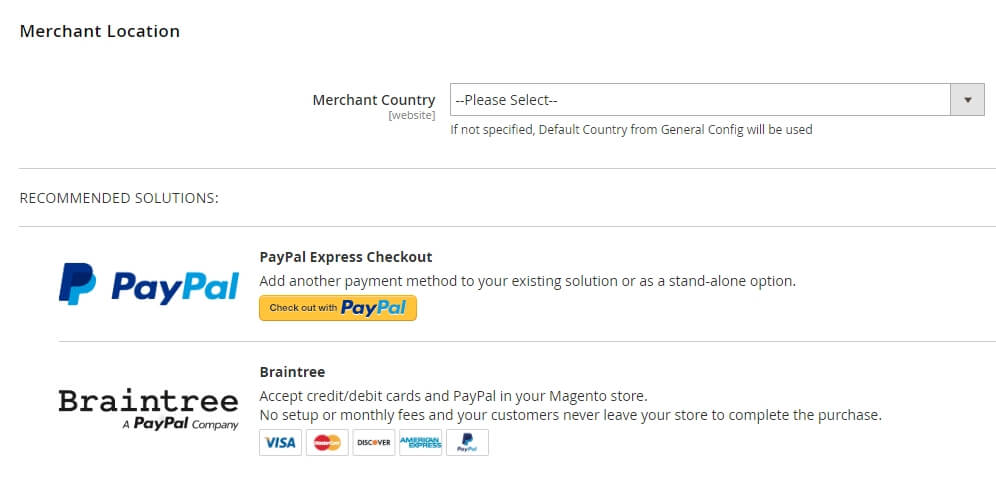 By default, Magento enables you to use PayPal and Braintree, although it also supports bank transfers, purchase orders, and more. Plus, you can integrate other processors with your store by using extensions.
As for shipping, Magento supports a broad range of settings for whatever shipping method you want to use. For example, you can configure individual instructions for UPS, USPS, FedEx, and DHL, and that's without any additional extensions:

As for taxes, Magento once more offers a surprising amount of options to play with. You can choose what products to apply taxes to, configure how tax rates are calculated, and so on: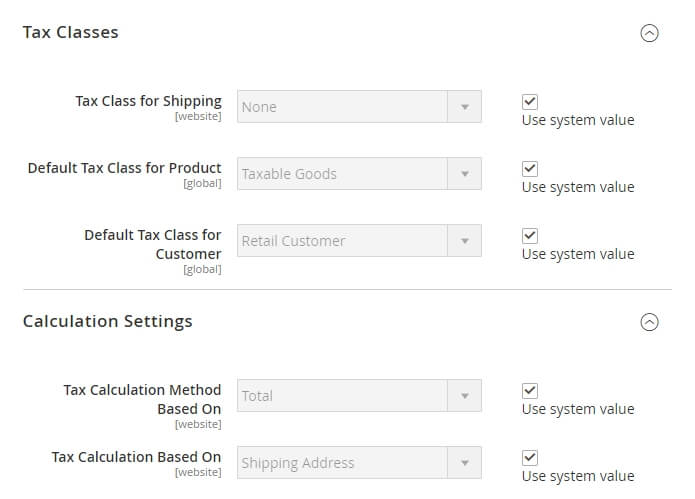 Overall, Magento offers a lot more store management options for you to work with. Configuring your store will take you longer with this platform, but the payoff is far better control over how your site works. That's why we're awarding this round of Magento vs Shopify to the former platform.
Shopify vs Magento: Performance
When you're running any type of website, performance is critical to its success. If your pages take too long to load, people will usually get bored and look elsewhere. However, when it comes to eCommerce, speed becomes even more crucial, since you might end up missing out on potential sales.
With Shopify, performance isn't something you have to worry about (for the most part). Since you're using a hosted platform, it takes care of optimizing the servers your store is running on for you and making sure your site always loads fast.
Keep in mind, however, that some Shopify themes are better from a performance standpoint than others. Likewise, adding too many apps to your store may impact its performance. To put it another way, you'll still want to monitor your store's loading times, even if you're using a hosted platform such as Shopify.
Self-hosted platforms are a completely different story. Magento, in particular, is famous for its 'scalability'. That means it's a great option for both small and large stores, thanks to the software's excellent performance.
In practice, of course, your individual store's performance will depend a lot on its server. That means you need to choose a web host that takes optimization seriously, and will enable you to scale your plan accordingly when needed.
For example, while shared hosting may be enough for a brand-new store, once you start getting some decent traffic, you'll probably want to upgrade to a Virtual Private Server (VPS):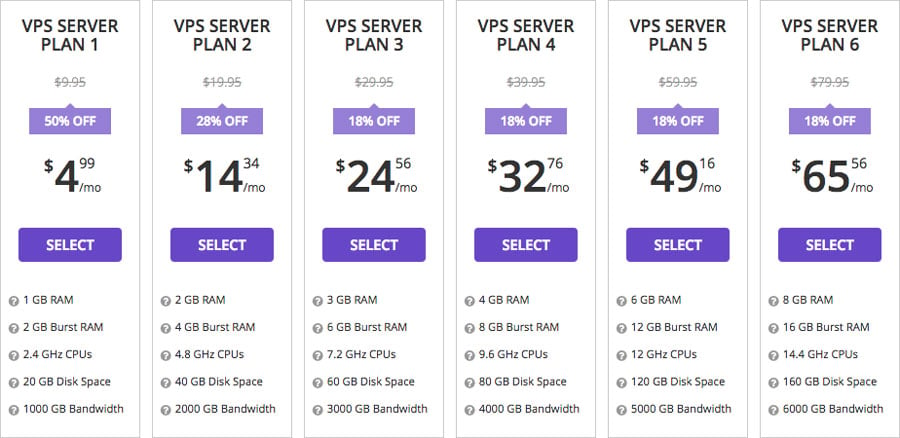 Overall, Magento offers you a lot more optimization options than Shopify does. With that in mind, we're going to award Magento with this round of Magento vs Shopify.
Shopify vs Magento: Security
When running an online store, security is incredibly important. If there are vulnerabilities in your store, attackers might attempt to use them to get access to your customers' information, which is something you'll want to avoid (to put it mildly).
Shopify enables you to take a hands-off approach when it comes to security. That is to say, it takes care of protecting your website against attacks, which is another advantage of using a hosted platform.
As far as security goes, Shopify has a pretty solid track record. The platform still hasn't suffered any major breaches, and it runs a very active bounty program that rewards individuals for finding vulnerabilities.
Magento, on the other hand, requires you to take a more hands-on approach when it comes to security. Just as with performance, the web host you pick will play a major role when it comes to keeping your website safe since, since it will be your first line of defense (rather than the platform itself). Likewise, there are a lot of extensions you can add to Magento to secure your store even further.
Finally, Magento takes safety a step further by offering dedicated security patches on a regular schedule. The developers behind the platform are very dedicated to keeping its users safe. For these reasons, we're awarding this round of Magento vs Shopify to the former platform again.
Shopify vs Magento: Customizability
Last but not least, let's talk about the options each of these two platforms gives you to customize your store and make it unique. After all, you don't want to set up a store that looks like it came off an assembly line.
With Shopify, you have three tools at your disposal to personalize your store. Those are themes, apps, and the platform's drag-and-drop builder. As far as themes go, we've already mentioned that you get access to dozens of options. In our experience, most of them look compelling, so that's a good start.
Likewise, there are a lot of apps you can add to your store to increase its functionality. Plenty of them are free, but some are of the best are premium. You'll want to keep that in mind if there's a particular feature you need to add to your website.

Finally, let's talk about the platform's page builder. For a lot of people, this feature is Shopify's main selling point. After all, the builder is what enables you to design and build online stores, without needing to know how to code:

In practice, however, what you can do with the builder is somewhat limited. You can use it to put together a stylish store, but it won't enable you to set up the next Amazon (although that's a tall order for any platform!).
With Magento, you get a lot of the same features. For example, you can find a broad selection of themes, although in most cases you'll want to create a custom template instead. This can take a lot of work, but your store will look exactly as you want it to as a result.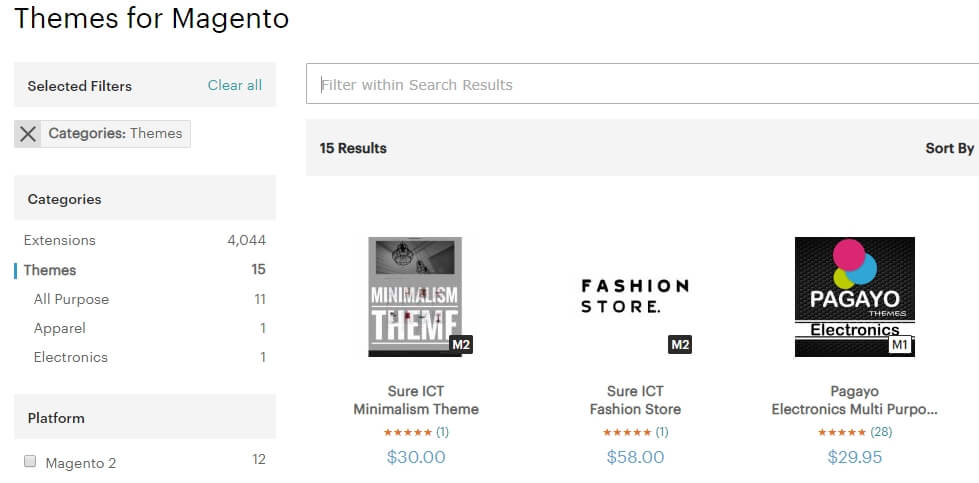 When it comes to extensions, the story is much simpler. The Magento Marketplace contains thousands of options you can use to implement almost any feature you want: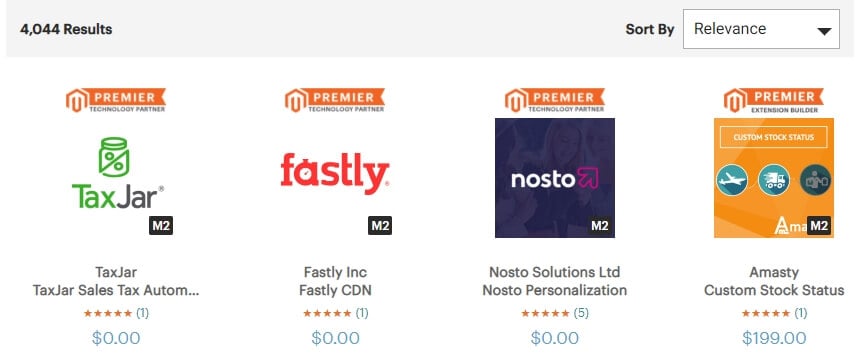 Just as with Shopify, however, a lot of Magento extensions aren't free. What's more, the premium options tend to be rather expensive.
Ultimately, though, Magento comes out on top as the most customizable platform, due to the sheer number of extensions it offers. Plus, the ability to create custom templates gives you a lot of freedom, even if it's a more advanced feature. This final round of Magento vs Shopify goes to Magento.
Shopify Advantages
In the end, Magento and Shopify are two very different platforms, and they target two different types of users. To demonstrate what we're talking about, let's break down the advantages of using Shopify:
Picking up the platform is remarkably simple.
You can have a store up and running in a matter of minutes.
You don't need to worry about hosting or security.
Customizing your store's style is easy, as is configuring its settings.
If you're looking for the perfect platform to create a simple online store with, Shopify should be right up your alley. The only downside to the platform is that it doesn't offer as many customization options as some of its competitors do. However, that's a recurring factor among hosted platforms in general.
Magento Advantages
There's no way around it: Magento is not the easiest platform to pick up if you're new to eCommerce. However, if you have the patience to learn its ins and outs, you'll find that it offers a lot of upsides, such as:
A massive number of options to customize your store with.
Flexibility when it comes to setting up your store and configuring its security settings.
A powerful product editor with hundreds of options.
Access to a broad collection of extensions you can use to extend your store's functionality.
As far as we're concerned, Magento comes out on top if you pit it directly against Shopify. However, what's most important is to pick whichever platform you feel more comfortable with.
Conclusion
When it comes to eCommerce, you need every edge you can get. Choosing the right platform from the get-go can take you pretty far. When it comes to Magento vs Shopify, the latter can be a good option for setting up a simple, small store. However, for most users, Magento is by far the more powerful and customizable platform.
What do you think about Magento vs Shopify? Share your thoughts with us in the comments section below!