Squarespace vs WordPress – Which Is Best for Your Website?
Squarespace and WordPress.org are two-well known website-building platforms. Both require no coding skills, so they're ideal for beginners who want to build a website.
Download eBook: Build Your First Website in 9 Easy Steps
However, each platform has its pros and cons that may suit certain users better than others. To ensure a smooth website-building process, it's important to research them both before making your decision.
If you're unsure whether to use Squarespace or WordPress, this article will help you decide. We will discuss various highlights of both platforms, like the ease of use, pricing plans, and their customer support services.
This article will also compare how these platforms are different, seeing as Squarespace is a website builder while WordPress is a content management system.
In order to find the most suitable option for you, let's begin by finding out what your requirements may be.
Elements of an Effective Website-Building Platform
Before comparing Squarespace and WordPress, let's look at the general criteria of effective website-building software. We will use these as a guideline when evaluating both platforms:
Easy-to-use interface. Users can navigate through the control panel and access the necessary tools without difficulty. Simultaneously, the platform provides enough creative freedom for building a site however the user sees fit.
Robust features. The platform offers everything you need to build your website – from design settings to blogging functions. If specific tools don't come built-in, there are add-ons and extensions you can download.
A vast collection of themes. It should cater to various types of websites – from an online resume to a large eCommerce store. The selections should also have a responsive design to ensure a good mobile user experience.
Scalability. Users have the option to upgrade the website's resources and features to support its growth.
Customer support. The platform provides easy-to-reach channels to seek assistance.
Value for money. The price for the software matches the benefits and features offered.
Depending on the website you're building, you may have some additional requirements. For instance, online store owners may need an all-in-one eCommerce functionality that enables them to sell their products, process payments, and manage their business.
With that in mind, we recommend making a list of requirements for your website before reading more about WordPress and Squarespace.
Squarespace vs WordPress: Ease of Use
Let's begin this WordPress vs. Squarespace comparison by discussing the ease of use.
This term refers to how easy the platform is for the average person to use and navigate. Both Squarespace and WordPress are relatively easy to learn compared to hand-coding websites. That being said, one may be quicker to pick up from the get-go.
Squarespace
As expected of a website builder, Squarespace is straightforward to use. All you need to build your website is to sign up for an account.
When you register, the system will ask a series of questions about your future site. It'll then use the information to find the most suitable templates for it.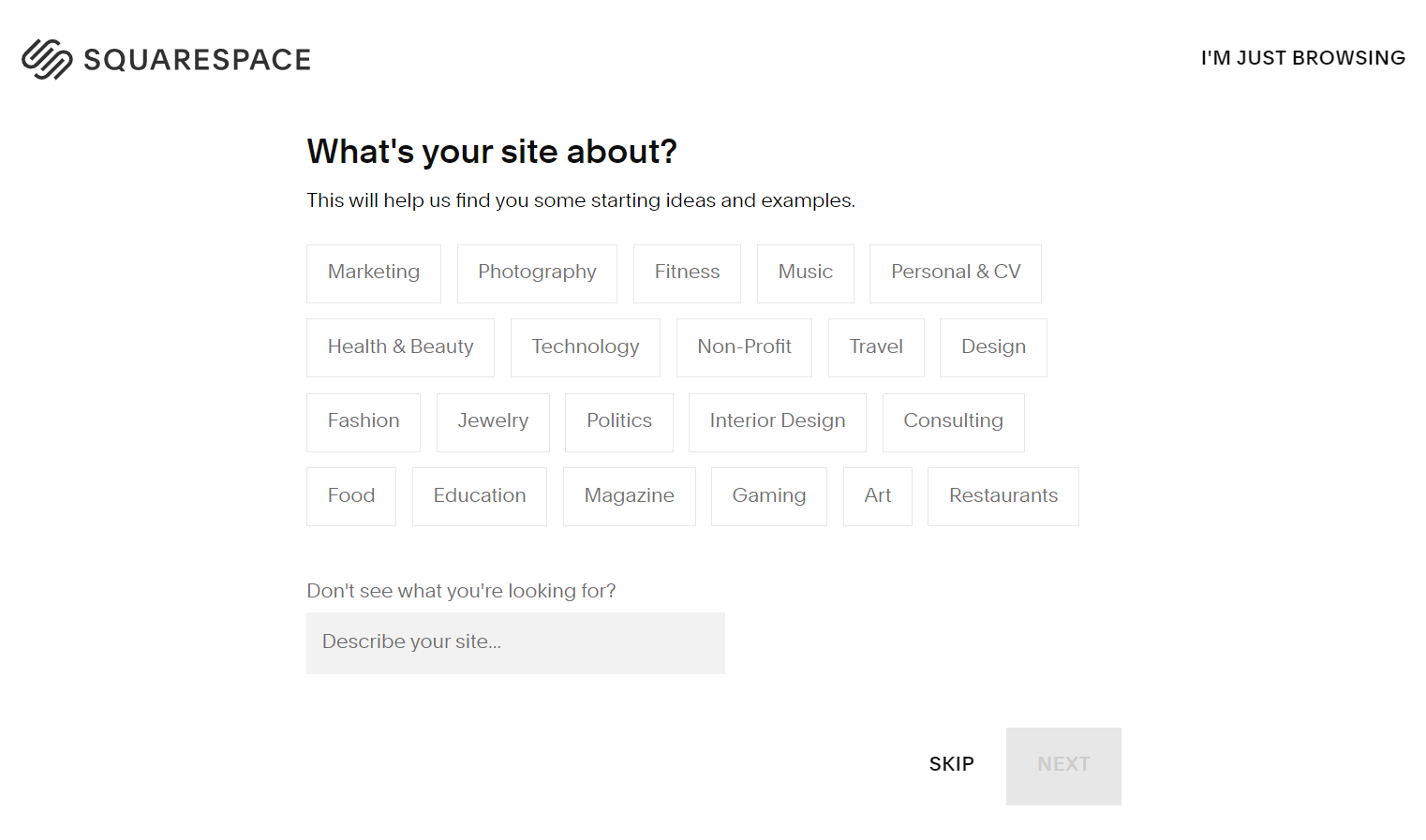 When you choose the template, the Squarespace editor will appear on the screen. It features a menu-driven interface with a left sidebar that shows everything you need to create and manage a website.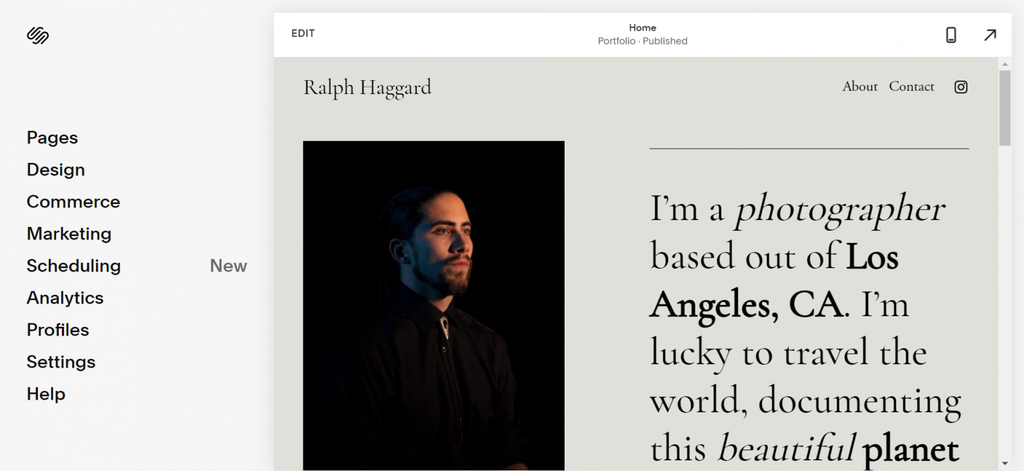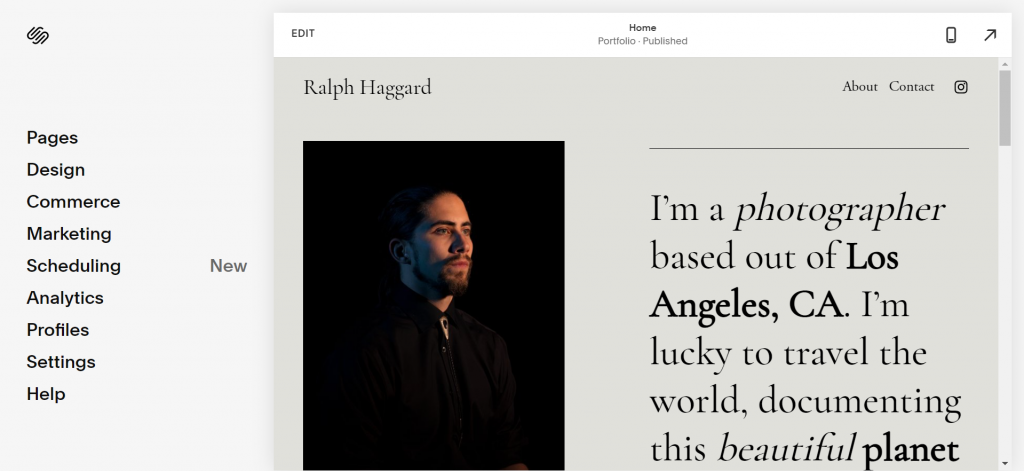 Click on the Edit button and access Squarespace's WYSIWYG builder. It uses a block-based system where you can drag and drop elements directly on the page.
The block-based system may be more limiting as it doesn't allow moving the content elements precisely where you want them. However, it makes it easy for non-designers to keep the layout looking proportional and sharp.
Each element includes its own customization settings for configuring its appearance. For instance, if you select a Text block, you will see controls for editing the font size, paragraph alignment, and typeface styles.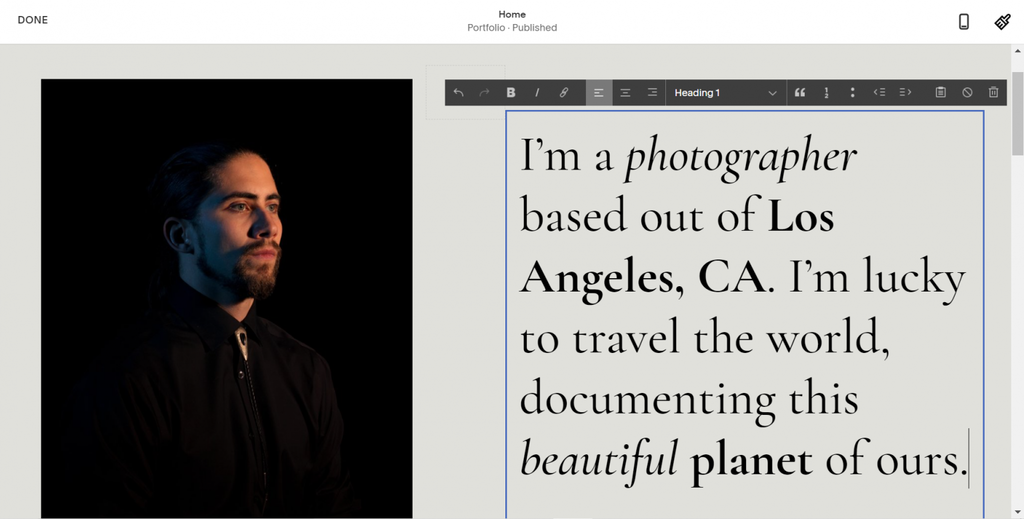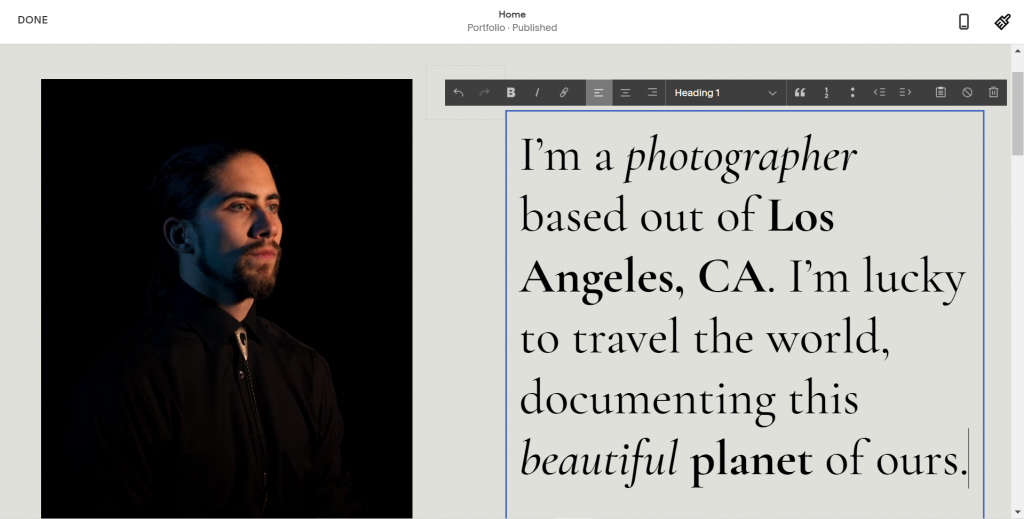 Additionally, there is a mobile preview mode that's accessible from the Smartphone icon on the top-right corner. Click on the same button to return to the desktop version.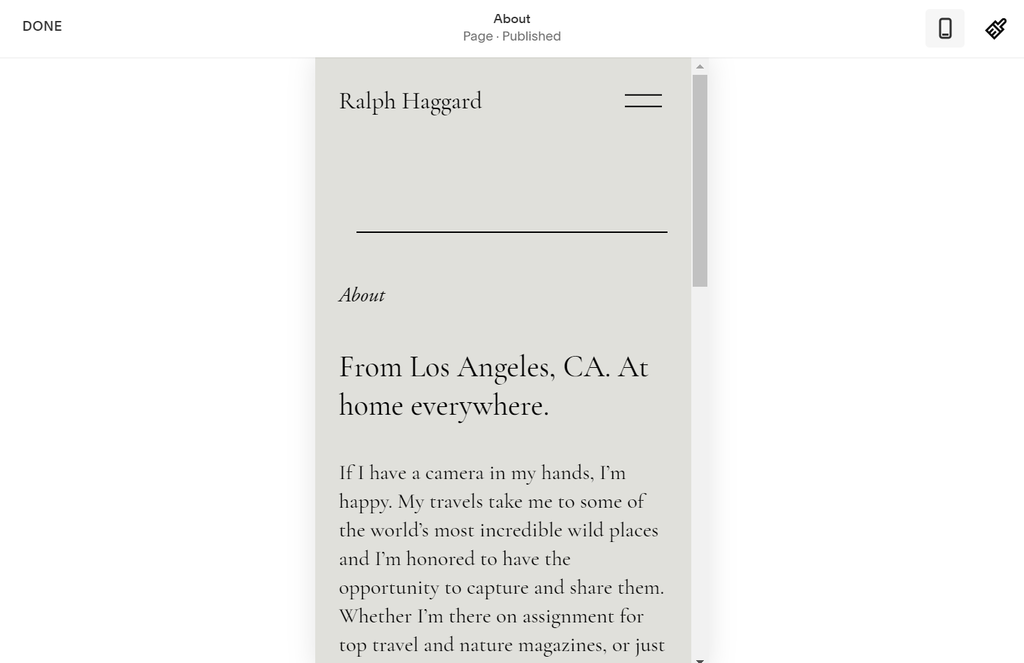 Besides the intuitive interface, Squarespace comes with managed web hosting. There is no need to make a separate purchase or maintain the back-end yourself, making Squarespace a beginner-friendly option.
WordPress
With self-hosted WordPress, the setup is slightly more complicated.
Firstly, you will need to get web hosting separately, which is a service responsible for storing the website files. Web hosting is also responsible for making web pages accessible to the public.
For non-technical users, web hosting can seem like a complicated feature to manage. However, many hosting providers like Hostinger offer a beginner-friendly control panel, which makes web hosting easy to understand and manage even for first-timers.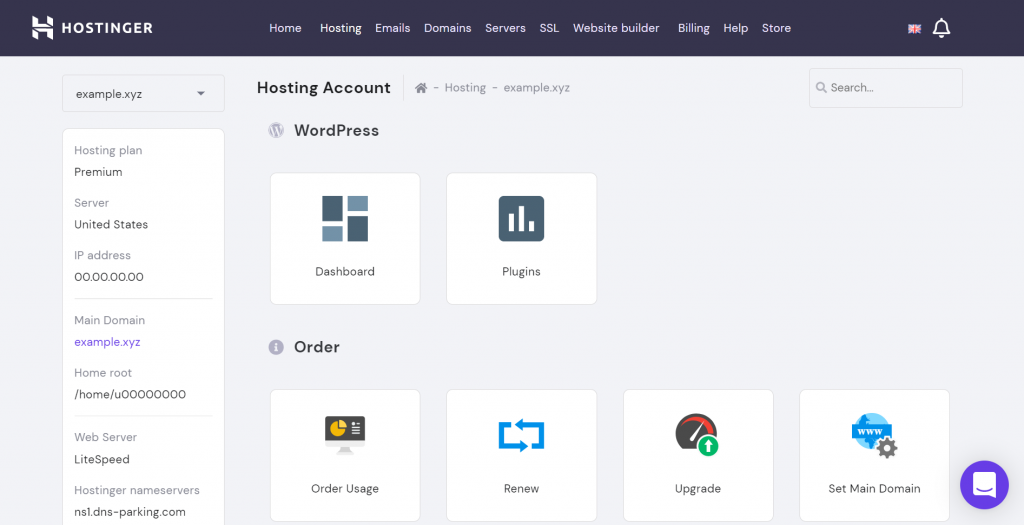 Once you set up the web hosting and install WordPress, you will be able to access the admin panel. This is where you can customize and manage the features and settings of this content management system.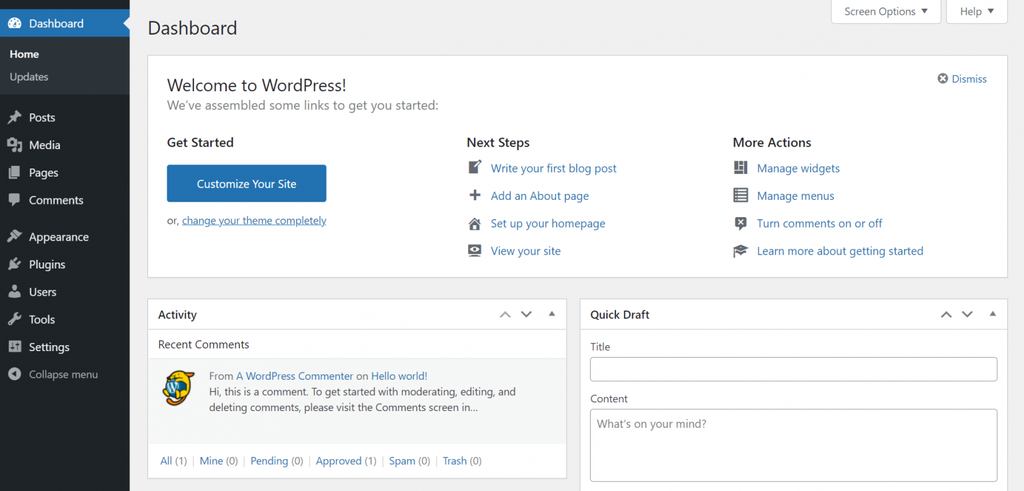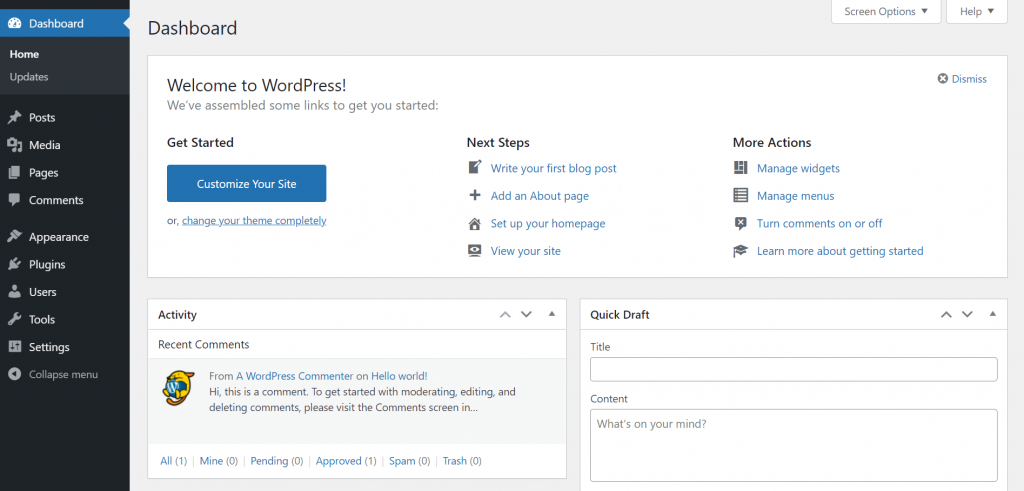 To create and edit a page, click on the Pages tab and open the WordPress editor. Here you'll find the Gutenberg editor, which comes with a block-based, drag-and-drop functionality.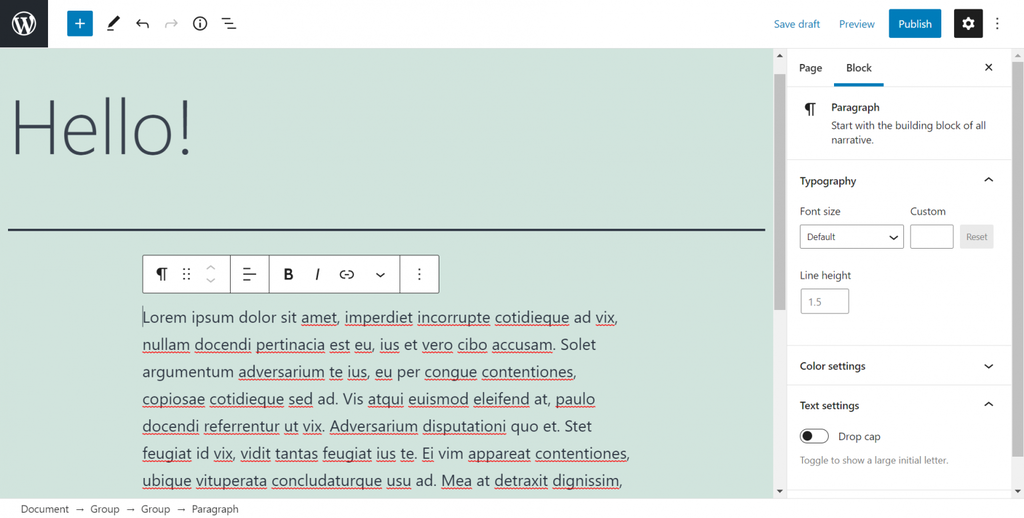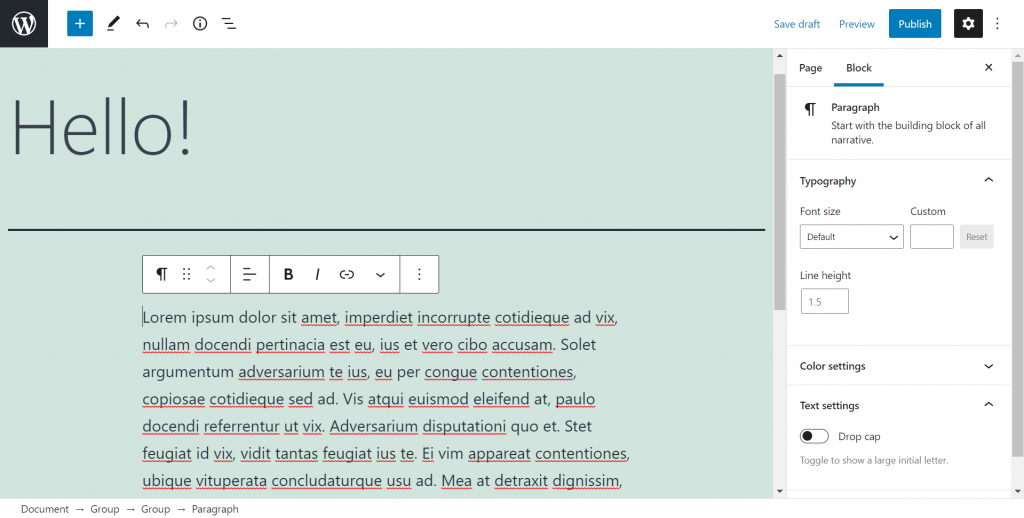 Compared to Squarespace, the customization options are more limited – you can only drag and drop the content blocks up or down. Moreover, it only reflects an approximate preview of how the changes will look on the front-end.
However, some of Gutenberg's features come with additional benefits.
For instance, it's possible to group multiple content elements to move them together at once. Or the option to assign blocks to be reusable for other pages or posts, eliminating the need to make them from scratch.
To edit a WordPress theme, select Appearance -> Customize on the admin panel. See the sidebar menu to switch themes and configure the customization settings. On the right is a WYSIWYG preview of the modifications.
Unlike Squarespace, WordPress's theme editor lacks drag-and-drop functionality. This aspect can feel restricting if you have specific layout modifications in mind. However, it's possible to solve this problem with WordPress plugins.
The Verdict
Overall, Squarespace is easier to use than self-hosted WordPress. Besides the intuitive interface, its managed hosting service makes it a more attractive option for beginners.
In comparison, WordPress requires web hosting to get started, and the interface is not as easy to navigate. That said, it's still generally considered to be intuitive for the average user.
Squarespace vs WordPress: Built-In Site-Building Features
This section will compare the in-app features provided by both platforms. We will compare the functions and their benefits to see which platform can provide a better site-building experience.
Squarespace
As a design-oriented website builder, Squarespace's built-in tools provide plenty of ways to create an attractive website. Below are some of the most beneficial features:
Elements library. Contains lots of basic elements like texts, images, videos, and buttons. It also features more advanced elements, like a search function, subscription forms, and social media integrations.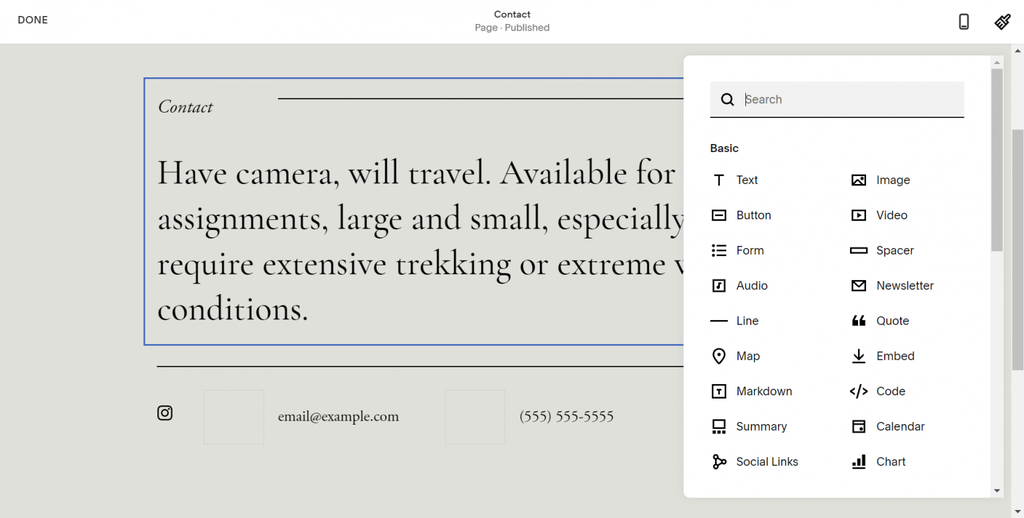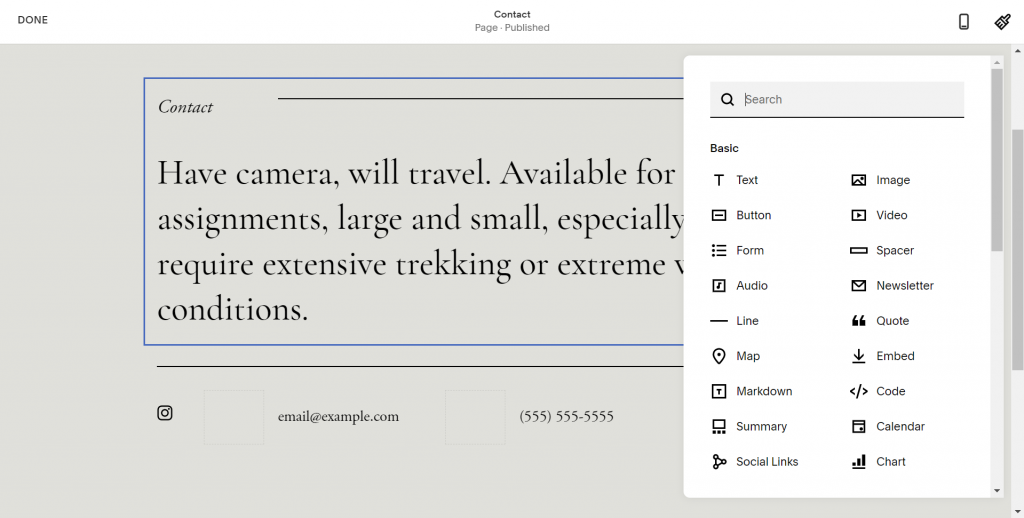 Pre-made sections. Users can select one of the ready-to-use layouts instead of creating a new page from scratch. Some of the options include headlines, photo galleries, appointment bookings, and product displays.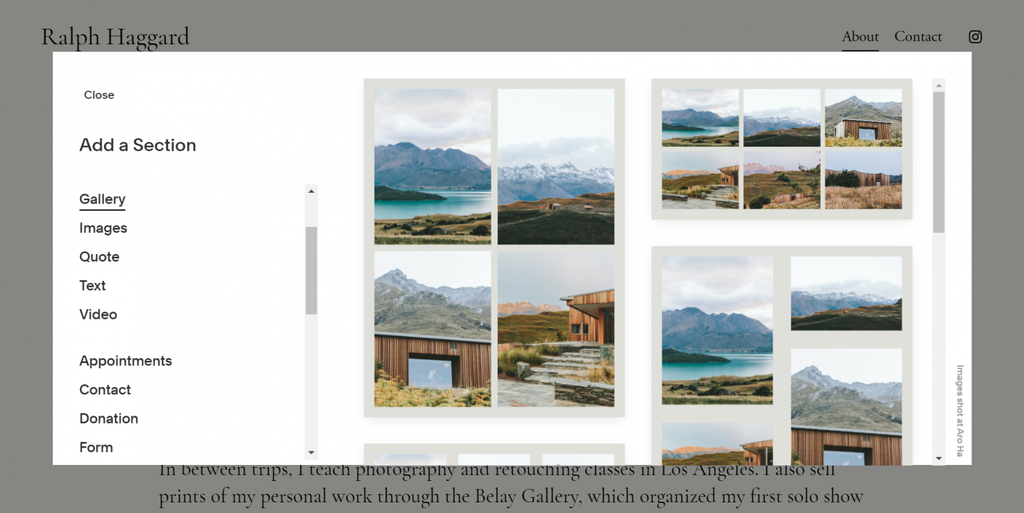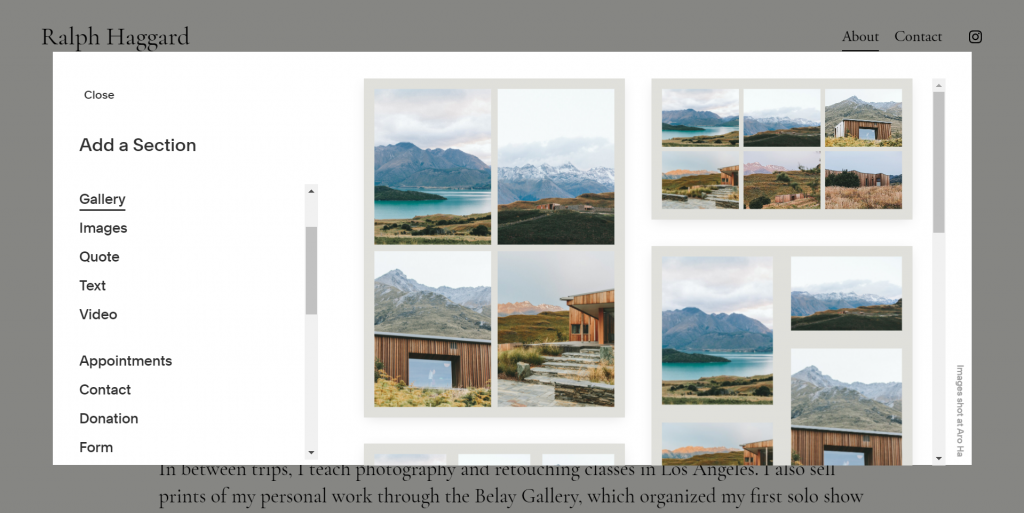 Image library. Every time you insert a new picture, Squarespace will save it in a dedicated folder. That way, there's no need to re-upload the file to use it again. The library is accessible when adding a new image element.
Image editor. This feature lets you modify a picture right on the website builder. Feel free to adjust the lighting and sharpness settings, crop the size, or add a filter.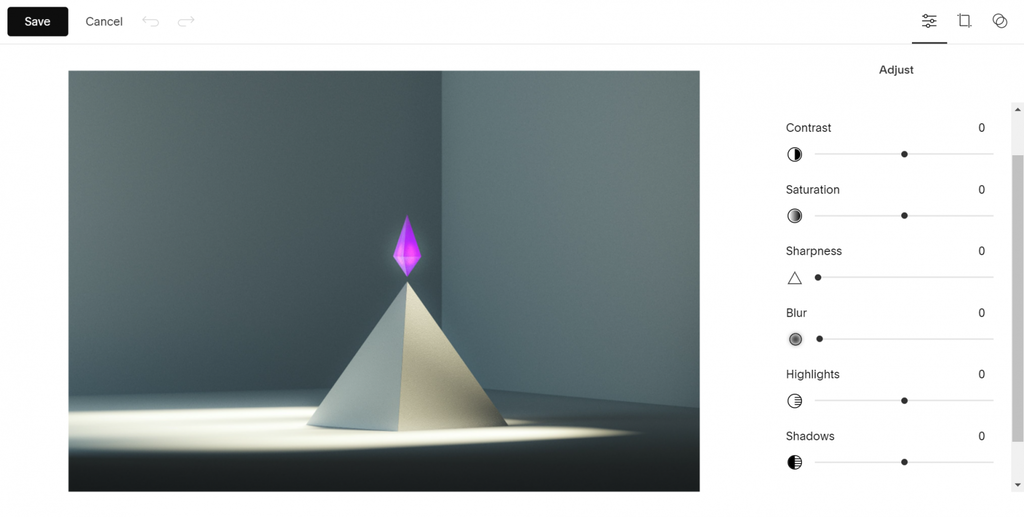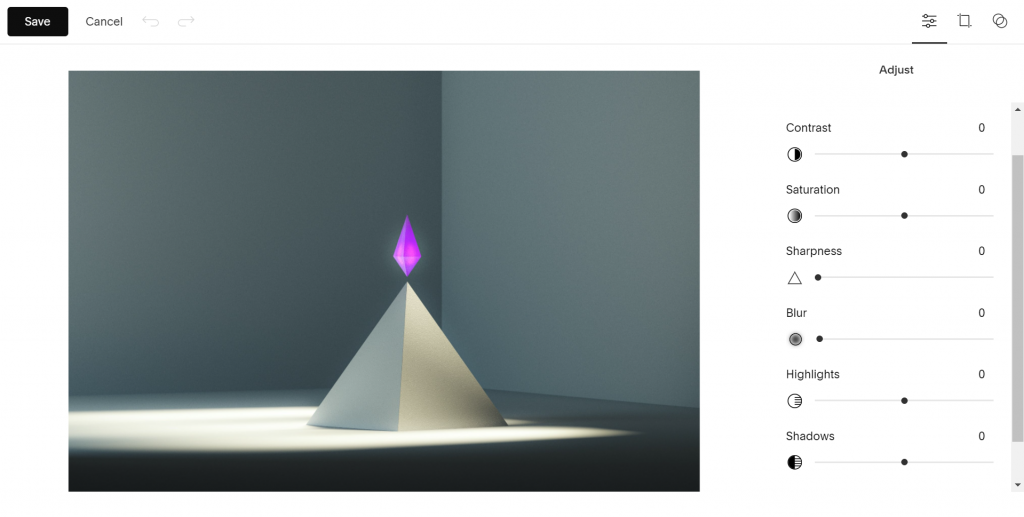 Design tools. Squarespace offers plenty of customization options, thanks to its extensive font collection and custom color palette tool.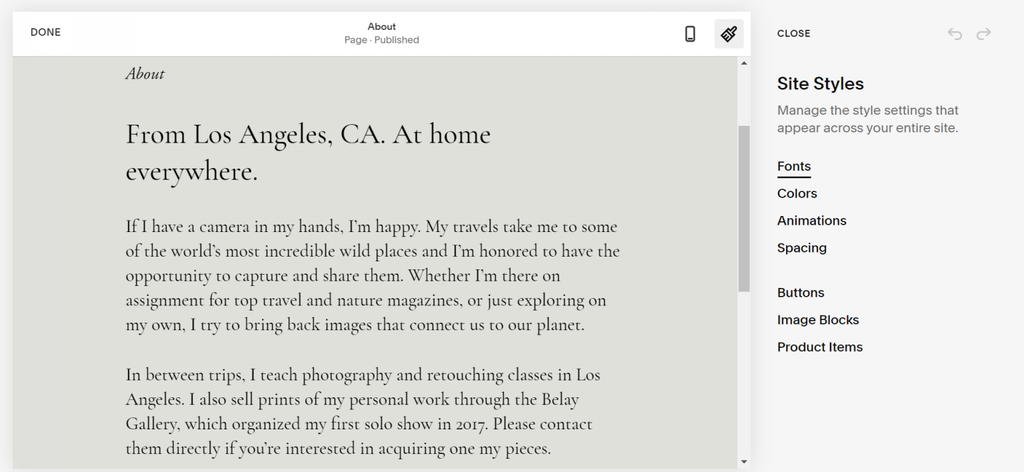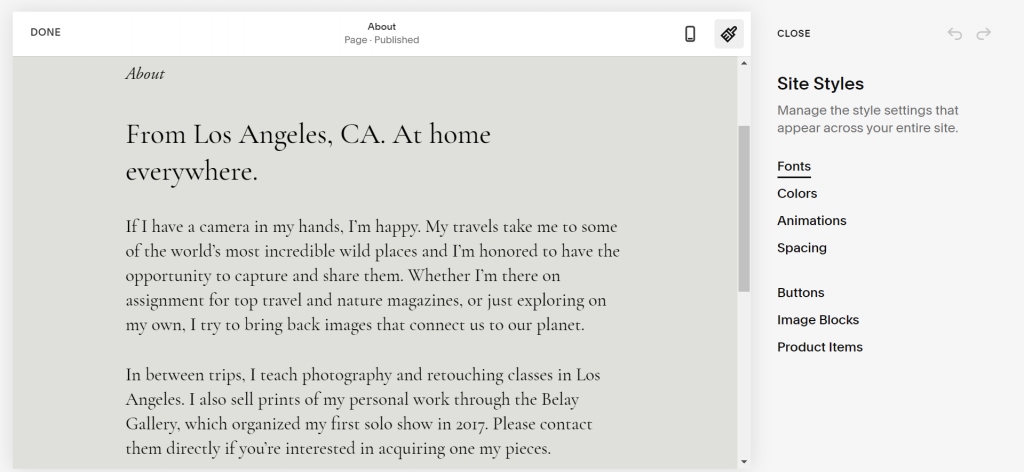 Custom code. While using Squarespace doesn't require any coding, you can add HTML, CSS, or JavaScript to enhance the page design. Users with advanced technical knowledge can also use code injection to apply changes to the entire website.
Blogging tools. Squarespace comes with all of the essential content management features, including blog post status, scheduled publishing, tags and categories, comment system, and RSS support.
Private pages. Users can disable pages from public access and assign passwords to open them. It's a handy tool for when you're testing new content or features.
Multiple contributors. Invite another person to edit the website or manage its Squarespace subscription. Note that how many people you can add depends on your subscription plan.
Mobile app. Manage your website on the go with Squarespace's application, available on iOS and Android.
Import and export feature. Use this tool to transfer an existing website to or from Squarespace. For now, it's only possible to move site files from Blogger, WordPress, or Tumblr.
WordPress
WordPress is one of the most robust platforms to make a blog. Like Squarespace, WordPress's built-in features are excellent for basic static websites or blogs. Here are some of the highlights:
Blogging tools. WordPress comes with a post editor, blog post status, and RSS feed support. With this software, it's also possible to create a category system with subcategories, which can help manage hundreds of different blog posts.
Dozens of content blocks. Besides basic types like text and media, there are also layout-related design blocks such as spacers, columns, separators, and page breaks. More block options are available with plugins.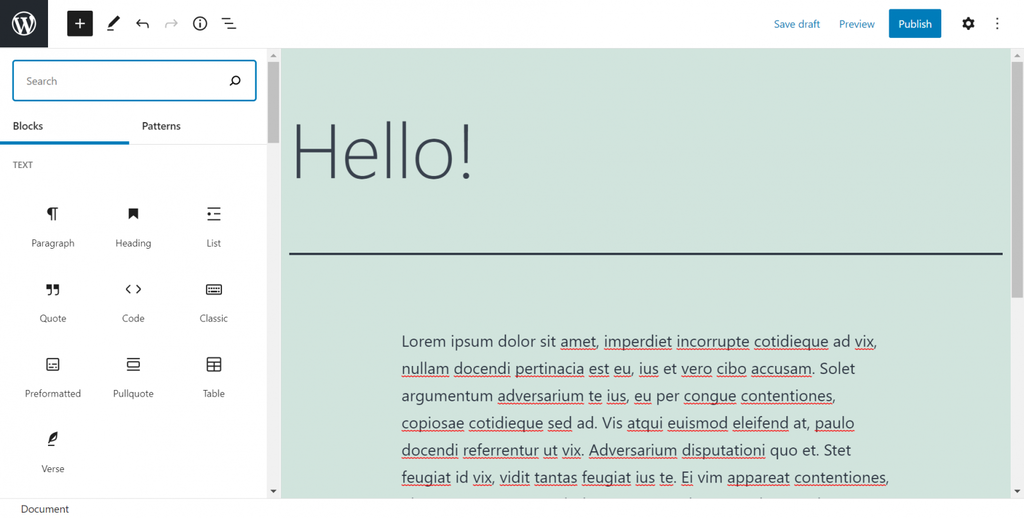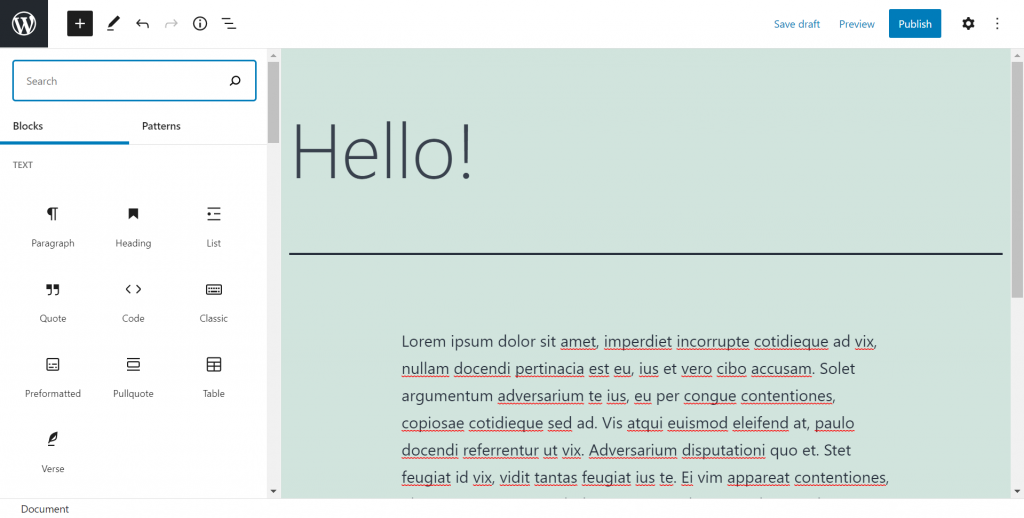 Widgets. These are blocks you can add to a website's sidebar, footer, or header. They're great for making certain elements appear on all site pages, such as a search function, call-to-action buttons, signup forms, or a short bio text.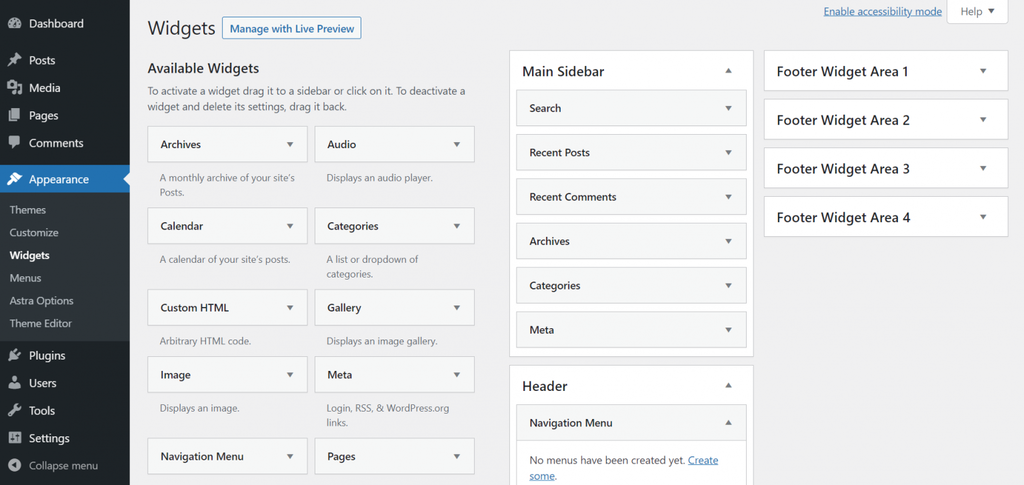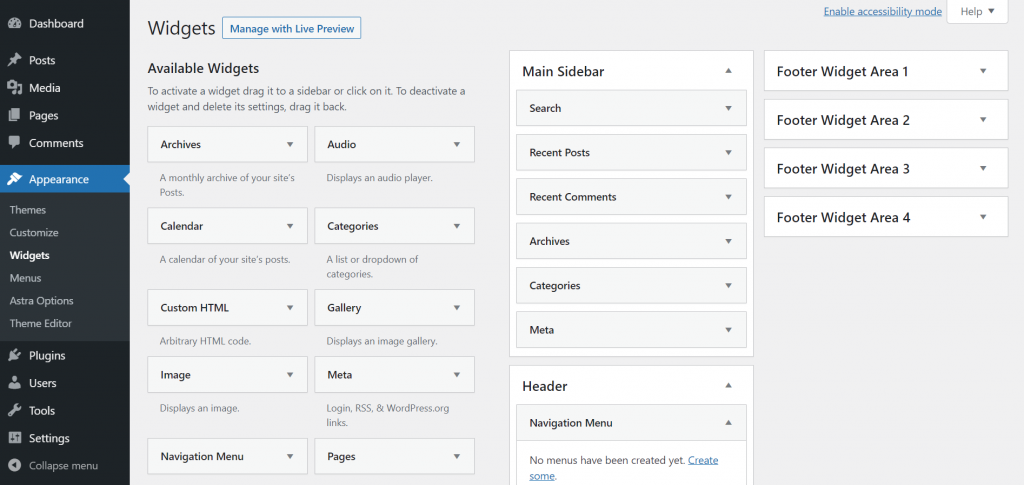 Multimedia library. Unlike Squarespace, WordPress has a manager for all types of files, not just images. Feel free to upload videos, audio, spreadsheets, documents, and archives.
Multi-user management. Add new users to contribute to the website on the back-end or front-end. The default roles available are administrator, editor, author, contributor, and subscriber. There is no limit to the number of people you can invite.
Menu editor. WordPress allows creating multi-level navigation where one page is a parent for other pages. Squarespace only allows a flat menu structure.
Site health. This page is accessible from the Admin Panel -> Tools. It will reveal any critical issues and recommend improvements for site security and performance.
Export and import tool. Move website files from Blogger, Tumblr, TypePad, LiveJournal, or other platforms that support WordPress export files.
Private pages. Similar to Squarespace, you can make specific pages inaccessible or enable password protection.
Code editor. WordPress allows users to add custom HTML, CSS, and PHP to the web pages, posts, themes, and plugins. It also provides developer resources to help you comply with their standards.
Mobile app. Use the application to manage your content, check site statistics, and read comments from anywher
While WordPress doesn't have as many design-focused functions, the tools are better equipped to support the site's growth.
For instance, making a multi-level menu is beneficial when your website has multiple pages and blog posts to organize. The site health feature also makes website maintenance much more manageable.
The Verdict
Although both platforms offer sufficient built-in tools, WordPress is the winner. The content management system comes with better tools for scaling your site, which is more beneficial in the long-term.
However, if you want to create a beautiful basic website without additional hassle, Squarespace may be a better solution.
Squarespace vs WordPress: Theme Collection
Both Squarespace and WordPress have thousands of beautiful themes and templates. This section will compare their design and feature options, as well as the types of websites they will suit best.
Squarespace
Squarespace offers dozens of templates in multiple categories. Some are for personal use, such as blogs and portfolios, while the rest are more business-oriented, like professional services, online stores, launch pages, and memberships.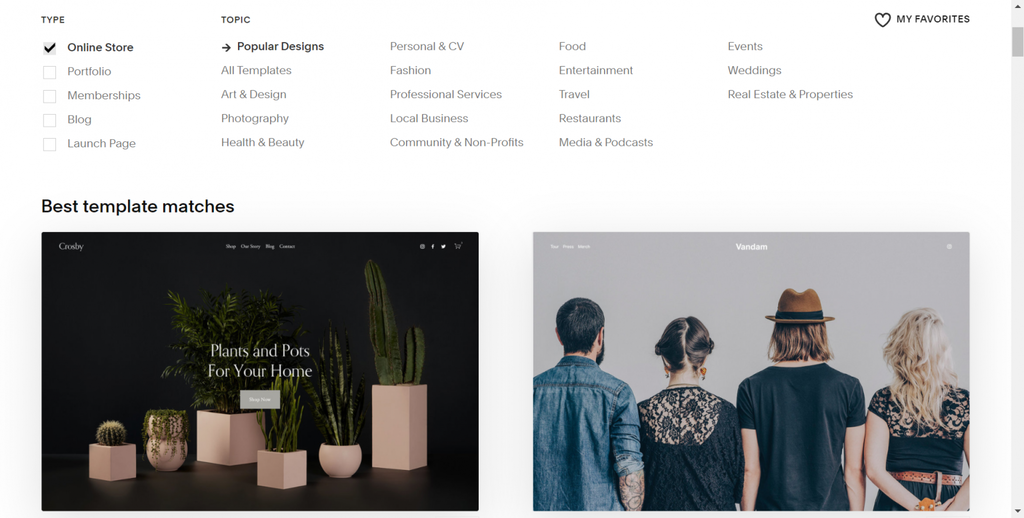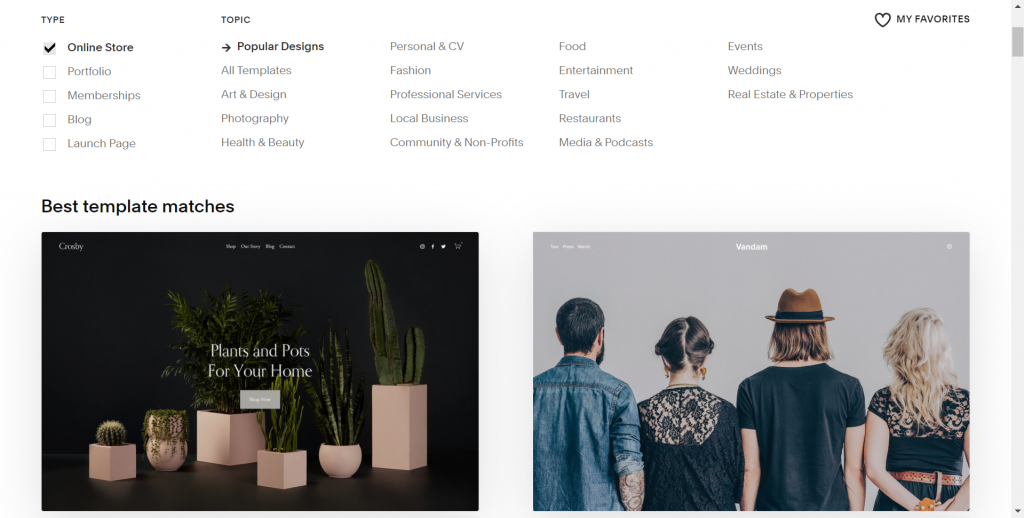 The templates have a minimal and modern design, making them versatile and easily customizable to suit just about any product category.
For instance, the Crosby template is an excellent pick for a small business website. The headline can highlight the products in a large full-width banner, while the grayscale color palette is suitable for any eCommerce niche.
Furthermore, all the templates are responsive, meaning they can automatically adjust to mobile and tablet devices.
One benefit of website builders is they have a dedicated team for managing and updating the templates on a regular basis. Meaning, you won't have to worry about your template not being secure or not performing correctly.
WordPress
There are thousands of WordPress themes, many of which are free to download from the official directory. If you don't like the available selections, consider looking for other options from third-party marketplaces.
We recommend starting with Colorlib to find free options. ThemeForest or Template Monster are great places to check out for those who don't mind spending some money.
The theme categories are slightly more extensive than Squarespace. For instance, there are WordPress themes for online directories and wiki websites, which aren't available on the website builder.
Naturally, there are also many more aesthetic options to choose from – from minimal and professional to fun and colorful. To illustrate, this Kids Heaven theme is perfect for a children's site.
Not to mention, many themes come with additional features to make the site more functional. For example, this PeakShops theme has a built-in product filter unavailable on Squarespace's eCommerce templates.
All this said, due to the abundance of options, finding a suitable WordPress theme can take longer. It's also essential to check the theme's ratings, reviews, and the last update to lower the chances of security and performance issues.
The Verdict
While Squarespace has designer-made templates, WordPress wins this round with its massive theme collection. Not only do they come in more style choices, but many of them are richer in features too.
Squarespace vs WordPress: Plugins and Extensions
This section will focus on plugins and extensions, which are add-ons that can enable custom features not provided by the core software. They can grant the user more control when building and customizing their site.
Squarespace
At the time of writing, Squarespace offers 24 extensions, all of which will connect your website with a third-party service. Free and premium selections are available, with the paid options starting from $9/month to $75/month.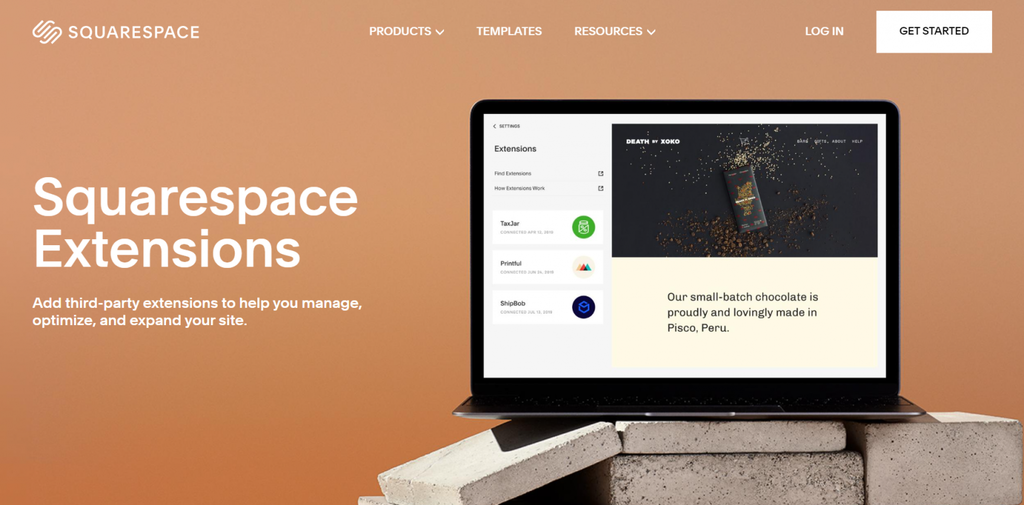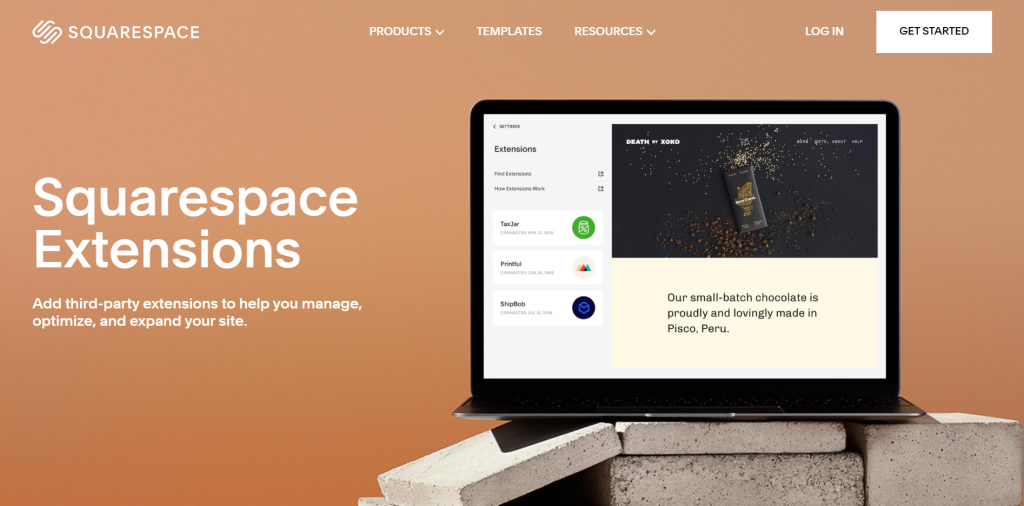 Most extensions have a business or marketing focus, so they're most useful for freelancers, entrepreneurs, and companies.
For instance, the Freshbooks extension is for invoicing and bookkeeping, while Spocket is for sourcing dropshipping suppliers from the US and Europe.
WordPress
WordPress has over 58,000 free plugins in its official directory, and loads more are available on third-party marketplaces like CodeCanyon.


The reason for such an extensive collection is that WordPress is open-source. Meaning, developers can contribute to the software by creating plugins and extensions.
You can find WordPress plugins intended for a large variety of purposes, not just business or marketing. For instance, Visual Composer is an excellent WordPress plugin for enabling full drag-and-drop functionality with the software.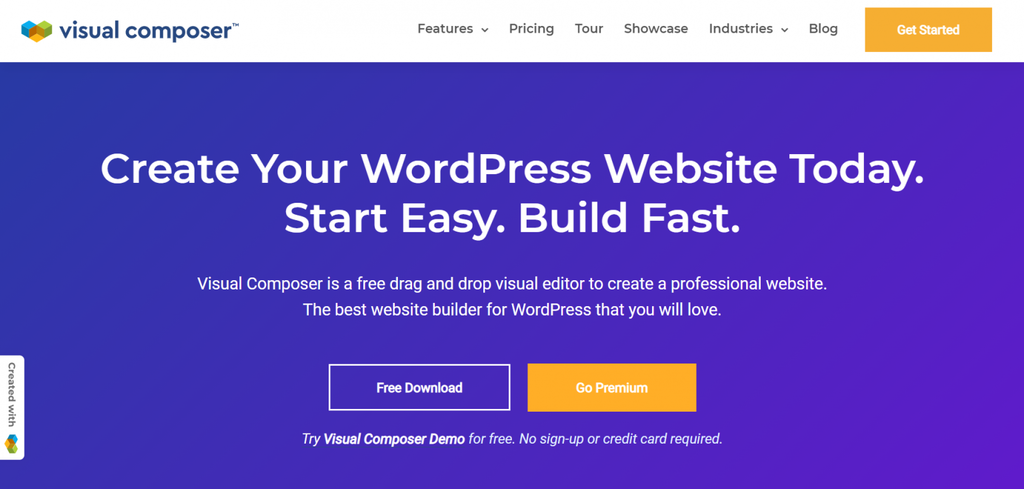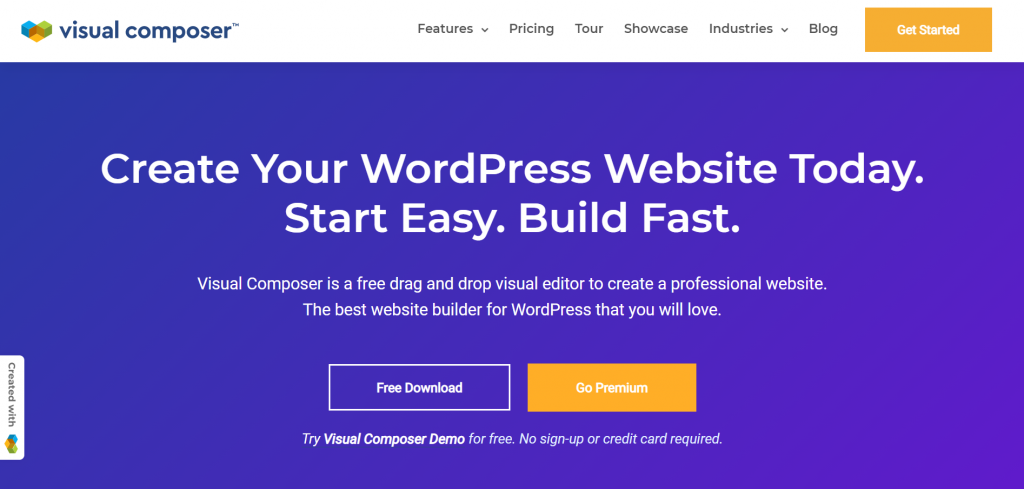 Or the W3 Total Cache – a speed optimization plugin that enables caching and Google AMP to speeds up your website.
Like themes, it's essential to vet the plugins before using them, especially if they come from a third-party website. Low-quality extensions can make your site vulnerable to security risks.
The Verdict
The WordPress plugin collection is difficult to beat. With such a wide plugin choice, you can create various types of websites that aren't possible with just the built-in software features.
However, it's good to be selective with the extensions to keep your site lightweight and secure.
Squarespace vs WordPress: eCommerce Functions
With online shopping becoming a common practice, many people seek an eCommerce platform to launch their digital business. Ideally, the software should be capable of selling products or services and provide a smooth buying process for the users.
Squarespace
As an eCommerce platform, Squarespace has all the essential tools to build an online store. They're available for Business, Commerce Basic, and Commerce Advanced subscription clients through the Commerce tab.
The plans come with:
Unlimited items. The types of items allowed to be sold are products, services, digital content, and gift cards. Commerce Advanced users can sell subscriptions as well. The amount of products is not limited.
Inventory management. Assign product quantity and let customers know when the items are out of stock. Enable email alerts for when the stock number reaches a certain level so that you can replenish it in time.
Order tracking. Every time someone completes a purchase, the system will send an email notifying you to fulfill the order. Monitor when the item gets delivered and arrives at the customer's address.
Product page customization. Use quick view, image zoom, or hover effects to enhance the item presentation. Also, make sure to provide in-depth product descriptions to increase conversion rates.
Online payment gateways. The accepted options include PayPal, Stripe, Apple Pay, and AfterPay for installments.
Multiple shipping options. Choose between flat-rate, weight-based, or free delivery. Commerce Advanced users can also use real-time carrier rates if they use FedEx, UPS, or USPS.
Tax settings. Insert the tax percentage according to the region of the market. Canadian and US clients can configure specific rules for each state or province.
Customizable notifications. Edit any order-related emails sent out to customers to suit your online store's branding.
Discount application. Squarespace has several price-cut rules that you can apply and combine. For instance, customers can get a markdown for a single product and a percentage reduction for orders' total cost.
PCI compliance. Squarespace's eCommerce tools are secure by default, preventing unauthorized parties from accessing customers' credit card information.
The difference between Squarespace's Business, Commerce Basic, and Commerce Advanced plans is that the Business plan comes with a 3% fee for every transaction made on your online store.
Its users also have to redirect customers to Squarespace's checkout page instead of a page with their own domain, which can significantly increase the loading time, as buyers have to open a different site to complete their purchase.
For this reason, we recommend going with Commerce Basic or Commerce Advanced if you plan to sell regularly. Depending on the eCommerce plan, you may also get:
eCommerce analytics, which can reveal sales performance, best-selling products, and purchase funnel.
Customer accounts.
Abandoned cart recovery to remind customers of unfinished transactions.
Merchandising tools to display related items on a product page or enable waitlisting.
Instagram product tags to sell the items on this social media platform.
WordPress
WordPress doesn't have built-in online selling features. However, you can enable them by using an eCommerce plugin.
The most popular option is WooCommerce, with over 5,000,000 installations and 4.5-star reviews on the official WordPress plugin directory.
Below are some of the best WooCommerce's features:
Beginner-friendly setup wizard. Upon installation, the plugin will ask to enter information about your store, add the products, set up the payment options, and configure the taxes. It will also automatically create the basic store pages.
Multiple product types. These include physical goods, digital items, and services. It's also possible to assign attributes and group similar items.
WooCommerce blocks. Display products or reviews on any page or post. WooCommerce blocks are excellent for creating a custom shop page or highlighting featured items across the website.
Order management. The store admin can label which purchases are pending, processing, on hold, refunded, canceled, or completed. It's also possible to place orders from the back-end, which helps if you accept purchases by phone.
Customer accounts. This feature allows keeping track of buyers and their spending habits in your store. It's excellent for customer analysis and marketing campaigns.
Guest checkout. Let customers complete their purchases without making an account. Enabling this feature can help reduce cart abandonment rates.
Business analytics. It can reveal stats for the top-selling products, monthly revenue, average order value, total taxes paid, and overall stock levels.
Multiple payment methods. The default options include direct bank transfer, check, cash on delivery, and PayPal. This eCommerce plugin also has a built-in payment processor, which charges 2.9% and $0.30 for every transaction.
Coupon application. Create vouchers and set the minimum and maximum spending limits.
Tax settings. Pick between manually inserting the rates or having them automatically calculated using JetPack. You can also include taxes in the pricing and calculate the rate based on the shop's address.
All these WooCommerce features are free and sufficient for basic online stores. There are also extensions for customizing the online selling experience and scaling your business. The prices start from $0 to $299/year.
One downside of the WooCommerce plugin is that it's not PCI-compliant by default. You have to configure the settings to abide by the standards yourself.
Besides using WooCommerce, it's also possible to connect a WordPress site with a third-party eCommerce platform, like Ecwid. However, you may have to manage the website and online business from separate places.
The Verdict
All things considered, WordPress beats Squarespace in terms of eCommerce capabilities. Despite offering all the basic selling features, Squarespace provides some of its advanced tools to its higher-paying clients only.
Meanwhile, WordPress offers various eCommerce plugins suitable for any business owner, all of which are freely accessible. Moreover, those using WooCommerce can download add-ons to extend the online store functionality.
Squarespace vs WordPress: Marketing and SEO
Having a website isn't enough to establish an online presence. To reach your target audience, you'll need to use a site-building platform with marketing and SEO tools. Let's have a look at how Squarespace and WordPress compare.
Squarespace
Squarespace includes several built-in marketing features for ease of use, which are:
SEO toolkit. Edit the pages' meta titles and descriptions, change the URL slugs, insert alt texts, enable URL redirects, and activate AMP. There is also a Google Search Console integration, showing which keywords drive traffic to your site.
Customizable form and newsletter blocks. These content elements can capture leads for marketing campaigns. Integrate them with MailChimp, Zapier, or Google Drive to store subscribers' data.
Social media integration. Connect your Squarespace site with Instagram, Facebook, Twitter, Pinterest, or LinkedIn. There are also feed blocks that can show the most recent social posts on your website.
Website analytics. The basic metrics cover the number of visits, unique visitors, page views, visitor geography, popular content, and most recent actions taken by users on the site in the past week.
Logo maker. Use this easy-to-use feature to kickstart your business branding. It has dozens of icons and fonts to choose from, so there are plenty of ways to create a unique logo.
Custom favicon. It's a small image that appears next to the page's title on the browser tab. Besides making your site more distinguishable, it's also great for building brand recognition.
These tools are accessible with all subscriptions, including Personal – the most affordable Squarespace website package.
While they can be adequate for the beginning stages of a business, they may not be enough to grow your brand. In that case, we suggest upgrading to a Business or Commerce plan, which comes with these additional features:
Google Workspace account to create a professional email using a custom domain name.
$100 worth of Google Ads credits to promote your website on the search engine.
Google My Business integration, a handy feature for local SEO.
Profiles feature, which helps to segment customers, subscribers, members, or donors for marketing purposes.
Advanced analytics that can show the conversion rates of call-to-action buttons and lead-generation forms.
Promotional pop-ups and announcement bars.
Facebook Pixel integration can track users' activity after they click on a Facebook ad to open your website.
Finally, Squarespace offers an email marketing feature. It has tons of responsive email templates that range from newsletters and announcements to automated notification messages. You can also customize the style, set the delivery schedule, and configure the sender profile.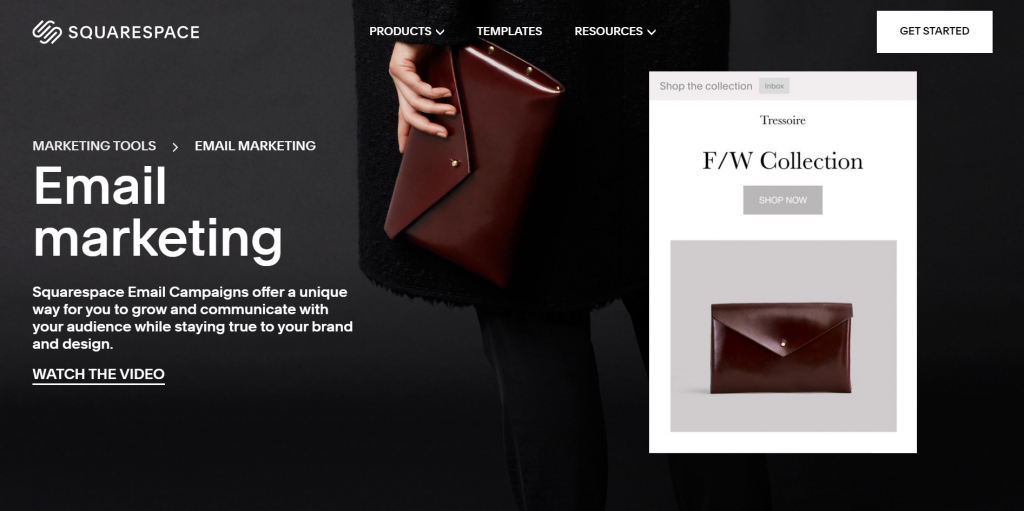 This email marketing feature has a free trial period, which allows a maximum of three email blasts and includes up to 50,000 recipients per campaign. There is no time restriction, but you have to upgrade to a premium plan once you hit the limit. The price starts from $5/month billed annually.
WordPress
Aside from the blogging feature, this software has no built-in marketing or SEO tools. However, there are plenty of WordPress plugins to make up for them.
Here's a list of the best WordPress plugins for marketing:
Although finding the WordPress plugins that will suit your needs will require some time and effort, the options mentioned above are a great place to start.
The Verdict
Squarespace has an all-in-one marketing solution. However, certain features are limited to higher-tier plans, forcing users to upgrade if they want to use them.
Meanwhile, WordPress has an extensive library of marketing and SEO plugins, many of which are ready to download for free.
Squarespace vs WordPress: Pricing
Whether you go for a content management system or a website builder, the platform should offer enough features and benefits to justify its price. Let's see which platform has better value for money – Squarespace or WordPress?
Squarespace
Squarespace has four pricing plans, all of which include:
Free custom domain name for a year
Free SSL certificate
Managed cloud hosting with unlimited bandwidth and storage
24/7 support
14-day free trial
The list below outlines the differences between each Squarespace pricing plan. Note that all the prices are billed annually:
Personal, $12/month. It only comes with the built-in Squarespace features: SEO tools, responsive templates, basic site analytics, and two website contributors, including the owner.
Business, $18/month. Unlimited contributors, professional email with Google Workspace, premium blocks, Google Ads credits, pop-ups and banners for marketing, basic eCommerce tools, and donation feature. There is a 3% transaction fee.
Commerce Basic, $26/month. On top of the Squarespace Personal and Business plan features, there are 0% transaction fees, sales analytics, product merchandising features, social selling on Instagram, and stock level display.
Commerce Advanced, $40/month. All the previously-mentioned Squarespace features, in addition to abandoned cart recovery, subscription product type, advanced shipping and discount, and Commerce APIs for third-party integrations.
One aspect to note about Squarespace pricing is it is more expensive than other website builders like Zyro, whose most affordable plan costs $2.90/month.
Additionally, there is a significant cost jump between the packages, which is important to consider if you plan on upgrading in the future.
WordPress
While WordPress itself is free, there are several other services you'll need before you can have your website up and running. This can make the pricing more challenging to estimate compared to Squarespace. At the same time, it may provide more budgeting flexibility.
Since WordPress is self-hosted, you'll need to get web hosting separately. The price usually starts from $0.99/month and can go up to hundreds of dollars, depending on the hosting provider and the service.
Hostinger covers all of the basic hosting needs for a budget-friendly price if you're looking for an affordable WordPress hosting plan.
Our packages come with a one-click WordPress installer, so there's no need to manually download and upload the software. Additionally, there is a site-building wizard to help you get started and automatic updates to keep the site running smoothly.
For new users, we recommend the WordPress Starter plan, which costs $3.99/month. It comes with a 99.9% uptime guarantee, unlimited bandwidth, 100GB SSD storage, and the LiteSpeed Cache plugin to boost your site's performance.
We also offer a 30-day money-back policy, so there is no risk of trying our services.
Once you choose your web host, you'll need to purchase a domain name, the URL users will enter on their browser's address bar to access your site.
The price typically depends on the TLD or the extension at the end of the domain name. .com is the most popular option, with an average cost of $9.99/year. For an affordable alternative, consider .xyz or .online, which usually costs $0.99/year.
Besides the extension, you'll also need a domain name. Use a domain search tool to see whether your chosen domain name is available and a domain generator to find ideas for a replacement if it's not.
Domain Name Checker
Instantly check domain name availability.
Note that we also offer a free domain name registration for a year with some of our plans, which can help cut down costs.
Since you'll be using WordPress, consider the themes and plugins' prices as well. It's possible to use only the free options, though they may not be powerful or secure enough for long-term use.
According to Creative Minds, premium plugins generally cost around $15 and $200.
As for WordPress themes, the price varies depending on the developer and the marketplace. At ThemeForest, the most affordable option costs $13/license. The TemplateMonster themes are slightly more expensive, starting at $38/license.
The Verdict
Squarespace comes as a package. It includes a set of features, which makes the costs of running a website easier to estimate. However, this means you will have less control over the tools and services you can use, which can be constricting.
If you go with WordPress, you will have to purchase additional tools and services yourself. However, this means more freedom over which web hosting, themes, and plugins you install, so it's possible to adjust the expenses to fit your budget.
Squarespace vs WordPress: Scalability
Scalability refers to how easy it is for the platform to scale as the site grows. Growth can mean gaining more traffic, publishing more content, or installing more features to cater to the audience's needs.
Squarespace
One way to scale a Squarespace site is by upgrading to a larger plan, which will come with more features to grow your online presence. The downside is that the user will spend more money while potentially not utilizing all additional tools.
On a positive note, Squarespace includes managed cloud hosting with unlimited bandwidth and storage in all plans. Meaning, if your site experiences traffic spikes or has thousands of blog posts to publish, the hosting infrastructure can adjust accordingly to support its needs.
That said, the tricky part about this is the inability to oversee the resource usage directly. As such, if performance bottlenecks occur, you can't solve the problem yourself and have to contact support.
WordPress
Since WordPress is an open-source and self-hosted platform, scaling your website is much easier. With plugins, it's possible to extend the site's functionality on your own terms.
Besides that, accessing the hosting environment makes it easier to anticipate any performance issues or traffic surges. For instance, Hostinger's hPanel can show your hosting's resource usage stats – such as CPU power, memory, and bandwidth.
Clients nearing their resource limit can upgrade to a higher plan. Some web hosts also offer a cloud hosting solution, ideal for medium-sized to enterprise-level websites often experiencing traffic spikes.
The Verdict
Although Squarespace has unlimited resources, the freedom to choose and manage your own hosting makes WordPress the winner. Additionally, the plugins provide more flexibility when scaling a website.
Squarespace vs WordPress: Customer Support
The last element we're evaluating is customer support. We will discuss how easy it is to reach a representative or find assistance when using WordPress and Squarespace.
Squarespace
Squarespace has multiple customer service channels, all of which are accessible from the help center page. Users can pick the support method they're most comfortable with.
Here are the customer support options:
Knowledge base. There are dozens of articles about Squarespace's tools, billing system, and account management. Best-practice guides on building a site are also available.
Video tutorials. These are video versions of the knowledge base articles, which can be beneficial for visual learners.
Live chat. It's online from Monday to Friday between 4am and 8pm EST.
Email. This channel can be an alternative if the live chat is unavailable. It also includes an option to insert a screenshot of the issue on the contact form to provide a better explanation.
Community forum. Use this page to ask for advice on editing, managing, and improving your site from fellow Squarespace members.
Online webinars. Attend virtual conferences on how to use Squarespace to grow your online presence. The community team will be present to respond to any questions.
Twitter. Tweet your problem to @SquarespaceHelp, and the team will assist you via direct messages.
WordPress
WordPress offers two customer support channels – documentation and community forums.
The first contains articles on installing, using, and troubleshooting the platform. There are also lots of third-party guides on advanced topics like making custom fields and creating child themes.
If the documentation can't provide you with an answer, refer to the WordPress forums. Look for posts that have asked a similar question, or submit one yourself. A fellow member or a forum moderator will usually come to your assistance.
Unlike Squarespace, WordPress doesn't offer a direct channel to a help representative, such as a live chat, an email, or a phone.
If you find this important, some WordPress hosting providers like Hostinger have a specialized support team of WordPress experts to help with platform-related inquiries.
The Verdict
Squarespace has more customer service channels available, including a live chat and an email. The fact that they're all accessible in one place makes it quicker and easier to seek assistance.
With WordPress, you may need to spend some time going through the documentation and forums before finding the correct answer. You can refer to the community-based resources online or ask your hosting provider for help, but it will take you longer.
Who Is Squarespace Best Suited For?
Use Squarespace if you're new to site-building and need a quick solution for a project or a business. To summarize why, we broke down the platform's pros and cons:
Pros of Using Squarespace
The editing interface is easy to use.
The templates look modern and professional.
All of the essentials required to build a Squarespace site are provided, including the website's design, an option for blogging, online selling, marketing, and SEO.
The platform offers third-party extensions to help you grow your online presence and business.
The pricing plans make it easier to estimate the ongoing costs for using the platform.
Comes with multiple channels for customer support, including live chat, email, knowledge base, video tutorials, and community forum.
Cons of Using Squarespace
Some marketing and online selling features are exclusive to specific plans.
Unlike WordPress, Squarespace offers no extensions for non-business uses.
The pricing plans are more expensive compared to other site builders.
It can be challenging to scale a Squarespace website since you won't access the web hosting environment.
Who Is WordPress Best Suited For?
If you prefer having more control over the site's functions and design and plan to grow the traffic to your website, WordPress is a better choice for you.
Here are its pros and cons:
Pros of Using WordPress
The admin panel, the page editor, and the theme customizer are easy to use for the average user and experienced developer.
With such a vast range of WordPress plugins and themes, the software's customizability is virtually limitless.
The blogging features can suit both small and large blogs.
As open-source software, WordPress is free to download. If you also choose budget-friendly hosting and domain registration, you can keep your costs to a minimum.
Self-hosted WordPress is more scalable than Squarespace. You can choose a hosting solution ideal for your site's current traffic and upgrade the resources when needed.
There are tons of WordPress-related resources available online to help with running your site.
Cons of Using WordPress
The main aspect of WordPress vs. Squarespace is that WordPress has a steeper learning curve while Squarespace is easier to use for novices.
The built-in features are only enough for a basic website or blog, making it reliant on plugins.
Since there are no pricing plans, it can be more challenging to estimate the monthly expenses.
There are no direct WordPress customer support channels.
Conclusion
You may prefer Squarespace to WordPress if you want to make a website quickly and easily. Squarespace is easy to use, it comes with professional designer-made templates, and it includes all of the basic features a fully functional website needs.
That said, be prepared to upgrade to a more expensive plan if you need more advanced features. Furthermore, the lack of extensions and control over hosting can make it challenging to scale your website in the future.
In comparison, WordPress provides lots of flexibility when it comes to the functionality and design of your site. While the built-in features aren't as good as those that come with Squarespace, WordPress has plenty of plugins that make it easy to modify and scale your website.
The drawback of WordPress is that it has a steeper learning curve. Some technical knowledge and coding experience could help customize and optimize the website, although that's not a requirement. If you host your site on Hostinger, we can help smoothen the journey to set you up for online success. We can also help with migrating from Squarespace to WordPress.
If you're still unsure which one to choose between these platforms, check out other WordPress alternatives.
We hope this article has helped you better understand what makes Squarespace and WordPress different and which platform may be better for you.
Was this tutorial helpful?