8 Best eCommerce Website Builders to Build Your Online Store in 2023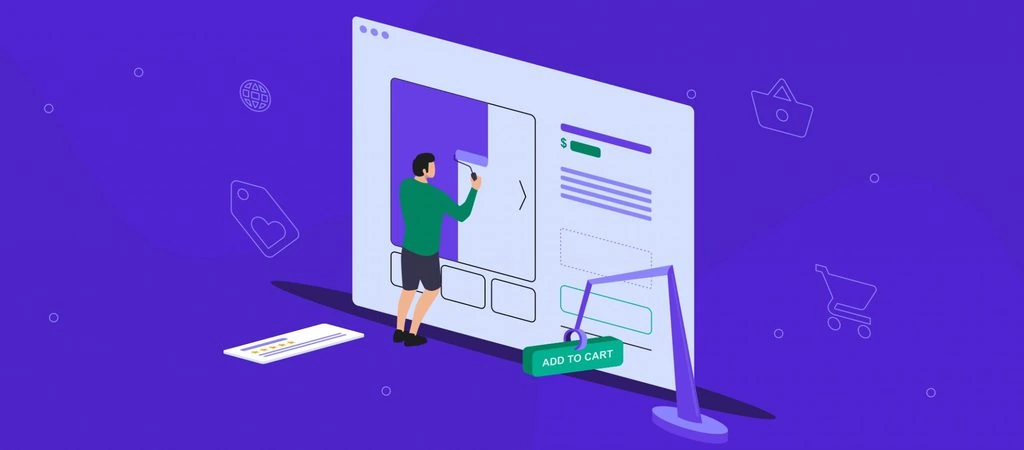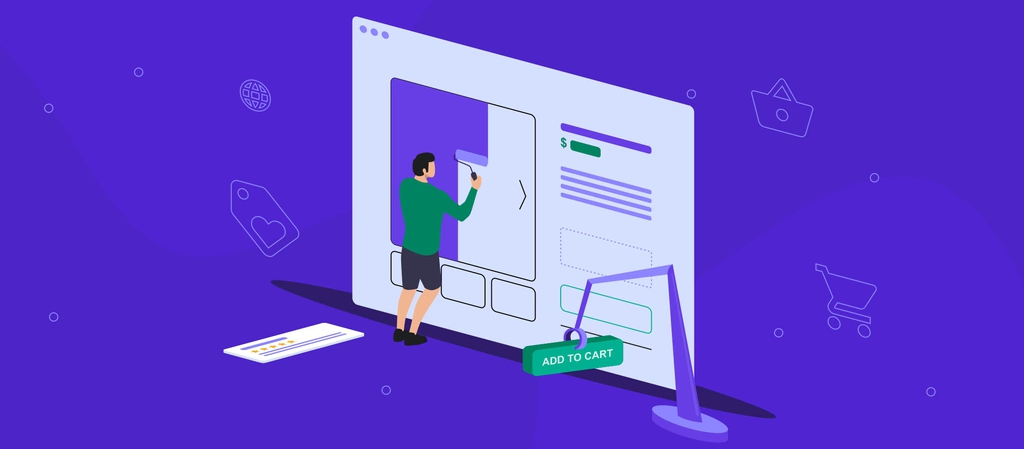 Choosing the right platform is crucial when starting an eCommerce website. Make the wrong choice, and you may jeopardize the success of your eCommerce business.
With numerous eCommerce site builders available, picking the one that suits your business idea best may seem like a daunting task.
If you want to learn more about the best eCommerce website builders, this article is for you. We will recommend eight of the best eCommerce website builders and describe their user interface, key features, pros and cons, and pricing.


The 8 Best eCommerce Website Builders
1. Hostinger Website Builder
2. WooCommerce
3. BigCommerce
4. Shopify
5. Wix
6. Squarespace
7. Magento
8. Volusion
Here are the best options available today, so you can make an informed decision and start selling online with confidence.

This easy-to-use eCommerce website-building platform utilizes a drag-and-drop builder and an intuitive grid system, letting you set up your website in minutes.
It features over 150 free designer-made eCommerce templates, which you can customize entirely to your liking. They come in various categories, from technology and fashion to home and decor.
With the intuitive editor, users can add elements and sections, manage pages and navigation, explore website styles, publish blog posts, use AI tools, and set up store pages.
The platform's store manager lets you easily add new products and set up shipping and payment methods. Additionally, users can alter product details, descriptions, sizes, and variants. There is also an option to enable discounts.
Once finished, users can publish their online store with a single click. Hostinger Website Builder also lets you preview the entire site before launching it.

Store owners can manage all orders from one easy-to-use dashboard. What's more, Hostinger Website Builder doesn't charge additional commission fees for sales, and it includes an automated tax and shipping calculator to assist with invoices.
Users can also manually set up different tax zones, rules, and rates. In addition to supporting multiple regions for deliveries, the platform provides up to 25 shipping methods for each zone.
This eCommerce website builder also offers built-in reporting tools for tracking sales, traffic, and conversions.
Here is a preview of what a Hostinger Website Builder online store might look like: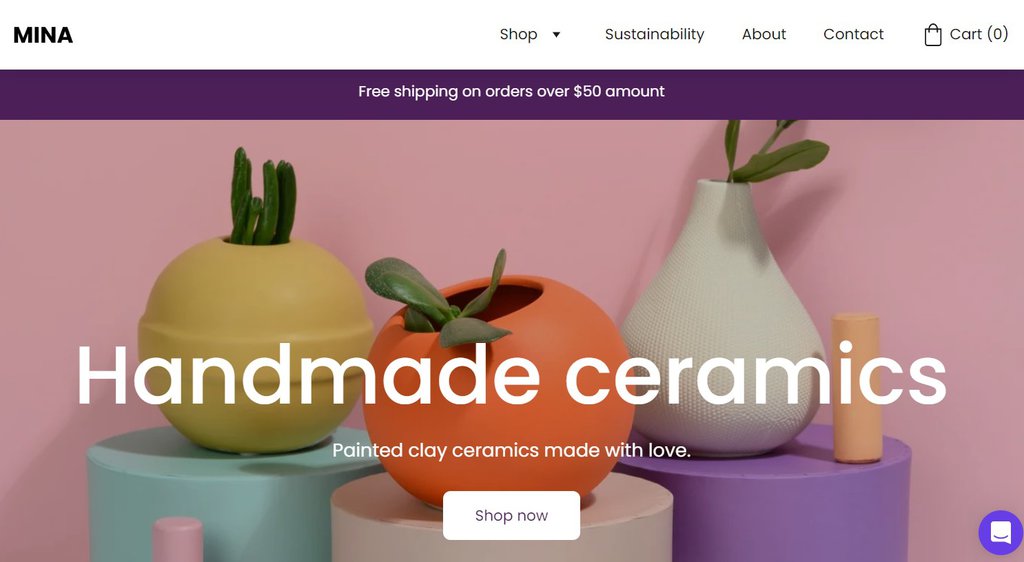 Of all its features, the AI-driven tools are what set Hostinger Website Builder apart from other eCommerce website-building platforms.
For example, it offers an AI Builder to help with the website building process. An AI Heatmap that assists with placing call-to-action (CTA) and social media buttons in optimized areas for better website design and higher conversion rates.
The AI Writer is excellent for easing content creation. It's especially helpful for making SEO-friendly copy for product descriptions and blog posts.
Meanwhile, its AI Logo Maker is a handy tool for eCommerce business owners just starting out and needing help designing their fully custom online store logo.
Key Features
Mobile-friendly. Ensure your online store's responsiveness by utilizing the editor's mobile preview tool.
Advanced SEO. Enjoy numerous built-in SEO features, such as automatic meta tags, a keyword generator, and an image alt text editor.
Reliable hosting. Site owners can enjoy faster website speed and more reliable web performance with Hostinger's 99.9% uptime guarantee.
Third-party integrations. Connect your eCommerce store with multiple applications such as Google Analytics, WhatsApp, Facebook Pixel, and Hotjar.
Marketing automation. It provides tools for launching ad campaigns via Google and Facebook.
Numerous payment methods. It supports over 20 payment gateways, which include Apple Pay, Google Pay, Mastercard, Visa, and Stripe.
AI tools. Hostinger Website Builder's AI-powered tools help users with various tasks in building an eCommerce site.
Pros
Ease of use. Creating a website is quick and easy due to its beginner-friendly user interface, drag-and-drop editor, and AI-powered tools.
Best value for money. Get numerous advanced features at cost-effective prices.
No hidden fees. Hostinger Website Builder doesn't charge commission fees on transactions.
Cons
No phone support. However, Hostinger does offer 24/7 live chat and email support.
Pricing
All Hostinger users can access the Hostinger Website Builder, no matter what web hosting plan they are on. However, we recommend beginner online store owners select the Premium Web Hosting solution, which starts at $2.99/month.
All plans include fast hosting, 24/7 expert support, free unlimited SSL certificates for security, a free custom domain name for a year, and ample storage and bandwidth.
Users also get unmetered traffic, a free professional email, and can list up to 500 products on their online stores.
While there is no free trial, Hostinger offers a 30-day money-back guarantee on all its plans.


2. WooCommerce – Best for WordPress Website Owners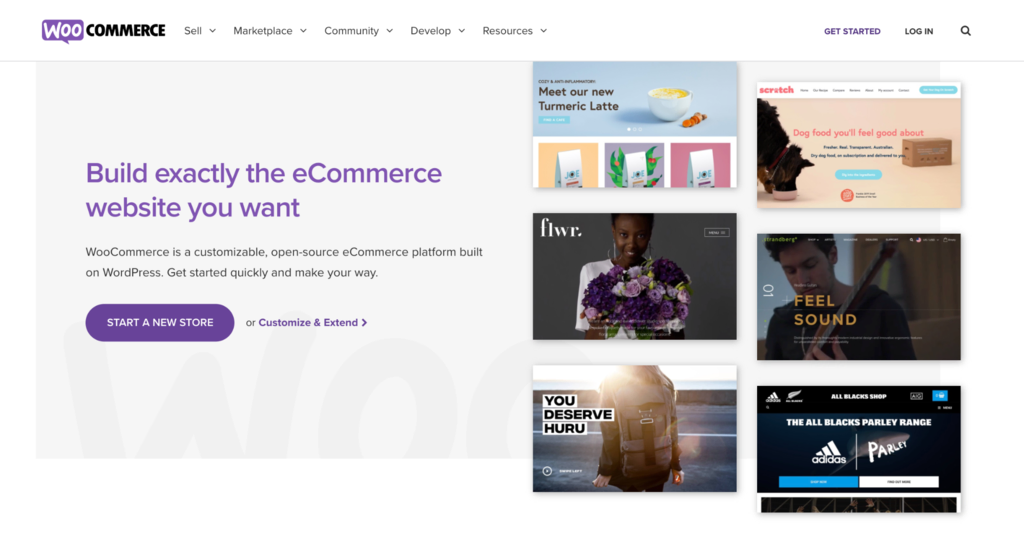 WooCommerce is a free open-source plugin for adding the eCommerce functionality to WordPress sites. It's one of the best eCommerce website builders on the market.
To get started with WooCommerce, you'll need to first create a website with WordPress, then simply find it on official plugin directory and install it. After activating it, start uploading products and content on the platform.
New online store owners won't be confused about where to begin as WooCommerce provides a helpful guide consisting of six main steps to follow: Store details, Add my products, Set up payments, Set up tax, Set up marketing tools, and Personalize my store.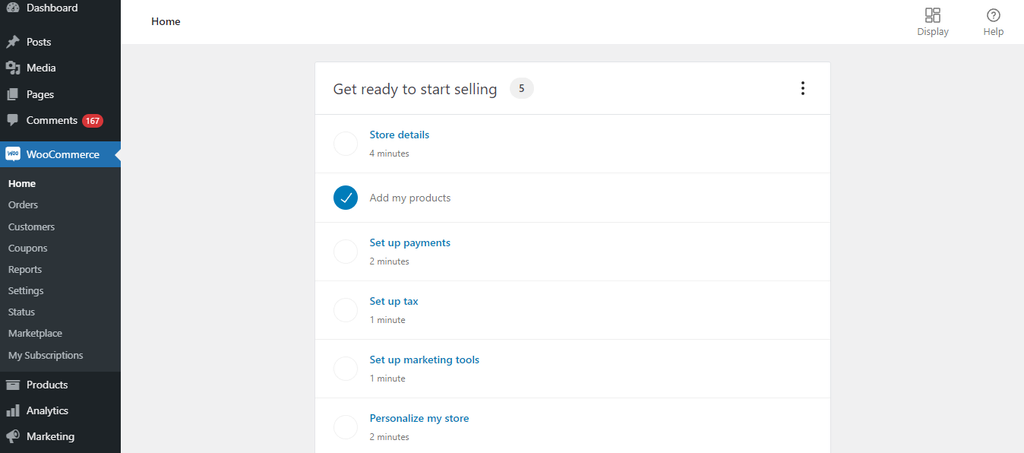 You can set up an eCommerce store and configure all the settings straight from the WordPress admin dashboard. You can manage orders and products, view the customer list, add coupons, review business analytics, configure marketing tools, and check the system status.
This is what a WooCommerce online clothing store may look like: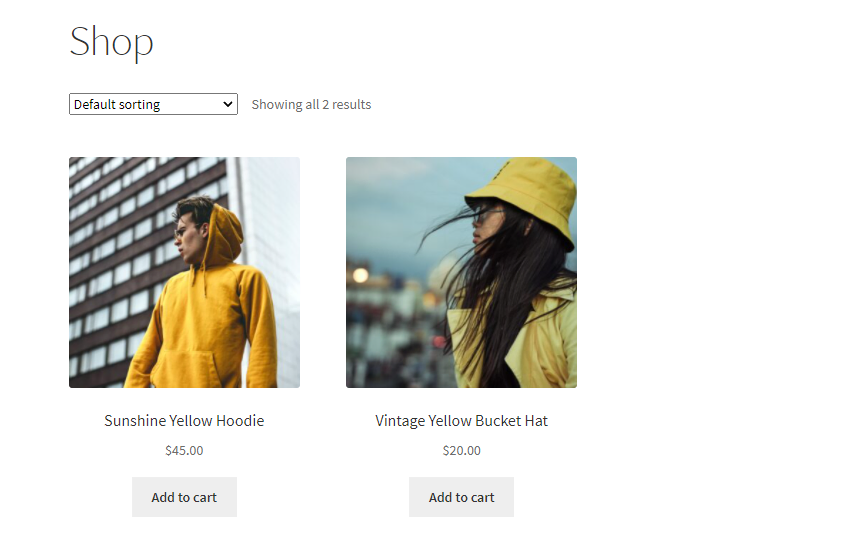 Thousands of themes from the WordPress theme gallery are compatible with WooCommerce, and you can find even more on third-party theme sites such as Theme Forest.
Furthermore, WooCommerce's code is SEO-friendly. It also allows users to add copy and meta titles to product descriptions for higher rankings on search engines. However, you will need to install plugins to maximize its SEO capabilities.
Users can add more features to their online store by downloading various WooCommerce plugins and extensions. The performance of the eCommerce website will depend on how you configure WooCommerce.
Key Features
Third-party extensions. Extend the capabilities of your eCommerce site using hundreds of free and paid extensions available on the official WooCommerce marketplace. Examples include Jetpack, Google Analytics, and Zapier.
Mobile app. The WooCommerce mobile app for iOS and Android lets users manage stores and process orders anywhere.
Marketing automation. Boost marketing efforts by selling products on Google Shopping, featuring your online store on Facebook, or sending newsletters using Mailchimp.
Multilingual support. WooCommerce supports over 20 languages, including French, Danish, and Spanish.
Multiple currency support. Sell to international customers with the help of various extensions such as WooCommerce Payments, allowing them to see prices and pay in their local currencies.
Product blocks. Use WooCommerce Blocks to display products from your eCommerce store on various pages and posts on your site with ease. Filter products based on categories and adjust display options like the number of rows or columns.
Numerous payment methods. WooCommerce supports major credit cards, cash on delivery, checks, bank transfers, and more. There are over 100 compatible payment gateways like PayPal, Amazon Pay, and Apple Pay.
Built specifically for WordPress. As the plugin was built to be used on WordPress, it will always be compatible with the latest version of this CMS.
Pros
Free. WooCommerce also doesn't charge any additional transaction fees, making this plugin one of the most cost-effective options available for WordPress sites.
Flexibility. Users have complete control over the look of their eCommerce sites.
Ownership. Since WooCommerce is an open-source platform, you own every aspect of your online store.
Cons
No phone support. However, WooCommerce offers a 24/7 live chat operated through a ticket system, email support, documentation, and a public support forum.
Steep learning curve. Getting used to the interface may take some time.
Pricing
WooCommerce is essentially free. However, it is only available for WordPress users who have to set up web hosting, a domain name, and an SSL certificate themselves.
The core WooCommerce plugin is powerful enough for small business owners. You can download plugins and extensions to expand functionality as your online store grows. These plugins cost from a few to a few hundred dollars per month.
That said, you can use WooCommerce for free to build a small business website. However, you will also need web hosting and a domain. At Hostinger, you can either get an eCommerce hosting or a WordPress Business plan for $3.99/month. It will also include a free domain and SSL certificate.
You can also register a domain separately. For example, a domain name with the .com extension would cost $9.99.
The rough minimal cost estimate of building an eCommerce website with WooCommerce will be around $14.
3. BigCommerce – Best for Large-Scale Online Businesses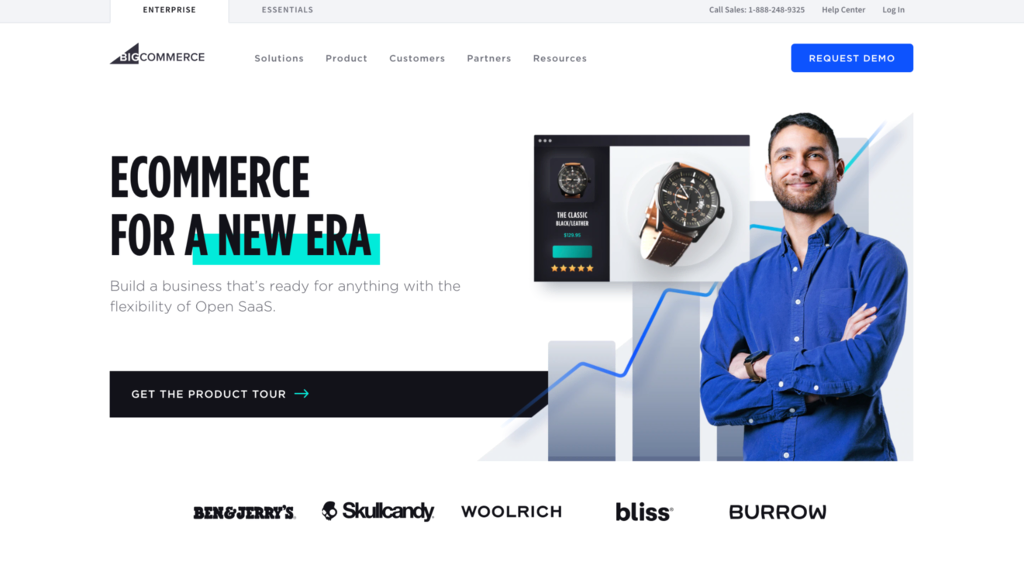 If you want an eCommerce website builder with powerful built-in online store features, look no further than BigCommerce.
To start, users can choose a web design template that suits their online store. BigCommerce templates are visually appealing and professional-looking.
In addition to the 12 free themes it offers, BigCommerce's official theme store offers numerous paid themes in various categories, from Animals & Pets to Toys & Games.
The eCommerce website builder uses a visual drag-and-drop page builder, allowing users to customize the site's widgets and theme style without coding. You can add elements such as text, images, a hero banner, a carousel, and call-to-action buttons.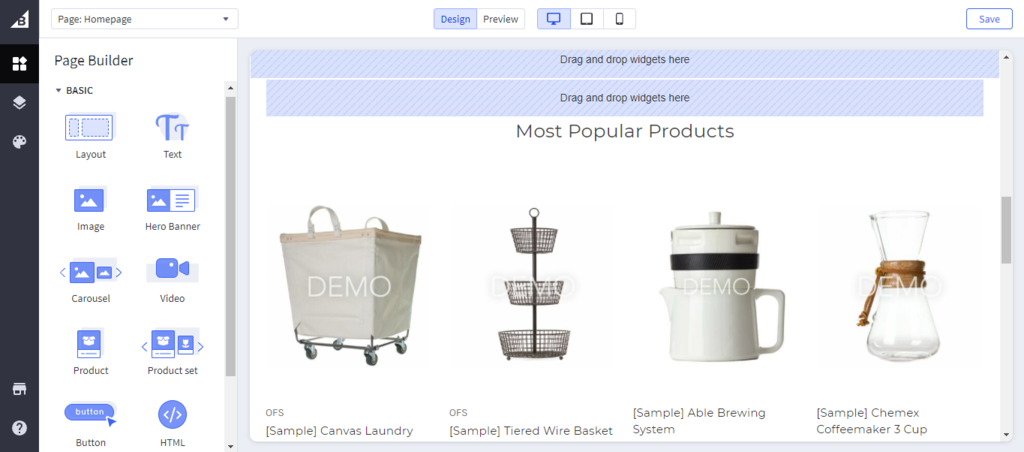 BigCommerce features a rich dashboard to set up and customize your online store. It is used to manage product catalogs, automate sales tax or use custom tax tables, set shipping rates, offer coupons and discounts, and create customer segments with custom pricing.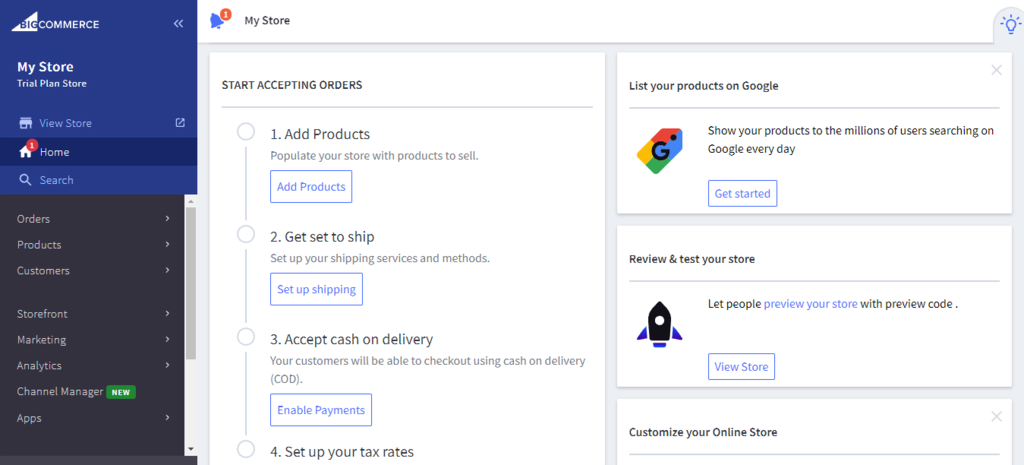 In addition, the BigCommerce Analytics dashboard provides metrics for orders, marketing, and customer data. The website builder also lets users develop and test site changes in a staging environment.
Here is a preview of what a BigCommerce online store may look like: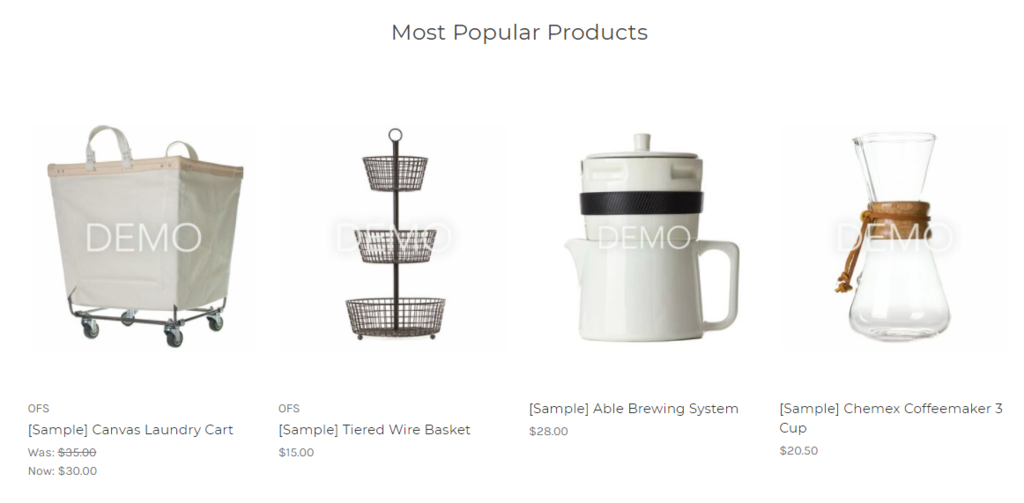 Most essential features, such as discount coupons and customer reviews, are already included in BigCommerce's base version. This makes it a powerful eCommerce website builder, even if it is complicated to navigate at first.
Luckily, BigCommerce offers 24/7 live support through phone, email, and live chat. In addition, users can consult its knowledge base and community forum. For people wanting extra functionality, various BigCommerce plugins are also available.
Key Features
SEO tools. Boost SEO performance using various SEO tools, including customizable URLs, built-in metadata, and robots.txt editing.
Third-party integrations. Enjoy hundreds of free or paid integrations found on its official eCommerce Apps Marketplace. Examples of apps include Mailchimp, ShipStation, Justuno, and ShipperHQ.
Mobile app. Manage online stores from anywhere using the BigCommerce mobile app, available on iOS or Android.
Product filtering. Improve user experience and let customers navigate products easily using attributes such as color, size, price, and reviews.
Numerous payment gateways. BigCommerce supports over 60 payment solutions, serving over 200 countries. Examples include Amazon Pay, Apple Pay, Stripe, and PayPal.
Multiple currency support. It was built to accept payments in over 100 currencies, facilitating global transactions.
Multichannel selling. Sell online on top marketplaces and social media platforms. Examples include eBay, Google Shopping, and Amazon.
Pros
Built-in features. BigCommerce provides more native sales features compared to other eCommerce platforms, which means that users won't need to download additional plugins or extensions in most cases.
No hidden fees. It doesn't add any additional transaction fees for sales.
Great eCommerce themes. This eCommerce builder has some of the best online store themes on the market, combining conversion principles with modern design.
Cons
Cut-off tiers. Once you start earning above a certain amount annually, you must upgrade to the next plan. For the Standard plan, the cutoff is $50,000 in sales a year.
Learning curve. Due to BigCommerce's large number of features, it might take a while to get used to the interface.
Pricing
BigCommerce offers Standard, Plus, and Pro plans for $29.95/month, $79.95/month, and $299.95/month respectively.
Each of these paid plans has a sales cut-off limit. The cut-off is up to $50,000, $180,000, and $400,000 in annual sales for the Standard, Plus, and Pro plans. If businesses exceed the yearly sales limit, they can opt for the Enterprise plan with custom pricing.
All plans include free hosting, an SSL certificate, plenty of bandwidth and storage, unlimited staff accounts and products, and a 15-day free trial period. However, there is no free plan.
4. Shopify – Best for Businesses Selling Both Online and Offline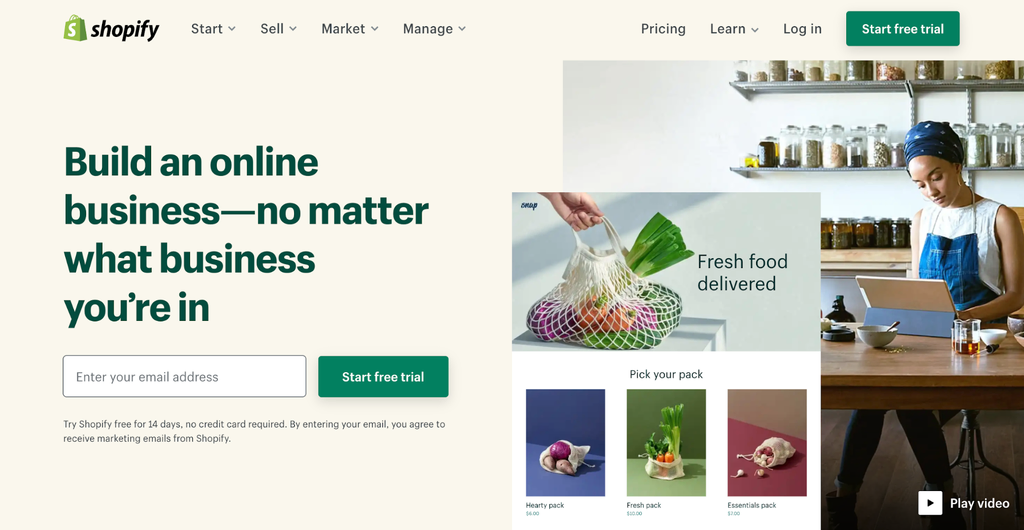 Shopify is arguably one of the best eCommerce website builders on the market, powering over one million online stores. Its popularity comes from its excellent marketing strategy and beginner-friendly sales features.
To get started with this eCommerce platform, users can choose from over 70 free and paid eCommerce templates on the official Shopify Theme Store and customize them to their liking.
This eCommerce website builder features a drag-and-drop builder, letting you easily add text and image sections to your website. Users can use one dashboard for managing orders, customer accounts, inventory, shipping rates, discounts, gift cards, and payments.

In addition, Shopify also lets users target abandoned cards and facilitate offline sales via its point-of-sale software.
The following is an example of what a Shopify online store might look like: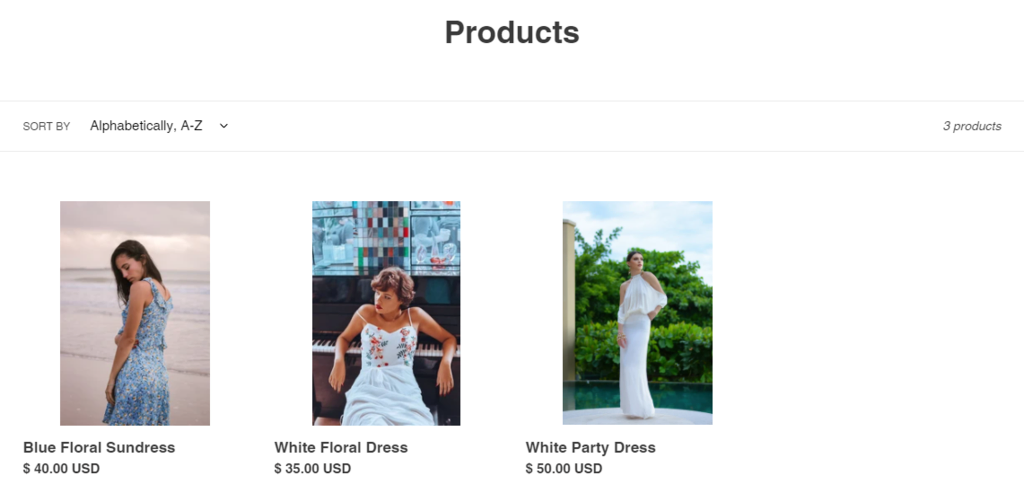 Users can also install third-party apps for live chat, dropshipping, or other extra features. Many are available for free, but the more complex ones are paid for on a subscription basis.
The website builder offers competitive shipping rates and access to its fulfillment network, ensuring timely deliveries for an additional fee. It also provides detailed reporting for tracking visitor statistics and business performance analytics.
Shopify offers 24/7 support through email, phone, and live chat for users with questions or problems. It also has a help center and a community forum.
Key Features
Mobile app. People who are always on the go can access the Shopify dashboard and manage orders via the Shopify mobile app. There are also two other apps offered: Shopify POS to facilitate offline transactions and Shopify Inbox to chat with customers.
Third-party apps. The Shopify App Store features over 4,000 free and paid apps for improving your online store. Examples of the apps offered are Printful, ShipStation, and Snapchat Ads.
Built-in SEO tools. Shopify stores have SEO tools built into them. Some aspects of SEO are added automatically, such as canonical tags, the site's sitemap, and robots.txt files. Users can also edit title tags, meta descriptions, URLs, and image alt text.
Multichannel selling. With this website builder, users can sell products through multiple channels: point-of-sale or offline channels, online marketplaces like Amazon and eBay, social media platforms like Instagram and Facebook, and buy buttons.
Marketing automation. Some marketing tools Shopify provides for launching ad campaigns include email marketing, Google Smart Shopping, and Facebook Ads.
Built-in shipping tool. Shopify's native shipping suite, Shopify Shipping, partners with many couriers like USPS, UPS, and DHL to offer discounted shipping rates. It also displays real-time shipping rates at checkout.
Native payment processor. This online store builder has its own payment gateway, Shopify Payments. This eliminates the need to connect third-party payment providers to your online store, even though Shopify also allows them.
Numerous third-party payment gateways. It supports over 100 third-party payment gateways. Examples include PayPal, Authorize.net, and Amazon Pay.
Multiple currency support. Shopify Payments supports multiple currencies worldwide, including the Euro, Hong Kong Dollar, and United States Dollar.
Multilingual support. Translate the store into different languages for global eCommerce. All users can sell in up to five languages, except for enterprise-grade merchants who can sell products in up to 20 languages.
Pros
Best eCommerce themes. Shopify's templates are designed for the highest possible conversion rates.
App gallery. There are hundreds of plugins available to extend the functionality of your eCommerce store. These apps are extensively curated, so you can be sure they are bug-free.
Cons
Transaction fees. On top of the high monthly fees, Shopify charges transaction fees on the sales.
Additional costs. Higher-end themes can cost a one-time fee of around $150 to $350, whereas plugins can cost from $5/month to $20/month on top of the Shopify service fee.
Domain not included. In addition to the monthly fee and additional costs for themes and plugins, users have to purchase a custom domain name.
Limited locations for native payment gateway and shipping suite. As of now, Shopify Payments is only available in some countries. Shopify Shipping is also only available for merchants in the United States, Canada, and Australia.
Pricing
Shopify offers the Basic Shopify, Shopify, and Advanced Shopify plans for $29/month, $79/month, and $299/month, respectively.
The appeal of the top-tier plans includes its more competitive transaction fees. For instance, for transactions not using Shopify Payments, the Basic Shopify plan charges a transaction fee of 2%, the Shopify plan charges 1%, and the Advanced Shopify plan charges 0.5%.
All plans come with free hosting, an SSL certificate, generous bandwidth and storage, email forwarding, and the ability to sell unlimited products. However, you must register a domain name on your own.
In addition, note that you may spend a bit more than usual if you buy a custom theme and add plugins to your site.
Shopify doesn't provide a free plan for eCommerce, offering a 14-day free trial instead.
5. Wix – Best for Small To Medium-Sized Businesses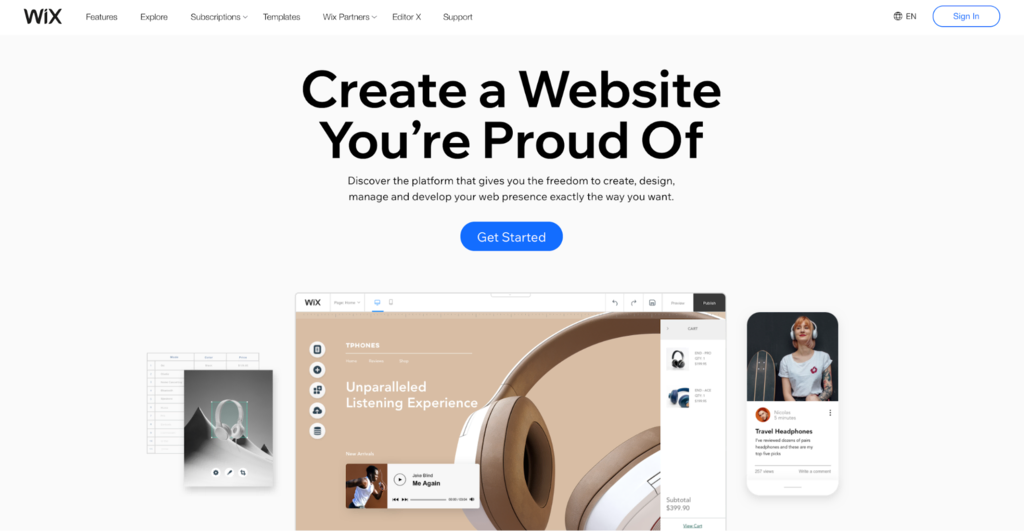 Wix is an all-around website builder offering an excellent drag-and-drop editor to help you build an eCommerce website.
Users can choose from over 500 professionally designed and SEO-friendly templates, freely customizing the eCommerce site to suit any brand. Website visuals can be expanded using Wix's advanced design features such as animation, video backgrounds, and scroll effects.
The Wix Editor sidebar has various icons for managing menus and pages, choosing colors and fonts, selecting backgrounds, adding apps and media content, creating a blog, and setting up an online shop.
After customizing the site layout, you can access the admin dashboard to add products to your online store, connect a payment gateway, and set up shipping and tax regulations. If you have a custom domain, you can publish the site to begin selling.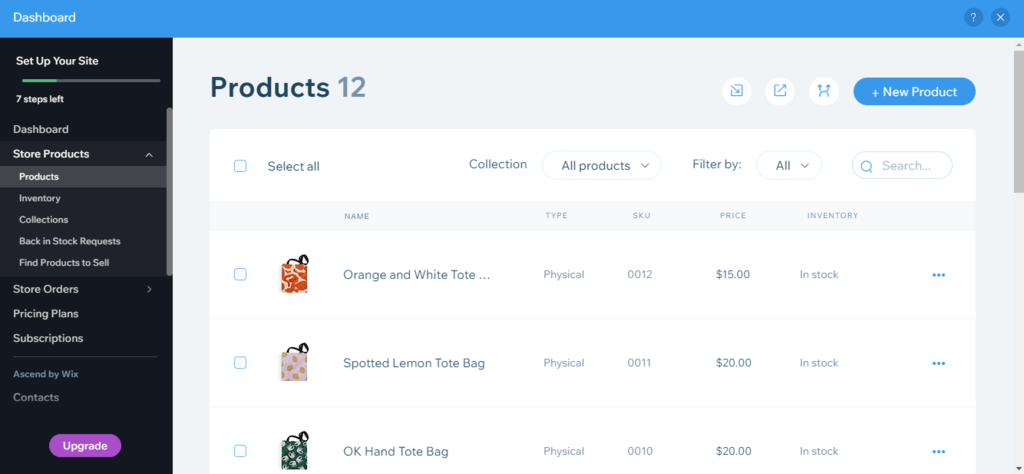 The following is an example of what an online store made with Wix eCommerce store may look like: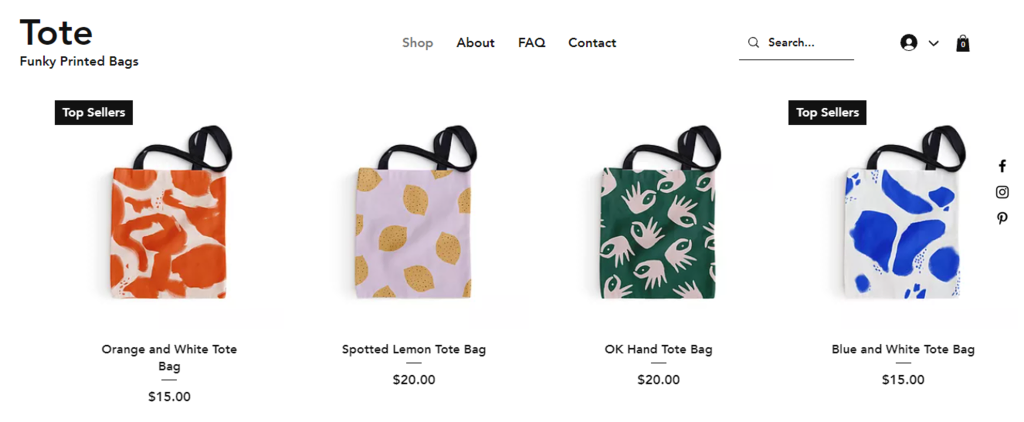 Wix also supports those who want to start a dropshipping business and print-on-demand. For dropshipping, products can be sourced from thousands of vetted suppliers featured on the Modalyst marketplace. The print-on-demand feature, on the other hand, lets users design and sell custom embroidered or printed products.
You can also sell subscription boxes with carefully curated products or items customers may purchase regularly.
For business reporting, Wix's integrated analytics dashboard lets users create detailed business reports with statistics on sales, marketing efforts, customer base, and best-selling products.
It's also worth noting that Wix eCommerce frequently updates its list of features available for online stores so you can stay up-to-date when it comes to site functionality.
Key Features
Logo maker. Using the Wix Logo Maker, design a business logo in a few minutes by answering detailed questions about your business. Customize the logo, download it, and use it on your site and business merchandise.
Business name generator. Enter a few words to be included in the business name, and Wix's business name generator will offer over 100 name suggestions to choose from.
SEO tools. Users can modify meta tags, URL slugs, structured data, robots.txt files, and canonical tags. In addition, Wix provides handy tools such as instant Google indexing, bulk 301 redirects, and patterned meta tags for multiple pages.
Third-party apps. Choose from over 200 web apps on the official Wix App Market to add various functionalities to your eCommerce website. Examples of the apps offered are Privy, Weglot Translate, Easyship, Printify, and Wordtune.
Mobile app. The Wix Owner app lets you run a business online from anywhere. Like on the desktop dashboard, accomplish various tasks like adding new products, fulfilling orders, sending invoices, and tracking inventory.
Multichannel selling. Sell online through popular marketplaces and social media platforms, such as eBay, Amazon, Instagram, and Facebook.
Marketing automation. This website builder provides native marketing tools for business promotion, such as email marketing, promotional videos, original or pre-made social media posts, and abandoned cart recovery.
Native payment solution. Wix's payment processor, Wix Payments, is free, easy to set up, and has its own round-the-clock dedicated customer support. Thanks to this, users don't need to use a third-party payment solution, even though Wix also supports that.
Numerous third-party payment providers. It supports over 50 third-party payment gateways, including Stripe, Square, PayPal, Afterpay, and PayU.
Currency converter. This feature lets customers view products in their local currencies. However, it is only available for users with Business Unlimited and Business VIP plans.
Multilingual support. The Wix Multilingual app can automatically translate every element of the eCommerce site into over 150 languages.
Pros
Easy to use. Wix's user interface is intuitive and simple to navigate.
No revenue cap. There is no annual limit on revenue, unlike other providers who may force you to upgrade to a higher tier if you exceed the allotted amount.
Customer support. Besides its knowledge base and community forum, Wix's support team can help users via phone, chat, and support ticket.
Cons
eCommerce capabilities. Wix offers less advanced eCommerce features compared to other options.
No responsive design for beginners. Its mobile designs often require manual tweaking as they are not responsive by default. Wix introduced Editor X in 2020 to fix this problem, but it mainly caters to web design and development professionals.
Limited locations for native payment gateway. At the time of writing this article, Wix Payments is not yet available to all, only facilitating transactions in a few countries and currencies.
Pricing
Wix has three main eCommerce plans – Business Basic at $17/month, Business Unlimited at $26/month, and Business VIP at $35/month.
The main difference between these paid plans concerns access to advanced eCommerce features.
For example, features like multiple currencies and subscriptions are only available on Business Unlimited and Business VIP plans. There are also exclusive features only for Business VIP users, like customized reports and priority customer care.
However, all plans include free web hosting, unlimited bandwidth, a free domain for one year, ample storage, unlimited products, and abandoned cart recovery.
In addition, although Wix doesn't support third-party SSL certificates, all Wix sites come with inbuilt SSL certification.
Wix offers a 14-day money-back guarantee if you want to try making some eCommerce sites before committing.
6. Squarespace – Best for Visually Appealing Website Designs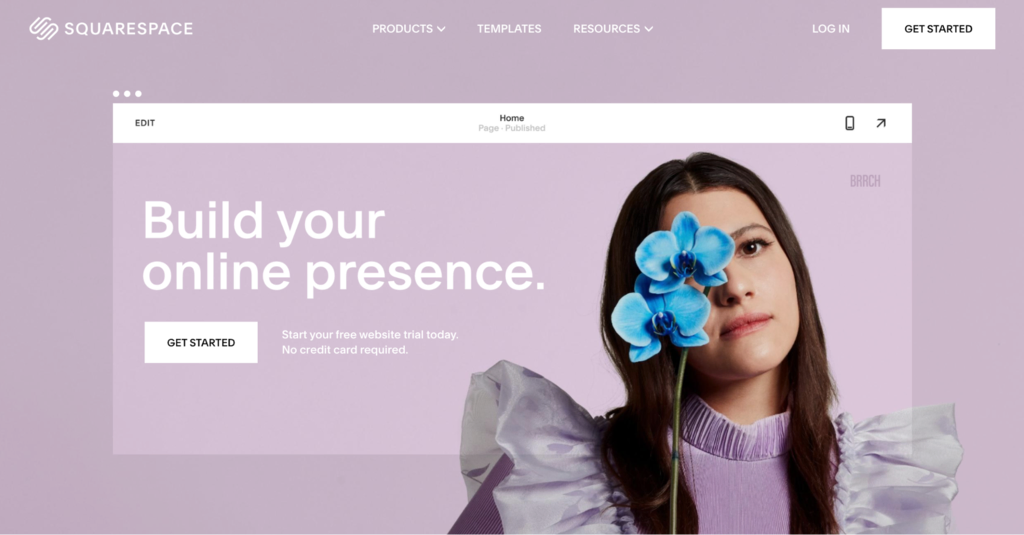 Squarespace is primarily known for its aesthetically pleasing web designs, but it also offers reliable industry-standard eCommerce tools.
It has dozens of professionally designed and free web design templates, all modern and built to catch customers' attention. After choosing one of the templates, you will be directed to its website builder.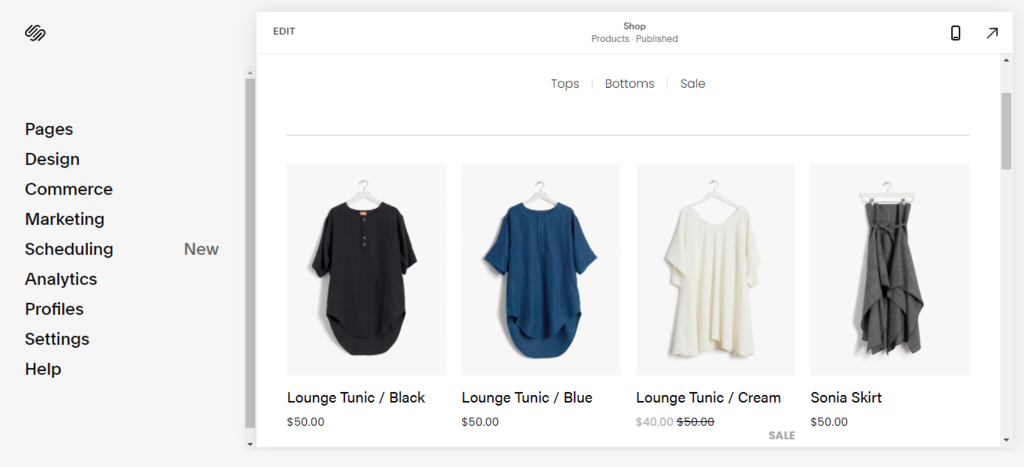 The platform uses a visual builder that is intuitive to understand and work with. Users can customize the eCommerce website layout without having to code.
Site elements can be configured by exploring the items on the editor's left sidebar menu: Pages, Design, Commerce, Marketing, Scheduling, Analytics, and Profiles. For example, clicking on Commerce leads to adding products and setting up payment and shipping methods.
Here is what an online shop created with Squarespace may look like: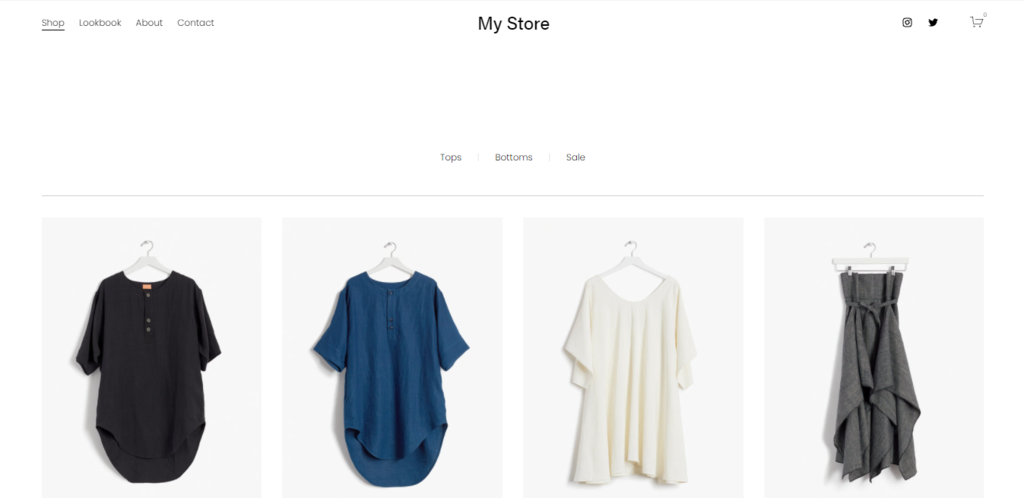 Squarespace has a heavy focus on product placement and incorporates this aspect into all of their web designs for optimal conversion rates. It also has plenty of marketing tools to help promote stores, including SEO, social media integration, and ad creation.
For performance tracking, the platform provides detailed information on traffic sources, views, dwell time, bounce rate, and business analytics such as revenue, units sold, and conversion rate.
Key Features
Third-party extensions. It has its own collection of over 20 carefully curated third-party extensions called Squarespace Extensions. Examples include Easyship, Printful, Mailchimp, ShipStation, and TaxJar.
Connected services. These are third-party apps that are already built into every Squarespace website. They serve various purposes, including marketing, shipping, and payment. Examples include FedEx, UPS, Stripe, Facebook, and Instagram.
Logo maker. Enter your business name and use the Squarespace logo maker to create a logo for your eCommerce store.
Native SEO tools. Some SEO tools built into every Squarespace website include a sitemap, automatic tagging, search engine and page descriptions, automatic redirects, meta tags, structured data, and clean HTML markup and URLs for easy indexing.
Mobile app. Available on iOS and Android, the Squarespace mobile app lets you edit your online store on a mobile device. Update pages, add new images, write new posts, review site analytics, and manage inventory and orders on the go.
Marketing tools. Employ various digital marketing tools for promoting your business: email campaigns, social media integrations, and intuitive banners and promotions.
Multiple third-party payment providers. It facilitates transactions using four payment gateways: PayPal, Stripe, Apple Pay, and Afterpay.
Multiple currency support. Squarespace lets users accept payments in over 20 currencies, including the Indonesian Rupiah, Thai Baht, and New Zealand Dollar. However, you can only choose one currency for your eCommerce store.
Multilingual support. Squarespace supports six languages on its dashboard and websites – English, French, Italian, German, Spanish, and Portuguese.
Pros
Beautiful templates. Squarespace arguably has the most well-designed templates on the market, all of which can be customized to suit your eCommerce business.
Marketing benefits. It offers up to $100 in Google Ads credit, promotional pop-ups and banners, a professional email account, and full access to its Video Studio app for all commerce plans.
Zero transaction fees. The two eCommerce plans this website builder offers don't charge any commission for sales.
Cons
Lacking features. There are no autosave and version history functionalities. Its abandoned cart recovery feature is also only available on the highest-tier plan. In addition, its commerce sites can only sell products in one currency and display built-in text in one language at a time.
Limited number of extensions. Squarespace's collection pales in comparison to the hundreds and thousands of extensions typically provided by its competitors.
No phone support. Users can only find support via email, Twitter, live chat, user forum, and knowledge base. In addition, 24/7 support is only available via email and Twitter.
Pricing
Squarespace eCommerce pricing starts from $18/month for the Business plan, $26/month for the Basic Commerce plan, and $40/month for the Advanced Commerce plan. All plans are billed annually. There is also a 3% transaction fee on each sale made with the Business plan.
All plans come with unlimited products, free web hosting, visually pleasing website templates, SSL security, and free web domains for one year. It doesn't have a free plan, but it does offer a 14-day free trial period.
7. Magento – Best for Entrepreneurs Seeking Flexibility and Scalability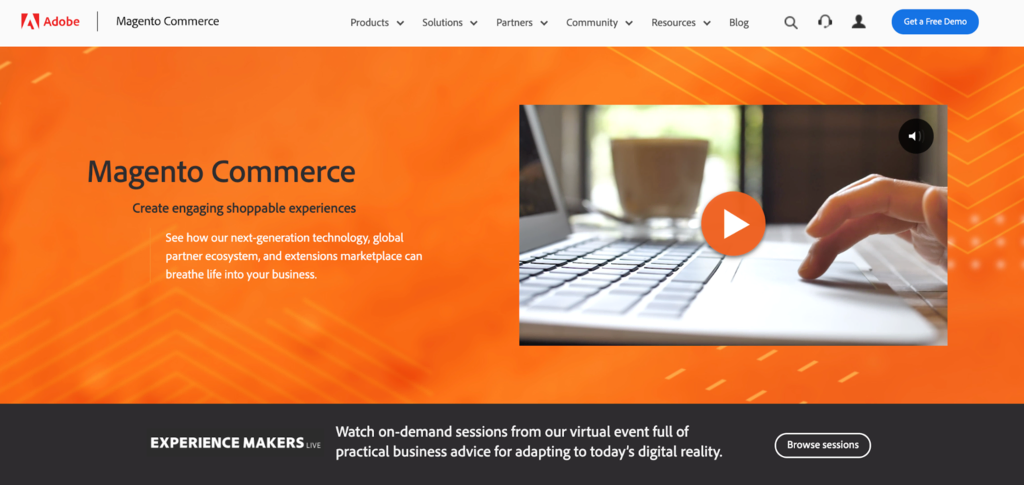 Magento is open-source eCommerce-specific software that is widely popular and completely free. However, it is a self-hosted solution, thus users must set up their own web hosting, domain, and security.
In this case, we are referring to Magento Open Source instead of the paid and hosted solution Adobe Commerce powered by Magento, formerly known as Magento Commerce. The premium version of the software is more suited to those with a large budget.
To get started with Magento, first you'll need to install it – some hosting providers provide a one-click installation option or you might need to install Magento manually. If you have no technical knowledge, a massive community of Magento web developers is ready to help.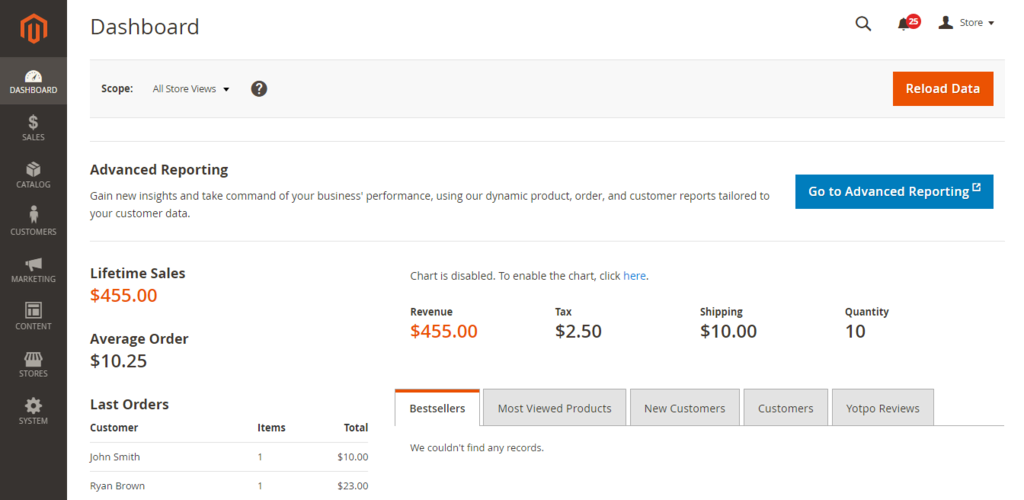 From its dashboard, users can add products, conduct inventory management, set up tax and shipping, configure payments, and offer discounts and coupon codes. You can also print shipping labels, packing slips, and invoices straight from the admin panel.
Users can download premium themes from the Magento marketplace or visit trusted sites like Theme Forest for more beautiful eCommerce designs. Magento is the best eCommerce website builder for people looking for the flexibility and freedom to customize sites to their liking.
Here is a preview of what a Magento online store could look like: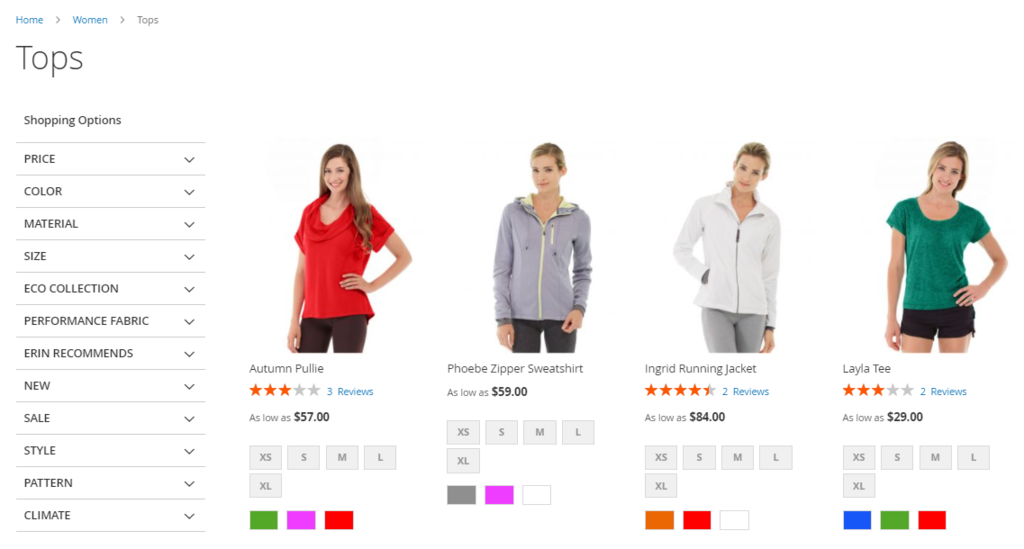 In addition to its powerful CMS, users can propel their business forward using the advanced analytics provided by another Magento premium product – Business Intelligence.
This technology can be directly integrated with your Magento database. It provides detailed reporting of business performance metrics, complete with tools to turn data into easily understandable visualizations. This can help make decisions to expand your eCommerce business.
If you want a free alternative, Magento also integrates with Google Analytics for performance tracking.
Key Features
Extension and theme marketplace. Find thousands of themes and extensions to extend the functionality of your site on the official Magento Marketplace.
Instant purchase. This feature lets returning customers shorten their checkout time by skipping some steps in the checkout process, letting the system use their previously-stored shipping and payment information instead.
Multilingual support. Add a language to your store by installing language packs downloaded from Magento's marketplace, creating a store view for the language, and changing the locale of the store view.
Multiple currency support. It supports currencies from more than 200 countries.
Multistore support. With Magento, manage multiple storefronts and eCommerce sites from one single admin dashboard.
SEO tools. Some of Magento's SEO tools include customizable URLs, Google Sitemap, and modifiable meta information.
Numerous payment solutions. Magento supports payment gateways like Braintree, PayPal, Klarna, and Amazon Pay. It also allows paying via money orders, bank transfers, purchase orders, zero subtotal checkout, and cash on delivery.
Pros
Full CMS. Magento's built-in CMS makes it easy for anyone to manage, create, and promote content.
Flexibility. With Magento, enjoy complete control and freedom to customize your online store to your liking.
Scalability. Whether you have 10 products or 100,000, Magento has the features, capability, and infrastructure to help your eCommerce business grow.
Cons
Requires some technical knowledge. Like most open-source software, this online store platform may require some technical skills to navigate at first.
No dedicated support. It provides no dedicated technical support. Users who need help can consult Magento's documentation and user forums.
Lack of advanced features. Although Magento Open Source is equipped with many features, many advanced features are only available on Adobe Commerce. Examples include B2B functionality, WYSIWYG page builder, and advanced marketing tools.
Pricing
Magento is free to download and use. However, you will have to pay for other site elements, such as hosting, domain, themes, development, and any plugins or extensions.
If you don't install any premium themes, plugins, or extensions and opt for a free SSL certificate, you'll only have to purchase web hosting and a domain name.
To estimate the costs, let's say you purchase one of Hostinger's VPS hosting plans, the VPS Plan 4, at $10.99/month. You also buy a domain name with the .com extension, which costs approximately $9.99.
Together, the starting cost of creating a Magento eCommerce website roughly adds up to $19.98.
8. Volusion – Best for Data-Oriented Business Owners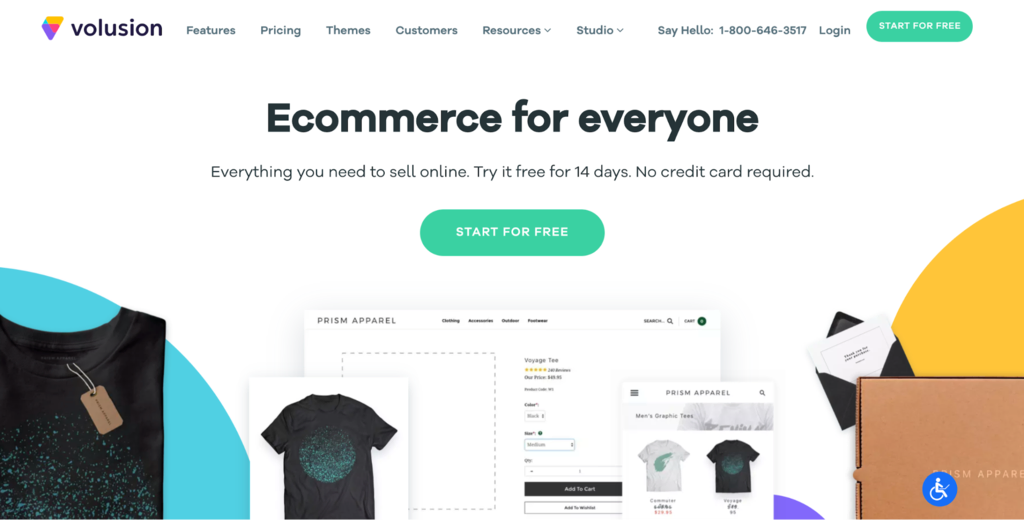 Volusion is an eCommerce website builder with a rich back-end functionality. The platform has excellent inventory management features to help users run their stores.
It offers a selection of visually attractive and responsive pre-made themes, with 11 free themes and over 30 paid feature-rich themes starting from $180.
With its intuitive drag-and-drop editor, users can customize the chosen theme by adjusting storefront colors and fonts, creating or uploading a custom logo, adding products, and managing navigation.

From the dashboard, you can set up product pages, process orders, specify shipping options, manage inventory, offer discounts and gift cards, and calculate taxes using its tax rate calculator.
Users can also sell subscription-based products with recurring payments, customize product displays and variants, set up a dropshipping system, and import products by uploading CSV files.
In terms of CRM, you can manage customer reviews, accounts, and sales tickets. Volusion also lets users create multiple admin roles and permissions with accessible admin history for easy store management.
Volusion has business analytics features to track your ROI based on factors such as newsletters, affiliates, purchases, product views, and ad campaigns.
Below is an example of what a Volusion store may look like: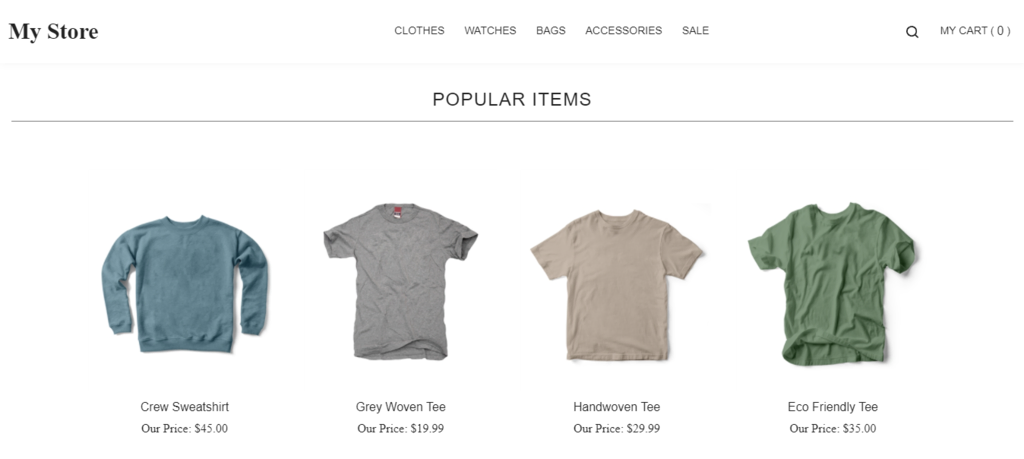 If you are interested in using a feature-packed eCommerce site builder with extensive business analytics reporting and affiliate marketing tools, Volusion may be the perfect solution for you.
Key Features
Affiliate functionality. This built-in feature lets customers become affiliates of your store. When people sign up for the affiliate program, they get custom URLs leading to your shop and get paid for every person visiting your site through the affiliate links.
Business tools. Some free business tools Volusion provides include its Terms and Conditions Generator, Small Business Loan Calculator, Privacy Policy Generator, CPM Calculator, Barcode Generator, Profit Margin Calculator, and Return Policy Generator.
SEO tools. Volusion provides numerous tools for optimizing your site for search engines, including sitemap, robots.txt file, meta descriptions, title tags, and customizable URLs.
Third-party apps. Browse the Volusion marketplace to find many free and paid apps for various purposes such as marketing, customer management, and payment processing. Examples include Privy, ShipStation, and SnapEngage.
Mobile app. The Volusion Mobile App lets users manage store operations from anywhere. The app is available for both iOS and Android.
Multichannel selling. With Volusion, sell products through popular marketplaces and social media platforms, including eBay, Amazon, and Facebook.
Social media marketing tools. Connect social media accounts to the store and use the Volusion admin dashboard to post to Twitter and Facebook.
Email marketing. Send newsletters and abandoned cart recovery emails to specific groups of people with customer segmentation.
Numerous payment processing methods. Volusion supports cash, credit cards, wire transfer, electronic checks, money orders, Amazon Pay, PayPal, and Stripe.
Multiple currency support. It lets users display various currencies on their storefronts and accept payments in the store's default currency.
Pros
Ease of use. Its user-friendly dashboard and website editor make it simple to navigate the different customization and business tools.
Zero transaction fees. Volusion doesn't collect additional transaction fees.
Cons
Tiered cut-offs. Once your site starts generating a certain amount of revenue, you must upgrade to the next subscription tier.
No integrated blogging. Volusion doesn't have built-in blogging tools, which may negatively impact SEO and the promotion of your eCommerce website.
Limited number of third-party apps. Its app marketplace offers dozens of third-party apps, which is a significantly lower amount compared to the thousands of apps and extensions offered by its competitors.
Pricing
There are three plans to choose from – the Personal plan at $29/month, the Professional plan at $79/month, and the Business plan at $299/month.
The automatic yearly revenue cut-offs for the plans are $50,000, $100,000, and $500,000 respectively. For online stores exceeding the gross merchandise value of $500,000, Volusion has prepared the Prime plan.
All plans come with staff accounts, unlimited bandwidth, and online support via chat. Volusion also has a help center users can access for support.
The main differences between the plans include the level of support and access to premium eCommerce features. For instance, Amazon and eBay integrations are only available for users of Business or Prime plans.
There is no free plan, but Volusion does offer a 14-day free trial period for those who want to test its capabilities before purchasing a plan.
What to Look For in an eCommerce Website Builder?
Here are some factors to consider when choosing the best eCommerce website builder:
Ease of Use
Check how user-friendly the dashboard is and whether its features make it easy to customize websites to your liking. We recommend looking for eCommerce website builders with a drag-and-drop builder as it will simplify the website creation and customization process.
Design and Templates
An excellent first impression is crucial to capture customers' attention. Ensure the eCommerce website design of the template you use is visually appealing and mobile responsive. Take a look at each platform's template gallery, customization flexibility, and costs of the relevant templates.
Additional Costs
Some eCommerce platforms have hidden costs on top of monthly subscription fees. This may include transaction fees and extra costs when purchasing themes, plugins, and extensions.
Don't forget to thoroughly research eCommerce website builders and include this in your accounting accordingly.
Content Management System (CMS)
The features of a CMS include creating and managing website content such as meta descriptions, blog posts, and other types of media using a graphical user interface. Having a built-in CMS will help with SEO.
Some features to look for include comment management for greater engagement with customers and the option to schedule posts.
Search Engine Optimization (SEO)
Good SEO features can boost website rankings on search engines. A great website builder must have at least the essential SEO tools. The best eCommerce website builders usually offer fast loading speeds, media optimization features, and metadata capabilities.
Security and SSL
Security should be one of the biggest priorities when selecting the best eCommerce website builder. Having an SSL certificate will help keep the website, data, and payment information safe and secure from cyber attacks.
Websites protected with SSL encryption have the HTTPS protocol present in their URL or a padlock icon visible next to their URL when accessed through a browser.
Best website builders will typically include a free SSL certificate in their plans.
Bandwidth
Bandwidth is the maximum allowed rate of data transfer for a site, and the lack of it is often the reason for website crashes.
If you're looking to grow your site, ensure the eCommerce platform provides unlimited bandwidth so it can handle the increasing web traffic to your store.
Storage
Having more storage will enable you to feature more items, especially the products that are trending. Ensure the eCommerce website builder has generous storage allowances to prevent errors from arising as your store grows over time.
Customer Support
Take note of the support channels provided by the website builders. Some examples include support via live chat, email, or phone. Ideally, you want a platform providing 24/7 support to help solve problems on the site regardless of when they occur.
If the eCommerce website builder has a knowledge base, documentation, and a tutorial blog, it will also help you out.
Websites for businesses rely on a quick response time if anything goes wrong, so customer support is a crucial factor to consider.
Pricing and Value
This depends on the size and goals of your business, but ultimately the best eCommerce website builder will give you the most value for money. Look for numerous features for a fair or cost-effective price so that you can make more profit online.
Conclusion
Using a website builder is the easiest way to create an eCommerce store as it requires little to no coding knowledge. Here is a summary of all eight best eCommerce website builders we have discussed:
Hostinger Website Builder. An all-around eCommerce site builder with the tools and advanced features necessary to run a successful online business at less than half the cost of most of its competitors. Best for business owners wanting ease of use and value for money.
WooCommerce. An open-source platform giving users the creative freedom to build a unique online store. Perfect choice for businesses with WordPress websites.
BigCommerce. The best eCommerce website builder for rapidly growing and large online stores due to many built-in eCommerce features available on the platform.
Shopify. A great online store platform for people selling products via both online and offline channels.
Wix. One of the best eCommerce site builders for small to medium-sized businesses with its easy-to-use editor and no yearly revenue limit.
Squarespace. The perfect eCommerce platform for business owners valuing professionally designed and visually attractive website designs.
Magento. A highly customizable website builder emphasizing flexibility and scalability with its ability to handle over a million products.
Volusion. The online store platform for data-oriented people, with extensive back-end functionality, inventory management, and business reporting capabilities.
We have also discussed the different aspects to consider when choosing eCommerce website builders, from the ease of use to pricing and value. Make sure to pick the best eCommerce site builder according to the goals and needs of your own online store.
Once your eCommerce site is up and running, promote the store and start selling the products. Good luck.
Best eCommerce Website Builder FAQ
Getting your head around eCommerce platforms can be overwhelming at first.
To help you out, our experts have answered some of the most frequently asked questions regarding eCommerce website builders:
How Do I Create an Online Store?
Choose a niche and a website builder with online store functionality that works for you. Next, customize and configure your online store. Edit the look of your site and upload relevant content and products. Once your store is live, keep promoting and marketing it, and start selling.
What Is the Easiest Way to Create an eCommerce Website?
The easiest way to make eCommerce sites is to use an eCommerce website builder. It will take care of all the features a successful online business needs while simplifying the user experience. Website builders often have a knowledge base and a support team to help you achieve your goals, too.
How Much Does It Cost to Create an eCommerce Website?
The costs of creating and maintaining an eCommerce website can range anywhere from $9.90/month billed annually up to thousands of dollars per year. It all depends on the method you use to create the website.
What Is the Best Free eCommerce Website Builder?
The closest thing to a free online store builder that still provides adequate eCommerce functionality is open source platforms such as WooCommerce and Magento. However, you must purchase website host, domain name registration, and SSL security.