Zyro Review: A Full Review of This All-In-One Website Builder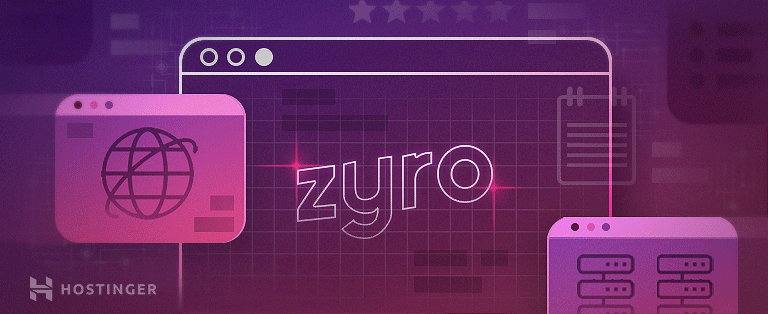 Nowadays, more and more people are looking for ways to create their own website quickly and easily – be it for blogging, making a business portfolio, or selling online.
Zyro is a website-building tool that allows exactly that. It comes with plenty of user-friendly features, useful for new website owners to create a visually appealing and well-optimized website.
This Zyro review will walk you through this platform's features, along with its pricing plans, benefits, and downsides. We will also give our verdict on who this platform is best for.


A Quick Look Into Zyro
Zyro is a web builder that lets users quickly and easily create a website without having to code manually.
It offers several features that make it stand out among other website builders, including:
An intuitive WYSIWYG editor
Artificial intelligence tools
Lightweight website templates with modern aesthetic
eCommerce functionality
Its intuitive drag-and-drop builder lets users edit a web page directly and see how the changes will appear on the actual live site. While most website builders also have this feature, Zyro's version provides tools like a grid system, which is especially helpful for non-designers.
The second standout feature is Zyro's artificial intelligence (AI), such as an AI heatmap and a content generator. These tools can help users accelerate the process of various tasks and focus more on their online endeavors.


Zyro's Features: An In-Depth Overview
In this section of our Zyro review, we will discuss its plans and pricing and dive deep into its features.
Let's get started.
Plans and Pricing
Zyro offers four paid plans, ranging from $2.90-15.90/month. All plans include a free domain for one year, cloud type of hosting, and a free custom email for three months that allows users to have an @yourdomain email address.
Furthermore, these four paid plans come with 24/7 customer support via live chat and marketing tools integration. These tools include Google Analytics, Google Tag Manager, Facebook Pixel, and visitor remarketing, which are helpful to boost business performance.
Check this table below to compare Zyro's premium plans:
Features
Website
$2.90/month
Business
$4.90/month
Bandwidth
Unlimited
Unlimited
Storage
Unlimited
Unlimited
SSL certificate
Yes
Yes
Blogging tools
Yes
Yes
Messenger live chat
Yes
Yes
Product display
No
100
Payment options
No
Stripe only
Note that the prices listed above apply for a four-year term, so the price may change if you pick a different subscription period. Furthermore, Zyro offers a 30-day money-back guarantee, enabling you to change or cancel your plan.
Templates
There are 100+ templates in Zyro's library, suitable for various website needs. The categories include:
eCommerce
Services
Photography
Portfolio
Blog
Events
All templates are free and lightweight. Furthermore, Zyro's templates feature modern and minimalist aesthetics, which help make for a truly stylish website.
Zyro's templates also have a responsive design, meaning they will automatically adjust to any screen size, including a desktop, a tablet, or a mobile phone. This feature can improve user experience and benefit your SEO strategy.
If your website is an online store, we recommend using eCommerce templates such as Aurora. This is because Zyro's eCommerce templates come with a built-in shop page and a store manager, which lets you set up your store quickly.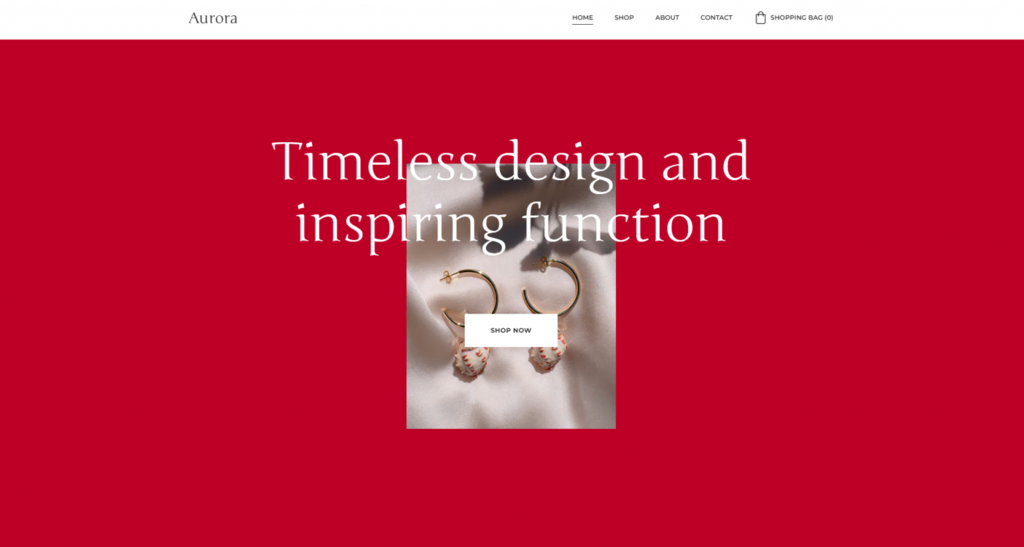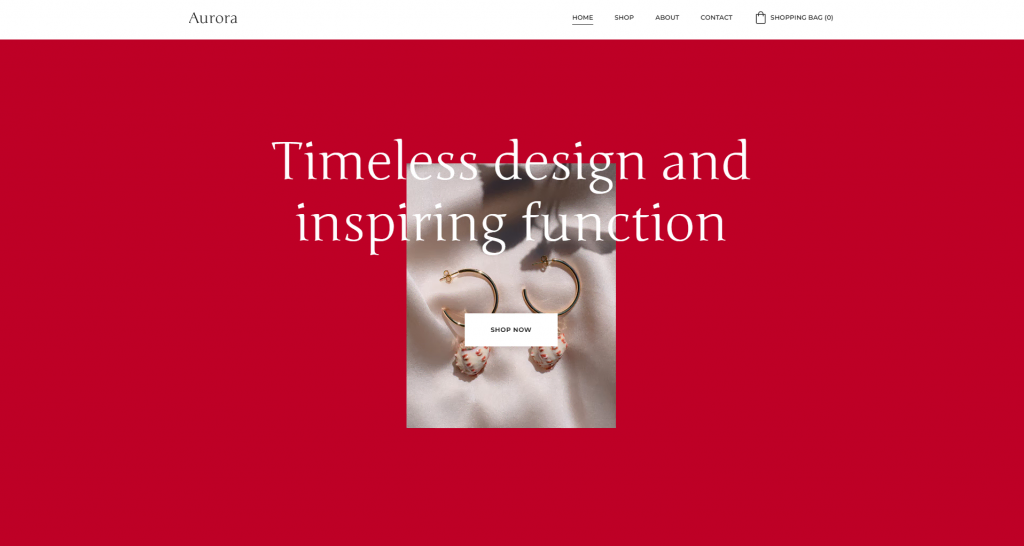 On top of that, Aurora's homepage is optimized for sales and conversions. It has a call-to-action button in the middle of the banner, highlighting the main product. There's also a top menu bar with a shopping cart at the top-right corner, helping customers review their purchases easily.
Alternatively, add eCommerce features to any type of template. For example, if you prefer the look of a photography template, it's possible to apply that to your eCommerce site.
Meanwhile, Niqvist can be an excellent choice for musicians' sites. Its homepage has special sections for music releases, recent news, upcoming tour dates, and the latest music video.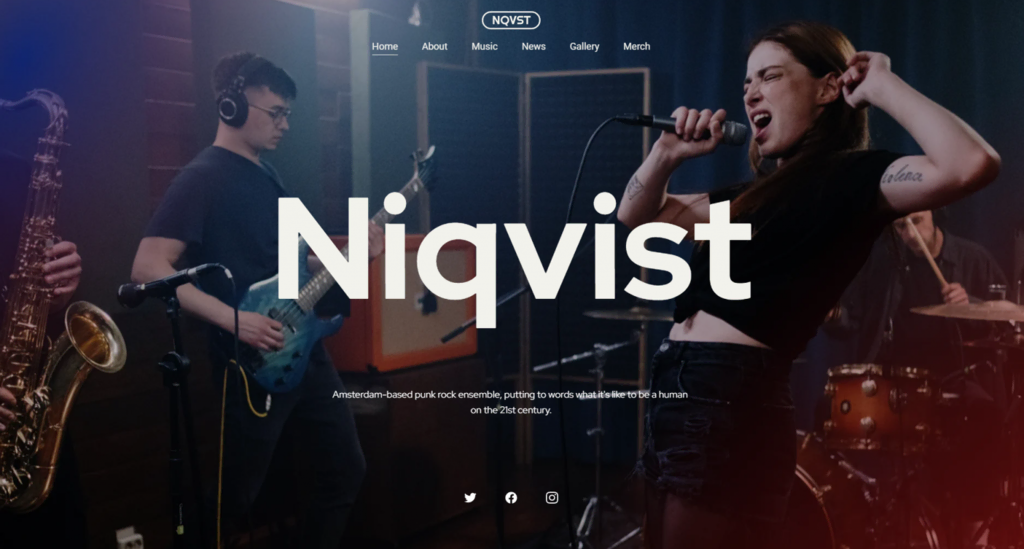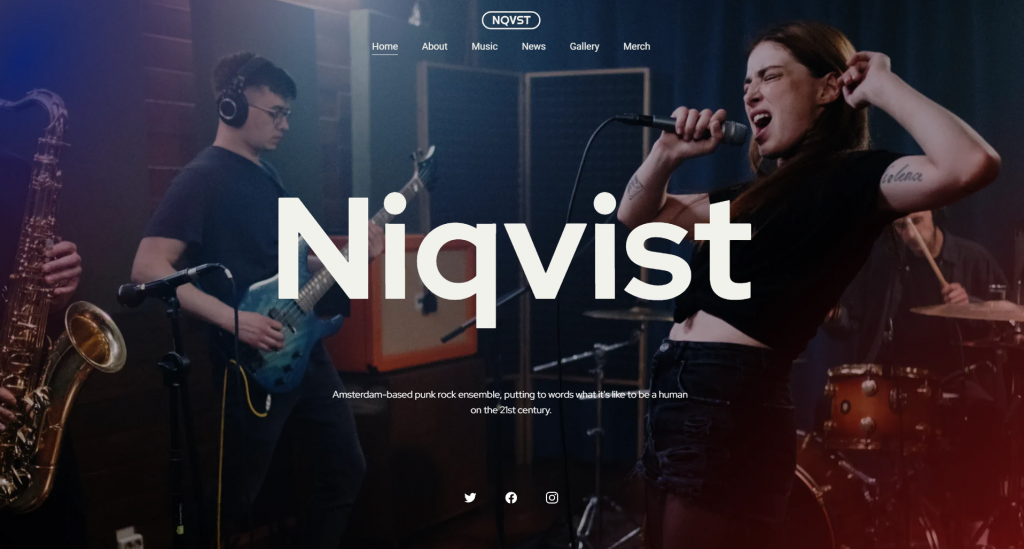 The template also features social media buttons that help visitors find your social media presence quickly. Furthermore, this template provides separate pages for photo gallery and merchandise sales, enabling you to add a revenue channel to your portfolio site.
Drag and Drop Editor
The drag-and-drop builder is a helpful feature for designing a website, especially for users without coding knowledge and non-designers. Website owners can easily add new elements such as titles, text, and images to their site page by drag-and-dropping them into any location.
The starting steps are similar to other site builders. You have to create an account and choose a template. Then, the Zyro editor will activate, and you can start customizing your website.


Note that while it's possible to begin building a site for free, you'll have to pick one of the paid plans to publish it.
The template's layout is divided into sections, which you can resize, delete, duplicate, or move. Each section has a grid system that helps align website elements and maintain the proportions, allowing you to create a balanced layout.


It's also possible to change the parameter of the grid area, replace the template's pre-existing image with your own image, adjust its overlay opacity, and make the background image fixed or move as you scroll. In addition, you can assign a unique URL for a specific section through the Anchor tab.
On the left side, there's a sidebar menu to access the following options:
Pages and navigation – add or remove a page and manage which pages appear on the navigation menu. It's also possible to edit the page's title and URL to improve the SEO performance.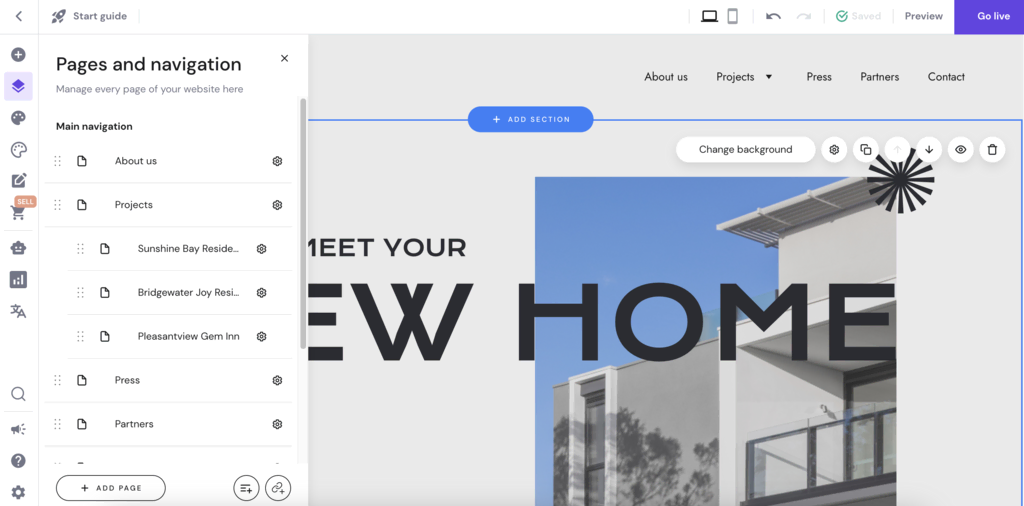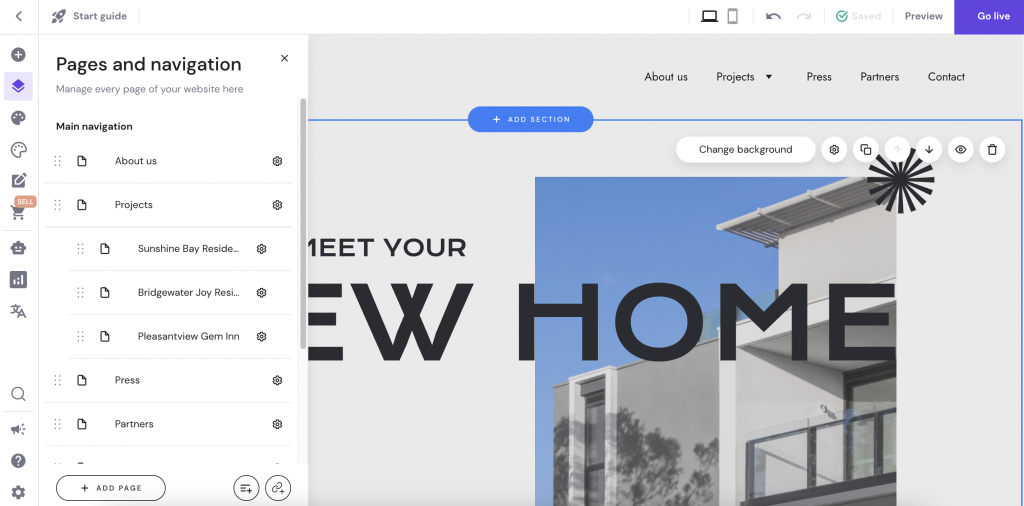 Add elements – these include text, images, buttons, and grid galleries to your site. There are also business-oriented options which include subscription sign-ups, contact forms, and buy buttons.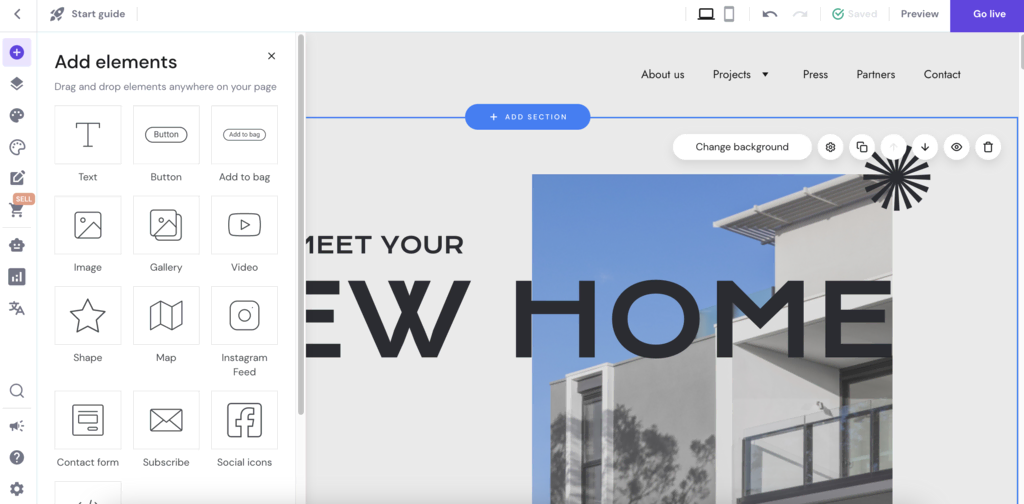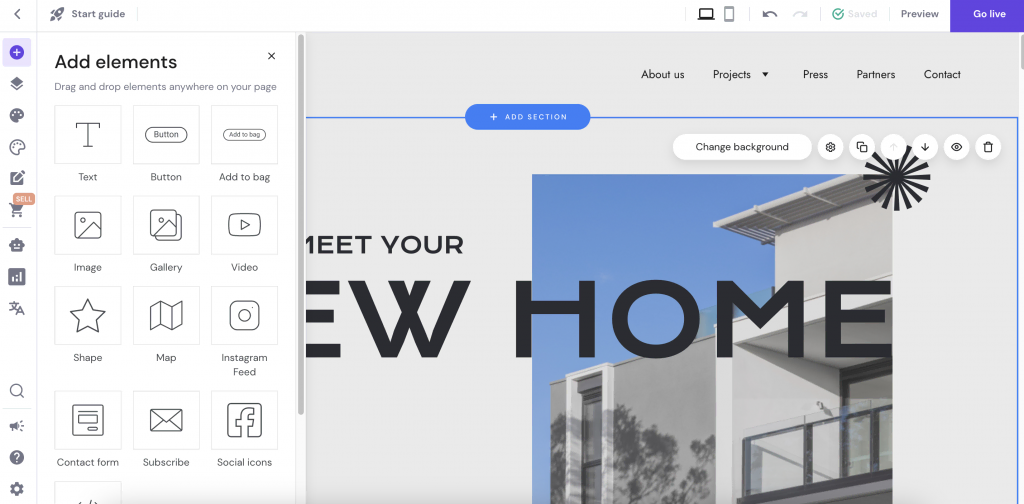 Website styles – quickly modify the template's color palette, fonts, and button shape.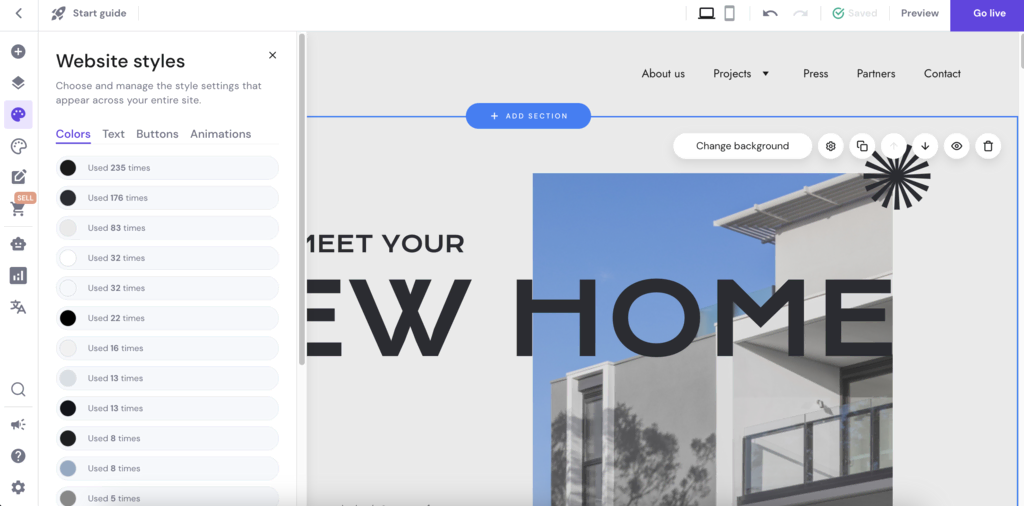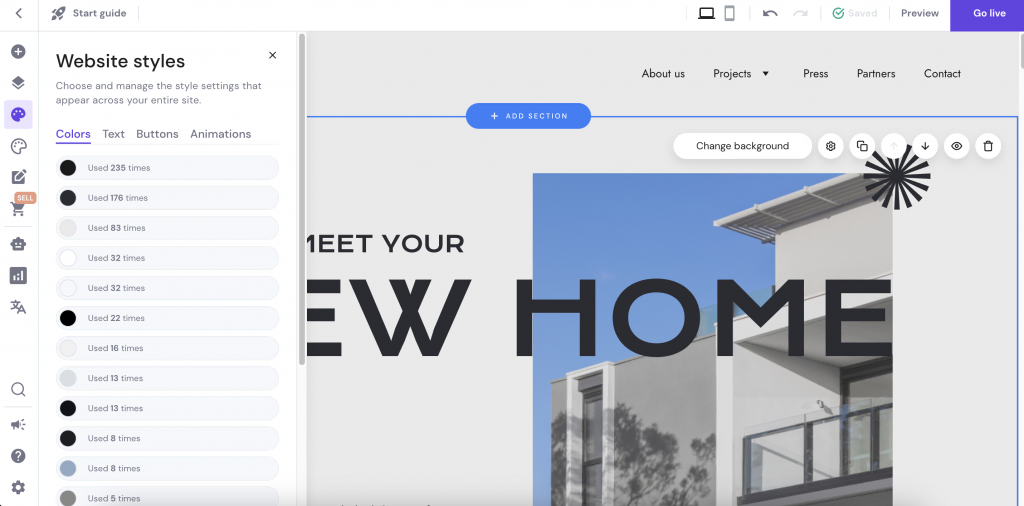 Designer website styles – get more advanced options to modify a template's look. For example, while the Website Styles menu offers only five colors in the color palette, here users can choose more, including primary colors, secondary colors, and accent colors.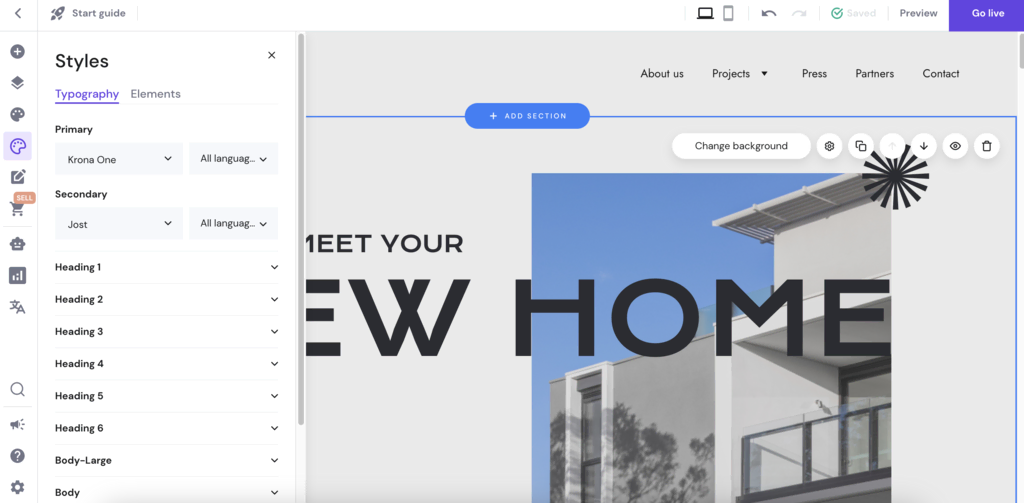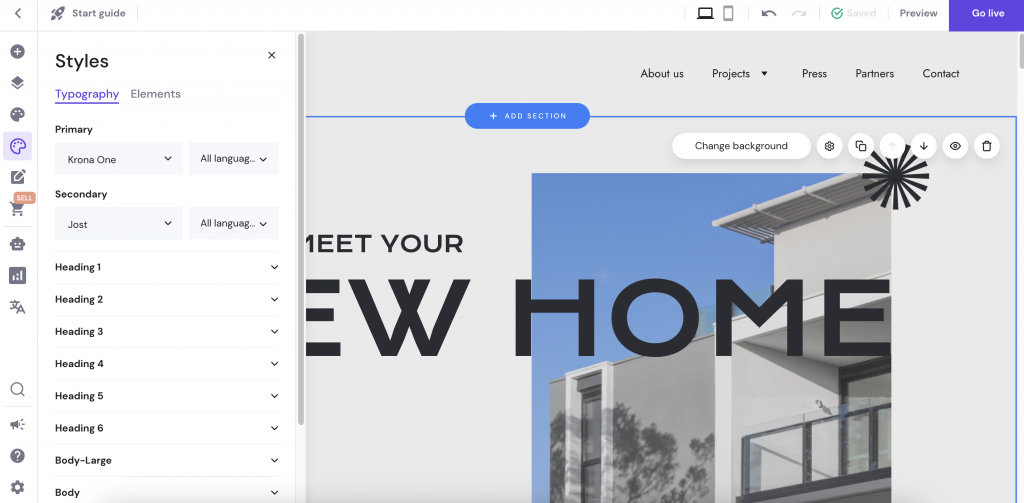 Blog – add a blog page to a Zyro website by simply clicking a prompt in this menu. Create, manage, schedule, and publish stories to attract more traffic to your site.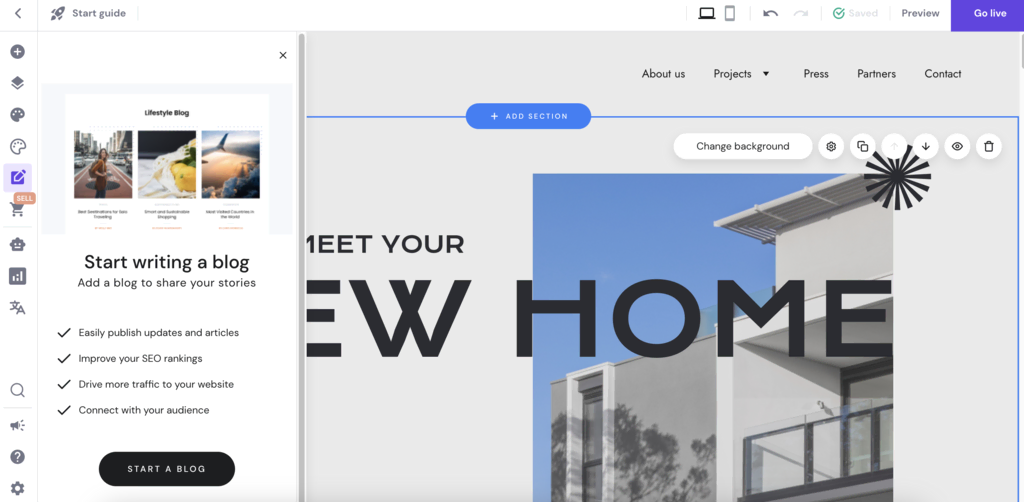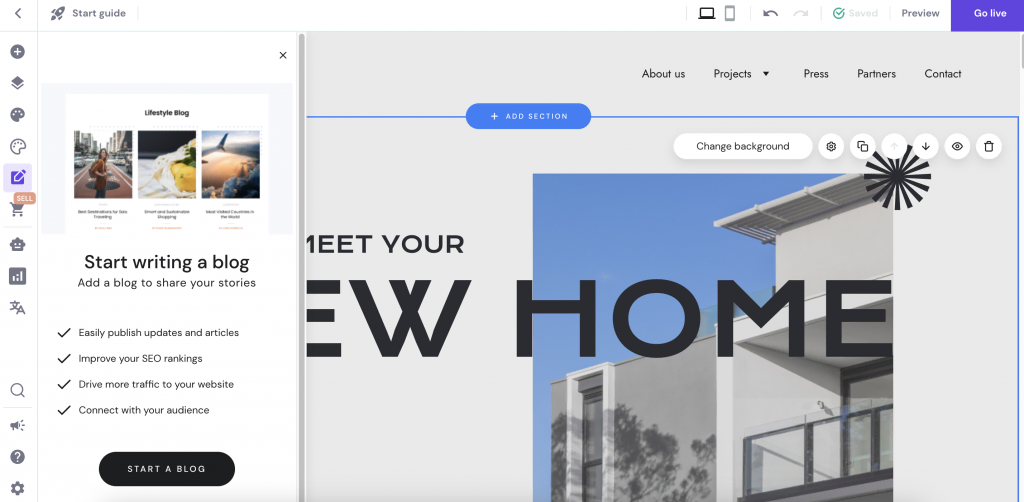 Online store – add eCommerce functionality to your site and manage your store via a user-friendly interface. There are two types of stores available – the Online Store with multiple payment methods, advanced shipping options, and cross-channel selling, or the Lite Store, which allows users to accept payments without creating a full-fledged eCommerce store.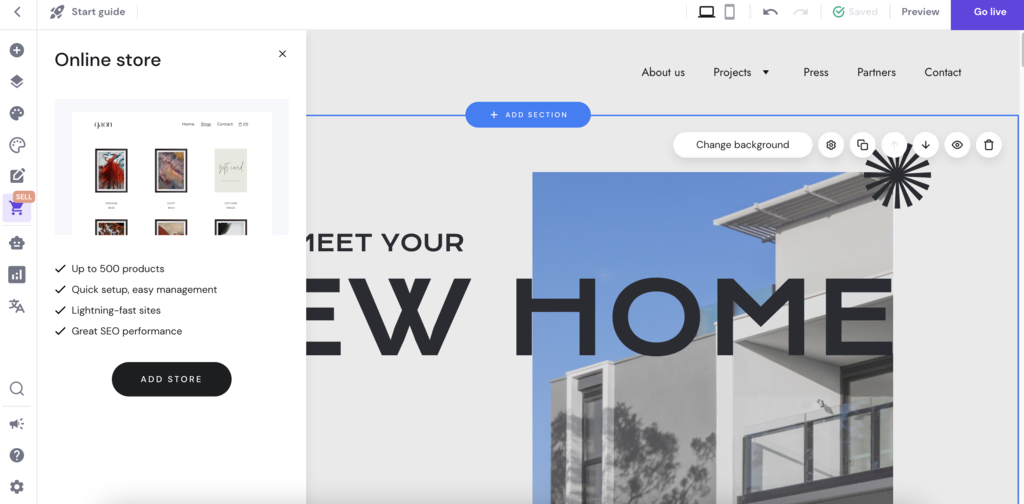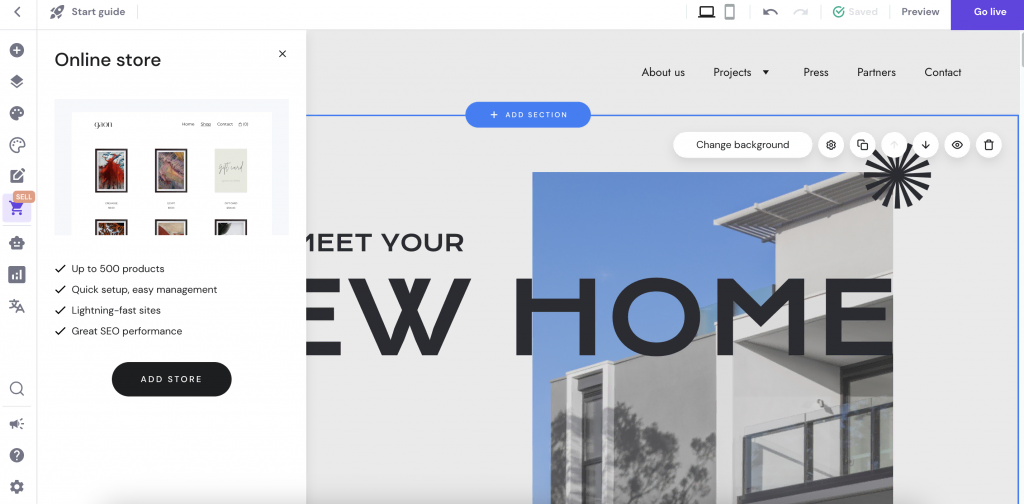 AI tools – this menu contains access to Zyro's AI tools – the Logo Maker, AI Writer, and AI Heatmap, to help tackle site-managing tasks.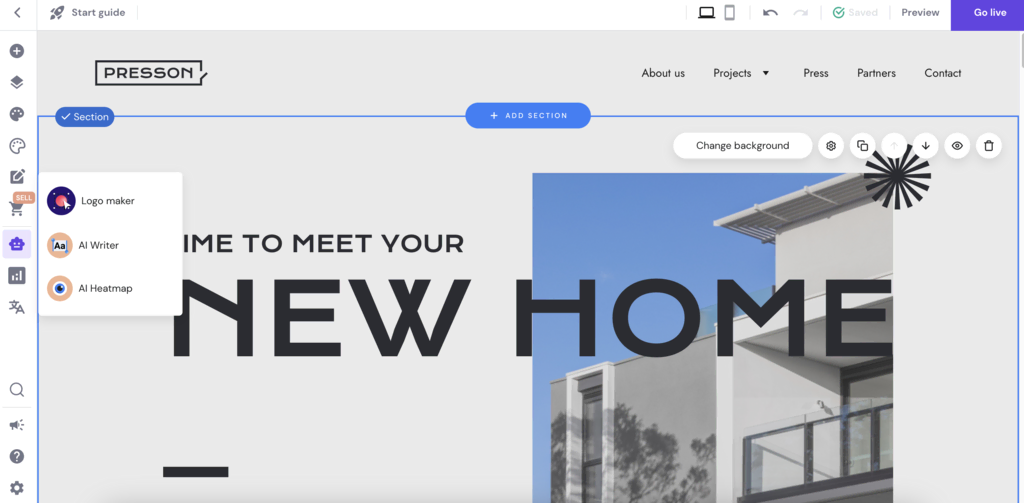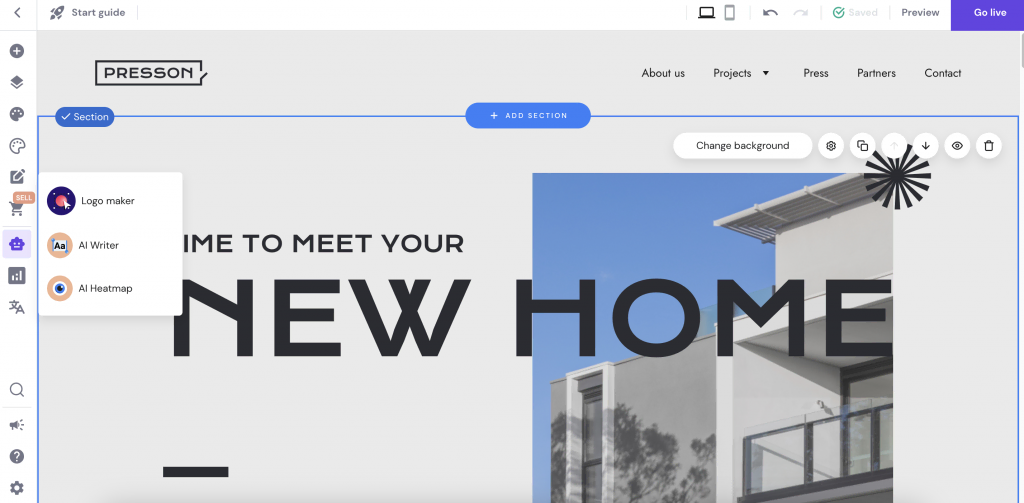 Help and resources – should you need any assistance in creating a site, this menu provides a link to Zyro's knowledge base, divided into categories such as Build a Website, Design, and eCommerce Tools.
On the top menu bar, there's a mobile editing mode. This allows users to preview and modify the appearance of their mobile site in a similar way as editing the desktop website. This is one of the features that differentiates the Zyro platform from most site builders, as they usually only allow previewing the mobile site, not editing it.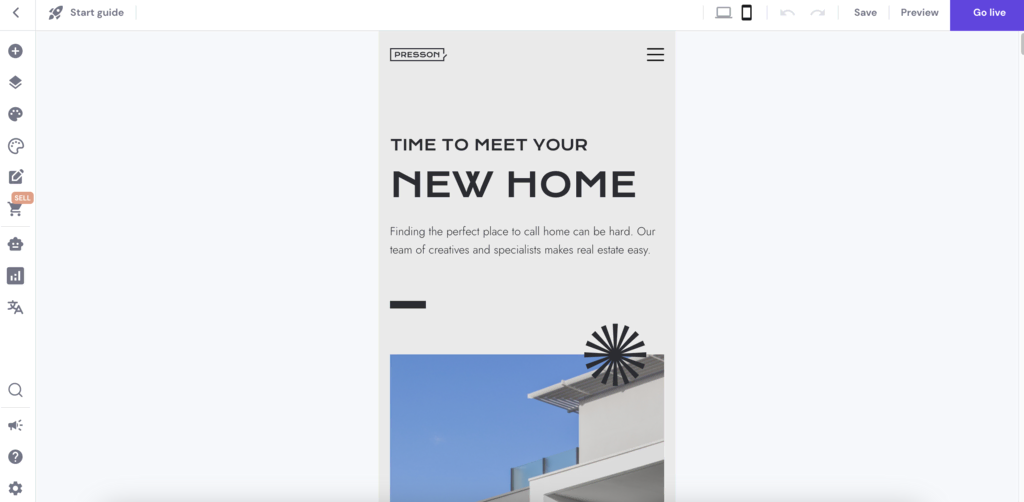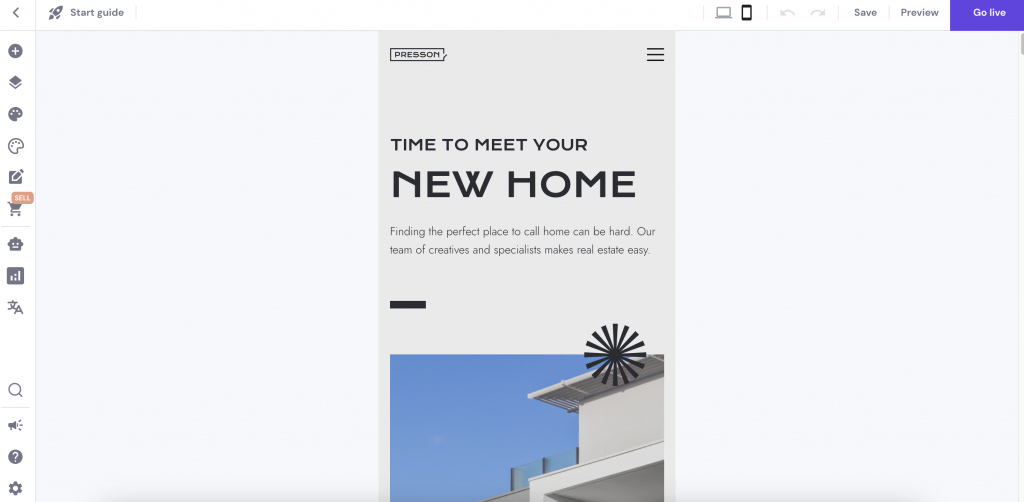 What's more, Zyro automatically saves all the changes users make every few seconds. That way, users don't need to worry about losing any unsaved edits when their computers abruptly shut down, or they accidentally close the editing tab.
AI Tools
Zyro's AI features differentiate this site builder from its competitors. They're optimized to help businesses with various branding and website-related tasks.
Here's the overview of Zyro's AI tools:
AI Business Name Generator – find business name inspirations by providing several keywords.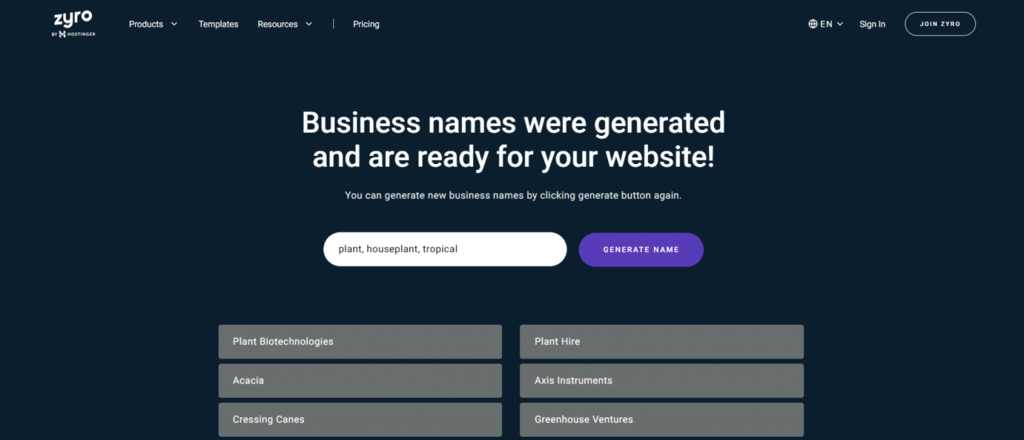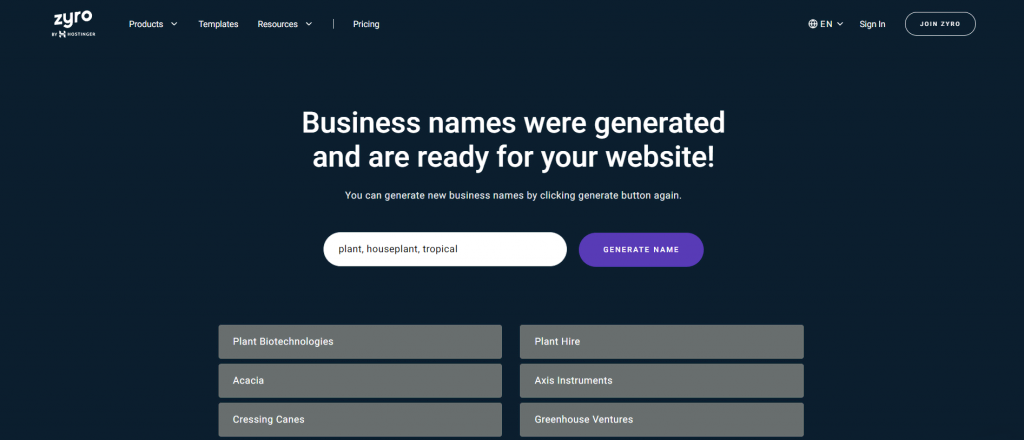 Logo Maker – create a free custom logo that suits your brand identity with 1000+ logo templates, then change the color, font, text, and size. The final result is downloadable in a high-resolution PNG file, and you'll own the commercial license.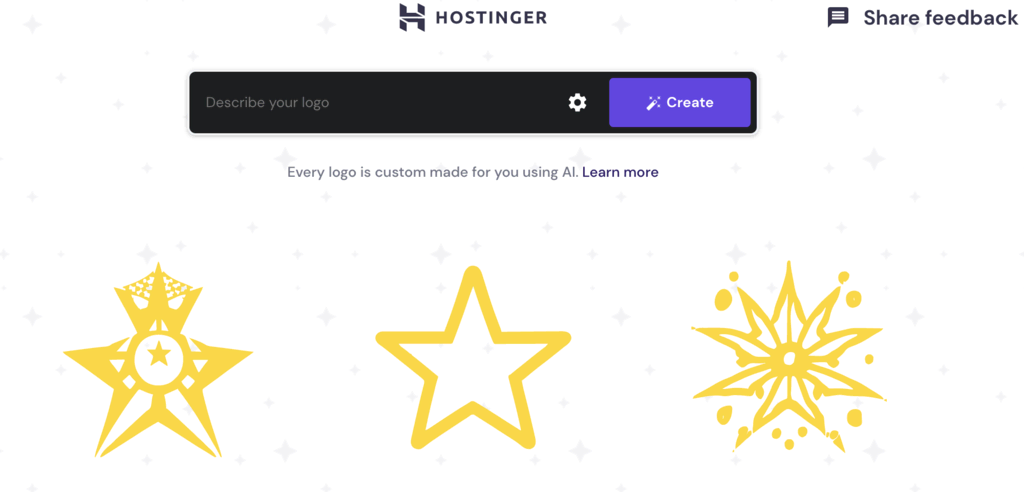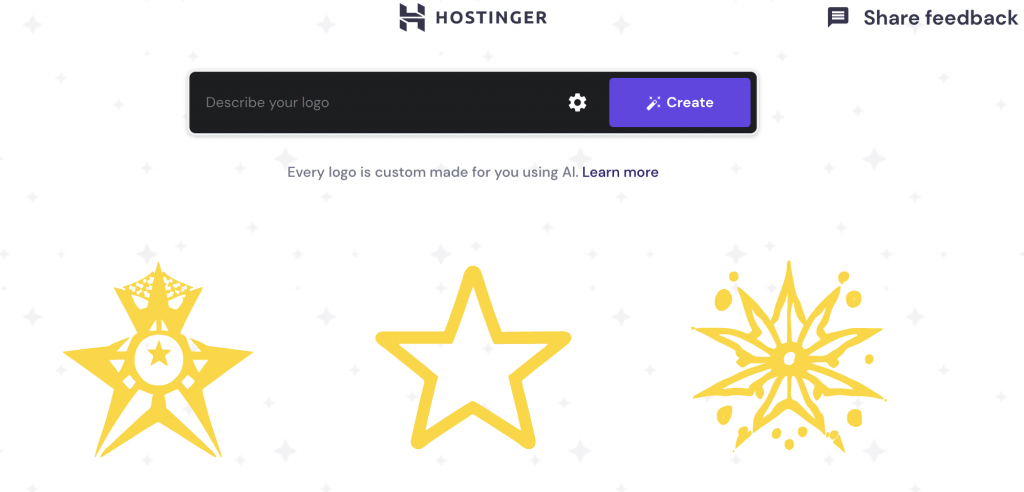 AI Slogan Generator – brainstorm for catchy tagline ideas by entering one or two keywords and exploring Zyro's suggestions.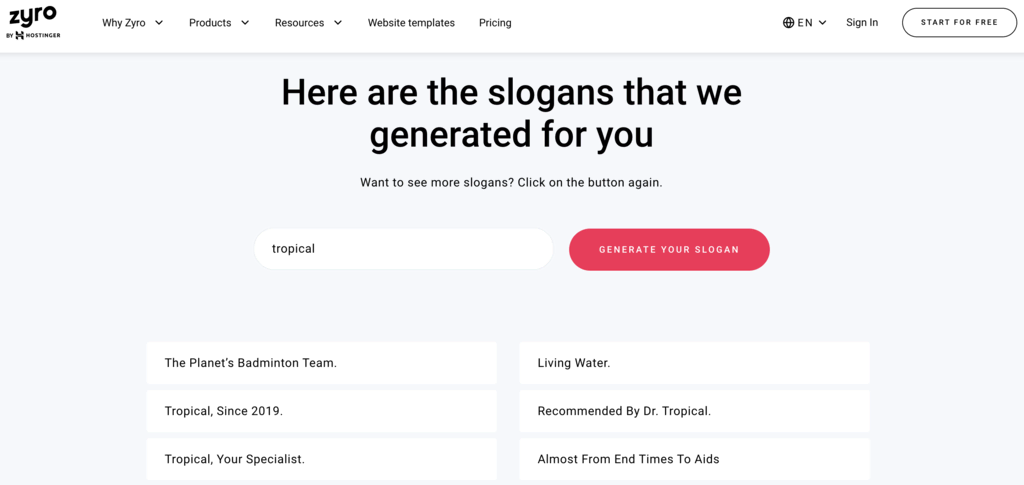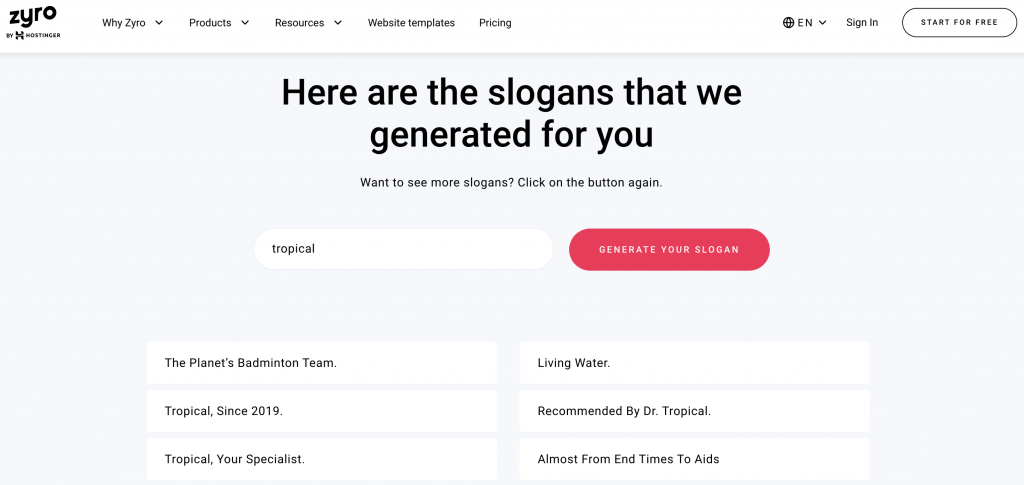 AI Writer – this content generator helps produce high-quality and SEO-friendly copy. It's an excellent alternative for users with no copywriting experience as they won't have to write from scratch. Furthermore, it's available in 11 languages.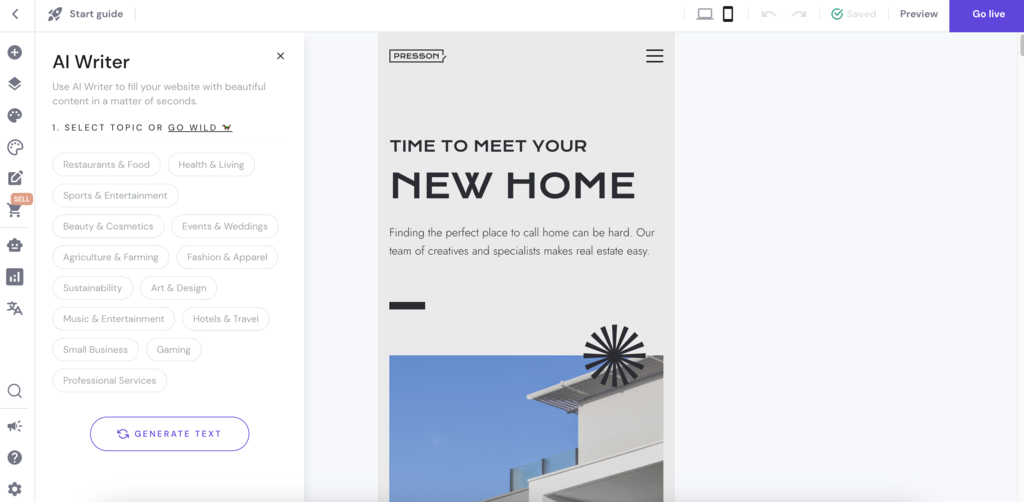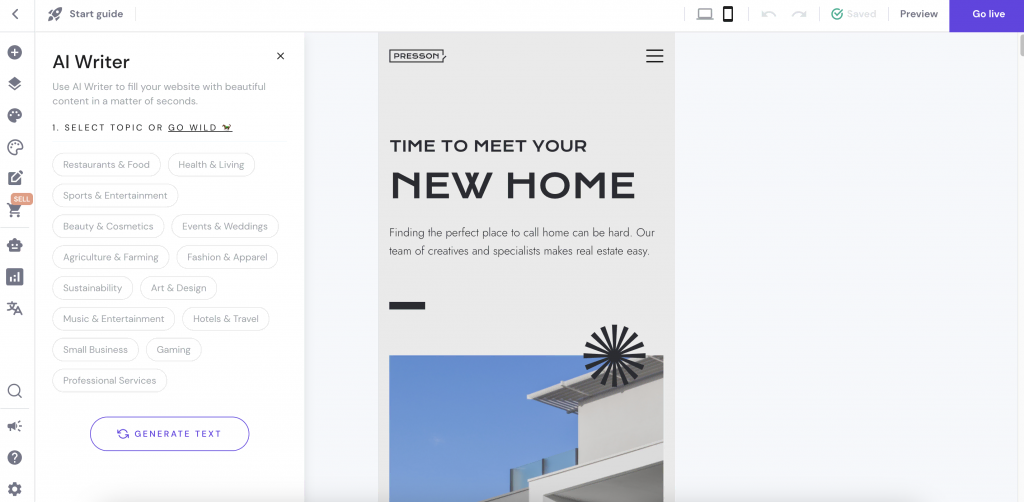 AI Heatmap – design your site based on this user experience testing tool. It predicts which part of your site will get the most of visitors' attention, providing valuable insights to boost conversions.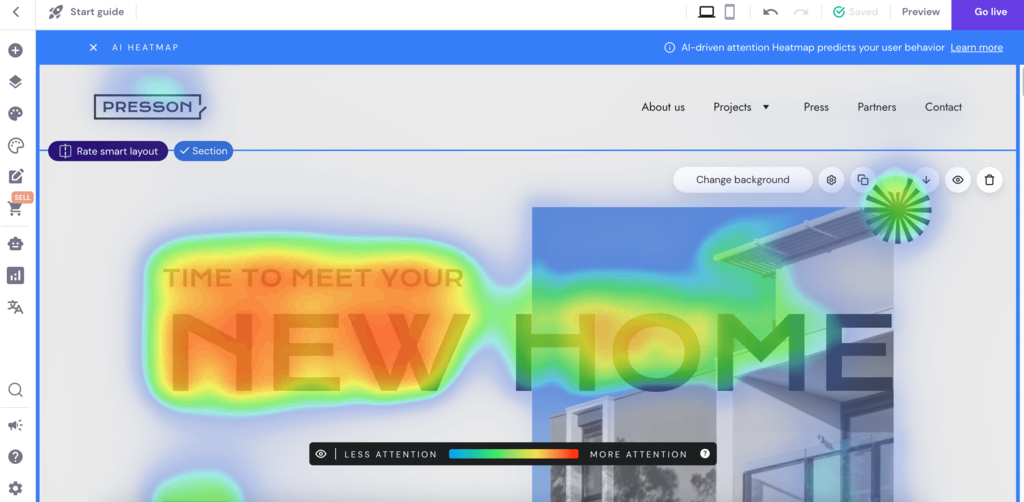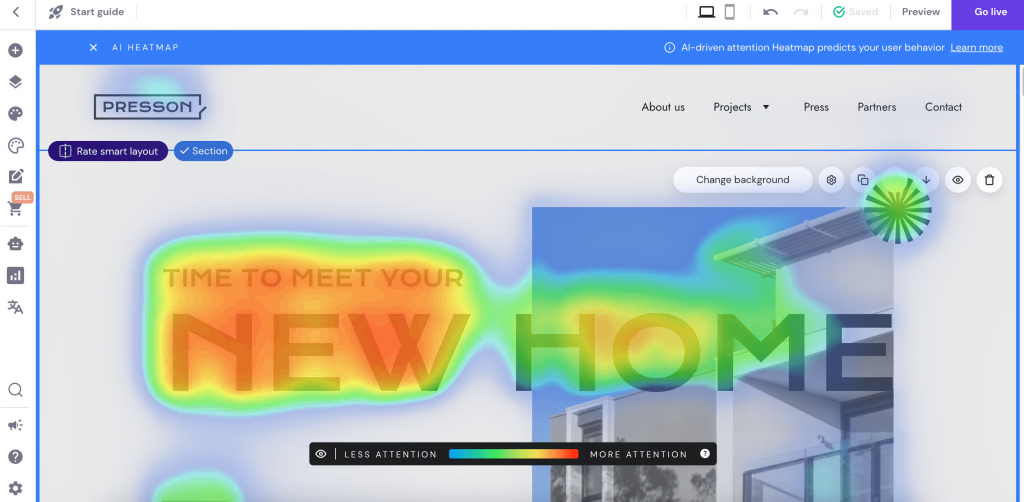 Favicon Generator – create a memorable favicon that helps visitors instantly identify your brand. Choose an icon, then modify its color and shape.
Background Remover – this AI technology will identify the background of an image. Then, you can just click once, and a background-transparent image will be ready.
AI Blog Title Generator – pick a blog niche, and this tool will list blog topic ideas to write about.
Photo Resizer – change image dimensions to fit any website needs, such as profile pictures or product photos. It will resize the images without compressing the file size.
Image Upscaler – upgrade low-resolution images to website quality by uploading them to this smart image upscaler.
AI Website Generator – instantly create a custom template based on your preferences.
It's also possible to integrate Zyro's AI tools into your application or company workflow via the Zyro API. Doing so helps developers save more time by using tools like Heatmap. Users need to subscribe to Zyro's waiting list to access this feature.
Blogging Functions
With Zyro, it's possible to add a blog to an existing site or set a blog to be the homepage. Its style will automatically match the template's look, assuring visual consistency across the web pages.
Zyro's blogging features include a post editor, category management, and post scheduling. It's also possible to customize the blog's page layout.
Creating a post in Zyro's blog editor is pretty straightforward. Simply click Add new post, and a blank page will appear, within which users can start writing a blog post. Furthermore, the Post settings let website owners decide whether to display or hide information like publishing date, an author's name and avatar, a category, and reading time.
Additionally, you will get access to the free library of 1 million+ stock images powered by Unsplash, providing high-quality images to accompany blog articles or decorate the site.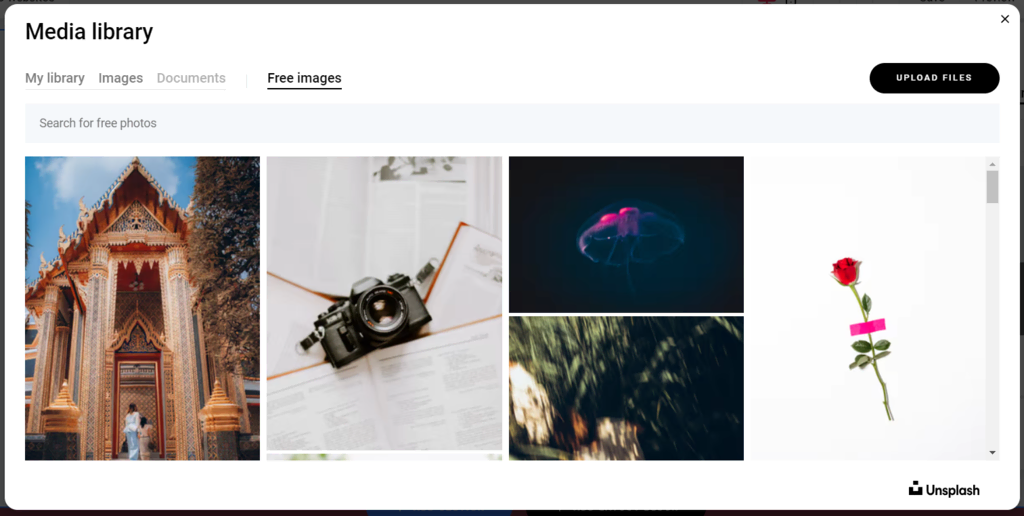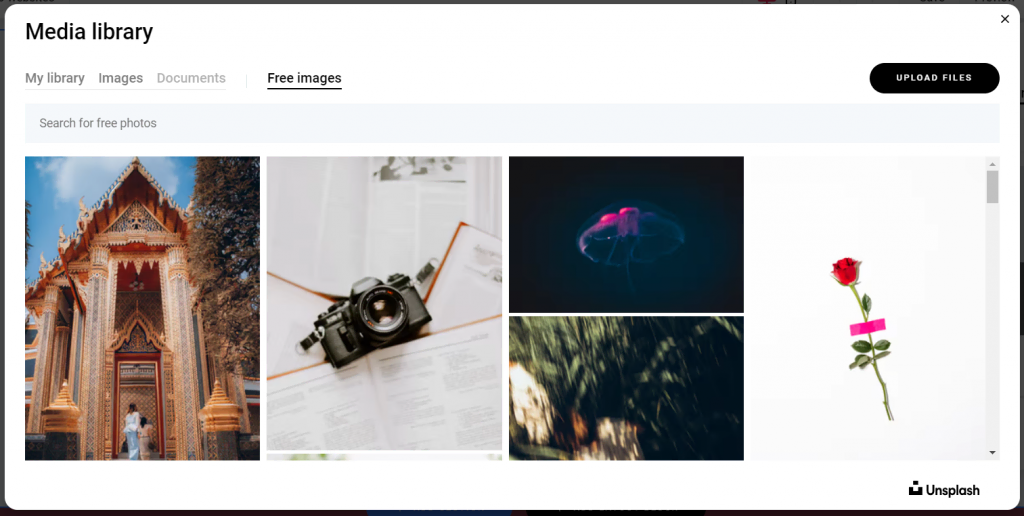 Zyro also provides SEO tools to optimize site performance on search engine result pages (SERPs).
The SEO tools are accessible via the dashboard's Manage menu. There, users can update the SEO configuration for each web page, blog post, and the site in general, including meta titles, meta descriptions, and page link preview images.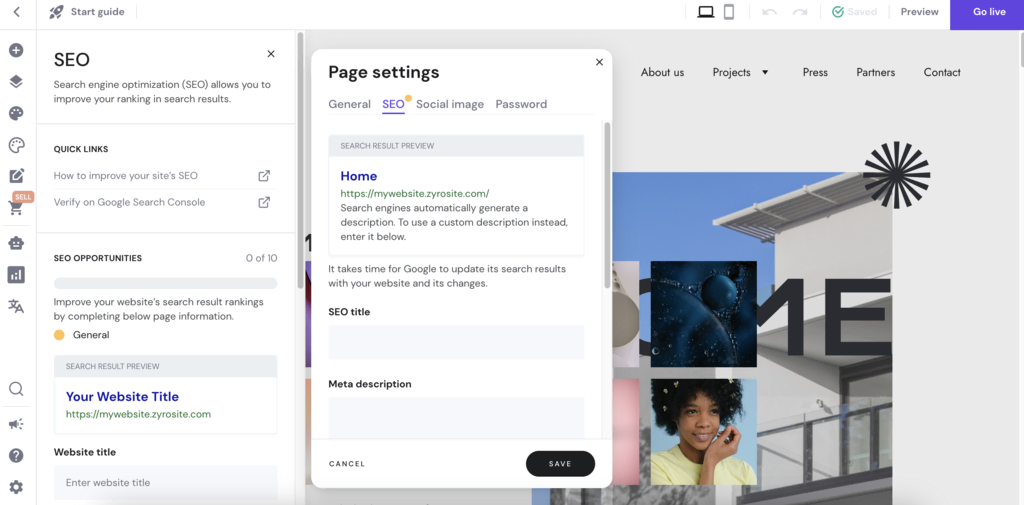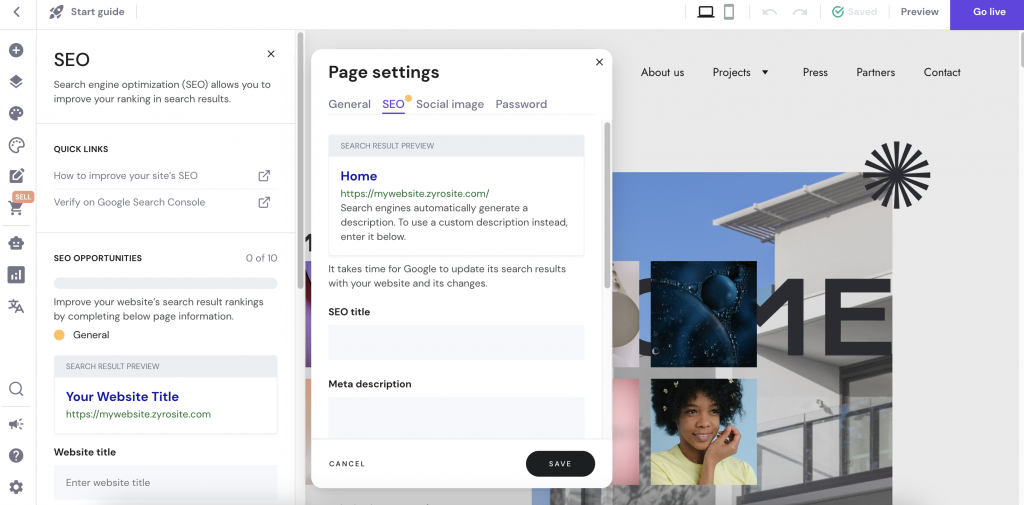 Users can also add a custom URL to their blog posts to help search engines find them easily.
Moreover, it's also possible to add alt text, which is a description of the image. It makes your website more accessible for everyone, including those who use screen readers. In addition, it's also indexed by search engines.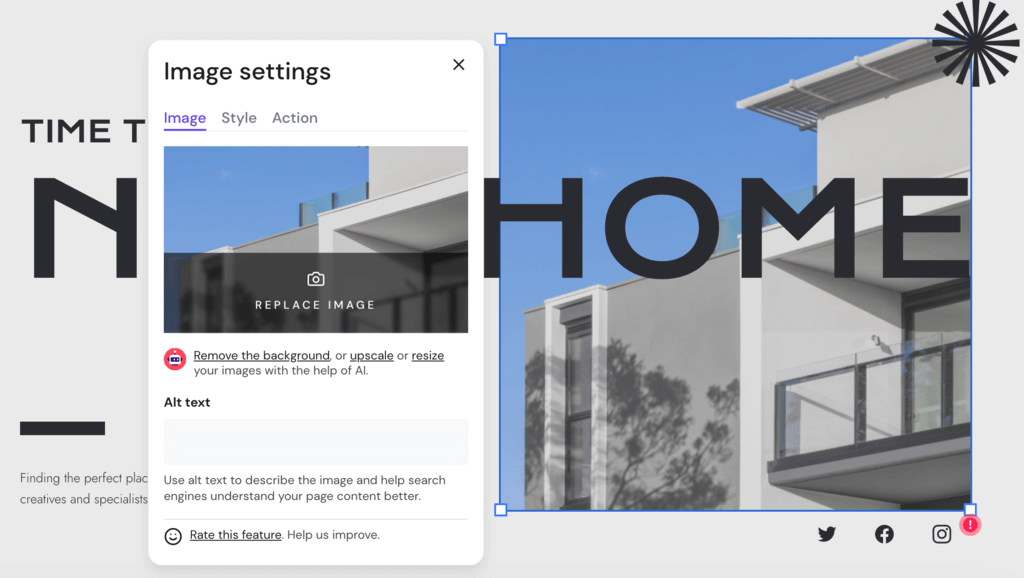 Integrations
Zyro website maker also provides several third-party integrations to help users find their success online. Check this list below to see the tasks you can accomplish using Zyro's powerful integrations:
Track your site traffic – get to know various aspects of your site traffic using Google Analytics. This includes visitors' demographics, device usage, and actions. It provides easy-to-use reports valuable for making data-driven decisions to reach the highest potential conversion rates.
Understand visitor behavior – use Google Tag Manager to manage all tags that track and analyze visitors' actions on your website, even without coding knowledge.
Target the right audience – utilize Facebook Pixel to promote your brand by targeting your audience on Facebook. This tool also allows for product retargeting and measuring the campaign's results, which helps optimize ad performance.
Connect with visitors – enable visitors to directly connect with you via your Zyro website with Facebook Live Chat. It offers an option to create an automated response, and you can respond to visitors' inquiries even after they leave your site. It also saves customers' chat history, so your team can keep track of previous interactions and follow up with a unified voice.
Identify visitors' clicking and scrolling behavior – discover which parts of your site attract visitors the most by using Hotjar. It works similarly to Zyro's own AI Heatmap, but it offers more advanced functionality such as real-time user experience insights and reports.
Security
All Zyro plans come with a free SSL certificate that encrypts both your site and visitors' data.
The benefits of SSL cannot be overestimated. Without it, browsers won't see your site as secure – a warning message will appear to anyone who tries to visit it, causing traffic loss.
Hence, having an SSL certificate can bring a positive impact on site ranking on search engines, as it helps visitors to see the site as a secure and trustworthy source.
On top of that, all Zyro websites run on cloud hosting. This means the site's uptime is guaranteed to be 99.9%, ensuring optimum protection from attacks with the intent of downtime.
Regarding secure transactions, Zyro complies with the Payment Card Industry (PCI) Data Security Standards, which ensures the security of customers' credit card information.
It also provides options for General Data Protection Regulation (GDPR) compliance, mandatory for online stores based in the European Union (EU) or aiming to sell to the EU market.
Furthermore, Zyro websites have a Content Delivery Network (CDN) enabled by default, which also serves as additional security protection against DDoS attacks.
24/7 Support and Resources
Zyro's customer support is available via four channels – live chat, knowledge base, email, and a contact form.
To access live chat support, users have to sign up first. As it is available 24/7 on any Zyro web page, users can conveniently ask for help at any point during their website-building journey.
The live chat support saves all the conversations between a user and a customer service agent. This can come in handy when a user faces a similar problem in the future, as they can open their conversation history instead of asking the same question and waiting for a response again.
While Zyro has an excellent customer service response time, the customer success team might not reply right away. Should this situation happen, users don't have to standby at the chat tab as the support team will also send a response via email.
If you'd like to try and independently solve your problem first before contacting the Zyro support team, try checking Zyro's knowledge base. Insert keywords in the search box, and it will display any related articles. Most articles come with video tutorials and screenshots to accompany the instructions, making them easier to follow.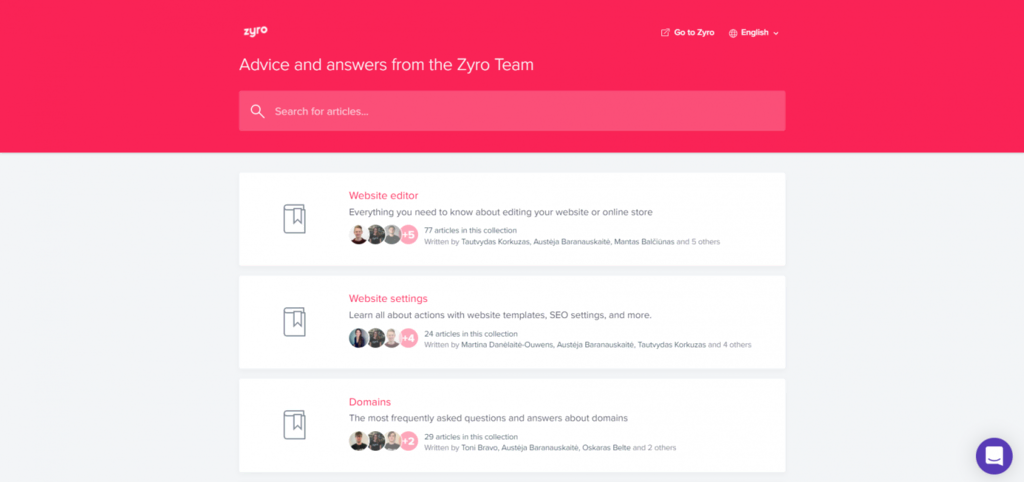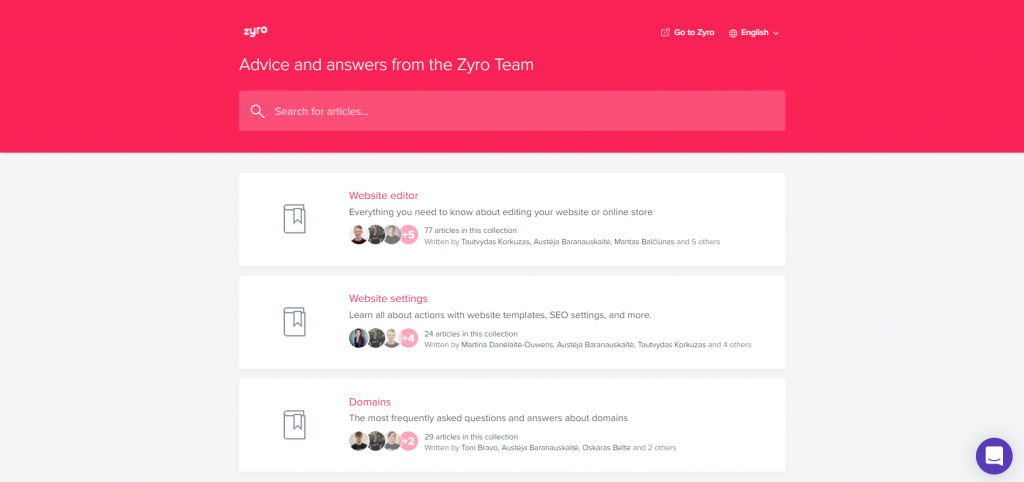 Meanwhile, if you're looking for some website and business inspirations, Zyro offers some insightful resources:
Design inspiration – showcases successful clients' websites from various industries.
Blog – contains informative and inspiring articles about business and marketing.
Business glossary – Zyro's A to Z eCommerce and website builder encyclopedia.
eCommerce guide – a comprehensive guide to help launch or level up an online business.


Pros of Zyro
Here are some of the reasons why Zyro is one of the best website builders on the market.
Ease of Use
If you use a content management system (CMS) to build your site, you will have to purchase various elements required to start a website, including a web hosting plan, a domain name, and an SSL certificate. Those elements are generally available in separate places.
With Zyro, each plan already includes a web hosting plan managed by the Zyro team, so users don't need to configure the back-end by themselves.
Furthermore, Zyro also provides an option to connect your Zyro site to your existing custom domain name. This is available for free with all Zyro plans.
If you don't have a custom domain name yet, all Zyro plans include a free domain for one year, which will renew at the standard price. Alternatively, you can use Zyro's subdomain.
In terms of features, Zyro comes with tons of features that are easy to use, even for complete beginners.
For instance, its intuitive drag-and-drop site builder allows users to design a website layout without coding.
The visual editor has a grid system to help put any site element in a proportional arrangement. On top of that, the Zyro editor also integrated with Zyro's AI tools such as AI Writer and AI Heatmap, which enable users to create web copies or predict the effectiveness of user experience without switching to another interface.
Furthermore, blogging is a straightforward task to do in Zyro. It only requires one click to create a new post. Zyro also teams up with Unsplash to provide a stock images gallery that users can access directly from the blog editor's media library.
Last but not least, Zyro's live chat button is always available at the bottom-right corner of the screen, so users can easily reach support at any point of their site-building process.
Optimized for Speed
Site speed is an important aspect of a website's performance.
Research shows that 1 in 4 visitors would leave a website if it took more than 4 seconds to load, which would have a negative impact on your conversion rate and your site rank on SERPs.
Luckily, Zyro is a lightning-fast platform. To back up this claim, we performed a speed test on our Zyro test site using PageSpeed Insights, and got a pretty impressive result.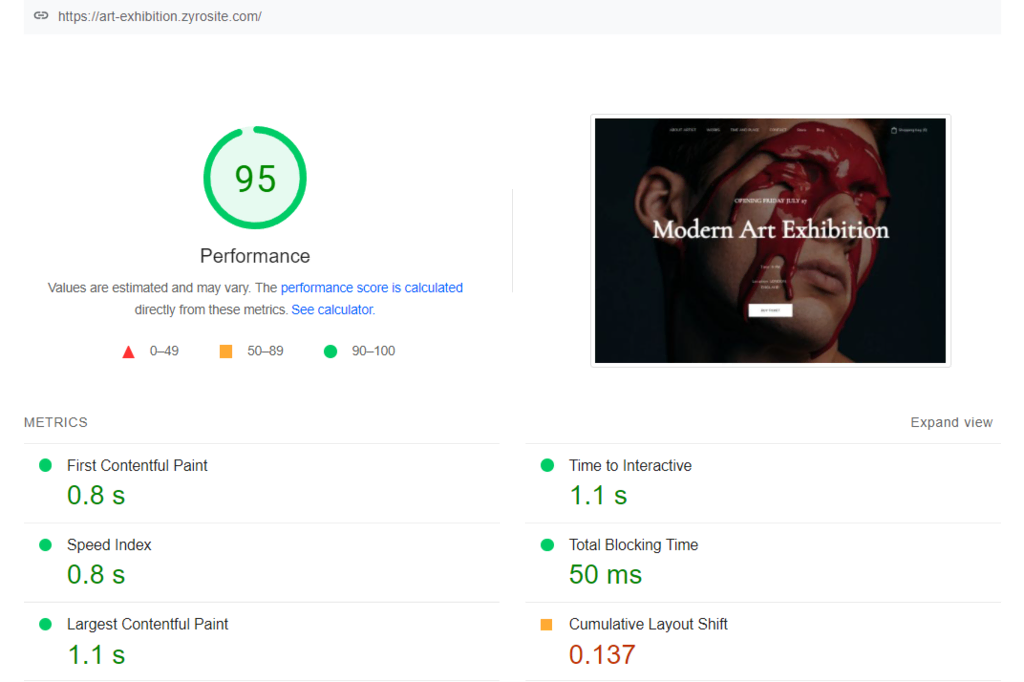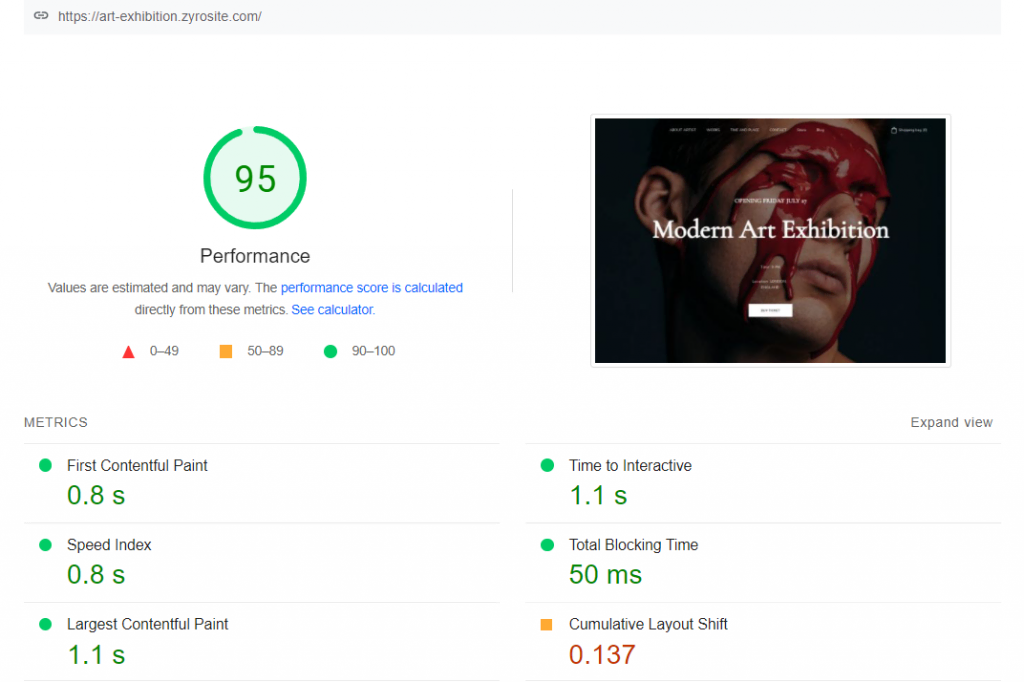 The result shows that our test site needs to improve its Cumulative Layout Shift (CLS) score. The usage of custom fonts and embedded content on our site might be the reason behind this unoptimized performance, since both can cause worse CLS performance.
Zyro runs in cloud hosting, which is one of the reasons why Zyro has a fast loading time. Cloud hosting uses virtual servers to support each website, making it more reliable than shared hosting. This type of web hosting also guarantees 99.9% uptime.
On top of that, Zyro also has a built-in CDN that delivers site content to users from the closest server, increasing site speed.
A speedy performance creates a better user experience, decreasing the site's bounce rate. With a lower bounce rate, search engines will see your site as a helpful page, which may improve your ranking in SERPs.
SEO Ready
Zyro is an SEO-friendly website builder – it has a speedy loading time, mobile-optimized web design, and SSL security encryption, which help search engines see a site as a trustworthy and reliable resource.
It provides options to configure on-page SEO, such as adding alt text to images, editing page titles, and editing meta descriptions.
Meta tags are beneficial for site performance as they impact the site's appearance in the SERPs. A compelling meta description can increase the click-through rate, bringing more traffic and engagement to the site, which will eventually affect the site rank.
The Zyro website builder also offers an AI Writer to help jump-start the brainstorming process when creating website copies. This AI tool will generate keyword-rich web copy based on selected topics and categories, such as the About Me page.
You can also review and evaluate your site's search engine performance via Google Analytics and Tag Manager, which are already integrated into the Zyro website. These tools help make more informed decisions about website optimization.
Mobile-Friendly
When it comes to mobile-friendliness, Zyro is both mobile-friendly to create and use.
Zyro's handy drag-and-drop website builder lets users design, build, and launch their site from any device, including a smartphone. It works well even on smaller screens, so you can conveniently edit the site on the go.
When editing a Zyro website, it's possible to switch back-and-forth between editing the desktop website and the mobile website. This is a valuable feature since not all website builders provide mobile website customization.
Furthermore, all Zyro templates have responsive designs. This means they will automatically adjust to the best appearance for any screen size.
These mobile-friendly qualities will help a site perform better on search engines like Google, since they rank mobile-friendly websites higher than sites that are not. It also helps create a better user experience, especially since more and more people prefer to browse via mobile phones nowadays.
Cons of Zyro
Zyro offers valuable benefits, such as an intuitive visual editor, built-in shipping and tax management, and various marketing features. However, it has several drawbacks that website owners need to consider.
Limited Customization Options
Zyro doesn't have many customization options, especially when compared to a CMS like WordPress.
For example, it doesn't allow template switching. If users want to use a new template for their Zyro website, they have to make a new website and migrate their existing content to the new site.
Fortunately, creating a new website in Zyro is easy. Thanks to its intuitive visual editor, which comes with various ways to personalize the available templates to suit site owners' preferences.
Another limitation found in Zyro's customization is its gallery element, which is only available in two formats – grid and masonry. Meanwhile, other website builders usually offer more varieties, including carousel and slider.
However, a grid gallery provides a clean, structured layout, which matches the template's minimalist aesthetics. Both grid and masonry galleries are also easy to navigate, and it allows site owners to showcase multiple images in one display.
In addition, it's also possible to add a slideshow section.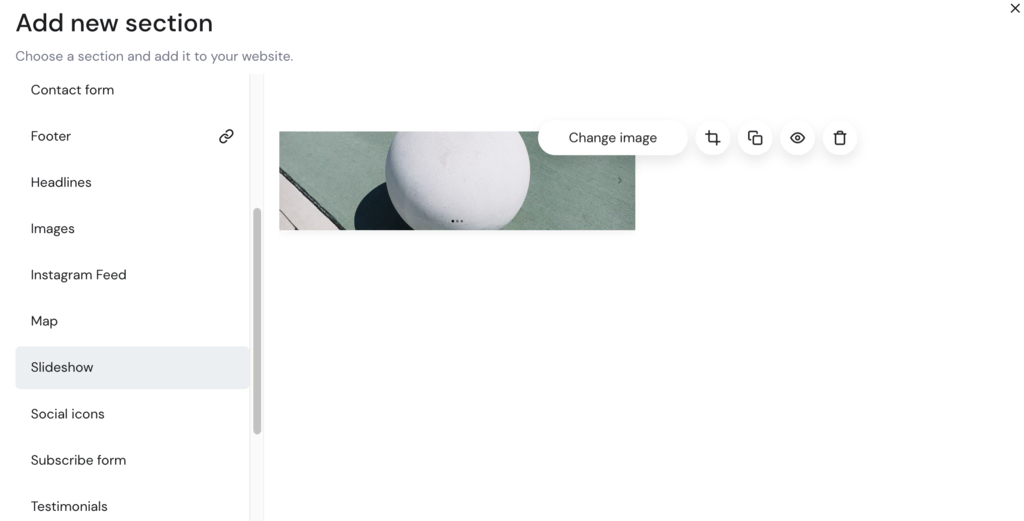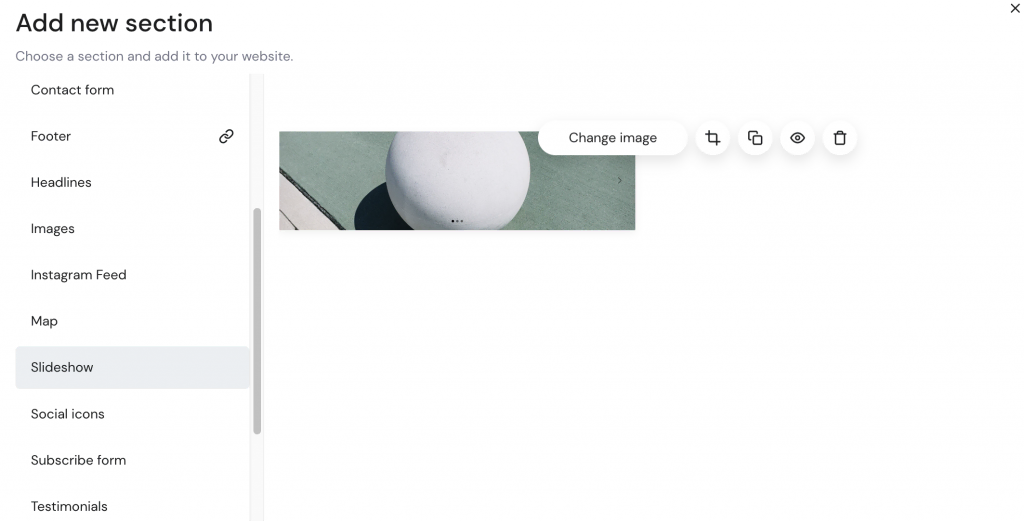 A slideshow section can be used as an informative section where users can add additional elements like text and buttons, or a decorative section where users can remove all elements and use the slideshow to exhibit their pictures.
Users can also set it to autoplay or play on loop with a specific duration between slides.
Lack of Advanced Features
Zyro covers all the basic features a user may need to build a website, but it doesn't offer plenty of advanced features like CMSs or other online store builders like BigCommerce.
Its blogging feature allows users to create blog posts, manage blog categories and customize the page layout, but it doesn't have a comment function which could help engage a blog's readers.
However, as Zyro is still relatively new, it's constantly developing new features. You can check Zyro's most recent and upcoming updates on the Zyro roadmap.
If you have specific requests or features that you want to be available on Zyro, you can vote or submit new ideas on this roadmap page.
Who Is Zyro Best For?
The all-in-one managed web hosting solution, intuitive visual editor interface, and zero-coding website building process makes Zyro an excellent choice for beginners or non-technical users.
Zyro offers great value for those on a budget without sacrificing the quality of the site design, functionality, and performance. It's a good website builder option for freelancers and small to mid-sized online stores.
However, Zyro is not the best website builder for those looking for a website-building platform that's highly customizable and provides plenty of advanced features. In that case, a CMS like WordPress may suit you better. We also don't recommend Zyro for large enterprises, as businesses on this scale usually have very high traffic that requires more resources.
Conclusion
Zyro is an easy-to-use website builder that can help new site owners create a well-optimized website in no time.
It has four subscription plans. The most affordable option, the Website plan, starts from $2.90/month, while the most advanced plan, the Advanced Store, costs $15.90/month. While Zyro is not free, it offers a 30-day money-back guarantee if clients are not satisfied with the plan.
Here's a quick recap of what makes Zyro one of the best website builders:
All plans include managed web hosting, free domain connection, and an SSL certificate.
Speedy performance, thanks to reliable cloud hosting and a built-in CDN.
Mobile-friendly free templates with modern designs suit various websites, from blogs to eCommerce stores.
An intuitive drag-and-drop editor that is easy to use even for complete beginners.
Reliable business tools for small to medium online business websites.
Innovative AI tools like AI Logo Maker and AI Heatmap.
Third-party integrations to improve online presence and business performance.
24/7 customer support via live chat, knowledge base, email, and a contact form.
There's still a room for improving Zyro's customization features and built-in tools. However, we can expect new features from this website builder soon since it's constantly releasing new updates.
We hope this Zyro review has helped you decide whether it's the website-building platform you're looking for.