Weebly vs WordPress: Which Platform Should You Use to Build Your Website?

Building a website has never been easy, but these days the process is more straightforward than it used to be. There are many platforms and tools that help you create stylish websites with advanced functionality, even if you don't know how to code. Two popular options are Weebly and WordPress, and in this article, we'll help you figure out which one is right for you.
First, we'll introduce both platforms. Then we'll compare WordPress vs Weebly in several categories, including:
Ease of use
Customization
Site management
Performance
Security
By the time we're done, you'll know exactly which of these two platforms is perfect for your needs, so let's talk WordPress vs Weebly!
Weebly
Weebly is a website builder which is a platform that provides tools to create websites, without needing to know how to code.
These types of platforms have continuously improved over the past few years. Nowadays, it's possible to build a professional website using just a website builder.
As one of the more popular options on the market, Weebly has a lot going on for it. It's designed to help you build traditional websites and online stores. It includes an intuitive drag-and-drop builder, allowing you to place elements wherever you see fit, to create stylish pages in record time.

Weebly also integrates directly with Google services and enables you to handle email marketing within the platform. All of these features make it a strong contender among website builders.
WordPress
WordPress is a Content Management System (CMS), which means it's software for creating, managing, and editing online content (such as websites.)

In lots of ways, a CMS is similar to a website builder. However, it tends to offer more options and has a steeper learning curve. Most importantly, when you use a website builder your site will need to be hosted on the same platform, while a CMS, like WordPress, lets you choose any hosting provider you like.
Throughout the next few sections, we're going to compare Weebly vs WordPress in several categories. By the time we're done, you'll have a clear picture of what both platforms are capable of and which one is the best option for you. Let's get to it.
Ease of Use
Creating a website is quite a lot of work, especially if it's your first time around. In the past, you needed to have knowledge in web development if you wanted to create anything more complex than a simple static HTML site. However, these days, CMS and website builders have made it so that creating a professional website is something almost anyone can do.
That's not to say the process of setting up a website doesn't involve any hard work. You'll still need to learn some of the best practices and test out your platform's features until you get everything just right. However, both Weebly vs WordPress are fairly beginner-friendly options, which will help streamline the process.
Weebly
When you sign up with Weebly and start working on a new site, Weebly will ask if you want to add eCommerce functionality to it: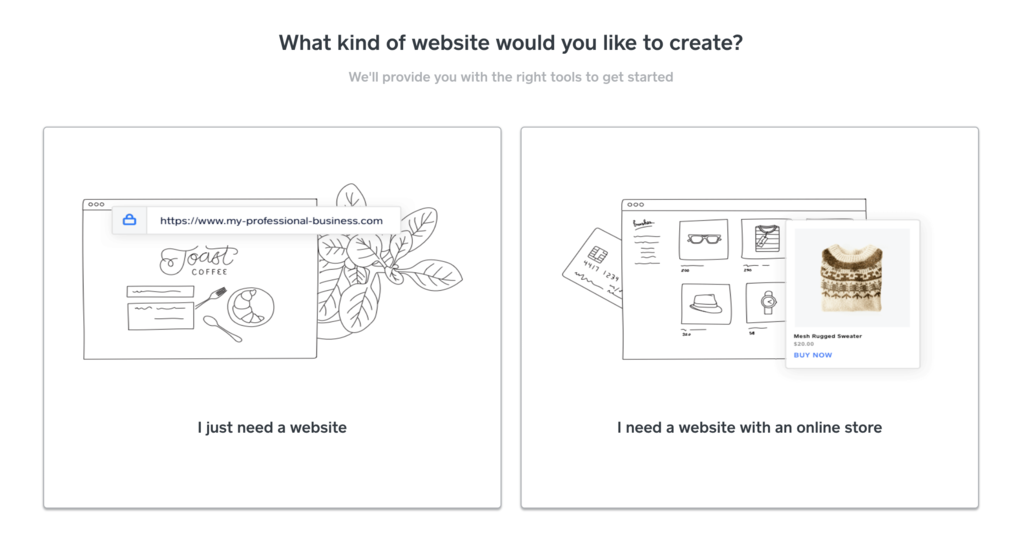 For our example, we're going to stay away from eCommerce, since it can be a bit more advanced to work with.
Next, you will need to Set up your domain.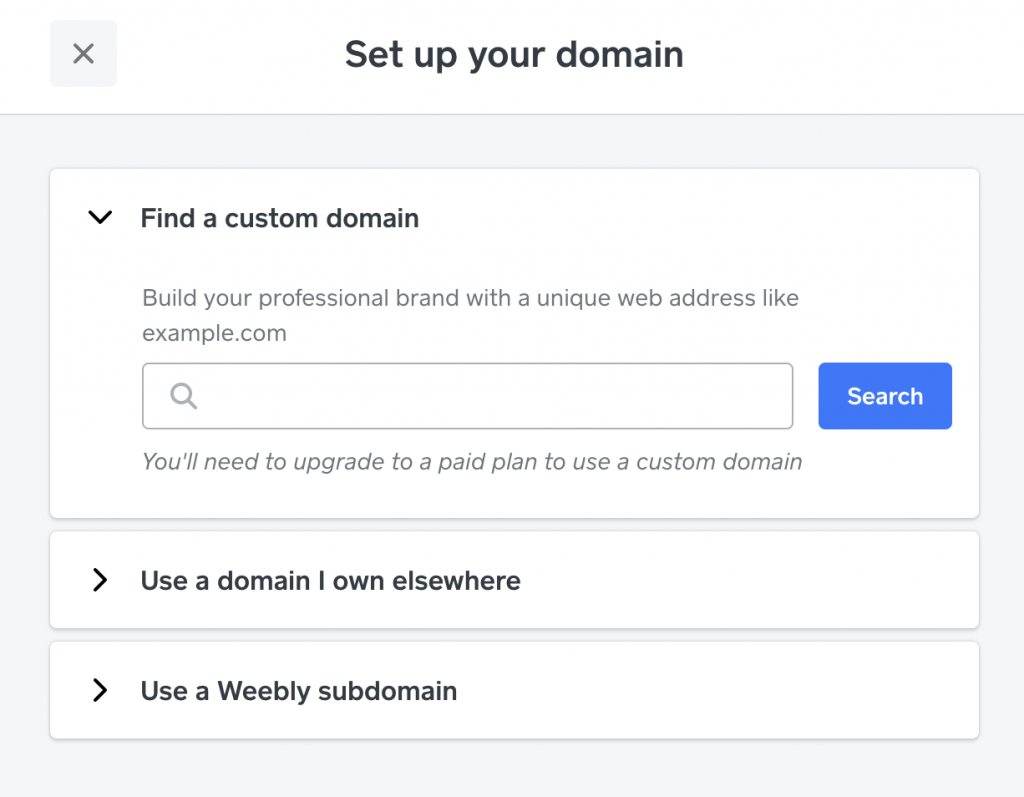 You can choose to find a custom domain, use one you already own, or use a subdomain from Weebly.
Next up, you'll see a collection of themes you can choose from, which will alter the appearance of your website. There are dozens of free themes available, so finding the right fit will be easy.
Once you pick a theme, you'll be able to jump right into the Weebly editor,
Start by selecting which features you need. You can choose from selling items and collecting email addresses, to Instagram feeds and contact forms.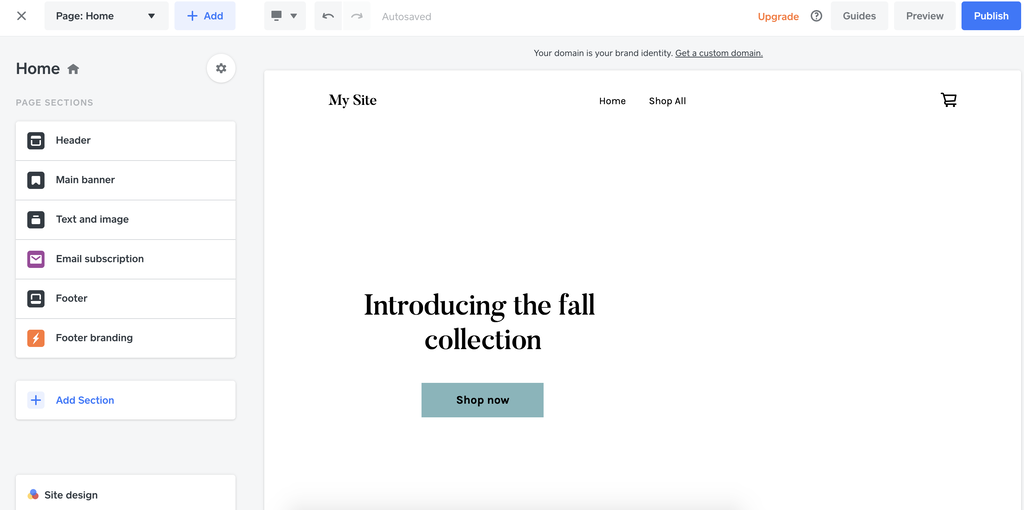 The intuitive website builder displays the page sections on the right-hand menu. Allowing you to easily add elements to your page and move them around as you please.
Simply change the Page: you are working on as well as display the different responsive designs from the top menu bar.
Easily undo or redo changes made as well as Preview what your site currently looks like. If you are ever confused or need a bit more help, check out the Guides to help you on your way.
Overall, Weebly features one of the easiest to use editors. It only takes a few minutes to get the hang of it, although you'll need more time to get acquainted with all the available elements.
WordPress
Nowadays, most web hosts have one-click auto-installers to speed up the installation process of platforms like WordPress. Once you install the platform you'll get access to the WordPress dashboard and can immediately start customizing.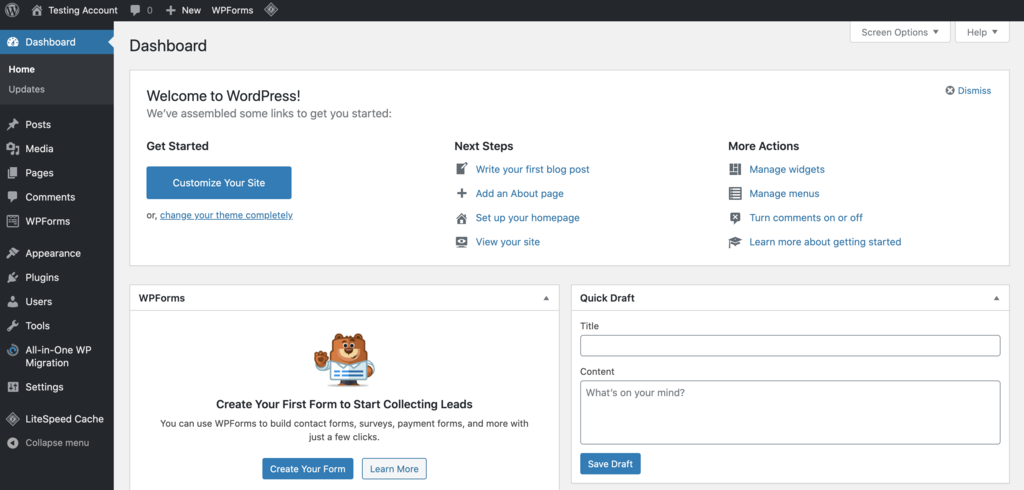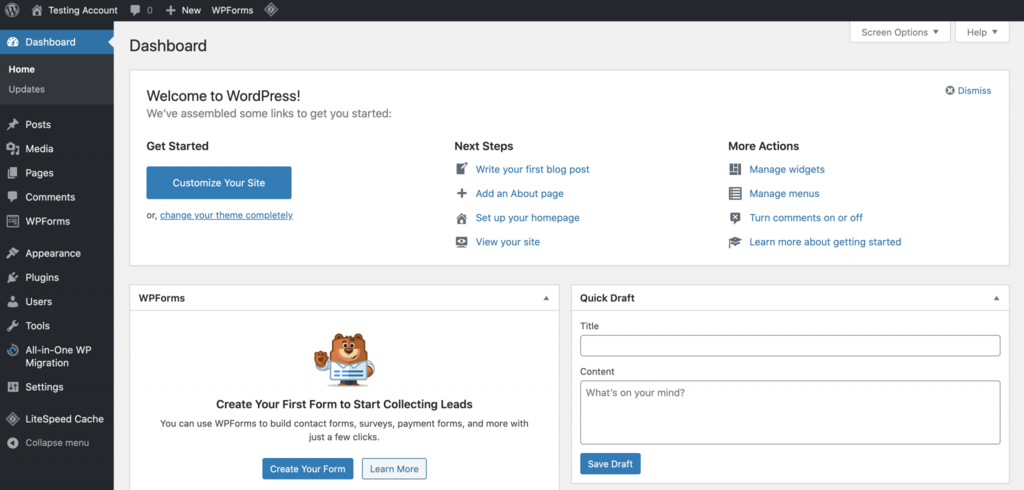 To the left, you'll see all the options you have for customizing your site and adding content. For example, if you want to set up a new page or post, you can simply click the respective tab. Then you'll need to use the WordPress editor, which is pretty straightforward:

Unlike Weebly, WordPress doesn't feature a drag-and-drop editor out of the box. This means that building pages and designing your website with WordPress involves a bit more work.
More importantly, plenty of WordPress themes and plugins also enable you to add visual builders to your website. This means you can arrange any type of experience you want for your site.
Verdict
The fact remains that Weebly is easier to use out of the box than WordPress. Therefore, when it comes to ease of use in Weebly vs WordPress goes to Weebly.
Customization
There are a lot of platforms, themes, and plugins you can use to build specific types of websites. However, these days there are also plenty of options that enable you to build almost any type of website you can imagine.
Weebly
Weebly, for example, is great when it comes to online stores and traditional websites. The platform's drag-and-drop editor and a broad range of themes enable you to put together almost any style you want: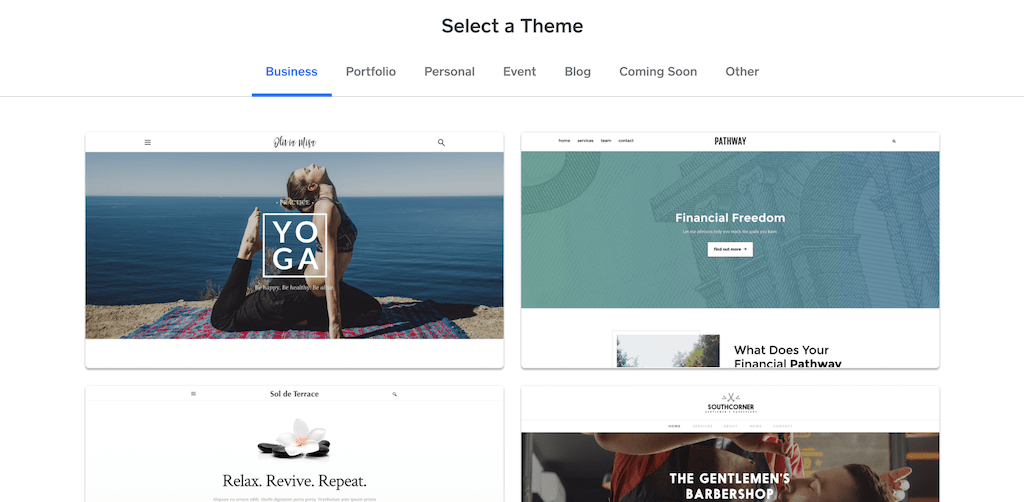 Of course, there's more to a professional website than just looks. In most cases, you'll also want access to advanced functionality. If you're not a developer, you'll need to use apps or plugins to add those options to your website.
With Weebly, you get access to a few dozen free apps you can install on your website. These include options to add social media interactions, tweak search engine-related settings, and more: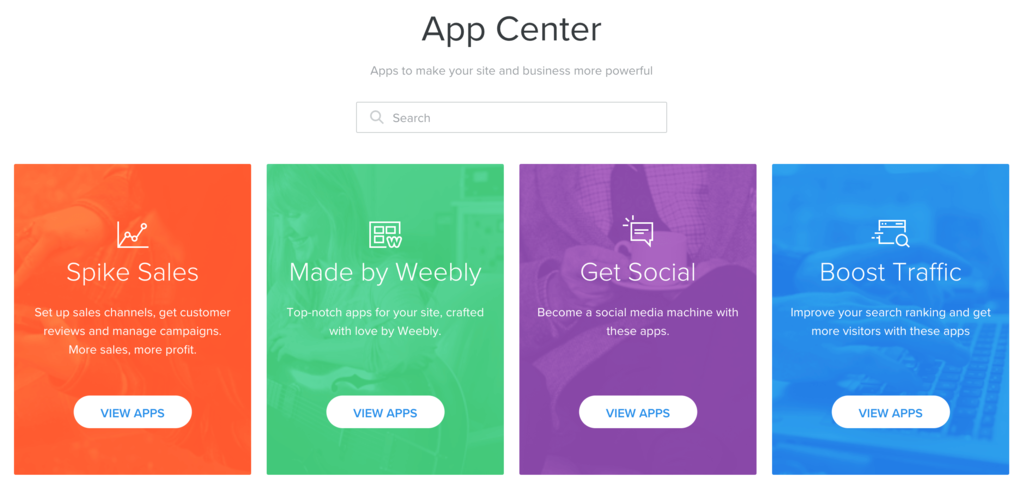 WordPress
Looking at WordPress you will see a massive range of plugins and themes, which pales in comparison. To give you an idea, at the moment of this writing, you can find almost 60,000 free plugins. This number doesn't even include all the premium plugins available on other platforms.

With WordPress themes, you don't have as many choices, but still have access to thousands of options to choose from.
In practice, this means you can add nearly any feature or style you want to your WordPress website. Some plugins even enable you to completely change the platform's functionality, such as WooCommerce for an online store.
However, because there are so many plugins and themes to choose from you need to choose your add-ons carefully. Make sure to do your research and read the reviews before installing.
Verdict
When it comes to customization WordPress wins hands down. Although Weebly has its share of apps that you can add to your page, there isn't much comparison when you put it next to WordPress.
Site Management
Site management refers to all the day-to-day tasks involved in running a website. For example, you may need to update your site's platform, make changes to your pages, back up your website, and more. Let's take a look at what Weebly vs WordPress have to offer.
Weebly
With Weebly, you can edit some of your site's general, SEO, and social integrations by clicking on the Settings icon near the top-left part of the screen.
Update your page name, Page URL, and add re-directs here as well.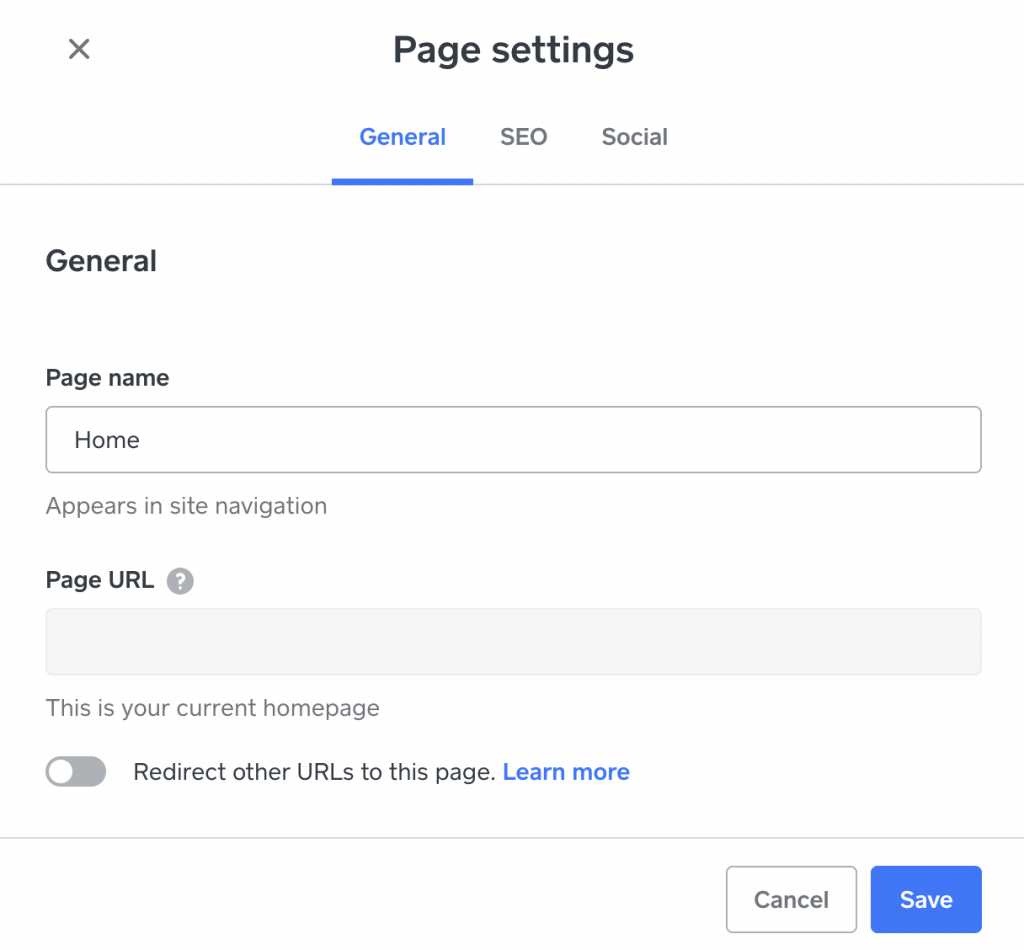 Update your SEO and social settings as well. Easily preview what your site will look like on SERPs as well as add descriptions and links to your social media pages.
Overall, Weebly's pitch is that if you use its platform, you won't have to worry about mundane site management tasks. However, the lack of control over some of your site's settings can be a point against it.
WordPress
With WordPress, on the other hand, you have no shortage of settings and site management options to play with. Your website's main options are located in the Settings tab, which you can access from your dashboard.
From there, you can do everything from setting a static homepage to configuring whether you want search engines to index your website. You can even alter the URL structure for your website's content if you go into the Settings -> Permalinks tab.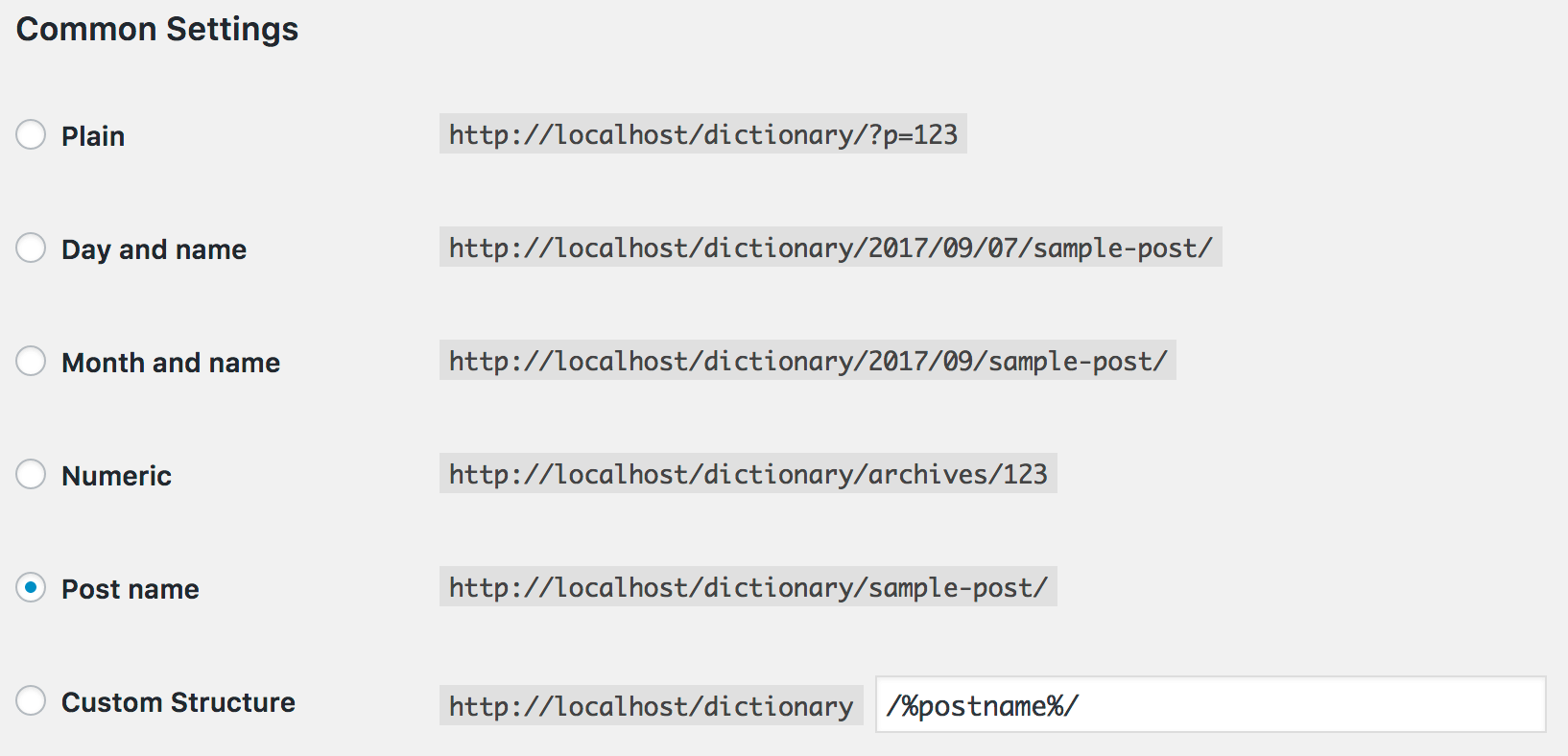 WordPress also enables you to configure the maximum resolution for each new image you upload to your website: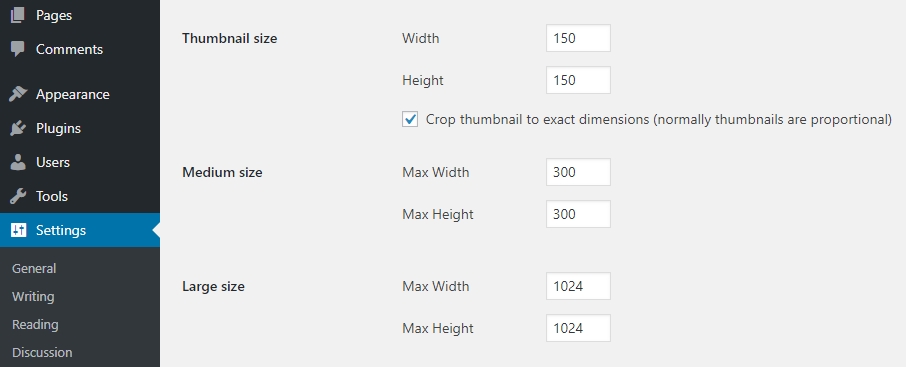 All of those settings are only the tip of the iceberg, however. The truth is that with WordPress, you can customize almost every aspect of the site management experience if you want to. For example, if your host doesn't offer automatic backups, you can add that feature to your website using plugins.
Verdict
Overall, site management is technically easier with Weebly, but that's due to a lack of options. WordPress, on the other hand, enables you to do pretty much whatever you want. That means the site management winner in the Weebly vs WordPress goes to WordPress.
Performance
Whichever platform you choose to power your website needs to be solid from a performance standpoint. This means it should enable your website's pages to load fast and your dashboard should feel light on its feet.
In practice, there are a lot of things that can affect your website's performance. For example, Weebly and WordPress are both pretty fast in general. However, if you're planning to set up a page with 20 MB of images, it's going to take a few seconds to load, and that will feel slow to your visitors.
Weebly
With Weebly, you don't need to worry too much about optimizing your website, since it will be taken care of for you. Weebly site speeds tend to be pretty quick across the board, but once again, the lack of settings to play with can be a disappointment if you like to fine-tune your settings yourself.
WordPress
WordPress, on the other hand, is a self-hosted platform. This means you'll need to choose a web host that has a solid reputation when it comes to performance. You can also do a lot of manual tweaks to the platform, to improve your site's performance even further. For example, you can automate image optimization, leverage browser caching, integrate a Content Delivery Network (CDN) with your site, and more.
Verdict
Overall, you can squeeze a lot more performance out of WordPress, although it does take a bit more work than it does with Weebly. Even so, we like having the option to optimize our websites' performance as much as possible, so this round of WordPress vs Weebly goes to WordPress.
Security
A lot of websites are vulnerable to online attacks, even if their owners are not aware of it. You may be using login information that's easy to crack, running outdated software, or have a vulnerability in one of your website's extensions. Whatever the case might be, ensuring that your website is as secure as possible is important, since a successful breach might put your visitors at risk.
Weebly
With Weebly, the same issue arises with security as it did with performance. You're using a hosted platform, so you can't make that many changes to your website's security settings. You can do a few things, such as disable SSL for your site (which we don't recommend)
Aside from that, you're limited to picking secure credentials and letting Weebly take the wheel. It's important to note that Weebly has had some major security breaches in the past. However, that's also the case with WordPress, as it is for most popular platforms.
WordPress
In particular, WordPress's popularity makes it one of the most common targets for attackers, who are continuously looking for vulnerabilities in the platform. The good news is that WordPress core is pretty secure out of the box. Most attacks on WordPress sites stem from vulnerabilities introduced by plugins and themes. However, you can minimize that risk by choosing plugins that receive regular updates and have solid overall ratings.
Since you get to choose your own web host, you can also opt for a provider that offers additional security measures, such as a firewall, regular backups, and more. Finally, you also get access to a lot of interesting security plugins you can use to batten down the hatches on your website. Some tools, such as Sucuri Security, offer all-in-one solutions for securing your website.
Others are more specific, though. For example, you can use WP Security Audit Log to track all the security-related events that occur on your website:

Verdict
Those are just two examples that show that with WordPress, your website can be as secure as you want it to be. That's why WordPress wins this round of Weebly vs WordPress as well.
Weebly Advantages
Website builders sometimes get a bad rap, but Weebly is a powerful platform on its own. When it comes to Weebly vs WordPress, there are several reasons someone might choose to use the latter to build their site, such as:
You're looking for a solution that supports eCommerce
You want access to an intuitive drag-and-drop site builder
You don't want to worry about tasks like securing your website and optimizing its performance
The main downside of Weebly is that its theme and app selections just aren't broad enough. The platform boasts over 300 options, which is fine but makes it challenging to build a truly unique site.
That being said, we recommend that you try out Weebly to see if it offers all the functionality you want to add to your website. If you like a hands-off experience where you don't need to worry about security or performance, this platform might be a great fit for you.
WordPress Advantages
If we had to sum up the main draw of using WordPress, it would be the platform's off-the-charts customizability. This CMS might have started off as a blogging platform, but nowadays there are plenty of reasons to use it for other types of projects:
The WordPress editor is easy to use, even if it's not a full-fledged site builder
You get access to thousands of free and premium plugins and themes
The WordPress community is incredibly active, and you can always find help if you run into an issue
You can use WordPress to build almost any type of website you want
When compared to Weebly, WordPress's main weakness is that it isn't as easy to get started with. If you want to unlock WordPress's full potential, you'll have to deal with a bit of a learning curve. However, that's to be expected for CMS as flexible as this one is.
When it comes to Weebly vs WordPress, our vote lies with the former platform. For most websites, WordPress is a far more useful and powerful option.
Conclusion
Weebly is fairly popular these days since it provides a simple solution for creating websites and online stores in an intuitive fashion. However, WordPress also enables you to tackle both types of projects, and it offers a lot more customizability than Weebly does. That's why as far as we're concerned, WordPress wins in the battle of WordPress vs Weebly.
Where do you stand on the Weebly and WordPress discussion? Share your opinions with us in the comments section below.