Email marketing is one of the best tools at your disposal to keep your audience engaged, promote your products, and drive traffic back to your website. Getting started with email marketing does take some time, but it's well worth the effort. More importantly, the sooner you get started, the more benefit you can get out of your email list.
In this article, we're going to show you how to start using email marketing for your business. All it takes are four steps:
Choose an email marketing service.
Build an opt-in form and add it to WordPress websites.
Create a welcome email.
Automate the rest of your campaign.
Emails are a powerful tool if you know how to take advantage of them. Let's talk more about why that is!
Why You Need a WordPress Email Marketing Solution
You've probably noticed that most websites you visit ask for your email address at one point or another. If you provide that address, they'll usually add you to a list of emails and begin to reach out to you periodically. Some websites will send you discount offers, others will inform you about updates or new products you might be interested in, and so on. The process of collecting emails and using them to increase conversions or traffic is called email marketing.
However, tackling email marketing in WordPress is not as straightforward. WordPress enables people to sign up to your website, and the platform is capable of sending automated emails out to those users. However, those emails are mostly related to the users' accounts. For example, when you sign up for a new website, you'll usually get an account confirmation email. Those types of messages are called 'transactional' emails.
While WordPress is capable of sending transactional emails, it doesn't include email marketing capabilities out of the box. This means that if you want to collect emails for marketing purposes, you'll need to use a third-party solution. While this requires a bit of effort, it's well worth the time spent in the long run.
To illustrate the point, here are just a few of the ways email marketing in WordPress can benefit your website:
You can compile a list of subscribers. In most cases, the people who sign up to your mailing list will already be interested in your content, so they're more likely to convert at some point if you keep in contact.
Marketing emails can help lead traffic back to your site. An email now and then can remind your subscribers about your website, so they'll come back for a second look.
You can get more conversions. Just sending a quick email can be enough to net you a few additional sales, especially if you're promoting a product or a service.
To be fair, tackling email marketing in WordPress does involve a fair bit of work. You need to come up with new campaign ideas, test them out, and make sure you're effectively engaging your subscribers. However, many modern email marketing platforms enable you to automate a lot of that process.
These days, you can create emails in advance and schedule them to go out later, thanks to automation. You can even configure triggers for specific emails. For example, you can create a 'welcome' email that is sent automatically when someone new signs up to your mailing list. Overall, there are a lot of upsides to using email marketing in WordPress.
How to Get Started With Email Marketing in WordPress (In 4 Steps)
At this point, you're probably wondering how to actually get started with email marketing in WordPress. Therefore, let's talk about how to set everything up. Before you can create your first WordPress email marketing campaign, you'll need to choose which platform to use.
Step 1: Choose an Email Marketing Service
Nowadays, you have a lot of options when it comes to email marketing platforms. These services provide you with the tools you need to set up email lists, manage your subscribers, create campaigns, and send out messages. Those are just the basics, though. You can also find email marketing services that provide you with advanced features, including email automation, A/B testing, user segmentation, and much more.
As you might imagine, these services often come at a price. Fortunately, there are plenty of options that won't break your budget, even if you're only running a small website. Take MailChimp, for example. It's one of the most popular email marketing services online, and it offers a free plan that supports up to 2,000 subscribers and 12,000 emails per month: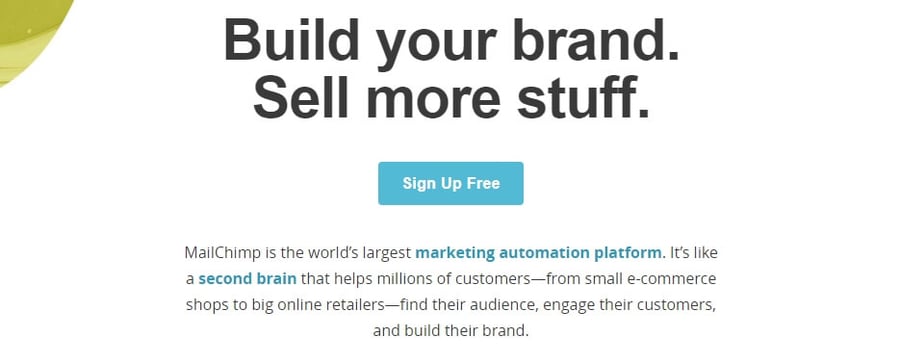 Moreover, MailChimp also enables you to automate your campaigns, even on its free tier. You can even target segments of your users with specific messages. These features make this an excellent option if you're looking for a budget email marketing service.
If you need something with a little more firepower, on the other hand, Constant Contact offers all the features MailChimp does and more. For example, this platform includes advanced tracking and reporting functionality. It integrates with tons of third-party apps (including WordPress), and it also enables you to conduct surveys and polls, and even collect donations via email:

The downside is that all these extra features come at a cost. To get access to this functionality, you'll need to pay $45 per month for Constant Contact's basic Email Plus plan, which supports up to 500 subscribers. Due to this price tag, we recommend this platform mainly if you're running a website you've already monetized, or if you have a flexible budget.
Finally, we also want to mention SendinBlue, which is a great budget alternative to MailChimp. This particular platform enables you to send up to 300 emails per day for free, and it doesn't cap your subscribers even when you're using its basic plan:

The downside, in this case, is that you don't get access to a lot of advanced tracking and reporting features. However, the platform works perfectly for sending basic messages, and it features an easy-to-use campaign builder.
Ultimately, if you're looking for a budget option, we recommend that you try both SendinBlue and MailChimp and stick which whichever one you feel more comfortable with. For the purposes of this tutorial, we're going to use MailChimp.
In the next sections, we'll show you how to use this platform to tackle email marketing in WordPress. However, the same basic process applies regardless of the solution you choose.
Step 2: Build an Opt-In Form and Add It to WordPress
After you sign up for a MailChimp account, the first thing you'll need to do is set up an email list. You can do this by going to the Lists tab at the top of your MailChimp dashboard, and clicking on the Create List button: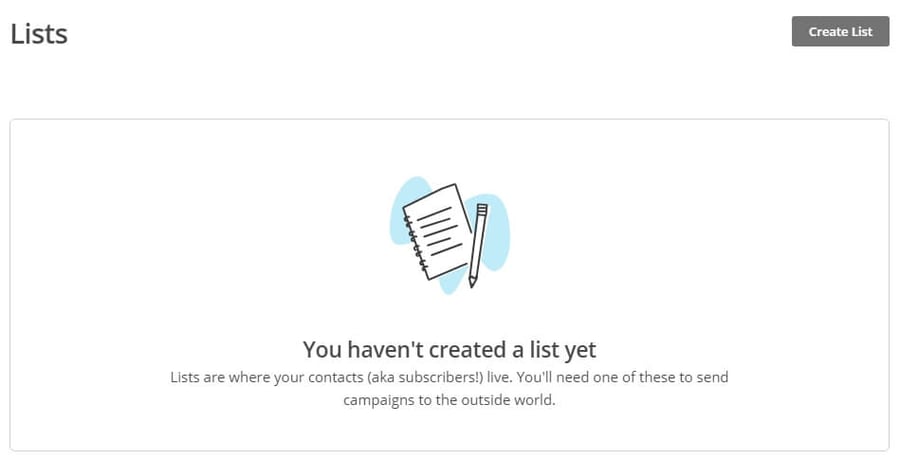 Next, you'll need to choose a title for your list, and indicate which email and name to display as its sender. For your Default From email address and Default From name settings, you'll want to use your WordPress admin email and your real or business name:

Below that, you'll find a section called Form Settings, where you can enable opt-in verification and GDPR-compliance fields. Opt-in verification means new subscribers will have to confirm that they want to join your email list before receiving messages:

Finally, if you scroll down to the Notifications section, you can enable notifications both for when you get new subscribers and for when people leave your email list: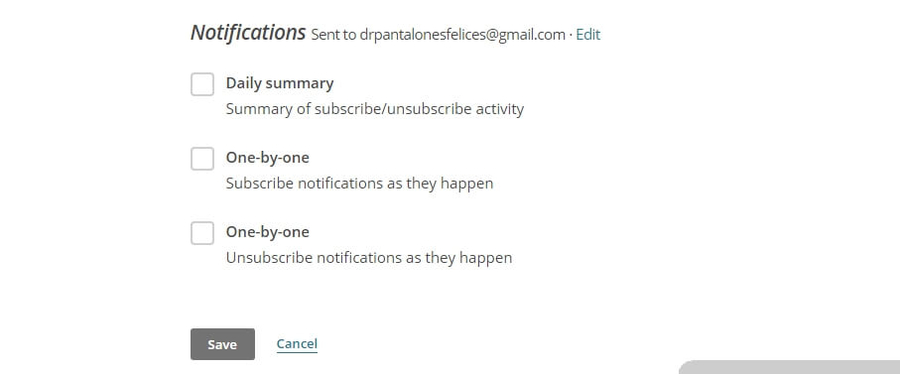 Now that your email list is set up, MailChimp will show you a list of your contacts, which should be empty at the moment: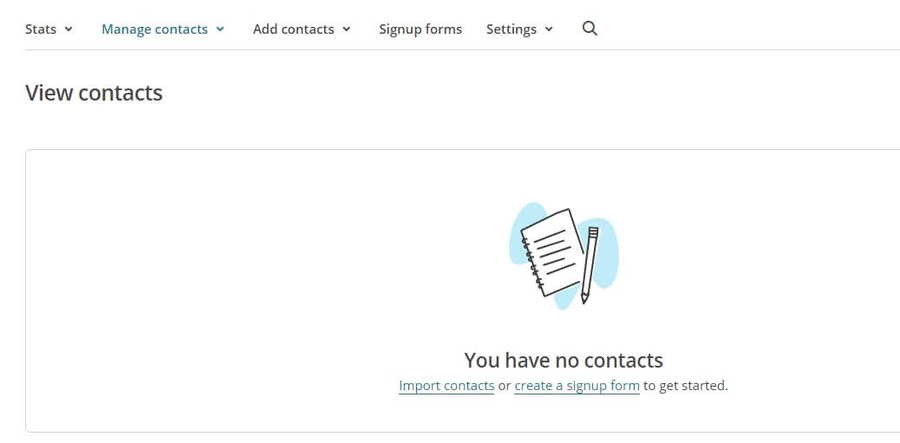 Go ahead and jump to the Signup forms tab now. Inside, you'll see a list of methods to add your new sign-up form to WordPress. Remember that without a form, users won't be able to subscribe to your email list: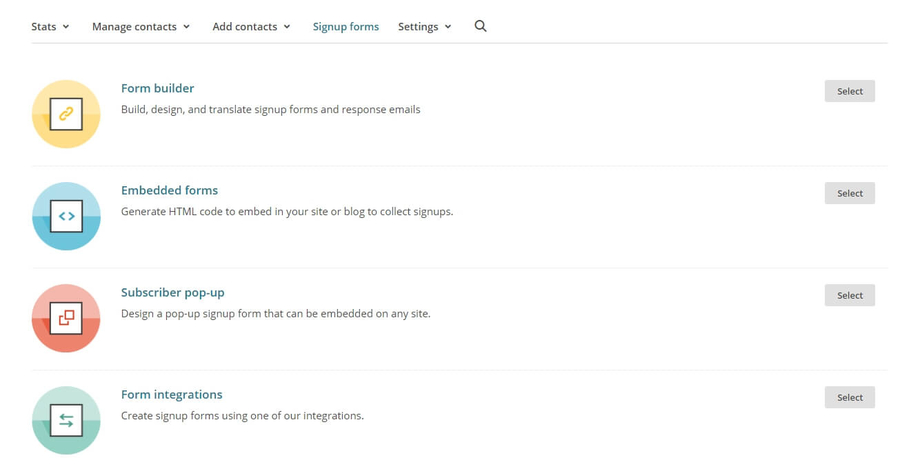 The quickest way to add your new form to WordPress is to choose the Embedded forms option. MailChimp will then provide you with a snippet of HTML code, which you can add to WordPress:

From this same screen, you can also customize what your subscription form will look like, and preview it: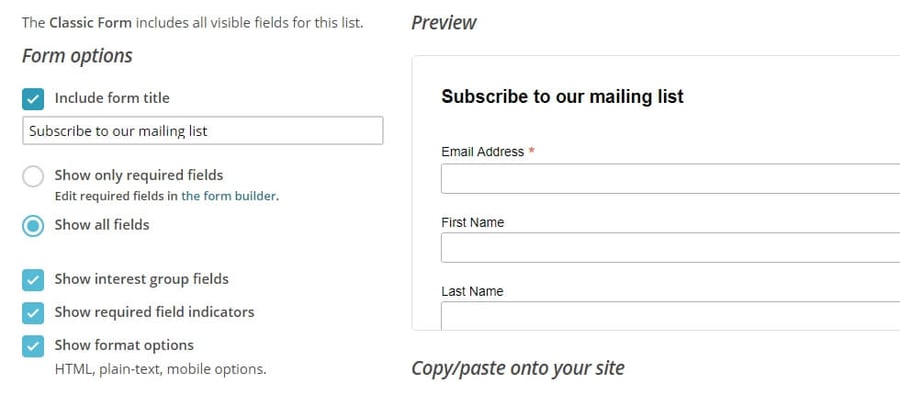 Once you have your HTML embed code, there are two ways you can add it to your WordPress website. The first one is by opening the WordPress editor for one of your pages and choosing the Text tab, which supports HTML:

That approach can be a little messy, though, which is why a lot of people opt to add their email sign-up forms using widgets. To do this, head to the Appearance › Widgets tab, and look for the Custom HTML option: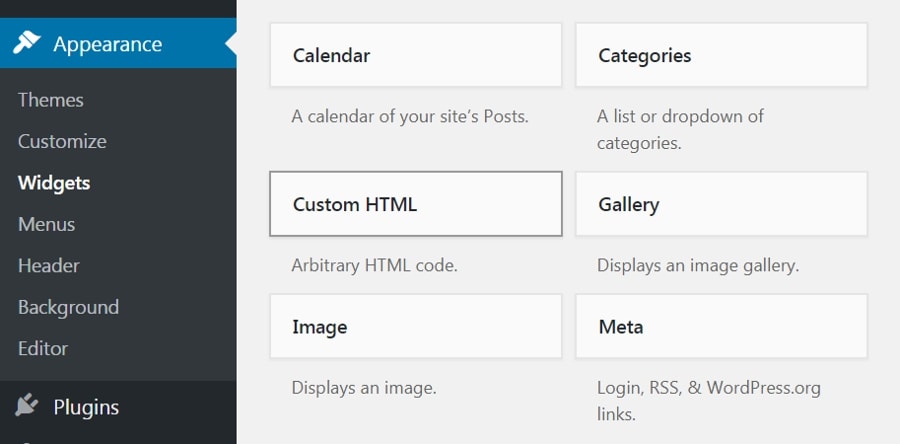 Drag this widget to your sidebar (or your footer, if you prefer), and paste your HTML embed code within: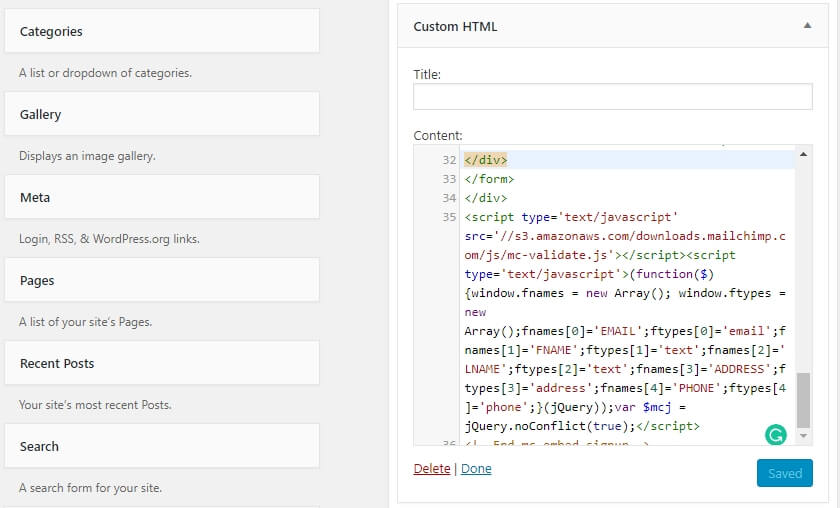 That's about it! If you take a look at your website now, your email sign-up form should show up wherever you added it: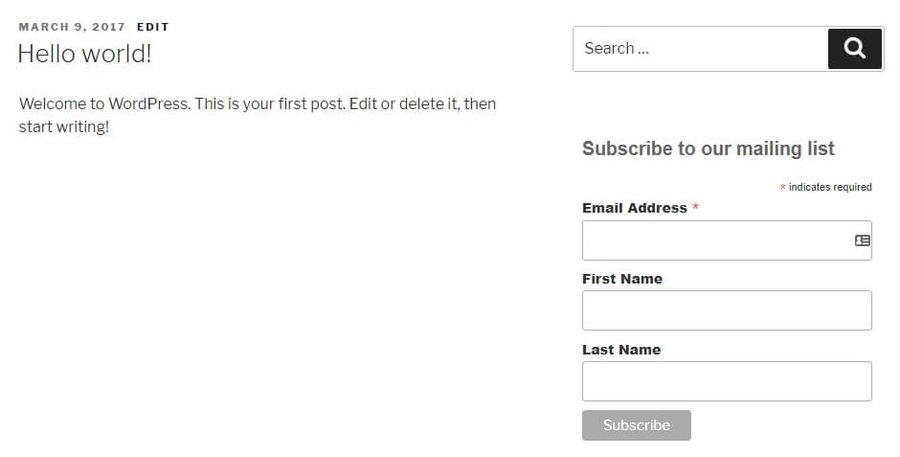 At this stage, you're ready to get started with email marketing in WordPress. This means creating your first message.
Step 3: Create a Welcome Email
Once your opt-in form is set up, you'll want to return to your MailChimp dashboard and click on the Campaigns tab. Then, hit the Create Campaign button. MailChimp will ask you what type of campaign you want to build, so choose the Create an Email option:

On the next screen, click on the Automated tab at the top, and choose Welcome to new subscribers:

Next, set a name for your campaign, and choose which email list you want to target (it should be the one you just created):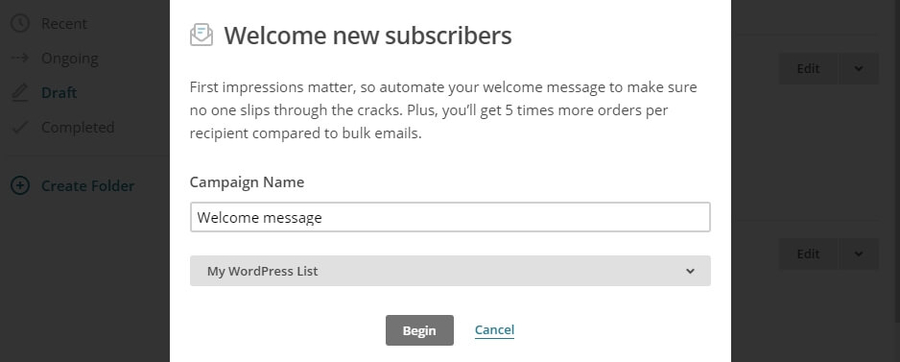 On the next screen, you'll see a quick overview of your welcome email. By default, it's set to go out to new subscribers one day after they sign up. However, you can change that by clicking on the Edit Trigger link:

Check out the Delay section, and change the existing setting to immediately. This will send your welcome email as soon as someone signs up to your list:

Next, you can customize the body of the email itself by clicking on the Design Email button:

On the next screen, set a subject for your email. You'll also want to include some preview text, which is what shows up right after the title in a subscriber's inbox before they open the message:

Click on Next Step when you're ready, and you'll be able to choose a template for your welcome email. You have plenty of options to choose from: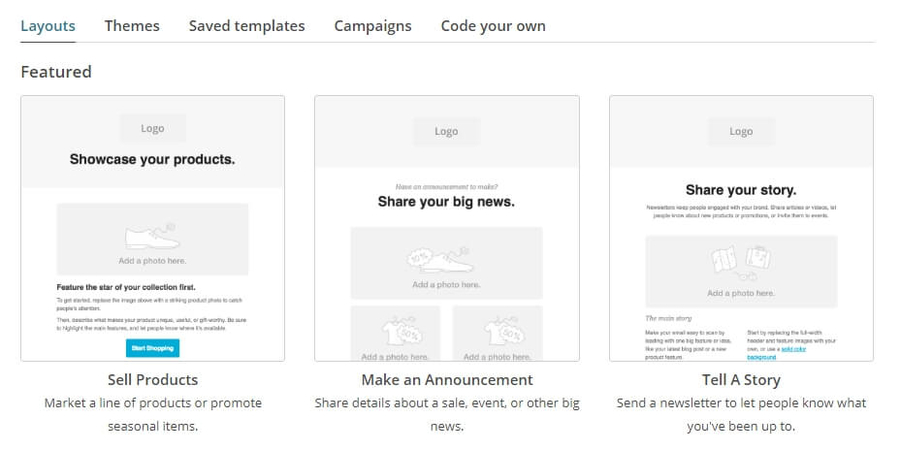 Once you set a template, you'll be able to edit it using drag-and-drop functionality. MailChimp provides you with a broad range of elements you can add to your template: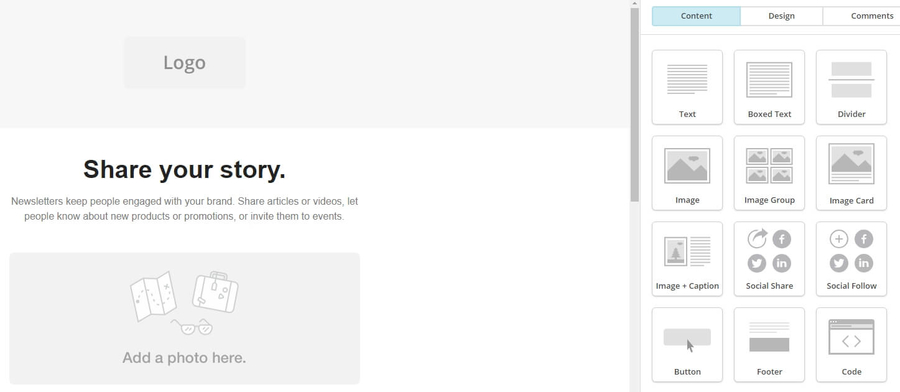 When you add an element to your design, you can click on it to select and edit it:

Clicking on any element also gives you the option to duplicate it or delete it.
Take a few minutes now to get acquainted with this editor and get to work on your welcome email. When it's ready, click on Save and Continue at the bottom of the screen. That's it – your welcome email is ready to go!
Step 4: Automate the Rest of Your Campaign
You've just taken your first step into email marketing in WordPress. Now, we recommend that you take a little time to set up a few additional automated emails. That way, you won't have to come back to create and schedule new messages every day.
The easiest way to do this is to add further emails to your Welcome Message campaign. That way, you can turn your welcome email into a series of messages. Just open the campaign from your dashboard, and click on the Add Email button at the bottom of the screen:

Now, all you have to do is repeat the same process from the previous step. That means choosing a trigger, and editing the contents of your email to say whatever you'd like.
You can add as many emails as you want to your welcome series. What most websites do is use this opportunity to help subscribers learn more about what they offer, and to explain why continuing to subscribe to their emails is a good idea.
If you don't want to build an extensive welcome email series, however, you can also set up an entirely new campaign. To do this, return to the Campaign tab and click on Create an Email once more.
This time around, you're going to pick another option besides a welcome email. For example, you could set up a campaign to send automated messages whenever you update your WordPress blog:

You can read more about this process in MailChimp's knowledge base, and learn about the other types of campaigns you can set up through this platform. With email marketing in WordPress, the possibilities are nearly endless. So feel free to experiment with new types of campaigns!
Conclusion
There's a reason so many websites want you to sign up to their email lists. Email marketing is an incredibly powerful tool to keep your audience on the hook and get more conversions. If you're running a WordPress website and you don't have an email marketing solution set up, you're missing out on a lot of potential benefits. Fortunately, there are many platforms you can use that integrates seamlessly with WordPress, such as MailChimp, Constant Contact, and SendinBlue.
Do you have any questions about how to tackle email marketing in WordPress? Let's talk about them in the comments section below!