Blogger vs WordPress: Which Blogging Platform Is Better?
When starting a blog, one of the most important choices that will decide how the blog performs and scales will be the choice of the blogging platform. Among all the available options, Blogger and WordPress stand out as the two that are most popular.
With both of these blogging platforms, bloggers can create a free blog and use the large variety of available customization options to further enhance their website. However, as with any important choice, each publishing platform comes bundled with its pros and cons.
In this article, we'll take a look at WordPress vs Blogger and evaluate their features and differences in the categories of user-friendliness, customizability, monetization, scalability, security, and customer support.
What Is Blogger?
Blogger is a free blogging platform owned by Google that provides less tech-savvy users an easy way to create a blog.
You only need a Google account to integrate Blogger into your website, with a maximum of 100 authors per website. Each user can create up to 100 blogs, whether it's for business or personal use.
Additionally, there are no limitations on how many blog posts a writer can create. However, the number of static pages created can't exceed 20.
Other notable features of the Blogger platform include:
Seamless integrations with Google services like Google Domains, Google Photos, Google Affiliate Network, and Google Adwords.
Security, reliability, and constant updates since Google manages the network.
A free Blogspot domain, hosting, and an SSL certificate.
Straightforward content management system.
Decent selections of starter templates.
What Is WordPress?

WordPress is open-source software and one of the most popular content management systems, powering roughly over 42% of websites as of 2021.
With WordPress, users can create websites ranging from eCommerce stores and forums to personal websites and portfolios. Two of the most notable brands that use WordPress as a base for their websites are BBC America and Microsoft.
Not only is WordPress free to start a blog, here are some of the most remarkable features of this CMS:
A wide range of publishing tools from media management to posting schedules.
Extendable with plugins.
Tons of free and premium WordPress themes.
The platform supports up to 70 languages.
A well-established community.
While WordPress also has a commercial service called WordPress.com that's free, this article will focus on WordPress.org, as it's the more popular and powerful version.
Blogger vs WordPress: What Should You Look For in a Blogging Platform?
Many factors determine whether a blogging platform is suitable for a project. As mentioned earlier, both WordPress and Blogger come with their strengths and weaknesses. Here are some pros and cons worth considering as a point of comparison:
Ease of Use – choose a publishing platform that matches your skill level. Make sure the interface is easy to use and straightforward to navigate. This way, you can create and manage your blog in no time.
Themes and Customizability – make sure the blogging platform offers ample customization options to tweak your website's look. Not only is this feature essential for branding, but it can also affect how the website performs as a whole.
Add-Ons – use additional software or presets to enhance your website's default features.
Marketing and SEO – search engine optimization helps boost the visibility of your website. Consider whether the platform you're about to choose has all the essential marketing tools like analytics, newsletters, and forms.
Monetization – some blogging services have rules regarding monetization options and restrictions. Read the fine print before committing.
Scalability – refers to how well your blog scales with the growth of a website's traffic and scope.
Security features – the available measures to protect your data from malware, spam, and other security threats.
Customer Support – evaluate the communication channels used by the customer support, working hours, and supported languages.
Ease of Use
While some blogging platforms are more suitable for beginners, others have steeper learning curves. An interface is easy to use if first-time users can intuitively understand the tools' purpose and placements.
This quality also refers to how quickly creating a blog is and whether the instructions are clear.
Without further ado, let's compare Blogger and WordPress in terms of user-friendliness.
Blogger
It is relatively easy to use Blogger as you only need a Google account to create a blog. After signing in, there will be a three-part onboarding process to guide you through the process of setting up your first blog.
The setup wizard requires users to put in the blog title, the Blogspot address, and the author's display name. Once this is done, you'll access the dashboard, where you can create a new post or tweak the blog settings from the left sidebar.
After the blog has plenty of content, the list of drafts and published posts will be in the control panel center.
WordPress
In comparison, WordPress requires more steps since the user needs to already have access to web hosting services for it to be accessible. Once the hosting and the domain name are set up, WordPress needs to be installed on the hosting control panel first to be configured as well.
Luckily, many web hosting companies like Hostinger offer the option to install WordPress with a single click. That being said, it may take some time for a newbie to get used to WordPress's more crowded dashboard.
While WordPress's interface offers more options, this also means more clutter. Plus, many of the tools that ease blog creation require additional plugins to set up.
WordPress vs Blogger: The Verdict
When it comes to beginner-friendliness, Blogger wins this round since it only requires a Google account to get started.
There is no need to buy a blog hosting service and a domain name to use Blogger as it already comes with the service. Besides, the dashboard is simple, with all the essential features ready on the sidebar.
Themes and Customizability
Having access to a wide variety of customization options is essential since a great design can attract visitors, efficiently communicate brand messages, and reduce bounce rates.
Not to mention, well-designed themes can also increase your website's usability, optimizing its performance and overall navigation. Luckily, you don't need to build everything from scratch as both Blogger and WordPress offer premade themes to get started.
What sets these platforms apart, however, is the number of tools provided for further customization.
Blogger
Blogger offers two options to customize blogs: a visual editor and simple HTML snippets. The visual editor has some drag-and-drop elements, but it's limited when it comes to the placement of layouts.
As for the templates, the selections are restrictive as well. There are 12 theme categories to choose from, with most of them geared for personal blogs. Advanced customization is only possible if you have a working knowledge of HTML and CSS.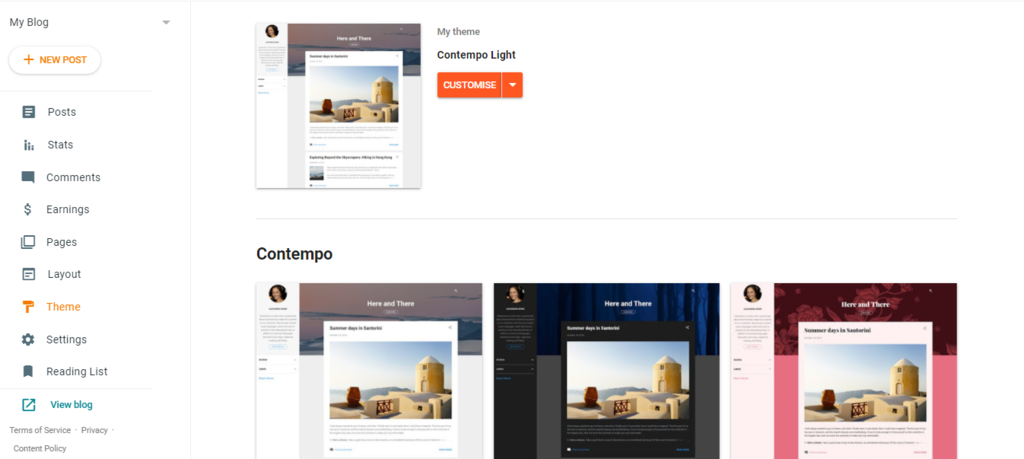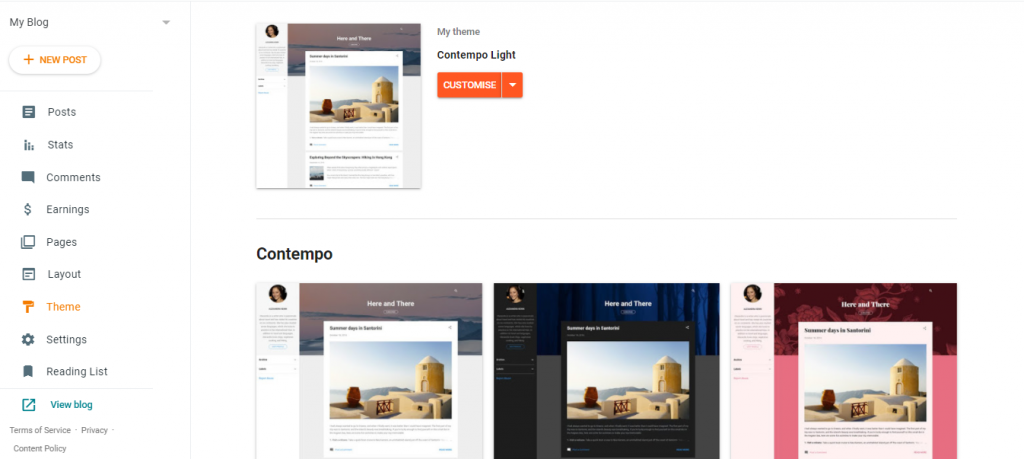 While there are many third-party themes, there is no easy way to install them on Blogger. You need to open the template's XML file with a notepad or other text editors and copy the source code into Blogger's Edit HTML feature on the current theme.
When it comes to content editors, Blogger only offers one type with a simple interface. There is a sidebar to categorize post labels, set a publishing schedule, pinpoint a map location, disable comments, and customize permalinks. To embed media, Blogger supports YouTube and Google Photos.
WordPress
WordPress, on the other hand, has more customization options to alter the appearance of a website. There are over 8500 WordPress themes in the official themes repository that can cater to all kinds of websites, whether it's a simple landing page or a personal blog.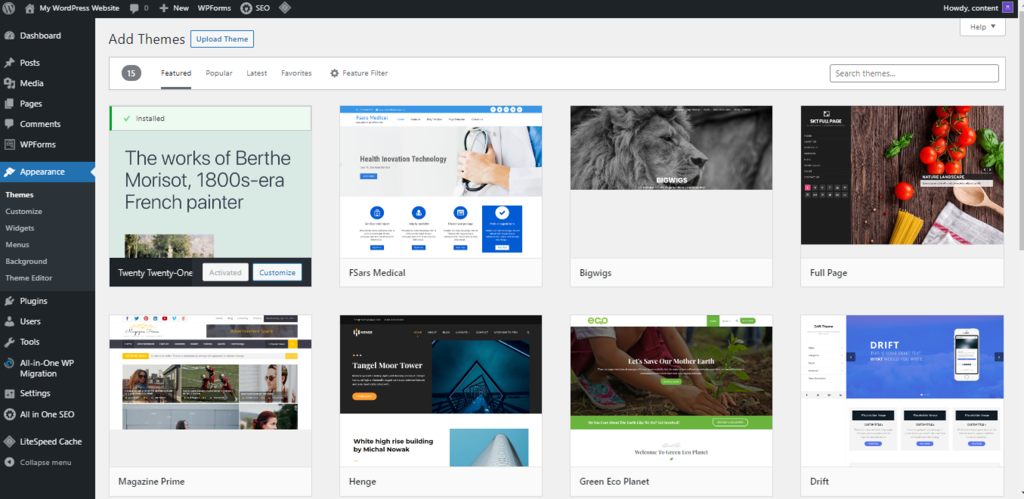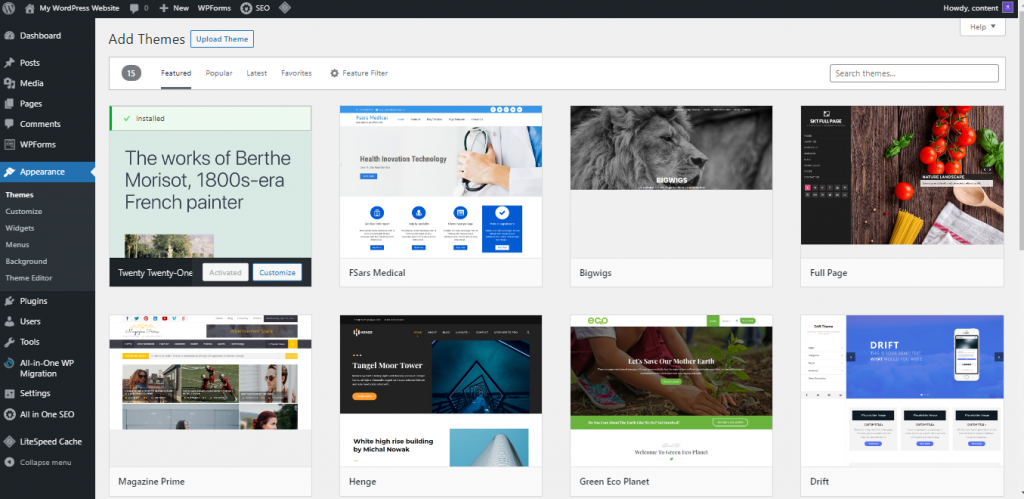 Plus, WordPress offers an easy option to upload third-party themes, whether they're free or premium. If you want to make further template modifications, a built-in CSS editor with a live preview shows the changes in real-time.
Unfortunately, the tweaks you can do with the default layout are limited in comparison. The features are static, and you can only change some attributes like the background image, color, site identity, and menus from the sidebar.
It's also worth noting that, unlike with Blogger, you can't move the theme's layout placement using the drag-and-drop feature. While it's possible to work around this, you may need to install an additional plugin to do so.
Another excellent customization option offered by WordPress is its text editors. Users can choose between the classic and block editors. The former is a simple text editor, while the latter implements blocks that serve as layouts for various content types, making posts more dynamic.
WordPress vs Blogger: The Verdict
When it comes to customization options, WordPress offers more choices as it offers a ton of free and premium WordPress themes to start a blog with. Plus, you can make advanced customization on the site's design easier with the help of the code editor's live preview.
Add-ons
When choosing between Blogger or WordPress for blogging, you should also consider whether it's possible to extend existing features. This is where add-ons come into play. These tools add extra functionality to a website without altering the platform on a core level.
Let's compare WordPress and Blogger in this aspect.
Blogger
Blogger is a simple blogging platform that doesn't offer much when it comes to add-ons.
However, it does have gadgets that can extend the blog's functionality. They can range from adding an extra section for a featured post and implementing newsletters to adding a contact form and HTML/JavaScript snippets.
The last option is convenient if you have unique codes for custom elements. However, remember to be careful when adding code snippets from external sources. Check the developer's reputation and the last update of the widget.
WordPress
Thanks to the open-source nature of WordPress, it's possible to customize the platform's set of features using plugins. As these tools don't tweak WordPress core files, new updates won't overwrite their functions.
There are tons of free and premium options available. On the official directory alone, there are more than 50,000 plugins for all sorts of purposes.
You can equip additional features like a drag-and-drop page builder, malware scanner, and even marketing analytics with plugins. Installing these plugins usually only takes from a couple of minutes to just a single click.
However, it's worth noting that not all of these plugins are of good quality. When looking for the best WordPress plugins, you should consider the last update, ratings, compatibility, reviews, the support offered, and its security features.
If you can't find the right plugins for your project, you can also create your own plugin if you have the technical skills and knowledge.
Aside from plugins, WordPress also offers widgets for layouts. This way, users can embed an audio player, a calendar, and even display videos from YouTube, Vimeo, and the media library within the blog's sidebars.
WordPress vs Blogger: The Verdict
WordPress is a clear winner in this category. Being open-source software gives it an upper hand when it comes to customizability and flexibility.
Marketing and SEO
Make sure that the blogging platform you choose can accommodate the marketing strategy for growing the website. Equally essential is search engine optimization, which will increase your website's visibility on search results.
Blogger
While Blogger doesn't have many built-in tools for marketing, bloggers can take advantage of Blogger Stats and Google Analytics. Thanks to being under the same management, integrating Blogger with the latter is easy.
After you have created a Google Analytics account, copy the Analytics tracking ID to your website. You can do this by going to Settings -> Basic -> Google Analytics Property ID.
As for SEO, Blogger is a decent option for non-experts who want a platform optimized for search engines.
However, like any other platform, you still need to apply SEO practices for your content rank on search engines. There are many ways to do this, one of which is to include relevant focus keywords in your content, title, meta description, and permalinks.
Before applying SEO tactics to your content, make sure you don't accidentally hide your website from the search engine. You can enable or disable this feature by going to Settings and scrolling down to the Privacy category.

All in all, if you're not an expert in SEO and want a blogging platform with decent optimization out of the box, Blogger is a good choice.
WordPress
In contrast, WordPress offers tons of marketing and SEO plugins. It's an excellent content management system for applying more complex digital marketing strategies and WordPress SEO tactics.
Aside from extensions, WordPress is already built-in with quite a few SEO features, from visibility settings, permalinks, and meta descriptions to redirects.
The abundance of SEO and marketing plugins, however, is where WordPress truly shines. Some of the most popular tools for this purpose include Yoast SEO, AIOSEO, HubSpot, and Jetpack.
Blogger vs WordPress: The Verdict
WordPress is a better choice for SEO and marketing in general, thanks to the abundance of its plugins and features.
Monetization
If you want to make money from your blog posts, consider to monetize your blog. Choose a platform that allows for more flexibility, giving you freedom in how you choose to generate revenue.
While both platforms allow monetization on their platform, there are some differences between WordPress and Blogger worth highlighting.
Blogger
You can monetize Blogger's site using Google AdSense – an ad network that connects publishers or content creators with advertisers.
AdSense doesn't impose a minimum page view per month requirement for users to apply. However, your blog should meet Google's terms of service to be eligible for monetization. For instance, websites with adult content can't be monetized.
It's also worth keeping in mind that you need to earn a minimum of $100 before you can withdraw the money. AdSense sends payment via electronic fund transfer and checks between the 21st and the 26th monthly.
To integrate AdSense to a Blogger website, create an AdSense account first by going to Earnings -> Create AdSense Account.
Fill the necessary fields with relevant information and make sure the email you input is the same email you use for your Blogger account.
You can also integrate third-party ad services into Blogger by clicking on Layout and choosing the space where you want to place the ad. Then, select Add a Gadget and select HTML/Javascript. Simply paste your ad code there on the field and save it.
You can also do this by manually setting up the ad banner via the ads.txt file. To find this file, navigate to Settings -> Monetization -> Enable custom ads.txt. Once it's done, click on the Custom ads.txt field and paste the ad code there.
WordPress
You can make money off a WordPress blog in many ways. One of the most popular methods is affiliate marketing, where you get a commission for recommending a product or a service.
WordPress has many helpful affiliate marketing plugins, such as ThirstyAffiliates, AdSanity, and Ultimate Affiliate Pro. These plugins can help manage your affiliate links and track your earnings.
If you prefer income from advertising partnerships, you can also try ad display. In general, ad banners can be categorized into static ads, pop-ups, and native ads.
On WordPress, ad displays can easily be integrated with the Custom HTML widget, accessible from Appearance -> Widgets. Simply copy and paste the appropriate ad code into the column, and the banner will appear.
Moreover, many plugins can automate the process, for example, DoubleClick, Quick Adsense, and AdContent Pro.
Last but not least, you can also earn money from a WordPress site by creating a membership website.
As the name suggests, it's a site where you can charge visitors to view exclusive or premium content. Some great membership site plugins we recommend are Restrict Content Pro, MemberMouse, and MemberPress.
Blogger vs WordPress: The Verdict
When it comes to monetization, WordPress offers more options and tools. Not to mention, you will have full control over your content and monetization since it's an open-source platform.
Scalability
As a new writer, you may start from a small site, but eventually, it might have to cater to a larger audience. This is why it's crucial to choose a platform that can scale along the growth of your site.
Blogger
While Blogger's web hosting is stable, your site might get hit by restrictions if you use too many resources. In the long run, this platform is not very ideal for handling massive traffic.
WordPress
The resources used by self-hosted WordPress depend solely on what type of hosting service it runs on. Thankfully, most web hosting packages are scalable, so there is no need to worry about not accommodating a surge of significant traffic in the future.
Blogger vs WordPress: The Verdict
Thanks to WordPress flexibility, scaling your website's resources to meet the demands of a growing audience is not difficult. Compared to Blogger, a WordPress site is more sustainable.
Security
Security is an essential concern any webmaster needs to address at some point. Whether it's a breach of data or malware, it's vital to place security measures before it's too late.
Running a blog is no exception. Before selecting between Blogger or WordPress for blogging, consider its security.
Blogger
All websites hosted on Blogger benefit from Google's robust security. If you enable the two-factor authentication method, any unauthorized attempts to access your account can be mitigated.
Furthermore, the default Blogspot domain comes with an SSL certificate that will encrypt and safeguard your data during transfer.
However, there are not many changes you can make with the security settings. You can't add additional security measures as you don't own the platform.
WordPress
While WordPress gives users more control over its features, it comes with a risk. Some third-party plugins and themes might serve as a backdoor for security exploits.
Thankfully, this content management system offers tons of ways to protect your website. On top of the regular updates, many security plugins like WordFence and Sucuri Security can protect your blog.
WordPress also comes with lots of anti-spam plugins that not only protect your site but also ensures that it stays SEO-friendly in the eyes of search engines. We recommend using plugins like Akismet, Titan Anti-spam and Security, and CleanTalk.
Plus, there are many easy ways to remove malware from a WordPress site.
Blogger vs WordPress: The Verdict
While Blogger tends to be more secure, it lacks additional security options. On the other hand, WordPress has many tools to counter and prevent security threats, but the platform is also more prone to vulnerabilities due to its open-source nature.
All things considered, Blogger is the winner of this round since it can take care of security-related issues consistently and without the need to install additional extensions.
Customer Support
Choosing a blogging platform with reliable customer support will ensure that your inquiries are responded to as soon as a problem arises. Unfortunately, both Blogger and WordPress don't have a dedicated technical support team. However, there are still some resources to point you in the right direction.
Blogger
Blogger has detailed documentation and a community user forum you can turn to if you have any questions.
You can also access the Help option in the dashboard to find tips and tutorials.
WordPress
While WordPress doesn't have its line of customer agents, the WordPress community is very active. Plus, there is a support forum where you can share tips with other members and ask questions.
If you prefer reading guides, the WordPress documentation is comprehensive. It covers everything users need to know about getting started with WordPress, from setting up the website to troubleshooting.
It's also worth noting that you can get dedicated support from independent developers if you purchase premium WordPress plugins or themes.
Blogger vs WordPress: The Verdict
WordPress offers better support thanks to its massive community and extensive resources.
Who Is Blogger Best Suited For?
Blogger is perfect for a newbie looking for an easy-to-use blogging platform or a content management system.
The platform is excellent if you want a quick and straightforward method to create a new blog. Blogger's minimalistic and clean interface streamlines navigation and blog management – it won't take long to get familiar with its features.
Plus, you can create a completely free blog, so it's a great option for those on a budget. Unless you need a custom domain name or other premium services, you don't need to pay a penny to run a Blogger website.
Google web hosting is reliable and stable. It can spare you the hassle of manually managing web hosting resources yourself.
However, the simplicity also comes with the lack of customization options and flexibility, making Blogger unsuitable for projects that require complex modifications.
Moreover, technically you don't have ownership of the site as it is hosted on the Google service, even if you're free to export your content at any time.
Who Is WordPress Best Suited For?
If you're considering making a living off blogging, WordPress might be a better option as it's incredibly scalable and flexible.
With WordPress, you can set up an online store, add various marketing tools, or set up an entire membership blog.
However, WordPress isn't as easy or quick to get started with, especially if you're new to blogging.
Plus, while WordPress itself is free, you still have to afford a web hosting service to run the site. This might not be ideal if you're tight on a budget. However, many well-known web hosting providers offer reliable web hosting at affordable prices.
WordPress's high customizability may also come with potential risks. Namely, third-party extensions that may expose your website to vulnerabilities. However, for the most part, this can be mitigated with sound security measures and prevention.
Blogger vs WordPress: Which Is Better?
Both Blogger and WordPress have their pros and cons. Before choosing the blogging platform to create their new blog, bloggers should evaluate their skills and decide on their blog strategy in the long term.
Here is a quick recap of every category analyzed in this article and its winner:
Ease of Use – Blogger
Themes and Customizability – WordPress
Add-ons – WordPress
Marketing and SEO – WordPress
Monetization – WordPress
Scalability – WordPress
Security – Blogger
Customer Support – WordPress
To sum it all up, Blogger offers a simple solution for beginners who want to create a personal blog, while WordPress is best suited for blog owners looking for maximum flexibility, scalability, and ownership.
If you choose the latter, the next step is to select the blog hosting service. We hope this article has been helpful.
So, which is your option, WordPress or Blogger? Let us know your thoughts in the comments section below.