Magento vs PrestaShop: Choosing the Best Platform for Your Online Store

When it comes to eCommerce platforms, there are a lot of names that carry weight. PrestaShop and Magento are two of the most popular, and they both have a lot to offer. Deciding which one to use to get your store off the ground can be tough unless you're familiar with how both platforms work.
In this article, we're going to do the research for you and compare Magento vs PrestaShop in detail using several criteria, including:
Ease of use
Site management
Customizability
Performance
Security
When we're done, you'll know which eCommerce platform is the right fit for your site. Let's talk Magento vs PrestaShop!
Download Website Launch Checklist
What's the Difference Between PretaShop and Magento?
The main difference between PrestaShop and Magento is that PrestaShop is easier to use and is suited for small to medium sized shops, while Magento is best for large-scale eCommerce websites with hefty resources.
An Introduction to Magento vs PrestaShop
PrestaShop and Magento share several similarities, beyond simply enabling you to sell products online. For example, both platforms are open-source, and they boast highly-active communities. On top of that, they each command a very similar market share.
Finally, both Magento and PrestaShop are what we call 'self-hosted' platforms. That means you can download their software and set it up on any server you want, then get right to work on your store. Self-hosted, open-source platforms tend to be highly flexible, since you can do pretty much anything you want with them.
Before we launch into our in-depth comparison, let's talk a little bit about each solution individually. PrestaShop is a very user-friendly eCommerce platform, with over 1,000 users collaborating on its development. It also boasts a highly active community, and a broad set of features that make it powerful enough for any type of store: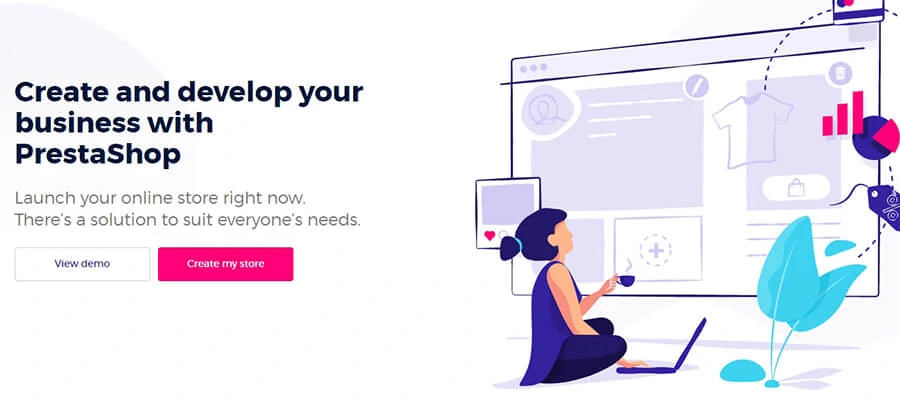 Magento doesn't lack when it comes to features either. In fact, the platform packs so much functionality that some people find it intimidating at first. However, once you get past its learning curve, you'll find that Magento is a fantastic option for setting up and running an online store:

Despite everything Magento and PrestaShop have in common, there are enough differences between them that it's not hard to make an informed decision. To help you do that, we're going to compare PrestaShop vs Magento directly in a number of ways, starting with what they're like to use.
Magento vs PrestaShop: Ease of Use
In most cases, you'll want to use an eCommerce platform that offers a good balance between features and ease of use. After all, it wouldn't be very cost-effective if it took you months to learn the ins and outs of your chosen eCommerce software.
With that in mind, PrestaShop is pretty easy to get started with. The first thing you'll need to do is check to see if your web host offers an option to help you set the platform up. For instance, here we offer both Hostinger Prestashop hosting and Magento hosting that come with one-click installers for easier setup.
Another option is to install Prestashop manually. Either way, once your PrestaShop store is live, you'll get access to a dashboard with plenty of options: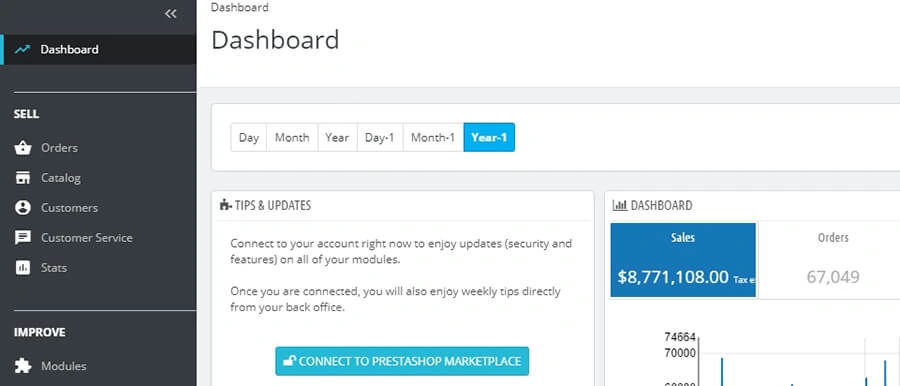 Although your dashboard can seem intimidating at first, it's actually quite simple to navigate. For example, if you want to add a new product, you just have to jump to the Catalog › Products tab and click on the + New Product button: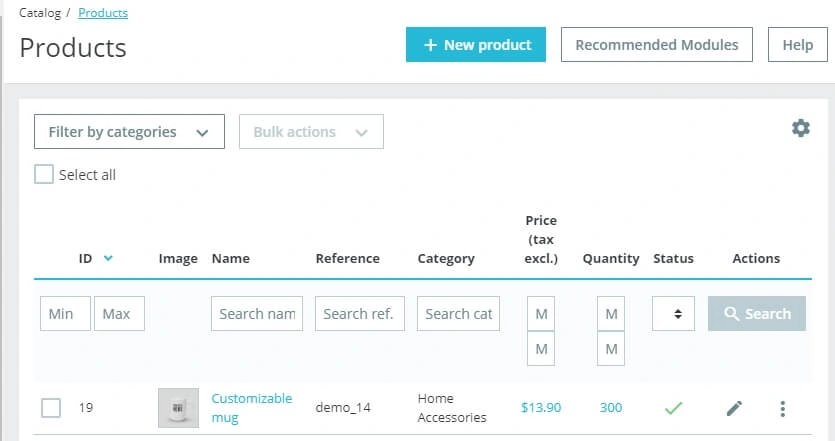 PrestaShop's product editor is one of the best we've had the pleasure to use. It packs a lot of features, but it's still easy to navigate thanks to its well-ordered tabs: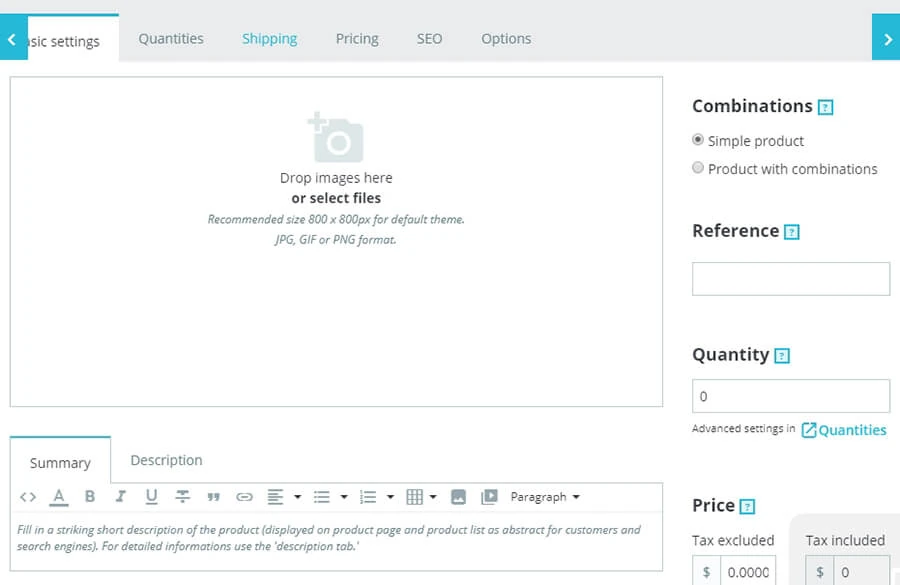 To create a new product, all you have to do is add a few photos, set a title and a price, and write a description. There are plenty more settings you can play around with, of course, such as options related to Search Engine Optimization (SEO). However, you can customize each product as much or as little as you want to.
The process of setting up Magento is very similar. Some web hosts will provide you with the option to install the platform automatically. However, you can always take the manual approach if you prefer.
Once Magento is set up on your server, you'll be able to access its dashboard. At first glance, you'll notice that the dashboard itself looks quite straightforward: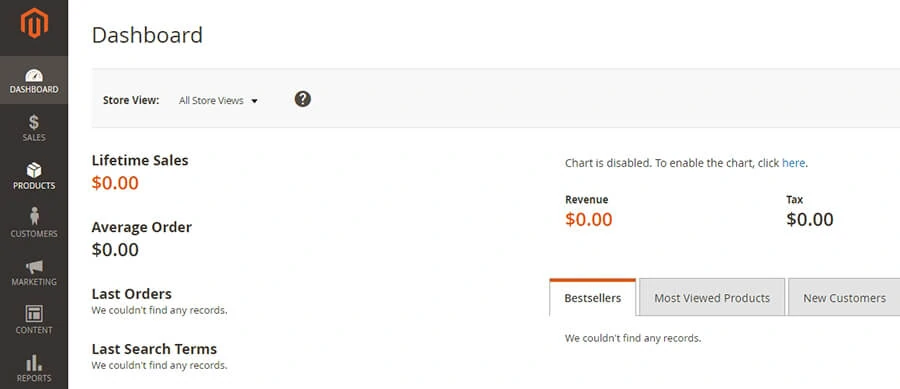 However, once you start digging into each tab, you'll notice that Magento includes a staggering number of options for nearly all of its settings. For example, here's a quick look at what the Marketing tab looks like:
Within a single tab, you'll find settings for promotions, email marketing, SEO, and managing reviews. In turn, each of those sections provides a lot of individual options.
Let's take a look at Magento's product editor, to see if it follows this trend. To find it, go to the Products › Catalog tab and click on Add Product. Right away you'll notice that Magento's editor isn't as user-friendly as PrestaShop's. However, it does offer more options, and that's saying a lot since PrestaShop isn't exactly lacking in features: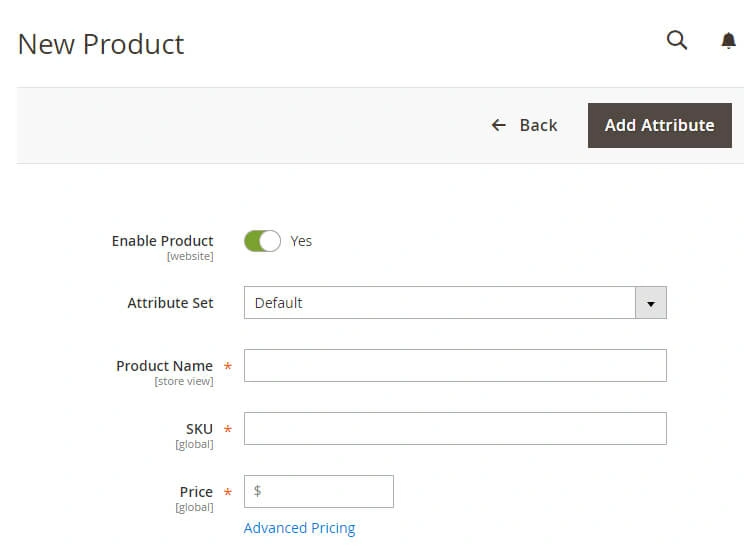 As we mentioned, setting up a new product using PrestaShop can take you as little as a few minutes. However, with Magento, you'll probably need more time to dig into its settings and configure your product exactly the way you like.
To sum up our findings so far, Magento offers a lot more options at first glance. That's not a bad thing, but it does make the platform more complicated to use than PrestaShop, particularly if you're new to eCommerce. With that in mind, this first round of Magento vs PrestaShop goes to the latter platform.
Magento vs PrestaShop: Site Management
In this section, we're going to take a closer look at the settings Magento and PrestaShop offer to help you manage your online stores.
If you take a look at your PrestaShop dashboard, you'll notice that there's a tab called Shop Parameters. Once you open it, you'll find all of your store's main settings. For example, from this tab you can force your website to load over Secure Sockets Layer (SSL), enable a multi-store setup, and more: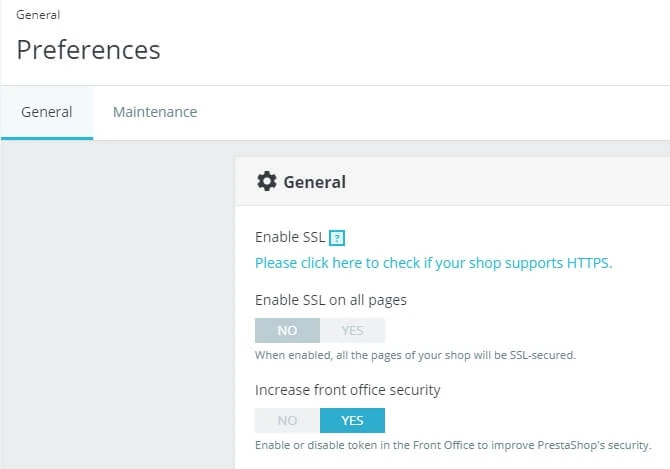 PrestaShop even includes a built-in maintenance mode, which gives you the ability to disable your store while you work on fixing problems temporarily.
When using PrestaShop, you can also configure multiple payment options. Out of the box, the platform supports payments via bank transfers and checks. To add more traditional payment options, you'll need to install additional modules: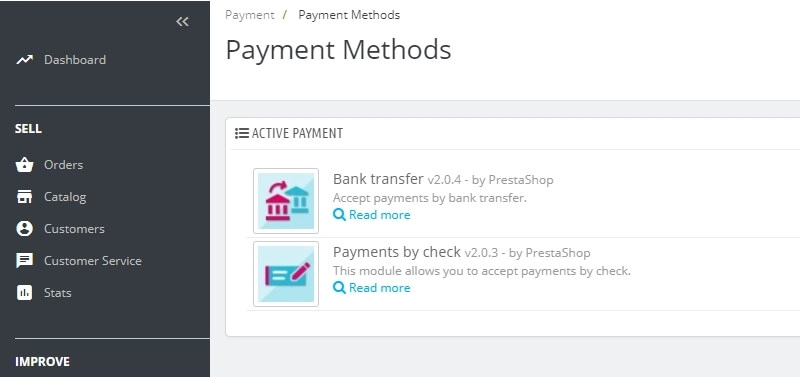 Overall, however, managing your PrestaShop store is very straightforward thanks to its well-organized and sleek dashboard.
Let's move on to Magento now. Most of your Magento store's main settings can be found within the System tab. There, you'll find options to set up extensions, as well as manage backups, notifications, and users: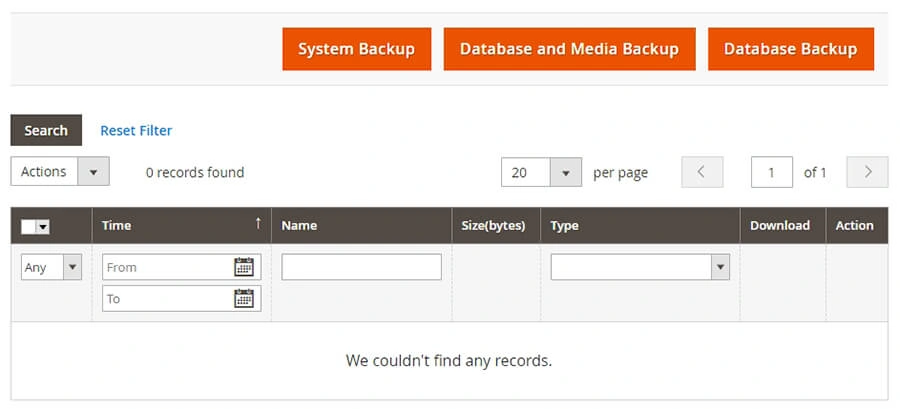 There are also a whole host of settings you can play with if you open up the Stores tab. For example, you can modify your tax settings, currencies, and even your store's rating system: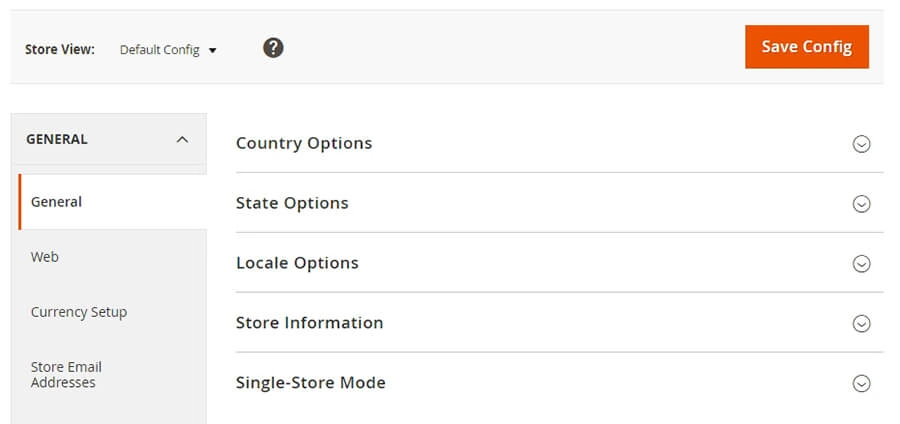 It's worth noting that Magento also offers multi-store settings. This means that if you want to run several stores using the same dashboard, both Magento and PrestaShop can do the job.
During our tests, we found that Magento offers more options when it comes to site management. However, PrestaShop makes the process of managing your stores much simpler, due to its user-friendly interface. With that in mind, we're declaring this round of PrestaShop vs Magento a tie.


Magento vs PrestaShop: Customizability
One of the most important aspects of any eCommerce software is how much it enables you to customize your store. Without enough customization options, you'll end up with a cookie-cutter website, which won't do much for your reputation.
PrestaShop, for example, enables you to use both modules and themes to customize your store. Themes enable you to alter your site's style radically, and they come in all shapes and sizes. Plus, you can customize any theme you use to make your site look even more unique: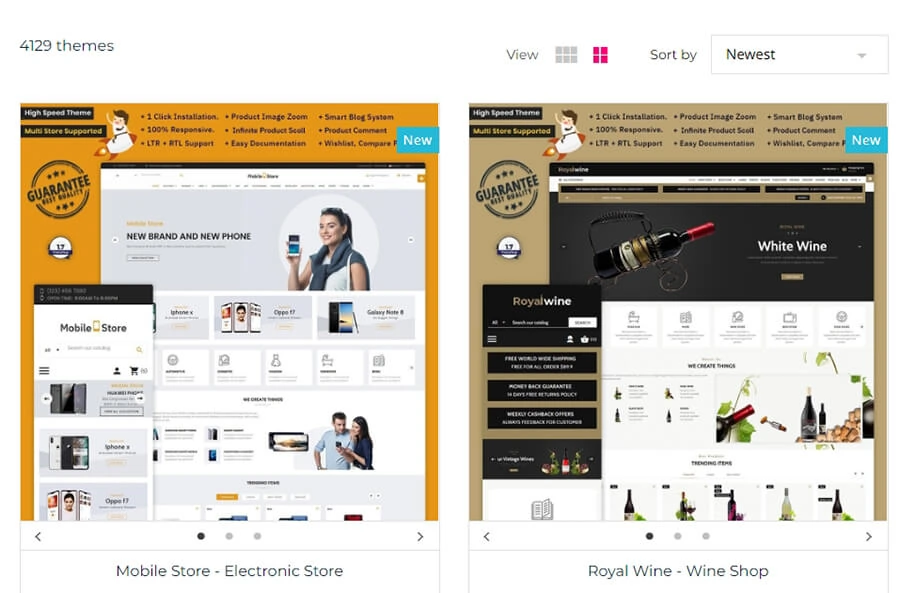 Modules, on the other hand, enable you to add advanced functionality to your store. For example, you can add modules that help you implement voucher functionality or contact forms: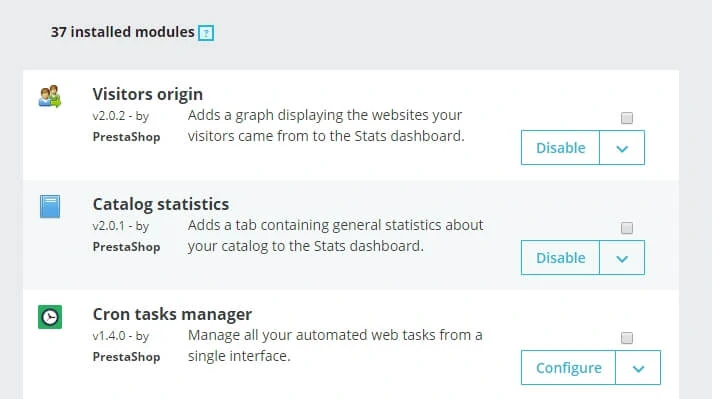 PrestaShop boasts over 3,000 available modules, and more than 4,000 themes you can use. That combination gives you a high level of customizability since you can choose any style you want for your store and implement lots of advanced features.
However, Magento is not a disappointment when it comes to customization options. This platform also enables you to use both extensions (its version of modules) and themes to configure your store nearly any way you want. When it comes to extensions, Magento has a slight edge, since it boasts over 4,000 options: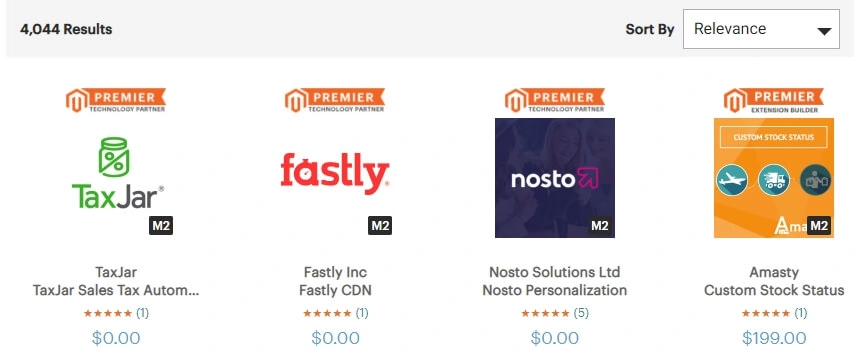 Themes, however, are a different subject. The Magento Marketplace features only a small collection of themes, since it's more common for users to design their own templates. To put it another way, Magento makes it easier to customize your store's design manually, at the expense of offering you less pre-built options.
Overall, both PrestaShop and Magento offer outstanding customizability, so much so that it's hard to give an edge to either platform. With that in mind, this round of Magento vs PrestaShop is also a tie.
Magento vs PrestaShop: Performance
When it comes to performance, it's important to remember that both Magento and PrestaShop are self-hosted platforms. What that means is that your store's performance will depend largely on the hardware you use to host it.
For example, even if you're using the best shared hosting for an online store that gets thousands of visitors a day, you're going to have difficulties no matter what platform you're using. Choosing both the right provider and the right type of plan is key.
To be fair, there are a lot of factors that can affect your site's speed, beyond just your web hosting provider. For example, you might include too many scripts on your pages, or upload a lot of images with massive file sizes. In both of these cases, your site's performance will likely suffer. Fortunately, there are plenty of ways to keep your online store fast.
Having said that, Magento is well known for being a highly-scalable platform. Technically speaking, if you have the best eCommerce web hosting solution and you're getting a decent amount of traffic, a Magento store will usually run faster than one created using PrestaShop. That's not to say that PrestaShop is poorly designed, but that Magento is simply better when it comes to managing your server's resources.
If you're just starting a new store, the platform you're using isn't likely to make a big difference. However, given that Magento is a better option for larger projects, we're awarding it this round of our PrestaShop vs Magento comparison.
Magento vs PrestaShop: Security
Most of us have dozens of accounts, scattered across all different types of websites. This means that at one point or another, one of those accounts might have been compromised. In turn, this could leave you vulnerable on other sites.
When it comes to your eCommerce site, letting that happen to your customers is a worst-case scenario. After all, online stores usually deal with a lot of sensitive and personal information. Even if your site doesn't keep any payment details on hand, chances are you have billing addresses, purchase histories, and more stored away.
Knowing that it's easy to see why security is essential for any eCommerce operation. You'll need to choose a platform that provides you with outstanding security standards, and has a solid track record when it comes to patching vulnerabilities.
Fortunately, we can say that both PrestaShop and Magento are pretty excellent when it comes to security. Both platforms are open-source, so they're under constant development and review. In the past, however, Magento has been the victim of a couple of security breaches. As for PrestaShop, it's dealt with its own share of vulnerabilities.
Keep in mind – that's not to say either of these platforms is insecure. However, when you're developing eCommerce software that powers hundreds of thousands of sites, you will have to deal with vulnerabilities and breaches at one point or another. What's important is how these eCommerce platforms respond to those events.
Magento, for example, publishes independent security patches on top of its core updates. That means the platform is an excellent option if you want to be on the cutting edge of eCommerce security. These patches give the platform a slight edge, so this bout of Magento vs PrestaShop is awarded to Magento.
PrestaShop Advantages
Before we wrap up, let's summarize what's great about both of these eCommerce platforms. First up, PrestaShop is one of the most popular eCommerce tools you can use. It has a lot to offer:
You get access to a sleek interface with plenty of site management options.
Adding new products and customizing them is simple.
The platform offers a ton of customization options, thanks to a broad selection of themes and modules.
Add to that the fact that PrestaShop also boasts a very active community, and you get a user-friendly platform that doesn't skimp on features. If you're setting up an online store for the first time, we'd recommend that you go with PrestaShop over Magento due to its ease of use.
Magento Advantages
When people talk about Magento, they often highlight the sheer power of the platform. In fact, it powers a lot of massive online stores. Here are the top reasons it can be a perfect fit for you as well:
When it comes to sheer number of features, Magento is nearly unmatched.
The platform offers excellent customizability, due to its extension and theming systems.
You get access to regular security patches.
The platform is highly scalable, which makes it a great option for large operations.
Magento is a fantastic sale on paper, and it largely lives up to its reputation. However, this platform is not the easiest for new users to pick up. We recommend that you consider using Magento if you need to set up an online store for an established business, you're looking for the utmost in customization options, or you want to keep your eye on the future and scale your store as large as it will go.
Conclusion
There are dozens of eCommerce platforms you can use to set up an online store. However, once you narrow your options down, you'll realize that PrestaShop and Magento are two of your best options. Magento, for example, is perfect if you want to run a large-scale eCommerce operation, whereas PrestaShop is a better option when it comes to ease of use. In any case, you'll be happy to know that Hostinger supports both options, so you can use whichever one you're more comfortable with.
Where do you come down on the PrestaShop vs Magento debate? Share your opinions with us in the comments section below!