11 Types of eCommerce Business Models With Examples for 2023
Understanding the different types of eCommerce can be beneficial when you're starting an eCommerce business. It can provide insights into what your daily operations may look like, what opportunities are up ahead, what challenges to prepare for.
Keep reading this article to learn more about the types of eCommerce. Plus, we will provide some examples of eCommerce businesses to see what they look like in practice.
Download Checklist: How to Start an Online Business
6 Types of eCommerce by Business Model
First, we'll discuss the major types of eCommerce business models based on who the company is selling to.
1. Business to Business (B2B)
In the B2B model, businesses sell to other companies. Typically, the goods and services are for business use only, such as to support productivity, collaboration, office needs, or the production process. In many cases, the buyer may also purchase the item in bulk for reselling purposes.
In recent years, eCommerce has accelerated the growth of the B2B industry. The reason is that many companies are switching to online means to conduct business with their consumers and partners.
B2B marketplaces such as Alibaba and Amazon have contributed to the rise as well. Many eCommerce businesses also have their own websites and applications to facilitate transactions.
One aspect to note about B2B is that the sales cycle can take longer, between four and seven months. Companies usually require a lot more time to decide whether an item is worth buying, especially if it is essential for their operations.
Business to Business (B2B) Example – Slack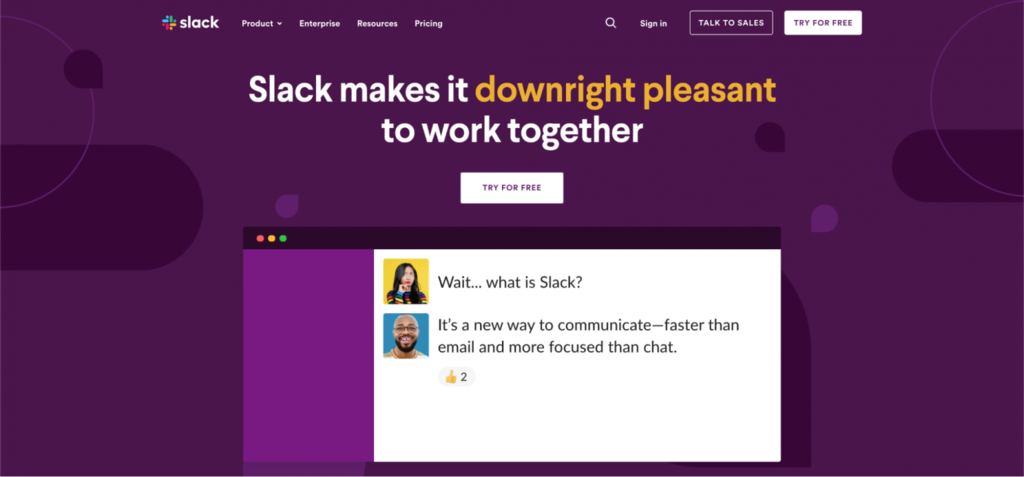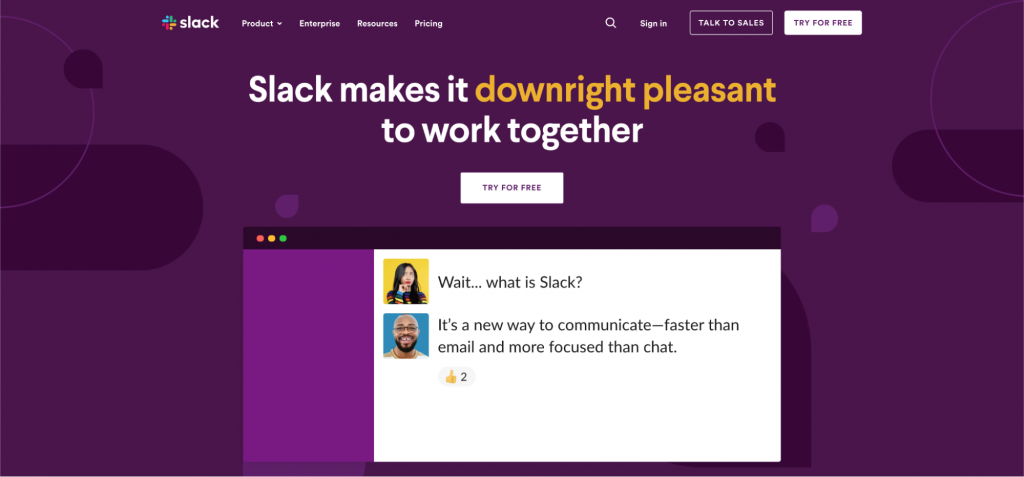 Slack is a great eCommerce example of a B2B business. It's a communication software exclusive for firms and companies. Its subscription plans fit companies of any size, from small operations to large enterprises.
2. Business to Consumer (B2C)
A B2C company sells directly to consumers. The goods or services are generally for personal use, ranging from groceries, clothing and t-shirt businesses, electronics to streaming services.
The transaction may happen on an online store, business website, marketplace, or other web applications.
According to Grand View Research, the global market size for B2C eCommerce is rising steadily, with an annual growth rate of 7.9%. As such, new startups entering the market will meet a lot of demand.
Nonetheless, competition may be intense, especially in a saturated industry filled with big brand names.
Business to Consumer (B2C) Example – Function of Beauty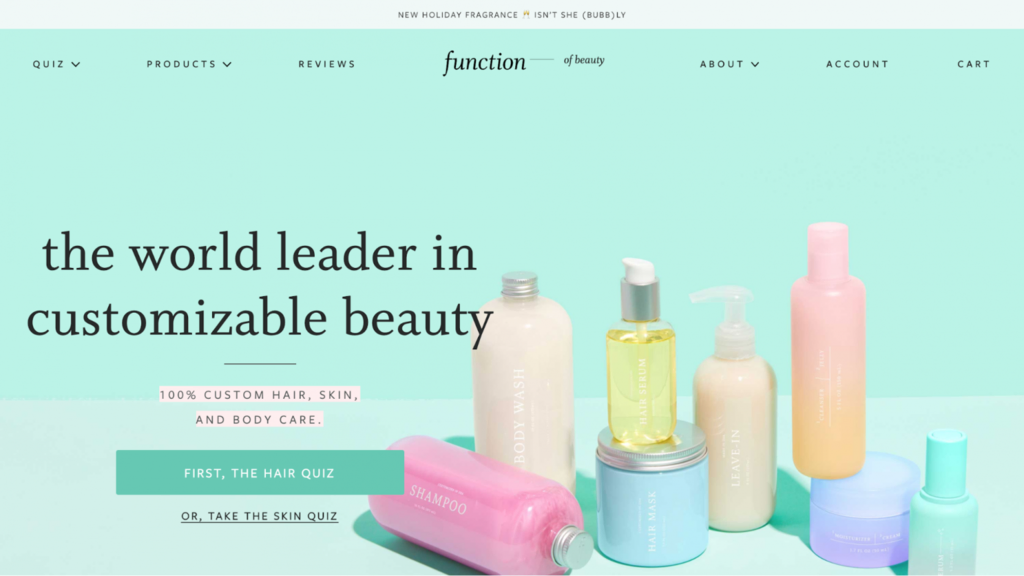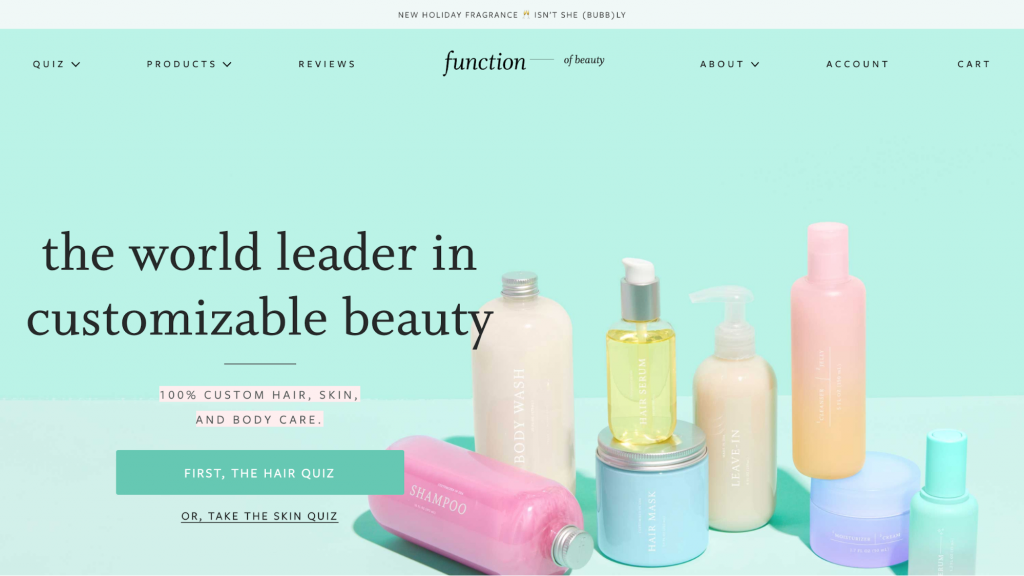 Function of Beauty sells personal care items for individuals. It allows them to customize the product's formula according to their preferences. Offering a personalization option is one way this brand creates an experience unique from other B2C businesses.
3. Consumer to Consumer (C2C)
With the C2C type of eCommerce, a business provides an online platform for consumers to buy and sell from each other.
These platforms may be marketplaces where people can list their items and get paid on the website. It may also be a forum for people to market their goods or services, but the transaction happens in person.
The business will earn income by charging fees to list items on the site. Some may also implement transaction rates, which typically apply every time a seller makes a successful sale.
When done correctly, this eCommerce business model can be highly profitable. Many people prefer selling on third-party websites, especially if they attract a large user base, such as eBay or Craigslist. What's more, the setup can be quicker than building an online store.
Consumer to Consumer (C2C) Example – Facebook Marketplace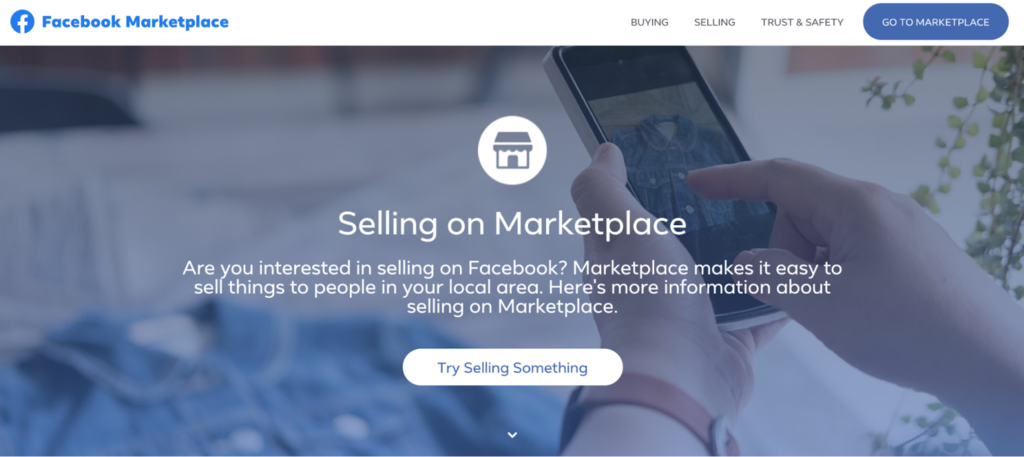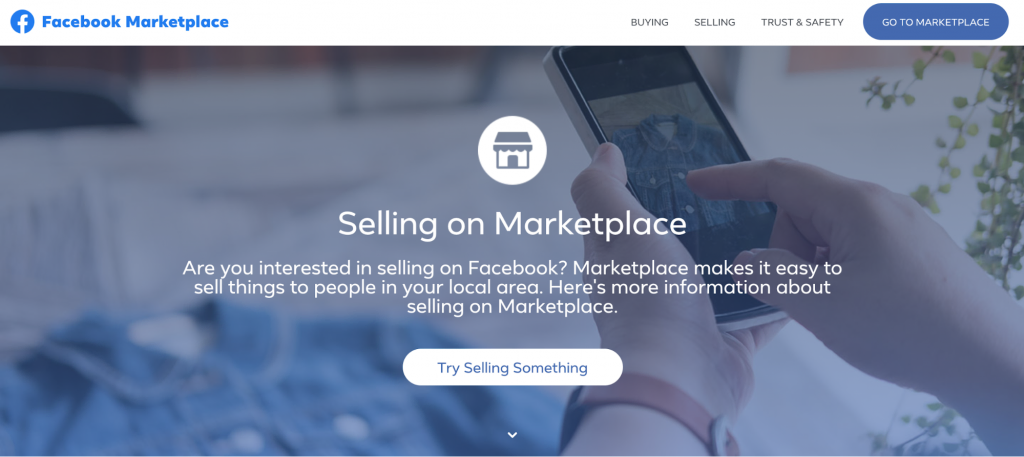 This online marketplace allows Facebook users living in the same region to buy and sell from one another.
Sellers can list their items for free, and they would have to meet the buyer face-to-face to complete the transaction. Users located in the US can also enable online payments and shipping by paying a selling fee.
4. Consumer to Business (C2B)
In C2B eCommerce, individuals offer their talents and skills to businesses. Popular examples of goods or services in this model include freelancing, affiliate marketing, and user testing.
Similar to C2C, the consumer-to-business exchange usually happens on a third-party website. Such platforms charge a service fee to either the individual or the company.
Some people also use their own online resumes and advertise them on search engines or social media.
Consumer to Business (C2B) Example – Upwork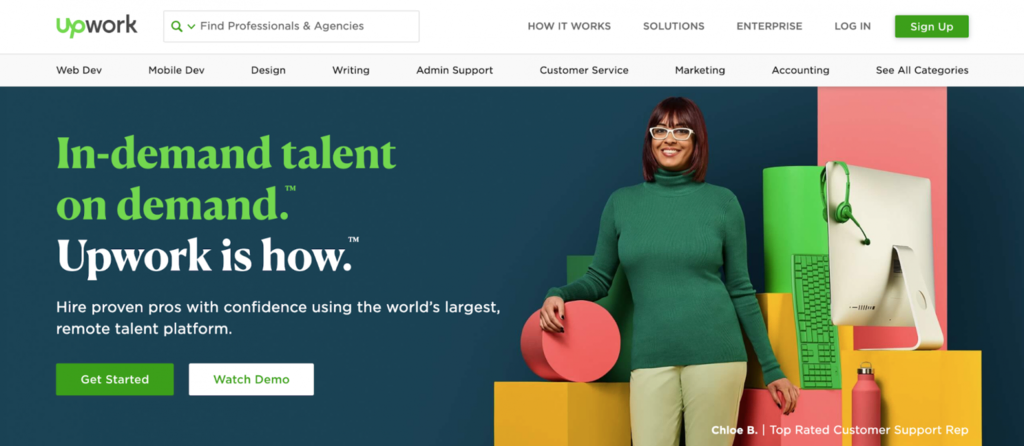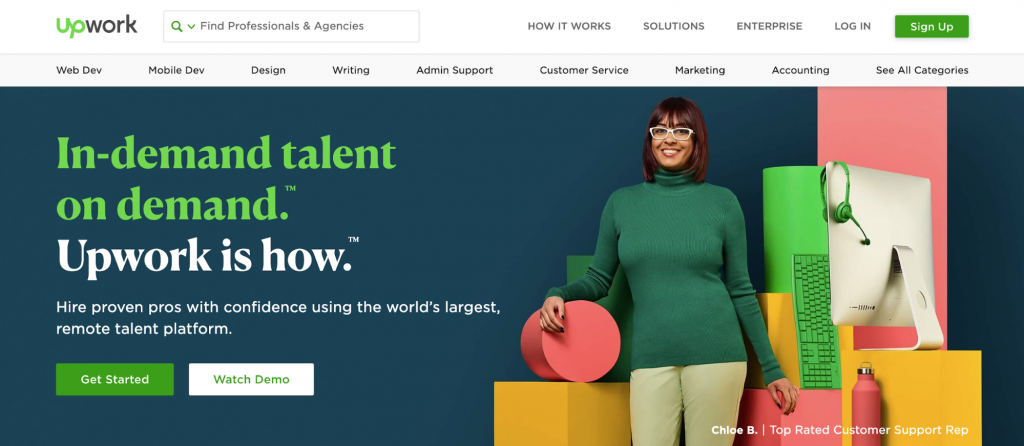 Upwork is an online job portal that connects freelancers with businesses. It charges service fees for the talent, ranging between 5% and 20% depending on the billing amount. There are also paid plans for clients to process payments and enable additional job posting features.
5. Business to Administration (B2A)
This type of eCommerce business sells online tools to government agencies. Usually, the entity will use the program to manage its services, such as processing citizens' requests or maintaining official records.
Business to Administration (B2A) Example – OpenGov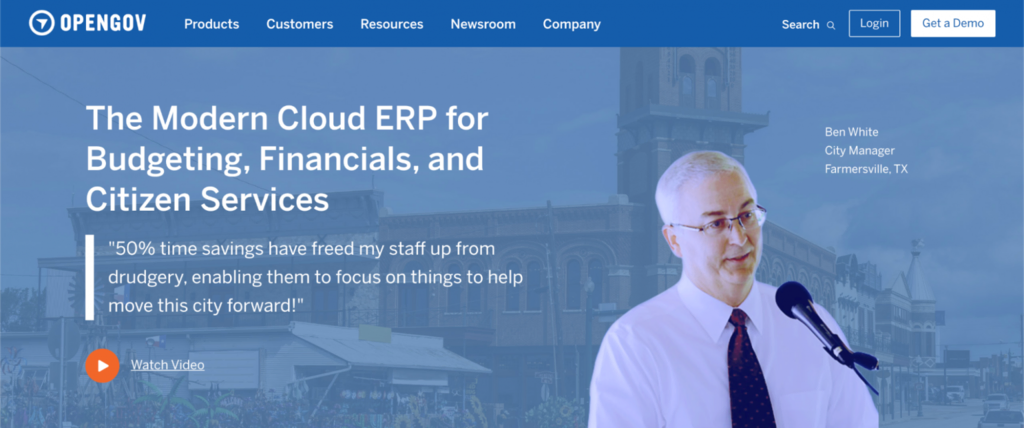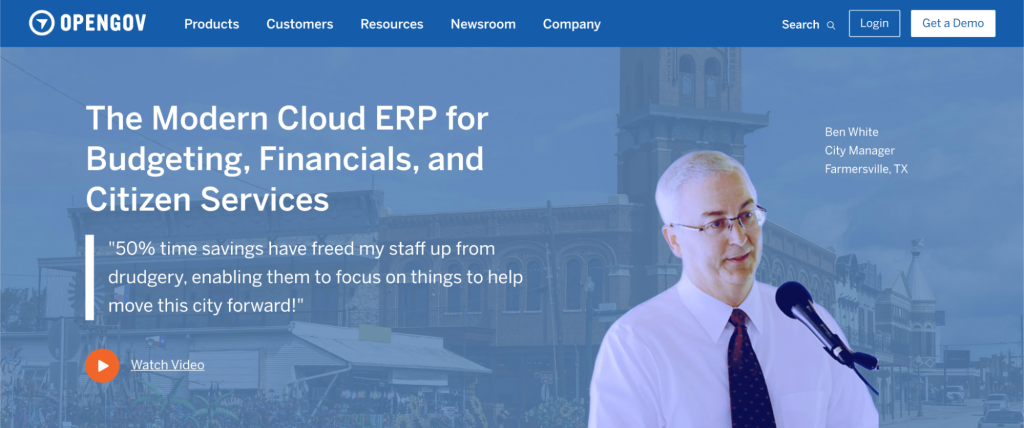 OpenGov is a cloud software aiming to help local and state governments with their day-to-day operations. The features include management tools for budgeting, accounting, reporting, and licensing. Many public administration offices throughout the US have used the application.
6. Consumer to Administration (C2A)
The C2A model refers to eCommerce activities between individuals and the government.
These transactions are typically payments for public administration costs, such as health services, social security, or taxes.
Consumer to Administration (C2A) Example – EFTPS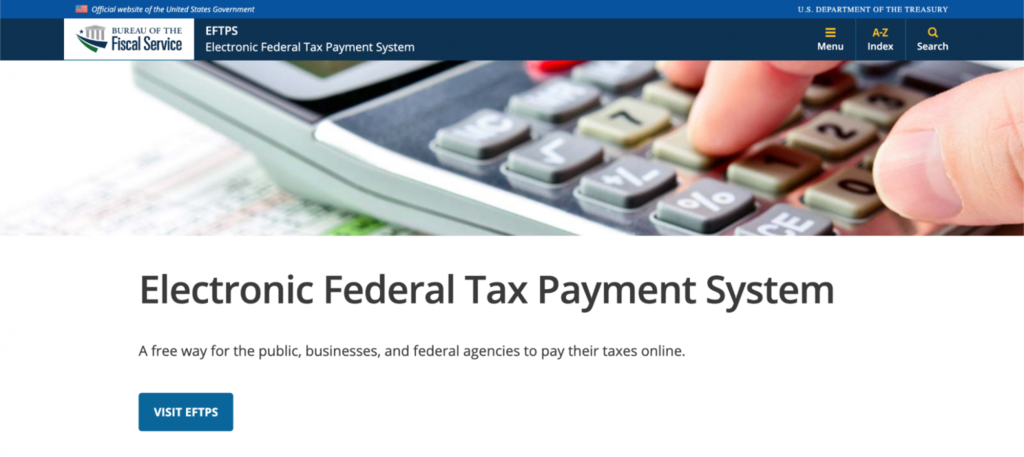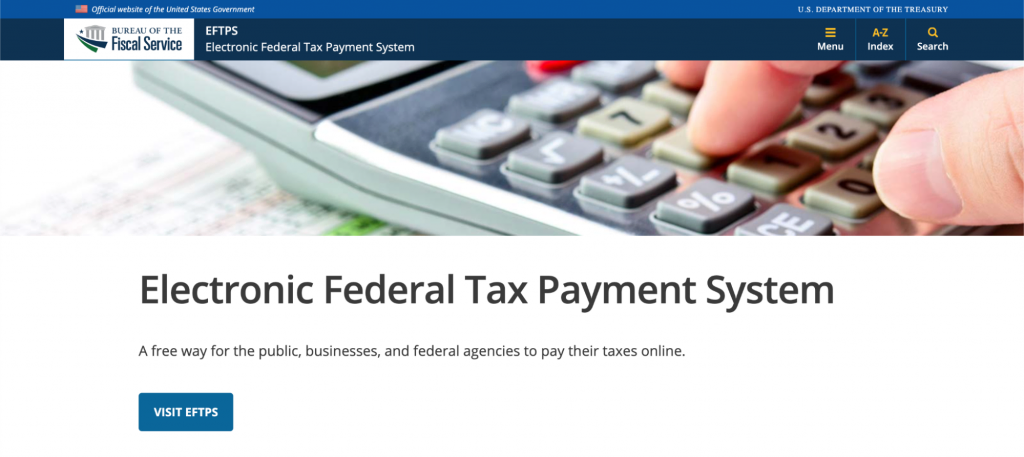 Short for Electronic Federal Tax Payment System (EFTPS), this website allows US citizens to pay taxes online. Users can sign up and schedule a payment in advance or arrange a same-day tax collection.
5 Types of eCommerce by Revenue Model
The following types of eCommerce are based on how the business operates itself and generates income.
1. Dropshipping
Dropshipping allows businesses to sell to consumers without having to deal with production, inventory, or shipping tasks.
If you want to start a dropshipping business, you will work with a third-party wholesaler and market their products online. When someone makes an order, you will notify the supplier to deliver the item to the buyer. If the sale is successful, you will receive a share of the profits.
This method generally has low startup costs. Getting started only requires a website and a partnership with a wholesaler. There is access to suppliers available on dropshipping directories like SaleHoo and Spocket.
That said, a common struggle is an inability to vet the item's condition before shipping it to the customer. Moreover, competition may be stiff for businesses selling a common product.
Dropshipping Example – Grafomap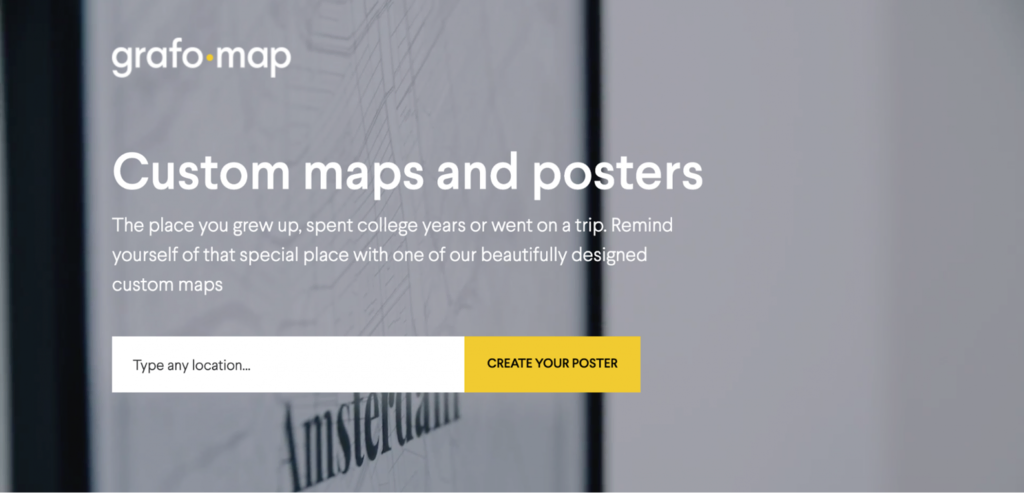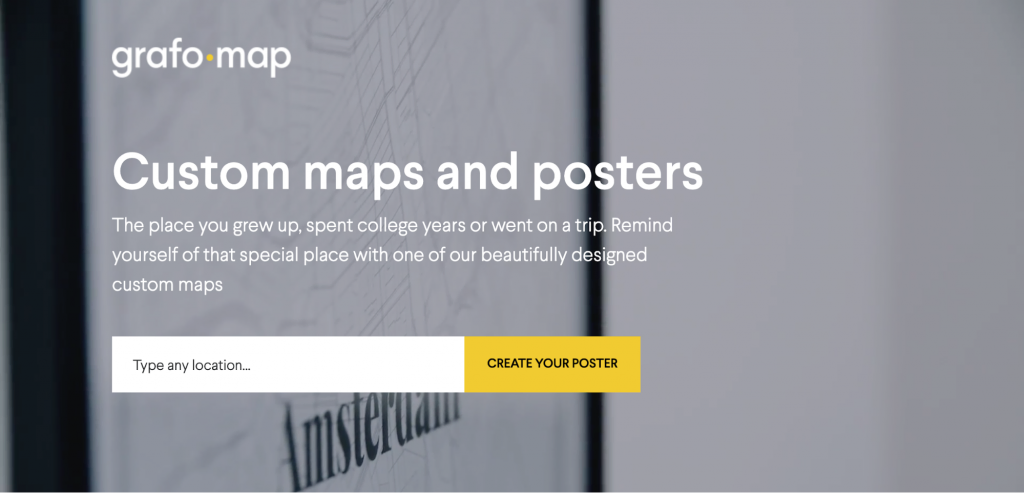 Grafomap sells prints using an on-demand dropshipping service from Printful. It enables customers to order custom map art using the design choices provided. Printful will then produce and ship their purchase to the buyer.
2. Wholesaling
A wholesaler purchases goods in large volumes from manufacturers and resells them to retailers.
Since they buy the items in bulk, they can get a discount from the supplier. To make a profit, they will sell the products at a higher price. The items are stocked to be sold to consumers.
A wholesaling business usually requires a warehouse space to store the items. The selling process can occur on their own website or a marketplace like Amazon, Alibaba, or Faire.
Though wholesaling typically falls under the business-to-business category, some suppliers are open to selling directly to consumers.
Wholesaling Example – S&S Activewear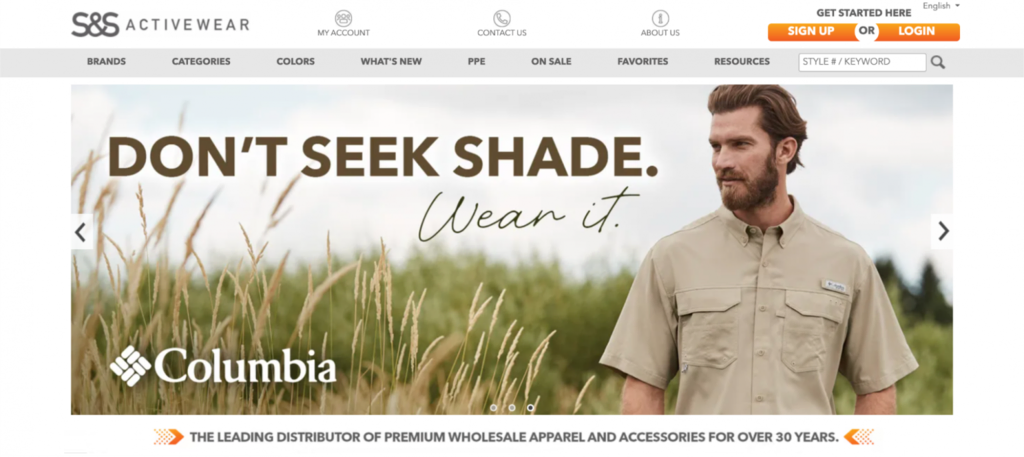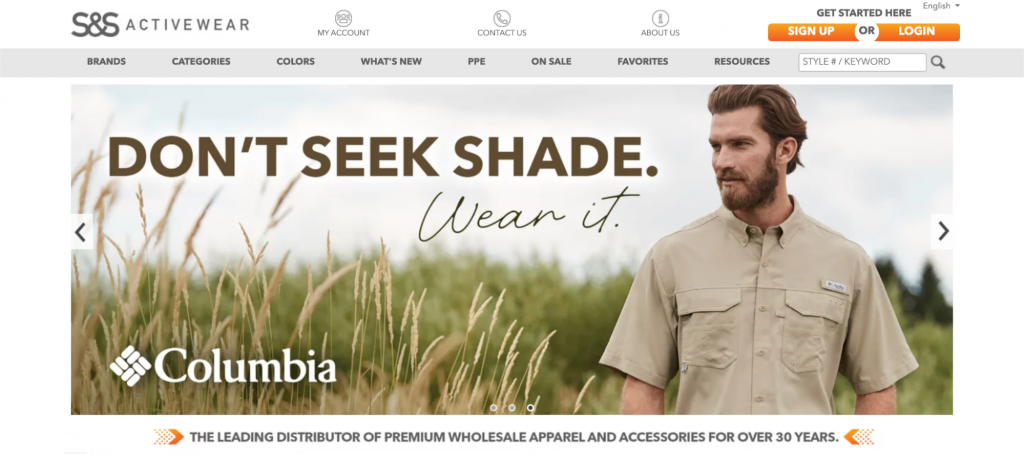 S&S Activewear is a wholesaling company that sells branded apparel to retailers. They also offer blank clothing for printing companies that make custom apparel for clients.
3. Private Labeling
A private label business works with a manufacturer to create a product using its brand name. The company will control the item's features, including its material, function, and packaging.
A benefit of private labeling is that the product can be unique from the rest of the market. That said, it's good practice to research the manufacturer first to determine whether they're capable of fulfilling your requirements.
Private Labeling Example – Zadiko Tea Co.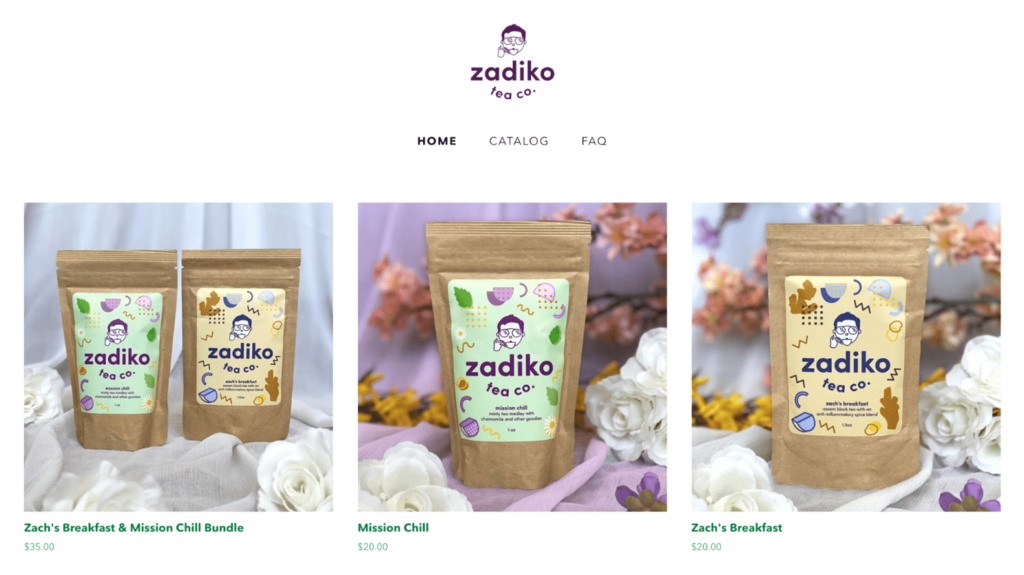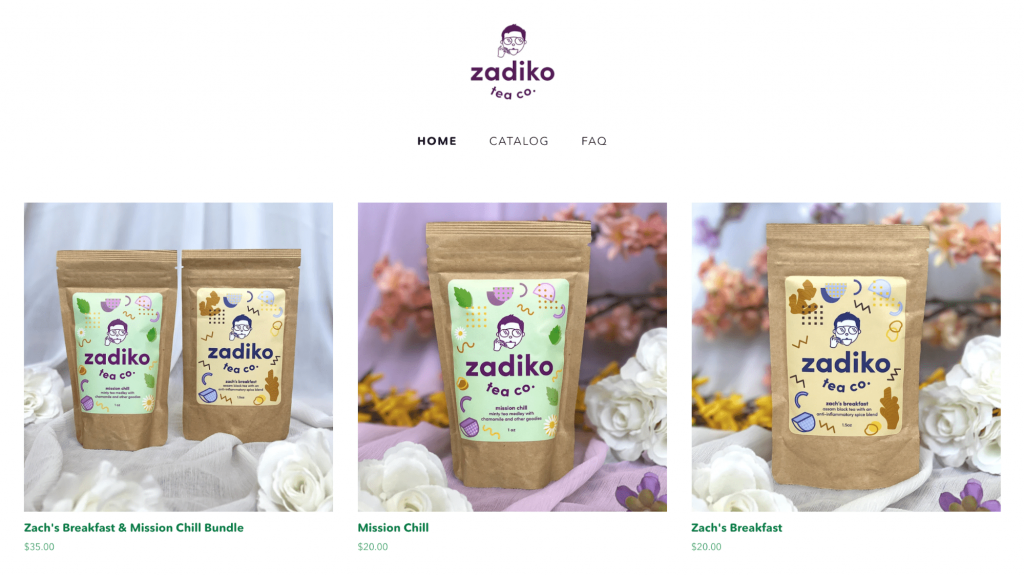 Zadiko is a tea company started by YouTuber Zach Kornfeld. He works with the manufacturer Art of Tea to create unique tea blends for his products and uses his own branding on his sales channels.
4. White Labeling
In white labeling, a company purchases a ready-made product line from a manufacturer and applies its own branding to sell them.
Unlike the private label model, the business doesn't have a say in the making of the item. Due to the lack of involvement, however, the production process is usually faster and more affordable. Once the items are ready, the company will store them in its own facilities.
Similar to dropshipping, competition may be intense if you're selling a popular low-ticket product.
White Labeling Example – The Chocolate Gift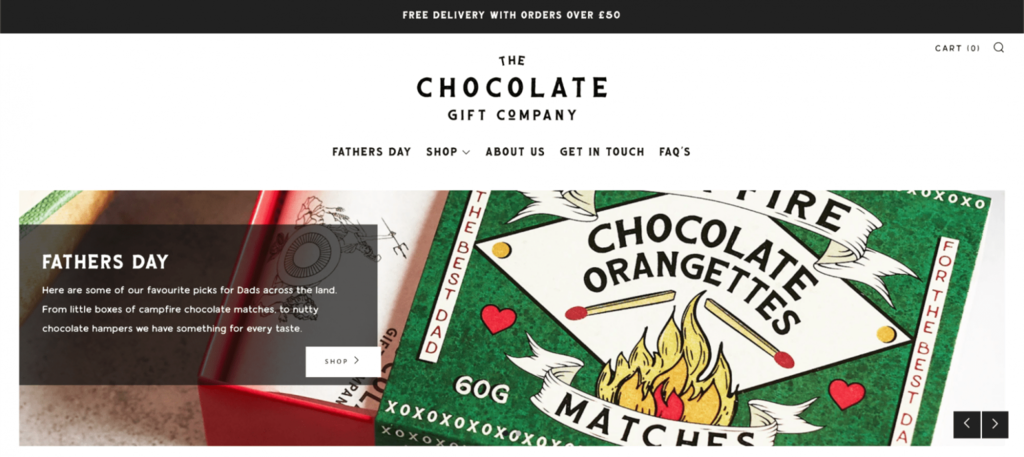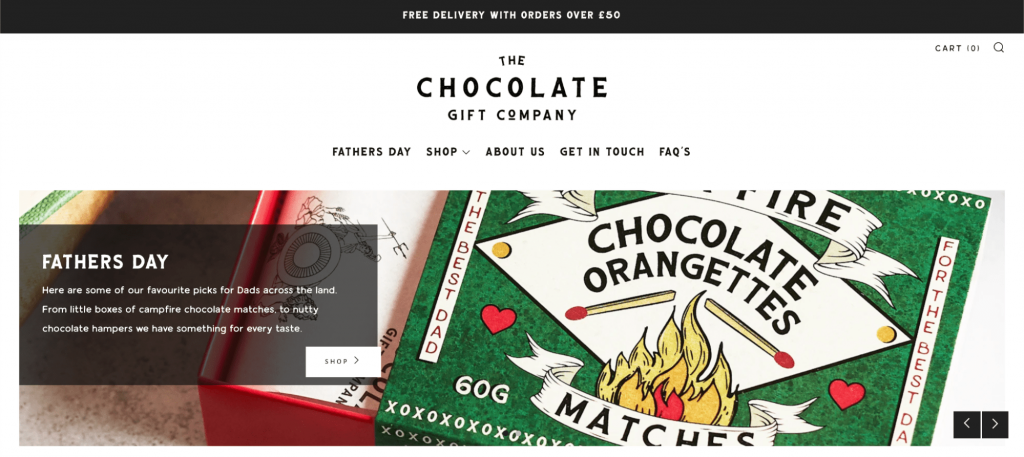 The Chocolate Gift offers white labeling services for businesses that want to resell their chocolate bars. Customers may order at least 240 items using a custom brand design.
5. Subscription Service
In this model, the business will provide a product or service recurrently to a consumer in exchange for periodic payments – usually weekly, monthly, or annually.
Subscription services can qualify as one of the following types:
Access. Customers can use a premium digital platform for a regular fee. Some businesses provide free access (freemium) with limited features to give potential subscribers a preview of the service.
Curation. The company will customize a product collection according to the buyer's preferences. In many cases, the individual may try the item and purchase it to keep. If it turns out unsuitable, they may send it back.
Replenishment. This subscription is usually for consumer packaged goods that people often purchase, such as groceries. A business will automatically restock these items to the customer according to their order frequency preferences.
This type of eCommerce model is growing in popularity, with over half of customers using multiple services. The most cited reasons include personalized experience, convenience, and value for money.
Subscription Service Example – Trade Coffee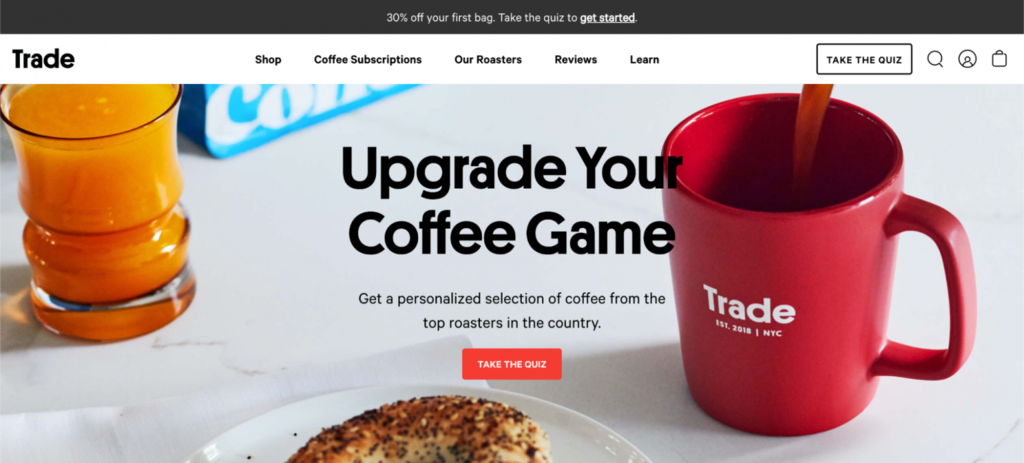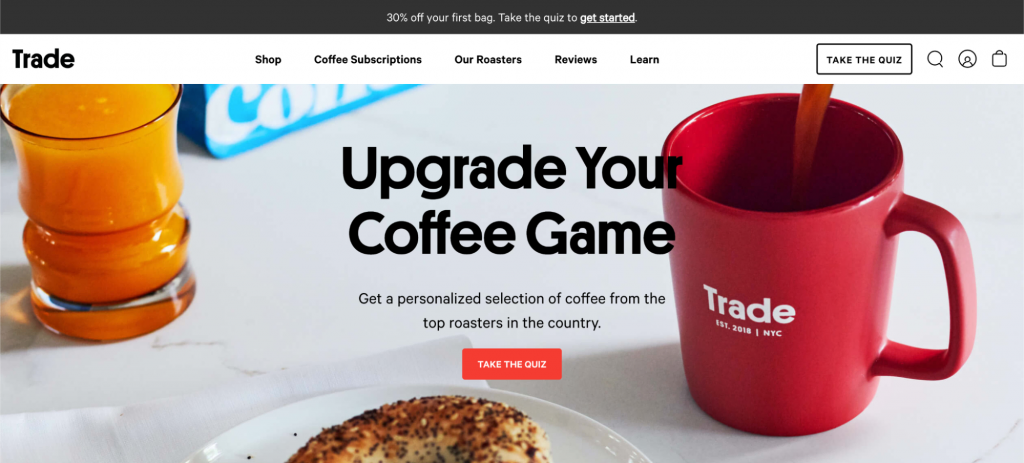 Trade Coffee is a subscription service that delivers a curated selection of coffee beans to its customers. To get started, users will take a quiz on the website to recommend what item to order. Customers can customize the order frequency or make it a one-time purchase.
Conclusion
In this article, we touched upon the different types of eCommerce based on their target audience and how they operate.


So regardless of what kind of business you want to open, from an online clothing store to selling your work online, we have provided some real-life examples to see what they look like in practice.
Here's a short summary of the aforementioned types of eCommerce business models:
Business to business (B2B). Companies that sell to other companies. Examples include Slack, a widely known business communication software.
Business to consumer (B2C). Its market is consumers who will use the products or services for personal use. This is the most widely known business model.
Consumer to consumer (C2C). Businesses that provide a platform for consumers to buy and sell from each other.
Consumer to business (C2B). Like the C2C model, such platforms are dedicated to connecting companies with freelancers or needing specific services.
Business to administration (B2A). Companies that provide products or services for government agencies.
Consumer to administration (C2A). Refers to all online transactions happening between consumers and government bodies.
Finally, a summary of types of eCommerce based on revenue model:
Dropshipping. Online stores that work with third-party suppliers in handling stock and shipping its goods to the consumer.
Wholesaling. Businesses that purchase and resell products in bulk to retailers.
Private labeling. Companies that partner with manufacturers to create custom products using their own branding.
White labeling. Using this revenue model, the brand will purchase a ready-made product line from a manufacturer and apply its branding before selling.
Subscription service. Businesses that receive recurring payments in exchange for providing products or services regularly to the customer.
Hopefully, learning the different types of eCommerce business models will help start your own business. If you have any more questions or suggestions, feel free to leave a comment down below.
Types of eCommerce Business Models FAQ
Can I Start an Online Business Without a Budget?
Technically, yes. Some eCommerce platforms offer their space and services for free. There are also hosting companies and domain registrars that provide free website hosting and domains. That said, free resources aren't ideal, as they lack resources and security features, and are often ridden with ads.
What Are the Best eCommerce Platforms for Beginners?
Some of the best eCommerce platform include:
PrestaShop ‒ a freemium open-source eCommerce platform with a variety of modules
WooCommerce ‒ a popular eCommerce plugin for WordPress
Shopify ‒ known for offering high-quality templates
Volusion ‒ a great platform for dropshipping