How to Start an Online Boutique in 6 Steps
Want to start a boutique business? You can now launch a clothing store without renting any retail space. Keep reading this article as we'll discuss how to start an online boutique in six simple steps.
1. Plan Your Online Business
First, make a business plan. It will help you to set up your online store. A business plan is essential to have if you plan on securing funds or loans from banks and investors.
Pro Tip
Before you launch an online store, it is beneficial to have a good idea of your initial costs. The good news is that you can learn how to handle your finances by conducting research online and enrolling in programmes. You should concentrate on the following points:
– Recognize your credit score.
– The various kinds of company loans.
– What is the best way to manage a budget?
Essentially, the plan should contain what your business is about, what its goals are, and how to get there. It should also cover aspects of your business operations, such as production, distribution, marketing, and so on.
As an online boutique owner, there are a few important elements you need to pay extra attention to in your business plan:
1. Define the Online Boutique's Brand
Your boutique's branding will determine how your business is run — from who the audience is, what products you sell, to how you market it.
To define your brand, begin by deciding the target market. For new businesses, it's better to cater to a specific demographic first before expanding your reach. By focusing on a small audience, you can maximize your business and marketing strategy.
Start by listing down your target market's characteristics, such as:
Location
Occupation
Gender
Age range
Income
Then do some more in-depth research to find out who they are. Look for aspects like personal motivations, buying behavior, likes or dislikes, and so on.
From there, create a customer persona based on your research results. This is a representation of your ideal target market, which you can use as a guide for building your online boutique's brand.
Next, think of the niche. Sticking to one area can establish you as a specialist.
If your target market is male office workers, your niche can be professional menswear. Or, narrow it down further by only selling certain accessories, like ties or messenger bags. You can also refer to trending products for inspiration.
Now that you have a great business idea, move on to the business name. It should be short, memorable, and easy to pronounce, so the name sticks in people's minds for longer. Not to mention, it must represent your online boutique's brand.
Other than that, it has to be available to register as a business entity in your region.
If the name is set, continue with creating your brand's visual identity, which includes the boutique's aesthetic, logo, packaging mockups, and so on. Make sure the design appeals to your customer persona.
2. Look For Source Inventory
Now, decide where to source items to sell as your products.
One important criterion to remember is that the suppliers' products should suit your boutique's style. If possible, request a sample so you can check the items' quality.
Some businesses purchase goods from a wholesale supplier through sites like Maker's Row or Alibaba.
Other stores might work directly with manufacturers, such as with Indie Source or Ever Shiny. With manufacturers, you can request to make a personalized set of products and mass-produce them.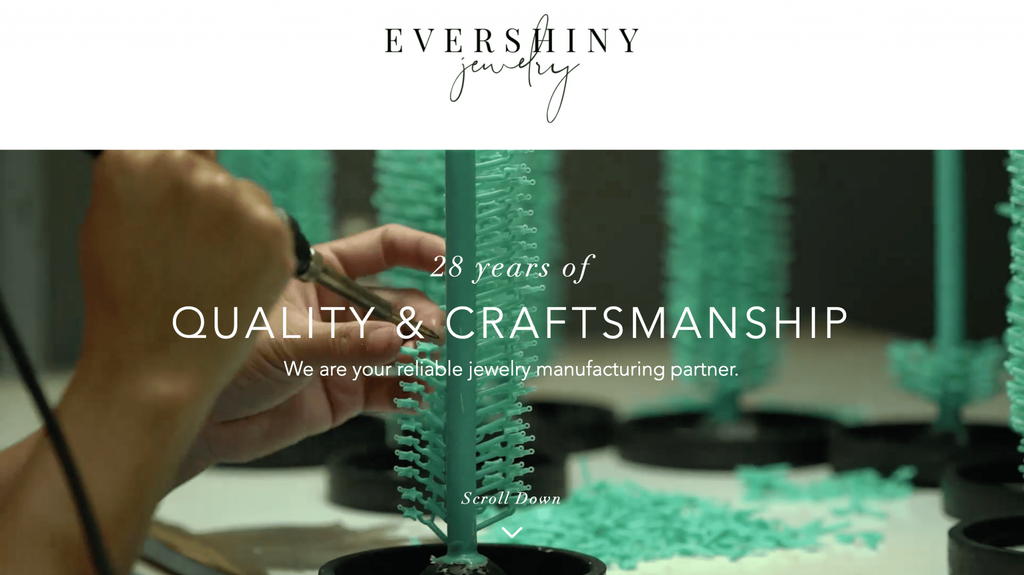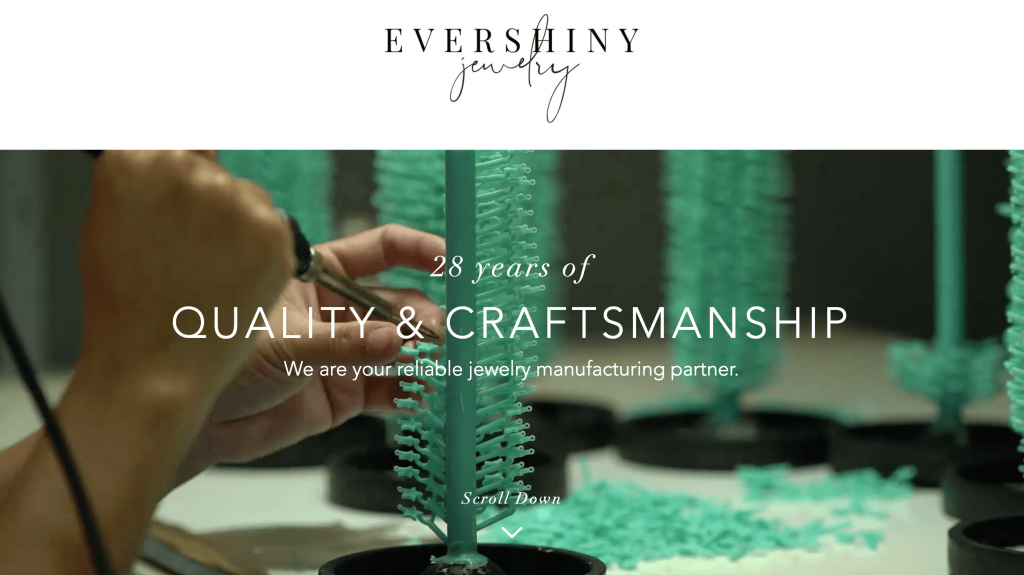 In both cases, you can cut down costs by purchasing the products in bulk. However, you'll need to store the products yourself.
Alternatively, you can eliminate inventory and production costs entirely by becoming a dropshipping boutique. Here, your store will be a middleman to connect your suppliers and customers. You can have the products named under your brand, but this depends on the supplier.
Salehoo and AliDropship are great directories to start if you want to find dropshipping suppliers.
3. Plan for Stocking and Shipping
If you choose the dropshipping route, you won't need to take care of inventory and shipping — they'll be handled by the suppliers.
In exchange, you have to be ready when answering various customer inquiries in case the quality has defects or there are shipping issues. Handling returns can also be more complicated, so you have to check with your suppliers.
On the other hand, working with a wholesaler or manufacturer will require you to handle the inventory yourself. Nonetheless, it'll be easier to keep track of your items and check their quality. Plus, there are ways to reduce costs.
One method is to store your products in your own living space. However, some regions might place some regulations on how much business inventory you can place in your home. If the amount of items you have exceeds the restrictions, you have to rent a self-storage facility.
As for shipping, there are many options. You can calculate the costs by weight or region, or apply a flat rate for all products regardless of the type. Be sure to do your research to see which one suits you best.
Also, make sure to have a clear return policy. Write down the time window for when customers can send back the items and when they can expect a refund. Include what counts as an eligible product for returns and a procedure on how to deliver the item back.
Or, if you don't want to deal with stocking and shipping, you can sign up with a fulfillment service. It will handle storage, delivery, and returns for you for a certain price. Some widely-used examples are ShipWire and ShipBob.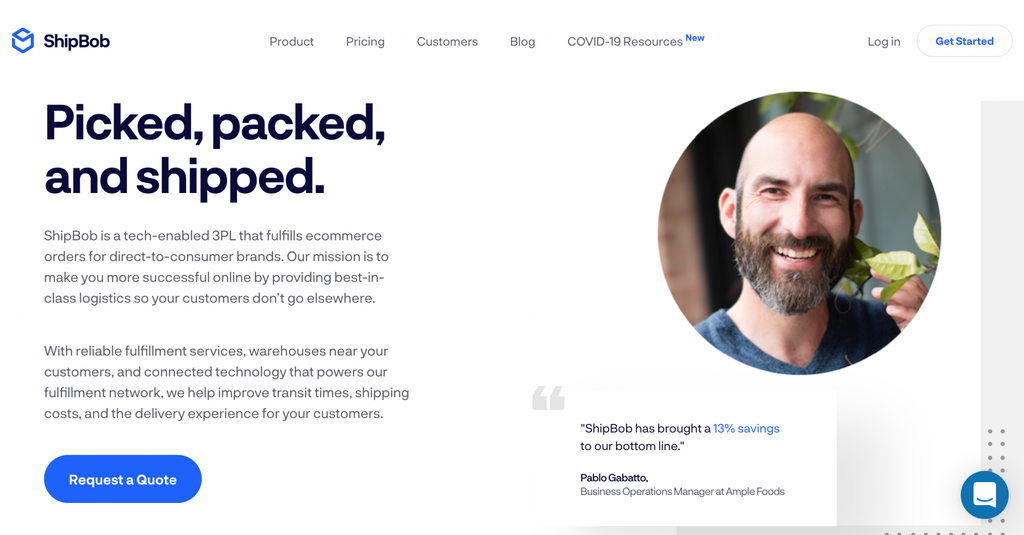 2. Register Your Online Boutique Business
Before officially opening for business, you need to take care of the necessary paperwork.
The documents you have to complete depends on where you live. Thus, it's a good idea to do thorough research and consult with a lawyer to complete this step.
Generally, you'll start by choosing a business structure. Most small business owners are recommended to register as a Limited Liability Company or LLC. This option will protect your personal assets in case of business bankruptcy or lawsuits.
Other than that, you might need to get a business and sales tax ID to collect and file taxes. Some regions also require obtaining a seller's permit before your business can be operated.
Once you've finished all the paperwork, you can set up your online boutique.
3. Create a Website for Your Online Boutique Using an eCommerce Platform
Though there are various ways you can build an online store, it's recommended to go with an eCommerce platform that lets you create your own website. This way, you'll have more control over monetization, design, and shopping experience.
Some popular eCommerce platforms are WooCommerce, PrestaShop, and Magento.
To help you make the right decision, we'll give a brief overview of each of them along with their pros and cons. Let's take a look: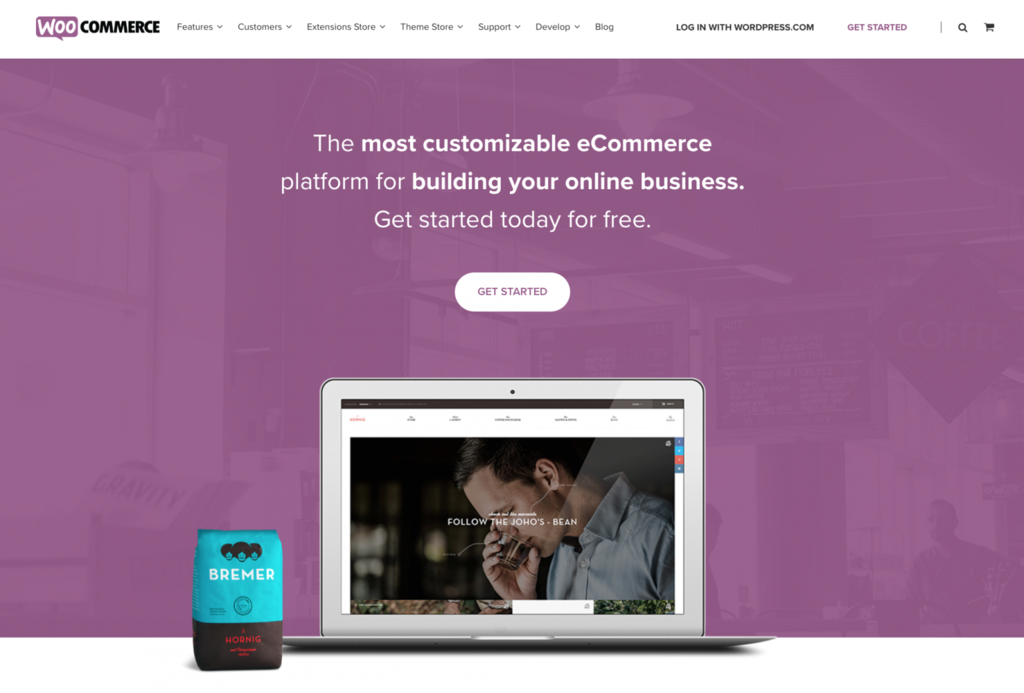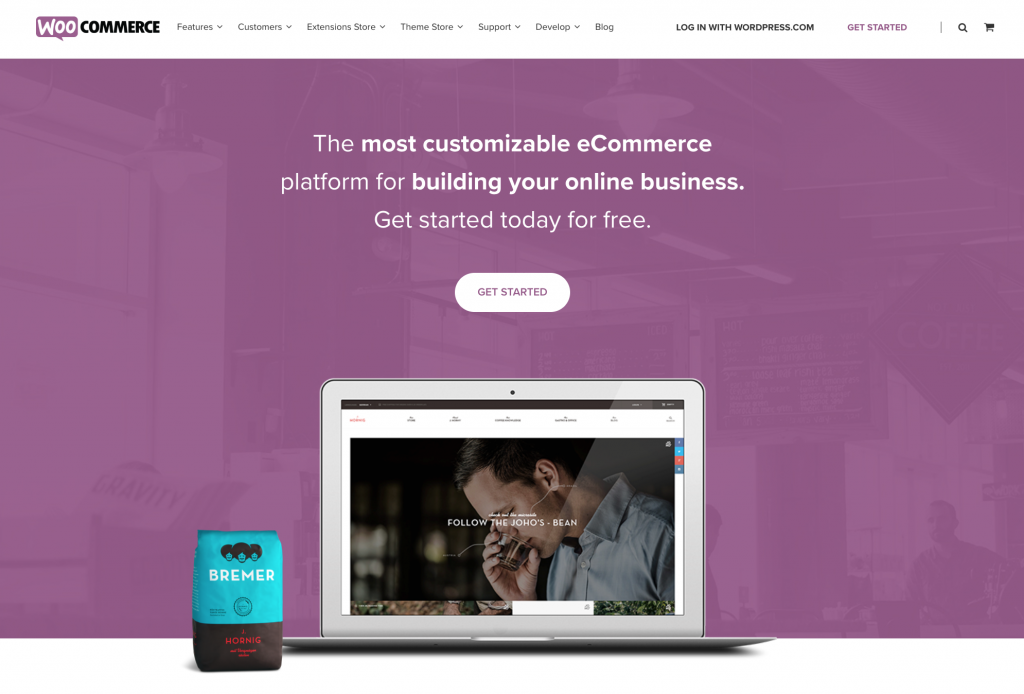 WooCommerce is a WordPress plugin that can turn any website into an online store. To use it, you need to have a WordPress website, which requires purchasing web hosting.
According to Built With, it's powered over 30,000 websites, which makes it one of the most widely-used eCommerce platforms to date.
Once the plugin's enabled, you can start building your boutique right away. WooCommerce will guide you through the steps and automatically set up the web pages for your store. The interface is also easy to work with, so you can manage your website with no hassle.
Pros
Free — you can use the plugin by itself without paying for anything. It already has basic eCommerce features, including payment processing and store analytics.
Extensible — WooCommerce has a vast extension collection you can use to personalize your online boutique. Furthermore, there are many third-party sites that offer premium options.
Available as a mobile app — so you can manage your eCommerce store when you're away from your desktop.
Cons
No live support — if you need immediate help from an official representative, you can only send them an email. However, their documentation is quite comprehensive and there are many articles online that can provide you with answers.
All in all, WooCommerce is a great choice to start with if you're a beginner. However, be ready to solve problems by yourself if you encounter any problems.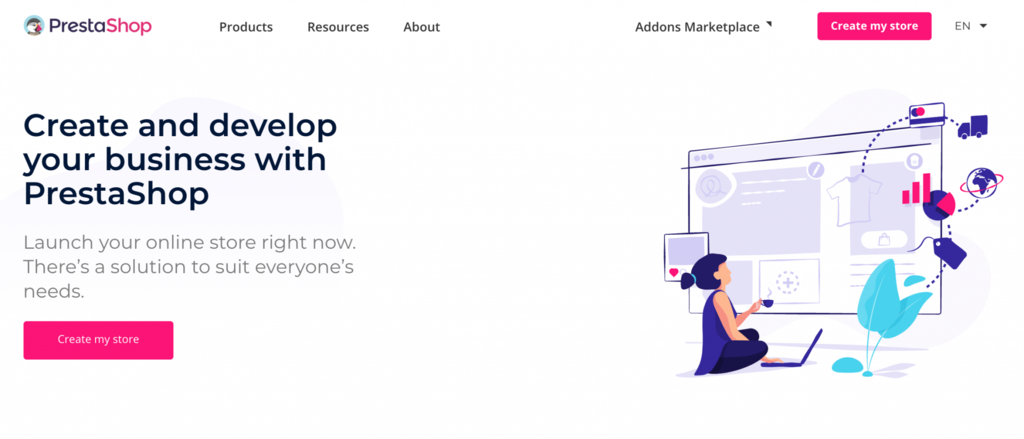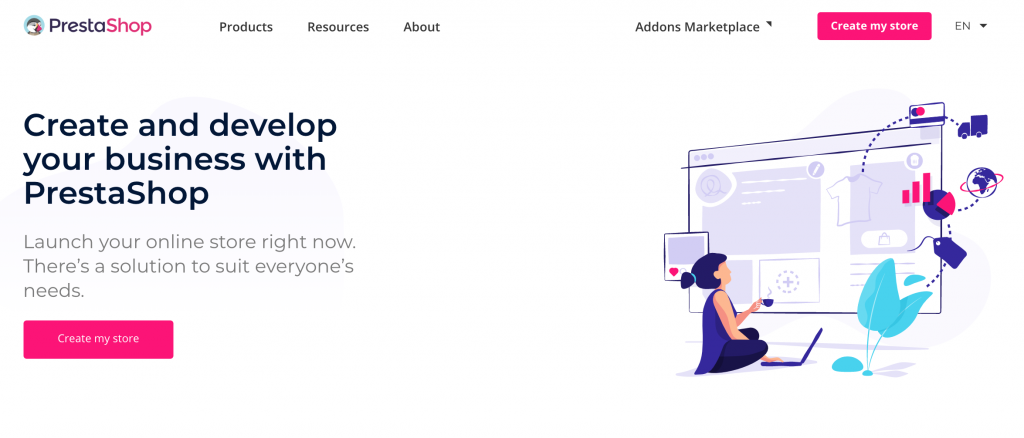 PrestaShop is a platform designed specifically for building online stores. Since it's open-source, you can download the software and install it onto your web hosting for free.
It comes with the most essential eCommerce functions, such as customizing store elements, managing orders, and handling customer queries. It also allows you to implement discounts upon checkout.
If you need to add extensions, you can find them at PrestaShop's marketplace.
Pros
Localization features — change your store settings so that it's accessible to various countries. You can also enable language translations, multiple currencies, and regional tax rules.
Built-in SEO functions — customize your products' meta tags to increase their exposure in search results.
Comprehensive analytics — the Stats menu recaps various aspects of your online store, from the best-selling products, newsletter registrations, to traffic sources.
Cons
Premium support plans — if you need direct assistance, you have to purchase one of their support packages.
Pricey extensions — there are only a few free modules and themes available.
Like WooCommerce, PrestaShop is quite powerful on its own. Nonetheless, it might not be the best choice for those who are budget-conscious.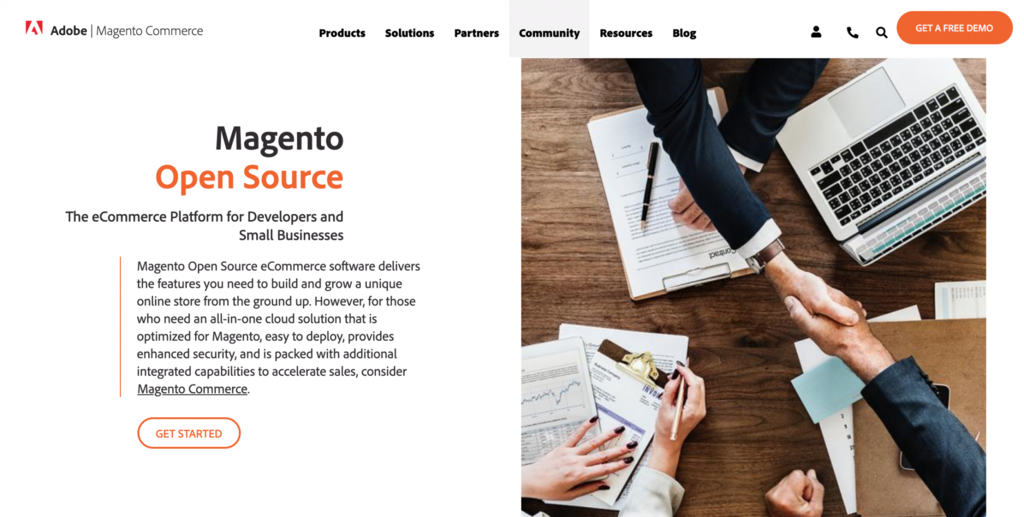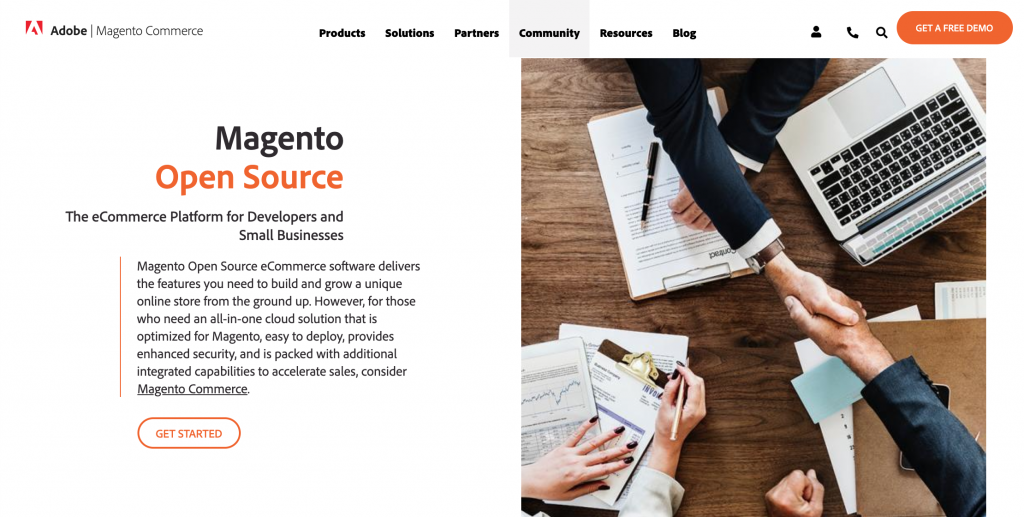 Magento is typically used by large businesses, but companies of any size can utilize the eCommerce platform.
There are two Magento versions — Open Source and Commerce. The first one is free to download and can be installed in your own web hosting, while the latter is a premium hosted version. Both use the same software.
The Commerce version has more features, but the Open Source version is quite robust. It lets you create a customizable mobile-friendly store with integrated payment and checkout. Not to mention, it has various functions for selling products to international customers.
Pros
Customizable — the software offers various settings to configure your eCommerce site, from shipping methods, tax calculation, to catalog management.
Extensible — Magento has over 5000 extensions in their app marketplace, so you can scale up your boutique any way you like.
Built-in site search feature — set up a search bar on your online store with ElasticSearch so visitors can quickly find what they're looking for.
Cons
Steep learning curve — compared to the other two, you might need some developing skills if you want to maximize this platform to its full potential. Some beginner-friendly features like the Page Builder are also limited to the Commerce version.
Generally, Magento is a great choice for making online stores of any scale. However, you should hire a web developer if you plan to use the platform in the long run.
Or, take some time to learn to code yourself. Magento's knowledge base and support forums can help you along the way. Plus, the payoff can be worthwhile once your boutique gets bigger.
No matter the platform, make sure to pick one that suits your priorities and preferences best. If you're looking for an affordable and user-friendly option, WooCommerce should suffice. On the other hand, Magento is great for those who want a long-term solution.
Once you've made a choice, purchase an eCommerce hosting service. Hostinger has affordable plans optimized for WooCommerce, Prestashop, and Magento.
Get a domain name as well. You can use your business name as a domain, but make sure it's available to register.
4. Customize Your Online Boutique Website Design
The easiest way to design your website design is with a theme. When finding an eCommerce theme, make sure it is:
User-friendly — visitors should be able to navigate through your store easily, so they can make a transaction right away.
Responsive — mobile users make up about half of the internet traffic. Thus, your store design should be able to cater to those visitors.
Reflective of your brand — choose a theme that is consistent with your brand design. Or, pick one with customizable appearance settings so you can easily tinker with the theme.
There are many places to look for eCommerce themes.
For WooCommerce users, you can use any theme in the WordPress directory that can integrate well with the plugin. Alternatively, WooCommerce has some free and premium templates.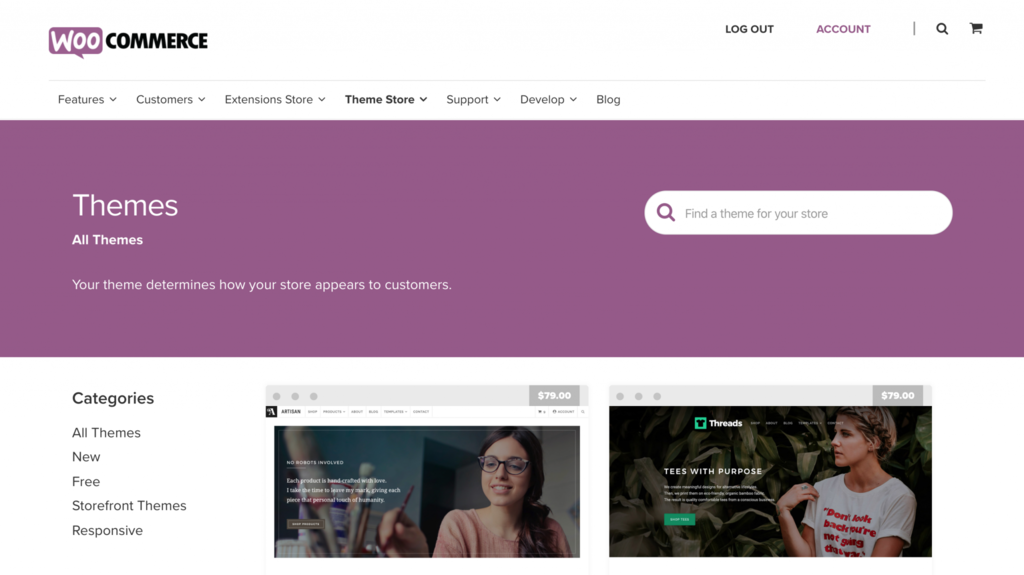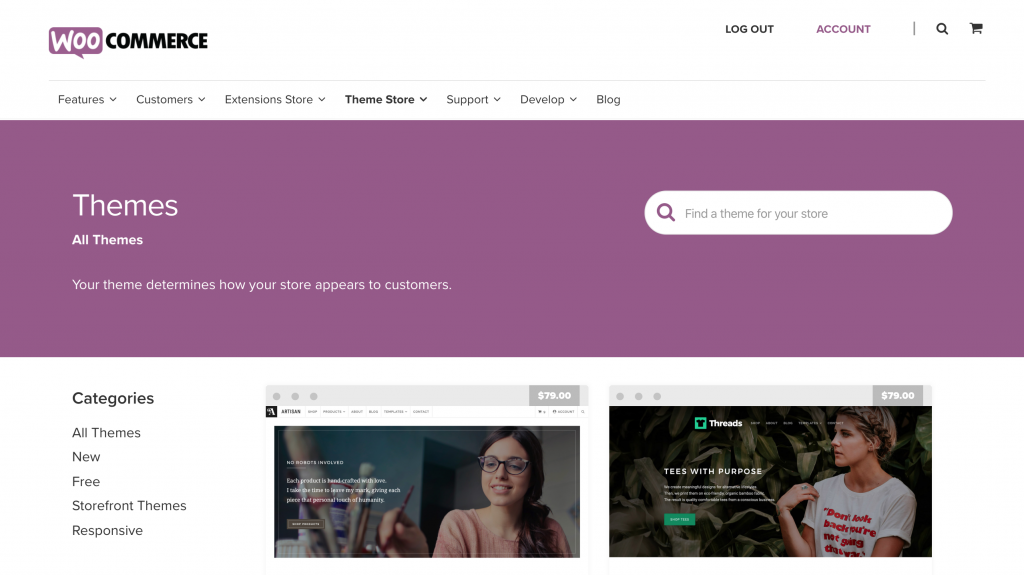 As for PrestaShop, its marketplace offers plenty of choices. There are also sites like PrestaBrain that provide templates optimized for the platform.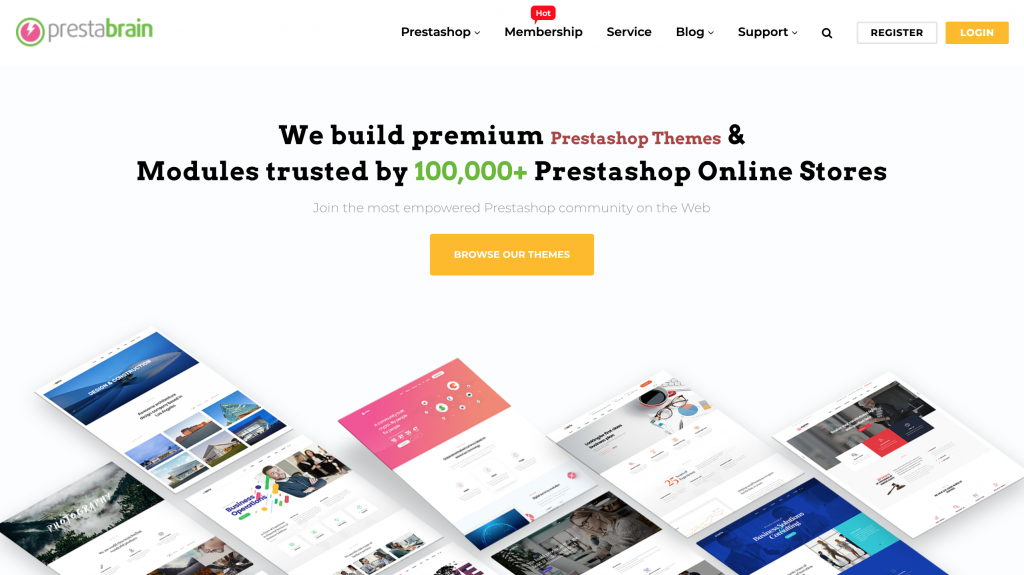 Magento's theme selection isn't vast, but you can find more options on sites like ThemeForest and TemplateMonster. They also have a large selection of WooCommerce and PrestaShop templates.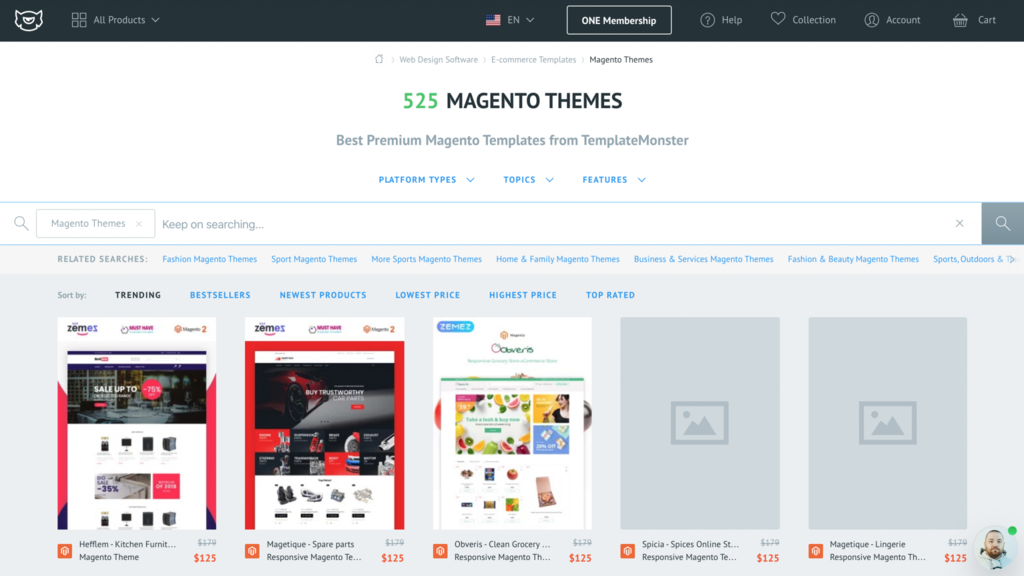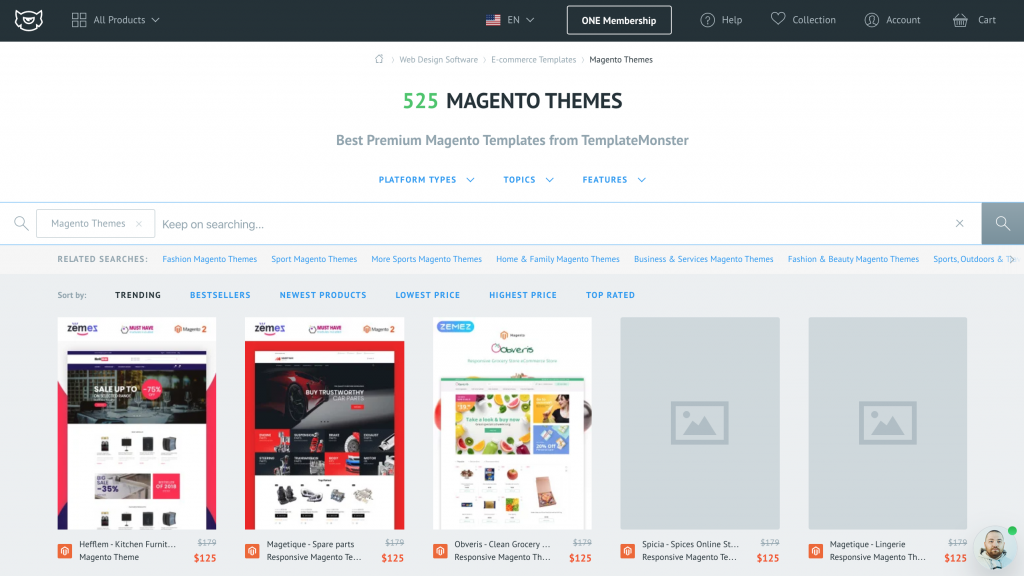 If you already pick a theme, start configuring your overall site design. Add your brand name and logo on the header to mark your store as your own. Then customize the color, typography, layout, page elements, and so on.
Once that's done, move on to the next step.
5. Set Up Your Online Boutique Website
Time to set up your online store. For this section, we'll use WooCommerce as an example to give you an overview of the most essential steps.
1. Add Your Products
To create your first product, go to Products -> Add New on your WordPress dashboard. You'll be redirected to a page that looks like the default post editor screen. Here, you can insert the product name and description like so:
On the right side of the page, select the tags and categories for the product. You can also set the Product image or upload multiple pictures to the Product gallery to show off the product from various angles. Make sure to use high-quality photos.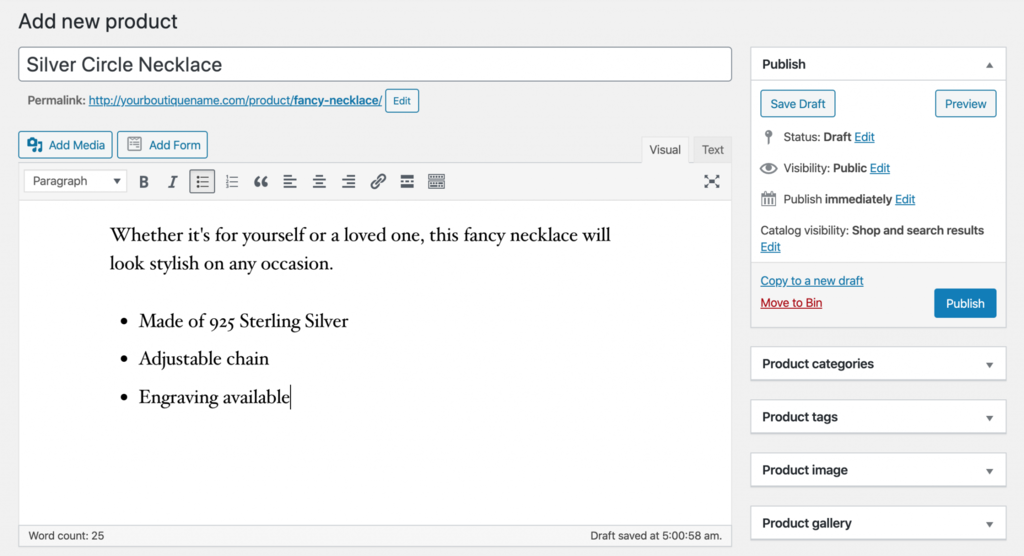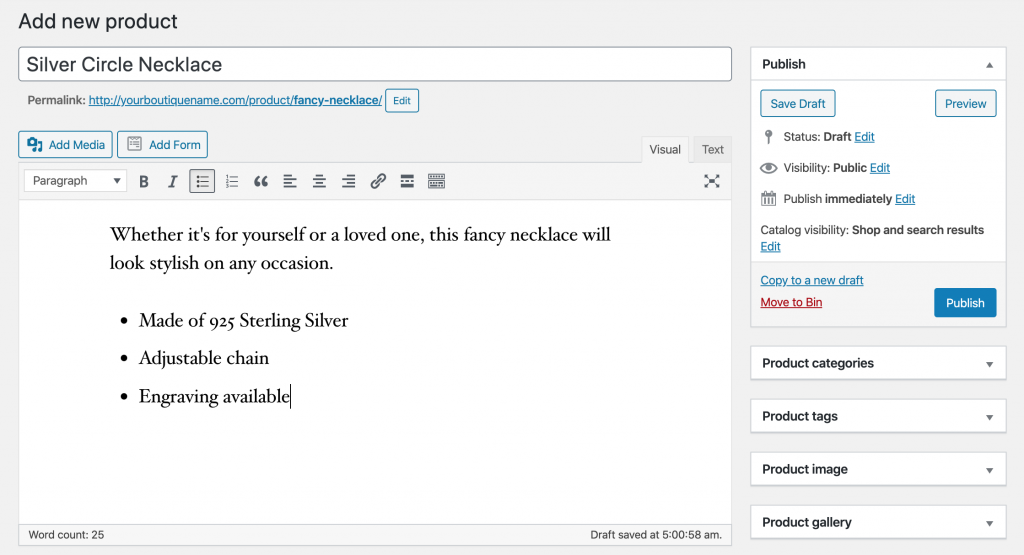 If you scroll down, you'll find the Product data section to insert the price, inventory details, shipping methods, attributes, and more.
There is also a box to insert a short description that will appear on the product page.
When you're done, press Preview to see how your product looks. If everything looks good, click Publish, or Save Draft if you're not ready to make the item public.
2. Configure the Product Page
The product page is where all your items are displayed. How organized and attractive it looks can determine whether visitors should explore your site further.
With that, we'll show you a quick tutorial on how to set up your product page on WooCoomerce.
If you go through WooCommerce's Setup Wizard, the plugin will create a Product page called Shop for you. However, if you skip the setup, here's what you need to do:
Go to your dashboard and select Pages -> Add New.
Name your page in the Title bar. You may call it 'Products,' 'Shop,' 'Store,' or other equivalent options.
Click Publish.
On the left menu, go to WooCommerce -> Settings and head to the Products tab.
In the Shop page field, select the page you have just created.
Press Save Changes.
To edit the product page, click Appearance -> Customize from the dashboard. Then select WooCommerce on the left menu bar and go to the Product Catalogue.
Here, you can choose to display products or categories, customize how they are sorted, and determine how many products should be displayed on one page.
Once you're done, go back to the previous menu and select Product Images. Select which ratio you want the product pictures to be displayed in.
When customizing your product page, be sure to let your items shine. Consider these tips if you need some guidance:
Make it clear — don't overcrowd the page with too many products. It could ruin the viewing experience.
Be descriptive — when naming your product, make sure shoppers can understand what the item is and what it does.
Use extensions — for instance, add-ons like Quick View can let visitors see what an item looks like without leaving the product page.
3. Set Up Payment Processing
With an online business, you'll need a secure payment gateway to process funds from customers.
One popular option is PayPal. Since it's widely used, using PayPal would make your store accessible to many shoppers. Plus, it allows users with no PayPal accounts to pay with a credit card instead.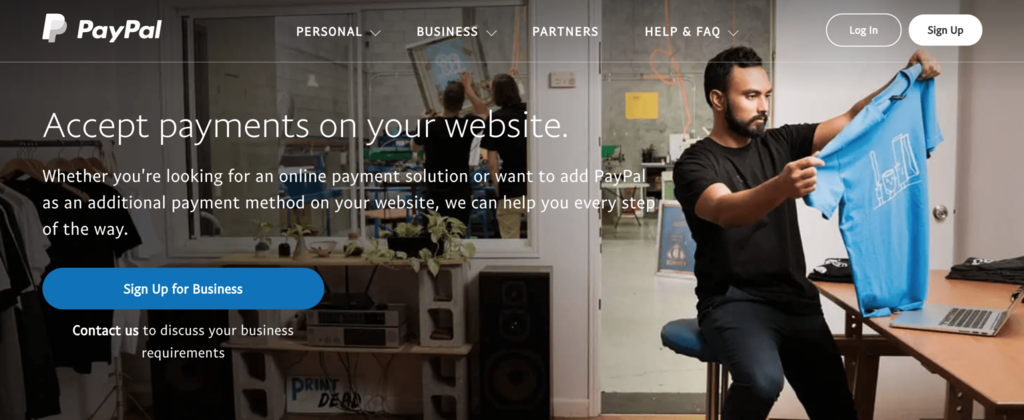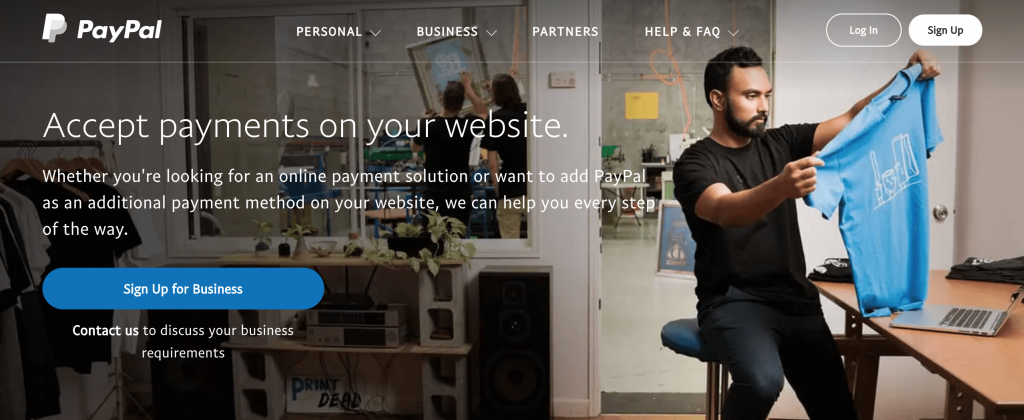 You will have to pay a small percentage of each payment along with some fixed fee, which will depend on where you live. However, you won't get any monthly charges, which is great when you're running a small business.
Another option is Stripe. It accepts multiple currencies and digital wallet payments such as Apple Pay and Google Pay. It also has various tools you can use to personalize the payment process. Nonetheless, you will need some technical knowledge to manage it.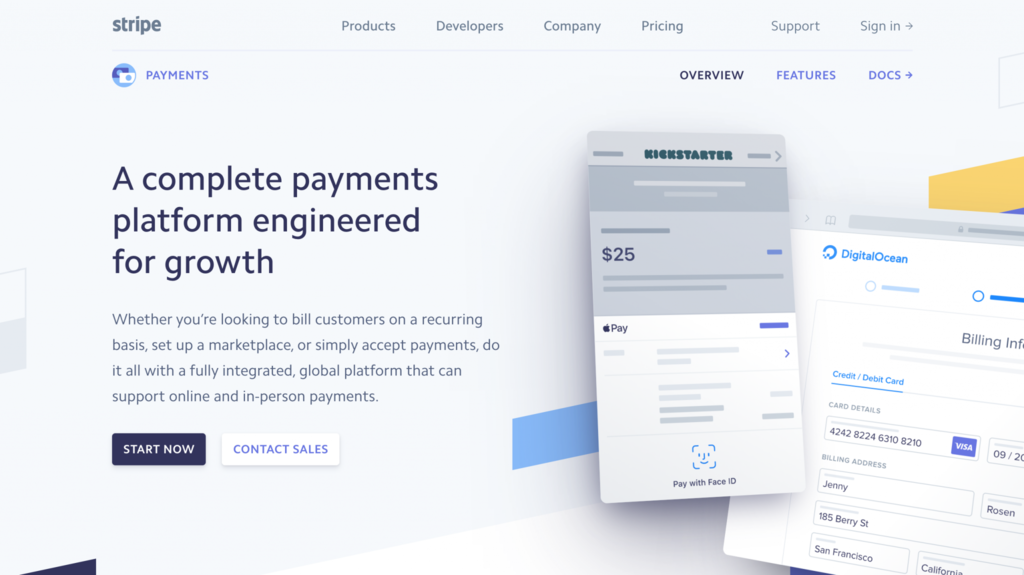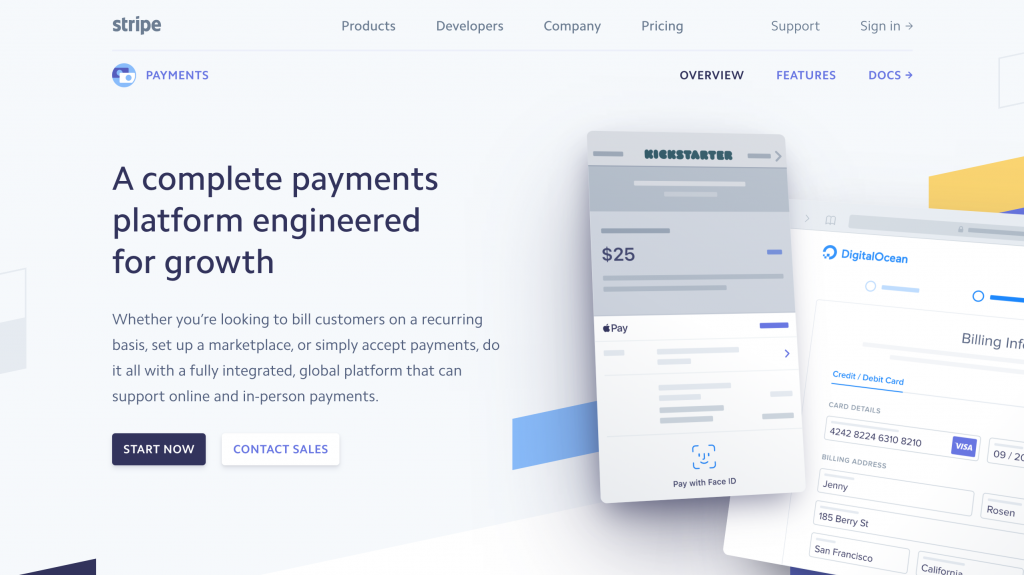 Stripe offers two plans — Integrated and Customized. The first one charges 2.9% plus a fee of 30 cents per payment, and there are additional costs for international payments and other features. Meanwhile, you can design your own custom package with the latter option.
On WooCommerce, you can set up PayPal right away. Go to WooCommerce -> Settings from the dashboard and select the Payments tab. Click on the Enabled button for PayPal.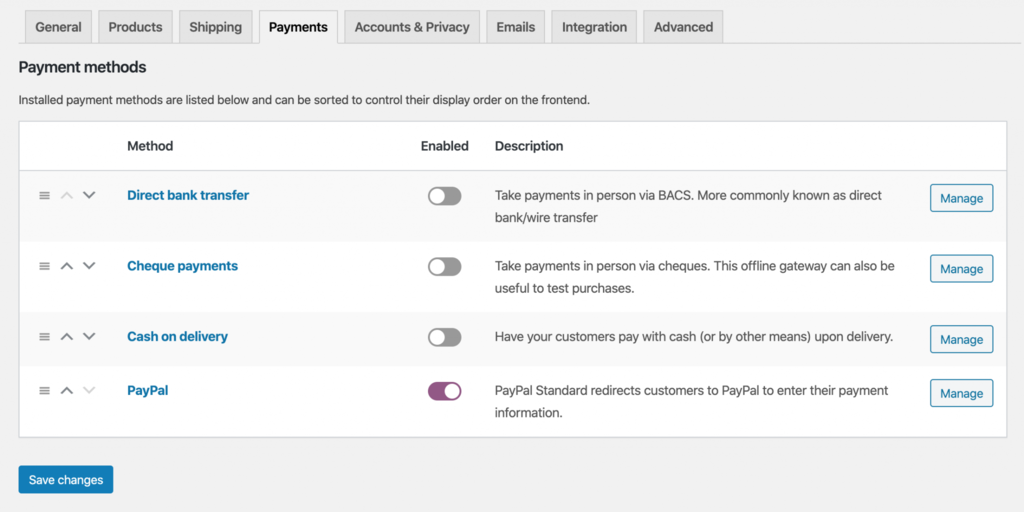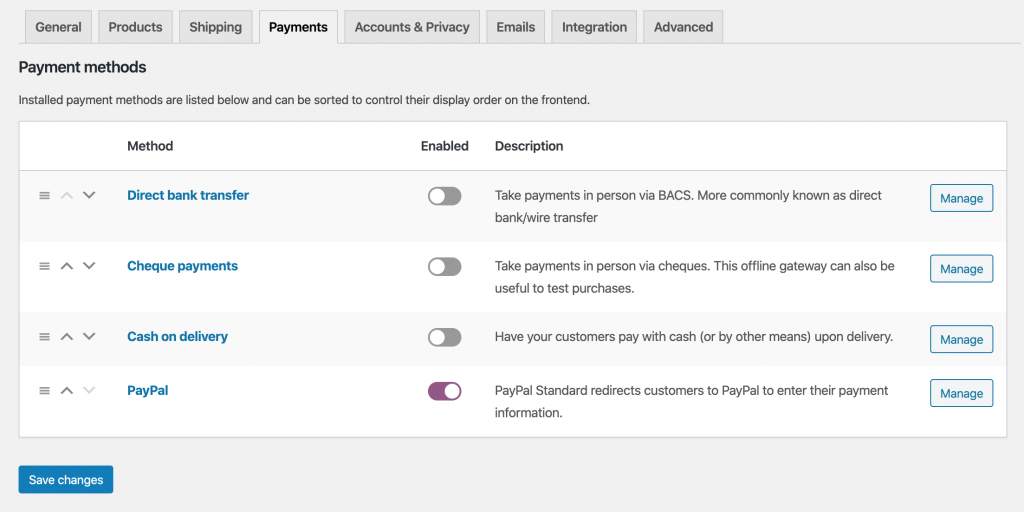 To configure the payment settings, click Manage. Insert the Title, Description, and your PayPal email. Modify the Advanced Options below if needed. Press Save changes when you're finished.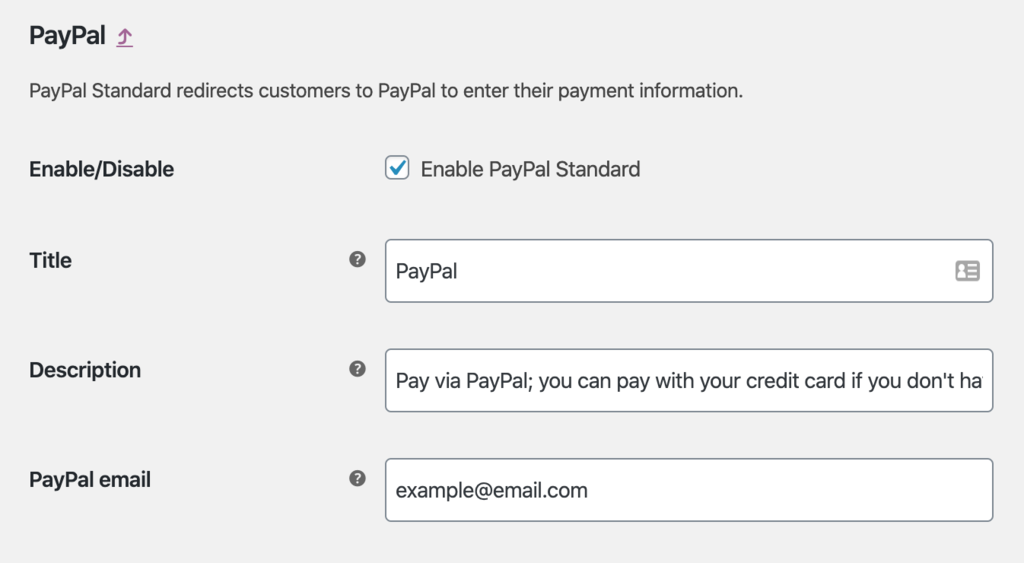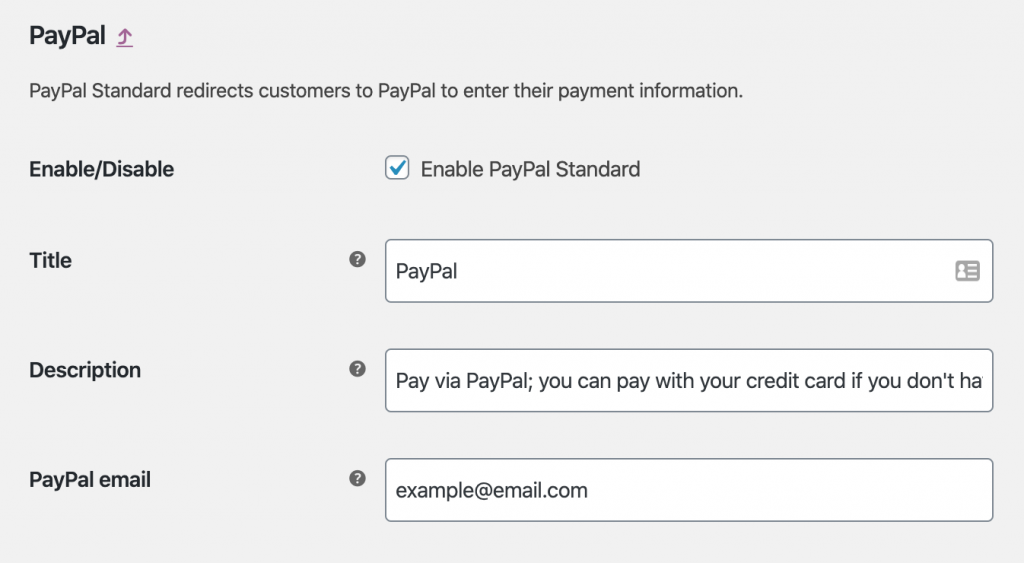 If you want to enable Stripe, you need to use an extension. After installing, you can set it up from the same Payments tab in WooCommerce -> Settings.
Now that you've gone through the essential steps, finish setting up your online store. Make sure to run a few tests, proofread the copy, check for errors, and so on. Once it's ready, you can officially open for business.
6. Promote Your New Online Boutique
Now, let's spread the word about your new online boutique. Two of the many channels you can use to market your business are social media and paid advertising.
Social Media
Social media networks have largely contributed to marketing in the fashion industry. With that, it's a no-brainer to take advantage of these platforms for your own boutique.
Create Social Media Content
There are many ways you can promote your boutique through social media content. You can:
Post photos of your products
Display positive reviews from customers
Repost customers' pictures wearing your items
Include relevant and trending hashtags to give your posts more exposure
Show behind-the-scenes shots
For your content to succeed, you need a solid plan. Here are some tips for you to get started:
Choose a suitable platform — since you work in the fashion industry, you need a social media network that highlights visual elements, like Instagram, Pinterest, and Facebook.
Sign up for a business account — this will enable features for advertising your products and reaching out to more audiences.
Create a posting schedule based on your audience behavior — use your platform's analytics tools to find out when your audience is most active.
Make your profile appealing — for instance, you can create a color-coordinated feed on Instagram, like Oak + Fort's page.
Set up an engagement strategy — you can use humor in the captions, make polls, create giveaways, and so on. Or, follow Nike's footsteps by posting motivational content, like in this example: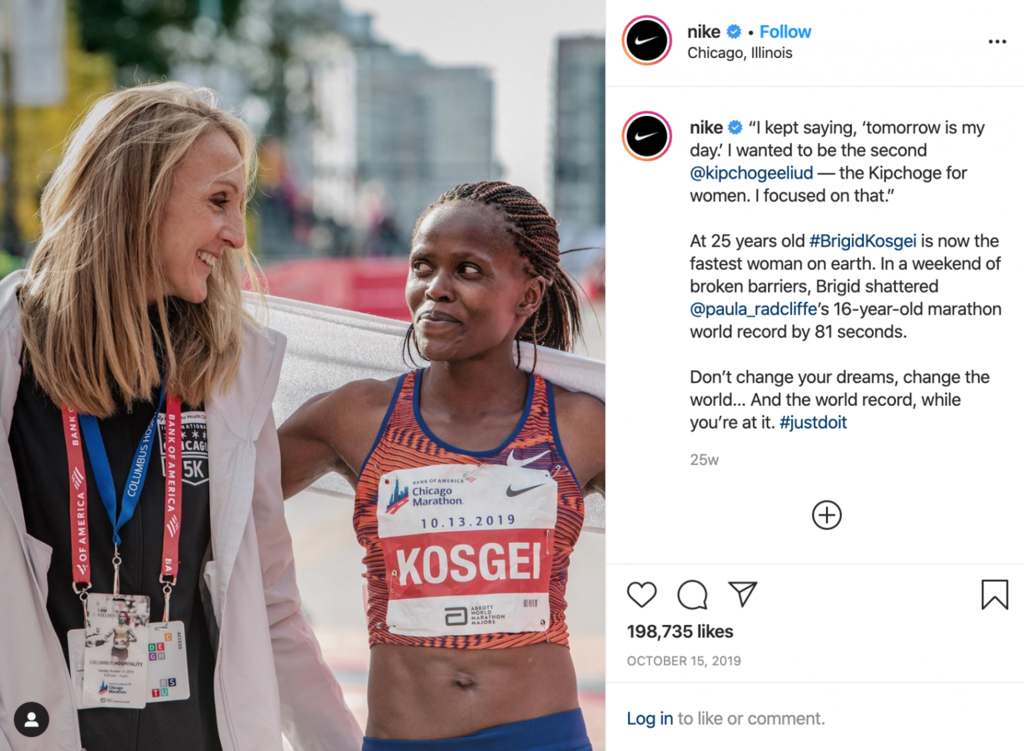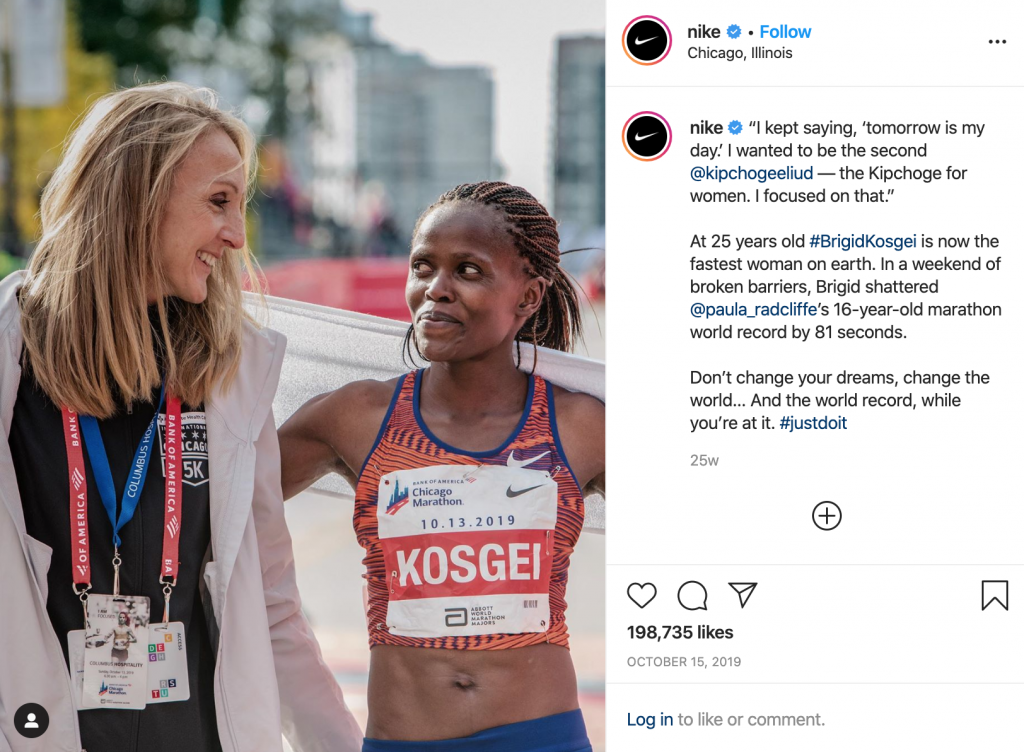 Reach Out to Influencers in Your Niche
With a large and loyal follower base, social media influencers can promote your brand to a wider audience.
Plus, they can get you a high return on investment if done right. Influencer Marketing Hub found that businesses make about $5 for every $1 spent on working with influencers.
When you're starting out, you can offer them a free product or a discount code in exchange for exposure to your brand.
If you want to give influencer marketing a try, you can:
Look for people who suit your boutique's style — they are more likely to give you positive reviews and vouch for your brand to their followers.
Work with micro-influencers — they might not have the largest fan base, but their high audience engagement can bring in more conversion rates.
Create a brand ambassador program — this will allow you to work with them for longer, so they can promote your brand any time if needed.
Paid Advertising
For newcomers, online advertising can be a bit tricky to understand. However, it can bring significant exposure to your business when done right.
Google Ads is the most well-known online advertising platform. To use it, you have to purchase ad space on the search engine results page for a certain keyword. The ad will be positioned on top of the organic search results.
You can set the ad to direct visitors to your website or a landing page.
Then you will set a bidding amount into the ad auction, which will determine whether your ad is displayed.
How your ad wins the auction depends on the bid, relevance to the keyword, and the additional information included. Thus, you need to come up with a good strategy before you start.
Social media platforms like Facebook and Instagram are also major players in the online advertising industry. They have Audience Insights tool that can reveal information about your target demographic and let the ad show up on feeds of users who fit the bill.
7. Fine-Tune Your Online Boutique
Managing an online store is a continual process. Here are some more tips for improving your boutique:
1. Secure Your Website With an SSL Certificate
Without implementing the right precautions, online businesses can be at risk of cyberattacks. Not only can hackers gain access to your website, but they can also acquire your customers' sensitive information — including payment details.
Nonetheless, there are simple measures you can take to secure your website, such as by using an SSL certificate.
Short for Secure Sockets Layer, it uses an HTTPS protocol to encrypt all the data transferred between your website and your visitors' browsers. It will also tell browsers that your website is legitimate, so users can explore it safely.
The tell-tale sign of an SSL-enabled website is if the browser shows a lock icon next to the website's URL in the address bar. If you click on it, it will say that the Connection is secure.
Another benefit of using an SSL certificate is that your search ranking can improve since Google prioritizes SSL-enabled sites.
Here at Hostinger, all our eCommerce plans come with a free SSL certificate, so your online boutique will be secure from the get-go.
2. Set Up Web Analytics
Web analytics tools are great for overseeing your online boutique's overall performance. It can tell you what strategies are working and what aren't, so you can optimize your site for better sales.
Google Analytics is a great application for this. Not only is it free, but it's quite robust. It can display various data about your visitors — from traffic sources, the number of visits, to bounce rates.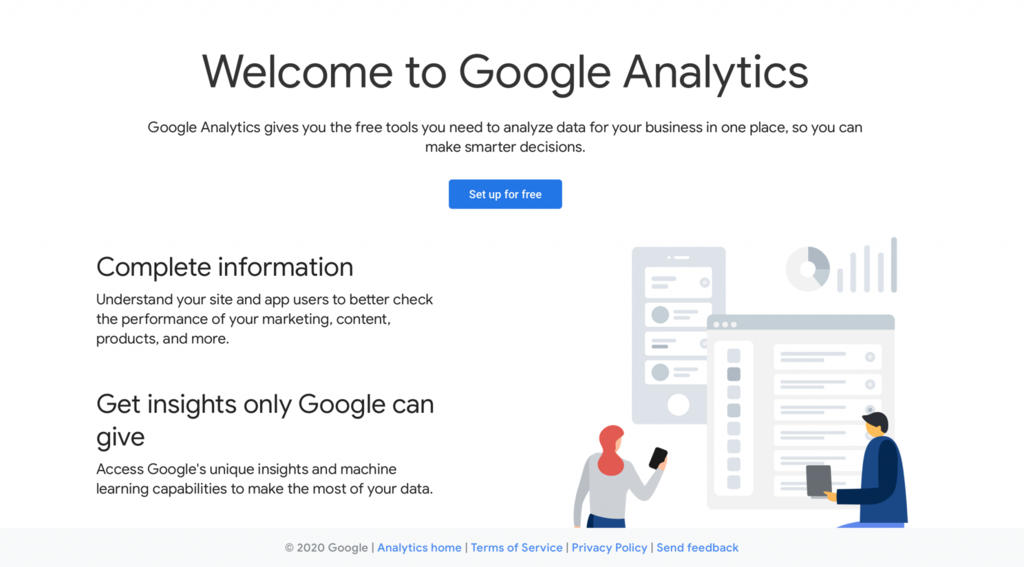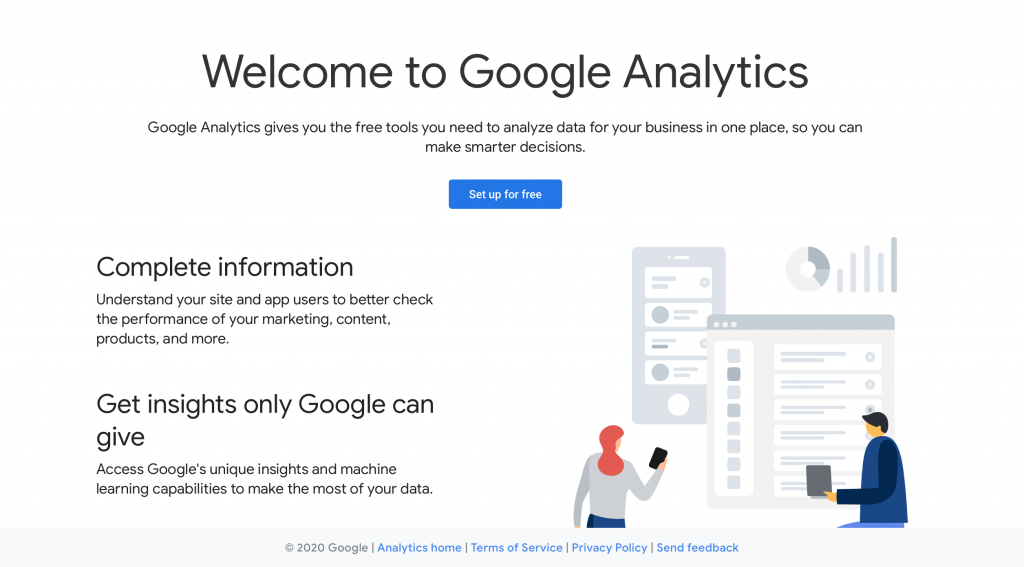 To use Google Analytics, you need to sign up and add your website as a property. Then you'll be shown a Tracking ID, which you have to add to the <head> tag to your website's code to connect your store with the application.
Take Care of Your Customers
One way to ensure customers keep coming is by offering excellent service. Today, many people prefer to share a positive experience with a company online, which can generate new buyers in the future.
Here are some ways to improve your boutique's customer service:
Be responsive — research shows that timely responses are an important aspect of a good customer experience. Make sure to set your notifications every time someone contacts you through your website, email, social media, and other channels.
Offer promotions — such as free shipping or discount codes.
Design personalized packaging — this will make your customers feel special and increase your brand's memorability.
Conclusion
Thanks to the internet, starting an online boutique no longer requires a retail space. Online services like web hosting and eCommerce platforms have made it possible to make money online with ease.
In this article, we've discussed how to start an online boutique in six steps, which are:
Plan your online business
Register your business
Create a website with an eCommerce platform
Customize your website design
Set up your online boutique
Reach out to your audience
As long as you provide the best shopping experience for your customers, your online boutique will be successful. Good luck!