How to Start a Food Blog in 2023: A Comprehensive Guide for Beginners
These days, food blogs are all the rage. If you are a foodie who wants to become a food blogger, you're in the right place.
While starting a food blog is a huge undertaking, this article will help you get started and learn the basics of how to start a food blog.
We will cover how to build a website and create content for it. In addition, we will also give you some tips and tricks on how to grow your food blog.
Without further ado, let's get started.


How to Start a Food Blog – Step-by-Step
There are two major aspects all food bloggers need to take care of before starting a food blogging journey – the technical aspect and the core concept behind the blog.
First, let us walk you through the technical details you must learn before you start building your site.
1. Choosing a Platform to Build Your Website With
There are different ways to build a website and learn how to start a food blog:
Content management systems (CMS). A CMS uses a graphical user interface to create and modify a website and its content. WordPress, Drupal, and Joomla are some of the most popular blogging platforms available.
Website builders. These allow you to create and customize your website using a simple drag-and-drop interface. Some examples include Weebly and Hostinger website builders.
Self-coding. This includes coding your website from scratch using various programming languages such as HTML, CSS, and JavaScript. We do not recommend this option for web development beginners due to its complexity.
For any of the website-building methods above, you must take care of domain registration and web hosting. If you're just starting and learning, you could also try our free web hosting services and upgrade later.


2. Registering a Domain Name
A domain name is the address visitors have to enter into their web browser when accessing your website.
Here are some tips on how to come up with a good domain name:
Choose the best domain extension. There is a wide variety of domain extensions such as .net, .org, and .xyz. The most commonly used domain extension is .com domain.
Make it easy to remember. A good domain name is neither too short nor too long. It is easy to spell and pronounce. If you need ideas, try using a blog name generator.
Include your brand name or niche. If your food blog centers around a specific food product or niche, try your best to work your product name into it. When people remember your domain name, it is easier for them to access your site.
Conduct trademark research. Do proper research to find out if your domain name or brand name is already taken. Avoid names too similar to existing brands.
Avoid hyphens, numbers, and double letters. Doing so will reduce the chances of people mistyping your domain name.
Here is a step-by-step guide to registering a domain name:
Check a domain to find out if it's available using a domain name search tool.
Pick your domain name, fill in the required information, and complete the payment process.
Verify your domain ownership through the email used for domain registration.
3. Choosing a Web Hosting Provider
Web hosting is a service to make your website accessible to people on the internet. Fortunately, there are lots of web hosting providers available out there to help you with this task.
Here are some features to consider when choosing the perfect web host:
Ease of use. Find a web hosting service that provides all the necessary tools that make web management tasks much more straightforward. Opt for a CMS web host for a convenient launch and management of a CMS-powered website.
Price. Make sure the web hosting plan you opt for is worth your money and that it fits into your budget. Most web hosting services offer free domains with their plans.
Platform support. Consider whether the web host of your choice supports your blogging platform.
Refund policy. Whether the web host offers a money-back guarantee to test out its services.
Customer support. Make sure your web hosting provider can grant you dedicated and round-the-clock support to help you with any question or problem you may have.
After choosing your web host and hosting plan, complete the payment to purchase a web hosting account.
4. Install Your CMS Platform of Choice
For this tutorial, we are going to provide you with a step-by-step guide on how to install WordPress on Hostinger using its one-click Auto Installer as an example:
1. Log in to your hPanel.
2. Click on Hosting on your Hostinger account's main menu. Find your domain name and click Manage
3. Scroll down to the Website section and click on Auto Installer.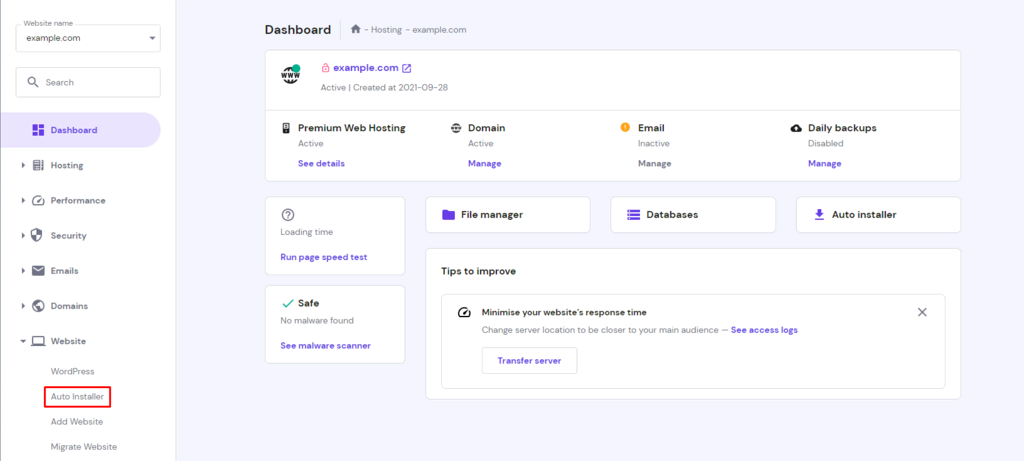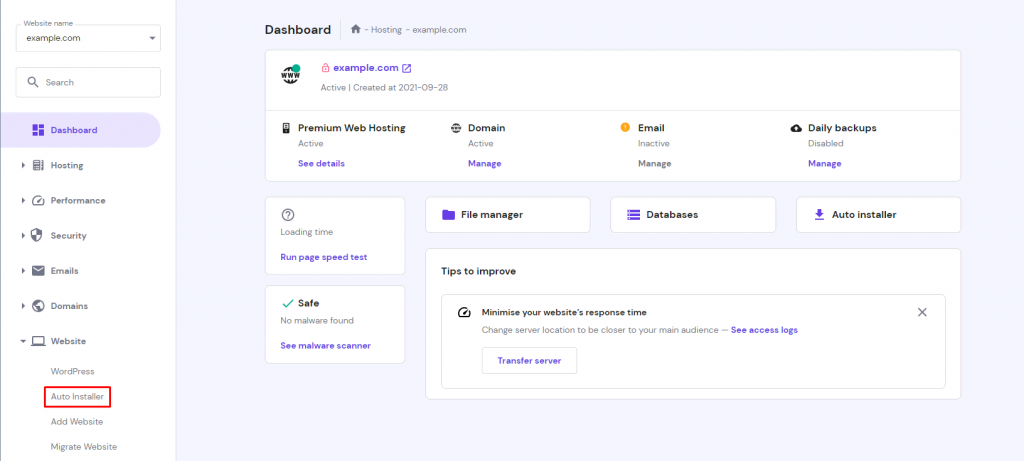 4. Select your domain and fill in the fields with the required information.
5. Click on the Install button.
6. Once the installation process is complete, log in to WordPress using the login information sent to your email.
Another option is to install WordPress manually or locally.
5. Choose the Design of Your Blog
It is crucial to have a blog theme that is visually appealing and matches your food blog niche. If your food blog is easy on the eyes and easy to use, people will be more inclined to stay.
You can find a lot of free and paid themes online. A wide selection of free WordPress blog themes is available on the official WordPress theme directory. You can also purchase premium themes from various theme marketplaces.
Theme developers also sell direct. For example, the Astra theme is available directly from the developer and comes with a full money-back guarantee so you can buy with confidence. As an added bonus, they also have some amazing food-specific templates!
Using a free WordPress blog theme will help you cut back on your food blog creation costs, but they usually have limited support and features. They are also not very unique, as the majority of WordPress users generally opt for free themes.
On the other hand, premium themes will provide you with more support, features, and customization options. However, remember that not all premium themes are perfect for you. Evaluate your needs and the themes' features carefully.
Another important aspect of creating a successful food blog is the use of plugins. A plugin is a software component used to add a specific feature to a WordPress site. You can browse through various WordPress plugins on the official WordPress plugin directory.
We have listed five WordPress plugins that are essential for food bloggers.
WP Recipe Maker is a useful recipe plugin for embedding recipes neatly into food blogs. It has various features such as multiple templates, a button to print recipes, recipe ratings, adjustable servings, and nutrition fact calculation.
Jetpack combines several essential tools – security, design, marketing, and performance – into one powerful WordPress plugin.
It provides automatic 24/7 protection to protect your website from various threats. It also helps your food blog run at its peak speed and performance.
From a design standpoint, Jetpack packs such features as themes, gallery tools, and slideshow tools. Jetpack also helps you to increase your website traffic and revenue using traffic statistics, automated post scheduling, as well as high-quality ads and payment options.
A contact form is an essential aspect of running a great food blog as it provides a channel for readers to communicate with you.
Contact Form 7 is one of the most popular plugins to create a highly customizable contact form to fit your needs.
Keep your comment section clean and organized using Akismet, a spam-filtering WordPress plugin.
It checks comments and contact form submissions against its global database of spam. It is an incredibly popular plugin and built by the same developers that brought you Jetpack.
Embedding your Instagram or social media feed in your blog can be an efficient way to increase traffic, dwell time, credibility, and revenue. On top of that, the photos will add color and life to your website.
Using the Smash Balloon Social Photo Feed plugin, showcase beautiful pictures of your cooking or food products. It even allows you to customize your Instagram feed using shortcodes and display photos from multiple Instagram accounts.
Food Blogging Ideas to Share in Your Blog
With the hosting side sorted, let's figure out how to start a food blog and find the blog ideas to create content for it. First, figure out the kind of food blog you want to start and how to set yourself apart from your competitors.
Decide on your food blog niche – the specific focus of your food blog that makes you unique. Maybe you are a foodie who wants to focus solely on recipes. Maybe you want to create a cooking blog, writing about cooking techniques and equipment.
Here are some types of food blogs you can start and some examples of great food blogs for inspiration.
1. Recipe Blog
Start a food blog where you will share recipes for your readers to try. Present step-by-step guides on how to make all types of dishes. Make use of a recipe plugin to make the layout look clean and organized.
In this case, your target audience should be amateur cooks who are open to experimenting with new recipes in the comfort of their homes.
Tailor the content of the food blog to your likes and dislikes. Introduce the actual recipe with a personal story regarding the recipe's history or present the recipe itself without much preamble.
For a recipe blog, we recommend using WordPress themes such as Ultra and Cookely.
Here's one example of a great-looking food blog:
Pinch of Yum is a recipe blog created by full-time blogger Lindsay Ostrom. She posts a wide range of recipes, from soft chocolate chip cookies to chicken tinga tacos.
Her food blog is well-organized and visually pleasing, using a clean white theme with gray and purple accents. Upon accessing the website, people can immediately enjoy beautiful and mouth-watering pictures of some of her recipes.
People can easily see the ratings for each recipe. All recipes are also organized meticulously in various categories based on their popularity, meal-type, diet, cooking technique, and ingredients used.
Her posts are all filled with colorful, high-quality pictures of the cooking steps and the finished food product.
2. Local Cuisine
Perhaps you are a foodie who wants to use your new food blog to share your local cuisine with the world. Running a blog featuring your local cuisine means you get to connect to your roots and share your culture with people worldwide.
It also provides you with the opportunity to offer more personal and unique content that helps you stand out from other food blogs.
With some recipes, you may even get the chance to introduce readers to particular food history in relation to your culture. Maybe there is a certain tradition related to the food or special occasions in which people usually serve the food.
Theme-wise, incorporate colors and patterns representing your culture to fit your food blog goals. However, if you want more neutral themes, opt for a WordPress theme such as Cook'd Pro or Elara.
Just One Cookbook is a Japanese food and recipe blog created by Namiko Hirasawa Chen. Chen originally made it to keep track of her recipes and share the joys of Japanese cooking with her friends.
The site is very aesthetically pleasing. People can see colorful pictures of some of the Japanese recipes featured on the blog on the landing page.
This blog is also a perfect example of a local cuisine blog that has successfully incorporated some cultural aspects into its web design, seen in the distinctive traditional Japanese design patterns used as the background.
Recipes on the blog are organized according to categories such as appetizer, beverage, breakfast, and dessert.
In addition to recipes and cooking content, the blog also features posts about other aspects of Japanese culture, such as blog posts that include resources to learn Japanese.
3. Nutritional Blog
Maybe you want to become a food blogger with a focus on highlighting the nutritional values of food. Start a food blog that focuses on educating your readers with recipes and blog posts about nourishing and delicious food.
It may be helpful to use a recipe plugin that specifically details meal servings along with their nutritional values, such as the aforementioned WP Recipe Maker plugin.
Your target audience may be people who are concerned about wellness and proper nutrition. Guide your readers through their journey of discovering the joy of maintaining a well-balanced diet.
For nutritional blogs, we recommend using WordPress themes such as Organic Food and Fitmeal.
Rachael Hartley Nutrition is a website made by a dietician, nutrition therapist, and certified intuitive eating counselor named Rachael Hartley. She is committed to helping her clients maintain physical and mental health through the improvement of eating habits.
The landing page features a wide banner with colorful and healthy dishes on it. It uses a professional-looking white and teal theme.
Besides food recipes, the site features tips and educational posts focusing on wellness, such as a post on how to stock one's kitchen for intuitive eating. Hartley also promotes her nutrition coaching services as an eating counselor.
4. Healthy Food Blog
If you are someone who is passionate about healthy living, start a food blog focusing on a well-balanced diet, providing readers with recipes of healthy and hearty food.
Create a new food blog to show people that a healthy diet doesn't have to be super restrictive or bland. Show people it is possible to have fun and eat delicious food even when you are trying to eat responsibly.
As your food blog focuses on health and wellness, provide other tips on how to lead a happy and healthy life in addition to your food-related posts. Maybe write a guide on achieving the ideal work-life balance or a blog post about types of exercise one can do at home.
Our suggestion for themes for a healthy food blog are themes like Kale or Ekko.
was created by Sally O'Neil, a fitness and healthy food enthusiast based in Australia. The blog was born as a result of her experiment in creating foods filled with protein, good fats, and wholesome nutrients.
The landing page features a carousel – a slideshow component that allows people to view a series of vibrant food pictures using the arrows on either side of the screen. It makes use of a minimalist black and white theme with peach and pink accents.
The website provides an impressive range of content on various subjects in addition to food and nutrition posts, such as posts on relationships, beauty, skincare, and decorating one's home and office space.
5. Cooking on a Budget
Creating a cooking blog focusing on how to cook on a budget is a brilliant idea, as people are always looking for ways to save their money. Maybe you are great at cooking and budgeting, and you want to combine both of your strengths through your food blog.
Start a food blog to guide readers on how to decrease their expenses without compromising one of the greatest joys in life – tasty food!
As the idea of enjoying delicious yet affordable foods appeals to most if not all people, you will have a broad target audience from all kinds of backgrounds.
We suggest using a WordPress theme such as Foodica or Good Food for this kind of food blog.
Budget Bytes is the brainchild of a food blogger named Beth Moncel, who is based in Nashville, Tennessee. She started the blog as a young adult who was struggling to make ends meet. It began as a personal project for her to come up with better foods on her limited budget.
The landing page features a side-to-side banner. It displays details of her latest blog post – a colorful picture of delicious-looking food, the post's title, the recipe's price, a brief description of the recipe, and a Read More button.
The layout of the food blog is quite straightforward. Every food picture is always accompanied by a price tag showing the amount of money needed to create the dish. The site uses a black and white theme with yellow accents.
Besides documenting her budget-friendly recipes, Moncel sells various meal plans in PDF form. All meal plans consist of menus for four weeks programs, weekly grocery lists, and full recipes.
6. Vegetarian Blog
Perhaps you aspire to join the ranks of vegetarian food bloggers, documenting your meat-free food adventures as a vegetarian. Create a new blog to share recipes made using various vegetables and animal-sourced ingredients.
Nowadays, many people are trying to consume less meat and more vegetables as part of their diet, whether it be for health, religious, or environmental purposes. Even non-vegetarians may be interested in vegetarian recipes, so your readership will not only consist of vegetarians.
For vegetarian food blogs, we suggest using WordPress themes such as Madang or Veggie.
Cookie and Kate is a blog created by Kathryne Taylor, a self-taught photographer and cook from Oklahoma. She also goes by the name Kate, the first half of her blog name. Cookie is her loyal companion – a dog she adopted.
Currently based in Kansas City, Taylor believes in eating whole foods, or foods that are as close to their natural source as possible.
The website makes use of a minimalistic black and white theme with light green accents. The landing page features six of her most recent posts, all decorated with vibrant pictures of vegetarian dishes.
The blog also uses an intricate system that groups all recipes according to various categories based on different diets, everyday meals, ingredients, and seasons.
7. Pescatarian Blog
The pescatarian diet may not be as widely known as vegetarianism or veganism. Still, considering that part of creating a successful food blog is knowing how to find a unique niche may be beneficial for you.
Join other pescatarian food bloggers in their quest to enlighten other people by creating your food blog. Teach them about the benefits of consuming seafood in addition to a mostly plant-based diet.
Guide people on how to cook delicious meals using vegetables, animal-sourced products, and seafood.
For a pescatarian food blog, we suggest you take a look at themes such as Pepper+ or Florentine.
The Posh Pescatarian is a blog by Stephanie Harris-Uyidi, the producer and host of a travel and cooking TV series titled "The Posh Pescatarian: Appetite for Adventure!".
The website features a clean black and white theme with a pastel peach navigation bar.
The homepage also boasts a slideshow of some of her recipes. Each slide features a colorful picture of the dish, the recipe's title, a brief excerpt from the post, and a link to view it in its entirety.
Scroll down, and you will find more of her blog posts. At the bottom of the page, she has embedded her Instagram feed into the website, all pictures from her life traveling and cooking delectable dishes.
8. Ketogenic Diet Blog
Perhaps you are a person who wants to start a blog based on the ketogenic diet – a diet low in carbohydrates and high in fats, which puts one's body into a metabolic state called ketosis.
This diet was first used to treat severe epilepsy in children, but lately, the number of people switching to this diet for weight loss has increased. Through your new blog, you can guide people on how to create low-carb meals high in protein and fat instead.
Part of the reason behind this diet's rise in popularity is the fact that lots of people on a diet have experienced rapid weight loss after the first couple of weeks. However, it is vital to educate people on the proper way of maintaining a ketogenic diet.
Highlight the fact that this diet may only be suitable for certain people. Remind your readers that it is important for them not to switch to this diet without consulting a doctor, making sure they are aware of the risks associated with the ketogenic diet.
For ketogenic diet blogs, use a WordPress theme such as The Essence or Recipes.
Hey Keto Mama is made by Sam Dillard, a housewife, mother, and full-time blogger based in Missouri. She decided to switch to the ketogenic diet to improve her energy levels and overall health. She uses her blog to share ketogenic recipes.
The food blog uses a black and white theme, with the only shock of color being the hot pink knife and fork symbol making up a part of her blog title design.
Below the blog name are six of her recipes presented in the form of high-quality pictures of food arranged in a neat grid layout.
If you scroll down, more posts featuring even more of her recipes are presented in a different format consisting of a picture of the dish, the title of the recipe, a short excerpt of the blog post, and a read more button.
9. Gluten-Free Blog
Celiac disease is a condition where one's immune system will attack the body's tissues when gluten is consumed. Gluten refers to a group of proteins found in certain cereal grains such as wheat and barley.
Perhaps this is a food blog niche you would like to explore, providing all of your readers a guide on how to create delicious, gluten-free meals.
In addition to people with a medical condition like wheat-allergy or celiac disease, your target audience may also consist of people who avoid gluten due to personal preferences.
For a gluten-free diet blog, use themes such as Blueberry or Julia.
The Gluten Free Blogger is a blog created by Sarah Howells, a journalist and blogger who has celiac disease. She is based in North Devon, England.
Other than sharing various gluten-free recipes, she also writes about various topics such as travel, gluten-free food products, and celiac tips. Her recipes are divided into categories such as baking, breakfast, lunch, and dinner.
The website uses a minimalistic black and white theme. It boasts a beautiful fading slideshow that displays a series of food pictures, complete with navigation arrows. A text box accompanies each image. It contains the blog post's title, a short excerpt, and a view post button.
At the very bottom, Howells' colorful Instagram posts are displayed in a grid format.
10. Dairy-Free Blog
People who are lactose intolerant or allergic to milk often opt for a dairy-free diet. Maybe you have a similar condition, and you want to share your expertise regarding dairy-free life.
This is an excellent niche for food bloggers to explore, as lactose intolerance is actually quite common, affecting around 75% of the world's population. Help people create delicious dairy-free dishes and guide them on choosing lactose-free food products.
For a dairy-free food blog, we recommend using a WordPress theme such as Narya or Sabroso.
Example of a dairy-free food blog: Milk Free Mom
Milk Free Mom is a personal blog by Lyndsay Homme, created to help moms and families everywhere lead dairy-free lives. Homme writes blog posts featuring dairy-free recipes and milk-free food products.
The food blog uses a simple black and white theme. Just take a look at her landing page – it features an image carousel with navigation arrows to let people view five of the featured recipes using the navigation arrows on either side of the screen. All food photos are accompanied by recipe titles.
Scroll down, and you will see the latest and most popular posts. Posts on the website are put into categories such as breakfast, dessert, dinner, gluten-free, and lunch.
Making Your Food Blog Grow
Now that you know both the technical and conceptual basics of how to start a food blog, it is time for you to learn how to nurture your food blog and produce great content.
1. Grow Your Food Blog With SEO
A crucial aspect of running a successful food blog is understanding the importance of search engine optimization (SEO). SEO refers to optimizing your website's content so your website or web pages can appear at the top positions of search engine results pages.
When you look up something using search engines, the results will appear in a list. Search engines use complex algorithms to rank the pages presented in that list. Web pages with high quality and relevant to the search query will appear higher on the list.
Some components search engines consider when evaluating your website's content are the quality and number of other websites that link to your site or page, the keywords present in your content, your site's visitor engagement, and your site's loading speed.
If your web pages are the first results people see on search engine results pages, you improve the traffic quality and quantity to your website.
High-quality traffic means the people who visit your site are the ones who actually need the kind of content you provide. High quantity traffic means more people will visit your website.
There are many ways to increase your blog's search engine ranking, but one of the essential tools people use to improve their SEO is a WordPress SEO plugin such as the Yoast SEO.
2. Monitor and Grow Your Food Blog With Google Analytics
Google Analytics is a free tool people use to analyze website activity and traffic. Keep in mind that you need to keep track of how well your site is performing to grow your site further.
Components you can track include:
Pageviews. This is the number of times people view a specific page within your site.
Session duration. Time in which a visitor is actively interacting with your site.
Pages per session. The average number of pages a visitor views within one session.
Information on the traffic source. Find out your site visitors' age, interest, gender, location, and device.
Bounce rate. The rate at which visitors visit your site and then leave immediately without viewing other pages within your site.
Internal site search. This gives you an insight as to what information visitors are looking for on your site.
Social media platform performance. Measure and compare the performance of your social media platforms.
3. Monetize Your Food Blog
Part of learning how to start a food blog is learning how to monetize your food blog. Even if you are starting the blog out of your love for food, it is ideal to also make money off of your passion.
Here are some methods of making money through your blog:
Affiliate marketing. Promote another person's or company's products or services and obtain a commission for every sale you make.
Pay-per-click advertising. An advertising system – such as Google AdSense – where you place ads on your blog. When enough visitors have clicked on the ads, advertisers will pay you.
Sponsorship. Promote a company's products or services in exchange for a sum of money.
Digital products. Make money by selling digital products such as eBooks and meal plans.
Membership site. A system where visitors have to pay to use your service, guaranteeing you monthly income and traffic flow.
4. Remember to Have Fun
Blogging is also about having fun. Keep in mind that if you love what you write and enjoy the process, your passion will shine through in your writing.
It is important to monetize your food blog, but bloggers who forget to have fun and whose only focus is to make money will quickly find the work tedious and unfulfilling. A great food blogger is a foodie who is eager to share their love for food with the world.
Make sure to keep your passion alive in your food blogging journey. Always find new ways to improve your content, communicate with your readers, and remember to pace yourself to prevent burnout.
Tools and Tips to Help You Create Food Blog Content
We have covered all of the essentials in learning how to start a food blog, but we have also compiled some additional tools and tips that may help you produce content as a food blogger.
1. Provide Quality Pictures and Images
Before you get started as a food blogger, make sure to provide beautiful food pictures to go with your posts.
After all, readers might find your blog boring and difficult to read if it only consists of rows and rows of text. Pictures add color and life to your blog, increasing the user experience for your site visitors.
The equipment you use to take pictures doesn't have to be expensive. Use a phone or a camera, but make sure the pictures you produce are photos with high resolution.
Food presentation is also important, as you want to make the meals you cook look as delicious and presentable as possible. In addition to aesthetic purposes, pictures of your food will also increase your credibility as a food blogger.
If you are someone who is not confident in your photography skills, hiring a professional is always an option.
2. Get Something to Write Your Content With
Prepare a laptop or a computer before you start a blog. To get started, opt for something within your budget – don't look at established bloggers with their MacBooks. As long as it gets the job done, you will be fine.
If you prefer blogging from a home office setting, go for a desktop computer. However, if you like blogging in public spaces or moving from one place to another constantly, you might want to go with a laptop.
An affordable Windows laptop will do the job just fine. In addition, you can also use your phone for blogging or updating content on the go.
3. Improve Your Writing Skills
If you want to start food blogging, learn the fundamentals of writing.
It is not enough for you to know how to develop recipes – you also have to know how to present them in an interesting and attention-grabbing way for your readers.
You need to master proper spelling, grammar, and punctuation rules if you want to create well-written blog post that is well-organized and easy to understand.
Here are some tools to help you improve your writing:
Udemy. Provides online courses on a wide range of topics, including writing.
Grammarly. Digital writing assistance tool gives you suggestions regarding spelling, grammar, punctuation, and conciseness.
Thesaurus.com. Will help you find synonyms and antonyms of various words to diversify your word choices.
4. Learning More About Web Design and WordPress
Learning more about web design and WordPress will help you in running your food blog website.
When you learn about the basics of designing a website, you will get to know about fonts, colors, navigation design, and optimizing graphics for your website. In addition, you can also browse examples of good web design for inspiration.
In addition to learning how to install WordPress and use it to make a website, you can learn various skills such as navigating the WordPress dashboard and its settings, creating WordPress custom post types and clarifying the WordPress cache.
Conclusion
In learning how to start a food blog, both the technical and conceptual aspects of starting a food blog are equally important. In addition, you also need to learn ways to grow a food blog and social media accounts in ord to produce great content.
Hopefully, our article has helped in giving you some inspiration. Now that you are well-equipped with the basics of food blogging, it's time to start building your food blog today.