How to Use Google Ads: Understanding How to Run Successful Ad Campaigns + Profit Tips
Knowing how to use Google Ads is crucial for every business owner. With a wide network, great supporting tools, and a customizable budget, Google Ads can help grow businesses of any size.
In fact, more than 80% of global businesses use Google Ads for their paid campaigns.
With this in mind, we're going to explore how Google Ads works, why you should use it, how to create an ad campaign and track its results, as well as the best practices to ensure the success of your campaign.


What Is Google Ads?
Google Ads, formerly known as Google AdWords, is the most popular online advertising network worldwide owned and managed by Google. Mainly, people use Google Ads to promote their businesses, increase brand awareness, boost traffic to their websites, and, ultimately, sell more products or services.
How Google Ads Work
As Google Ads uses a pay-per-click (PPC) model, you'll only pay for the clicks you get. However, Google needs to determine your ad placement first. This process is called an auction.
First, you target a specific keyword on Google and bid on it, competing with other advertisers who target the same keyword as well.
Then, Google will use the following three factors to determine your ad's worth, namely:
Bidding process – the amount of money you're willing to pay for a click.
Quality score – the relevance and usefulness of your ad and the website it links to. Google assesses the expected click-through rate (CTR) based on its performance data on your keyword's search queries. Google also examines your ad's landing page relevance – whether it's original, easy to navigate, and transparent.
Assets – you can insert additional information such as a phone number, a business location, or specific pages on your website. These are called assets, and the system estimates their impact on your ad performance.
Typically three or four, the ad campaigns with the highest score will appear on top of the search engine results page (SERP). If the score is too low, Google may reject your ad.
Why Use Google Ads
In this section, we will go over the reasons to use Google Ads for promoting your business website.

Utilize Intent
With Google Ads, you can choose what type of users will see your ad campaign. We recommend reaching potential customers who have already searched for your product or service. You can either define these users by keywords or the websites they visited.
As a result, you will spend your budget on users who are already interested in your products, helping you drive more sales.
Wide and Precise Range Targeting
The Google Ads platform offers plenty of targeting options, letting you reach potential customers easily.
You can focus on specific audience demographics, such as age, gender, geographic location, and parental or marital status. On top of that, Google Ads offers an affinity audience feature that lets you reach customers based on their interests. Choose from 80 different groups, including sports fans, gamers, beauty enthusiasts, and moviegoers.
Additionally, you can select a particular time. For example, run your Google Ad campaign only on weekdays from seven to 10 PM to reach people when they are not working. You can be as specific as possible to increase conversion rates.
Performance Tracking
Evaluating your campaign results is crucial to determine whether your Google ads work. Fortunately, the platform provides business owners with a comprehensive performance marketing tracking system. You can see your ad's CTR, relevance, keyword performance, and quality score.
In addition, Google offers a free conversion tracking tool. This will show you what happens after customers click on your ads – whether they buy a product, download your app, sign up for a newsletter, or browse your landing page. This is especially useful to understand your ROI and further optimize your advertisements on Google.
On top of that, you can engage with your data through multidimensional tables and charts called The Report Editor. With its simple drag-and-drop interface, you can analyze your ad performance easily.
Target Specific Devices
Google allows businesses to choose the kind of devices to display their ads on. You can pick between desktop, tablet, and mobile devices. Even further, you can target specific devices like iPhone or Samsung.
As the worldwide website traffic from mobile devices has reached 58%, advertising on them may benefit your business more. Furthermore, displaying your ads only on mobile devices can be more cost-effective.
Pay Only for Results
One of the most significant advantages of Google Ads is paying only when users take your desired action, such as clicking your ad to visit the website or calling your number.
Therefore, you don't have to waste your money on ineffective ads.
Google Ads Campaign Types
Google Ads are divided into two large categories – Google Search Network and Google Display Network. While the first one is text-based, the latter is media-rich.
Let's see what types of campaigns you can create with Google Ads:
Search Campaign
This text-based ad comes up on search results once you look up relevant keywords. They usually appear on top of the page with the Ad symbol next to the domain name.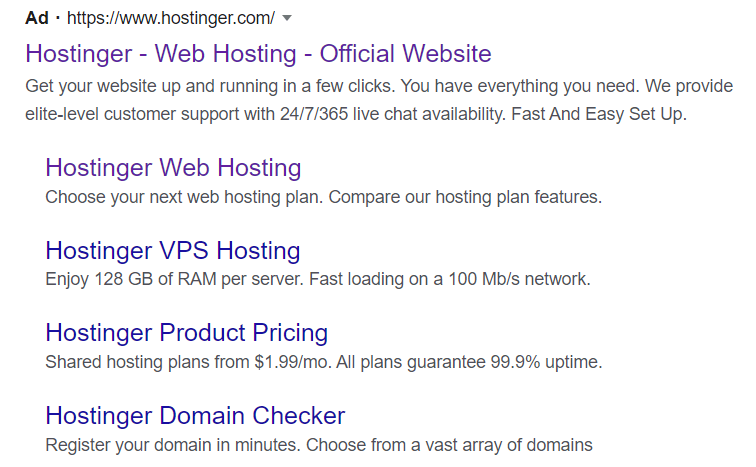 Display Campaign
Google can also feature your ad on third-party websites within the Google Display Network (GDN). It has a large collection of sites, mobile apps, and video content where your ads may appear.
There are two options in displaying your ads – audience or content-based, meaning you can focus on a particular audience or demographic as well as specific content or websites.
This type of ad can be a gif, a text, a video, or an image. Once live, you may see ads by Google on it.
Video Campaign
While Display Campaign allows you to advertise through video content as a whole, Video Campaign is designed specifically for YouTube.
This type offers plenty of options, including a skippable or unskippable ad playing before YouTube videos, showing your video on top of the search results, or various banners and pre-rolls.

App Campaign
App campaigns are used to increase mobile app installations or in-app conversions. Basically, this type is dedicated to app promotion exclusively.
Google automatically creates ads in various formats depending on the platform they appear on. You don't have to create the ads themselves, as Google can take your assets directly from the App Store listing.
However, you can't control the target, bidding, or placement for these types of campaigns.
Shopping Campaign
Shopping ads appear as product listings on search engine results. Once people browse the matching keywords, your product will pop up on the Google Shopping Tab, and they can directly purchase it by just clicking the ad.
While such ads may take several days to be approved, they require minimum management. You only need to set up a Google Merchant account and link your product database.
How to Create a Google Ads Campaign in 9 Steps
After going over the definition and campaign types, it's time to learn how to use Google Ads to make your own campaign. To do so, follow the steps below.
1. Create a Google Ads Account
The first step is to set up your Google Ads account. You can use an existing Google account or create a new one. To avoid confusion, we recommend creating a new account dedicated to your business.
2. Set the Budget
You can adjust your spending using a daily budget and bidding strategies.
The daily budget is the amount you're willing to spend on each campaign per day. Meanwhile, your bid is how much you want to spend every time someone clicks on your ad.
Initially, it may be better to spread your overall budget evenly across all your campaigns. Then, once you discover which ads work best, set the budget differently.
To set bids for keywords, prioritize the ones that boost your campaign rank while still staying within budget.
3. Choose the Target Audience
To ensure a successful campaign, you need to be specific about your target audience – its location, demographics, and segments.
First, set your target audience's gender and age. Then, Google Ads will let you specify the target audience's geographical location.
You may want to target particular cities if your business is local. Additionally, take advantage of the radius targeting feature that can show your ads within a specific radius from your zip code.
Google also allows you to set different bids per location to bid higher for places closer to your business.
In addition to location, remember to customize your audience segments, such as their interests, habits, life events, or whether they are in-market – people actively considering buying a product similar to yours.
4. Select a Network
Next, choose a campaign type – Google Search Network to have your ads on SERPs or Display Network to see them on various websites.
If you're just starting with a limited budget, we recommend picking the Search Network option. This network shows your ads to active searchers – people who are specifically searching for relevant keywords. Doing so will result in more users clicking on your ad, which may be better for your return on investment (ROI).
On the other hand, Display Network is better for promoting brand awareness. Furthermore, since Display Network allows you to show ads to people who have visited your site before, this type is suitable to encourage them to return and purchase your product.
5. Identify Your Keywords
Identify the terms people will search for when looking for your products. For example, if your product is baby clothes, you may want to set baby girl clothes, baby boy clothes, baby dresses, newborn clothes, or cute baby clothes as your keywords.
Google provides a free tool called Keyword Planner to help you brainstorm keyword ideas. The tool can produce a sample list of keywords for your ad groups.
On top of that, it can help estimate how much to bid on a keyword so your ad may show up on the first search results page. Therefore, you can pick the ones that can deliver good results and are within your budget.
You may want to avoid competitive keywords when you're starting out so you won't run out of budget too fast.
6. Create Your Campaign
Once you're ready to create your campaign, head over to your Google Ads account and follow these steps.
Click Get Started on Google Ads' front page.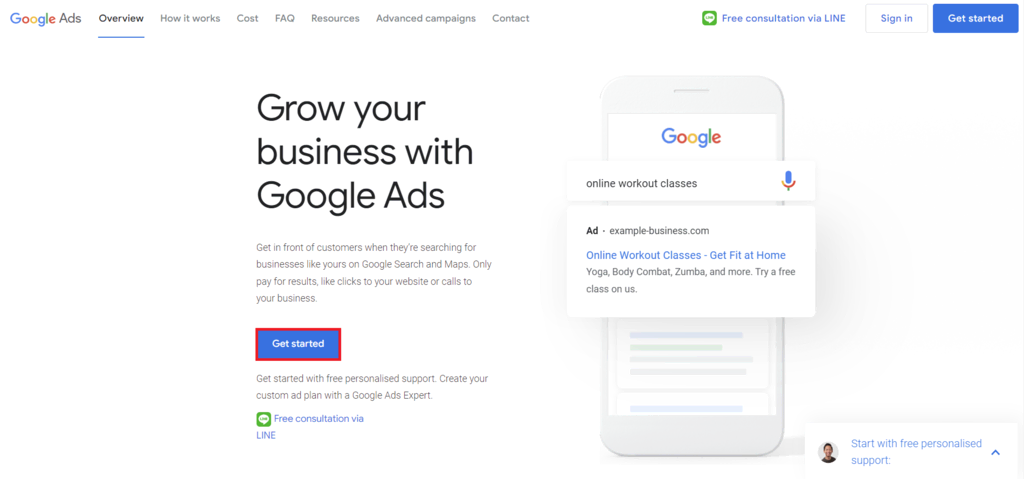 Once you get to this page, click Switch to Expert Mode. There, you will have more flexibility to create a campaign that suits your business needs.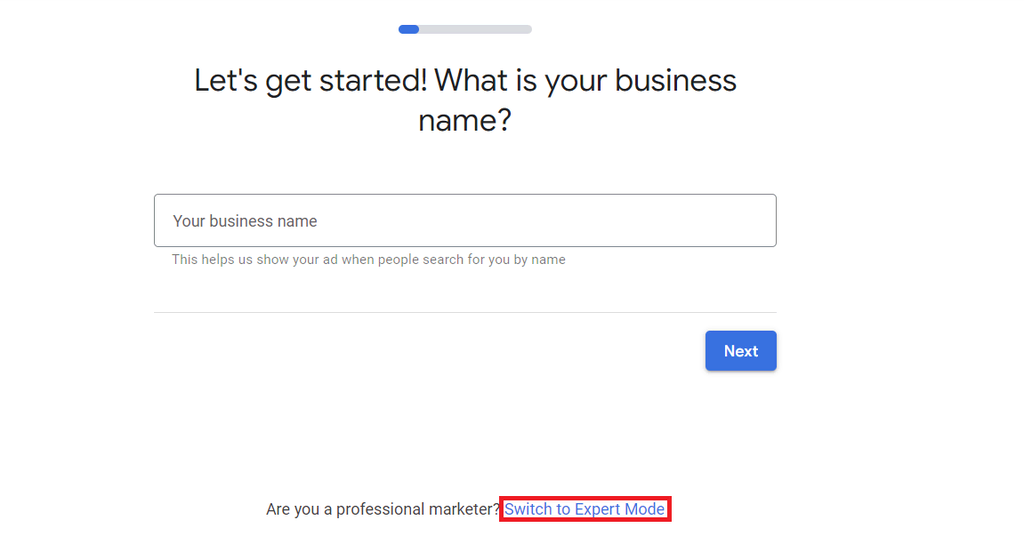 Enter your business name and landing page URL.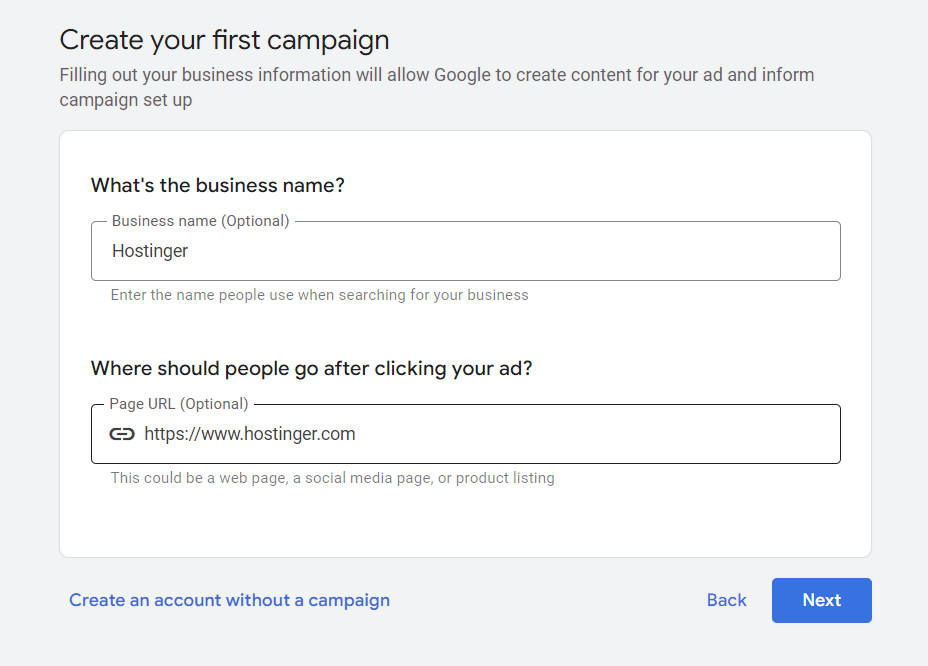 Insert your business information, like a phone number. You can also connect your mobile application or YouTube account if you have one.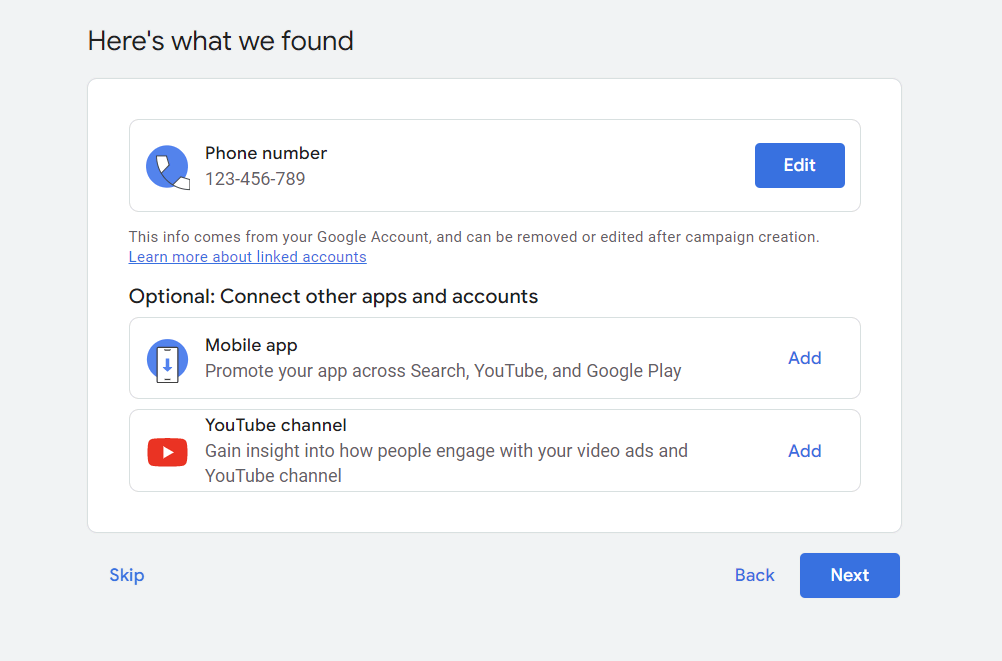 Google will ask about your main online advertising goals. Check the ones that apply to you. Remember that Google can help optimize your campaign according to your goal.
Choose your campaign type.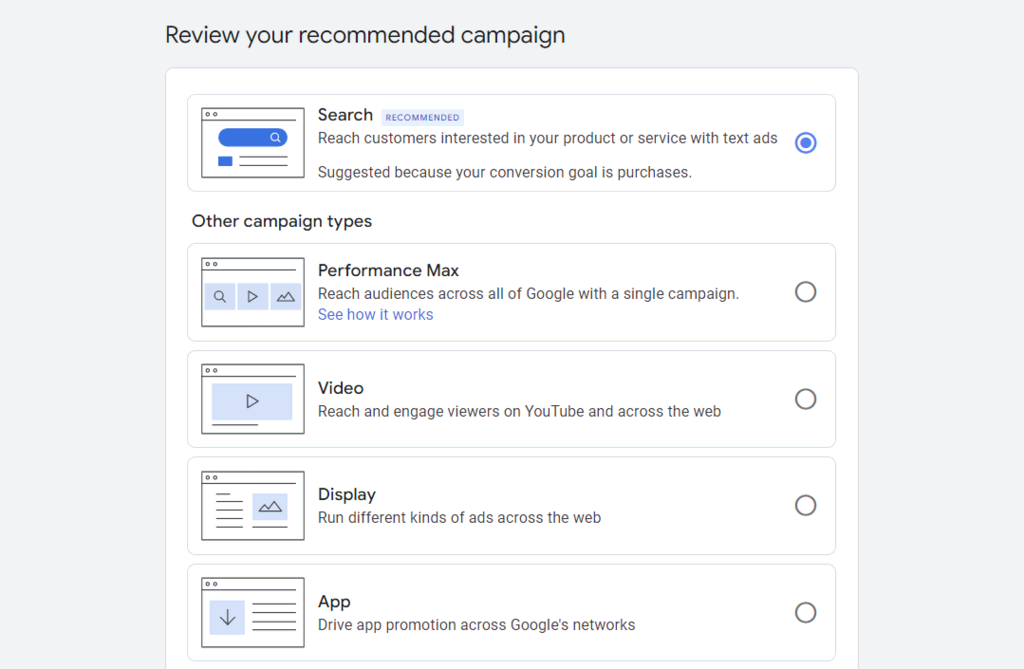 Now, start the bidding process by selecting what you want to focus on. Then, you can set your target cost per action (CPA).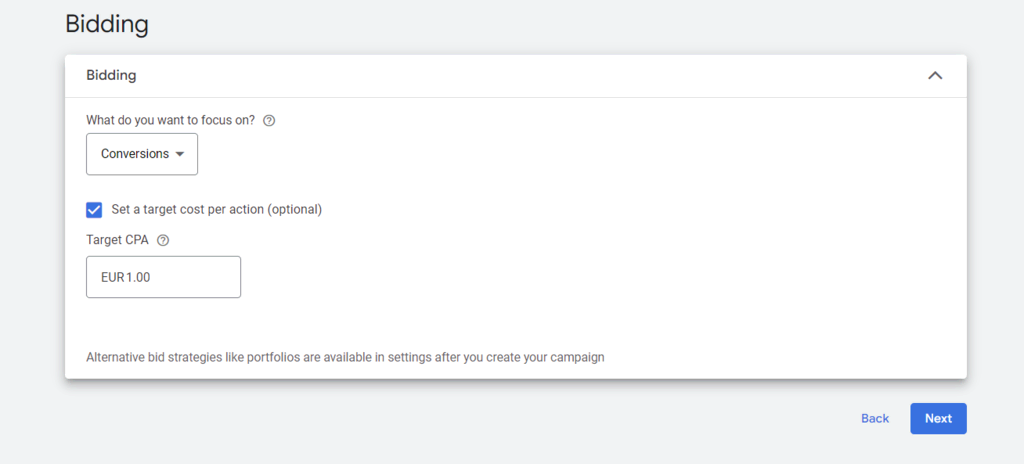 Next, on the Campaign Settings page, set up your ad details. These include the location, language, audience segment, start and end date, schedule, and ad rotation.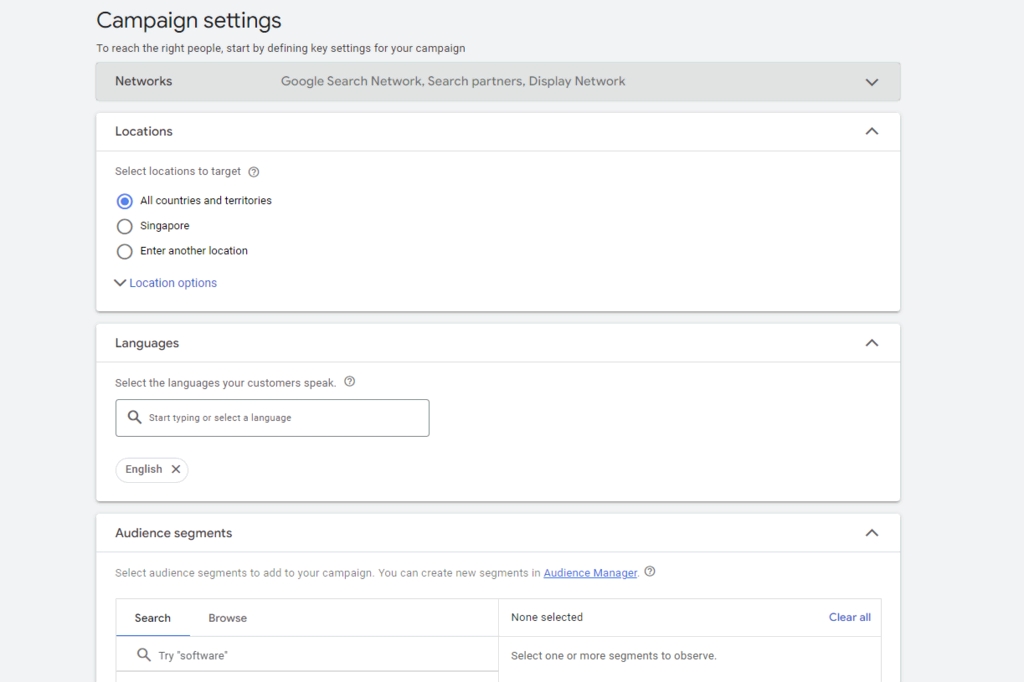 Pick the campaign keywords. Remember to check out Google's keyword research results for your inspiration.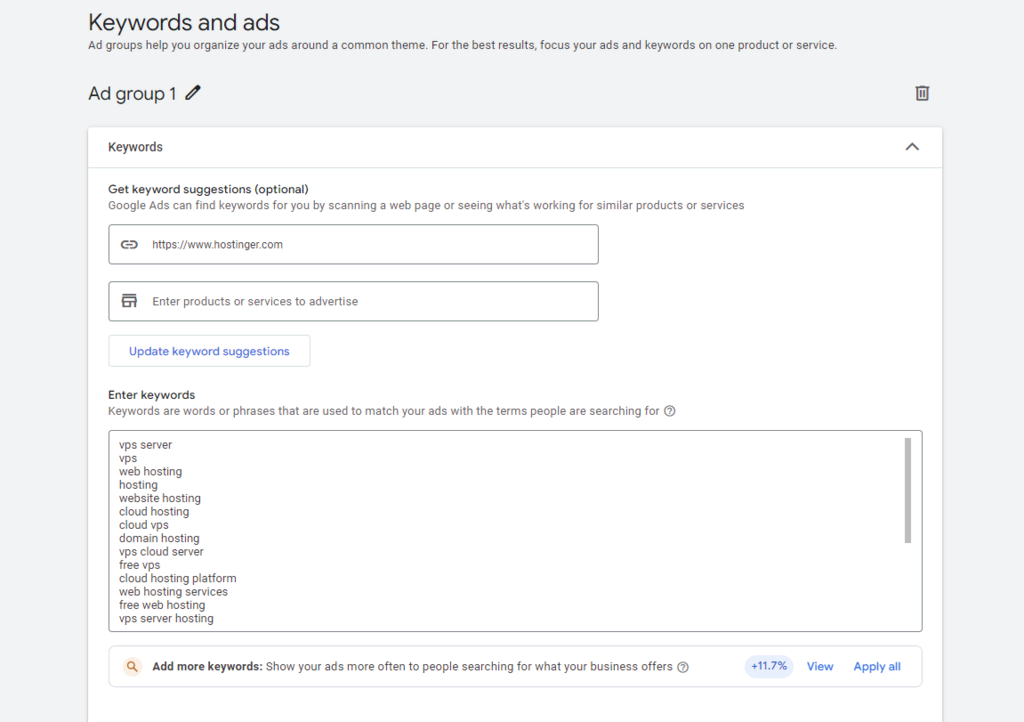 Then, create your campaign headlines and descriptions. You can add up to 15 headlines and four descriptions. While optional, we also recommend you fill in the Ad Assets section.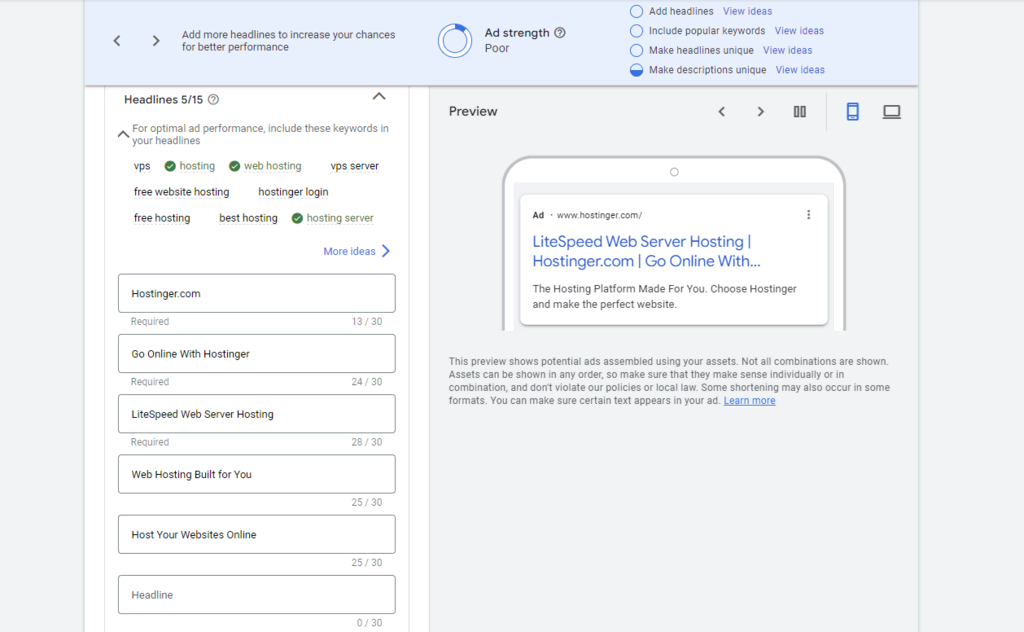 Finally, put your budget. You can either pick the one Google recommends or set your own.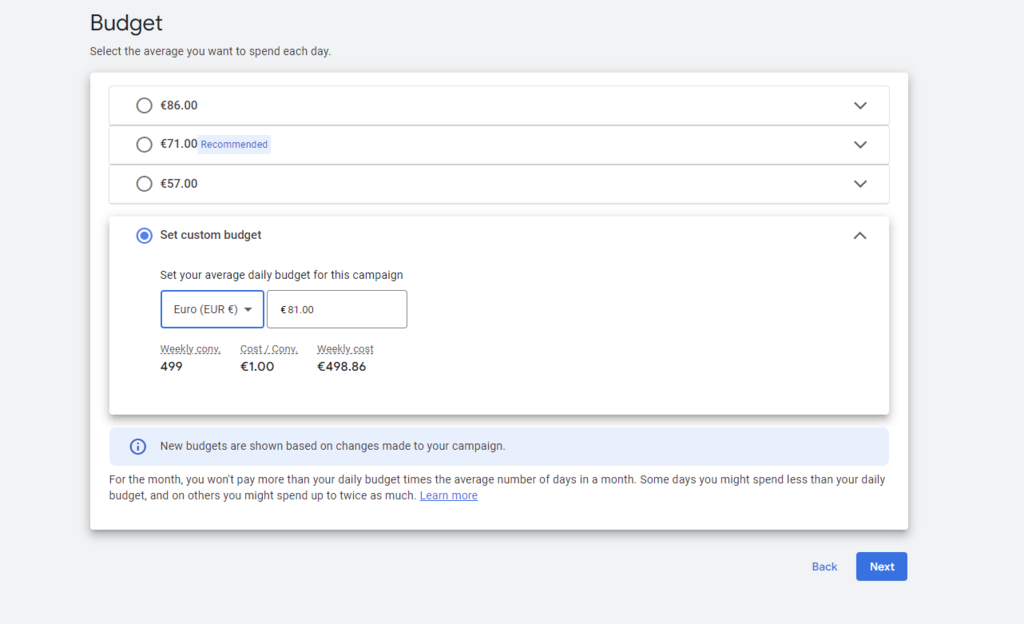 The last step is reviewing your campaign before it's published. If it's up to your liking, complete your billing details, and your campaign will be set.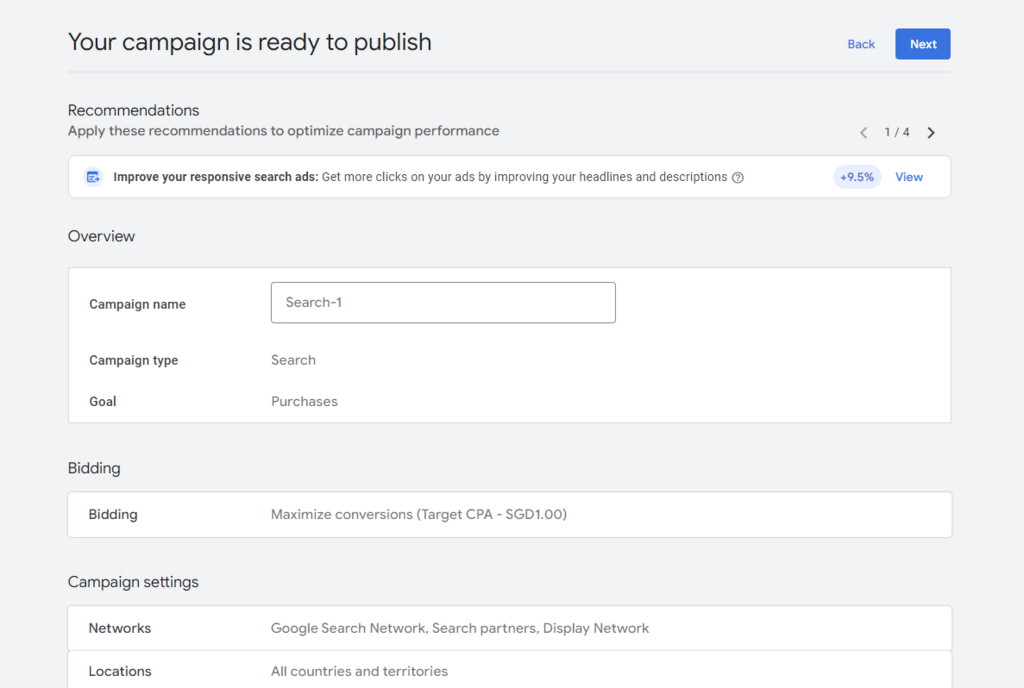 7. Make the Ads
Your ad may be people's first impression of your business. Therefore you have to ensure that it sends a clear and memorable message.
To help you out, Google Ads uses a responsive search ads (RSA) system that lets you write multiple headlines and descriptions. Google will test different blends of headlines and descriptions to see which combination performs the best.
Additionally, apply the following practices to create more effective ads:
Use target keywords – ensure your ads' copy contains keywords people search for.
Break down your campaign – if you have various products you want to advertise, break them down into clear groups and create unique ads for each.
Include a CTA – communicate what you want users to do after seeing your ad in a clear and concise manner. For example, add phrases like explore more or buy now.
8. Evaluate the Campaign
Now that your ad is running, the next step is to see how it's performing. A good way to start is by tracking its statistics, such as clicks or impressions.
From your Google Ads account, start by clicking All campaigns in the navigation menu. Next, you can choose Ads & assets or Keywords from the options to see a complete and customizable table showing your ads performance.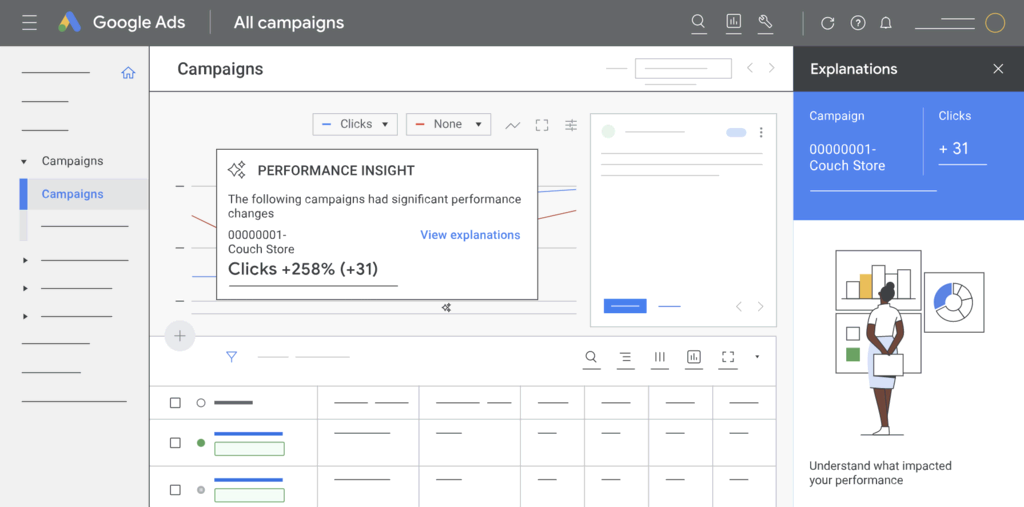 Google also allows you to see insights into large changes in your ads performance. Simply click View Explanations and hover over any metrics you wish to look further.
Take notes of your campaign results and compare them with your goals. Then, you can evaluate what to improve.
For instance, if your bounce rate is high, you may want to make your landing pages more interesting. Or, if your impressions are low, you may want to shift your demographics and target audience around.
9. Adjust and Optimize
Once you evaluate your ads' performance, the final step is to adjust and optimize them to achieve better results.
There are several ways to optimize your campaign, including:
Modify your bid – you can adjust your bid automatically or manually. For manual bidding, ensure your bids exceed the first-page bid estimates so your ads will be shown strategically. Also, you can adjust your bid in certain devices, times, or locations to focus more on the ones that perform better.
Select negative keywords – negative keywords are terms you exclude from the search to only reach serious customers. Filter out research-oriented keywords such as review, compare, or rating to focus only on those willing to purchase immediately.
Improve your ads to appeal more – use Google's Ad Preview and Diagnosis Tool to see which ads are shown for a specific search. Also, ensure that your paid aids clearly show benefits for customers. Besides, keep them simple and create a landing page that helps convert visitors.
How to Track Google Ads Campaign Success
In addition to creating a campaign, it is crucial to learn how to use Google Ads to monitor the ads you run. This is because you need to constantly evaluate and optimize them to ensure maximum results.
Below are some ways to track your campaign:
Link to Google Analytics Account
Linking your Google Analytics account to Google Ads will help optimize your campaign by sharing insights and metrics, including:
Bounce rate – the percentage of visitors who only see one page and leave without taking any further action.
Average session duration – the average time someone browsed your site, shown in seconds.
Pages per session – the average number of pages visitors viewed in one session.
Percentage of new sessions – the number of first-time visitors.
With this information, you can evaluate how effective your campaigns are. For instance, looking up visitors' bounce rate alongside CTR can show whether customers see what they expect on your website after clicking on your ad.
Therefore, you can decide what to improve – the bid, budget, web pages, or ad content.
Set up Conversion Tracking
Conversion tracking shows what happens after a customer interacts with your ad. Interactions include purchasing a product, signing up for a newsletter, calling your business, or downloading your app.
Knowing how many customers visited your site and how many of them interacted with it helps you count and optimize your conversion rates.
With conversion tracking, you can:
Evaluate your ROI and be better informed about your ad spend.
See which keywords, ads, or campaigns are performing the most.
Look up how many customers interact with your ads on which device or browser.
Use the Smart Bidding tool that automatically optimizes your campaign based on your business goals.
Add UTM codes
UTM parameters help you track your Google Ads performance to individual campaigns, keywords, or ad groups. This method can automate the process of creating and tracking said parameters.
The Urchin tracking module (UTM) or Google Click Identifier (GCLID) are snippets of code added to a website's address.
Therefore, they will appear in the address bar as:
www.example.com/?utm_source=google&utm_medium=ad&utm_campaign=campaign1
This example shows that the traffic source is Google, the medium is an ad, and the campaign is called campaign1.
By using Google Ads auto-tagging, you can save yourself the work of manually tagging every URL. You can also eliminate any chance of errors.
On top of that, you can import the metrics into conversion tracking, which will give you insights into how your campaign operates.
Best Practices for Using Google Ads
To ensure the success of your campaigns, we recommend applying the following Google Ads practices.
Create a PPC Planning Template
Start by creating a PPC planning template for keeping track of your campaigns.
Generally, a PPC advertising template is divided into two parts: ads planner and ads results.
In the ads planner section, you can add the campaign details, including keywords, negative keywords, headlines, and descriptions. See the table below for an example.
Campaign A
Keyword 1
Negative Keyword 1
Headline
Description
URL
Keyword 2
Negative Keyword 2
Headline
Description
URL
Next, in the ads results section, you put the relevant metrics in detail. You can add the number of impressions, clicks, conversions, and many more.
| | | | | | | |
| --- | --- | --- | --- | --- | --- | --- |
| Campaign Group | Total Cost | Impressions | Clicks | Conversions | Impression-to-Click Rate | Click-to-Conversion Rate |
| Variation A | | | | | | |
| Variation B | | | | | | |
This template will serve as an organizer for your campaign. Feel free to add more important details.
Match Search Intent for the Ads
Search intent is the users' main goal when they insert a query into search engines. Understanding people's search intent is useful for optimizing your campaign. There are four main categories, namely:
Navigational – the user's intent is to go to a specific page, such as social media login pages.
Information – for people who just want some information. While the definition is wide, this may include examples like searching for a celebrity's birthday or a country's capital city. As Google usually shows a rich snippet, they don't even need to click on a result.
Visit-in-person – these people want to find a physical location, like a local store, or get directions to go somewhere.
Transactional – these are searchers aiming to purchase, create an account, download some files, or sign up for a service.
As mentioned before, Google Keyword Planner is a great way to start browsing for ideas. Afterward, you can enhance them yourself.
If your campaign goal is to sell products, using a long-tail keyword may be better. You want to phrase match with people who are serious about buying a specific product.
For example, if you're selling baby clothes, utilize the following keywords:
Baby clothes – this is within the information search intent category, showing that the user has started the research phase.
Baby boy clothes reviews – the user is still researching and not ready to purchase yet.
Baby boy 6-month sweater clothes – this user will likely make a purchase soon.
With a generic search term, you may have a high search volume. However, with a more detailed search term, you may connect directly to people ready to buy your products, resulting in better ROI.
Automate the Process
Your ad needs to stay relevant and adaptive to reach and convert more users. To help you out, Google provides several automation tools, namely:
Smart Bidding – analyzes the potential conversion value for every search on your products. It will automatically adjust bids for that particular search to maximize ad spend. Smart Bidding can both target return on ad spend (ROA) and cost per action (CPA) within a fixed budget to ensure the efficiency of your campaign.
Broad match – shows your ads on searches related to your keyword, even if it's not an exact match. Therefore, you can reach a wider audience. For instance, if your keyword is low-carb food, your ad may also show when people search for carb-free food, low-carb diet, or low-calorie food.
Responsive search ads – Google asks you to create multiple headlines and descriptions. Then, it will automatically test various combinations and learn which ones perform best. Adapting your ad to match potential customers' search terms better will improve your campaign's effectiveness.
Optimize the Landing Pages for the Ad
When people click your ad, they will go to your landing page. A landing page is a bridge between a potential customer and a purchase. Hence it's necessary to ensure your landing page looks great and is optimized for conversions.
Here are some ways to improve your landing page:
Clear match to your keywords – a landing page should match your keyword closely. Suppose your keyword is summer skincare sale. In that case, your potential customer should be able to find the specific promotion on your landing page easily.
Direct call-to-action (CTA) – your CTA buttons should be precise and mirror your campaign goal. You may want to be specific and use the get our limited sale now button instead of a vague one like improve your life.
Make it responsive – landing pages should be easy to navigate and compatible with all devices. It's also a great idea to put important information on top of the page so people can immediately see it.
Suggested Reading
Make sure to refer to our Website Optimization guide to improving your website further.
Use Google Assets
Google Assets, previously called Ad Extensions, contains additional information you can add to an ad campaign.
Google Assets can maximize your campaign performance. It allows you to create an ad beyond just a headline and description – you can add call buttons, links to a specific page on your site, and location information.
Furthermore, there's no additional cost to add this feature to your ad. We recommend adding every relevant asset to your business so customers can reach you easily.
There are various Google Assets you can use, such as:
Sitelink – add more than one landing page.
Callout – highlight more information about your business. For instance, add phrases like free worldwide shipping or 100% homemade after your description.
Image – add an image under your ad. You can use square images below 5120 KB.
Call – attach a phone number on the ad so people can call you directly without clicking on the landing page first.
Location – show your business address below your ad.
Price – include product prices in your ad. However, make sure that you update them regularly to avoid misunderstandings.
Application – if you have an app listed on Google Play Store or Apple App Store, you can put a download button right below your ad.
Conclusion
Google Ads is a popular advertising platform that is flexible and suitable for any kind of business. Furthermore, Google Ads provides you with various tools to optimize your campaign easily.
In this article, we've explored how to start your Google Ads campaign and evaluate its results, as well as the best practices you can implement to ensure your campaign's success.
Before starting your own online advertising campaign, make sure your web hosting plan can handle a larger amount of traffic – you don't want to pay for visitors who see an inaccessible site.
How to Use Google Ads FAQ
Here are some frequently asked questions about Google Ads:
How Much Do Google Ads Cost?
The actual cost depends on your bids. However, on average, each click on Search Network costs between $2-$4. Furthermore, ads tend to be cheaper on Display Network, averaging under $1.
Can You Use Google Ads to Run Multiple Ads?
Yes, Google can run multiple campaigns. One Google Ads account can run as many as 10,000 campaigns, 20,000 ad groups per campaign, and 50 text ads per ad group.
What Is Google's Quality Score?
Quality Score is a tool to compare your ad quality with other advertisers. This score is measured on a 1-10 scale. It's calculated based on the expected CTR, ad relevance, and landing page experience. A higher score means that your ad is more relevant to people searching for your particular search terms.