12 Best Forum Software to Build an Online Community in 2023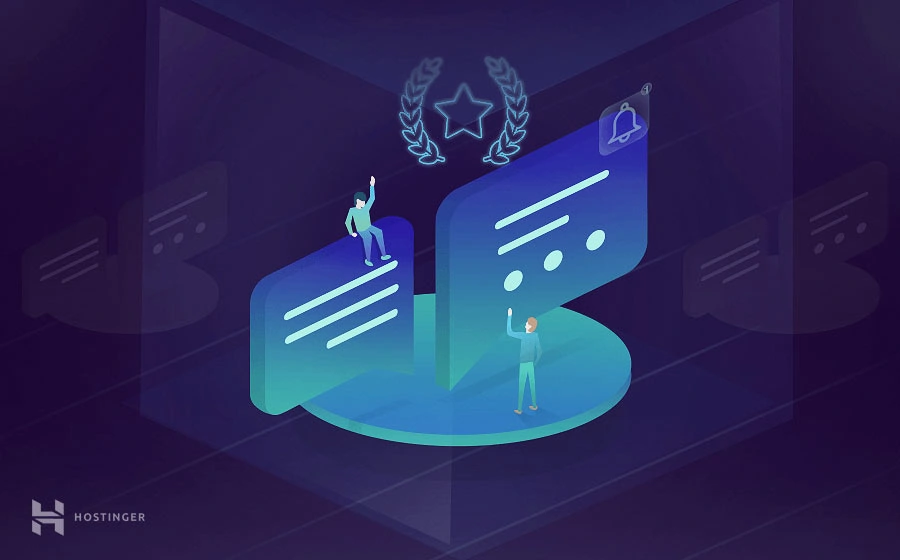 Creating a forum website is a great way to engage with your target audience and nurture communication with different communities.
An online forum usually focuses on a specific subject, from technology and politics to hobbies and recent trends. Many business owners use forum platforms to market their products and services to a broader audience.
In this article, we will review the 12 best forum software solutions along with a list of the pros and cons of each form builder.
We'll also discuss what you should be looking for in an online forum software in terms of features and functionalities.


Best Forum Software – Our Top Picks
The list below is a curated collection of the 12 best forum software tools we recommend for those who want to create their own forums.
phpBB – Hundreds of free extensions available
MyBB – Fewer extensions available
Vanilla Forums – Some free add-ons, more paid extensions
WordPress – A lot of paid and free plugins are available
Joomla! – Fewer plugins available
Drupal – Lots of paid and free modules available
Simple Machines Forum – Large collection of modules available
BuddyBoss – Ideal for courses
FluxBB – Limited plugin options
Codoforum – Free and paid plugins available
Discourse – Lots of free and paid plugins available
Flarum – Free and paid plugins available
Let's explore some of the best community forum software options in more detail:


phpBB is flexible free forum software that enables you to create boards where registered users can post messages. Once you have a forum set up, you can make as many internal message boards as you want.
Along with some basic functionality, phpBB enables you to use extensions to add new functions to the forum. There are hundreds of free extensions you can use to add almost any forum-related feature you might want.
Its design is responsive-ready, allowing you to provide the best experience across devices.
Moreover, phpBB includes a theme system, which you can use to change your forum's overall look. Users also get plenty of options for customizing their profiles and posts.
Finally, phpBB is open-source and benefits from having an active community.
Pros
Provides powerful forum software with multiple hierarchy options
Enables users to customize their posts and profiles
Offers access to plenty of moderation options
Cons
Most phpBB themes look a bit outdated
Overall, phpBB is an easy recommendation if you're looking for the most customizable forum software you can find. With extensions, you get access to all the features you might need to start an online forum.

There is some functionality that you can expect to find among all of the best forum software options. That includes the ability to set up message boards, enable user registration, and perform moderation.
MyBB shares a lot of features with phpBB. This free and open-source software offers robust plugin and theme systems, has an active community, and is easy to use.
It comes with a feature-rich control panel that lets you view and moderate various aspects of your online forum, such as statistics, posts, users, and groups.
The main difference is that MyBB doesn't offer as many extensions.
However, it has an advantage over phpBB when it comes to customization. With a broader selection of themes, MyBB forums tend to look a lot more modern.
Pros
Offers gamification and communication plugins for better user engagement
Includes user-reputation systems out of the box
It makes it easy to use calendars to schedule events
Cons:
It's not as feature-rich as phpBB or other entries on this list
MyBB offers an excellent alternative to phpBB if you want something that looks more modern and stylish. Although phpBB offers more advanced features, MyBB is still robust enough to handle popular forums.

Vanilla Forums offers both open-source and premium versions. The price of the premium version starts at $689/month and is primarily intended for enterprise-level customers.
However, Vanilla's free version offers more than enough features to build a regular community forum.
The platform has a built-in knowledge base feature where businesses can create centralized content surrounding their products and services. This allows customers to find the resources and tools they need in an instant.
Overall, Vanilla Forums stands out from other software due to its high level of polish. The message boards you can create right out of the gate look fantastic. You also get access to theme and add-on systems.
These features include everything you need to set up a modern forum. Along with basic forum functionality, you also get access to "Best Of" sections, gamification features, and post autosaving.
Pros
Allows you to set up stunning online forums using themes and add-ons
Enables your users to use an advanced text editor with plenty of helpful features
Includes the option to create private groups for your users
Allows you to create a knowledge base system with customer service articles and community posts
Cons
The overall collection of free add-ons and themes is not as extensive as you might expect
Even though Vanilla highlights the premium software on its homepage, its free version is one of the best forum software options you can get.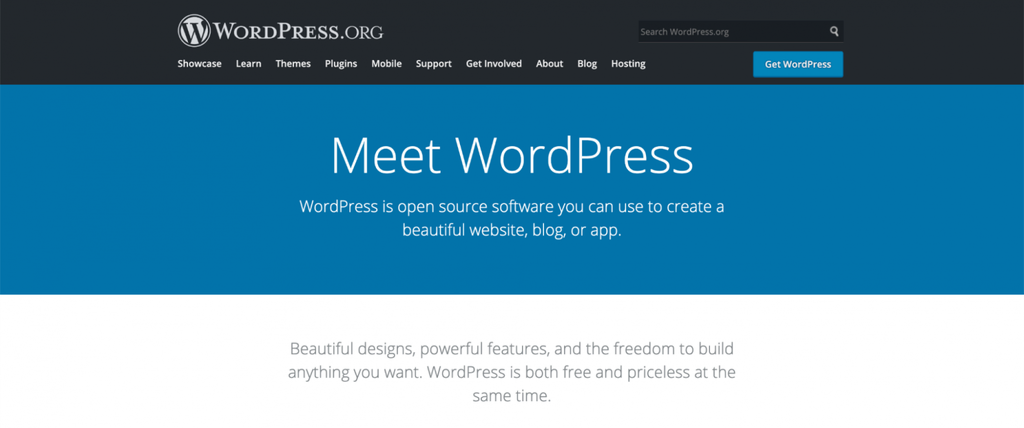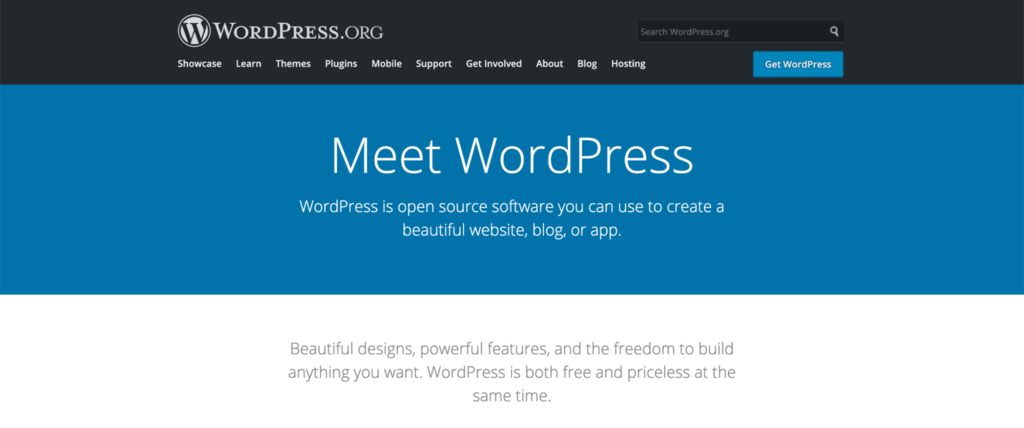 You've probably heard of WordPress before since it's the most popular content management system (CMS) today. What you may not know is that this platform enables you to create almost any type of website, from starting a blog to an online store, thanks to its massive collection of plugins.
Some of your best options to set up a forum using WordPress include wpForo Forum and bbPress. All these plugins provide all the basic online forum features you need.
It might seem counterproductive to use a multi-purpose platform to power your online community. However, a CMS such as WordPress is one of the best choices if you want to set up a regular website and a forum side-by-side.
Pros
Provides access to the largest collection of themes and plugins on the web
Allows you to set up both regular websites and online discussion sites
Provides a wide variety of forum plugins for a highly personalized experience
Cons
WordPress is not a regular forum-building software, so it requires some technical knowledge to get one up and running
If you're a WordPress user, it makes sense to use the platform to set up your new forum. What's more, knowing how to use WordPress can open a lot of opportunities in the future.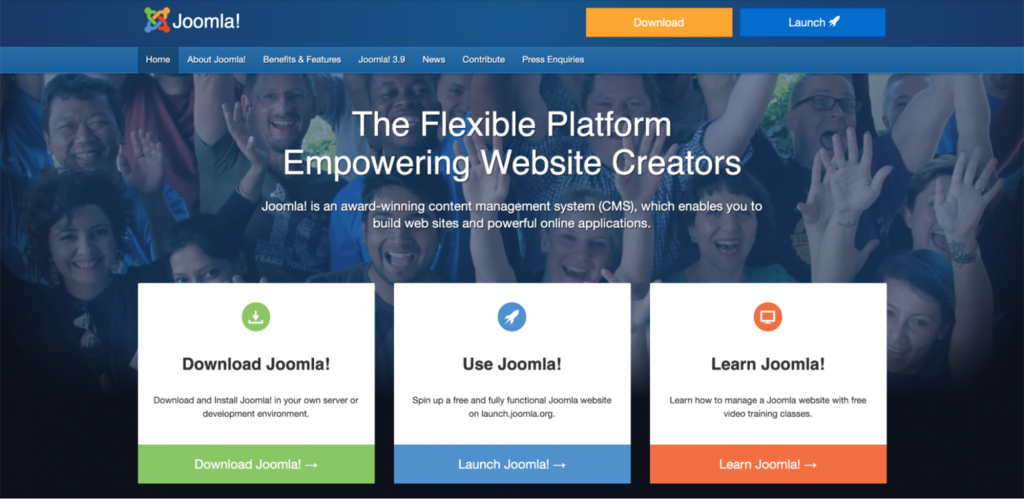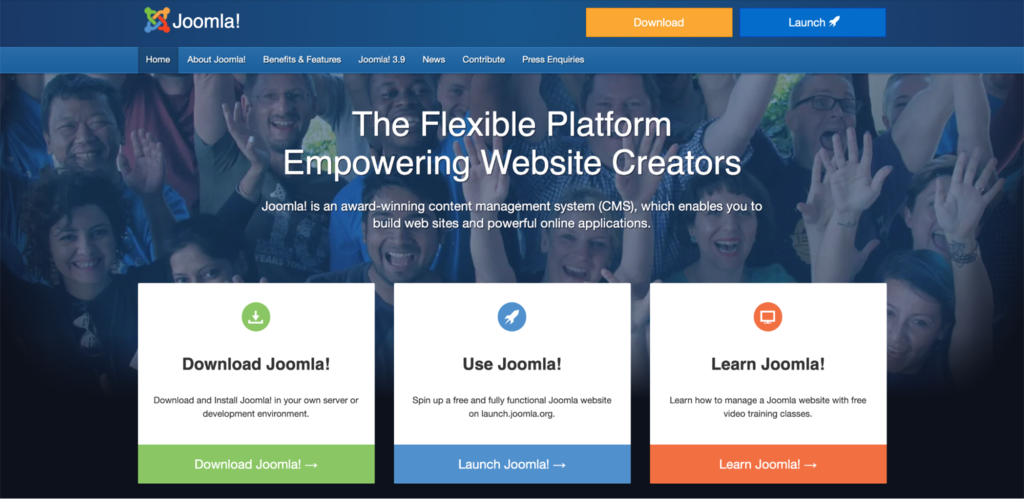 Joomla! is another excellent CMS that enables you to build almost any type of website you can imagine, including online forums. Just like WordPress, it features a powerful plugin and theme collection, so the platform is incredibly customizable.
The difference between WordPress and Joomla! is that the latter provides you with more control over your projects out-of-the-box. However, it's aimed at users with more web development experience, so it's not as hands-off as WordPress.
If you're looking to use this robust CMS to power your forum, you'll need to choose the right plugin to do it. Some of our top picks include Kunena and EasyDiscuss.
Pros
Offers more control over your website out of the box, especially if paired with Joomla web hosting
Enables you to choose from multiple plugins to set up your online forum
Provides powerful built-in security and SEO features
Cons
Getting started with Joomla! is a bit more complicated than using other platforms on this list
Your choices for forum plugins are more limited compared to WordPress
In comparison, WordPress is much easier for beginners to get started with, whereas Joomla! requires a bit of web development experience to get the most out of it.
However, it's still an excellent solution for building a feature-rich online forum.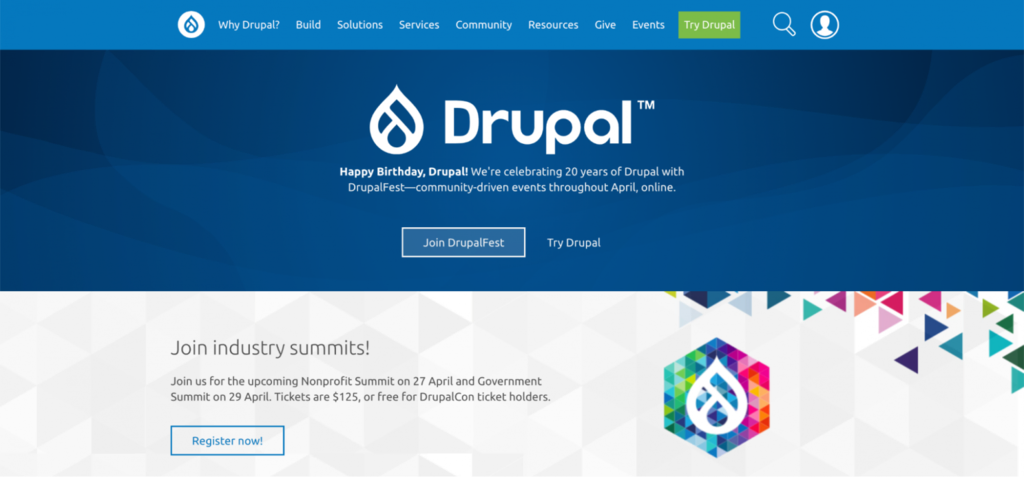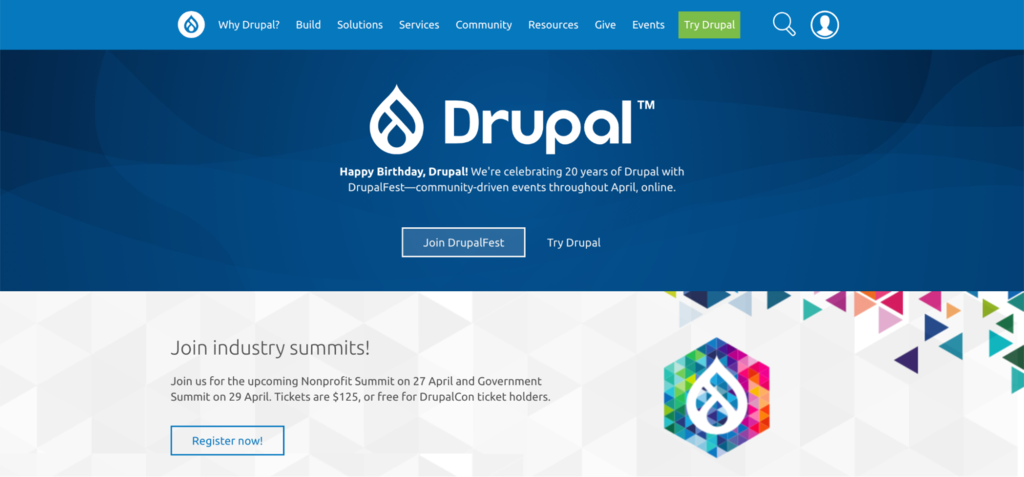 Drupal is another popular CMS, but it sits a step above WordPress and Joomla! in terms of default features.
When it comes to functionality, Drupal is one of the most powerful CMS platforms available. However, those added features also mean there's a steep learning curve. Trying to use Drupal without any development experience can be a bit overwhelming.
That said, the platform offers a solid collection of modules and themes to customize your experience further. However, you don't need to use any extensions to set up a forum with Drupal – the platform includes that functionality among its core features.
Moreover, some modules enable you to extend the default options, such as Advanced Forum.
Pros
Provides tons of customization options
Offers built-in forum functionality, no need for additional plugins
Provides access to modules and theme selections to improve the online forum
Cons
It can be difficult to get started with Drupal if you don't have prior experience in web development
Overall, Drupal is a strong choice if you're looking for enterprise-level features and scalability.
If you're a web developer yourself, you shouldn't have any problem launching your first forum using this platform.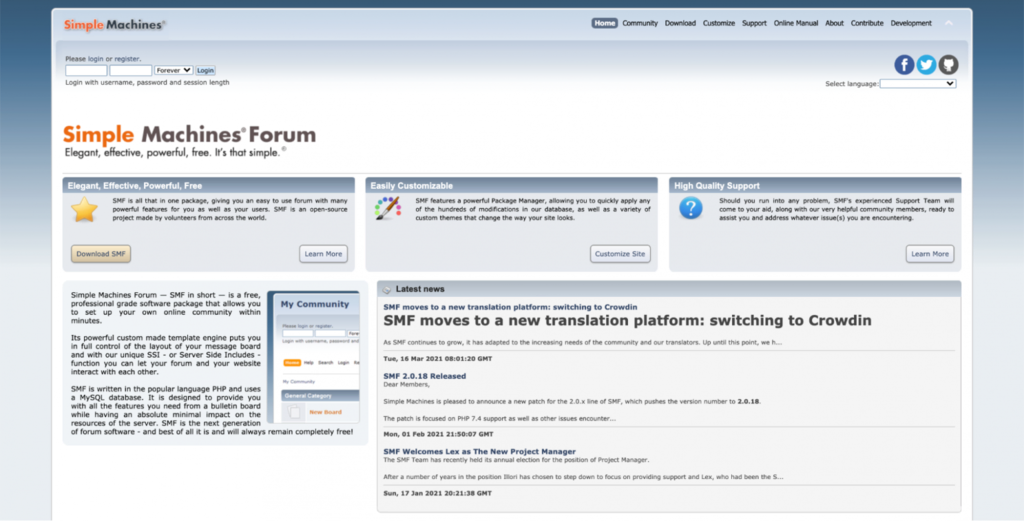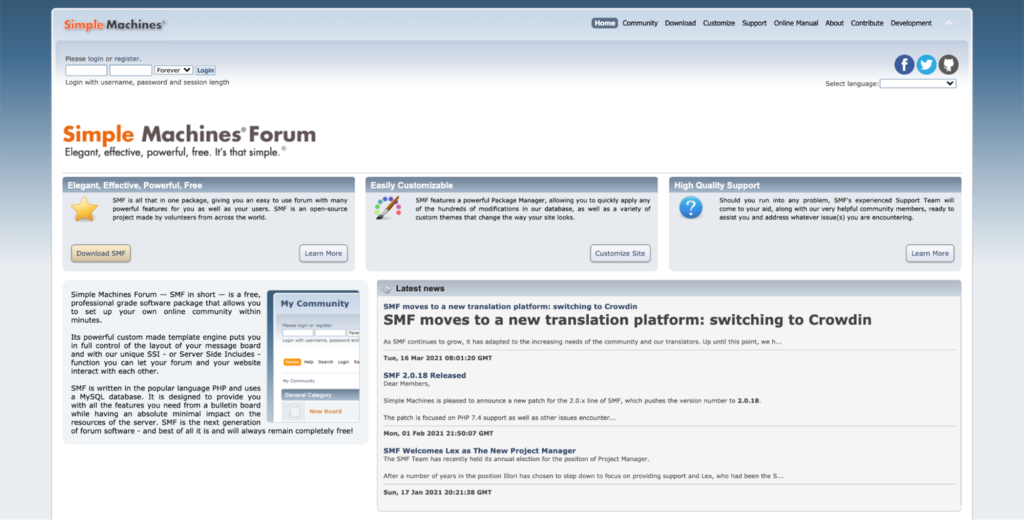 If you're looking for a quick comparison, Simple Machines Forum is most similar to phpBB. What sets this forum-building software apart is the sheer flexibility of its module and theme systems.
Simple Machines Forum uses a package manager that makes installing and updating modules a straightforward process. Plus, it offers the most extensive collection of plugins and themes you can find for open-source forum software.
What's more, Simple Machines Forum supports paid subscriptions for your forum members, as well as all the other features you'd expect to see from any premium forum tool.
Pros
Provides access to a broad collection of modules and themes
It lets you switch between multiple languages with a single click
Simplifies setting up premium subscription options for users
Cons
Most of its themes look quite outdated
It doesn't offer a lot of profile customization options
In summary, this forum software is an excellent option if you want to have access to as many modules and themes as possible. These various options enable you to implement nearly any feature you want on your online forum.
However, if you want something that looks more stylish, Simple Machines Forum might not be for you.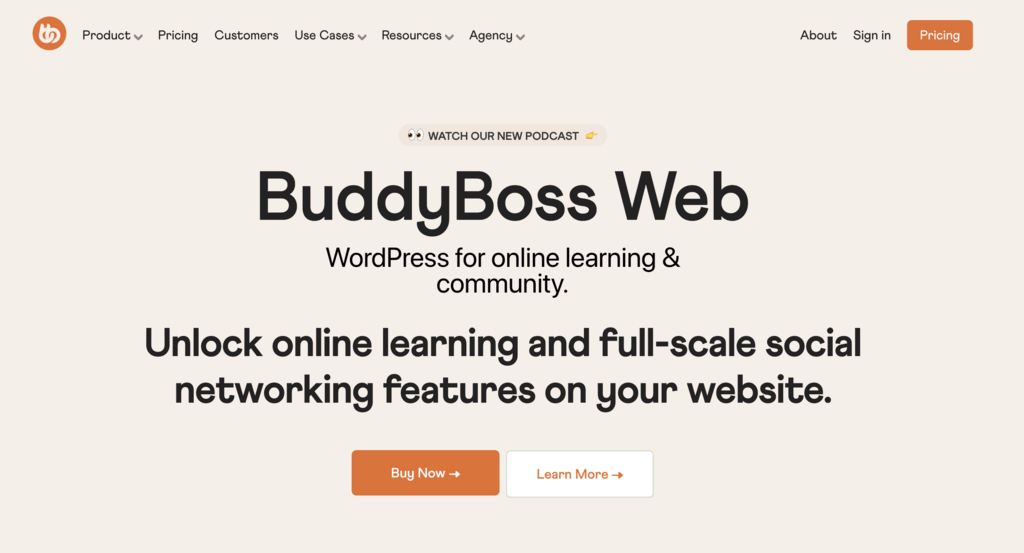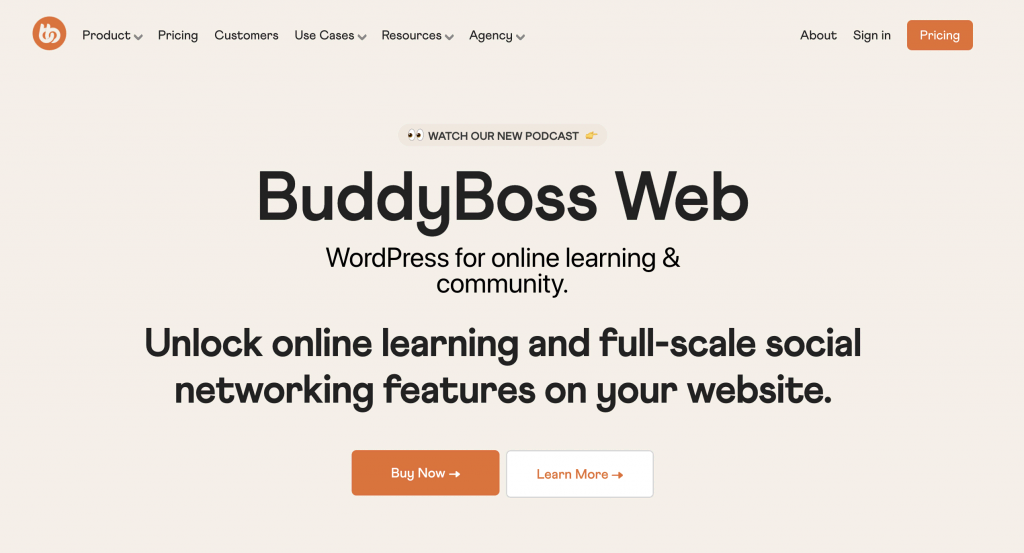 BuddyBoss is a premium WordPress plugin that allows users to create online communities on their websites, including engagement features like online forums and private groups.
With a particular focus on online courses and eLearning, BuddyBoss is an extensive plugin for anyone wanting to run an online learning platform or a learning community based around an online course.
Offering features like a community dashboard, individual user profiles, friend and follower functionality, comments, likes, and user posts, BuddyBoss is an excellent plugin for anyone looking to build a bespoke community.
Pros
Versatile features
Web and app support
Modern overall design
Cons
BuddyBoss is no doubt a powerful and dynamic forum platform, but due to the plugin's high price, we do recommend this one for users with a bit of budget to spare.


Sometimes you don't need to use a platform that overwhelms you with hundreds of features. FluxBB, for example, focuses on providing a performance-oriented lightweight alternative to other forum software.
That doesn't mean that FluxBB lacks features. It offers all the essential tools you need to set up a community forum, such as message boards, along with plenty of moderation options.
There are theme and plugin systems included, although it somewhat lacks different options available for either.
Overall, FluxBB offers a fantastic experience if you want a simple and effective platform.
Pros
Offers top-notch performance out of the box
Includes advanced profile customization options and a user-ranking system
Cons
Its plugin and theme options are limited
FluxBB manages to offer the essential functions you need to set up a robust forum. It's a perfect alternative if you don't want to deal with complicated software and you'd like to get something up and running fast.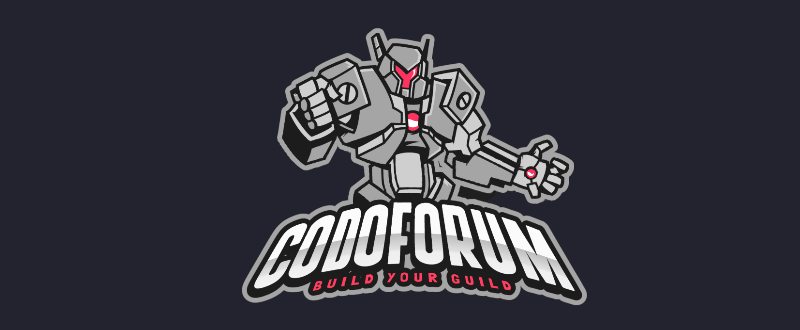 Codoforum is essentially a freemium forum software built with PHP and MySQL. The creators state that the user experience is one of the main focuses of the software. Hence, it offers a clean, simple interface and fundamental features to create a thriving online community.
One of the biggest perks of this software is that you can install it on any server that supports PHP and MySQL. Simultaneously, everything you need from the ground up is located on its clean and user-friendly documentation page.
Codoforum has a responsive layout design that automatically adapts to various screen sizes. With its Single Sign-on (SSO) plugin, users can also integrate their websites and forums, allowing visitors to use one credential to log in.
Additionally, Codoforum offers a daily and weekly digest feature so you can send visitors recent updates, events, or content through a beautifully designed email.
Pros
Provides in-depth official documentation
Its tagging system allows users to separate topics into multiple categories
Enables users to set notification levels from replies to mentions
Cons
You need to get a paid plan to access security patches and upgrades
The free version includes a "Powered by" watermark
Over time, Codoforum received several major updates and stands as an excellent choice to launch a successful online board.
The software was built with developers in mind but offers a simple and easy-to-use interface that works great for beginners.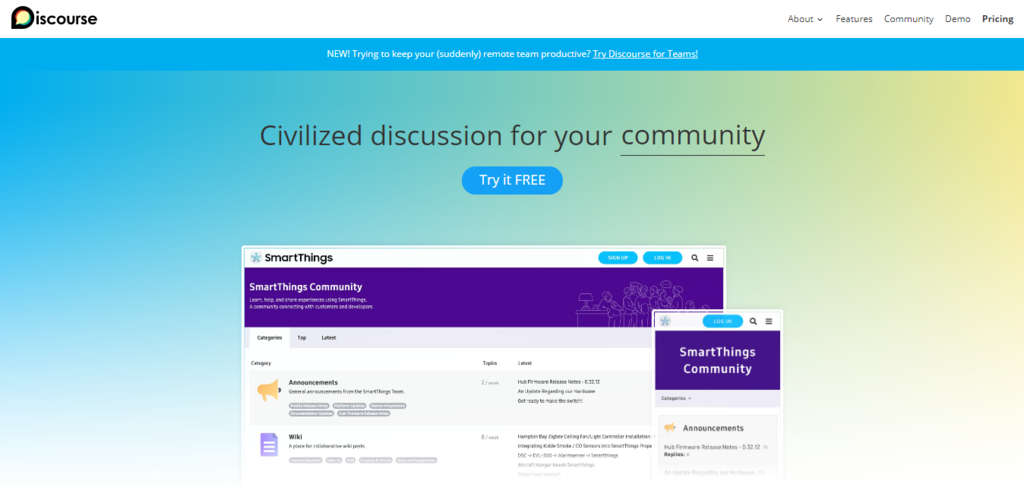 Discourse is another free, open-source forum software that offers a modern yet straightforward user interface for community discussions.
Instead of breaking threads into pages, it incorporates a scroll navigation bar to improve readability and help conversations flow better. Thanks to its mobile optimization, the layout design automatically adjusts to fit various screen sizes.
Discourse provides seamless login integration with third-party applications such as Slack and GitHub and social media platforms, including Facebook, Instagram, and Twitter.
It offers plenty of features to help you acknowledge experienced members and assign them for user moderation and community management. Other features like custom badges and emojis help create a more positive atmosphere.
Besides the free and self-hosted version, Discourse offers a managed hosting service starting at $100/month. This includes 20 GB storage, unlimited members, and up to 100,000 monthly page views. For more resources, the platform also offers add-ons for an extra $50/month.
Pros
Its dynamic notifications alert you about every mention and reply
Members can choose to follow threads from emails with the mailing list mode
There are a variety of plugins in every hosting plan, allowing you to extend its functionality
Monitor your community statistics through an interactive admin panel
Cons
It might take some time and learning to get used to all the features
Discussions can quickly get disorganized due to the members' numerous replies
Overall, this forum software provides a modern way to build a place of discussion for communities.
It combines email notifications with social media integration, making it easier for members to log in. Moreover, spam blocking and two-factor authentication strengthen your account's security.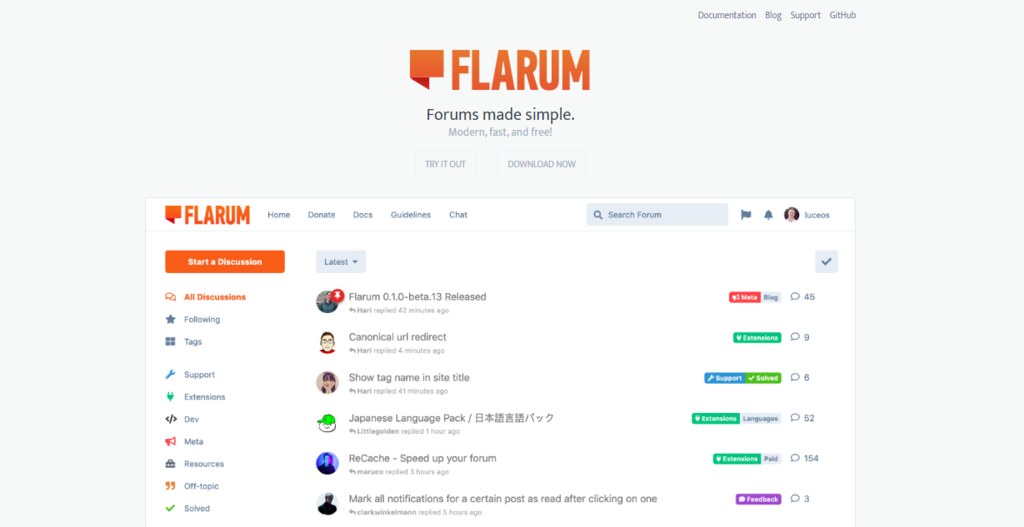 Flarum is a free forum software solution optimized for performance and ease-of-use, combining PHP and JavaScript to help the program load efficiently. Its design is intuitive and adapts across various devices.
This open-source forum builder also provides an easy setup process. Simply access the installation page (e.g., yourdomain.com/flarum), then fill in your details and wait for the installation to complete.
Built with user experience in mind, Flarum's interface incorporates animations and other helpful features to improve user engagement. It also allows users to draft a message and scroll through discussions at the same time.
In addition, Flarum allows you to connect to an international audience. Download, install and add any from the 32 localization packs available. The system will automatically translate the original interface and help users from all over the world to be part of your community.
That said, Flarum is still in early development, and the program is undergoing testing phases. Thus, it's best to give it a quick test before installing Flarum on your server.
Pros
Provides integration with Pusher, allowing users to enable an interactive live chat feature
Since most of the features are available via extensions, users can easily enable or disable them based on their needs
Cons
The software requires Apache or Nginx web server, PHP 7.3+, MySQL 5.6+ as well as SSH access to run Composer
Although Flarum is still in beta testing, it already offers essential features found in other established forum software solutions. Its numerous extensions work with all kinds of communities.
Moreover, the simple and straightforward interface is suitable for beginners.

What Makes a Great Forum Software?
Most online forums enable you to register an account, create threads, and post in response to other users' messages.
In many cases, forums include user-role systems, so you can have admins and moderators managing the site while regular users retain minimal permissions.
Aside from the basic functionality, here are some additional features to look out for when you are choosing an online forum software:
Profile customization. Enable users to customize their profiles and help increase engagement by giving them more flexibility and control.
Powerful text editor. Forums are almost 100% text-based. That is why a user-friendly text editor is essential for users to create and customize their posts.
Private messaging. Many forums are all about community discussion, but enabling private messaging is an excellent way to advance interpersonal relationships.
Comment signatures. Like profile customization, this option can help you increase engagement and give users the chance to have more fun.
Achievement systems. Some online forums set up "user levels" that can be unlocked after a certain level of activity or amount of time. It rewards users for frequently participating in your forum.
Whichever forum-building software you choose doesn't need to offer all of these features. What you need the most depends on the kind of experience you want to provide.
For example, if your goal is to set up a forum that lets users submit customer support queries, it might be unnecessary to enable signatures or achievements.
However, most forums can benefit from as many modern features as possible. Providing an experience as close as possible to a social media platform can entice users to keep coming back.
For that reason, you want to look for a forum software that offers as many of these features as possible, even if you don't intend to use them right away.
Conclusion
Setting up an online forum is much like creating any other type of website. You need a reliable forum host and tools that provide all the functionality you'll need.
Our go-to forum software recommendations are WordPress and phpBB due to their ease of use, flexibility, and wide variety of features.
WordPress also offers an easy way to turn your website into a forum with its incredible selection of forum plugins. As with phpBB, users can easily install the software using either Hostinger's auto-installer or the Softaculous app installer.
However, they are hardly the only solid competitors for the title of the best forum software. To choose the right option, determine your goals, list the features you need, and weigh in the pros and cons of each platform.
Do you have any questions about how to choose the best forum software? Let's discuss this in the comments section below!