5 Best Band Website Templates for Musician Sites in 2023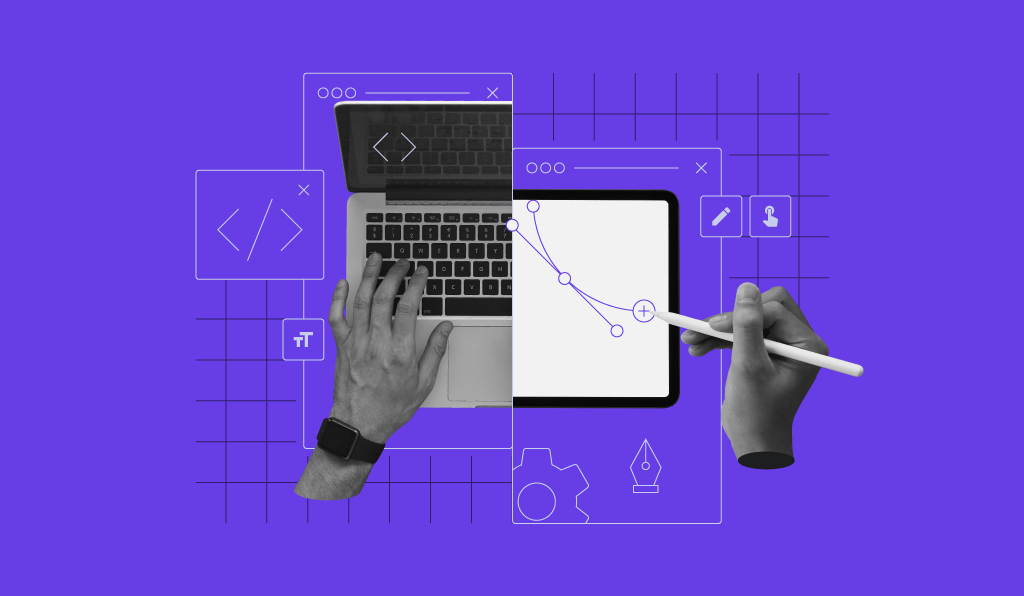 A well-designed website can be a central hub for your music, events, and fan engagement. Choosing the right music website template for your band helps ensure that your online presence is as engaging as your music.
In this article, we will introduce you to the top 5 band website templates available on Hostinger's web builder. Users can customize each template to make them suitable for any music genre, from rock bands and pop singers to country musicians.
Additionally, we'll show you five real-world examples of musician websites made with our builder for your band website inspiration.
Download Website Launch Checklist
Top 5 Music Band Website Templates
Explore our curated selection of music band website templates optimized for both visual impact and great user experience. With Hostinger Website Builder, you can choose from a variety of templates that make it easy to create a compelling and functional website from scratch for your music band.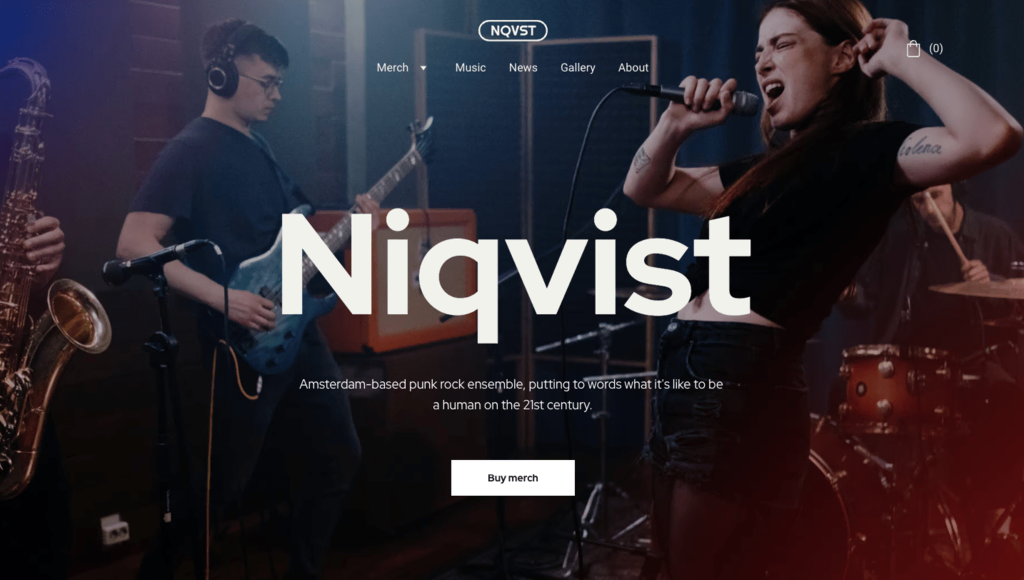 Niqvist, one of our premier band website templates, creates an engaging fan experience the moment visitors land on the page. The hero section has a striking background image, immediately capturing the visitors' attention. Consider using a captivating photo from one of your latest events or a video clip that auto-plays for a similar effect.
Another standout element of this music website template is its menu. The navigation bar is intuitively designed to enhance user experience, guiding visitors through essential sections like Home, Tour Dates, Music, and Contact. Such a centralized menu is a straightforward way to showcase your musical project without overwhelming your audience.
The homepage tour and ticketing section lets you list your upcoming gigs and concerts, complete with a direct Buy Tickets link. By linking directly to a reputable ticketing platform, fans can complete their purchase quickly, boosting your user experience.
This band website template also has an embedded music video player on the homepage. This is a must-have feature for any music band website. It lets visitors sample your latest tracks and music videos right on the website, helping to turn first-time listeners into fans. Consider featuring your latest EP or most popular singles on your homepage to make it easy for first-time listeners to hit the play button while browsing.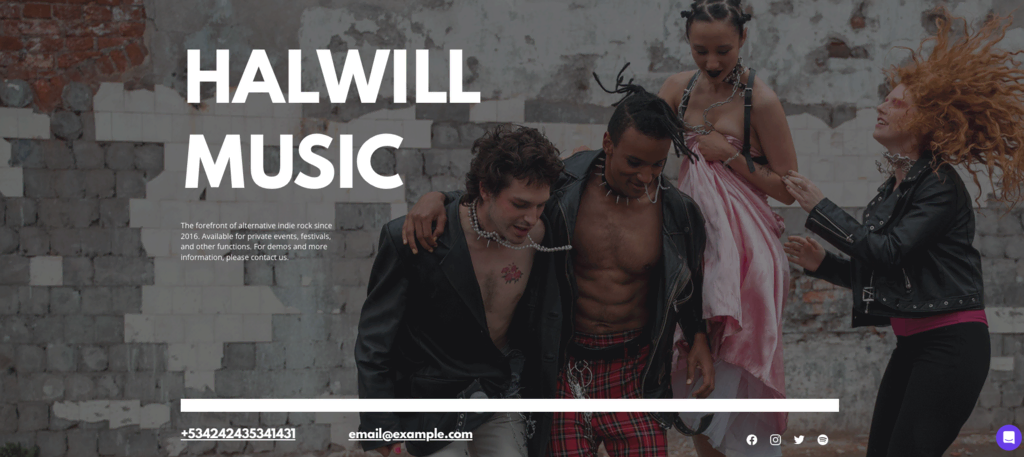 Halwill is a one-page music website template that grabs visitors' attention with its hero section, featuring a central call-to-action (CTA) button. This CTA can be customized to guide users to listen to your latest album, subscribe to your newsletter, or buy tickets for upcoming music events. The key is to use the hero section of your site to channel your audience toward a specific action that aligns with your current goals.
As music band website templates go, Halwill also includes a space for embedded music videos and an album gallery section. The gallery follows a grid layout, making it perfect for displaying your albums or merchandise. Thumbnails provide a sneak peek of the overall look and feel of the album, compelling visitors to click and explore your music online further.
You could arrange the gallery to highlight your most recent or popular albums, making it easier for fans to engage with your latest content. Consider creating individual pages for each record, sharing some behind-the-scenes material and other related awards or accolades.
Even though Halwill is a one-page band website template, it has all the necessary features of a fully-fledged website. For instance, the contact form near the footer serves as an excellent touchpoint for audience interaction, capturing leads and making it easier for people to reach you.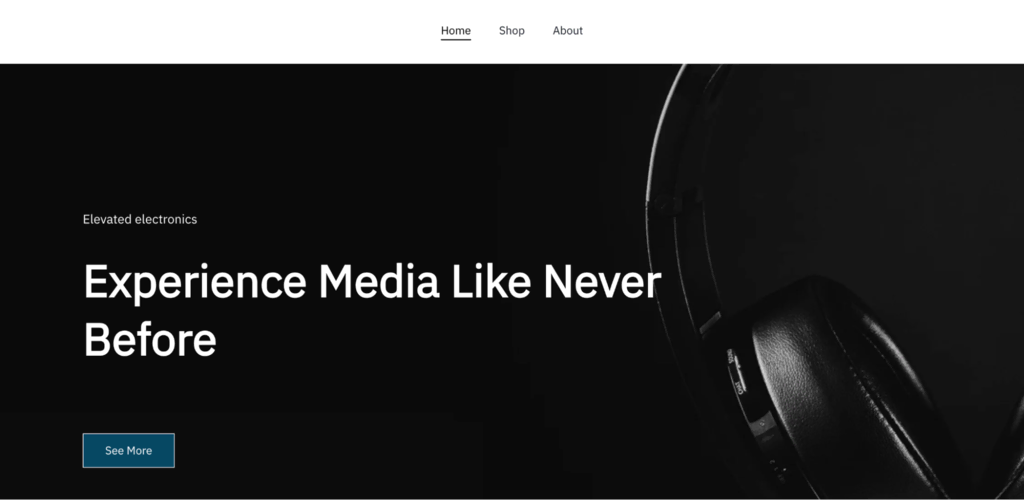 For music bands looking to monetize their brand, the Safa website template comes with a built-in eCommerce solution. While originally designed to suit an electronic eCommerce store, it takes just a few tweaks to turn Safa into a music website.
One of the key features of this website template is the promotional banner placement on the homepage. Each banner is strategically positioned to highlight time-sensitive information. A music website or a band could highlight an upcoming single release, a special merchandise sale, or even an upcoming tour.
The banners are placed amid other homepage content, making them hard to miss. By clicking on these banners, fans can be directed to your blog to learn more about your band and music career, an album landing page to buy it, or the Concert section to check upcoming show dates.
In addition, this template's grid-style store landing page is ideal for showcasing various types of band merchandise, from digital downloads to physical products. On each product page, the Add to Bag buttons simplify the buying process, offering an efficient shopping experience for your music fans.
Safa's homepage also includes a dedicated section for reviews of your latest single, live performances, or merchandise. These reviews can serve as testimonials that build credibility and create a sense of community around your band.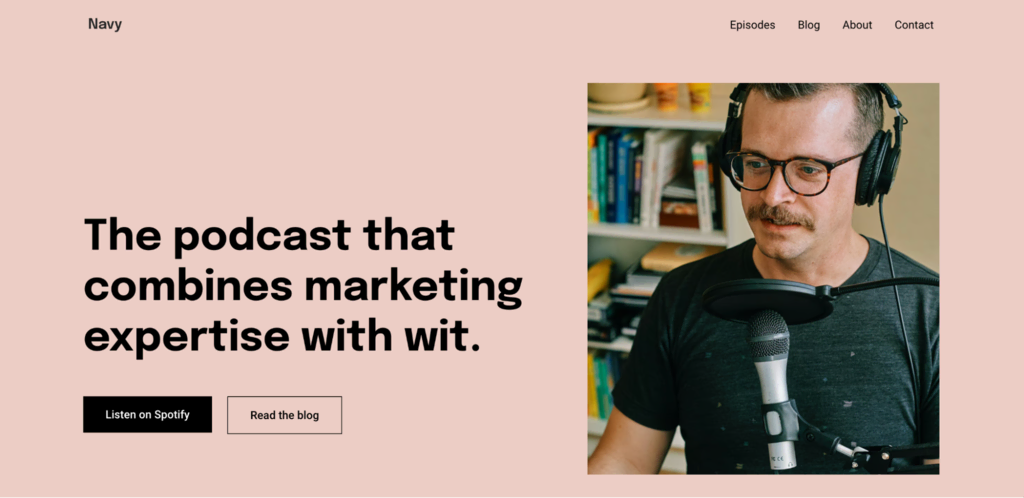 Navy, originally a podcast website template, can be easily adapted for music bands. The bold hero section can highlight a new single or album, encouraging immediate engagement with clear CTAs.
This music band website template also features a streamlined navigation bar. This makes it easy to guide fans to key areas like Music, Tour Dates, and Merch. Having straightforward and easy-to-understand site navigation ensures that your audience can find what they're looking for, enhancing the overall user experience.
The latest episodes section on the homepage can easily be repurposed for music producers, singer-songwriters, and other music artists. Instead of podcast episodes, think about featuring your newest singles, recent interviews, or even vlogs from your latest tour. Each featured entry with a thumbnail and a brief description offers a quick snapshot of the content, encouraging fans to click and engage further.
You can replace the typical About the Host page with an About the Band section to introduce the band members and connect more personally with your audience. This is an excellent opportunity for fans to get to know the people behind the music, making the connection more personal and engaging.
Navy also includes a newsletter signup CTA block in its footer. Having a clear CTA for newsletter subscriptions can be a pivotal feature for bands, helping to build a dedicated fan base. Whether you're releasing a new single, announcing a tour, or launching new merchandise, your newsletter is a direct line to your most engaged fans.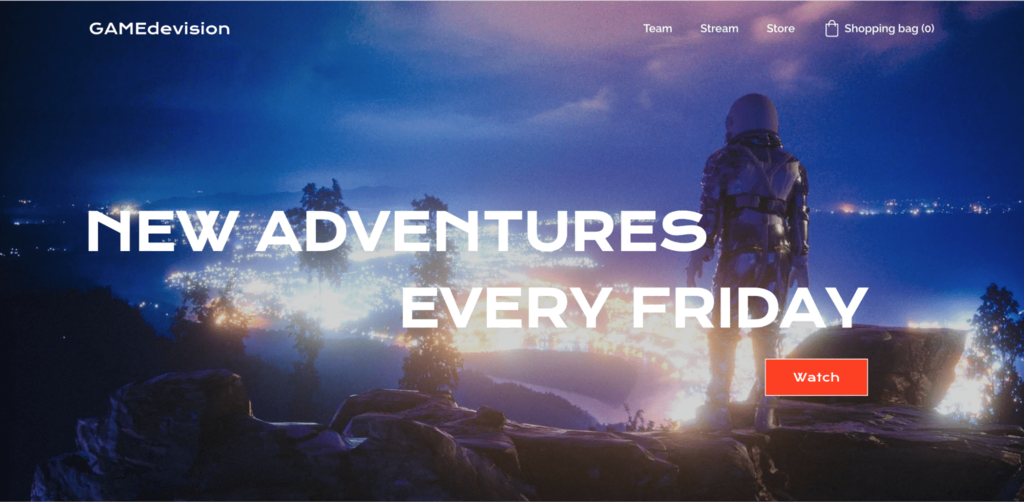 Choosing the right band website template is crucial in the crowded landscape of music websites. With the Shom gaming template's easy customization options, transforming it into a music band website is a breeze.
The hero section with a full-width background image is a central feature of this website template. You could use your band's latest music video or an image of a recent live performance here. As it's your first shot at gaining the attention of your site visitors, consider using a visually striking piece that represents your modern music style and aesthetic.
Under the hero section, the Upcoming Events part is perfect for listing tour and gig dates. Include an embedded countdown timer to add a sense of urgency, encouraging fans to mark their calendars and buy tickets. Whether it's a live gig or a new album, a section like this ensures that your audience stays in the loop.
The Shom website template also comes with an integrated online shop. This helps bands to showcase and sell albums, merchandise, or even digital downloads. The grid-style store landing page and bright Add to Bag buttons on individual product pages streamline the shopping experience, making it easy for fans to make impulse purchases. It's an excellent way to monetize your music band website while offering fans tangible ways to support you.
The footer of this website template features all the essential links, newsletter subscriptions, and social media icons, allowing fans to connect quickly with you across various platforms. Given the competitive nature of the music industry, having an easily accessible online presence across social media platforms can make all the difference.
Band Website Examples
Let's look at some real musician website designs to give you a better idea of what's possible with our Website Builder.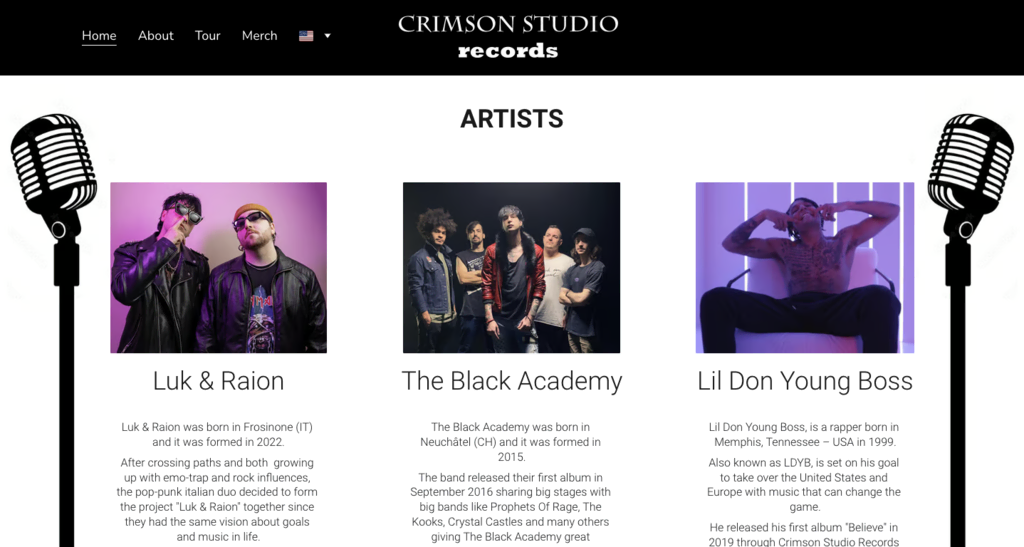 Crimson Studio Records focuses on a clean, minimalistic music website design with a monochrome color scheme. This music website is a great example of how a simple but modern design and navigation can enhance the overall user experience.
Features like the sticky menu bar, embedded recent music video releases, and featured merch section on the homepage keep the audience engaged.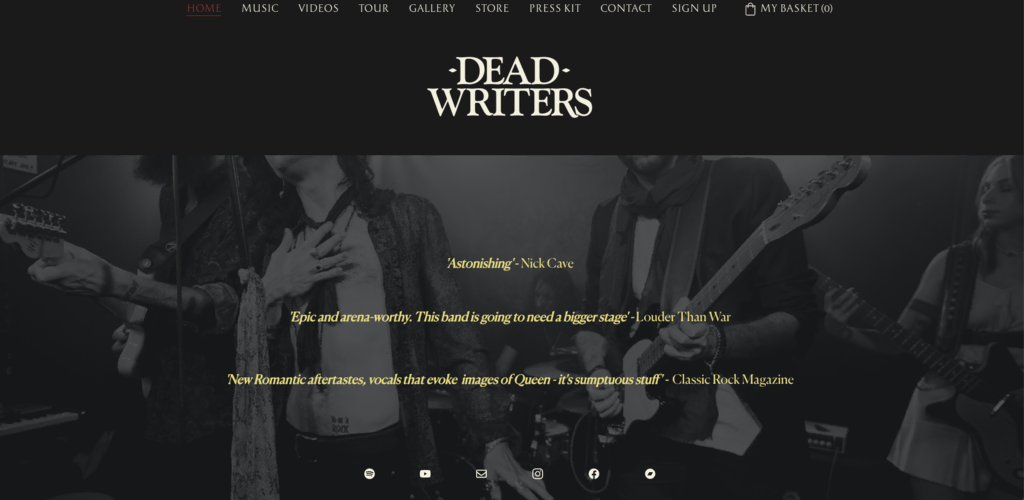 The Dead Writers Band brings grungy, stunning band visuals to the hero section of its homepage. Overall, the site has an excellent balance between aesthetics and functionality. You'll find tour details, photo galleries, a press kit, and a newsletter signup section for fans who want to stay updated.
Creating a cohesive online presence helps to make your site memorable. Hostinger Website Builder's intuitive drag-and-drop page editor makes it easy to align any template with your band's personality. You can specify the colors and fonts in the site settings and customize the background of different page sections in a few easy clicks.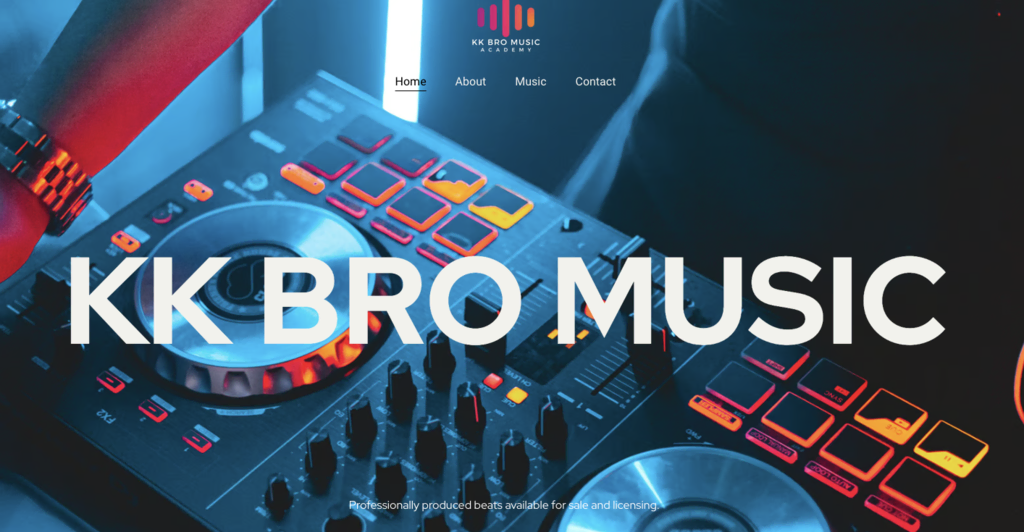 KKBro Music Academy is a music production company focusing on selling and licensing their songs. Featuring a striking hero section and an alternating homepage layout, this website effectively showcases the company's available music with clear photo galleries and CTAs.
Consider using contrasting colors as the background of different sections to create a similar effect on your site. With Hostinger Website Builder, it's easy to edit individual homepage sections.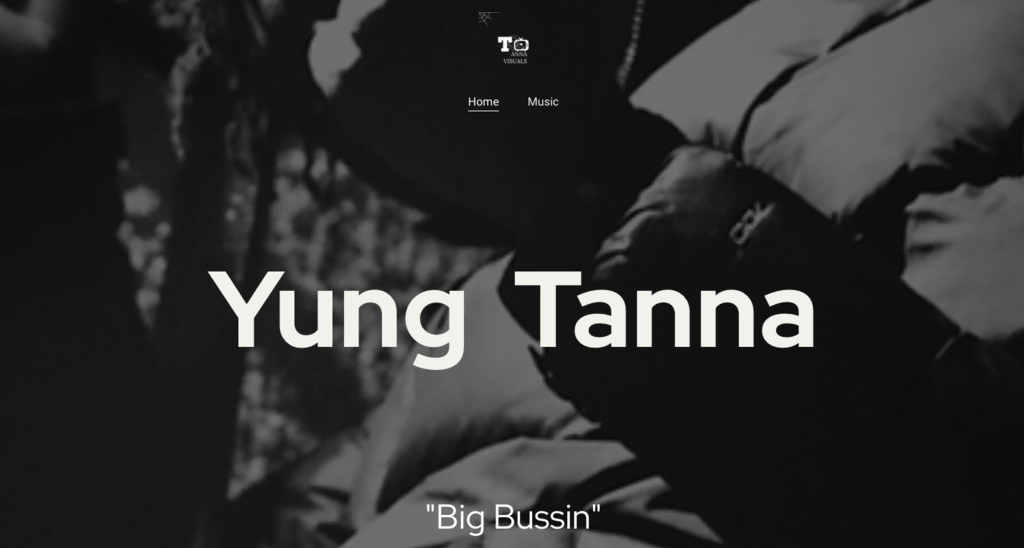 Yung Tanna's website showcases the artist's music and lifestyle through vibrant artwork against an otherwise black-and-white color scheme. The hero section is heavily integrated with social media, making it easy for fans to connect with the artist across the web.
Hostinger Website Builder has built-in, professionally designed social media elements available for all users. This helps to keep page visitors within your online sphere of influence, even if they leave your website.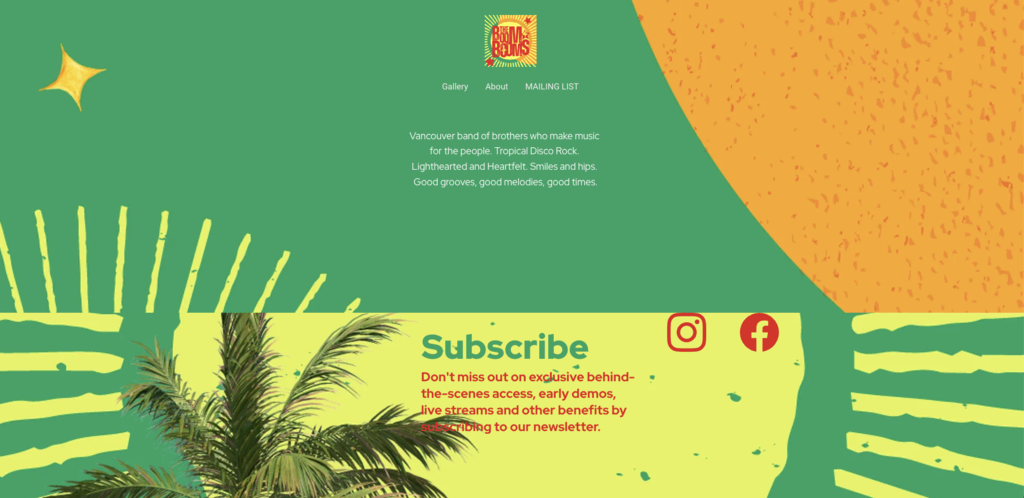 The Boom Booms offers a visually engaging experience with bright illustrations and full-width background images. The site has separate pages for the band's photo gallery and mailing list, as well as a thorough About page that introduces each band member to the fans.
Even if your chosen Hostinger Website Builder website template doesn't have sections for individual band members, you can easily drag and drop the image and text elements anywhere on the page. To achieve a similar rounded corner look, tweak the image settings by clicking on the image.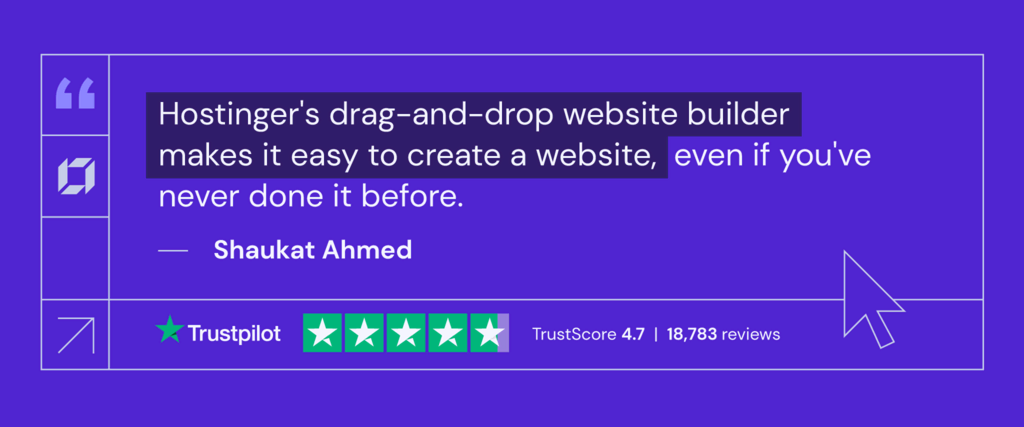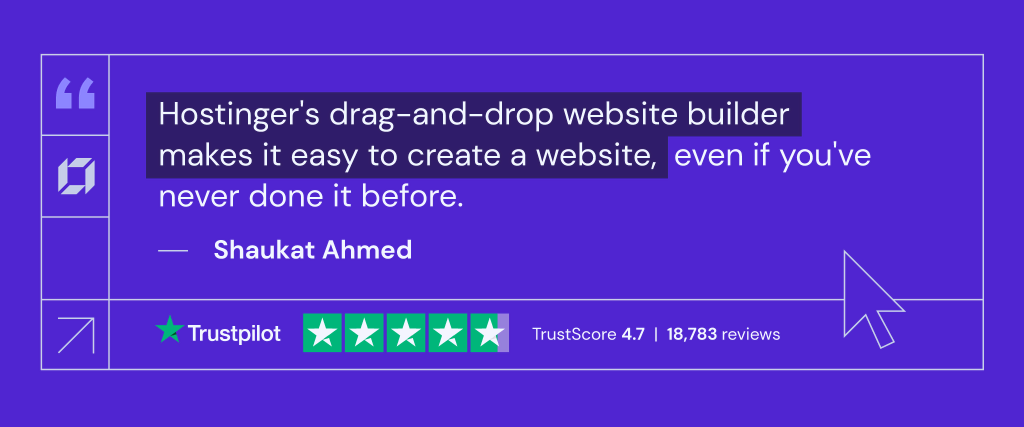 How to Make a Band Website With Hostinger Website Builder
Now that you've seen some great band website templates, it's time to start building your own band website with Hostinger Website Builder. Get started in a few simple steps:
Sign in or register. Log in to your account or follow this tutorial on how to choose a web hosting plan.
Choose a website template. Pick a band website template that resonates with your musical style and brand image. You can also customize another website template design to fit your niche.
Customize. Use the drag-and-drop editor to customize your band website template. Add images, text, and links to different music streamlining platforms.
Add features. Incorporate social media icons, embed event calendars, and add a blog or an eCommerce store for your merch.
Publish. Once you're happy with your website, connect your site to a domain and hit the Publish button.


Conclusion
Your band's website is more than just a digital portfolio; it's a platform that can help build a brand and connect with fans and industry professionals alike.
After reviewing the top 5 band website templates and examples, it's clear that the following key features are essential for a well-rounded band website:
Captivating hero section for immediate audience engagement.
Intuitive navigation bar for easy site exploration.
Comprehensive tour section to keep fans updated.
Efficient online store to monetize your music and merchandise.
These features not only enhance user experience but also streamline the path from discovery to fandom. Whether you're an emerging or already-established artist in the entertainment industry, choosing the right band website template can set the stage for your online presence.
Music Band Template FAQ
Find answers to some of the most common questions about creative band layouts.
Where Can I Find Music Band Site Themes?
Hostinger Website Builder has various designer-made music themes. All of our user-friendly band templates come with a range of customization and integration options.
What Does Band Website Customization Involve?
Website template customization allows you to modify templates to fit your style. This can include custom band website aesthetics, color schemes, and embedding music videos.
Are There Hostinger Website Themes Suitable for Bands?
Yes, Hostinger offers various music industry templates suitable for different musicians, from pop and rock bands to solo singers. You can also choose any website template that you like and customize it to fit your needs.
What Features Should I Look for in Music Band Templates?
Look for a website template that offers easy customization and features like photo galleries and social media integrations that facilitate engaging fan experiences.
What Are Custom Band Domains?
Custom domains are unique web addresses, often consisting of your band's name. They are an essential part of band website branding as they help fans find you online.
What Tools Are Available for Band Promotion?
Band promotional tools can include an active social media presence, email marketing campaigns, and eCommerce options for selling merchandise.