20 Best B2B Lead Generation Strategies to Maximize Your Company's ROI in 2023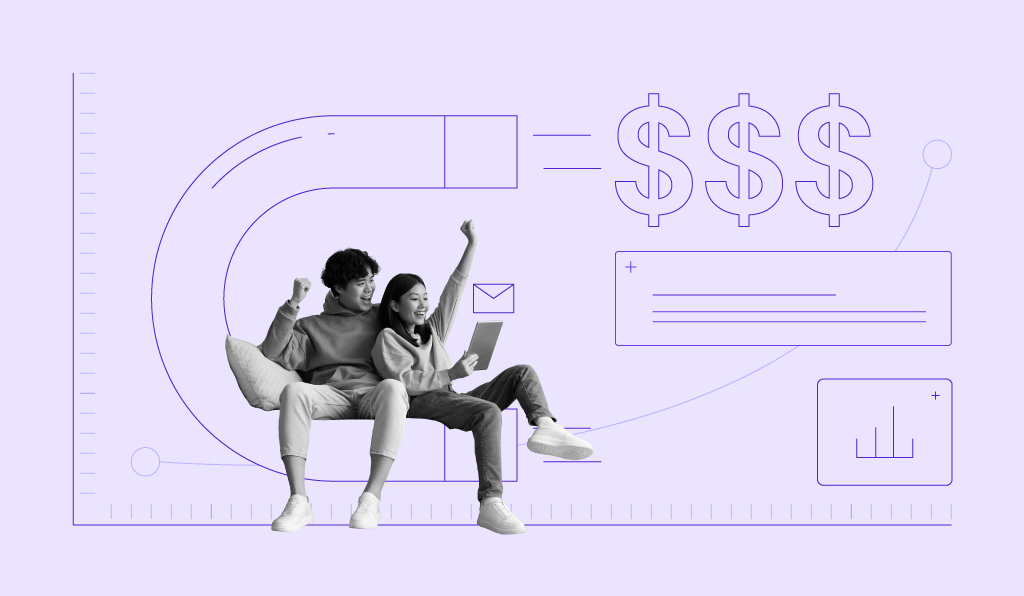 In marketing, leads are qualifying prospects interested in purchasing your product or service. In comparison, lead generation is the process of attracting and turning them into customers.
If you own a business-to-business (B2B) organization, you must apply different lead generation strategies than one would use for business-to-company (B2C). In short, effective B2B lead generation strategies help improve sales and minimize resource usage.
This article will teach you about effective B2B lead generation strategies to maximize your business's return on investment (ROI). We will also explain the B2B lead generation process and its benefits.


What Is B2B Lead Generation?
B2B lead generation is the process of attracting other businesses to purchase your product or service. Its ultimate goal is to turn them into clients and generate sales. B2B lead generation involves getting leads' information, such as names and email addresses. It is the initial step in a business' marketing funnel or sale process.
The Process of Generating B2B Leads
Your marketing and sales teams must undergo different steps to generate B2B leads. In this section, we will explain those steps – from gathering prospective B2B sales leads to effectively generating sales.

Step 1. Use Effective Strategies to Find B2B Sales Leads
The initial step is to find B2B sales leads using various digital marketing strategies. This step typically focuses on gathering prospective customers' contact information, like email addresses.
At this stage, it is crucial to have the right B2B lead generation strategies. They help improve lead quality and quantity, increasing sales potential.
Step 2. Contacting Potential Leads
The marketer reaches out to potential leads using the gathered contact information for outbound lead generation. They may use different outreach methods, such as sending emails, making calls, or answering queries.
During this step, the marketer aims to assess the leads' quality based on their communication. They also strive to nurture the leads further down the sales process.
Step 3. Qualify and Prospect High-Quality Leads
The marketer evaluates each lead and qualifies them based on quality. They look for high-quality leads – people who are interested and likely to purchase your product or service.
Companies usually have their own lead scoring system for this task. However, the marketer commonly qualifies leads based on the buying process stages.
They will distinguish between leads that are aware of their needs, know about your products, and show interest in purchasing from you.
Based on the assessment, leads are divided into sales-qualified and marketing-qualified.
A sales-qualified lead shows intent to purchase your product. In contrast, a marketing-qualified lead shows interest in your business and may become a paying customer.
Step 4. Make a Sale to Close Leads
The marketer presents solutions based on the prospective client's needs to create a sense of urgency, which entices leads to purchase your product or service.
When closing leads, the marketer will use different approaches depending on the leads' quality. At the end of this stage, leads will make the purchase and turn into paying customers.
20 B2B Lead Generation Strategies
In this section, we will go over 20 strategies your marketing and sales teams should focus on. Note that since these strategies' effectiveness depends on your business, you may want to make some adjustments.
1. A/B Test Campaigns
A successful marketing campaign is crucial to attracting leads. However, it isn't easy to distinguish which campaign is the most effective.
To understand different campaigns' performance, a marketer might usually conduct A/B testing. It is an experiment comparing two different website versions, typically the landing pages.
You may change any elements of your website to see which affects the engagement. However, make sure to create landing pages featuring two lead generation campaigns in such a case.
In addition to websites, you can conduct A/B testing for emails. This test is especially useful for lead generation, which typically involves email marketing campaigns.
Before A/B testing your email campaign, decide what the performance indicators are. For instance, the number of replies, open rate, clicks, or revenue.
There are some variables you can experiment with when A/B testing email campaigns:
Subject and title
Email body's length
Content
Wording and formatting
Sending time
Sender name
2. Make the Website Mobile-Friendly
Mobile devices account for 56% of global internet traffic. As more people use mobile phones to surf the internet, having a mobile-friendly web page becomes a must for all site owners.
A mobile-friendly website enables you to tap into more audiences with different devices. In addition, it helps rank your site higher in search engines.
A higher ranking helps to drive more organic traffic to your website. Increased organic traffic allows you to generate more inbound leads in the long term without spending excess resources and effort.
Moreover, having a mobile-friendly website improves lead magnets' effectiveness. Visitors can get content or incentives by entering their contact information, usually featuring a form.
The lead magnets may not display properly when a user tries to access your desktop site on a mobile device. Optimizing your site for mobile use ensures they are visible and intractable.

3. Use Google Ads to Target Leads
A viable lead generation strategy is to promote your business on paid channels like Google Ads. Using paid marketing channels helps generate leads with higher quantity and quality.

As it's the world's largest search engine, using Google's ads service allows you to tap into its massive traffic. You can also create targeted ads for users with high purchase intent, resulting in a better ROI.
Consider the following tips to maximize your Google Ads campaign:
Conduct keyword research. Use high-intent, relevant keywords to target quality leads. Use Google Keyword Planner to help research and analyze your keyword strategy.
Pick the appropriate ad type. Google Ads offers different ad types to cater to various campaigns and businesses. Depending on your needs, choose between dynamic search ads, responsive search ads, or basic text ads.
Use the Google Ad extension. The extension is a feature that allows you to add more elements to your ads. It helps make your ads more noticeable and informative, improving engagement.
Track your ads performance. Regularly check your ads performance to see if your campaign is successful. Tracking result provides you with useful data for developing more effective ad campaigns.
4. Optimize Your CTAs
A call-to-action (CTA) is an interactive element in your website that prompts site visitors to take a specific action. It can appear as a form, text, or button.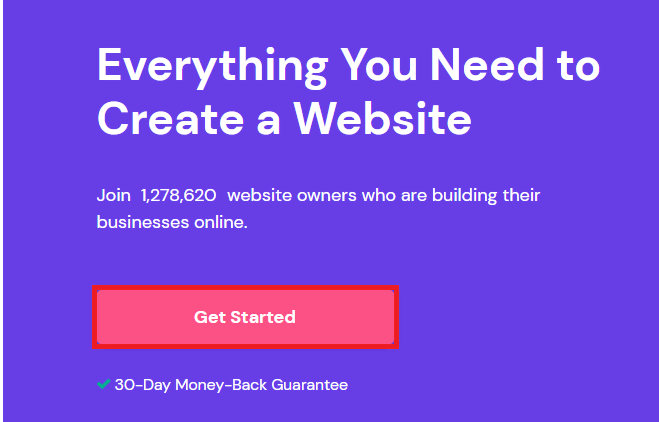 A CTA is the key to generating leads and turning them into customers. In other words, visitors' interaction with CTAs indicates their interest in your business.
Well-optimized CTAs will entice visitors to take action, bringing them closer to sales.
For WordPress websites, simply use a shortcode to insert a CTA. However, pay attention to the following aspects to get the best results:
Place strategically. Put CTAs in easily noticeable places, such as in the middle of landing pages. Don't place CTAs at the bottom of your page or near distracting elements that can divert visitors' attention.
Deliver a direct value proposition. Compelling CTAs should deliver your products or services' benefits to persuade visitors. Also, focus on one value proposition for each CTA to avoid unnecessary confusion.
Make your CTAs stand out. Pay more focus to your CTAs' design to make them stand out. Apply colors contrasting the background, make them the right size, and use shapes that make them look interactable.
Evoke urgency. Accompany CTAs with well-written copies that encourage visitors to take immediate action. One viable strategy is to include countdowns or time-sensitive phrases like "limited."
Suggested Reading
5. Build Social Proof
B2B customers are more selective when purchasing products or services. Therefore, their hesitation can hinder lead generation.
Build social proof to improve leads' trust in your business. If they trust your business, they will be more interested and enticed to make a purchase.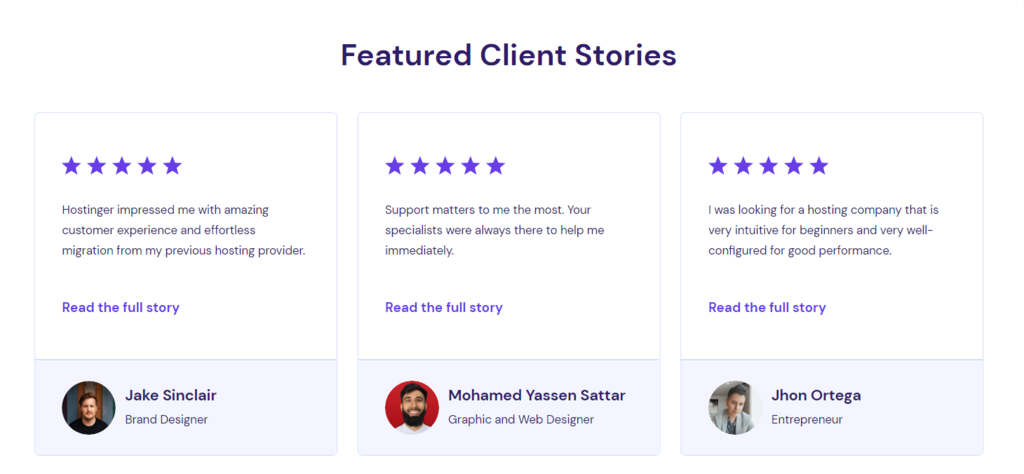 Here are some popular ways to build social proof for your business:
Show user reviews on your site. Encourage customers to leave testimonials and display them on the landing pages. You may also display reviews from third-party platforms like Google, Trustpilot, or blogs.
Display your business's stats. Stats such as downloads or subscribers are objective proof of your business performance. Displaying the stats helps establish your business's credibility, attracting more potential clients.
Add live sales notifications. Use a plugin to display customers' real-time activity on your website. Visitors who find out others are subscribing to your newsletter will be enticed to do the same.
Use social media plugins. These plugins let you display widgets users can use to share your content to their social media accounts. When many people share your post, your business will gain more trust.
6. Take Care of Q&As
Conduct a Q&A to improve your business presence and credibility. Typically, business uses popular forums or Q&A sites such as Quora to reach wider audiences.

Being present on such platforms allows more prospective clients to learn about your business. In addition, you can strategically position your business as the solution for customers by answering their questions.
Customers who find your offerings relevant to their needs will be more interested in your business. You will also gain more trust, helping to build your brand name and credibility.
7. Publish Case Studies and Original Research
B2B customers are analytical and cautious when making a purchase. To evoke their interests, establish yourself as credible by becoming an industry expert.
An effective way to build credibility is through content marketing. To show your expertise, create informative and valuable content, such as case studies or original research.
This content requires extensive knowledge to create, implying your prowess in the field. In addition, such informative content receives more engagement, effectively increasing brand awareness.
Also, other websites may cover and refer to your content if they find it informative. This builds backlinks, improving your site's authority and ranking in search engine result pages.
Pro Tip
Developing a proper content marketing strategy may require much effort, time, and human resources. If you have limited resources, consider partnering with a content marketing agency for assistance.

8. Test Creative Outreach Methods
While business outreach is typically formal and rigid, you can make it more casual and creative.
Creative outreach allows you to stand out from competitors, making leads remember your business better. It also helps make your outreach more engaging and effective in grabbing leads' attention.
There are different creative ways to make your outreach email marketing more compelling. For example, you may attach images or videos and include interesting, catchy phrases.
However, don't make your email look unprofessional. Since each person is different, study your target customer to see if such creative outreach is appropriate.
9. Target Leads on LinkedIn
LinkedIn is a popular social networking platform for generating leads. It can attract twice as many leads compared to the second-highest-performing social channel.
LinkedIn is an ideal tool for B2B lead generation strategy, as many businesses use it for professional networking. In addition, the platform also offers features that help your lead generation effort, like Linkedin Ads and Marketing Partners.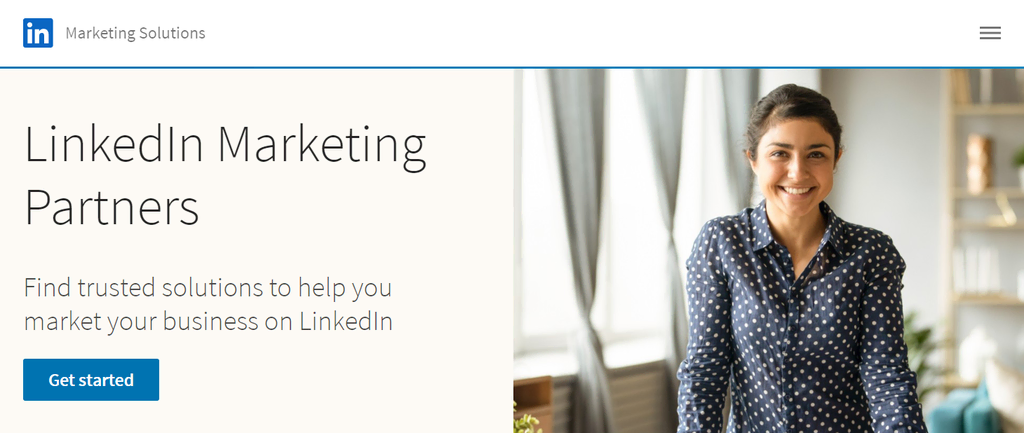 With Linkedin, you can approach and nurture high-intent leads more effectively. Easily gather their information from the profile pages and contact them directly via personal message.
When targeting leads on LinkedIn, ensure you set up your profile properly. Then, grow your connections and create relevant, engaging posts that attract leads.
10. Use Alternative Social Media Platforms
According to some estimations, a single Millennial, or Gen-Z, owns roughly 8.4 social media accounts on average. Given its large number of active users, social media has become a popular platform to promote your website for free.
While commonly regarded as a B2C marketing channel, social media is also suitable for B2B. Data shows that Facebook surpasses LinkedIn as the most popular B2B social media marketing platform.
Using more social media platforms helps to expand your reach, maximizing your B2B lead generation efforts. Popular social media for B2B marketing includes Instagram, Facebook, YouTube, and Twitter.
Remember to choose platforms based on your target market. Avoid using too many platforms if you can't keep your presence across multiple social media channels consistent.
To improve the engagement rate, personalize your content based on your social media audience. In addition, consider promoting your business through social media ads.
11. Increase Your Social Shares
Increasing social shares helps expand your brand reach, improving awareness. In addition, you can use share count as a metric for your content's engagement.
However, note that there is no exact strategy that always increases your social shares. This is due to social media having diverse audiences and unpredictable algorithms.
Thankfully, there are some tips to help increase your social media shares.
Create content in highly-shared formats. Data shows that visual content is the most engaging in social media. Visual content such as infographics and short videos are quick to consume, spreading faster.
Jump on marketing trends. Leverage trending topics to draw more attention. Also, use relevant hashtags to allow users to discover your content immediately.
Publish your posts at the right time. Post your content during user peak time to get maximum engagement. The ideal posting time may vary depending on your target market location and the social media you use.
Optimize captions. Applying search engine optimization (SEO) practices to social media captions improves your content discoverability.
12. Optimize for Long-Tail Keywords
A long-tail keyword is a three-word or more phrase that expresses a specific user intent. While a long-tail keyword has low search volume, users who use them are usually likely to convert.
With long-tail keywords, you can target leads with high purchase intent. Moreover, such keywords are less competitive, which is ideal for search engine optimization.
To find long-tail keywords, use an SEO research tool like Semrush. Alternatively, enter a keyword into the Google search bar and check the Autofill, People Also Ask, or Search Related To sections.
13. Start a Referral Program
Other users' recommendations can make potential customers interested in your business. Recommendations seem genuine and honest, therefore highly convincing.
A referral program is the best way to get people to recommend your business. It is where customers refer your product to others for an incentive, such as a discount coupon, gift card, or exclusive content.
According to one study, 84% of B2B customers' purchases start with referral programs. You can efficiently close qualified leads and generate sales with a well-thought referral program.
Google Workspace has a great example of a B2B referral program. It offers discounts and cash rewards for the program participants.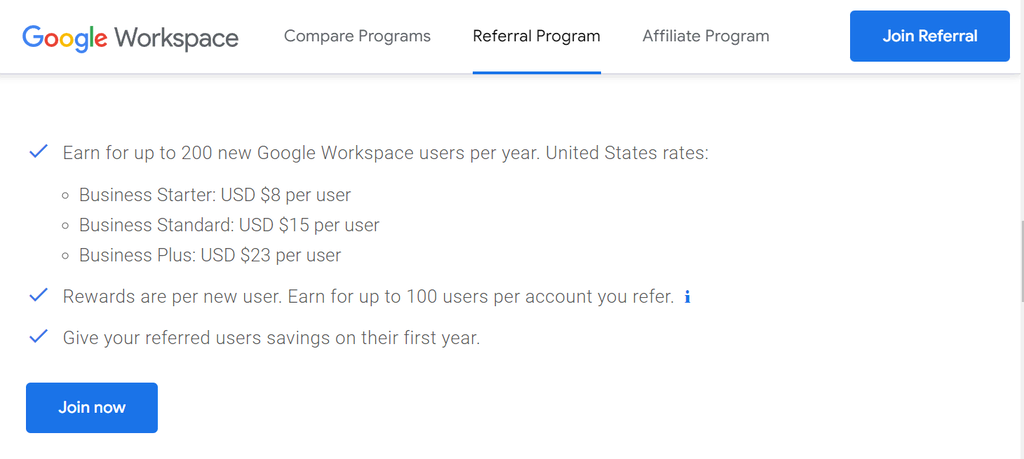 Experiment with your referral program to find one that best suits your business and customers. Change the referral requirements or offer different rewards.
14. Email Sign-Ups
Email marketing is an effective method to generate and nurture leads into paying customers. To gather leads' contact information, embed an email sign-up form in your site's lead magnet.
Visitors who enter email addresses are marketing-qualified leads, meaning they are interested in your product or service. They are high-intent leads that are more likely to make a purchase.

Obtaining leads' email addresses also lets you communicate with them on a personal level. It keeps them engaged with your business, allowing you to convert them into customers easier.
Make your email sign-up form noticeable but not distracting for the best results. Avoid placing it on a pop-up window, as visitors may find it annoying, and close it immediately.
Pro Tip
Use marketing automation software to help your email campaign effort. Tools such as Mailchimp allow you to automatically send personalized messages to customers through different channels.

15. Create Target Audience Profiles
A key to any marketing campaign is understanding your target audience. Such knowledge is useful for creating buyer personas – the representations of your business's ideal customers based on target audiences' data.
Buyer personas allow you to develop effective strategies that cater to the target consumer base.
Better strategies make your marketing effort more efficient, resulting in better ROI. Moreover, if your business can present the exact solutions to specific customers' problems, it will attract high-intent leads.
When creating client profiles for your target audience, consider the following steps:
Study their demographics. Gather your target audience's data, such as their name, age, salary, location, work, and other personal information. This information is useful to determine if your business matches their profiles.
Identify their needs and pain points. Study how your business can fulfill their needs. If target customers see your products or services as solutions, they will be attracted to your business.
Understand how they can access your product or service. Consider if your ideal customers can access your products. Otherwise, you can't generate sales despite having a perfect consumer basis.
16. Build a Social Media Community
Building online communities is a way to establish strong relationships with customers. Such communities allow you to communicate closely with your audience, engaging them with your business.
Utilize social media features such as Facebook's group and official page features to better engage with your audience. In addition, conduct online events or create posts that encourage discussion.
Having a discussion allows your followers to express their opinion more freely. It helps make your followers feel more involved and attracted to your business.
You may also reward audiences who engage further with your business to strengthen your bond.
17. Make Use of Video Marketing
Thanks to internet development, video has become accessible to more people. This makes video content a viable lead generation tool to expand your business reach.
Videos have better engagement than images and text, which is ideal for delivering your lead generation campaign. Given the effectiveness, 84% of marketers say that video helps them generate leads.
To maximize engagement, make the video short and straightforward to ensure your audience receives the important information first.
18. Collaborate With Micro-Influencers
In digital marketing, it is a common practice to promote products or services with influencers.
Consumers trust influencers' recommendations over typical social media posts. Collaborating with influencers allows you to tap into their audience base, attracting more leads.
However, some businesses may prefer micro-influencers instead of collaborating with well-known personalities with a large audience. Influencers are considered micro when they have around 1,000 to 100,000 followers.
Albeit having a smaller audience, many chose to collaborate with micro-influencers for various reasons:
Customers relate to micro-influencer more. Consumers often regard micro-influencers as their peers – other users with similar pain points. It makes their recommendations feel more authentic and honest.
Effective in reaching niche markets. Micro-influencers' audiences usually follow them for a specific content type. Partnering with micro-influencers allows you to reach the niche and specific target market.
Micro-influencers have a better engagement rate. Data shows that micro-influencers have a better engagement rate than their bigger counterparts. Compared to larger influencers, partnering with them yields better ROI.
Cost-effectiveness. Given their smaller audience, collaborating with micro-influencers costs less. You may also get free endorsement if the influencers love your product.
19. Make Use of Cold Emails
A cold email is a marketing message the sales team sends to initiate conversations with a new potential client. Before mailing the cold email, the sender has no connection with the recipient.
Recipients often confuse cold emails with spam and delete them immediately. While tricky to pull off, cold emails can generate high conversion rates.
To make an effective cold email, you should:
Personalize the message. Personalized cold emails suggest that you've researched and understood the recipient. It helps build the recipient's trust, allowing you to approach them easier.
Identify yourself. Validate yourself to distinguish your cold email from spam. Since you are a stranger to the recipient, mention what you have in common or provide your identity.
Deliver value proposition. Your email should present solutions for the recipient's needs to grab their attention. The best practice is to target their main pain points and highlight your offerings.
Keep the message short and simple. People are more likely to ignore longer emails. Keep your email quick and simple to ensure the recipient reads it and absorbs the information quickly.
Be unique. Don't use a cold email template, as it lacks personalization. Moreover, writing a unique email helps make your message stand out from others.
20. Offer Free Incentives
Provide free incentives on your lead magnets to attract more attention. People who find the incentives interesting will enter their contact information, generating more leads.
However, not all freebies are appealing. Your site's visitors won't enter their email addresses if they don't find the incentives valuable.
Don't offer content that is widely available on different blogs as an incentive. Instead, provide exclusive content such as in-depth guides, case studies, or original research.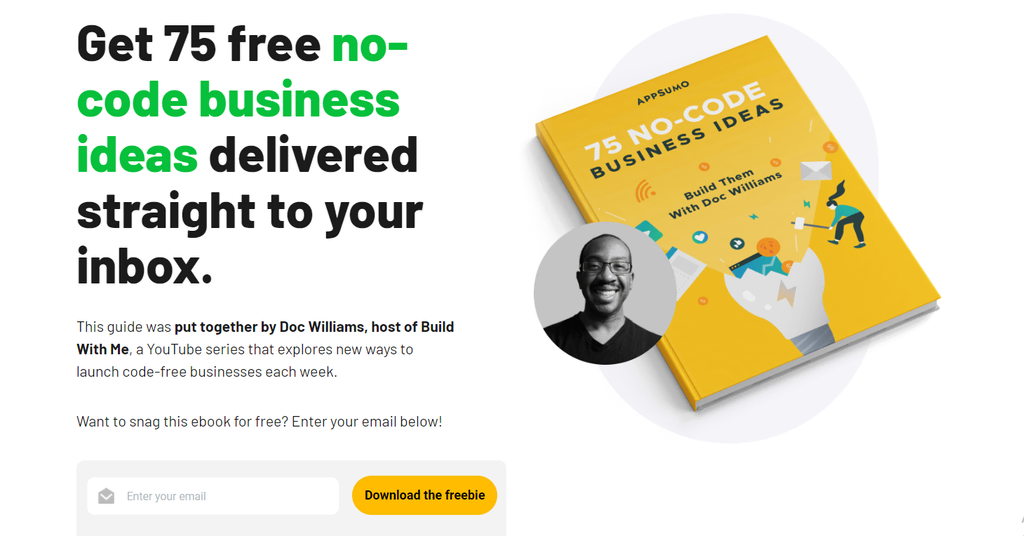 AppSumo's lead magnet is a great example of offering high-value free incentives. It provides a free business ideas ebook exclusive to the company's website.
B2B Lead Generation Benefits
Aside from increasing future sales, B2B lead generation brings various benefits to your business.
Get to Target Your Ideal Customers
The B2B lead generation process involves studying your target customers. It allows you to arrange a highly targeted marketing strategy to cater to the ideal customers.
The targeted strategy enables you to engage with the right people and provide relevant solutions for their needs.
This way, you can sell your products more efficiently, maximizing resources. This results in sales boost while maintaining a positive ROI.
Generate Brand Awareness
B2B lead generation strategies involve strengthening your online presence on multiple platforms. Aside from generating leads, social media presence helps educate other users about your brand.
Performing B2B lead generation produces high-quality, valuable social media content. Users who find your content informative will share and promote it to their followers. It allows more people to discover your brand.
Moreover, creating informative content allows you to establish yourself as an industry expert, improving brand visibility and authority.
Obtain Useful Business Information
Performing B2B lead generation allows you to obtain useful business information, such as market data or customer contact details.
Marketing teams will research this information when initiating the B2B lead generation process. It is important to accurately identify and generate leads.
Such information is useful for future lead generation efforts. Some companies may also use it for other marketing purposes.
Quality Leads Attract More Clients
To become a client, prospective customers must go through different sales funnel stages. However, some customers may need to make a purchase before they drop out of the funnel.
The marketer's job is to nurture them down the funnel, ensuring they don't drop out. However, such customers typically have low interest in your business from the start.
B2B lead generation helps attract prospective customers with high-purchase intent. They further down the funnel easier, resulting in more clients and sales.
Conclusion
Lead generation is an effort to attract potential customers to increase future sales. If you wish to generate more B2B leads, it is important to understand the right strategy.
In B2B, your lead generation process begins with finding leads. Then, Your marketers will contact and qualify these leads before closing out sales.
During the process, using effective lead generation strategies is important to maximize ROI. They also help generate high-intent leads, making the sales process more efficient.
In this article, we have explained 20 effective B2B lead generation strategies that help attract customers. Here's a summary of these strategies:
Conduct A/B testing for your marketing campaigns
Optimize your website's elements and its mobile usability
Leverage different marketing tools such as Google Ads and videos
Utilize email marketing
Strengthen your online presence, especially on social media and Q&A forums
Provide high-quality content
Create target audience profiles
Collaborate with micro-influencers
Use creative outreach
Start a referral program
Note that these strategies may yield different results depending on your business and audience. Experiment and discuss them with your sales and marketing teams to decide which works best for your business.
B2B Lead Generation Strategies – FAQ
This section answers some of the commonly asked questions about B2B lead generation strategies. If you can't find an answer, leave a comment below.
Which B2B Lead Generation Method Is Most Effective?
Every B2B lead generation method is effective. However, some may work better than others, depending on your business.
Try all different lead generation strategies to find the most effective for your business. You may also adjust them to make them more suitable for your needs.
How Can B2B Sales Increase?
To increase your B2B sales, generate more qualified leads using the right strategies. Effective strategies allow you to generate more leads with high purchase intent.
Due to high-purchase intent, they go down the sales funnel easier. If you can nurture and convert them into clients, your sales will increase.
How Many Leads Should You Generate per Month?
It depends on your business, its scale, and the industry. A small, niche business will generate fewer leads than a large company in a major industry.
According to some experts, the ideal number of monthly leads should be around 1:1 for your business employees. Specifically for small businesses with 20 or fewer employees, aim for at least 100 monthly leads.