In order to gain more profit from your WooCommerce store, you have to make your offers compelling to the customers. One of the things that you can do is provide coupon codes, because, who in the world doesn't want a discount?
Therefore, we will tell you how to create coupon codes for your store. Let's start!
Why Use WooCommerce Coupon Codes?
What exactly are coupon codes? It is basically a code that will provide a discount to your customers' order from the total price of the purchase.
The only thing that needs to be done is to enter the coupon code or codes before the transaction occurs. Then, they will get a discount accordingly, as per the determined percentages or amount of money.
Taking advantage of coupon codes will be beneficial for your WooCommerce store because you will make your customers happier as they are able to save money and still purchase their desired products. You will also spark interest from new customers. Either way, it will boost conversions in your store.
WooCommerce has a feature which allows vendors to add coupon codes to their store. There are three types of coupon codes which you can create in WooCommerce:

Percentage discount – this gives a percentage discount for the entire cart.
Fixed basket discount – this option will give a fixed discount for the entire cart.
Fixed product discount –  this kind of coupon is different than the previous ones because it only applies a fixed discount to one specific product, not the entire cart.
How to Add WooCommerce Coupon Codes to Your Site?
So, how do you add coupon codes to a  WooCommerce store? We have made a step-by-step guide which you can follow:
First, go to your store's dashboard, then click on WooCommerce, choose Coupons.
Click Add Coupons

After that, you will be asked to type the code regarding the event which pertains with the launching of the code. For example, let's add XMAS2019 as the code of coupon that will be launched on Christmas 2019. You can also add a description, but it's optional.

Below the coupon's code and description bar, there's coupon data box which contains three different tabs. Them being a general tab,  a usage restriction tab, and usage limit tab. Fill them all in order to set rules to the coupon you have made.

If the coupon data box has already filled, you can publish the coupon.

Now we know that we have to complete the coupon data box to finish making our coupon. Let's go over each tab separately.
General Tab
The first tab will allow us to set the main aspects of our coupon, such as the type of our coupon, the amount of discount and the expiry date.

Let's cover the first field in the general tab. The Discount type field will demand you to choose what type of coupon that you want to create. Whether it is a percentage discount, fixed basket discount, or fixed product discount.
Then you should set the amount of discount on the coupon amount bar. Let's say you want to give a 10% discount. So just type in 10 in the field.
After that, you are allowed to check the free shipping box. This will enable customers to get free shipping from the coupon. If you don't want to provide free shipping, just uncheck it.
The last field on the general tab is the coupon expiry date. You could set the date when the availability of your coupon will ends.
Usage Restriction Tab
Now let's get to the next tab, which is the usage restriction tab. In this tab, you can set some rules that have to be followed by the customers in order to activate the coupon.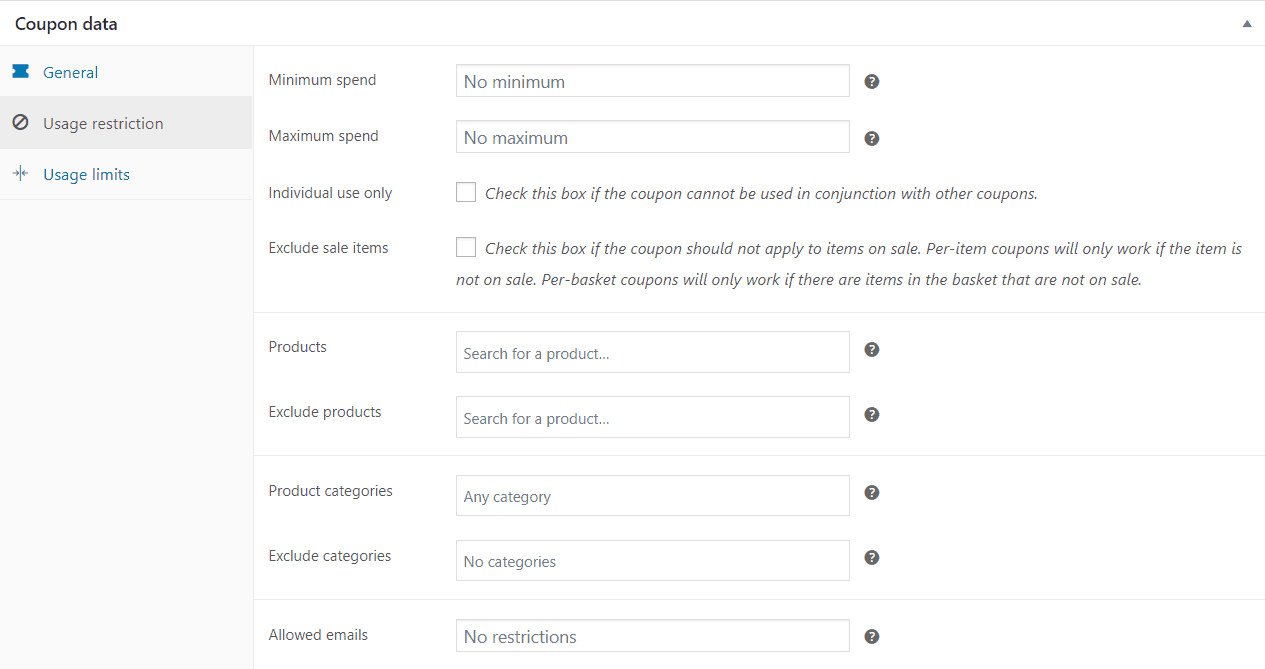 The first fields that you should fill in are the Minimum spend and Maximum spend. This is where you determine the minimum and maximum amount that should be spent by the customer to be able to use the coupon.
Then, if you don't want the coupon to be used at the same time with another coupon, you can check the Individual use only box. You can also check the Exclude sale items box if you want to exclude the coupon for sale items.
The same goes for the Products and Exclude products fields. If you want to include or exclude the coupon to particular products, you can just select the items you want to be applicable.
Product categories and Exclude categories fields also have the same function, which is to include or exclude coupons for particular categories.
Lastly, if you want to restrict or allow particular emails to the coupon, you could fill it in the Allowed emails field.
Usage Limits Tab
As the name implies, the usage limits tab provides some rules in order to limit the usage of each coupon.

The usage limit per coupon bar can determine how many times a coupon can be used by the customers. Let's say you want to give your coupons to 25 lucky customers, simply type in 25 in the field. After 25 coupons have been used, the coupon code will be terminated.
The limit usage to X items field can limit the number of coupons that can be used on a product by a single customer. If you want to allow a customer to use the coupon only on one product, set it to one.
The last limit is usage limit per user which can restrict how many times a user can use the coupon. For example, if you want to allow a single customer to use the coupon three times, then you should set the number to three.
Why Use WooCommerce Coupon Codes Plugins?
Using the built-in coupon feature of WooCommerce is super easy and great to increase sales. But that's not all! You can install plugins to set more rules.
To help you choose the most useful plugins, we created a list. Check it out!
When you create a coupon, make sure to promote it. After all, if no one knows about it – nobody will use it!
Ninja Popups is a plugin which allows you to create pop-ups for many different purposes. One of them is to offer coupon codes or discounts.
Adding a pop-up to your website, which offers limited time offer will surely work like a charm. The sense of urgency could potentially lead customers into making a purchase.
The plugin is super easy to use, so you'll have well-designed pop-ups in no time!
If you think that the built-in coupon features in WooCommerce are not flexible enough, then Discount Rules will be the right plugin for you.
With this plugin, you will be able to add more rules to your coupons. For example, you can add the discounts based on quantity, products, and other attributes.
You will also able to differentiate discount based on retail or wholesale buying. Pretty cool, isn't it?
If you need more freedom to adjust some rules to your coupons, this plugin is a must-have.
Having a little bit of fun wouldn't hurt, right? Especially if it can boost your site's conversion rate along the way.
That's what this plugin does. Coupon wheel is a tool that will show up when the customer wants to close your site.
The customers then will be offered to spin the wheel that will lead them to the opportunity of winning discounts from various coupons.
This plugin will not only prevent your customers from getting out of your reach but also will also increase engagement and expose your coupon codes simultaneously.
Conclusion
Coupon codes are a great way to increase conversion rates on your WooCommerce store. You can easily create the coupon in your WordPress dashboard.
If you need some extra help with promotions or need more rules for your discounts, check out these plugins:
There you go, all you need to know about WooCommerce coupon codes!