Stripe vs Square: Payment Processors Compared for 2023 (Plans, Fees, Integrations + More)
If you want to start an online business, you need to choose a reliable payment gateway service. Otherwise, you won't be able to accept credit card payments for online purchases.
We'll narrow your search by comparing two of the most popular payment processors in today's market ‒ Stripe vs Square. This article will go through their strengths and weaknesses regarding features, transaction fees, pricing, integrations, and support.
In the end, you will have enough information to choose the right payment processing platform for your online store and leverage it to its fullest potential.
Download Checklist: How to Start an Online Business
What Is Stripe

Initially, Stripe was launched as an online payment solution for developers looking to integrate a payment gateway into their eCommerce websites or apps. With the platform's software and APIs, developers can easily add online payment processing functionality.
Over the years, the online payment platform has expanded to accommodate popular payment methods across the globe, such as credit and debit cards, bank transfers, and digital wallets.
In 2018, Stripe offered an in-person payment solution for omnichannel retailers accepting in-person sales and contactless payments. Three years later, 3.1 million active websites used Stripe to manage offline and online transactions in over 135 currencies.
Amazon, Apple, and Walmart are big brands that partner with the online payment platform. Additionally, Stripe supports merchants in 47 countries worldwide.
Today, Stripe remains a popular payment gateway for web development companies and developers due to its versatile tools, strong security, and easy integration with third-party tools.
What Is Square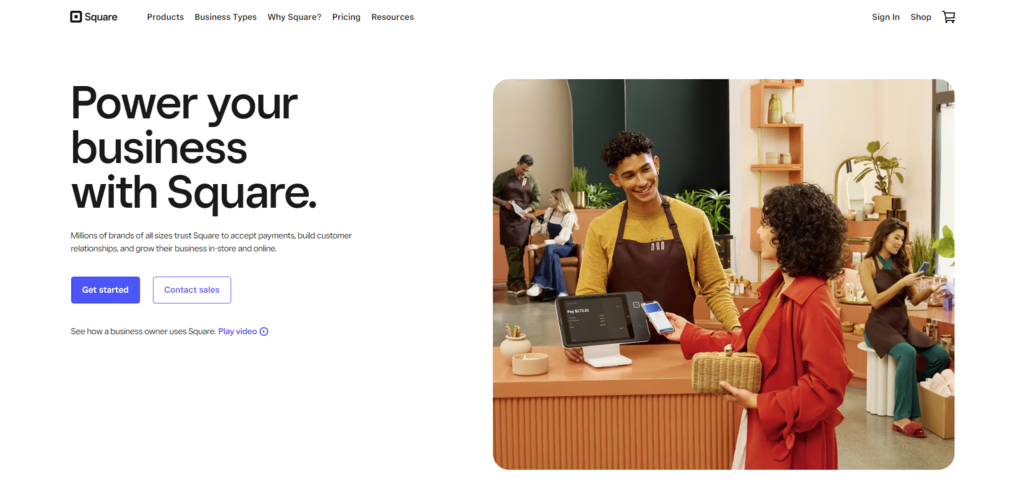 Square was started as a mobile point-of-sale solution for small businesses. It mainly supported credit card payments by leveraging mobile devices, making it easier and cost-effective for small newly-started businesses to process online payments.
Fast forward to today, Square supports multiple payment methods for in-person and online transactions. Regarding international availability, Square is available in the US, Canada, Japan, Australia, Ireland, France, Spain, and the United Kingdom.
Square fits best for small business owners looking for an affordable point-of-sale (POS) solution that accepts contactless payments. Over 2 million merchants use Square to process payments, with 93% comprising small to medium-sized businesses.


Stripe and Square: Plans
Stripe and Square don't charge a monthly subscription fee for their core payment services. Instead, both payment processing services use a pay-as-you-go pricing model, which only applies when you take a payment. Software integrations and business tools are available for an additional fee.
Additionally, Stripe and Square offer customized pricing for companies with large transaction volumes, high-value payments, or unique business models.
Stripe
The Stripe setup provides free access to over 100 features, such as checkout optimization tools, global payments, comprehensive security, and dispute handling. You also get support for invoice payments, local payment methods, and extensive reporting.
Stripe's unified dashboard is available for iOS and Android. Assign roles and permissions, monitor disputes, and perform other admin actions directly from your dashboard, anywhere and anytime.
Additional services to enhance your transaction experience are available for an extra fee per use or as a one-time payment. For example, Stripe Terminal offers a POS system for mobile transactions for $249/setup. Stripe also sells POS hardware separately, starting from $59/unit.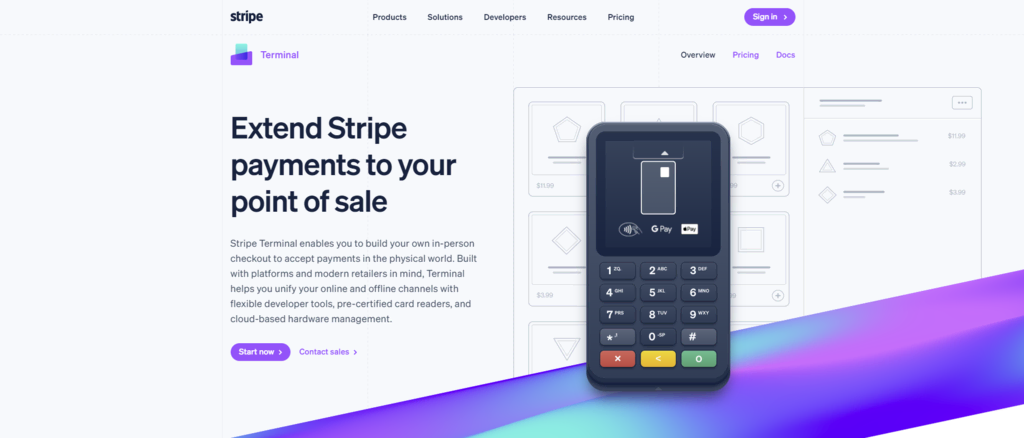 Square
Each Square account has built-in encrypted payments, online checkout, dispute management, and fraud prevention. The payment processor also provides every business owner free and premium tools to add separately using a subscription-based pricing model.
Unlike Stripe, Square doesn't charge anything for its POS software setup. The hardware costs $14-$39/month when billed annually or $49-$799/unit as a one-time payment.
Another difference between Square and Stripe is that the former offers customized plans for three business types ‒ restaurant, retail, and appointment.
Each plan comes with payment processing and business tools catered to its industry. For example, Retail plans include inventory management, whereas Appointment plans provide an online booking feature. The monthly fees for these plans range between $0-$69/location.
Winner: Stripe
Square's add-ons might improve your eCommerce experience. However, as there are only a handful of free tools, the monthly fee can make scaling your store costly. For this reason, Stripe is more cost-effective than Square for a long-term business plan, especially if you only make online sales.
Stripe and Square: Fees
When choosing a payment processing service, it's important to consider the transaction fees for different payment types. As the merchant bears these charges, choosing the wrong payment gateway can affect your revenue and business growth.
Stripe
The Stripe payment processing service charges 2.9% + $0.30 per online sale, 2.7% + $0.05 per in-person transaction through Stripe Terminal, and 0.5% for manually entered cards. A 1% + $0.30 fee applies for international payments, plus another 1% currency conversion fee if applicable.
ACH Direct Debit costs 0.8% per transaction with a $5 cap. Meanwhile, the invoicing fee is 0.4% per paid invoice.
Stripe offers chargeback protection for 0.4% per transaction. Opting out of this protection comes with a $15 chargeback fee per lost dispute. While there's no additional refund fee, the payment processor keeps the transaction fee.
Square
Like Stripe, the Square payment gateway charges 2.9% + $0.30 for online payments. However, Square's in-person transaction fee is more affordable than its competition, which is 2.6% + $0.10 per payment.
Manually keyed transactions and Square Card on File invoices will cost you 3.5% + $0.15. The ACH payment fee is 1% with a minimum of $1 per transaction, whereas invoicing costs 2.9% + $0.30 per paid invoice.
Square doesn't have refund or chargeback fees. Furthermore, customers bear any conversion costs when making their payments.
Winner: Square
Square's chargeback protection and refund policy are two essential features that Stripe can't rival. Plus, Square asks for a lower in-person transaction fee to complement its free POS setup, giving small businesses room to breathe, budget-wise.
Stripe and Square: Customer Support
Having easy access to support ensures your business doesn't experience any downtime when your chosen payment processing service encounters technical issues. This section compares Stripe and Square's support channels and their availability.
Stripe
Stripe provides 24/7 phone and live chat support through merchant accounts in English and Japanese. Email support is also ready to help you within 24 hours. Additionally, users who want to learn more about Stripe's services can refer to its knowledge base and community forum.
On top of that, Stripe offers technical support via Discord, where developers can chat with their specialists live. API documentation is also available to answer your technical questions.
Large businesses that need faster support can opt for Stripe support plans starting at $1,800/month. 24/7 multi-channel support, prioritized ticket routing, and designated support account specialists are among the premium support features included in all three plans.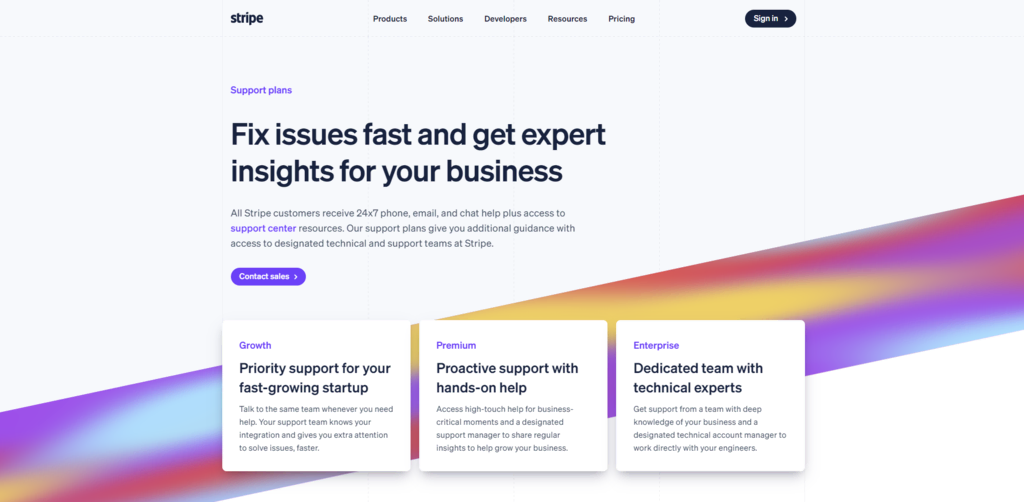 Square
Square offers phone and live chat support in English and Spanish, but both channels are only available during business hours. The 24/7 phone support is accessible exclusively for merchants on the Restaurant Plus and Premium plans. Email support can take up to one business day to respond.
There are resources and dedicated channels like forums and a Slack community channel to help developers configure Square's payment APIs.
Like Stripe, Square offers a knowledge base filled with informative articles and a community forum. You can also seek help through Square Twitter support.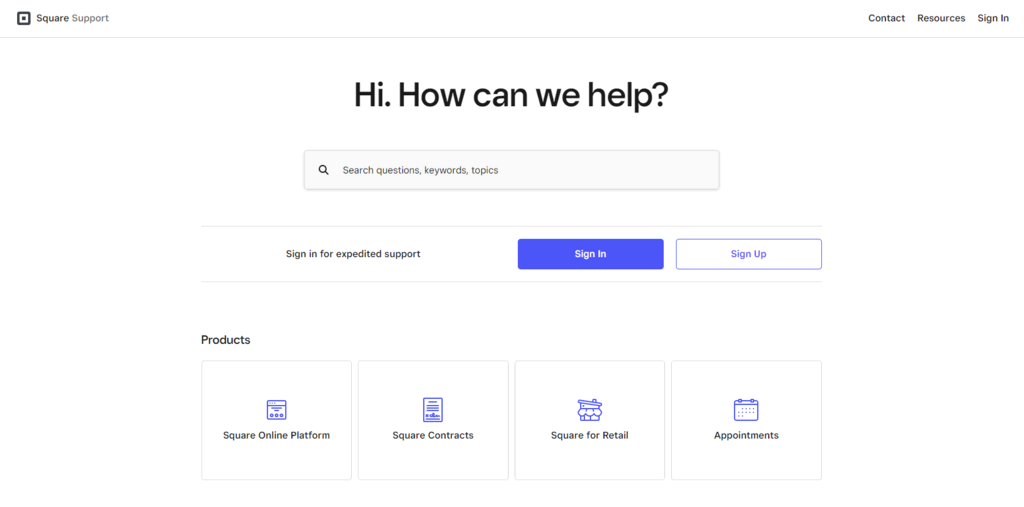 Winner: Stripe
Stripe's free 24/7 support via multiple channels gives more peace of mind than Square's business hour support, which is only available on certain plans. The technical support also benefits developers working with the payment processor's APIs.
Stripe and Square: Integrations
Integration support for third-party services means more payment processing options and eCommerce tools to scale your online store and deliver a better customer experience. We'll compare Stripe and Square's capabilities in supporting online stores in this aspect.
Stripe
Regarding payment methods, Stripe supports major credit card networks, digital wallets, and money transfer services worldwide. Merchants can accept installment payments as easily as real-time payments when handling in-person transactions and online sales.
Stripe integrates with popular eCommerce platforms like Shopify, BigCommerce, Ecwid, and Squarespace. Some platforms may not support direct integration with Stripe because they have their own payment systems, but you can still sync their data with third-party providers.
Easily connect your merchant account with over 100 eCommerce tools like shopping cart services, analytics tools, and booking management systems to streamline your business processes. The full list of supported services is available on the Partner Directory page.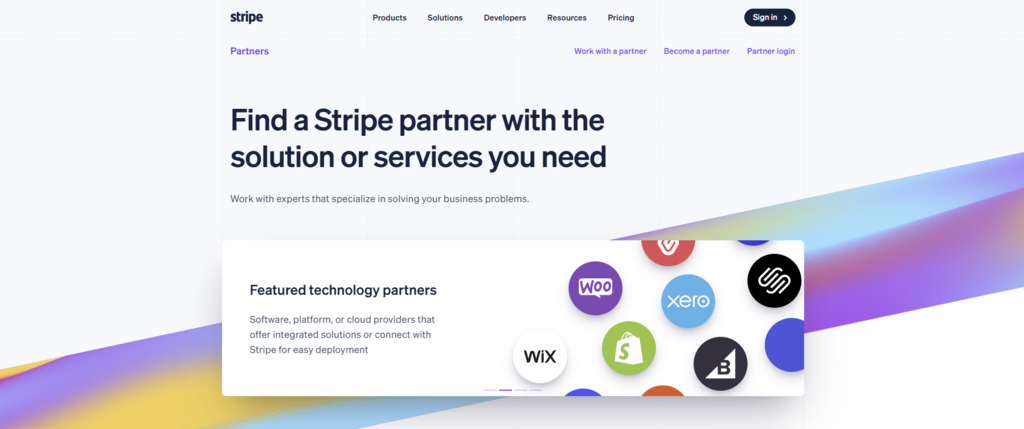 Square
Square supports popular credit card networks, wallets, and NFC service providers to accommodate online and in-person transactions. However, their availability depends on the country in which the Square merchant operates.
Omnichannel stores can benefit from Square POS's easy integration with major eCommerce platforms like WooCommerce, Shopify, BigCommerce, and Volusion. Square is also compatible with WordPress and Magento online stores.
Additionally, the payment processor offers free and premium add-ons via the App Marketplace to integrate your Square online store with various business tools. Fortunately, many paid plugins provide free trials.
Winner: Stripe
Stripe's worldwide availability makes it easy to integrate with various third-party services. As a result, you can scale your store without being hindered by the lack of tools.
Stripe and Square: Additional Features
One of the reasons why Stripe and Square are popular is because they provide additional features to help companies streamline their business operations. This section will compare those features and how they can benefit your store.
Stripe
Stripe has a lineup of in-house products addressing business operations' needs. For instance, Stripe Payment Links allows merchants to sell products or services without needing a website, while Stripe Billing supports various recurring billing models.
Meanwhile, financial services like Stripe Capital and Stripe Issuing assist businesses in developing their own payment system and speeding up their growth.
Most Stripe products use a pay-as-you-go pricing model, with a few charging a one-time payment or monthly fees.
Stripe also offers web and mobile device SDKs to help developers configure the Stripe Elements integration. These tools enable you to create custom checkout flows that fit your store's needs.
Square
Square's business type plans are packed with many useful features. For example, Square for Restaurants plans come with the Square Kitchen Display System, team management tools, and additional POS features to support businesses in that industry.
Unfortunately, the business-specific features mean you can't access other tools outside your plan. If you want to use Square's inventory management tools, you must buy the Square for Retail plan.
Square's APIs and SDKs may not be as advanced as Stripe, but they're still useful for integrating Square payments into your app or online store.
Winner: Stripe
While Stripe's business features may cost additional fees, having access to them allows you to pick the ones you need and later scale your spending as the business grows.
Stripe vs Square: Comparison Table
Here's a recap of everything we have learned about Stripe and Square, plus additional factors to consider before making your choice.
Stripe
Square
Pricing plan
Pay-as-you-go pricing model
Pay-as-you-go pricing model and business type plans ($0-$69/month/location)
Payment methods and transaction fees
Cards

Bank debits, redirects, transfers

ACH payments

Buy now, pay later

Real-time payments

Vouchers

Digital wallets

Wire transfers
Cards

ACH payments

Contactless payments (NFC)

Mobile payments

Gift card payments

Digital wallets


Transaction fees
Online: 2.9% + $0.30 (+ 1% for international cards and 1% conversion fee)

In-person: 2.7% + $0.05

ACH payments: 0.8% (maximum $5)

Chargeback: 15$
Online: 2.9% + $0.30

In-person: 2.7% + $0.05

ACH payments: 1% (minimum $1)

Chargeback: $0
Customer support
24/7 phone and live chat support
– Email support (24 hours response time)

Knowledge base

Community forum

Priority support (starts at $1,800/month)Technical support
Business hour phone and live chat support (24 hours phone support for Restaurant Plus and Premium plans only)
– Email support (1 business day response time)

Social media support

Knowledge base

Community forum

Technical support
Integrations
eCommerce platforms and tools via Partner Directory
CMS and eCommerce platforms and tools via App Marketplace
Security features
PCI Service Provider level 1 certification

SSL/TLS and AES-256 encryption

encryption

Fraud detection and prevention (Stripe Radar)

API security

Two-factor authentication

Security tokens
PCI Service Provider level 1 certification

SSL/TLS and AES-256 encryption

Fraud detection and prevention (Square Risk Manager)

EMV chip card support

Two-factor authentication

API security

Security tokens
Additional features
Business and financial services sold as standalone products
Business and financial services included in business type plans
Hardware solutions
Card readers ($59-$249/unit)
Magstripe readers and card terminals ($14-$39/month for a year or $49-$799 as a one-time payment)

– POS kits (start at $249/kit)
Best for
Web development companies

Tech-savvy merchant

Businesses that mainly accept online payments
Merchants who prioritize ease of use

Non-tech-savvy merchants

Brick-and-mortar businesses looking to provide an omnichannel experience
Conclusion
Stripe and Square are two excellent payment processors for offline and online businesses. Besides supporting payment methods, both are transparent about their features and pricing. Therefore, you don't have to worry about any hidden fees along the way.
In this Stripe vs Square article, the former comes out on top. Stripe's worldwide availability and partnerships with major card networks make it an ideal payment platform for international online sales, particularly credit card transactions.
What's more, Stripe has robust financial tools to streamline business operations. It's flexible enough that even merchants without a website can benefit from its services.
However, Square is a better fit for businesses that accept online and in-person payments. Square offers much more versatile POS systems built to accommodate different industries, which Stripe lacks.
We hope this article helps you decide which payment processing service fits your needs best. Good luck!
Stripe vs Square FAQ
If you still have questions about Square vs Stripe, this section might have the answers you're looking for.
What Are the Differences Between Stripe and Square?
Stripe is a developer-friendly payment processor most suitable for handling international transactions. Square is more suitable for small to medium-sized brick-to-mortar businesses that require a robust POS solution. Both are excellent payment solutions for companies looking to improve their payment experience.
Should I Use Square or Stripe for a Small Business?
It depends on what your business needs. Stripe works best for accepting online payments, whereas Square is ideal for in-store payments. Both payment processors use a pay-as-you-go pricing model for their basic features, so you don't have to commit to a costly monthly subscription.
Do I Have to Pay Taxes if I Use Square?
Yes, Square merchants must report the income generated from the platform when filing their taxes. Subscribe to Square Payroll for $35/month + $5 per employee paid to automate your tax fillings and payroll process. 
Are Taxes Applied to Stripe? 
Yes, Stripe Tax calculates and collects sales tax, VAT, and GST on each transaction based on your customer's location. This service integrates with other services like Stripe Billing and Stripe Payment Links, automating the process on all the supported payment methods.