Looking for an effective way to market your business? Well, you should look into email marketing! To this day, email marketing is one of the most effective ways to raise your brand's awareness, engage with your audience, and convert them into paying customers.
Don't know anything about email marketing? No worries, we'll guide you to learn everything you need to know!
What is Email Marketing?
To put it simply, email marketing is using emails to engage with your audience and grow the overall awareness of your brand.
Email marketing is a part of Marketing Automation — a technology that allows businesses to grow prospects through useful content in a very personal approach. It is also an effective element of a sales funnel.
This kind of marketing is cost-effective, easy to maintain and create, user-friendly and has high customization options.
You can also personalize the content you send out. Don't just bombard your audience with ads and promotions! Engage with your audience by sending out newsletters and insightful articles.
In turn, good audience engagement may generate leads and turn your readers into paying customers.
Importance of Email Marketing
You'd be surprised by how powerful email marketing could be for your business. Here are some of the things it can do:
Powerful branding channel – email marketing enables you to inform your clients about your products and services. The more they know your brand, the higher the chance of them buying your products.
Cost effective marketing strategy – easy return on investment is one of the reasons why email marketing is cost-effective.
A/B testing – send two different campaign templates and see which one generates more leads from your target audience.
Effective campaign tool – it allows you to send out segmented emails based on clients' personal information and preferences.
How to Start With Email Marketing?
Kicking off your email marketing journey is easy but you need to spare some time to know exactly how to start. Here's what you should do:
1. Acquiring an Email List
Actually, there's no exact step to start with email marketing. It's rather interchangeable, but it's recommended to start it with an email list. Because, without an email list, who are you going to send your content to?
Do's:
Segment your market – creating a persona according to your potential client's age, likes and dislikes, demographics, etc.
Put your subscribe box in your website – create an opt-in form for people to give their email with their consent to receive newsletters.
Check and Recheck – always make sure that your emails are free from typos, broken links, and unnecessary words. Keep it simple, informative, readable and attractive.
Fast follow up – make your potential clients feel special. Send your email immediately after they fill up the form and subscribe to your web.
You have to keep this in mind. When gaining potential clients, don't make them feel uncomfortable. Otherwise, you will not reach your marketing goal.
Don'ts:
Don't take random email address – to use them in a non-consensual manner for your email list is considered as unlawful and spam.
Don't buy email list – this act is unprofessional. You'll ruin your brand image in an instance.
Don't be generic – keep it personal. Personalization can increase 26% chance for your client to open an email.
Don't send one email for all – you have to make sure that your email is based on the client's information that you've gathered before. It can be their gender, preferences, hobbies and so on. Show that you care about your customers.
Gather your client's information. This can be done in the easiest way using OptinMonster.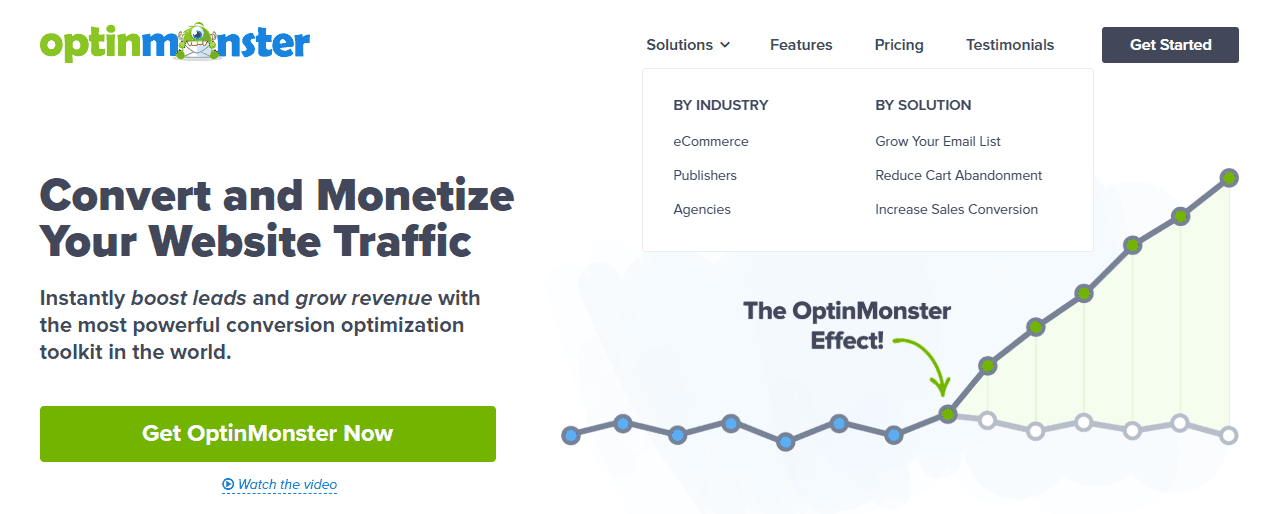 This tool can boost conversions on your website. It provides an eye-catching template of product-offering forms to collect subscriber's emails. Moreover, they also have personalization services for your campaigns.
2. Sending the Emails Out
Now that you have your mailing list, it's time to start sending out emails! In a nutshell, there are two ways you can choose:
Sending Emails Manually
That means that you send it one by one to your customers which is really hard and time-consuming. Imagine that you have to send hundreds of emails that way, it would be too tiring and your attention might get divided.
Using Email Marketing Services
Email marketing services, such as Mail Chimp,  can do certain jobs to ease your marketing campaign such as creating an email template, reporting and tracking your clients' engagement.
We have the list of 10 best email marketing services that you can choose from.
Conclusions
Congratulations, now you know exactly why email marketing is a great tool for your business! It's a great marketing strategy to increase your brand awareness and turn your readers into paying customers. All using email!
So, how to get started with email marketing?
Research the market ‒ get the best business plan from your market research
Send out emails ‒ sit down and choose one of the best services to manage your email marketing.
Acquiring email list ‒ gather your client data and don't forget to consider the do's and don'ts.
Get your revenue ‒ ready to get your revenue after all of the marketing efforts
Don't you think that's easy and worth to try? So let's start your email marketing journey and reach your revenue goals.