Domain Flipping: What It Is and How to Get Started
Whether as a full-time business or a side hustle, domain flipping can be a lucrative way to make money online – you may buy relatively cheap domains and sell them for thousands or potentially millions of dollars. For instance, business.com was purchased for $7.5 million in 1999 and was sold for $350 million 8 years later.
However, to succeed in the domain flipping industry, you must develop an understanding of domain valuation and domain investing, which beginners are likely to be unfamiliar with.
Therefore, this article will provide a step-by-step guide on how to flip domains effectively. We'll also cover the pros and cons of domain flipping and address some of the most frequently asked questions related to the topic.
Download Website Launch Checklist
What Is Domain Flipping?
Domain flipping is the practice of buying and selling domain names for a profit. It involves researching and buying low-cost domain names, and then reselling them for a higher price. The goal is to identify domain names with high potential value and sell them to buyers who need them.
Some hold domains longer to maximize return on investment (ROI), while others turn them into profit in a short period of time, often within a few weeks or months.
What Types of Domains Are Best for Flipping?
When it comes to domain flipping, you can choose to purchase new domains or expired domains. Even though it's not certain which type of domain will yield the most profit, it's important to consider the pros and cons of each domain before selecting one.
New domains are typically easier to find and register. In addition, they offer more flexibility when it comes to branding. A new domain has no adverse history attached to it, making it appear more legitimate to prospective buyers.
However, selling new domains requires a tremendous effort in implementing search engine optimization (SEO) and marketing strategies since they don't have an authority attached to them yet.
On the other hand, purchasing an expired domain name also has its own merits. Most domain investors tend to buy expired domains as they have good domain authority, including an established link equity and traffic volume.
That said, an expired domain is often more expensive than a new one due to its limited availability.
Pro Tip
Use the domain owner lookup tool from Hostinger to find out when a domain name is due to expire. It will allow you to snatch the domain immediately if the current owner decides not to renew it.
Before buying an expired domain, make use of SEO tools such as Ahrefs or Moz to check the quality of its backlink profile and page authority (PA). It's also important to verify the domain's history to ensure that search engines do not blocklist it due to illegal activities performed by the previous owner.
How to Flip a Domain
After learning what domain flipping is and the type of domain to buy, you might wonder where to begin. Listed below are five easy steps on how to start flipping domains:
1. Find a Quality Domain
To begin, you'll need to find domain names worth investing in. Ideally, choose inexpensive domains that are likely to increase in value.
These are some of the factors that contribute to a domain's potential value:
Length. Short domains are typically more desirable as they provide better user experience (UX) and brand recognition. In fact, the most popular web domains contain less than 15 characters, such as google.com, youtube.com, and twitter.com.
Extensions. The choice of your top-level domain (TLD) dramatically influences its value. Popular TLDs like .com and .co will cost higher but are easier to sell since they are more reputable and trustworthy. Even so, alternatives like city TLDs (i.e., .paris, .nyc, .tokyo) can benefit small businesses and startups looking to establish their brand locally.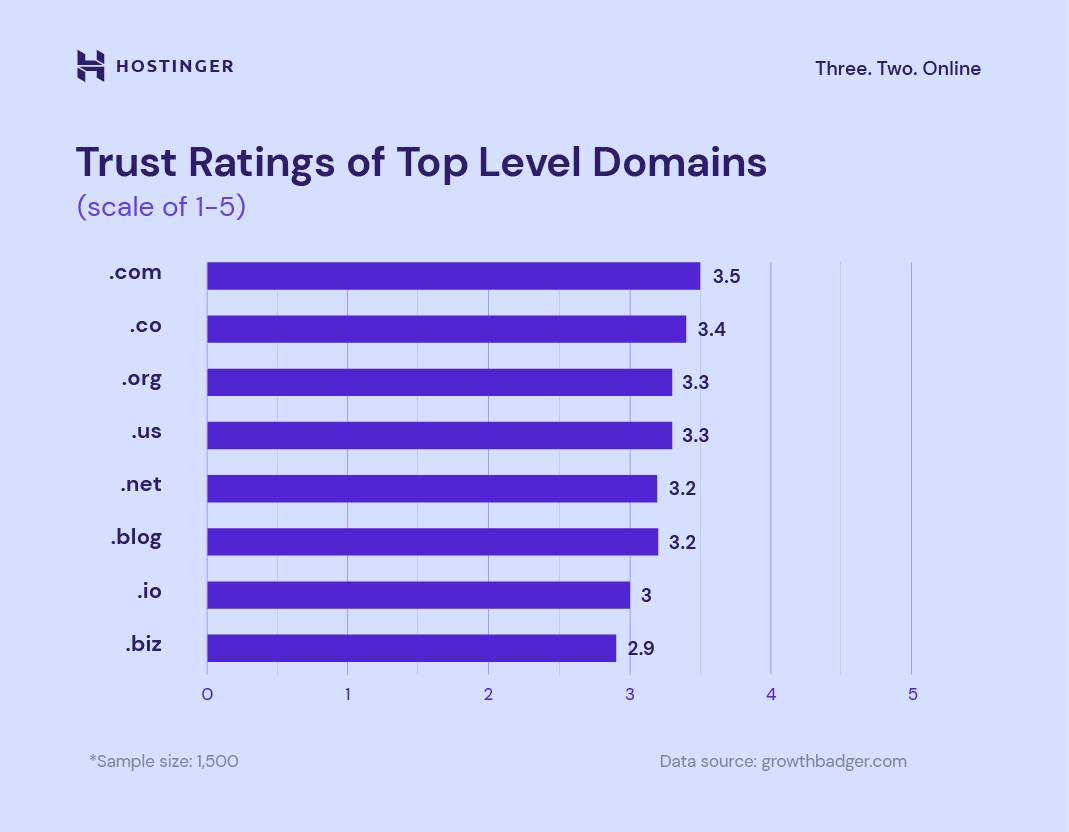 Search friendliness. Keyword-friendly domains typically have higher market value since they help improve SEO. Use such tools as Google Trends and Google Keyword Planner to identify popular search queries to incorporate into your domains. Some domain marketplaces, such as Sedo, offer keyword search tools to help you find domain name ideas.
Niche relevant. Most online businesses prefer domains related to a specific industry, location, or products and services. This can help them optimize their site and marketing campaigns.
Remember that these indicators alone won't guarantee success in domain flipping, as domain value can change substantially over time.
Once you've found a good domain, it's important to check its availability. Hostinger's domain checker tool allows you to look up domains that are available for registration.
Domain Name Checker
Instantly check domain name availability.
If the domain is already taken, the tool will come up with other suggestions or use different top-level domains. Advanced search filters are also available to help you narrow down the results.
Alternatively, users who want custom domain names can leverage a domain name generator to develop some ideas further.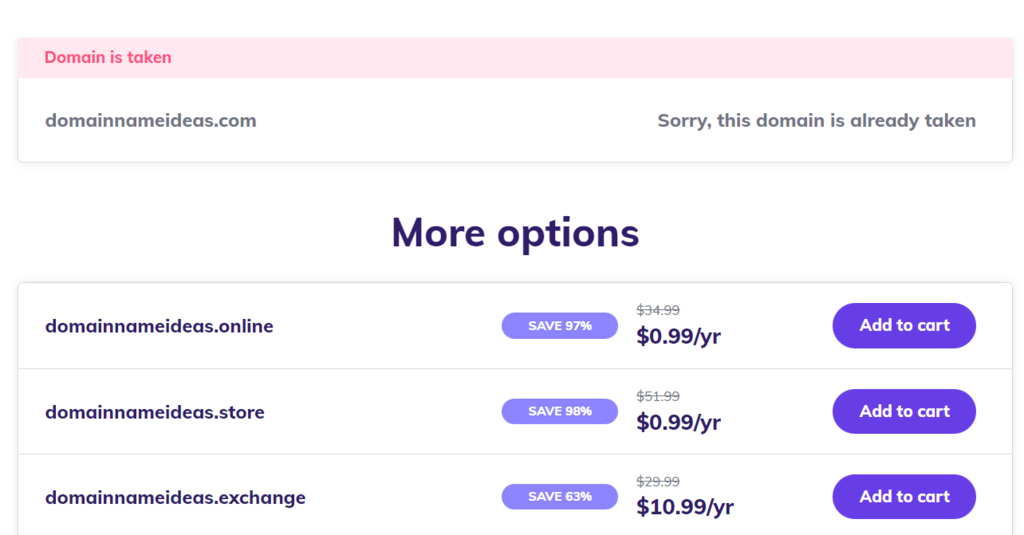 It may be possible to purchase the domain name taken directly from the current owner. However, it would be best to first learn who owns the domain.
2. Register the Domain Name
After running a domain name search, the next step is to purchase and register it with a reputable domain registrar – a company authorized by the Internet Corporation for Assigned Names and Numbers (ICANN) and in charge of domain name reservations.
The procedure to buy a domain name will depend highly on the registrar you choose. Therefore, before choosing one, it's essential to consider the following factors:
Transfer process. Before buying a domain, be sure to read through the registrar's domain transfer policy. The transfer process of some registers is more complicated than others.
Pricing. Read the registrar's terms of service and check for hidden fees. Avoid registrars that offer low first-year registration fees but charge higher redemption fees.
Expiration policy. Renewing a domain name before expiration is important to avoid someone registering it instead. Therefore, it's best to choose registrars that offer automatic renewals.
Domain privacy protection. Choose a registrar with a domain privacy service to prevent your domain's registration information from being hijacked.
Some web hosting providers, such as Hostinger, include a free domain name registration on most of their web hosting plans.
However, it's also possible to purchase and register a domain separately. Hostinger offers excellent initial registration fees for popular TLDs. A 24/7 Customer Success team is also available to assist if you encounter any problems during the process.
Those who want to avoid the hassle of finding a registrar can use a website builder. Some website builders include domain registration as part of their sign-up process.


3. Estimate the Domain Price
Before listing your domain names for sale, it's a good idea to check out their potential price. Successful domain flippers conduct prior research before setting the domain price to maximize the ROI.
Here are some of the best ways to check the potential market value of your domain:
Research the domain market. Checking historical sale prices for similar domains is an excellent way to estimate your domain's value. NameBio allows you to do so by offering a searchable database of past domain name sales. Another good resource is ShortNames, which provides comprehensive information on the sale and auction of short domain names.
Seek advice from experts. Join domain-related forums like NamePros and DNForum to engage with professional domainers and discuss the best strategy for flipping domains. These forums also frequently post updates about domain trends.
Use domain appraisal tools. Another way to evaluate a domain name is by using an online appraisal tool. These give you an estimate of the domain's price based on its length, wording, and SEO-friendliness. Some of the free domain appraisal tools include Domainindex.com and Domain Value Checker.
After researching what your domain could sell for, it's time to determine the pricing strategy. The two most common pricing methods are fixed and flexible pricing.
Fixed pricing eliminates the hassle of negotiating domain prices, providing a faster transaction process. This is an effective method to use when selling domains on marketplaces.
In comparison, the flexible pricing strategy gives you more control over the domain price. Occasionally, your domain may sell for more than the reserve price. However, note that the selling process can take a long time and be challenging.
Eventually, it's up to each domain investor to decide what is most effective for them. Keep experimenting to find out what works best for you.
4. Choose a Platform to Sell Domains
A significant aspect of making the domain flipping process profitable is finding the right place to sell the domain name. Here are a few options where you can sell domain names:
Domain Marketplace
The easiest and fastest way to sell domain names is by listing them on popular domain-flipping marketplaces. These platforms are known for their large customer base and better online visibility, providing higher exposure for your domains.
Every domain marketplace site has its pros and cons. For example, Efty offers a complete domain management solution to ease the overall process, including a landing page and eCommerce builder, payment gateway integrations, as well as analytics features. In addition, it also charges free commissions on domain sales.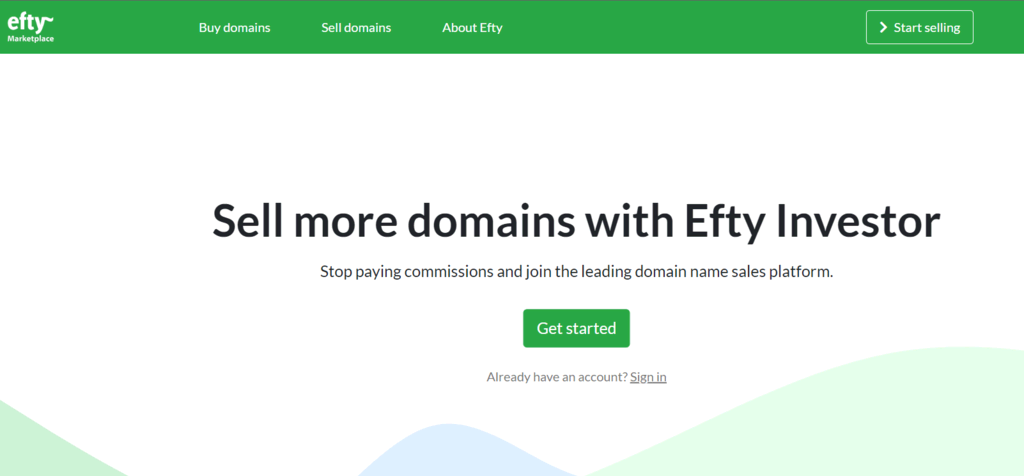 However, sellers must pay subscription fees starting at $15/month and only allows fixed pricing.
Meanwhile, Afternic lets domain sellers list their domain names for free but charges a 20% commission for sales. Additionally, it offers both fixed and auction pricing options.
Domain Auction Site
Domain name auctions work similarly to regular auctions, in which a domain seller sets a starting price for bidding. Then, the highest bidder wins and obtains the domain.
One of the best sites for listing auction domains is Sedo. A significant advantage of this platform is that it allows sellers to set a reserve price while also letting them get higher bids during auctions. It also facilitates auctions for premium and themed domains. The only fee they charge is a 15% commission on successful sales.
With Sedo's free domain parking service, sellers can monetize their domains by featuring an advertisement link on the domain's landing page. A parked domain also provides valuable visitor statistics that may boost its value.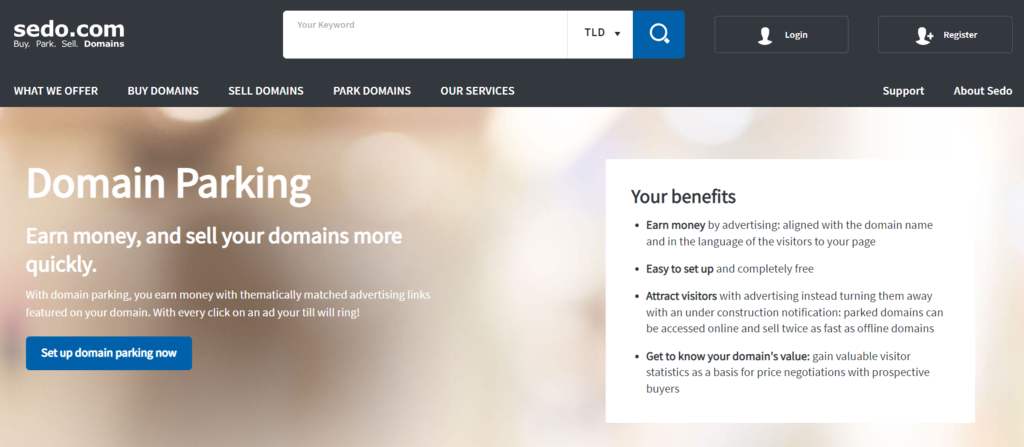 Flippa is another platform worth your attention. While it's widely used for website flipping, it also hosts domain name auctions with commissions ranging from 5% to 10%.
Since most auction sites charge a commission rate, adding a markup of 5 to 15% to the domain's original value is advisable. By doing this, you'll ensure that you've got enough control over the profit margin, regardless of what the site may charge in listing fees or commissions.
Domain Broker
Another way to sell domains is by hiring a professional domain broker. Domain brokers are individuals with extensive domain industry knowledge that can help you track down potential buyers and negotiate the most favorable price for your domain name.
Grit Brokerage is an award-winning domain broker specializing in facilitating the sale of premium domain names. One of the most impressive sales made by Grit is ice.com, which went for 3.5 million dollars.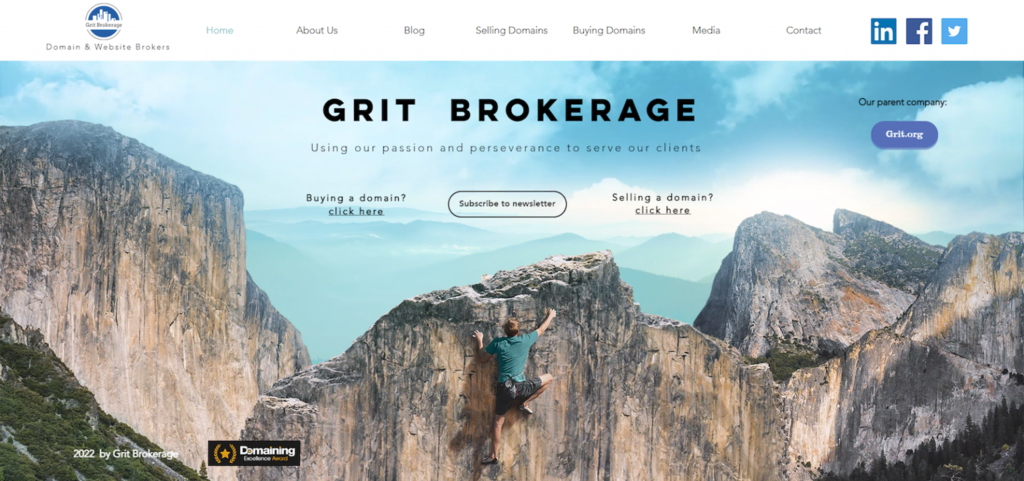 Among the benefits they provide are experienced domain researchers and several domain promotion methods, including newsletters, conferences, social media, and press releases.
Using a broker service may be more beneficial when selling a highly valued domain, as most established domain brokers work with a commission-based pricing model. In that regard, familiarize yourself with the broker's pricing structure and policies before engaging with one.
Direct Sell
Practicing outbound and inbound marketing can help you sell domains without involving a third party.
Outbound domain sales involve finding a suitable domain buyer and reaching out to them directly via personalized email or phone call.
Research social networking sites such as LinkedIn to discover new potential leads outside of search engines. Using LinkedIn's database, you can get more details on the company, such as the number of employees, location, and industry type.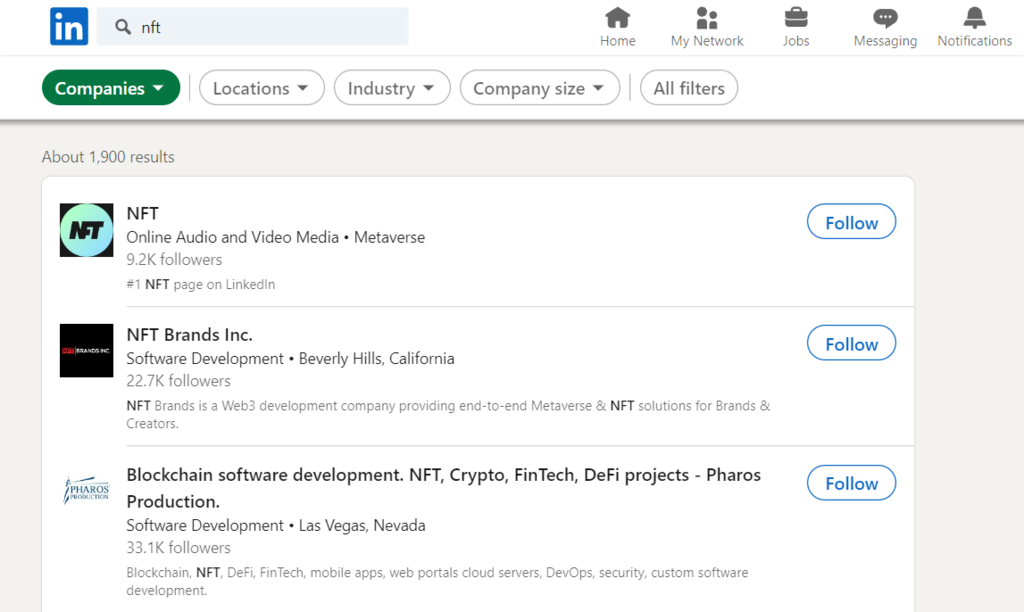 Send a personalized email to some of the company's top executives announcing the sale of the domain. Keep it short and simple. It's recommended to use business email to show professionalism and establish trust.
Consider storing your leads with customer relationship management (CRM) software. Such toolkits usually come with lead automation and tracking features to help manage your leads better. You can track down who's interested in making the sale and the one who dropped the offer.
In contrast, inbound domain sales are typically made by creating a dedicated landing page to gauge people's interest in a domain sale. Include a domain portfolio on the landing page highlighting the domain's best features, a contact form, and contact details so it'll be easier for interested buyers to reach you.
Another effective way is by setting up a banner to advertise your domain. When designing the banner, avoid overcrowding it with unnecessary elements. Instead, keep it simple by displaying the domain name, price, and a call-to-action that points visitors to the selling site or your domain's landing page. For design inspiration, check out creative web design platforms like Behance or 99designs.
Sharing the banner to various social media platforms like Instagram, Facebook, and Twitter can also propagate your domain marketing efforts. Many domain flippers create a social media profile specifically designed for selling domains.
Take @ThinkInteres' Twitter account as an example. The account owner uses it to regularly post content on domain names for sale.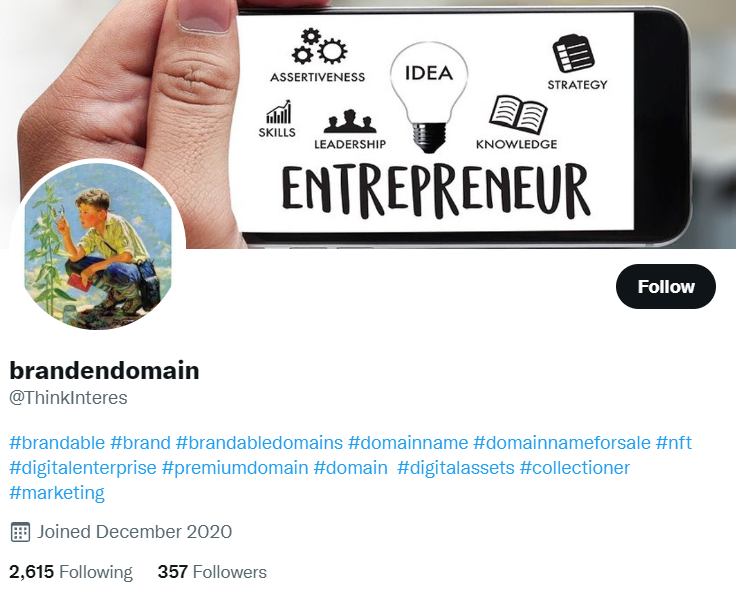 5. Sell the Domain
After getting the right buyer, the next step is to sell the domain, which involves collecting payments and transferring the domain ownership.
To ensure a safe transaction, use an escrow service. These companies hold onto the payment as a neutral third party until all contractual obligations are met.
Usually, popular domain marketplaces or auction sites such as Sedo and Afternic will provide a free escrow service. However, if you're making a direct sale, you'll need to purchase the escrow service separately.
Escrow.com is one of the best online escrow services available. It handles payments for some of the most popular domains on the web, including instagram.com, uber.com, and slack.com.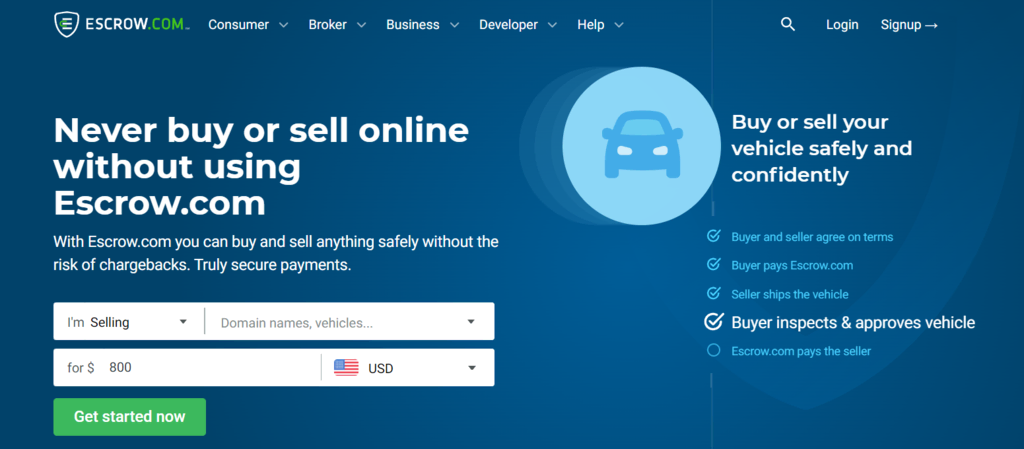 After securing the payments, it's time to transfer the domain to the buyer. This process will vary depending on how and where the domain is registered.
If you use Hostinger, domain transfers can be done quickly. Simply enter the domain name and your current provider's EPP code, then confirm the transaction. Typically, the process takes from four to seven days.
Be sure to fulfill all the requirements before transferring the domain, including disabling WHOIS privacy protection and ensuring the domain doesn't include a pending or redemption status.
Domain Flipping Advantages
Here are a few reasons why domain flipping has become an appealing option for online hustlers:
Low Start-up Costs
You don't need a lot of money to start flipping domains. In fact, at Hostinger, you can get cheap domain names for only $0.99/year. Outside of these expenses, you need a computer and a stable internet connection, making domain flipping a low-risk and accessible business opportunity.
No Skills Are Required
You don't need a strong educational background or professional experience to succeed in the domain flipping business. Buying domain names is as easy, fast, and secure as any other online purchase.
If you do want to learn more, the required skills that will help you out include domain research, domain valuation, negotiation, and networking. Start by taking online courses on Udemy or Skillshare. You can also practice domain selling on several different marketplaces.
Here are some domain flipping online courses we recommend: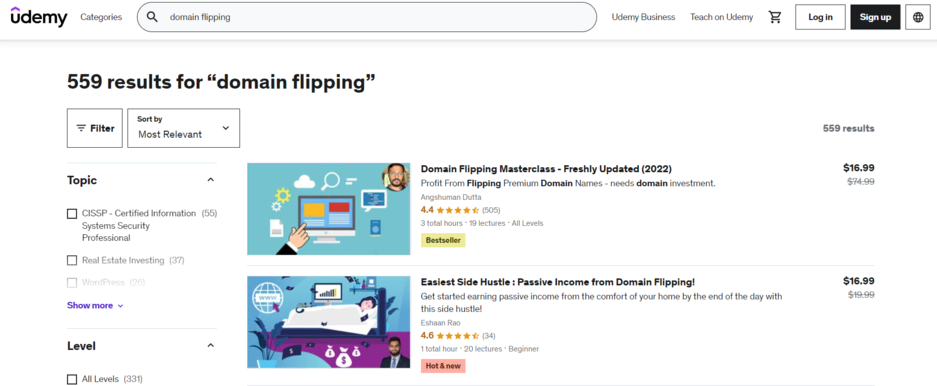 Additionally, consider attending a domain workshop or seminar to learn about domain flipping from professionals. These events may present opportunities for networking with other domain enthusiasts.
High Demand for Domains
The demand for domain names has been growing steadily since the onset of the commercial internet. A global pandemic has also forced people to adopt online-based activity, encouraging the domain industry to expand.
According to Verisign, there were over 351 million domain name registrations across all extensions in the second quarter of 2022. Furthermore, there is a growing trend for top-level domains, such as country-code top-level domains (ccTLDs) and new generic top-level domains (gTLDs).
ccTLDs account for 61% of the total domain market share in Europe. Likewise, newer gTLDs have also grown in relevance, with over 5 million .xyz domain registrations.
The data above suggests that businesses of all sizes are beginning to develop a strong domain strategy and search for brandable domain names. This shows that domain flipping is an active and rewarding business.
Risks of Domain Flipping
Despite bringing a lot of advantages, flipping domains does come with some downsides. These are some of the risks that domain flippers typically encounter:
Be Aware of Trademarks
Even though registering and selling domain names is legal, some issues might arise regarding their ownership. You may be falsely accused of cybersquatting when you buy domains that infringe on another business trademark.
Before buying and selling domain names, you should check for copyrights, existing commercial names, and domain blocklists. Perform a search on the United States Patent and Trademark Office's (USPTO) database to verify the originality of your chosen domain name.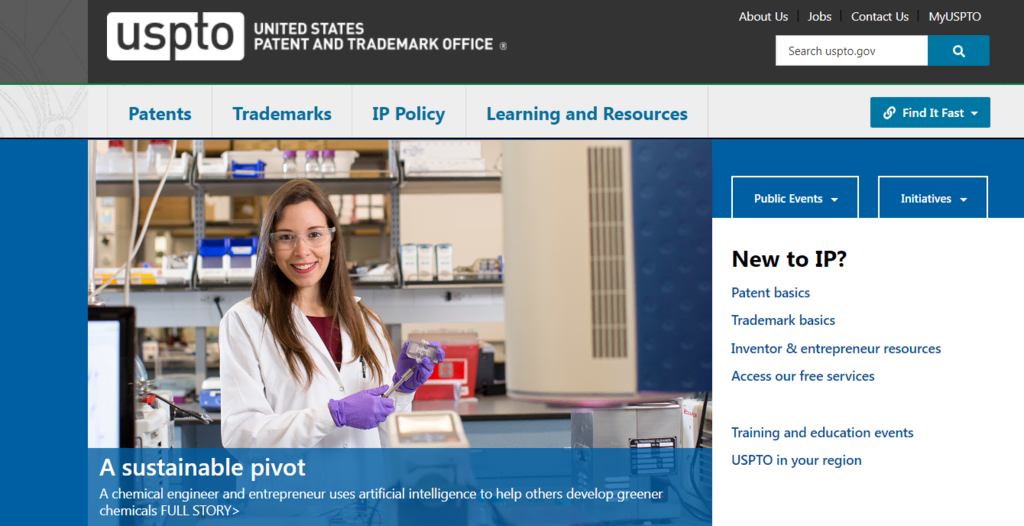 Profitability Is Not Guaranteed
Like any investment, there's no guarantee that the price will exceed the buying price. While some domains can be sold within a few weeks, others might require months or even years of listing before making a sale.
Unlike stocks or foreign exchange markets, the value of a domain name is much more subjective and can be quite challenging to predict. If you are just starting out flipping domains, begin with a small budget at first and then increase it once you become familiar with the process.
Earnings Will Be Taxed
Another disadvantage is that the money you get from flipping domain names is taxable. Make sure you keep track of your domain sales and profits so you can report them on your taxes. Consider consulting with a professional financial advisor to plan better investments.
Suggested Reading
Reselling website hosting is another profitable web-related side hustle. Learn how to get started in our in-depth guide.
Conclusion
Flipping domains is a profitable, low-cost, and flexible way to make money online. It's ideal for someone seeking a side hustle with little investment and no prior experience.
To help you get started, we have broken down how to flip domains into five steps:
Search for valuable domain names.
Choose a credible domain registrar.
Perform domain valuation and decide on the pricing method.
Pick a strategic domain selling method.
Secure payment and transfer domain ownership.
Before deciding to get into the domain flipping business, know the risks involved, such as unpredictable profits, infringement issues, and tax obligations.
That said, once you follow the best practices for finding valuable domain names, valuing them, and selling them properly, it's easy to make a decent amount of money flipping domain names.
We hope this article will give you a better understanding of domain flipping and help you earn higher sales revenues. Good luck!
Frequently Asked Questions about Domain Flipping
Now that you know how domain flipping works, we'll answer a few common questions about the topic. Should you have other questions that you'd like to clarify, let us know in the comments section below.
What Is Domain Drop Catching?
Domain drop catching is one of the domain flipping strategies that involves purchasing expired domains and re-registering them under your ownership. Drop-catching services like DropCatch and JustDropped allow individuals and registrars to bid on expiring domain names. A good expired domain usually fetches a higher price, especially if it carries significant SEO value, such as domain authority, traffic, and backlinks.
What Budget Do You Need for Domain Flipping?
The cost of domain flipping depends on the domain purchase. On average, a domain name costs around $10-15/year, depending on the domain type and where you register it. Another factor that affects the cost is the method of sales. Most domain name marketplaces charge listing fees and sales commissions of 10 to 30%.
How Much Money Can You Make from Domain Flipping?
How much you can earn from domain flipping depends entirely on the price your domains can fetch. Averagely, a beginner can earn between $100 to $10,000 by flipping domains. However, seasoned domain flippers can flip undervalued domains for millions of dollars.