Top 30 Digital Marketing Agencies You Should Consider to Grow Sales in 2023
Developing in-house digital marketing teams can be expensive, considering the hiring and training costs. Meanwhile, you only pay for the requested services when working with a digital marketing agency, which is usually more affordable and available on demand.
As digital marketing agencies have all the necessary tools and teams, they can help you reach any goals you might have, from building a digital presence to increasing revenue.
In this article, we will explore 30 leading digital marketing companies you can consider for your business. To filter your options, we will categorize the agencies based on their offered online marketing strategies – full-service, pay-per-click (PPC) advertising, search engine optimization (SEO), social media, and inbound marketing.


Best Full-Service Digital Marketing Agencies
In this section, we will cover ten agencies that offer a wide range of digital marketing services, from search engine optimization to website design.
WebFX stats:
Best for: medium-sized companies to enterprises
Services offered: SEO, content marketing, online advertising, social channel management, web design and development services
Cost: starting at $300/month
Clients: Wrangler, Hilton, Subway
Despite its popularity as an SEO agency, WebFX offers complete digital marketing solutions, from copywriting to marketplace advertising. This company has maintained an outstanding reputation by winning awards every year from tech review platforms, such as Clutch and GoodFirms.
WebFX practices transparent pricing by giving the details upfront based on your needs. Check the pricing page or use its online marketing calculator to estimate your spending.
Cuker stats:
Best for: retail and consumer products and services
Services offered: branding services, data analytics, paid advertising, SEO, email marketing, influencer marketing
Clients: Quicksilver, Nike, Redbull
Cuker is a small digital marketing agency based in California. Despite its small company size, it has an impressive client history from various sectors, focusing mainly on retail and consumer products and services.
One of its successful campaigns was for Vans' 50-year campaign. Cuker built an interactive website timeline experience and generated millions of impressions worldwide.
iProspect stats:
Best for: enterprises
Services offered: marketing strategy and planning, PPC, SEO, affiliate marketing, voice and assistant management
Clients: Danone, A&W, Under Armour
iProspect is a child company of a famous advertising agency, Dentsu International. This full-service digital agency has supported global and local businesses in over 90 countries since 1996.
With such a long history, it has the reputable experience to develop a custom strategy based on the brand's location, paying attention to its culture and demographics.
SEO Brand stats:
Best for: small to mid-market companies
Services offered: content marketing, SEO, social platform management, public relations, app and web custom development, graphic design, branding
Cost: starting at $150/hour with a minimum project of around $10,000
Clients: WillsEye Hospital, LG, Montblanc
Although SEO Brand has worked with big companies, it mostly serves the digital marketing needs of small businesses worldwide.
This award-winning digital marketing agency can help increase your reach and make your brand stand out wherever you host your digital campaigns – WordPress, Magento, Amazon, or social media.
Lilo Social stats:
Best for: eCommerce stores
Services offered: website development, paid media, creative strategy, email and SMS marketing
Clients: Cheribundi, Kjaer Weis, Bauer
Lilo Social is a full-funnel eCommerce agency, meaning its digital marketing teams can improve the entire customer journey.
It's a perfect option for any stage of your digital marketing campaigns, from awareness to acquisition and retention. Lilo Social can attract customers through professional influencers and user-generated content, as well as nurture leads with newsletters and loyalty programs.
Reward stats:
Best for: eCommerce sustainable brands
Services offered: market research, branding, graphic and website design, conversion rate optimization, social media management, SEO, paid advertising
Clients: Denevos, Verta Golf, Mumanu
Reward is a sustainable digital marketing agency based in Ireland. In 2021, this company became a Certified B Corporation, meaning it meets the standards for social and environmental practices.
This digital marketing company also adopts the United Nations' Sustainable Goals in its company activities, like volunteering and collaborating with green energy suppliers.
AndHumanity stats:
Best for: ethical brands
Services offered: inclusive marketing, PR services, content marketing, SEO, photo and video production
Clients: Amazon, Arc'teryx, Telefilm Canada
AndHumanity's team consists of inclusive marketing professionals and collaborates with marginalized communities, such as people from various economic statuses and BIPOC (Black, Indigenous, People of Color).
The agency's experts and partners can help your business understand underrepresented groups and create segmented, thoughtful content and advertising campaigns.
SeedX stats:
Best for: eCommerce, B2B, and non-profit organizations
Services offered: content marketing, graphic design, sales funnel optimization, social media marketing, web development, influencer outreach, paid advertising
Clients: Forever 21, Yeezy, Harvard University
Founded in 2016, SeedX has quickly established itself as a market leader. For example, it received Forbes 30 Under 30 Top Innovators in Marketing and Advertising in 2021 and ranked first in Women-owned Digital Agency by Clutch in 2023.
This female-led marketing and web development company has worked with clients from various industries, including sports, health, and creative fields.
NinjaPromo stats:
Best for: B2B, crypto, and fintech companies
Services offered: SEO, email marketing, paid social and media, community management, video production, mobile app and blockchain development
Clients: Trust Wallet, BankSocial, BitForex
NinjaPromo is a leading digital marketing agency in the fintech and crypto sectors. It has an excellent track record in those industries, including a strong and relevant client base and multiple awards.
Moreover, this digital marketing firm has offices across the globe, including Dubai, the USA, and Lithuania.
Wunderman Thompson stats:
Best for: brands looking for an agency with advanced technology
Services offered: app development, event and content development, marketplace services, personalization and marketing science, metaverse technology
Clients: BMW, Unilever, Hellmann's
Known as a creative agency, Wunderman Thompson has expanded its services to digital marketing and technology. This online marketing company covers various industries, including technology and hospitality.
Headquartered in New York, Wunderman Thompson has over 90 office locations worldwide.

Best PPC Marketing Agencies
Five agencies in this section can help your business develop cost-effective digital advertising strategies on multiple platforms, including marketplaces and social media.
KlientBoost stats:
Best for: middle-market companies to enterprises
Services offered: paid advertising, SEO, conversion optimization, email marketing
Clients: Upwork, Bloomberg, Stanford University
With KlientBoost, you'll get a marketing plan consisting of personalized strategies, a goal timeline, and competitor analysis. Once you hit your goals, this marketing agency will show you more opportunities to keep growing.
Find its digital marketing services' costs by selecting what you need on the pricing calculator and entering your email address. KlientBoost will offer a 15-minute call to walk through their custom solutions and estimate a return on investment (ROI) if you apply their strategies.
Disruptive Advertising stats:
Best for: middle-market companies to enterprises
Services offered: search engine and social media advertising, lifecycle marketing, creative services, website optimization
Clients: Adobe, Sportsman's Warehouse, Davinci Virtual
Disruptive Advertising is the most reviewed PPC advertising agency across review platforms like Clutch, Upcity, and G2. This company covers paid advertising strategies in various channels, from Facebook and TikTok to Microsoft and Google.
It also helps nurture leads and improve your website or online store by providing chatbots, email marketing services, and landing page design and testing.
UAWC stats:
Best for: eCommerce and SaaS businesses
Services offered: social and search engine marketing, Amazon advertising, conversion rate optimization, Google Tag Manager
Cost: starting at $1,000/month
Clients: Mindvalley, Qvolta, Probemas
According to the Clutch and Manifesto ratings, UAWC Agency is one of the top marketing agencies. As this performance marketing agency is a Facebook Preferred Marketing Partner and Google Premier Partner, it knows how to successfully optimize an ad campaign on those platforms.
Generally, there will be six people in a dedicated marketing team, including an account manager and an SEO expert, and you can expect improvements within the first two weeks.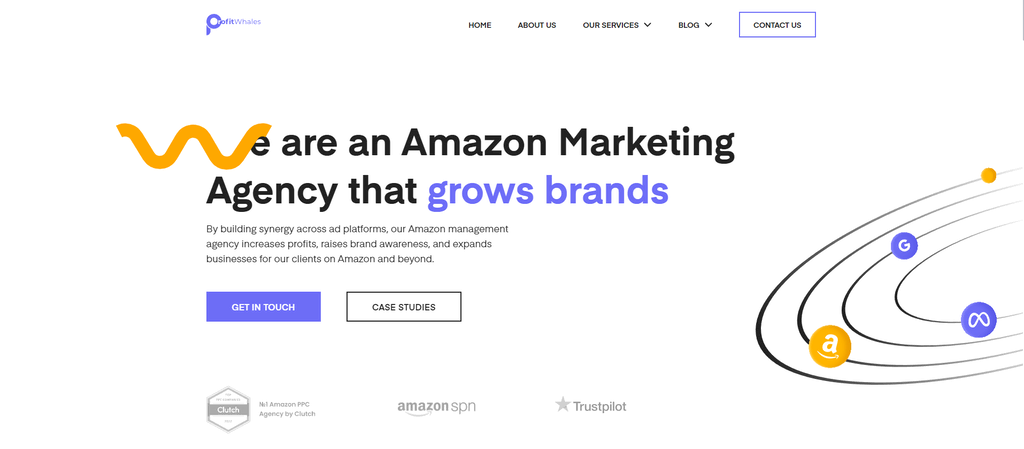 Profit Whales stats:
Best for: Amazon online businesses
Services offered: Amazon PPC management, DSP ad services, and product ranking
Clients: Divelux, Bossman Brands, Multiskills LLС
If you're looking for an agency to grow your online business on Amazon, Profit Whales is the best choice. This Amazon Ads Advanced partner specializes in digital advertising on and off the platform.
For example, it helped a wallet distributor gain a bestseller badge using Sponsored Brands ads and increased a beauty brand's orders through an external advertising channel.
Phiture stats:
Best for: app developers and eCommerce app owners
Services offered: performance marketing, app store optimization, CRM services
Clients: Spotify, Headspace, Opera
Phiture is one of the top digital marketing agencies in the mobile landscape. It has won several prestigious awards, such as the App Growth Awards and the Drum Awards, and partnered with popular mobile apps in various industries.
This agency is perfect for helping promote your digital product as it's an expert in in-app advertising, including Apple Search ads and Google App campaigns.
Top SEO Agencies
Promote your website for free and rank on search engines organically using SEO services from these five digital marketing companies.
Thrive stats:
Best for: businesses that need all-around SEO services
Services offered: SEO, web design, social media marketing, eCommerce marketing
Clients: Driver Support, Tavistock Restaurant Group, BMS Cat
Thrive can be a perfect option if you are searching for an agency that fully covers SEO. It offers technical, local, and eCommerce SEO services on different platforms, from Amazon to Shopify.
Franchise-level clients can work with Thrive to improve their online presence through geo-specific content marketing, listing management, and advertising.
Although SEO is the main focus, this agency provides more digital services, including web design, social media marketing, and video production.
Pearl Lemon stats:
Best for: medium-market businesses
Services offered: paid advertising, SEO, content writing, speed optimization service
Clients: Asteria Diamonds, LeDolce Studio, Trusted Union
Depending on your needs, you'll work with Pearl Lemon's project team, which generally consists of Google Analytics and Search Console experts, a content writer, and a project manager.
Besides SEO services, Pearl Lemon can help your company with reputation management, paid advertising, and website or app optimization. It also provides public relations services for companies based in the United Kingdom.
Delante stats:
Best for: small businesses
Services offered: SEO and Google advertising
Cost: starting at €450-€2000/project
Clients: Best Western, Oakywood, Maylily
Delante offers search engine optimization services to bring more traffic to your website. These include technical and local SEO, SEO consulting and audit, and link-building services. Furthermore, this SEO agency can create marketing strategies for various platforms, such as Wix and Magento.
The price for each service will vary widely. For example, a complete SEO audit will cost around €450-2000/project, while content translation for international websites is available for €20/article.
Growfish stats:
Best for: sustainable brands
Services offered: content marketing services, paid advertising, sustainable branding
Cost: starting at £800
Clients: Sari Foods, Select Green Hotels, Sustainable Narrative
Growfish is a sustainable internet marketing agency assisting companies in creating eco-friendly digital solutions. It has joined The Green Web Foundation and actively supports climate projects.
Besides sustainability, Growfish also values transparency by sharing pricing details on the website. The cost varies based on the services you need and whether the project is a one-time or retainer.
Rankings stats:
Best for: independent attorneys and law firms
Services offered: website audits, content marketing, technical and local SEO, on-page optimization, link building
Clients: Dolman Law Group, The Levin Firm, Stewart J. Guss
Attorneys of various fields and law firms should consider working with Rankings to achieve SEO success. This online marketing agency specializes in improving a site's presence in the legal industry.
It has helped law firms dominate search engine results pages and related platforms. For instance, some of its clients ranked for keywords like "car accident lawyer" and became the number one in Google Maps for primary queries.
Best Social Media Management Agencies
Below are the five best digital marketing agencies for social channel management. They can create engaging content and increase loyalty through community management methods. Some also provide social advertising and audits to improve your current profiles.
Chatterkick stats:
Best for: women-owned businesses
Services offered: social media management, strategy, and paid campaigns, content production, customer service
Clients: ModHouse Interiors, Goosmann Law Firm, Advantage Magazine
Chatterkick is perfect if you want to work with a women-owned agency. It holds a certification from the Women's Business Enterprise National Council (WBENC), validating that the business is at least 51% operated and owned by women.
This digital marketing company covers all-round social media marketing solutions, from strategy development to social management and review generation, with three approaches:
Full-service account management – only minimal guidance from your team will be necessary.
Hybrid package – 60:40 partnership program.
Consulting and training – helps your team learn the best social media practices.
Nude Social stats:
Best for: fashion, beauty, and lifestyle brands
Services offered: content creation, hashtag research, community management, influencer marketing
Clients: Ellis Bridals, Candalia, Jacqueline Organic
Nude Social is a London-based social agency specializing in Instagram marketing, from content production to influencer outreach. It promotes minimalistic styles when designing content, perfect for a classic, feminine, or luxury brand.
Nude Social's founder, Millie Davis, is also open to one-on-one consulting services where business owners can get a thorough audit of their Instagram profiles.
Firebelly stats:
Best for: food and beverage businesses
Services offered: social media audit, management, and advertising and creative services
Cost: $2,000-7,000/month
Clients: Fiji Water, Goat Fuel, Justin Vineyards and Winery
Firebelly is an award-winning social agency recognized by Shorty Awards, W3 Awards, and Muse Creative Awards. This digital marketing agency mainly specializes in the food and beverage sector, although it has clients from various industries.
Its pricing packages vary depending on many factors, such as services, the number of social channels, and community size.
Lyfe Marketing stats:
Best for: small to medium-sized businesses
Services offered: social media marketing, PPC and social advertising, email marketing
Cost: starting at $750/month
Clients: The Cord Wrapper VegaX, Brick Staffing
Lyfe Marketing is a social marketing agency offering well-rounded services, from content creation to advertising and monitoring. It can also help with email marketing for a follow-up strategy.
Its social media management pricing will depend on the content type, frequency, and services. For example, its Strater plan only offers custom graphics, and you should pick the Growth plan if you need vertical videos.
Sculpt stats:
Best for: B2B companies
Services offered: social media strategy and consulting, paid social advertising, community management, content production
Cost: starting at $5000/month
Clients: Livability, MidWestOne Bank, Bona Law PC
Sculpt is a B2B social media marketing agency based in Washington, US. It helps manage clients' community and content strategy across all platforms, including LinkedIn, TikTok, and Twitter.
Sculpt can partner with your team in three approaches with different pricing:
Training – holds customized workshops for your marketing or executive leadership team.
Campaign management – plans, produces, optimizes, and monitors your marketing campaigns or events.
Ongoing marketing retainers – takes care of your long-term growth.
Top Inbound Marketing Agencies
Get more clients and build lasting relationships with these inbound marketing agencies.
Cience stats:
Best for: B2B companies
Services offered: sales data solutions, outbound and inbound marketing
Clients: Nasdaq, US Bank, Salesforce
Cience is an award-winning global company as Inc. 5000 America, Financial Times, and Clutch awarded this digital marketing agency as one of the fastest-growing companies.
When building inbound marketing strategies, Cience can help with multiple efforts, such as customer relationship management (CRM) tools, webinars, and newsletters. It has worked with various B2B industries, from oil and energy to civil and social organizations.
Akepa stats:
Best for: sustainable brands
Services offered: inbound marketing, localization, digital advertising
Cost: €450/day with a minimum retainer of €900/month
Clients: Sanvt, Penguin Books Shop, The Happy Foodie
Akepa is a certified climate-neutral company promoting fair workplace conditions and environmental projects. It primarily works on a long-term retainer basis and with exclusively sustainable companies or those with solid sustainability goals.
Besides inbound marketing expertise, Akepa can assist small business owners in connecting with markets in different regions through local SEO services, such as content translation and interpretation, multilingual CMS development, and transcreation.
SmartBug stats:
Best for: small and medium-market businesses
Services offered: inbound marketing, CRM implementation, web design and development
Clients: The Arbor Company, 1st United Credit Union, True Office Learning
Founded in 2007, SmartBug Media has collected over 800 certifications and more than 100 awards, including Marcom Awards, Inc 5000, and Adweek. This digital marketing agency is also a partner of HubSpot, Salesforce, and Klaviyo.
Its inbound marketing solutions include a 90-day plan, perfect for brands who want to see rapid changes and results in their online presence.
Kuno Creative stats:
Best for: mid-to-large-sized companies
Services offered: inbound marketing, brand strategy, RevOps, video marketing, web design
Clients: Invacare, Lawn Dawg, iOffice Corp
Kuno Creative is a reliable agency with a knowledgeable team of inbound marketing consultants, brand journalists, and demand generation experts. It's also an official partner of related platforms, such as Google, HubSpot, and Semrush.
Although it's known as an inbound marketing agency, Kuno Creative also provides relevant services, such as video marketing and branding.
Single Grain stats:
Best for: enterprises
Services offered: SEO and content marketing, paid advertising, conversion rate optimization, and NFT marketing
Clients: Airbnb, Salesforce, Amazon
Single Grain has an impressive client history and proven results. For instance, it drove $1 million in revenue for a scooter manufacturer and boosted a food brand's engagement rate by 400%.
At Single Grain, you won't work with an account manager because it will set you up with dedicated marketing specialists. This approach lets businesses get direct assistance and expert knowledge.
What to Look For in a Digital Marketing Agency
To choose the right digital marketing agency for your needs, consider the following aspects:
Excellent team of professionals – the digital marketer, SEO specialist, and other members involved should be experienced in the industry and hold specific certifications.
Up-to-date media tools – the best digital marketing agencies use SEO plugins and tools to help achieve your goals.
Transparency – a good digital marketing agency knows that data is essential for them and their clients to make the right decisions. Therefore, ask them how they collect and share data or campaign results. Ensure those are open and shared, and they're willing to provide the campaign analysis after launch for further optimization.
Effective reporting – agree on how and how often you want to communicate. Some agencies provide a reporting dashboard to show important marketing agency metrics and real-time progress at a glance, while others may keep you updated via emails or calls.
Therefore, we recommend visiting digital agencies' websites to check these aspects. Read the case studies to know their strategies and results on previous clients.
If you want to go deeper, look at the previous clients' testimonials on review platforms like Clutch, Google Maps, and TrustPilot. Consider sending proposals to some of the best digital marketing agencies and compare their offers.
Knowing your goals, values, and budget before doing the research is also essential as it helps filter options – you can cross out advertising agencies that don't match your objectives.
Conclusion
We've listed 30 top digital marketing agencies worldwide to help you scale your business and improve your digital marketing efforts while saving time. As there are many options, we recommend starting with your goals, values, and budget.
If you want to inspire long-term customer relationships, pick an inbound marketing agency for better focus and expertise. However, partner with a full-service agency if you need help with several digital marketing projects for streamlined communication.
Most importantly, work with a digital marketing agency with the same value as yours. For example, eco-friendly brands will benefit from sustainable agencies because they know the best industry practices.
Whatever your option, ensure you ask for the price details upfront to avoid going over budget and hidden costs.
Best Digital Marketing Agency FAQ
This section will answer the most frequently asked questions about the best digital marketing companies.