Best 10 Business Name Generators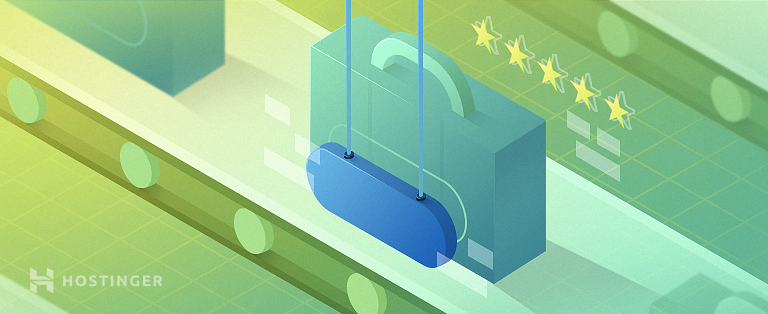 If you want to start a business, you need to brand it properly. Naming a business should be on top of your priority list.
However, it might be tricky to come up with a suitable name. Thankfully, there are a lot of business name generators to draw inspiration from.
In this article, we'll show you the best ten options that you should check out.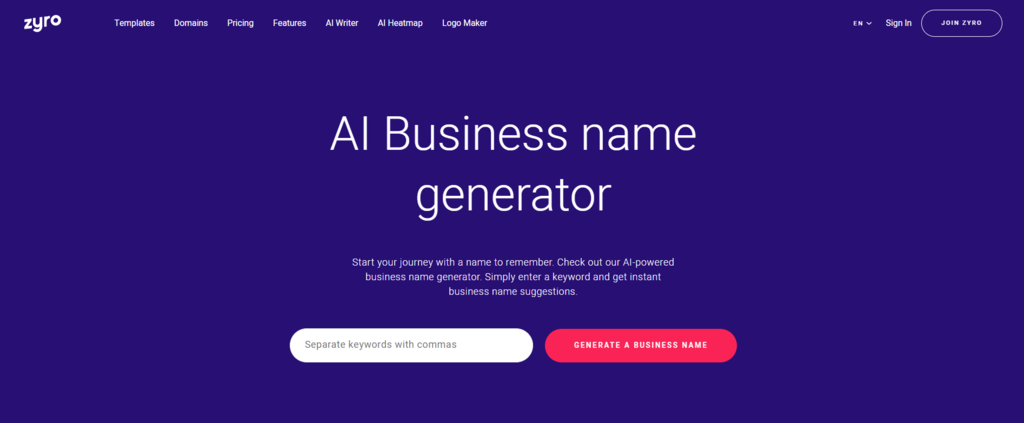 The first entry on our list is the Zyro AI-powered brand name generator. This means you can quickly get dozens of business name suggestions based on the entered keyword. Even better, you're free to insert several queries to get more specific results.
If you're still too overwhelmed by too many choices, there are some useful tips on how to pick up a perfect one for your business. Such information is located below Zyro's Business Name Generator.
Thinking about creating a logo and a website for your brand, as well? Zyro has got you covered. It offers a powerful logo maker and site builder that will make your business look professional and appealing to your audience.
What's great, these features are available for free.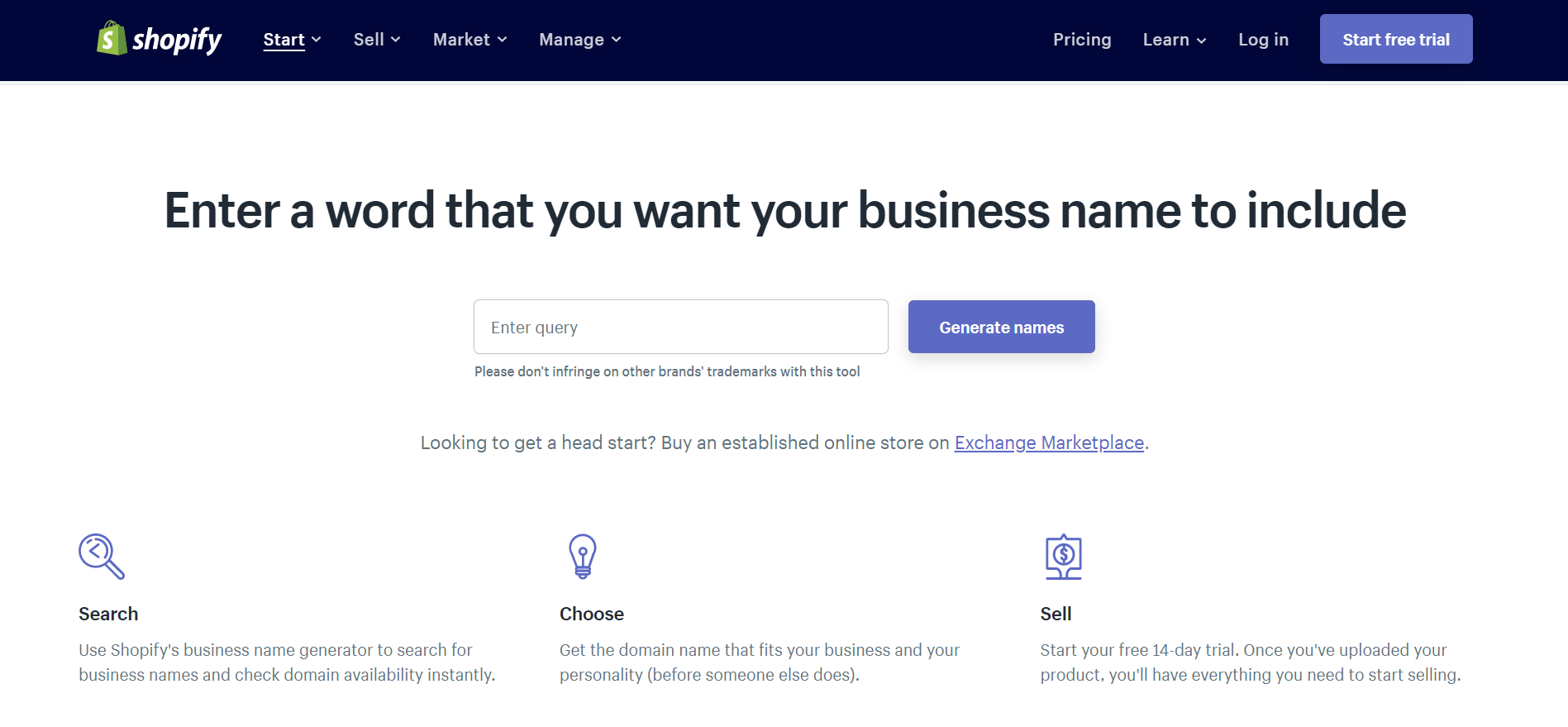 If you want to create an online store, Shopify Business Name Generator will be a fitting tool for you. It gives the option to choose your desired store type, such as clothing, jewelry, furniture, and so on.
Thus, the business name suggestions will be optimized for that specific industry. The only downside is that you don't get to enter more than one query to narrow down the search results.
The Shopify Name Generator has another cool service called the Exchange market. It is a place where you can buy an established store along with its business name.
In case you don't plan to start your store from scratch, this platform might provide you with a quick solution.

Industry Filter and Result Filters are two features that make Business Name Generator stand out. They let you modify your search preferences so you will receive the most relevant suggestions.
However, you have to click the generate button first in order to access these features.
What's convenient is that each result item is clickable and you can see the domain availability at the same time. At the bottom of the page, this tool also promotes a handful of premium names and logos that you can purchase.
Despite its powerful and useful features, just keep in mind that Business Name Generator displays tons of ads which can be a bummer for some users.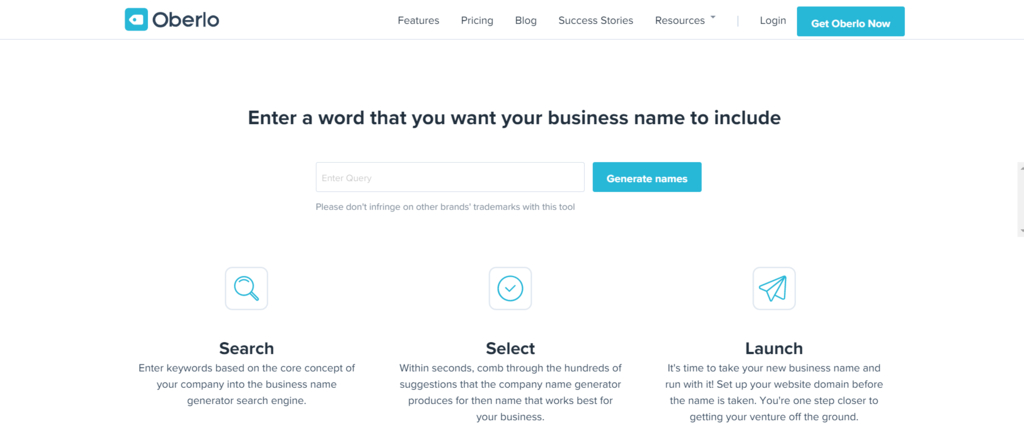 While other tools provide too many filters, Oberlo Brand Name Generator tries to keep everything straightforward. Simply enter your keywords, hit generate names, and it will display multiple pages of business name ideas for you.
The problem is, the business names often sound too ordinary as if the tool just randomly inputs additional words to every result item.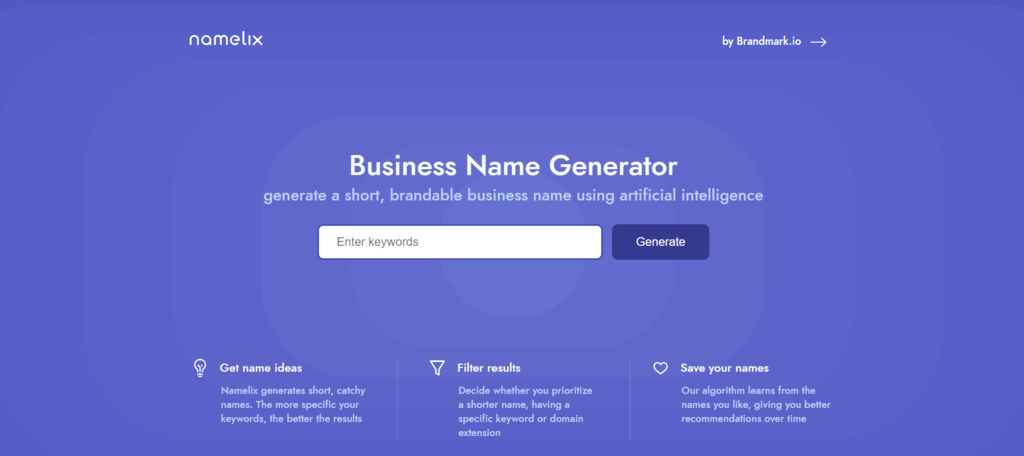 Instead of showing the results right after you hit generate, Namelx Business Name Generator requires you to apply some filters first. You need to decide the name length and choose between various name styles, such as Brandable names, Rhyming words, Compound words and much more.
Thankfully, you can see two examples next to each option so you have a better idea of what you're getting. Once the results appear, they come with their own paid or free logo.
That being said, that doesn't mean all of them are available as a business name. You have to check if it's taken yourself.
With Novanym, you will get business name ideas and logos based on the style and industry that you choose.
While it may seem cool, Novanym still has its drawbacks. For instance, the results don't always include the keyword that you enter. Not to mention that the logos are expensive and don't look quite as good as from some of the other tools.
However, at least all the business names are available and ready to use with the .com domain extension if available that is.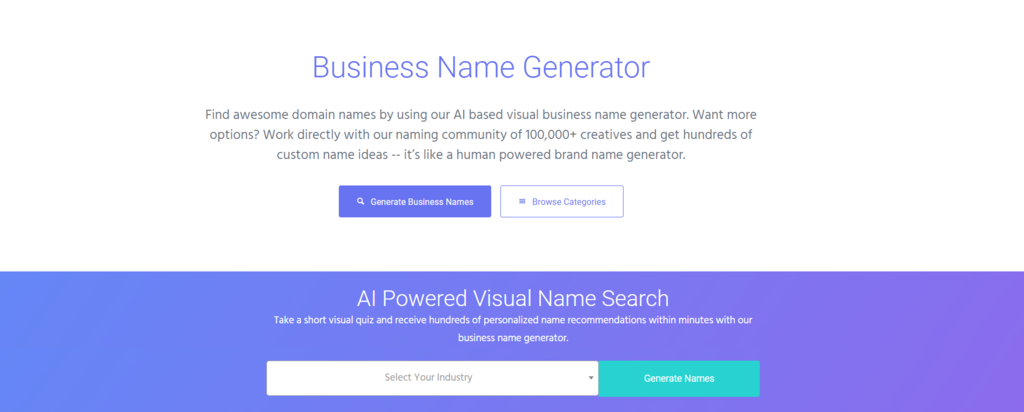 What's great about SquadHelp is that you can apply many search filters before you get the results, including business category, domain extension, word length, syllable, emotion, and style.
The business name ideas and logos are all premium, which can go as high as $4000. Fortunately, you have the option to sort the results from the lowest price and pay with a three or six-month installment plan.
Moreover, each name already includes domain registration fees and complimentary logo designs.
SquadHelp also offers you audience testing. This feature allows you to test multiple variations of the same design and see which one is more preferred by your target demographic.

Dot-o-mator uses a different approach to generate business names. It requires you to write multiple words for the beginning and the ending and then combine those words to deliver a number of suggestions.
After that, Dot-o-mator will show you names that are available, or taken. If it's up for grabs, you can buy it from the provided registrar.
Dot-o-mator is a reliable and unique business name generator but it's not perfect. The user interface is outdated and the mobile app is only compatible with iOS devices.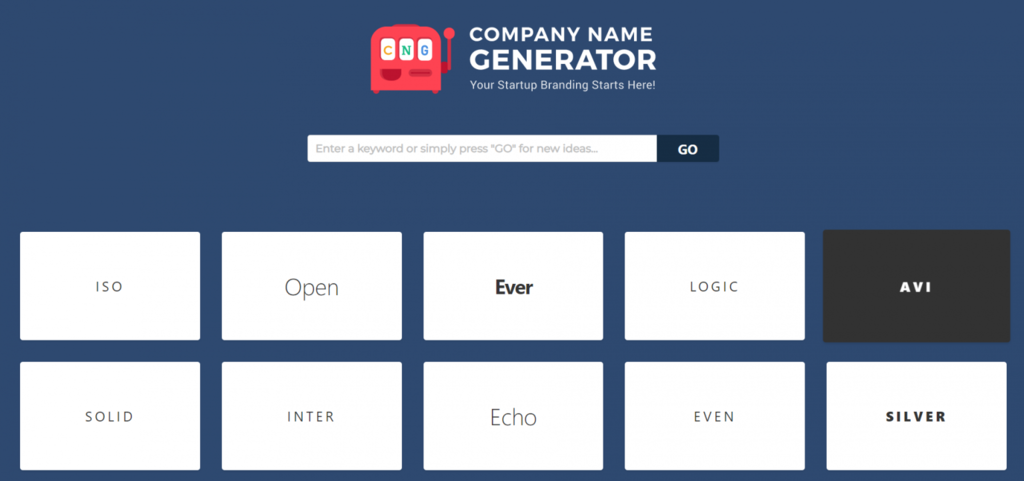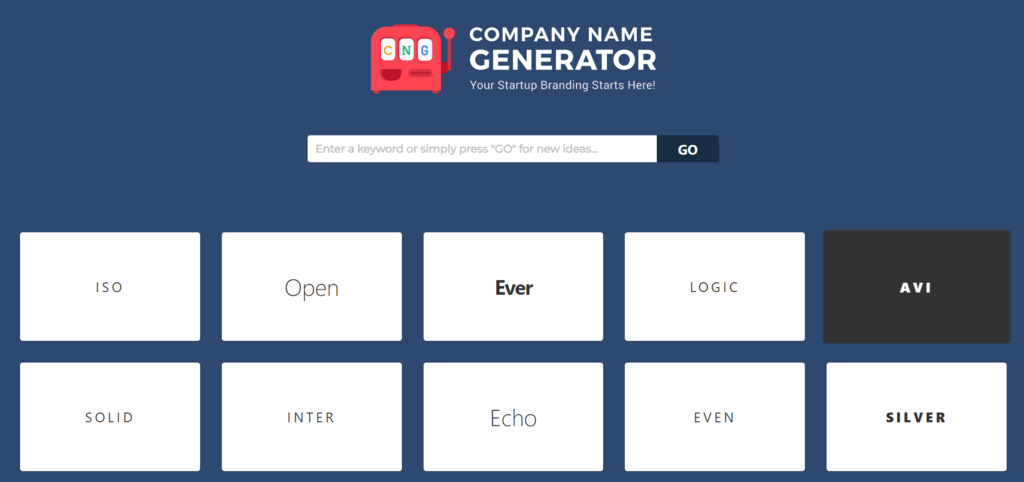 Nothing beats Company Name Generator when it comes to simplicity. There are no ads, filters, or any kind of tips on the website. You can only find the search bar and hundreds of random suggestions under it.
Surprisingly, Company Name Generator works even when you don't enter a keyword.
Company Name Generator is suitable for those who love a clutter-free tool. However, if you're looking for more advanced features, this won't be a good pick.
Still, having the ability to register a domain name directly or choose an industry type would make this generator so much better.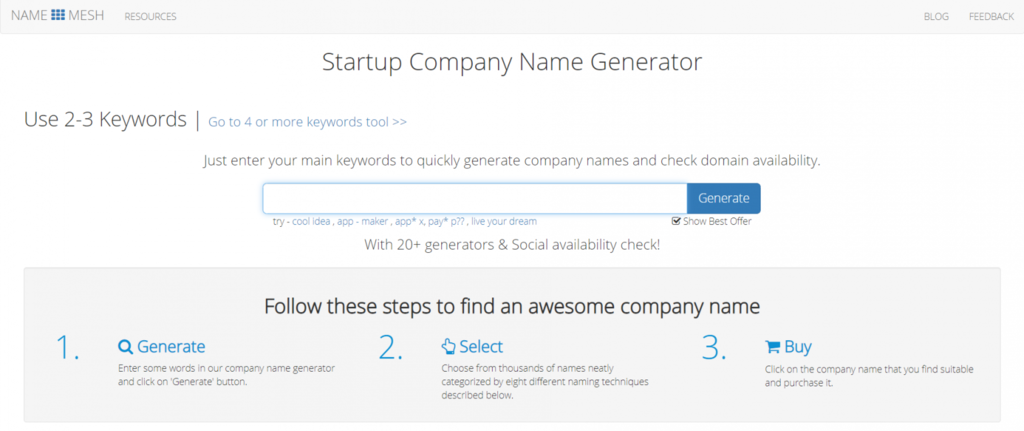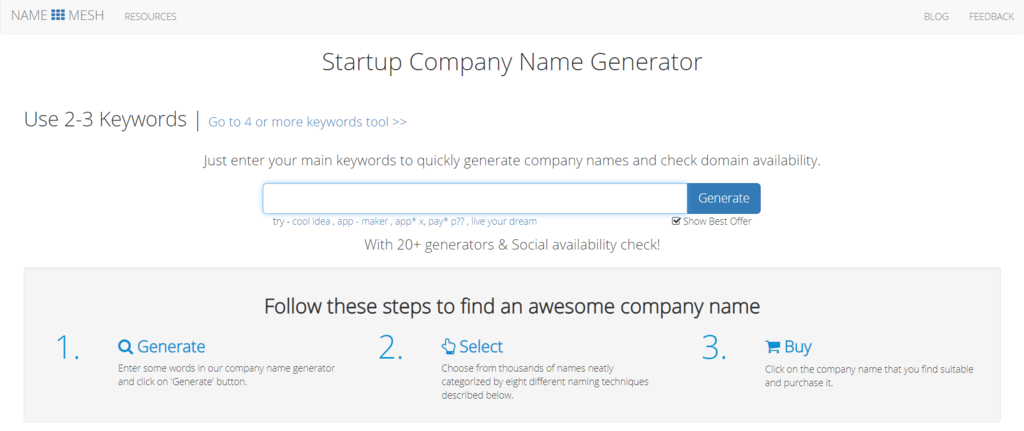 This tool has two types of generators. The first one lets you use two or three keywords while you can enter three to four words on the second one.
However, since NameMesh is a domain name generator at its core, it will simultaneously suggest business names based on available domains.
After you click Generate, NameMesh Company Name Generator will classify the recommendations into eight groups, namely:
Common — combines the entered keywords and pair them with famous extensions like .com, .net
New — uses new GTLD (Generic Top Level Domains) when searching for available names, like .shop, .online, .space, etc.
Short — shortens your business name by turning the final two words of your business name into a domain extension (e.g. rabb.it, stori.es)
Extra — inserts a less popular domain extension to your business name, including .biz, .asia, and so on.
Similar — replaces the entered keywords with similar ones to create a unique name
SEO — optimizes your business name so people can find it easily on search engines
Fun — recommends out-of-the-box business names by rearranging and adjusting the entered keywords
Mix — add suffixes like -ly, -er, -able to your keywords.
What Makes for a Good Business Name?
While all the brand generators above will give you countless business name suggestions, it's still up to you to decide which one to pick. To ensure you make the right choice, here are some tips that you can use:
Check the availability — verify that the name, social media username, and the domain are not taken. You can check manually using a tool like Trademark Electronic Search System by US Patent and Trademark Office
Make it memorable — try to come up with a short and original name that is easy to remember and leaves a good impression (e.g. Amazon, Apple)
Think of your niche — use your business name to tell the audience what you're selling, especially if your niche is narrow.
Be aware of foreign markets — make sure that your business name won't mean anything negative in your target customers' language. Otherwise, it will harm your brand image
Stay simple — don't spend too much time thinking about the perfect business name. If your favorite name meets all the criteria above, just go for it.
Pick Your Business Name
Picking out a perfect brand name is one of the most important steps in starting a new business. Although this process can often be difficult, there are many business generator tools that can help you with that.
In this article, we have covered the ten best business name generators for you to choose from. To summarize, let's overview them once again.
Now that you know each generator's strengths and weaknesses, it's time to start your business.