Instagram has become one of the most credible platforms for marketing. It is one of the best platforms to raise your brand awareness and market your business.
In this article, we will discuss how powerful this visual content sharing app is. Also, we will give some tips that can help you with  Instagram marketing. So let's get to it!
What Is Instagram Marketing?
Instagram is a social media platform which allows its users to share their experiences or ideas through pictures and videos.
Around 52.6% of the US population uses it. This number went up by 13.8% from 2017.
It was initially created to share pictures and videos. Unlike most social media, Instagram focuses on visually appealing content. The app has various filters so all the posts are as beautiful as possible.
Instagram is constantly getting updated – not only do they improve the existing features, but introduce new ones on the regular.
In August of 2016 Instagram introduced the Story feature. Then, two years later, IGTV was born.
Utilizing social media for your marketing campaign is one of the best ways to market your business.
Due to its increasing popularity, wide audience and extensive marketing features, Instagram is the heavyweight champion of social media marketing.
Why Instagram?
Thanks to its wide user base and various marketing features, companies and individuals can easily market their brand on Instagram.
On this app, you can use both pull and push marketing strategies. Posting regular content alone is a great way to reach a wide audience, engage with your followers and raise your overall brand awareness.
What is more, users can utilize ads, sponsored posts and make use of Instagram's business feature, that allows them to keep track of how their marketing campaigns are performing.
Why choose Instagram?
Highest engagement score among other social media. The engagement score can reach 1.73% compared to Facebook and Twitter with 0.16% and 0.046%.
1 billion active users. The high number of engagement score is contributed by 1 billion users posting, liking, and commenting on Instagram.
Those impressive numbers aren't the only thing that makes Instagram a perfect platform for marketing purposes.
Have you ever wondered why watching a cooking video is a lot more interesting than reading recipes?
A study proved that the human brain can convert images into information 60,000 times faster than text. So utilizing visual content for your marketing campaign will surely bring positive results.
What is more, Instagram Business allows you to track and improve your marketing strategies while creating content personalized to your brand. There are several forms of advertising such as story ads, photo ads and video ads that you can use based on your target audience's preferences.
Did you know that Facebook acquired Instagram in 2012? Thanks to this, you don't have to work double if you want to utilize these platforms. Instagram and Facebook are integrated, so you can share the same posts and campaigns on both networks.
What Can Instagram Do?
Considering all the statistics above, there's little to no limit of what you can do with Instagram. You can show off your personality, your brand's voice, and brand campaign.
Let us give you examples of how people utilize Instagram marketing:
@sorelleamore – is a professional photographer, who uses Instagram to share her work, thus increasing her brand awareness and trust with her audience. She uses the platform to sell photography courses, increase the following on her Youtube channel and promote her podcast.
@humansofny – this account shares stories of people from New York to their 8 million followers. They embed a Patreon link on their account for those, who want to support the project.l
@vida.june – is a Netherlands based clothing brand created by a designer Charise Abigail. The brand focuses on mother-daughter relationships and fashion, creating beautiful, consistent content on their account – including their feed, stories, and live videos. It's a perfect example of how a small brand can utilize Instagram marketing to reach a wider audience.
How to Use Instagram Marketing?
To have a better understanding on creating great content for Instagram marketing, here are some tips that we've compiled for you.
1. Captions
Instagram has 2200 characters limit and space for 30 hashtags.
While you can stuff your caption with hashtags and text, conciseness is the key to an engaging caption.
Here are some tips for creating an engaging caption:
Make a draft – it helps you draw the idea about what you want to deliver and allows you to choose from a couple of captions.
Call-to-action – use a catchy phrase to engage with the users and urge them to see your profile or even products.
Use a casual and lighthearted tone – create a warm nuance to bring emotional attachment between you and your audience.
Up-to-date – keep your audience updated about what's new with your brand
The hashtag feature allows you to transform information into metadata with a # sign. Hashtags categorize all posts on the app, thus making it easier for users to find interesting content.
Hashtags work like an inverted pyramid. Here's how a hashtag is classified:
General topic – It informs your audience what the topic of your content is. For example: #photography, #business, #art
Niche – It gives specific information related to the general topics. For example: #maternityshoot, #socialmediamarketing, #realismart
Community – It contains information about a community or location. For example: #NewYorkPhotographer, #BeautyJournal, #SeafoodMukbang
You can combine up to four hashtags from each class to give you a higher chance to promote your content. As an example: #photography #maternityshoot #NewYorkPhotographer #pictureday
3. Instagram Stories
Sometimes, people who have an aesthetically pleasing feed are reluctant to upload certain content.
When users don't want to mess their feed, they can make use of the Instagram Stories feature to share a moment which will expire in 24 hours.
It also provides tools such as filters, gifs, and text to make your story more appealing. Many Instagram influencers and businesses utilize this feature to promote their products.
Creating an appealing story can be done by combining your editing and marketing skills. So, what kind of content you can make with Instagram Stories?
Games – make a game template to get people's attention. It can be 'describe me', 'this or that' or 'true or false'. It will urge the audience to engage with you, which will build a closer relationship.
Suggestions – ask for a suggestion for posts and products to keep your audience engaged with your brand.
Votes – Let your audience involved in your business. Hear what they want via vote sticker provided by Instagram.
Here are the tips for making attention-grabbing Instagram Stories to boost your brand awareness:
Use the best pictures – never go with the first picture you take. Always make sure, that the pictures you share are beautiful and have great quality.
Edit your pictures – utilize tools such as Lightroom, Pixlr, VSCO and many more to edit your photos your Instagram Stories.
Use CTA  – attract your audience to visit a link with "swipe up" or "see more" phrases.
Moreover, you can access the archive of your expired stories and turn them into a highlight, which will stay on your Instagram profile. Using highlight, you can create a chain of story posts and categorize them by topic such as food, travel, quotes, and games.
4. IGTV
Sometimes, a 1-minute video is not enough to explain your campaign. Then again, a train of a 15-second story might be ineffective. That's when you use IGTV.
It's a stand-alone feature that lets you make a vertical video, which can be accessed later via Instagram.
This is how you can utilize IGTV as a campaign tool:
Download IGTV through PlayStore for Android or AppStore for iOs
Create your channel
Upload the video from your Gallery
Edit the cover, put a title and description
You're ready to post and share it in your Instagram
Apart from your smartphone, you can also upload IGTV content from a computer via instagram.com.
5. Instagram Live
Instagram facilitates real-time video sharing using Instagram Live. Instagram Live can be divided into two features:
QnA – Boost your engagement with your audience using a Q&A Session. It allows your audience to send questions and get the answer directly from you.
Live – Interact with your audience by sharing your real-time activities.
Instagram Live is a great idea to gain attention from your audience based on these reasons:
Directly notify your followers – the notification of Instagram Live pops up on your followers' notification bar as you go live.
Keep your broadcast for 24 hours – it allows to keep the broadcast as a part of Instagram Stories and maintains the engagement after going live.
Priority on story feeds bar – your account pops up first in the Story list. It gives a higher chance for you to get your follower's attention.
6. Instagram Insights
Instagram provides analytical data about followers' demographics and content engagement. The analysis can be helpful in making data-driven decisions and improving your marketing campaigns.
To get this feature, you have to convert your account into a business profile. Whenever you switch it back to a personal account, you can lose all of the insights data.
Insights can be accessed from your profile page, individual post, and stories.
Setting Up and Optimizing a Business Profile
Turning an individual account into a business profile can give you the advantages a personal account won't get. Here's how to do it:
1.Setting up an Instagram account
Integrating your account with a business email is a lot easier to manage. Just make sure that the name, email, address, and phone represents your business.
2. Switching to business profile
If you want to use your personal account as a business account, you can switch it into a business profile. You can do that by following this:
Access your Settings menu
Tap on Add a Business Account
Choose Convert existing account
Choose a category for your business profile
Fill the personal info and connect to your Facebook page
3. Optimizing your profile
To utilize Instagram marketing to the fullest, make sure that your profile represents you and your business the most. Here is how you can do it:
Make a logo related to your business and set it as your profile picture
Fill your 150-character bio with a tagline, motto, address and contact information
Put a link of your website and hashtags on your profile.
Here's an example of an informative and appealing Instagram account, to better understand how you should provide the info on your profile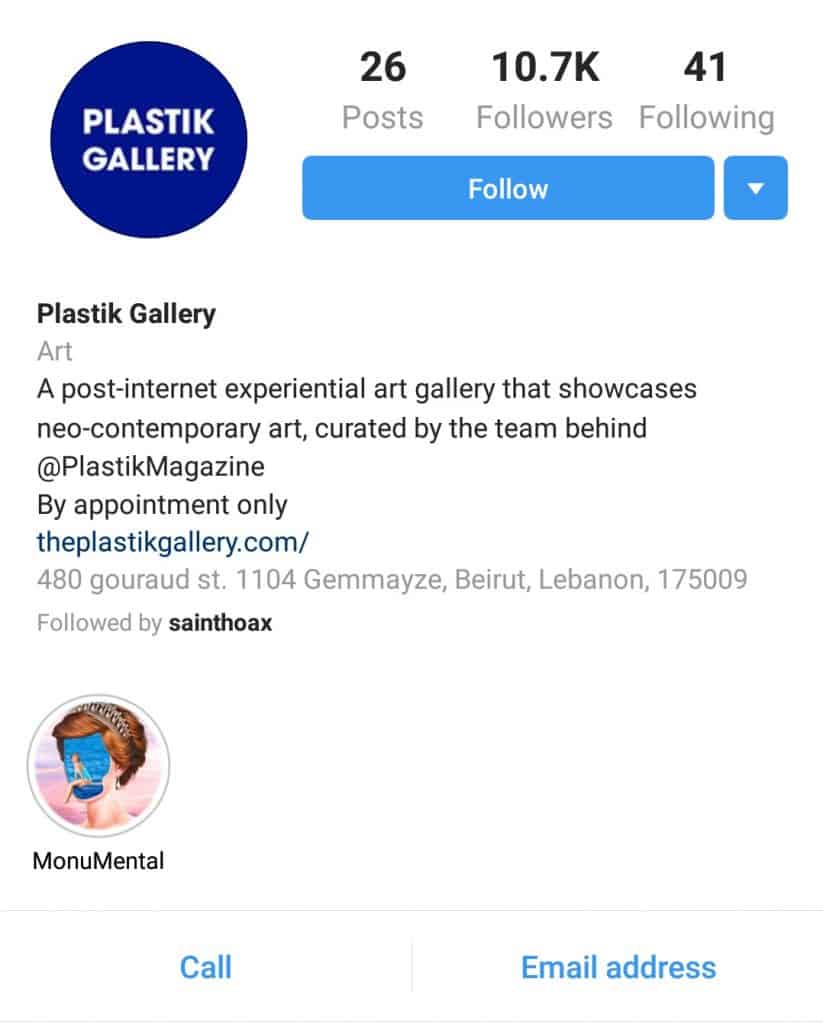 @plastikgallery described who are they in a concise way. Moreover, they direct the visitor to their website through a link which can give more information about who they are and their product.
4. Managing Settings
Whenever you want to boost your brand's profile, you can explore and adjust the settings according to your liking:
Notifications – it covers push notifications. If you don't want to be flooded by notifications, you can simply turn Pause All button on.
Payment – set it up for receiving and sending payments from any parties related to promotion posts.
Ads – track ads activity on your Instagram. It lets you learn and analyze ads from competitors.
Instagram Ads
The main goal of Instagram marketing is reaching a wider market. Instagram Ads provides services to do that.
Carousel ads – it shows multiple pictures or even videos in one advertisement post.
Stories ads – you can add a one minute video or a chain of three stories at once.
Photo ads – provide a single photo to describe your product.
Video ads – create a one minute video to attract your target audience.
Collection ads – it shows a collage of pictures, videos and a direct link to your website.
It's important to conduct market research to decide which ad service is suitable for your business. You can compare two ads for trial and error.
Conclusion
Instagram provides various features that you can use for marketing. Moreover, its impressive user growth rate shows that this app can be used by anyone. You can give it a shot by creating a business profile.
In a nutshell, to start Instagram Marketing, you have to:
Create your Instagram business account or switch your current account into a business profile.
Optimize your profile to be as attractive as possible.
Explore your creativity and create content by combining all of Instagram features.
Utilize Instagram Ads features to raise brand awareness.
So, let's reach a wider audience and raise your brand awareness!