What Is the Difference Between a Blog and a Website: Content, Monetization, and Updates
Many people use the terms blog and website interchangeably, leading to the assumption that they're identical. Even though they're typically built using similar software, these are two different concepts.
In general, a blog is a type of website that contains dynamic content, while a standard website is made of static informational pages.
A blog is a great platform for those who want to share content and valuable information regularly. On the other hand, a conventional website is best for displaying data or products that remain unchanged for a longer period of time.
In this article, we will explain the difference between a website and a blog based on their content, monetization options, and update frequency.


What Is a Blog Best For
Short for web log, a blog is an informational website or personal journal run by an individual or organization. It is mostly used to share opinions on a specific topic, such as technology or fashion.
For example, Jeanine Donofrio created Love and Lemons in 2011, focusing mostly on vegan and gluten-free recipes. It has become one of the most popular blogs in its niche and has received multiple awards, such as SAVEUR Editor's Choice in 2016.
Each entry or blog post often has a comments section that enables two-way communication between readers and bloggers, improving blog owners' relationships with the audience.
Nowadays, many websites have a blog section where site owners publish content regularly to inform and educate their customers.
For example, Hostinger has a combination of a website and a blog. While the former displays information about our products and services, the Hostinger Blog contains our latest updates and customer stories.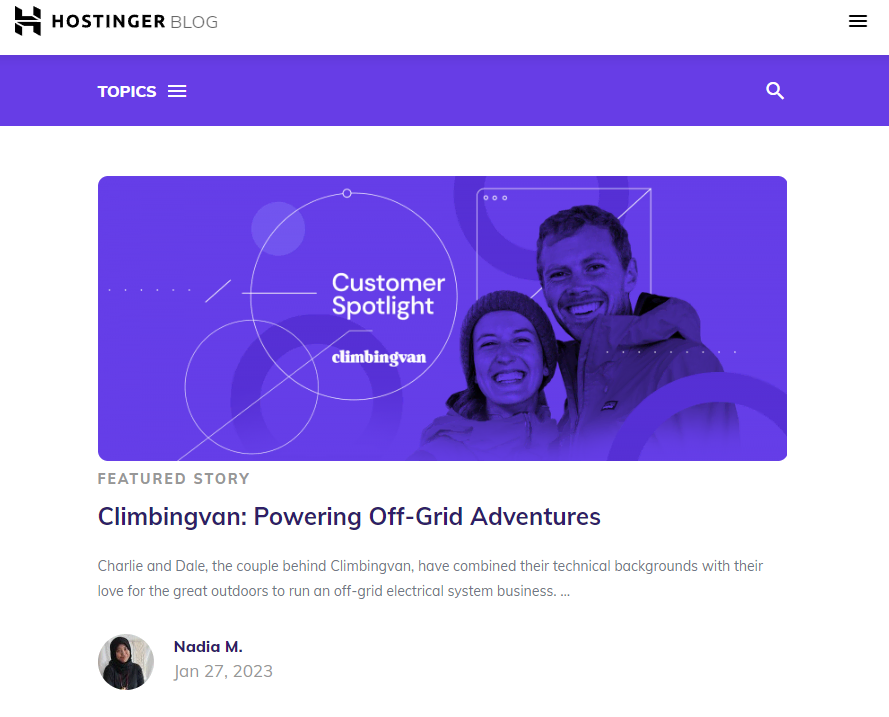 Having a dedicated blog section on your website is beneficial to expand your online business, as it helps you attract more visitors. With high-quality content, you can improve customer trust and increase sales.
In general, a blog is suitable for:
Pro Tip
Learn how to write a blog post, from choosing a topic to proofreading your work.
What Is a Website Best For
While all blogs are websites, not all websites are blogs. A site typically includes several web pages that display static information about a topic, group, or person.
Additionally, most websites are accessible via a custom domain name. This is unlike many blogs, which often run on subdomains or can be found as a path or page within the main website.
Standard websites can cover a broad range of subjects or purposes, depending on which website type you want to create. These can vary from online stores, business landing pages, and forum websites to digital portfolios, entertainment websites, and blogs.
For example, Coursera is one of the most popular educational websites that offer online courses taught by lecturers from top universities and companies worldwide.

Unlike blogs, a comments section is uncommon on a website, as it mostly focuses on one-way information sharing.
In general, websites are beneficial for all user segments and industries, including:
What Is the Difference Between a Blog and a Website
The key difference between a blog and a website lies in the content and update frequency. While blogs present posts in reverse chronological order and regularly update content, standard websites' content typically stays the same for long periods and is arranged by category or topic.
Here's a table comparing a blog and a website:
| | | |
| --- | --- | --- |
| Category | Blog | Website |
| Content | The latest posts are displayed first or in reverse chronological order. | Content is arranged across various web pages based on category or topic. |
| Monetization | Enables you to make money blogging using various methods, such as joining an affiliate program, writing sponsored posts, and building a subscriber list. | To monetize your website, try opening an online store or offering professional services like consulting. |
| Updates | Displays dynamic content, meaning that posts are regularly updated. | Displays static pages that remain unchanged for a long time. |
Now, let's take a look at these differences in more detail.
Blog vs Website: Content
A blog and a standard website display information differently. In this section, we'll discuss how they vary based on content.
Blog
A blog's content often discusses a specific topic or sub-topic in a conversational style. Blog posts can include text, photos, videos, or infographics and are presented in reverse chronological order.
For example, if you have a fashion blog for your online clothing store, you can start blogging about The Best Puffer Jackets In 2023. While it relates to the main topic of fashion, it also addresses a specific subject, which is puffer jackets.
Furthermore, implementing search engine optimization (SEO) in your digital marketing strategy is crucial, as optimized content containing internal and external links can help your blog rank for various keywords. From that, you can generate more visitors and leads.
For instance, when someone searches for puffer jackets online and finds your blog post on the top search results, there's a high chance they'll click on the link, read the post, and end up accessing your eCommerce site to see what's on offer.
Creating a website with Hostinger Website Builder is one of the easiest ways to launch a blog and start publishing content. With an intuitive drag-and-drop editor, it caters to all types of users, from beginners without technical skills to experienced website owners.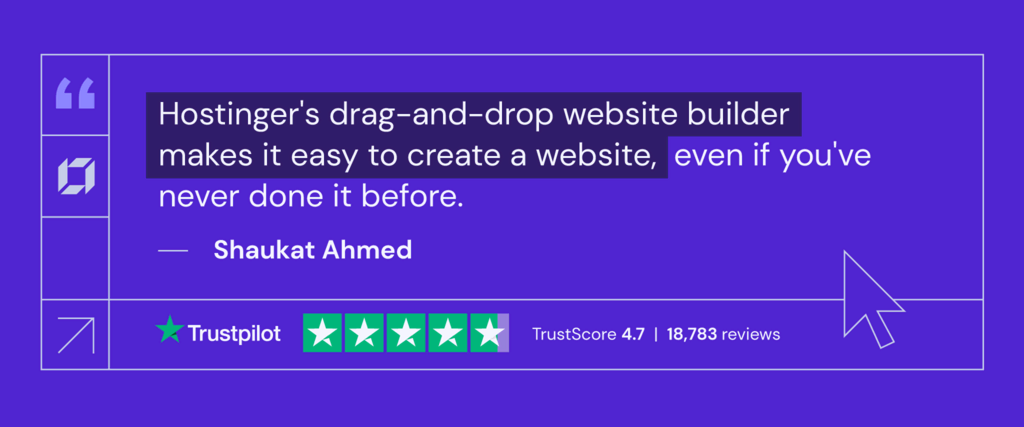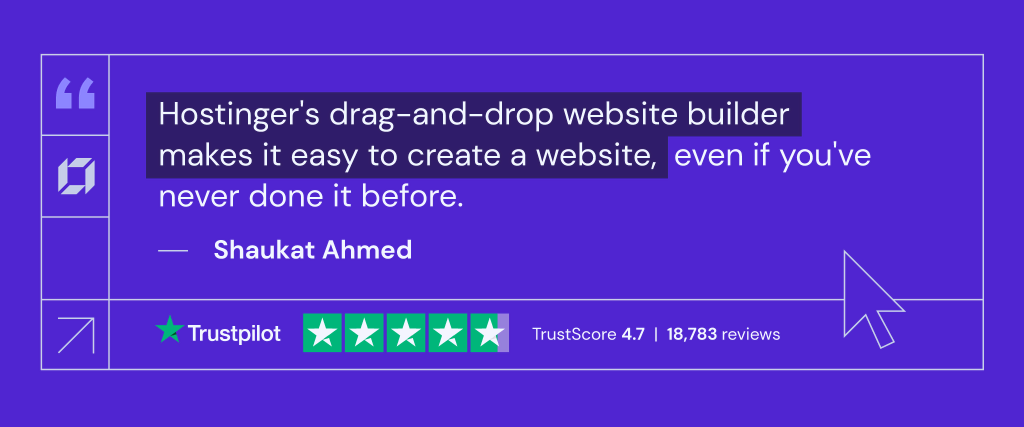 Packed with blogging tools like a visual blog post editor, users can start a blog with Hostinger Website Builder's designer-made website templates. There is also an AI Website Builder option that enables you to generate an entirely custom blog by simply describing the site in a few words.
Moreover, Hostinger Website Builder gives you ultimate control over the blog. For example, you can schedule blog posts, set categories, use the URL customizer, and personalize headers with different styles, layouts, and backgrounds.
Website
A website typically has one or multiple landing pages displaying static information about a particular subject in no sequential order. Instead, it organizes and presents content through individual pages focused on a specific function.
For example, the homepage contains general information about the company's services. Meanwhile, the Product page is where visitors can browse and shop for items.
On top of that, a website design usually presents content in a non-blog format. For instance, instead of arranging posts in reverse chronological order, a website will display copy, images, buttons, and calls-to-action (CTAs) based on informational hierarchy.
Another standout feature is you can do more with a website. For example, companies can create private sites or intranets that can only be accessed by certain people using a secure local area network – like an internal company dashboard that only employees can visit.
However, there are some content similarities between standard websites and blogs. Often, they include a Contact and an About page. Plus, like blogs, websites benefit from SEO and other digital marketing strategies for better search engine visibility.
Aside from blogs, Hostinger Website Builder is an excellent platform for creating various types of websites. Starting at $2.99/month, it offers templates for different site categories like business, eCommerce, and portfolio. Furthermore, it provides AI tools, traffic analytics, third-party integrations, and a built-in SEO toolkit to get your site online in minutes.


Blog vs Website: Monetization
You can earn money from both blogs and websites. In this section, we'll explain several monetization opportunities using these two approaches.
Blog
Blogging can be lucrative, but having a significant following and a good content strategy is important before monetizing your blog. There are many ways to make money blogging, such as affiliate marketing, writing sponsored posts, and building a membership community.
For example, you can start by becoming an affiliate, as it's a relatively easy way for beginners to earn passive income. This means you'll promote other people's products and services using personalized links added to your blog posts.
When a visitor clicks on it and purchases an item, you'll earn a commission from the sale. By joining an affiliate program, you'll become an independent brand advocate. To join one, simply register via the company website or sign up for an affiliate marketing network like ShareASale or ClickBank.
We suggest recommending products that you personally use and that your readers may be interested in. For example, if you're a Hostinger user, you can sign up to become an affiliate on the Hostinger Affiliate Program page.
Website
You can also run a profitable business using websites through various monetization methods, such as selling ad space or providing subscription-based entertainment services. However, if you're a business beginner who wants to sell products, we recommend creating an online store.
An excellent benefit of this is that you don't always need to sell physical items – many beginners sell digital products, removing the need for inventory management. However, you will need to add specific features and functionalities to support the customer's shopping experience, such as a checkout page and digital payment options.
As a business owner, you can also offer an affiliate program to your clients and give perks in return for making sales. Aside from increasing revenue, doing so can help reduce marketing costs, enhance brand awareness, and improve customer retention.


Blog vs Website: Update Frequency
In this category, we'll compare how often you should update content for blogs vs websites.
Blog
Blogs contain dynamic content that needs to be updated regularly, and some bloggers even publish articles multiple times a day. That way, they can keep up with relevant and trending topics.
To manage such extensive content production, some companies have a dedicated team to work solely on blogs – from writing and editing to publishing articles.
Whether you are creating new articles or auditing existing ones, updating content regularly helps your blog rank better on Google's organic search results. Doing so can attract visitors and boost blog traffic.
Website
Websites typically consist of static web pages that aren't frequently updated unless there are critical changes related to the business. For example, adding a new product or service, changing the contact details, or updating the company logo.
That's why compared to blogs, making a static website rank high on search results requires more effort. In this case, adding a blog section to your site is an excellent strategy to boost your rankings and drive sales.
Conclusion
Even though all blogs are a type of website, not all websites are blogs. A standard website and a blog have several differences, such as:
Content. While a blog has dynamic content, a website typically includes static pages.
Monetization. With a blog, you can make money online by becoming an affiliate and publishing sponsored posts. On the other hand, a popular way to monetize a website includes building an eCommerce store.
Update frequency. Blog content is updated frequently, while website information generally stays the same for a longer period of time.
To sum up, a blog is a great platform for those who want to post content regularly, while a website is best for displaying specific information about a business or person. However, we recommend any website have a blog section to help improve SEO and attract more visitors.
The most convenient way to start a blog or site for beginners without technical knowledge is by using a powerful all-in-one platform such as Hostinger Website Builder.
We hope this article has helped you differentiate between a website and a blog. If you have any questions, please leave them in the comments section below.
The Difference Between a Blog and a Website FAQ
In this section, we will answer some frequently asked questions about the difference between a blog and website.
What Are the Benefits of Having a Blog?
A blog is a great place to share your opinions and ideas with an audience. Many bloggers use it to showcase their credibility and expertise. You can monetize the content by displaying ads, joining an affiliate program, or writing sponsored content. Aside from that, many businesses use blog posts to increase brand recognition.
Can I Create a Blog for My Business Website?
Yes. Businesses should use a blog to improve site visibility on search engines. The higher your website ranks, the more customers you can get. Moreover, adding a blog to business websites can drive more traffic and build brand awareness. Blogging can also help improve customer relationships since it facilitates two-way communication through comments.
How Much Does It Cost to Build a Blog vs a Website?
The cost of a website or blog typically ranges between $100 to several thousand dollars per year. However, the total amount may vary depending on several factors, such as the web host, features, and themes. We recommend using a hosting service that includes a free domain name to be more cost-effective.