WordPress Turns 20: Empowering People to Success Online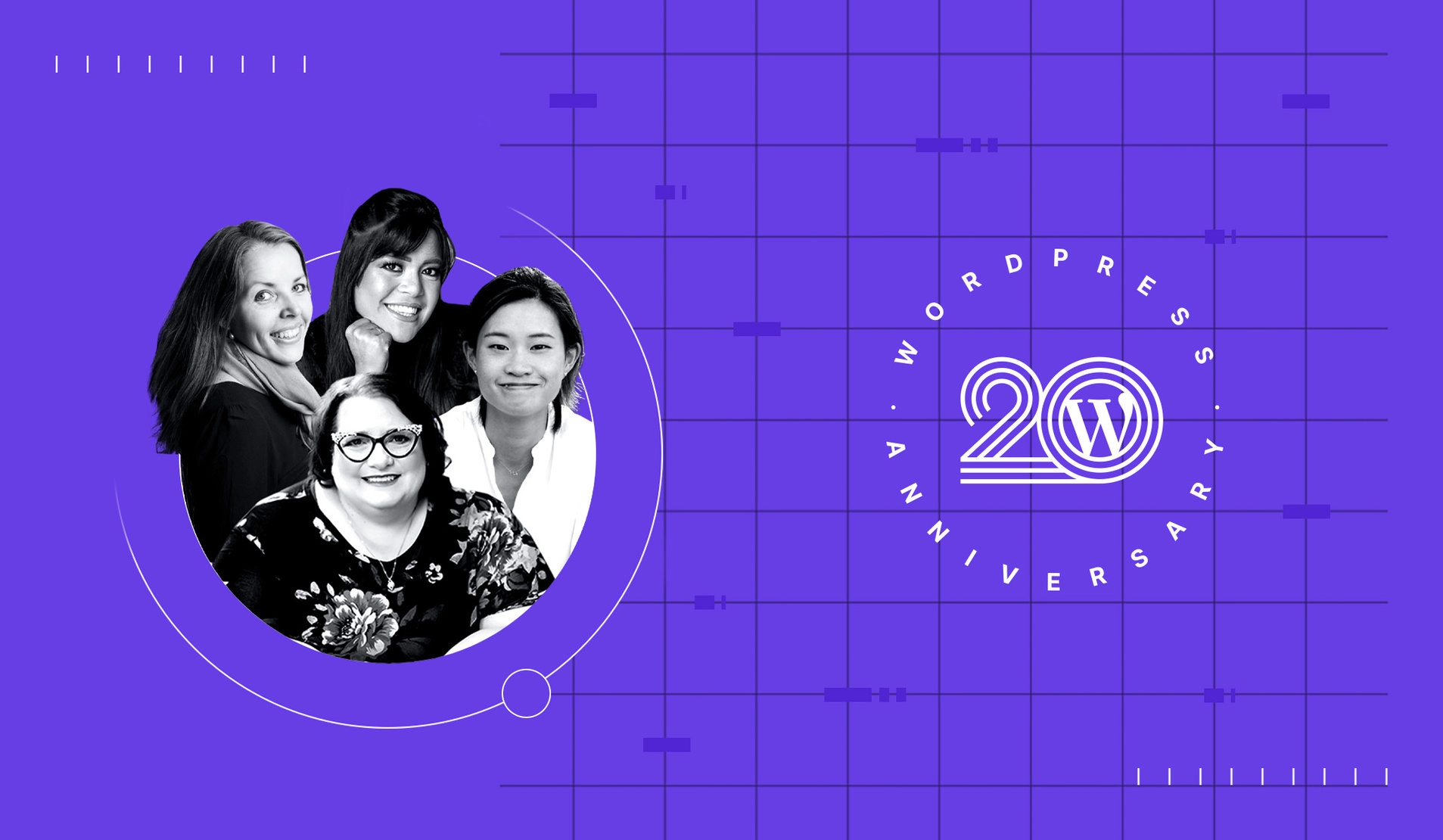 While age is just a number, we couldn't be more excited about the 20th anniversary of WordPress on May 27, 2023.
Meetups, WordCamps, and a call for block art submissions are being held to honor the platform's first release two decades ago. These activities are nicely mapped and documented on WordPress's official anniversary website, so WordPress community members across the globe can see how they can get involved in the festivities.
Here at Hostinger, we celebrate this anniversary by contributing to the Five for the Future project. With this post, we also want to celebrate our customers who use WordPress to elevate their online presence. We talked to four of our inspiring customers about how WordPress and our services help them succeed online.
How Hostinger Supports WordPress Users
At Hostinger, WordPress users get the best out of their favorite CMS with our optimized WordPress hosting plans. Thanks to LiteSpeed servers and the LSCWP cache plugin, all plans are built for speed, helping users achieve better UX, better SEO, and higher conversion rates.
On top of that, there are plenty of ready-to-use advanced features to help anyone start their WordPress journey in no time. These features include a 1-click installer, automatic WordPress updates, a staging tool, and security measures like automated daily backups and a malware scanner.
Let's see how our clients make the most of WordPress with Hostinger.
Lotte Johansen – Web Accessibility Advocate
Since 2014, the Norwegian government has stipulated a law that deemed inaccessible websites illegal. This means websites that are designed or redesigned after 2014 must follow the A and AA criteria in the Web Content Accessibility Guidelines 2.0.
Lotte Johansen, who was working as a developer in marketplace Finn.no at that time, instantly thought about how the company would apply this new policy in their work. She noticed there wasn't much done regarding web accessibility, so she took matters into her own hands, together with some other developers and designers. That was how the accessibility group at FINN was formed and the beginning of Lotte's journey as an expert in the field.
"Web accessibility is good for everyone. That's what I like about it," she explains about what motivates her to delve deeper into web accessibility. The goal is to offer everyone the same experience when accessing a website, regardless of their ability or disability.
Since the advent of the accessibility group, Lotte's interest in the field has kept growing. She started doing presentations and workshops, first internally at FINN and then externally. Nowadays, she is still working at FINN as the Engineering Manager, and her public speaking role has become her side job.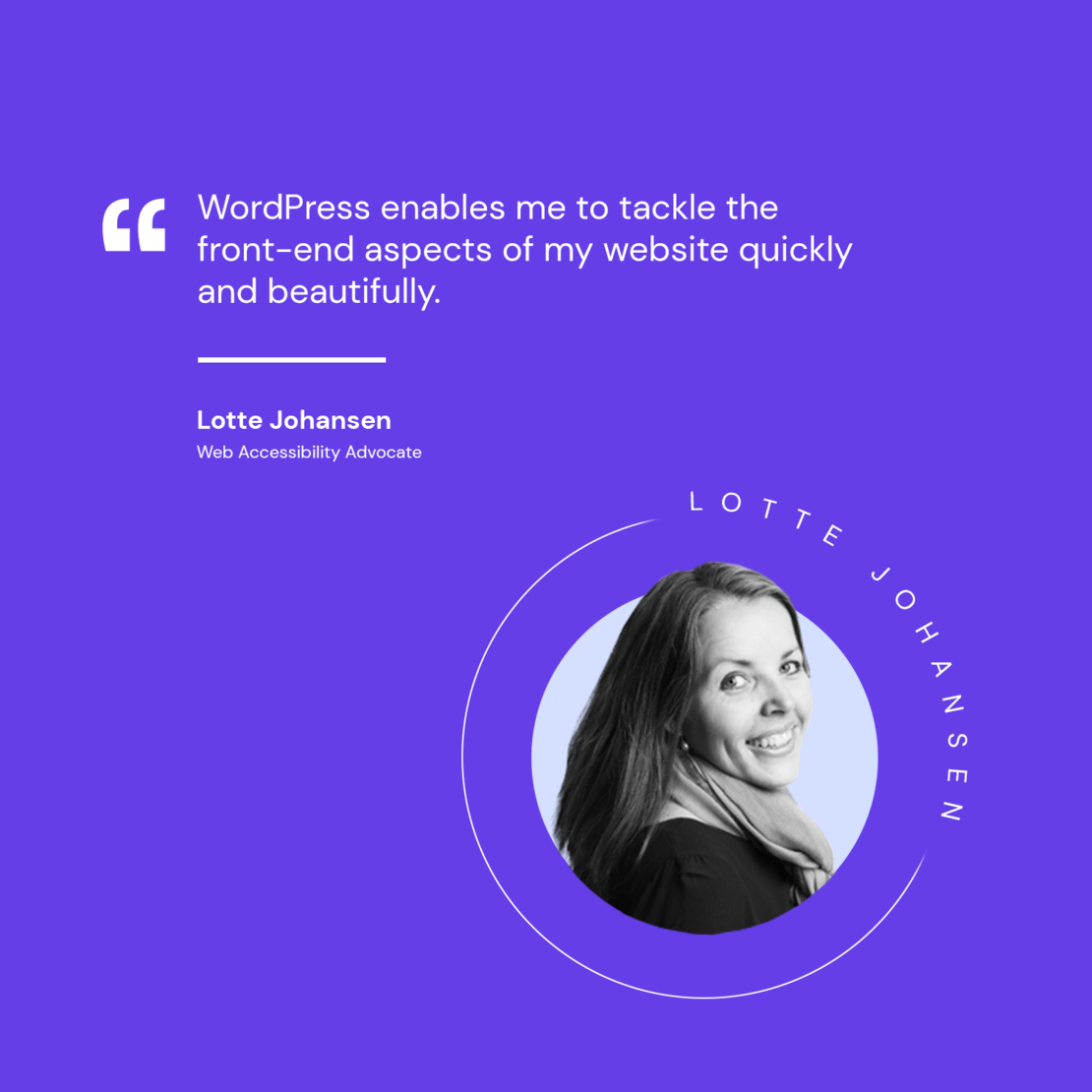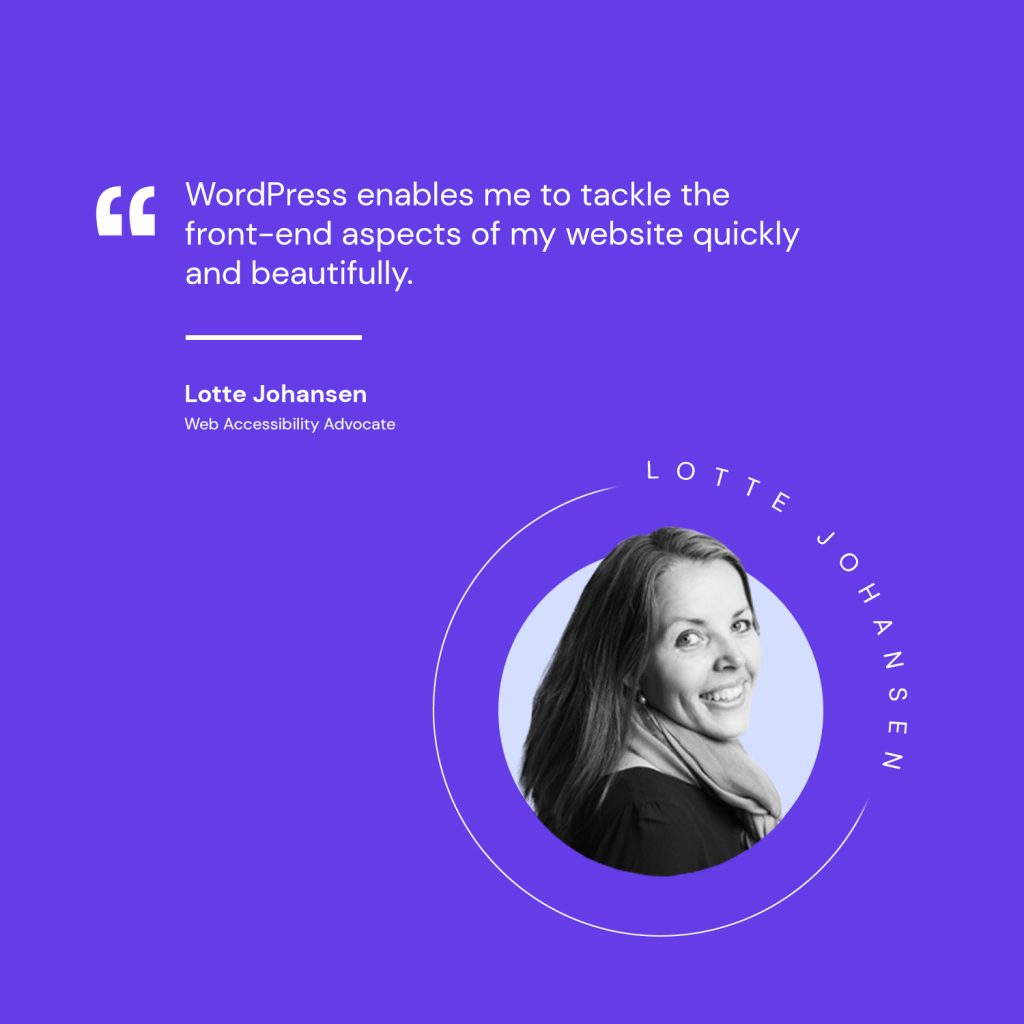 It only made sense for Lotte to create a website to present the topics she can speak about and to display where she's been featured in.
Since she's more of a back-end developer, it became important for her to use a website-building platform that can help her tackle the front-end side quickly and beautifully. And that's where WordPress stepped in.
Hostinger's 1-click WordPress installer made her site-building experience fast and easy. That, combined with the well-priced three-year hosting plan and the included domain-based email addresses, solidified her choice to use Hostinger.
And naturally, Lotte's WordPress site is all about accessibility. She ran her site through several accessibility tests, passing them all with flying colors. That being said, she hopes there can be a way to easily adapt and test accessibility in WordPress in the future.
We're positive the accessibility features will continue to improve in the future. After all, WordPress is committed to it, even having a dedicated Accessibility Team to ensure the best practices are applied in the platform.
Verônica Naka — Architect and CEO of Nakasa
Verônica Naka is an architect from Peruíbe, a city on the south coast of São Paulo, Brazil. In 2021, with more than 10 years of experience in architecture and interior design, she decided to venture out and found her own company.
She named her new project Nakasa, based on her Japanese last name, Naka, which means "inside". Also, "casa" means "home" in Portuguese, so it was a great fit for the company.
Nakasa specializes in combining the sophistication of contemporary style with the well-being of its clients' environment. "As architects, we need to help our client to find their style, what they like, and to translate all their needs into an environment," Verônica explains.
Now, Verônica's team consists of 14 people, including architects, civil engineers, interior designers, and administrators.
The team has proved that a small city company like Nakasa can work as hard as a big city business, with equally excellent quality services and effective workflows. There are not many architecture and interior design agencies in Peruíbe, and the team often has to face clients who don't yet understand the value of interior design and the service price. Many think of interior design as merely adding pieces of furniture to a space. However, Verônica sees this as both a challenge and an opportunity, since her company is a pioneer in the field.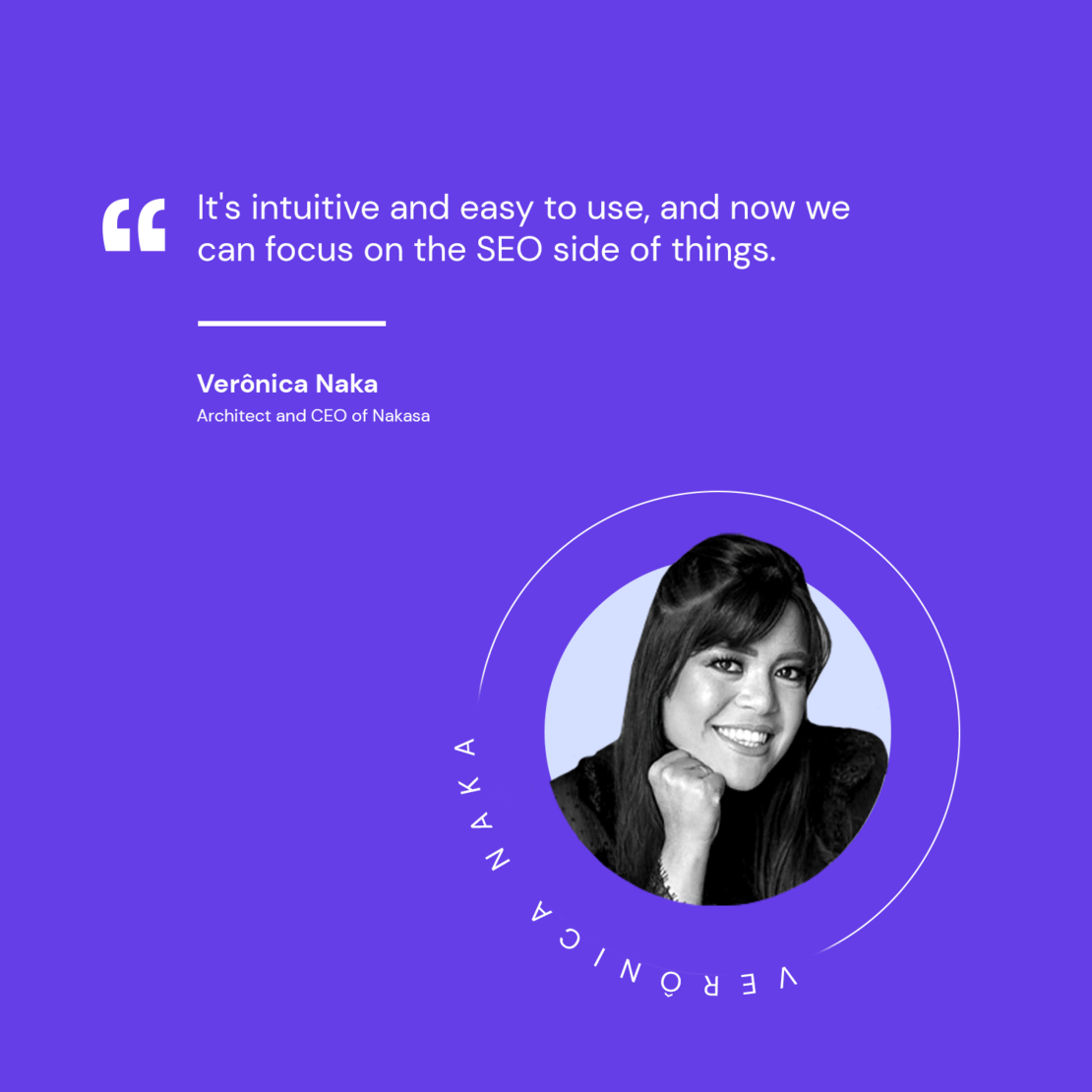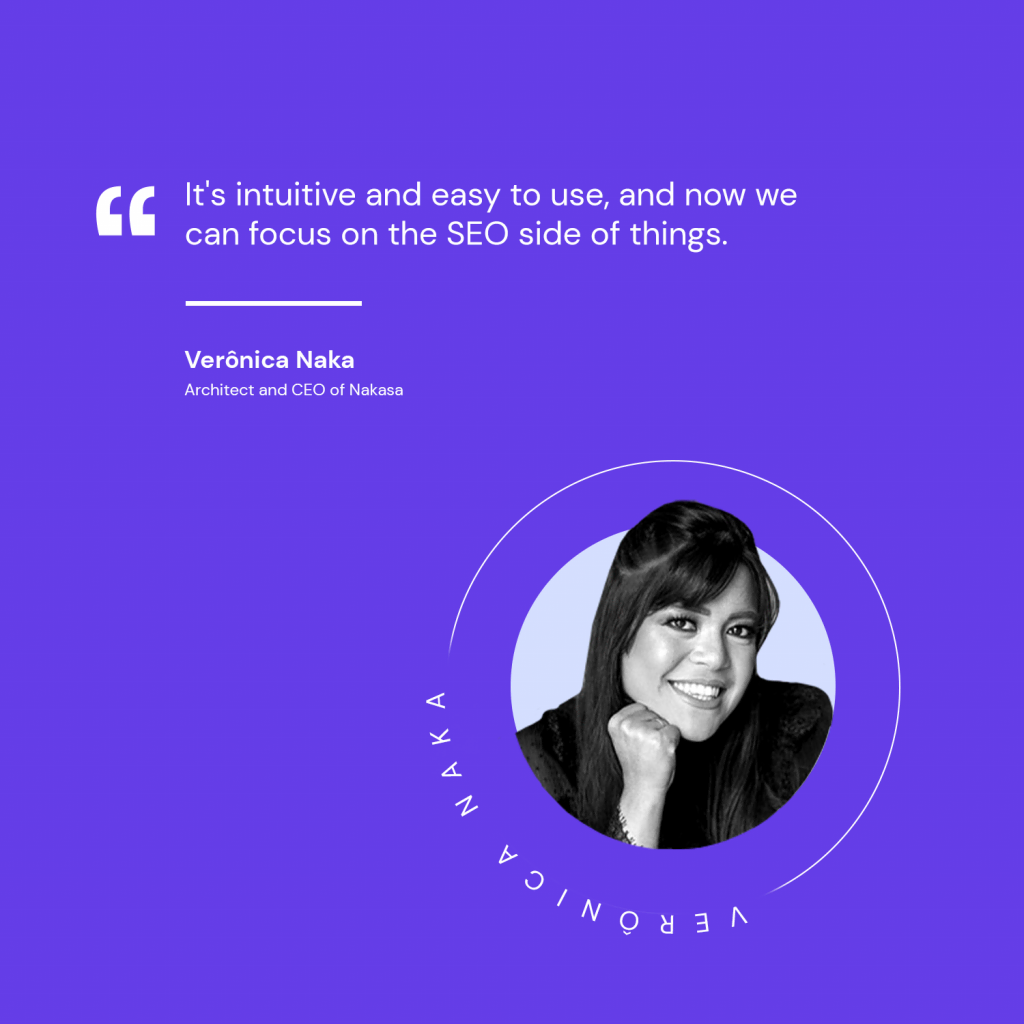 To expand Nakasa's audience reach, the team created a website to showcase the agency's portfolio – something very important for architecture agencies. The website is also used as the point of contact for clients: they can fill out a contact form, allowing the team to learn more about the project and set up a meeting with the client.
Initially, Verônica wanted to put as many pictures on the website as possible, but then she realized she must prioritize the overall user experience. She decided to collaborate with a developer to create Nakasa's website, and the developer chose WordPress as the platform.
"It's intuitive and easy to use. Now my team manages most of the website content, like adding photos of our new projects in our business portfolio," Verônica says. "Now we are focusing on the SEO side, too, with the help of a digital marketing agency."
Verônica agrees that her WordPress website really helps her company to grow. This is because, due to the price and complexity, people tend to search for architectural services on search engines, not social media.
She emphasizes further, "Your website stays there as your storefront. It won't go away after 24 hours. It will appear when your customer searches for your product on Google."
Phoebe Poon – CEO and Co-founder of Liker Land and Web3Press Plugin
People generally associate NFT with one-of-a-kind visual digital assets, such as artwork. But the future is here: please welcome literary NFTs.
Phoebe Poon and her colleagues established Liker Land in 2017, pretty early in the blockchain space. The company positioned itself as a decentralized publishing infrastructure. The platform has an NFT bookstore where visitors can collect NFT books and content, and writers can publish their work. There's also a WordPress plugin called Web3Press that publishes blog posts as NFT content.
The team aspired to bring blockchain technology into publishing after realizing that the Internet is very centralized. When content creators post their work on social media, the content does not actually belong to them – they're actually controlled by the platform being used. And when the platform is gone, so is their content.
That's why Phoebe and her team wanted to empower creators to have more ownership over their content and provide another option to monetize it.
They created International Standard Content Number (ISCN), which works like International Standard Book Number (ISBN). It's a registry protocol for digital content. This identifier contains metadata that includes the author, title, and the place and time of publication. The ISCN is publicly available for anyone to verify or check whether a specific person actually owns that content.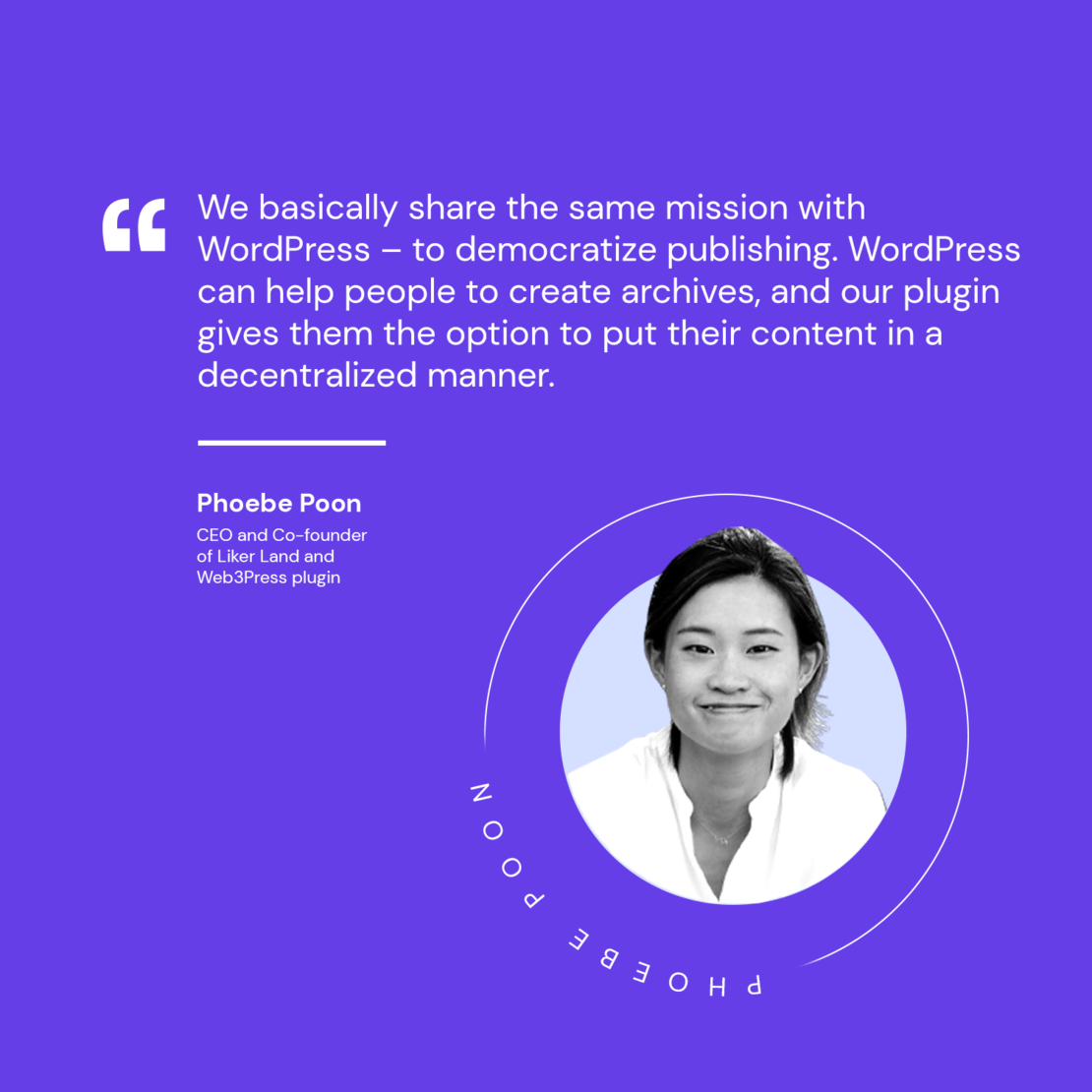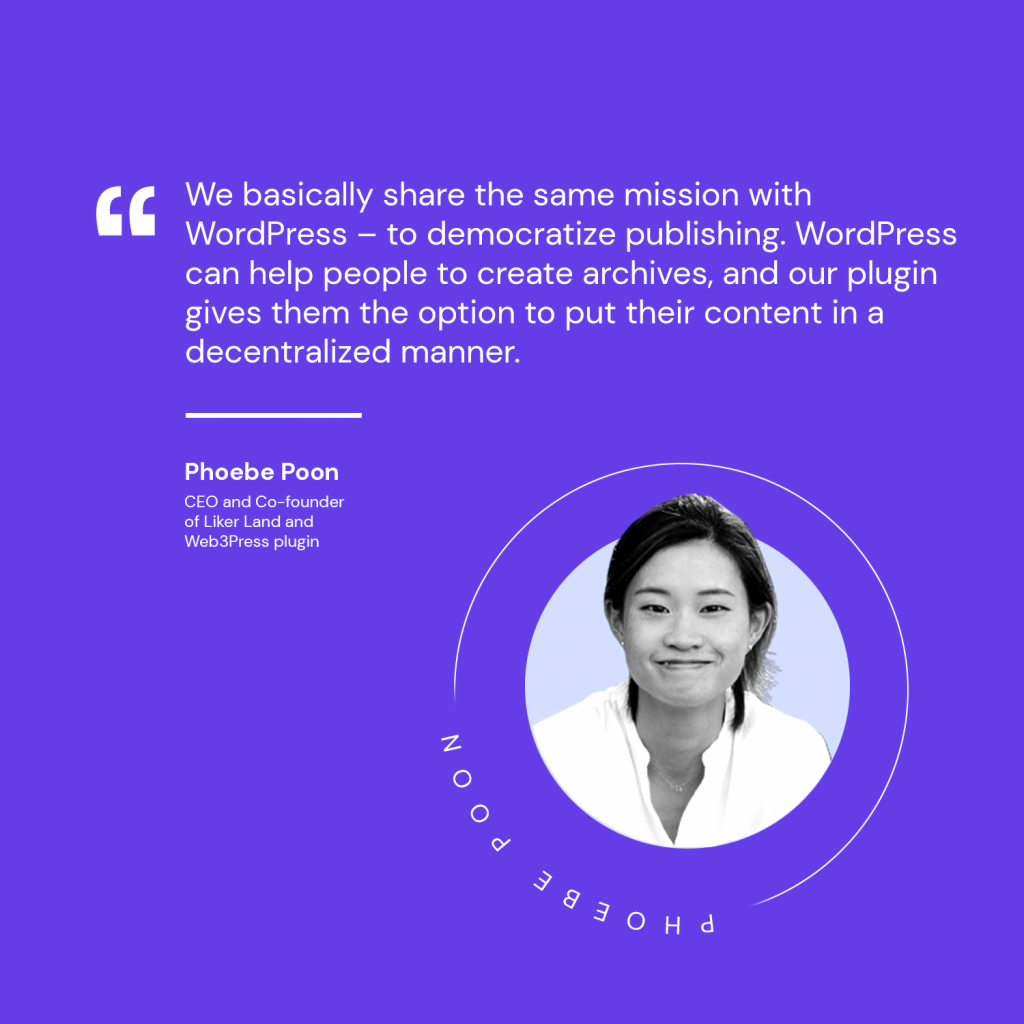 Moreover, Liker Land and WordPress's missions are basically running in the same vein – Liker Land with the goal of "decentralizing publishing" and WordPress with the plan to "democratize publishing". It's actually one of the reasons why Phoebe and her team create Web3Press for WordPress users.
The team has also worked with a lot of independent media. These media outlets faced censorship issues, and the team wanted to offer them a tool that could help them create archives for their websites. WordPress enabled the media outlets to do just that, as well as have full freedom with site customization.
Meanwhile, as a WordPress plugin, Web3Press enables users to store their site archives as decentralized storage IPFSs. This makes it harder for a centralized authority to wipe out online content since it is already public on a peer-to-peer network.
In the future, Phoebe wishes to see the option for applying the ISCN system across WordPress's native site. This way, whenever people open their WordPress site, they already have the option to register their writing on the blockchain. She suggests this will be beneficial for people who want full ownership of their content and retain their right to the freedom of speech.
Web3Press's website itself is powered by WordPress and hosted on Hostinger. Phoebe loves that you can share the hosting account with other team members without limitations, making her team's workflow more efficient.
She also loves the stability and ease of setup, maintenance, and troubleshooting. Plus, her Hostinger plan integrates with the necessary SaaS. "I think for the fast-paced tech environment, you just want to have the best user experience so that you don't need to spend too much time finding your way around," says Phoebe.
Michelle Frechette – Marketer and Podcaster of Audacity Marketing
In the words of Matt Mullenweg himself, Michelle Frechette is "the busiest woman in WordPress". And for a good reason – she's been making waves all around the WordPress ecosystem for a while.
In addition to her work as the Director of Community Engagement, she's also the president of the board of a nonprofit organization, an author, a business coach, a frequent organizer and speaker at WordPress events, and a co-host for several podcasts. One of her podcasts, Audacity Marketing, aims to help businesses succeed with bold, community-led marketing strategies.
Michelle hosts Audacity Marketing together with fellow marketing professional Hazel Quimpo. Hazel and Michelle publish a new episode every couple of weeks, discussing how people can make big, bold moves in marketing and how to pivot if things aren't going well.
"Making a bold move doesn't always guarantee success," explains Michelle. "Sometimes we have to have backup plans and determine what we will do if a certain way doesn't work out. How will we redirect ourselves, our efforts, and our resources into a more profitable direction?"
Besides being a podcast, Audacity Marketing is also a consulting service. People can sign up for a session to pick Michelle and Hazel's brains or hire them to work on projects like creating a marketing plan or a brand audit.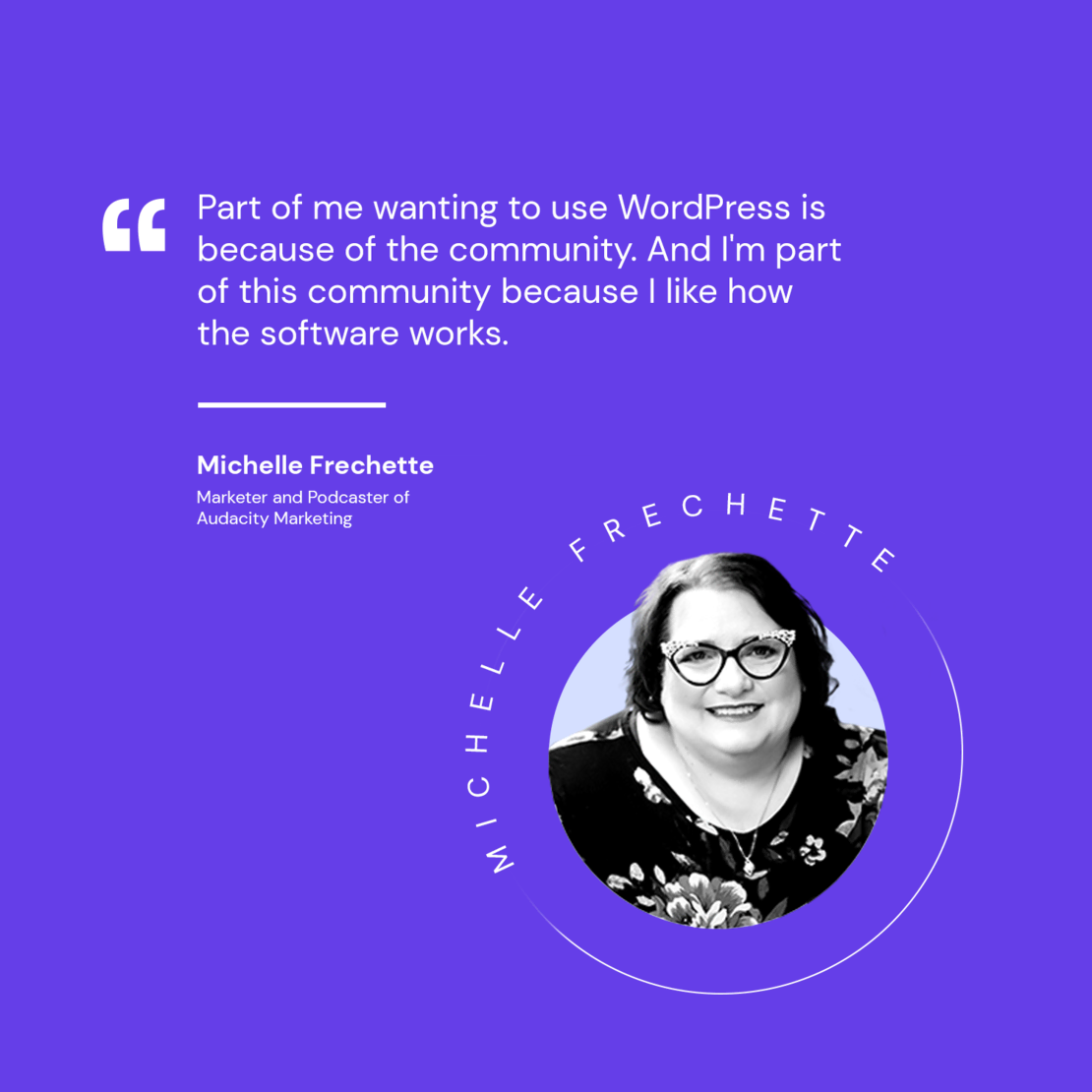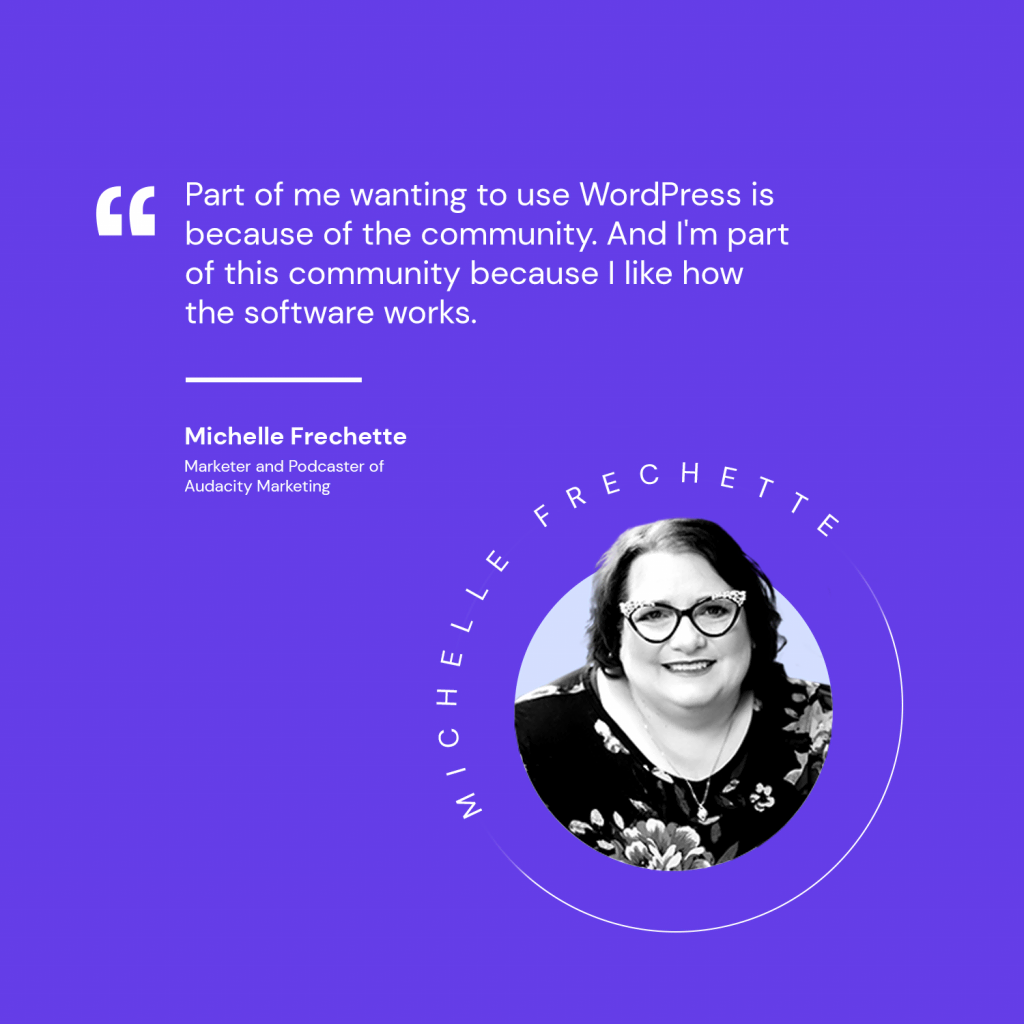 One of the reasons why Michelle loves WordPress is because it's so flexible. Whatever theme is being used, there are many possibilities for the look and feel of the finished site. The custom post type feature and content organization by category and tag also enable her to neatly showcase Audacity Marketing's podcast content and information about the consultation services.
Audacity Marketing's website is hosted with Hostinger, and Michelle loves how easy it is to start setting up and using WordPress with Hostinger. She doesn't even remember if she ever had to contact support.
"I don't think ever we've run into any issues. It's all been very seamless," Michelle says.
There's another aspect that Michelle loves about WordPress. "Part of me wants to use WordPress because of the community. I'm myself part of this community because I like how the software works," she says.
She loves how people in the WordPress community help each other to make the most of the CMS. To commemorate the platform's 20th birthday, Michelle wishes WordPress continues to grow and improve by ensuring diversity and inclusion in its ecosystem. She would love to see more people from all walks of life represented.
"Every product and every service gets better when we are taking into account all human experiences and not just isolated, homogenized groups. If we're not seeking to always improve, then we stagnate, right? So we need to make sure that we are a diverse group of people, gender-, ethnicity, and abilities-wise, no matter the shape, size, or age," Michelle elaborates.
Everyone can chip in – it's easy to start contributing or simply attending a WordCamp. "It can be scary to be the first person that looks like you in a new space. But to know that it means other people look at that space and see that it's including you, too – to me, that's what's super important," she says.
After all, WordPress is for everyone – it just takes some courage for new faces to take the first step.
What's Next For WordPress
So, after the party hats have been retired and the cake has been cut, what can we expect to see from WordPress in the near future? The major development to look forward to this year will be Phase 3 of the default block editor of WordPress, Gutenberg.
This new phase will address one of WordPress users' main concerns: collaboration within the editorial workflow. This update will enable asynchronous editorial collaboration à la Google Docs, making it easy to suggest edits and tag other team members inside the editor. These features will definitely streamline workflows, making online collaboration better than ever.
Want to stay on top of all things WordPress? Subscribe to our WordPress newsletter for weekly WordPress insights, security news, best plugins, and much more.