A Meeting of Minds – Why WordCamps Are Essential for WordPress Fans and Professionals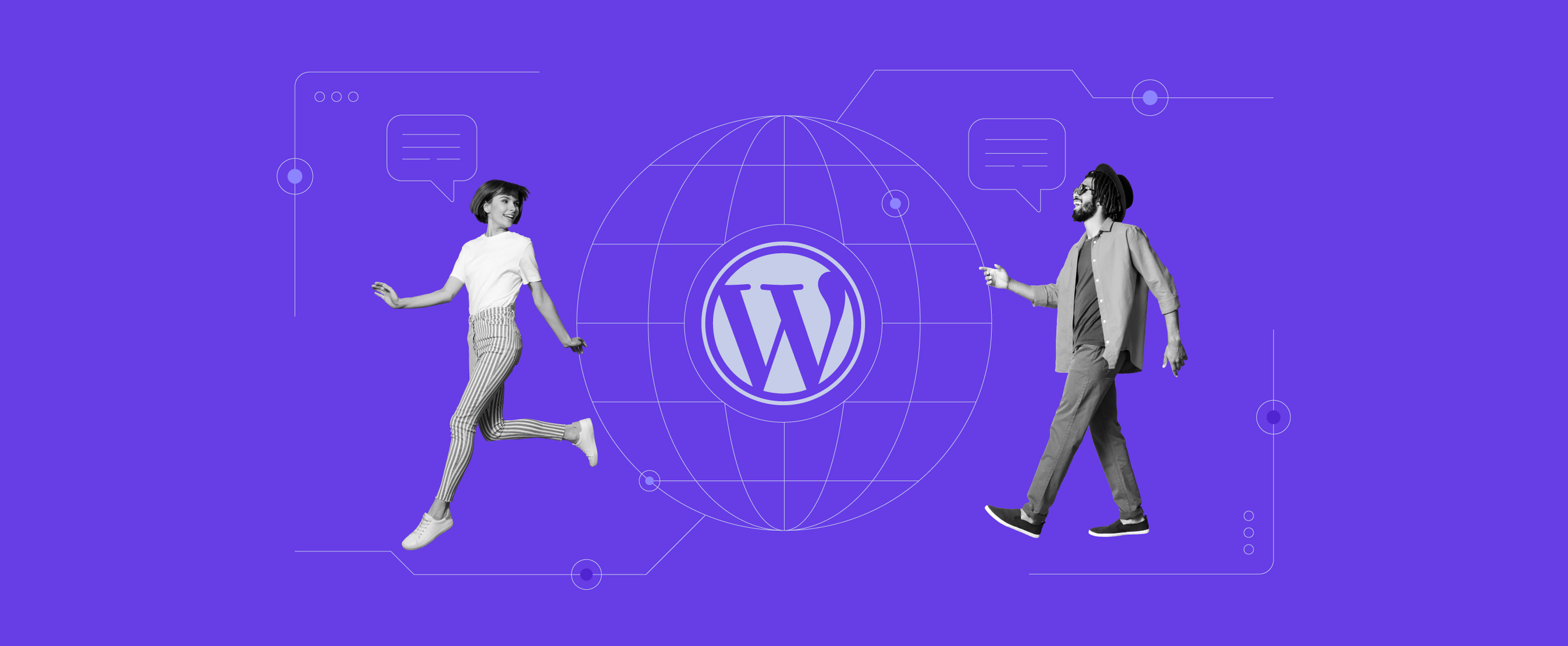 What Is WordCamp?
What are WordCamps? Where do they take place? And how can you get involved in them?
WordCamp is a meeting of minds where WordPress aficionados come together to share their skills and ideas. You could say it is the physical manifestation of the open-source spirit that has powered WordPress and the World Wide Web since their inception. At WordCamp, it's all about collaboration, community, and communication. 
In this article, we'll be covering the history of WordCamp, what happens there, and how Hostinger is collaborating with WordCamp Europe this summer.
---
The History of WordCamp
The first WordCamp took place in San Francisco in 2006. Since then, WordCamp communities have popped up all over the world. Currently, there are over 1100 WordCamps in 375 cities, typically attended by everyone from aspiring bloggers to web development and tech professionals.
WordCamps involve a mix of scheduled talks and discussions and informal workshops. Often, WordPress plugin and theme ideas arise there. Think of these events as a hive mind behind WordPress. They are invaluable for the development and improvement of the software that powers over 40% of the internet.
What Happens at a WordCamp?
WordCamps are primarily offline events. The idea is to enliven the subject of web development through a variety of different activities.
A WordCamp typically lasts for one or two days, with presentations catering to people of all levels of expertise. Everyone will find something useful, regardless of their WordPress knowledge.
Aside from the main WordCamp schedule, the meetups are designed to facilitate collaboration and networking between attendees. They provide plenty of opportunities to practice your skills in practical settings, learn from people more experienced than you, or impart your own knowledge.
How to Find a WordCamp Near You
It's very easy to find your nearest WordCamp. Simply head to the Schedule Page on the WordCamp site. The events take place throughout the year all over the globe, so you'll definitely be able to find a meetup that is convenient for you.
Individual WordCamps have their own websites on which you'll find booking information and where they'll take place.
How to Prepare for WordCamp
It pays to do your research if you're planning to attend a WordCamp. Here are a few suggestions on how to prepare for the event:
Do your research. The WordCamp schedule will be made available before the event takes place, so you'll be able to find out who's making an appearance and what they'll be talking about. Come up with some questions in case you get the chance to speak to them!
Make a list of what to bring. A laptop is essential – it will help you take notes during presentations and participate in the workshops. Business cards are invaluable as you'll likely be making connections with other attendees.
Tell your community. WordCamps are real-life events – make sure to tell your contacts that you're going so that you can meet up and shoot the breeze offline!
WordCamp Europe 2022 and Hostinger
Since WordPress is the biggest CMS for websites and we're in the hosting business, it makes sense that we'd join in on the discussion. We decided to get involved in the making of WordCamp Europe, which is taking place in Porto, Portugal from 2–4 June 2022.
We're proud to be one of the main sponsors of WordCamp Europe 2022. We'll be setting up a booth at the event with some of our best developers to facilitate discussions on all things WordPress and show off our latest products. Let's meet up and talk!
WordCamp Is for Everyone
No matter what your level of WordPress knowledge is, there's something for everyone at a WordCamp. Plugin developers looking to collaborate on new projects will meet like-minded people keen to share their knowledge and expertise. Web designers who need help solving technical issues will be able to share their stories with the WordCamp community to find a solution.
It is an immersive and educational (not to mention fun!) experience that will no doubt result in you coming away with a much better grasp on WordPress. For those attending WordCamp Europe this summer – we're looking forward to meeting you!
---