What Is a Website? Understanding How They Work, the Components, and Different Categories
A website is one of the most crucial tools businesses or individuals can use to nurture their digital presence. Whether you're a small firm, a large corporation, or a freelancer, making a website is a highly effective way to make yourself more visible on the world wide web.
In this article, we'll have a more in-depth look at what websites are and understand how they work by looking at their components, types, and categories.


What Is a Website?
A website is a place on the internet where you can keep information for others to see. This can be information about yourself, your business, or even topics of your interest. Based on the website category, people can also use them to shop, chat, study, and get entertained.
How Do Websites Work?
All websites are identified by a unique address, which tells browsers where they are located.
Simply put, when you enter a web address into your browser, it goes to that specified location and retrieves the web page. The process of retrieving this information is carried out by a web service using technologies such as Hypertext Transfer Protocol (HTTP) and File Transfer Protocol (FTP), which essentially define how information and files are transmitted over the web.
The browser then displays the retrieved web page on your screen using technologies such as HyperText Markup Language (HTML) and Cascading Style Sheet (CSS). They structure and present the web page's information to the visitor by telling the browser exactly where to put what on the screen.
Fortunately, you don't need to know how to write computer code or have in-depth knowledge of these technologies to make a website. In fact, you can turn your website idea into a fully-functional site in a matter of minutes using a website builder.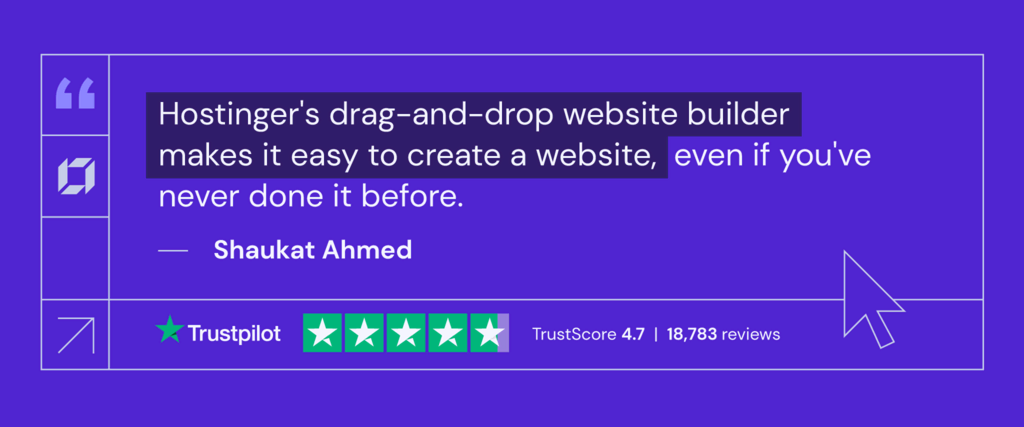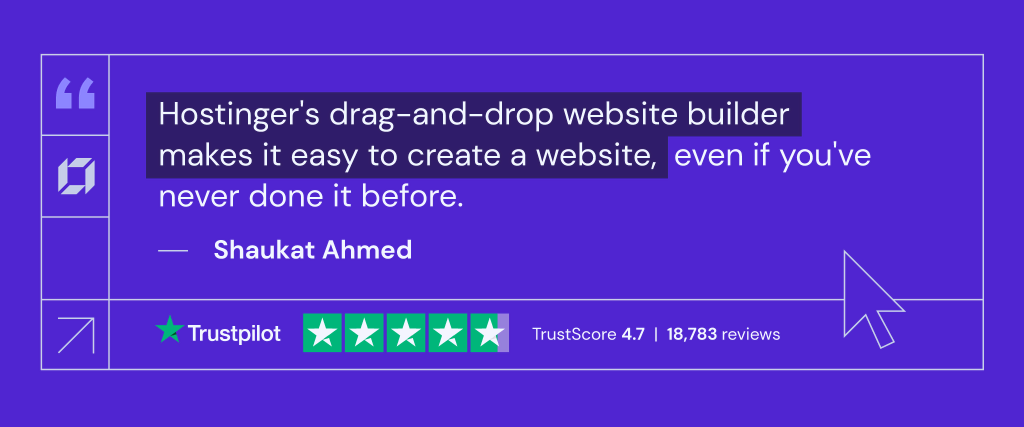 For example, Hostinger's website builder lets you create a website with AI. You only need to input a few sentences, like your brand name and website description, and the tool will generate the template in a few minutes. Then, use the drag-and-drop editor, which lets you intuitively edit all the elements of a website.


What Are Website Components?
Knowing a website's essential elements will help you better understand its technology. In addition, understanding website components is crucial when it comes to creating your own site, helping you save time and money.
1. Web Host
Simply put, the definition of web hosting refers to a web host providing website owners the infrastructure they need to store, maintain, and publish their sites online. Essentially, your website and its files must be physically stored on a high-power computer called a web server to be accessible over the internet.
Apart from the infrastructure, most web hosts also deal with all the technical aspects of website maintenance, such as enacting security measures, keeping web servers running, and ensuring that people can visit your website without any hitch.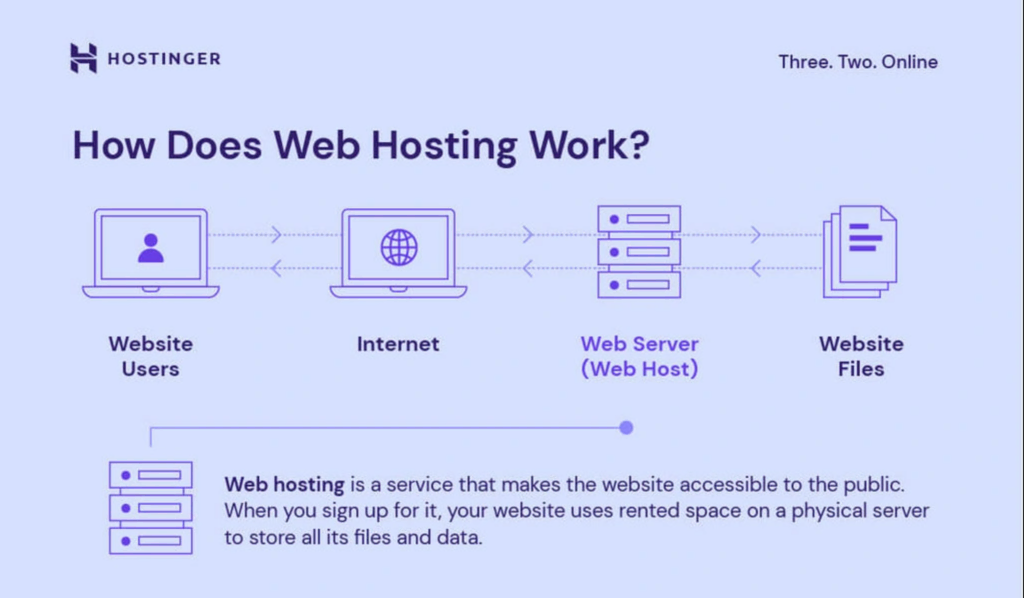 To make managing your website easier, Hostinger managed web hosting plans come integrated with its innovative and easy-to-use control panel, hPanel. You will be able to check your resources, manage backups, upload files, and more – all from a single dashboard.
2. Domain
A domain name is the unique name of a website that visitors use to access it online. A catchy domain name helps visitors recall your website more easily. Thus, selecting the right domain name is important to your website-building journey.
Domain Name Checker
Instantly check domain name availability.
Here's an example of a domain name:

3. URL
A URL (uniform resource locator) is the virtual address of any unique resource on the internet. This resource can be a web page, an image, a video, or even a document. Typically, a URL comprises different parts, including a protocol, a domain name, an extension, and a path.
For instance, the URL of this article is:

Let's take a closer look at it:
https:// – the protocol. Typically, websites have http or https protocols, revealing their level of security.
www.hostinger.com – the domain name and its extension.
/tutorials/what-is-a-website – the exact location of the web page you are visiting.
There are multiple ways to visit a URL:
Entering the URL on your browser's address bar.
Searching for the web page using a search engine.
Clicking on internal or external links embedded in a web page or a document.
4. Design
A website design focused on visual appeal and smooth functioning can encourage visitors to explore more and visit again. In fact, more than 80% of visitors judge a business's credibility based on its website design.
This makes a well-rounded website design the most crucial aspect of any online business presence. Fortunately, there are many ways to design your website without making heavy investments initially. One option is to use designer-made templates in your website builder.
We recommend you look at Awwwards for website design inspiration. The platform features various award-winning websites and the best web design practices.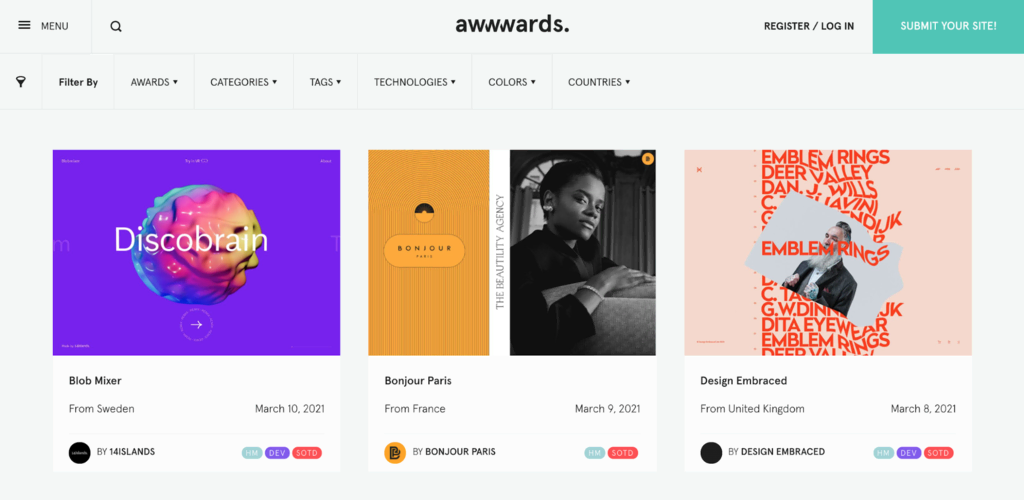 5. Content
Content is the information you put on your website to inform, direct, or influence visitors. This information can be presented to visitors through text, images, videos, or audio recordings.
Similar to design, its primary responsibility is to keep visitors engaged, ensuring longer stays and repeat visits to your site. As content also forms the heart of on-page search engine optimization (SEO), creating optimized articles can improve your position on search engine result pages (SERPs).
If you lack the expertise and resources needed to design your website and create optimized content, utilize the AI tools included in our website builder. Besides more than 150 ready-to-use templates, we offer the AI writer tool to help you generate SEO-friendly content faster.
What Are the Different Website Types?
Most websites can be classified into two broad types, static and dynamic. Your website purpose will help you determine what type your website should be.
To better understand the difference between the two, we'll go over what it means when a website is static or dynamic.
Static
A static website is fairly straightforward in terms of design and functionality, often serving a simple purpose. The content and appearance of static websites remain the same for all visitors, irrespective of their browsers, locations, or devices.
Static web pages can't take input from visitors but may still contain animations and clickable elements such as hyperlinks or navigation buttons. This makes them a popular choice for portfolio and catalog sites.
Skyline Furniture MFG is an ideal example of a static website. It uses static pages made from basic HTML to display text, images, and navigation links that take you to other pages.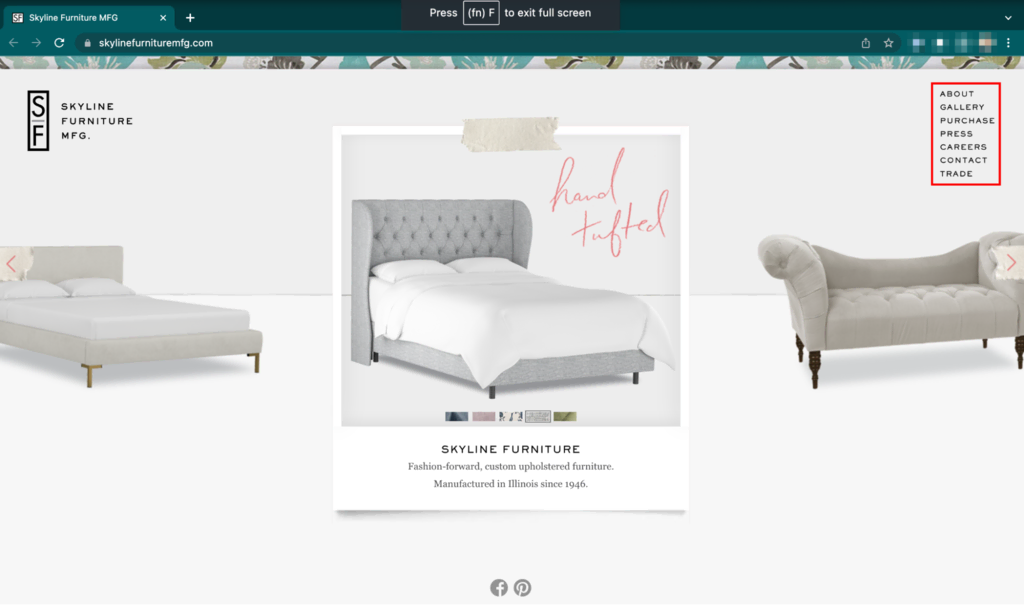 Dynamic
A dynamic website can change its content and appearance based on several factors, including the time of the day, visitor's location, language preferences, and past interactions with the site.
This makes the dynamic website type most suited for eCommerce business, social media, ticket booking, and forums.
Amazon.com is a popular example of a dynamic site. Its front page shows product recommendations to visitors based on their locations, purchases, and search history.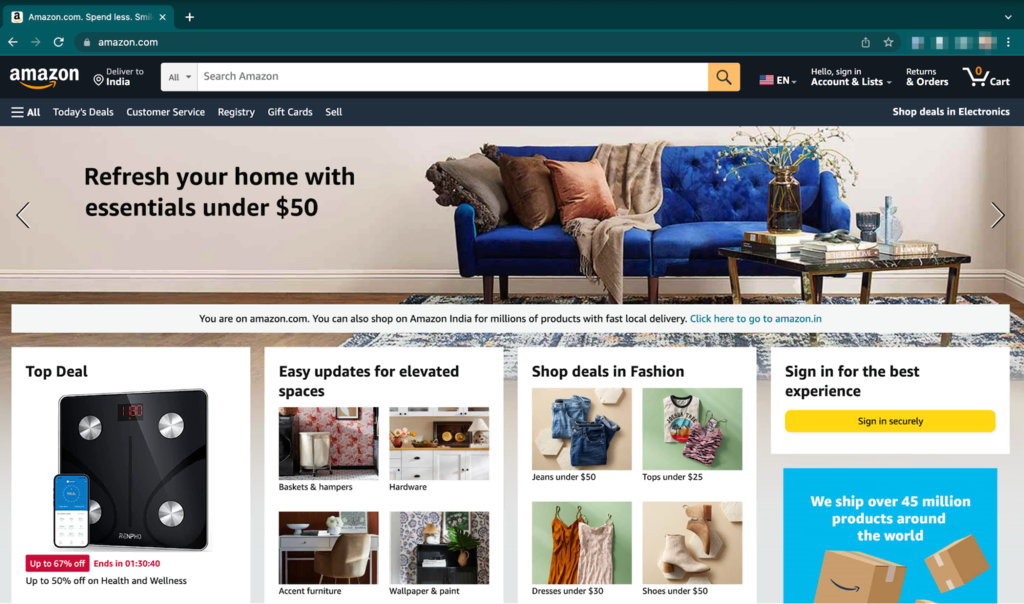 A website can also be a combination of static and dynamic web pages. Such websites typically have static, fixed information pages such as About and Contact Us, with other pages such as the product catalog, news feed, and main page being dynamic.
What Are the Website Categories?
Understanding different types of websites can help you decide which one is most suited to your needs. Whether you aim to sell a product, advertise a service, showcase your work, or just talk about your day, the right category of website can help you get it done more efficiently.
Below are some of the most common categories of websites:
eCommerce Websites
eCommerce websites help you sell products, services, and digital goods online by enabling you to accept payments, process orders, manage logistics and shipping, and offer customer service.
An example of an eCommerce site is Ikea.com, where you can order and pay for a piece of furniture, like a couch, and get it delivered to your house.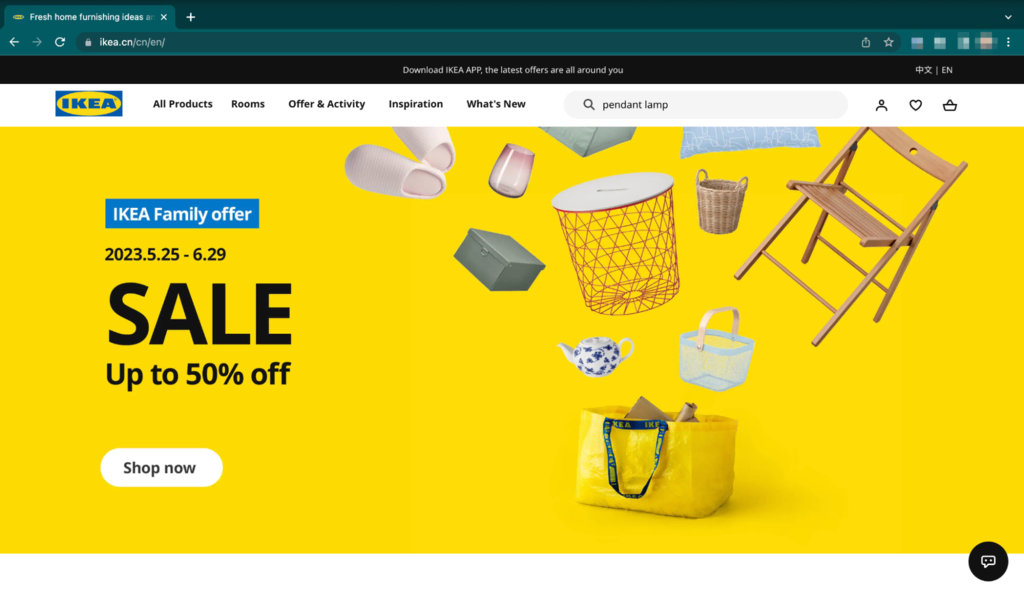 Blog Sites
Blog sites update visitors on an organization, individual, or brand by digitally journaling their important events and experiences. A typical blog post can contain different forms of content, including text, images, and videos. As such, blogs can act as a powerful on-page SEO tool to help you attract more organic visitors.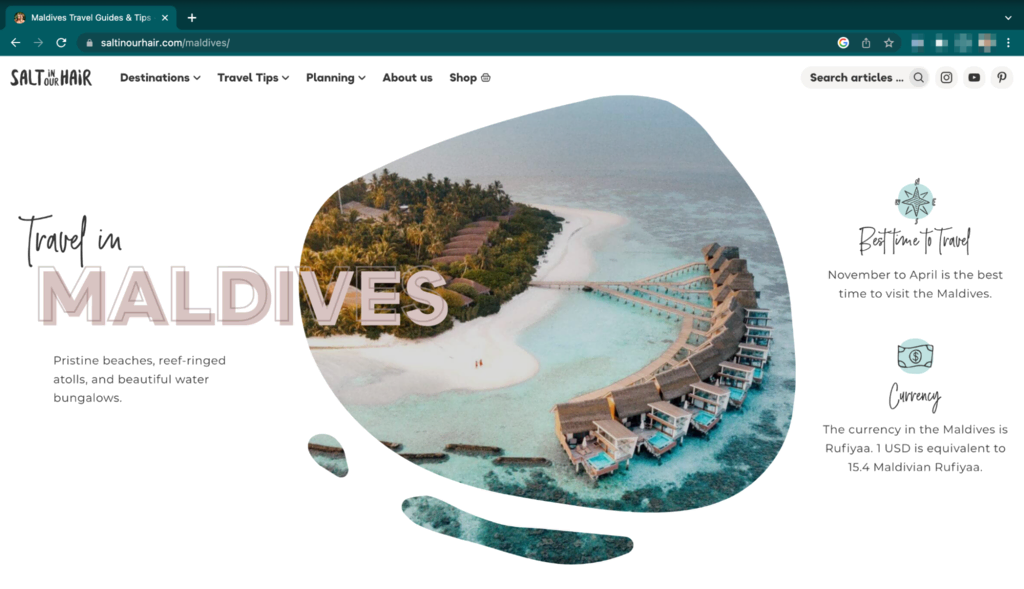 Portfolio Websites
Portfolio websites are primarily used by individuals to supplement their resumes when applying for a job or a freelance contract. For example, a web developer's portfolio might feature their most recent projects or the latest certifications. Portfolio sites typically contain a single scrollable web page so employers can easily review your details.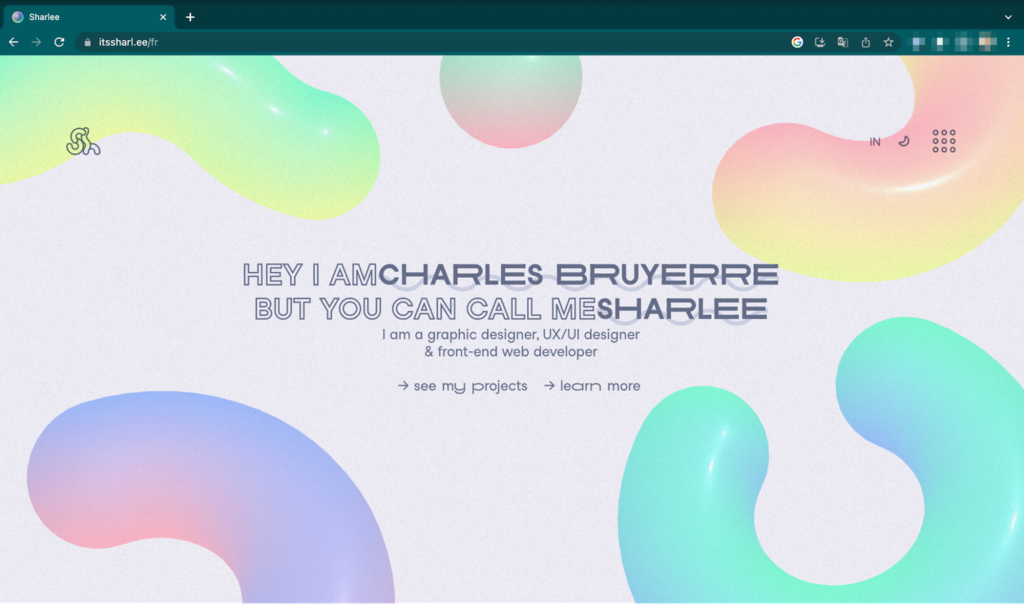 News Sites
News sites, as the name suggests, are publicly accessible websites solely dedicated to bringing audience news on the most recent developments worldwide. In other words, they are like an online newspaper.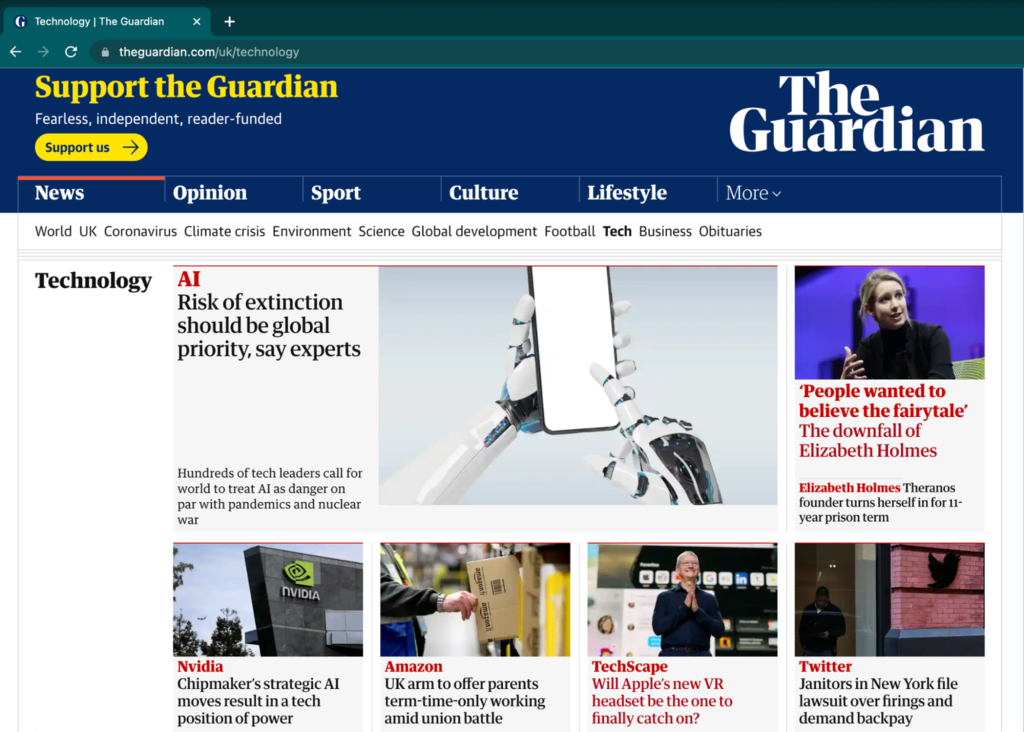 How to Create a Website?
Now that we've seen the different components, types, and categories of a website, let's go over some basic steps on how to make a website. These will keep you on the right track when starting your website from scratch.
Outline your website idea. Determine the purpose of a website. Doing so will help to take the following steps.
Select the right hosting plan. First, pick a suitable hosting provider by keeping cost, features, security, and support in mind. To help you decide, Hostinger offers a 30-day money-back guarantee for all hosting plans.
Choose a catchy domain name. Go with a domain name that resonates with your brand and makes your website easy to remember.
Pick the right platform for your website. As a site owner, you need to select the right platform to make your website. For beginners, we recommend utilizing a website builder for a seamless start.
Design your website. Try at least a few website templates before settling, and take your time when looking for engaging images.
Add content. Such as text, images, or videos to your site and optimize it to improve your position on search engines.

Conclusion
Websites are becoming an important identity-creation tool as the world grows more connected. They can greatly improve your brand's credibility and reach by making you more visible on the world wide web.
Here's a small recap of the most popular categories of websites:
Blogs – websites that keep visitors updated on your brand by digitally journaling important events and experiences. An SEO-friendly blog helps you drive more organic traffic to the website.
Portfolios – single-page websites that supplement your resume and showcase your skills.
News sites – websites that keep visitors updated on the latest events worldwide. Essentially, an online newspaper.
eCommerce stores – these help you sell products, services, and digital goods online. While building these websites is more complicated than other types, Hostinger Website Builder can launch an online store without hassle.
We hope this article has helped you understand what is a website and why having one is important. Should you have any more questions, feel free to leave a comment below.
What Is a Website FAQ
Below are some of the most frequently asked questions about websites.
Why Is Having a Well Designed Website Important?
Having a well-designed website can often be the difference between success and failure. A website built using the best web design practices can help you make a lasting impression on your visitors and encourage them to visit the website again.
Where Are Websites Stored?
Websites are stored on specially configured computers called web servers to be accessible to visitors over the internet. Hostinger offers budget-friendly hosting plans to rent out a physical storage space and can help you create your website from scratch.
Does a Business Need a Website?
In the current market, the importance of a website cannot be understated. Websites can help businesses improve their brand identity, increasing their visibility and reach. All these factors are necessary to remain competitive in the internet-driven world.   
What's the Difference Between a Website and a Web Page?
A website is a collection of interlinked web pages and media that help you build your brand presence by making you more visible online. A web page is just one of the pages of a website. You can also have a one-page website.