How to Make a Professional Online Portfolio (in 6 Easy Steps)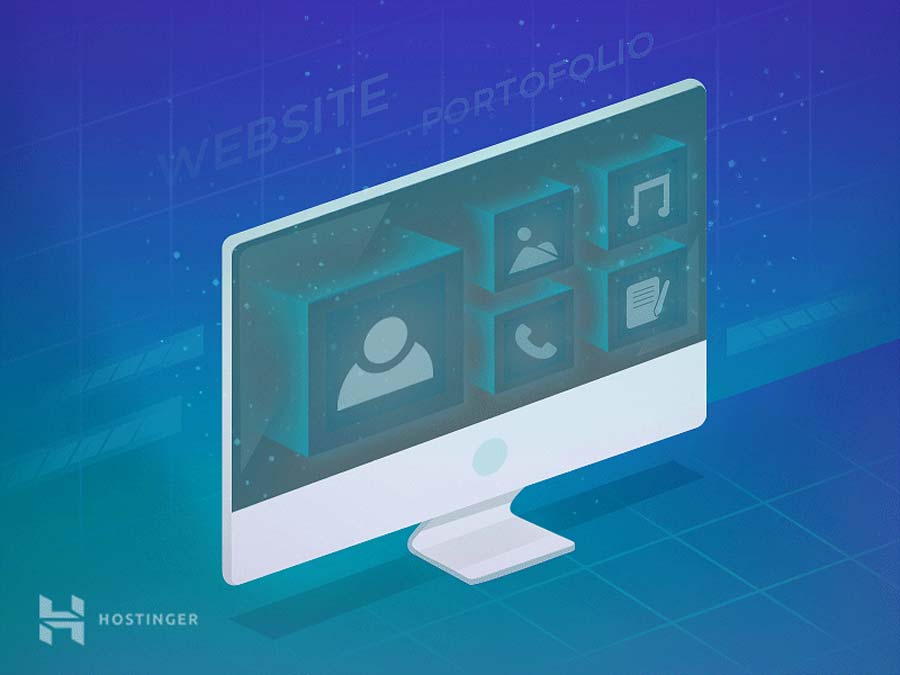 If you're a freelancer, you need a strong online portfolio to differentiate yourself from all the other fish in the sea. Without a portfolio that showcases your best work, finding the clients is going to be hard. The solution, of course, is to figure out how to make a portfolio that enables you to stand out.
In this article, we'll teach you how to make a portfolio in six simple steps, including:
By the time we're done, you'll have a professional online portfolio in place, and you'll be ready to court new clients. Let's talk about how to make a portfolio!
Step #1: Registering a Domain Name for Your Portfolio
Usually, settling on a name for your website is a complicated process. You have to come up with unique names, check their availability, consider multiple options, and more. However, when it comes to creating a portfolio site, the process is a lot easier. Here's how we recommend you approach it:
Come up with several variations of your own name.
Use a domain checker to investigate their availability.
Prioritize combinations that are available with .com Top-Level Domains (TLDs).
Using your own name for your domain is a smart move since a portfolio is all about selling yourself as a good potential hire. In short, by using your name, you're putting your brand out there. Naturally, depending on how common your name is, the availability of suitable domains will vary, so you may need to get creative.
It should be noted that this approach only works if you're a solo freelancer. If you work as part of an agency, for example, you'll most likely want to use its name for a domain instead.
Finally, it can also be a great idea to include your field into the domain itself. For example, if you're a photographer called Alexander, you might go for portraitsbyalexander.com. Keep in mind that the domain should be clear, easy to read, and memorable. Once you find one that fits those requirements, you can go ahead and register it right away.
Step #2: Find a Reliable Web Host
There are several different types of hosting you can use as your portfolio website's backbone. However, in our experience, most portfolios do just fine with shared hosting.
This refers to hosting where your site shares a server with a number of other websites. This approach enables your web host to keep costs down, which they can pass onto you by offering lower prices. To give you an idea, it's pretty easy to find great shared hosting plans starting at below $5 per month these days:


It's important to note that since you're sharing server space with other users, shared hosting has some limitations when it comes to performance. For more portfolio sites this shouldn't affect them, but if you're getting a significant number of visitors a day, you'll probably want to look for something more robust. One such option is using a Virtual Private Server (VPS).


Which option you decide to use depends largely on your projected level of traffic. If your site takes off, you'll probably get a steady stream of visitors, but it's usually a good idea to start small and then expand as your audience grows. That said, while the hosting plan is important, you should also make sure to pick a web host that offers an excellent baseline when it comes to performance and features.
Step #3: Choose a Platform to Build Your Portfolio With
The great thing about creating an online portfolio is it usually doesn't need that much functionality. In our experience, the best portfolios are all about showcasing your work, so there's little need to use a complex platform to power yours.
For most cases, we'd recommend using WordPress. This particular Content Management System (CMS) is unique in that it's highly customizable and straightforward to use, even if you've never created a website before.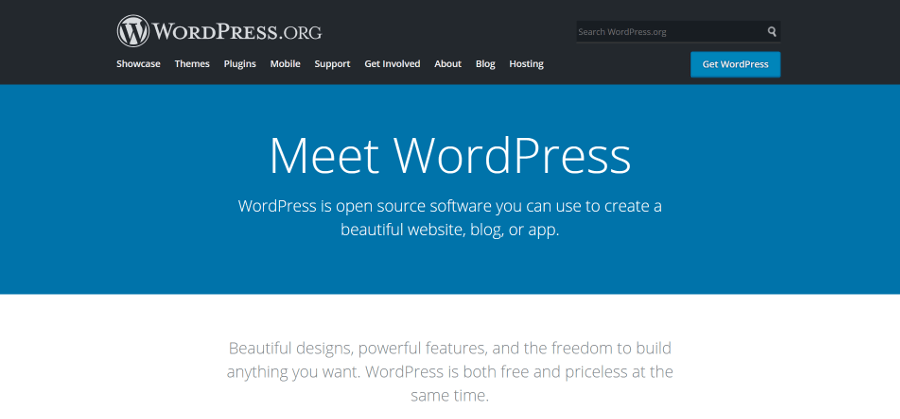 For you, that means you won't need to spend weeks how to make a portfolio or website from scratch. It's also worth noting since WordPress is so popular, plenty of web hosts will provide you with quick installation options for the platform. Even if yours doesn't, setting up WordPress on your server is incredibly simple even for beginners. In fact, it's commonly referred to as the "famous 5-minute installation".
While WordPress is the most popular option, it's far from the only one. There are actually plenty of other user-friendly options you can use, and one such is Joomla!:

This CMS can be a bit more complicated to pick up, but this is mostly because it contains more settings out of the box. Even so, there is plenty of documentation to help you get started. This CMS can be a fantastic option for learning how to make a portfolio and plenty of other projects.
Step #4: Set Up the Tools You Need to Customize Your Portfolio
While we outlined a few options earlier, for the rest of this guide on how to make a portfolio, we're going to focus on WordPress. This is simply because it's the most user-friendly option that also offers plenty of solutions specific to portfolio sites.
Once you install WordPress, there are three things you'll need to make your portfolio shine:
A WordPress theme created with portfolios in mind.
A gallery plugin that enables you to showcase your best work.
Contact form functionality, which you can also implement using plugins.
Of course, there are many more features you can add to an online portfolio. However, its core goal should always be to show your work and enable potential clients to hire you. As such, we'll be focusing on these aspects throughout this article.
Let's start by choosing a theme. There are thousands of options you can choose from, both free and premium. For a simple portfolio, it's often best to stick with a free theme since there are plenty of excellent choices online. To find the perfect theme, we recommend you start looking at the official WordPress repository. There you can use their search functionality to find portfolio-related themes: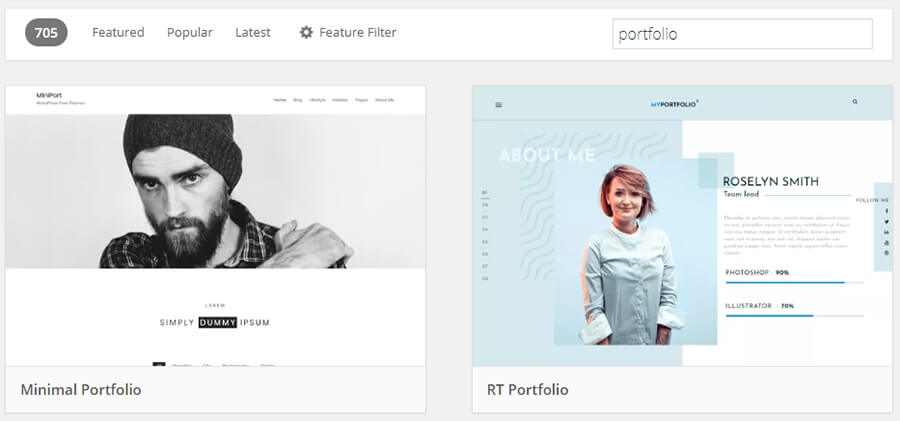 Once you find a theme you like, you can simply install and activate it. You can then move on to find a gallery plugin, which you'll use to display your work. A little while ago, we wrote an in-depth guide about how to create stunning WordPress galleries, so follow the steps we outlined there when configuring your own gallery.
In that article, we introduced you to seven outstanding gallery plugins you can use to show off your work. One of our favorites is called Photo Gallery by 10web:

This is a great choice because it gives you a range of options in how your gallery looks. It also provides a number of lightbox options, and even lets you use both images and videos in the same galleries. It's also free, so you can test the plugin out right away with no risk.
Once you've got your galleries up and running, it's time to give your potential clients a way to reach out. Next up, we're adding a contact form.
Step #5: Set Up a Contact Form Clients Can Use to Get In Touch
You'll need to set up a contact form plugin to enable your visitors to get in touch with you as easily as possible. After all, the whole goal of learning how to make a portfolio is to drum up new business!
There are dozens of WordPress plugins you can use to create a contact form for your online portfolio. However, we're partial to Contact Form 7 since it integrates with a lot of third-party services and it offers you a lot of control over how your forms look:

Go right ahead and install the plugin now. Once you've done that, a new Contact tab will show up on your WordPress dashboard. If you click on it, you'll see a list of all your existing forms. At this point, right after you've installed the plugin, you'll see one contact form that's been automatically generated for you:

If you click on the Edit button below that form, you'll be able to customize it. Let's go ahead and do that, so you don't have to set up a new form from scratch. Here's what that default contact form looks like, as seen from your back end: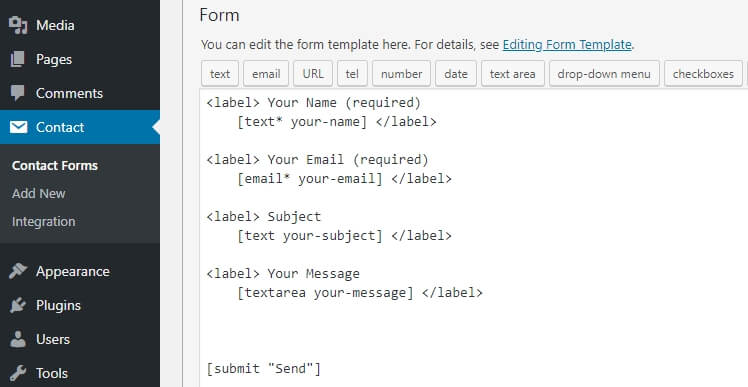 Contact Form 7 enables you to create complex forms using shortcodes, which you can add using the buttons you see above. The form in this example contains fields to input a name, an email address, a subject, and a message. This is a pretty good standard form and contains everything you'll need for most cases. Feel free to add and remove fields to match your requirements.
You can also customize the form's default text. For example, you can change the Your Message label to read something such as "Let's talk about how I can help you!" or something else that reads more personal.
In a lot of cases, it can also be a great idea to add a reCAPTCHA, which helps stop spam from reaching your inbox. For now, make any changes you want to your contact form and then open the Mail tab. Here you can specify which email address the messages from the contact form will be sent to:

There are also options to configure the name and title that will display when you get new emails from your website. After all, remember that users will be sending messages from your site and not from their emails.
Once you're done configuring your contact form, go ahead and save it. You can now open the primary Contact tab to see it in your list of existing forms. You'll want to look for the value that appears under the Shortcode column:

Copy that string and then open the editor for the page where you want to place your contact form. Paste the code within that page wherever you want it to appear, like this: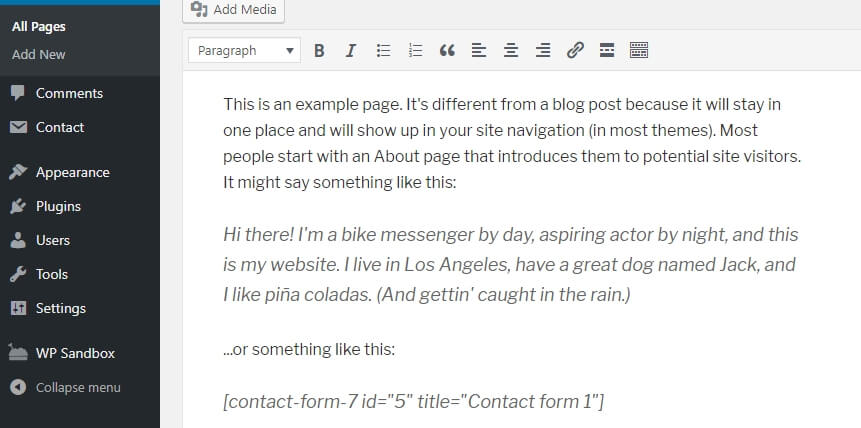 Save the changes to your page now and check out how your contact form looks like on your site:
For a portfolio, you might want to place your contact form at the end of your homepage. It can also be a great idea to set up a dedicated Contact Me page, including your form, links to social media, and any other communication methods you want.
Step #6: Add a Brief Bio Section
At this stage, you should have both a gallery and a contact form, which are key to learning how to make a portfolio. However, if you're hoping to convince people to hire you, it might also be necessary to tell them something about yourself.
For example, take a look at this portfolio, which hits you right out of the gate with some info about the site's owner: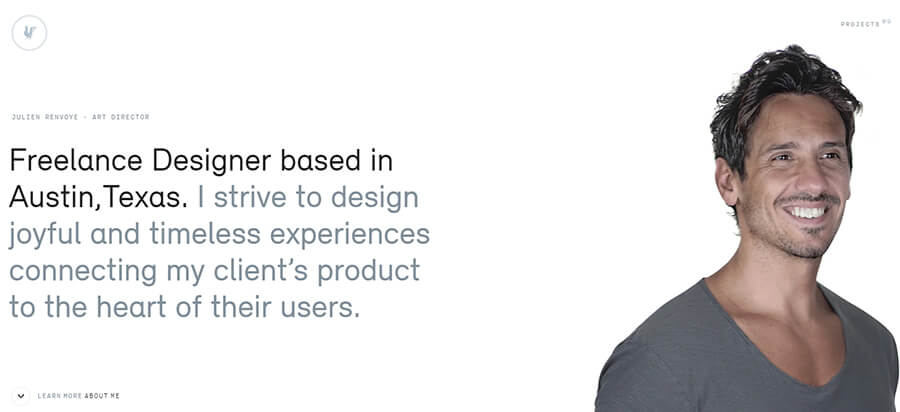 One of the key drivers behind online conversions is trust. For someone to hire you, they need to have some idea of who they're dealing with, beyond just your past work.
This doesn't mean that you need to include your full biography, including your first dog's name. In fact, a key consideration is to stick to the most important information that a client is likely to want to know. Here's a quick list of the info we recommend you add to your portfolio:
A very brief explanation of who you are and what kind of work you do.
Bullet points that go into more depth about the services you offer.
A headshot that lets everyone see what you look like.
Some information about notable past projects and employment history.
That's pretty much everything you need to woo potential clients. If you want to go a step further, you could consider adding a dedicated About Me page, but this isn't strictly necessary. Instead, we recommend you add all that info to your homepage and keep things tidy.
Conclusion
If you're looking to hire someone online, the first thing you'll want to check out is some of their past work. In other words, you'll want to see their online portfolio. Fortunately, learning how to make a portfolio isn't as complicated as you might think, particularly if you're using WordPress.
Do you have any questions about how to make a portfolio? Let's talk about them in the comments section below!