15 eCommerce Website Templates to Build Your Online Store
Online store templates highly affect the success of an eCommerce business. 48% of people determine a business's trustworthiness through its website design. Moreover, people only take 50 milliseconds to decide whether they like or dislike a site's design.
Without further ado, below are 15 eCommerce website templates you can use to set up a successful online business.
We've curated these templates into three categories based on the platform you'll use: website builders, eCommerce platforms, and self-hosted eCommerce platforms.
Download Website Launch Checklist
Website Builder Templates
Website builders are the most affordable compared to the other two platforms on this list. Some builders can even be a free eCommerce website solution.
What is more, plenty comes with free eCommerce website templates as well.
The first on the list is Tangier by Zyro. This eCommerce website builder offers a huge list of designer-made eCommerce website templates.
Tangier provides an immersive shopping experience. Each page is complemented with a full-width image in the banner. It also comes with a sticky menu bar, which is great for easy navigation and user experience.
Another selling point is the bold and clear call-to-action buttons. You can also optimize them for maximum conversions with the builder's built-in AI Heatmap tool. It highlights where visitors spend the most time on your website.
Tangier's premade sections provide a generous amount of space for testimonials and product descriptions on the homepage. If you struggle to come up with ideas for copy, the AI Writer tool can help.
Tangier is a free template for eCommerce websites. So if you want to start an online clothing store and you're within a budget, you can use this template. However, you need to sign up for one of the platform's eCommerce plans which start from $9.90/month.
Hobart features a straightforward homepage by showcasing products only. Distraction-free, this eCommerce website template has a minimal and clean design to it.
With large images and an engaging hover-over effect, Hobart is excellent for selling niche products.
Because of its simplicity, this template can be tailored for all types of businesses with a bit of customization.
You can add a blog section and elements like Instagram feed, YouTube videos, and social media icons from the template's editor.
With it comes free TLS encryption and advanced eCommerce features such as multiple payment options and inventory management.
Energy Snacks by Wix offers great balance – it combines clean design and playful animations.
This website template also comes with slide-in effects on the top banner's promotion text.
If you want to add more character, add page transitions, video backgrounds, and scrolling effects – all from the visual editor.
Each section has different layout styling. For instance, below the carousel section is a borderless image gallery to show off your best items and promotions.
Should you wish to add more elements, you can do so through the builder's freemium app market.
If you want to use this template, sign up for a paid Wix eCommerce plan first. The pricing starts from $23/month up to $49/month.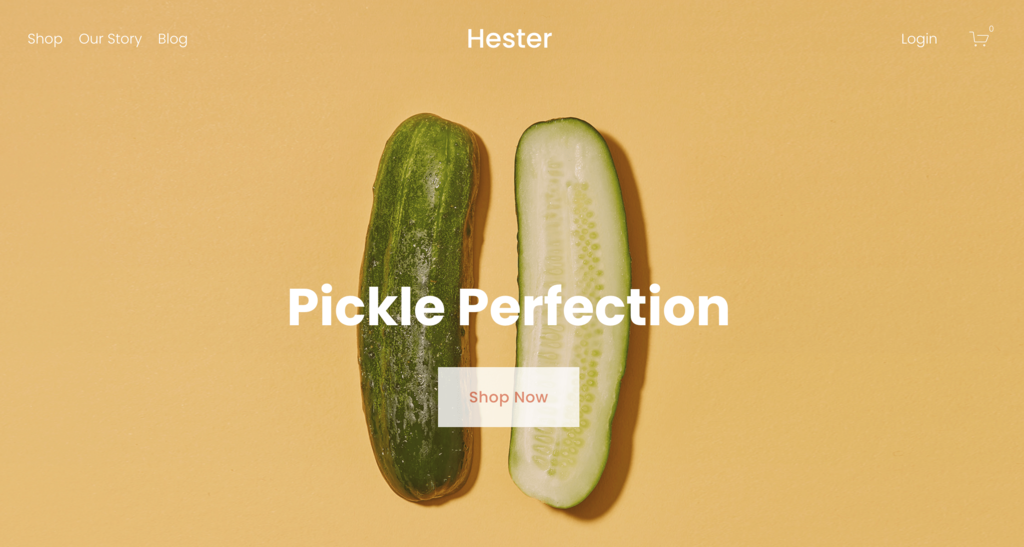 Hester highlights large images. It's present on all of its pages – from the homepage, shop page, and even blog page.
Moreover, you can make the template more appealing by adding a video background.
This eCommerce website template also features stunning displays. The image gallery offers multiple hover and transition effects.
If you don't like the changes you've made, there's an option to restore demo content.
Just as Zyro and Wix, to use Hester, you must buy a paid eCommerce plan. More on the pricey side, the plans start from $26/month up to $40/month.
Rich with page transition effects, MugMe by Webflow is a playful template for an eCommerce website.
Furthermore, the homepage incorporates a gallery-like layout, which lets you display a wide range of products while maintaining a clear structure.
Other than that, the online store template combines parallax scrolling with a video lightbox. The lightbox components can also link photos, graphics, and other visuals to create an immersive full-screen experience for visitors.
You can further animate your website with 3D animations. This will create exciting dynamics in your store.
This template is by far the most expensive compared to the previous entries, starting at $79 for a one-time purchase. Additionally, you must sign up for the eCommerce platform itself, priced at $29/month, to create an online store.
eCommerce Platform Templates
Built specifically to create eCommerce websites, these platforms are great if you want to run a small to medium business without starting from the ground up.
However, they're typically more costly than website builders.
Chameleon is one of the most popular Shopify themes.

Instead of the typical Shopify templates with a menu bar on top, Chameleon places it on the left sidebar. This lets visitors explore and browse your website easier.
The platform also comes with full access to edit your store's HTML and CSS code should you want to customize it further.
Other than that, the eCommerce website template supports over 100 payment gateways, including PayPal, credit cards, and even BitCoin.
To use Chameleon, you must buy the theme for $180. Although pricey, you get four different styles for a one-time purchase.
Other than that, you need to choose a paid plan that starts from $29/month up to $299/month.
Revo mimics the appearance of an online marketplace. Moreover, this eCommerce website template is responsive.
It supports product label customization as well. You can add a wide variety of promotions like hot, free shipping, free gift, and deal countdown – among many other labels.
Revo is a multilingual website template. Other than that, it supports right-to-left (RTL) languages like Arabic, Urdu, and Hebrew, just to name a few. This is essential if you want to sell internationally.
Another mention-worthy feature is its Ajax Search Pro. It lets you search for items in real-time.
You can get this template at ThemeForest for $139. To use it with BigCommerce, sign up for an account, and choose a plan. The pricing starts from $29.95/month up to $299.95/month.
Netizen has a feature to show a welcome image and message. This is an excellent opportunity for you to announce promos and introduce your brand.
This website template is great for a retro online store. It is filled with colorful graphics and unique features.
For example, as you scroll down the website, the cart and purchase amount sticks on the top right corner.
Another feature is hiding sold-out products from the menu. This is great for efficiency, so customers know they're only browsing through available items.
Last but not least, Netizen is responsive and free to use. All you need is a Big Cartel account with a subscription to one of its plans.
This website template manages to look minimal through its font styling. With full capitalization and ample space between letters, the homepage looks uncluttered.
The large search icon on the top left corner gives visitors the easy navigation every eCommerce site should have.
Craft is a very straightforward eCommerce template. When you scroll down, you'll find a large section dedicated to products only.
The template lets you create discounts with custom start time, duration, and sum.
All in all, Craft is a straightforward and minimal eCommerce template that's suitable for all industries.
If you want to use this template, you can do so by signing up for one of Volusion's paid plans. The pricing ranges from $29/month up to $299/month.


eCommerce Templates for Self-hosted Platforms
Consider self-hosting your eCommerce store if you want complete control and flexibility over your site's design and functionality. This way, you can use a content management system and have complete control of your website.
Woostroid2 is a WooCommerce website template with over 50 themes ranging from apparel to gadgets and furniture to sports gear.
With only two image slots, the homepage allows you to make clear what you sell. Additionally, this website template offers a generous space for a clear copy.
Woostroid2's templates are compatible with Elementor. This is great if you want to maximize customizability with WordPress and have an intuitive and easy-to-use drag and drop editor.
It's also compatible with JetThemeCore, where you can build a custom header, footer, and section with Elementor.
You can purchase Woodstroid for $114 at Template Monster.
One of the over 230 templates, DNK by Astra is fully compatible with WordPress and developed to integrate seamlessly with eCommerce solutions.
Astra offers multiple store templates, making building your own online store easy. Astra works with leading drag-and-drop page builders like Gutenberg, Elementor, and Brizy Builder, meaning you won't need to learn your way around a brand new builder. Astra templates are also fully compatible with most of the leading WordPress plugins.
Editing up every store element is easy since everything from the header down to the footer is customizable.
You can get started free or opt for a Pro plan for $59 a month if you want access to more advanced features.
Kalium allows for multiple header levels, which means you can add limitless elements and widgets on the top part of your site.
This template comes with 15 header styles ranging from fullscreen, minimal to the classic sticky menu bar.
The Kalium website template is lightweight. It removed unnecessary CSS and JavaScript code on the front-end so your store will load faster.
You can also manage all plugins from a single place with the template's plugin manager.
Last but not least, this website template is multilingual, responsive, and supports RTL.
Kalium is available on Themeforest for $60.
Optima has more than 90 homepage options. Make sure to browse through them all and choose one that's best suited for your brand.
In this example, we're going to choose the homepage Lighting01. It's clean and comes with a mega menu. This particular template is great if you're looking to organize a wide variety of products.
Optima supports multi-currency, meaning you can sell internationally.
Visually, you can change the template into different color schemes through the admin panel.
For a great online shopping experience, this template comes with Ajax Cart and Ajax Search. Pictures can also rotate for detailed product views.
You can get this template for $48 on ThemeForest.
Megatree is the second template on the list that mimics an online marketplace layout.
This template comes with a sticky vertical menu on the sidebar, making it easy for shoppers to see the variety of products in your store.
The Prestashop template comes with a mega menu that lets you add different categories.
It also supports both LTR and RTL languages for international shoppers.
As for product-viewing, the template features hover effects and cloud zoom with an image slider.
The template also features an Ajax Shopping Cart. It lets shoppers add products to the cart right from the page without having to reload.
Megatree costs $79 on Template Monster.
One of the many Magento eCommerce templates, Molla, comes with 20 pre-built demos. You can customize this website template with over 30 components and layout options.
One of Molla's notable features is its grid configuration. You can set up over 21 product columns for maximum display.
Molla also comes with an Ajax Cart feature. However, it also features layer navigation. It helps customers filter actions for a better online shopping experience.
Another feature is the guest's wish list. This lets visitors add items to the wish list without logging in or signing up for an account.
This template also improves site performance with its lazy load feature. This means your site only loads images as you scroll.
Get Megatree for $78 on Template Monster.
Which Website Builder Is Best for eCommerce?
Choosing the best website builder comes down to your needs, eCommerce website templates, and the features offered. That said, below is an overview of all the mentioned platforms:
Zyro – affordable, intuitive, and easy to set up. Multichannel selling, designer-made eCommerce website templates, and AI-powered tools.
Wix – offers customization freedom, over website 500 templates, and dropshipping integration with Modalyst.
Squarespace – well-curated eCommerce templates, support service selling features such as online booking and schedule appointments, and an option to sell digital content.
Webflow – helps build an interactive store with plenty of animation options, complete layout control, and accept payments from over 200 countries.
Shopify – offers to customize your store with the help of a web design expert, free shipping, and automatically handles tax rates across countries.
BigCommerce – comes with intuitive inventory management tools and reliable support via phone calls and community forums.
Big Cartel – allows bulk editing to make quick changes across multiple orders and products.
Volusion – places the user's shopping experience as its priority, comes with various navigation design and content search functionality.
3DCart – no transaction fees, unlimited orders and products, and two-factor authentication for security.
WooCommerce – best for users who are familiar with WordPress and don't mind tweaking in the back-end. WordPress has a rich theme store for more layout options.
Prestashop – you can set your store as a catalog, define the dimension of your packages, and apply shipping carriers for different delivery zones.
Magento – features product recommendations for shoppers and supports mobile commerce. Best for large businesses to expand globally.
Building Your Own eCommerce Website
Building your eCommerce website differs per platform.
If you choose a hosted solution like a website maker or an eCommerce platform, the typical steps are as follows:
Create an account. Go to the platform's website and sign up for an account with your email address or other options.
Pick a template. Browse through the selection of eCommerce templates and choose one that's most suitable for your business.
Add products. Add images, product descriptions, prices, and other product information.
Publish your store. Create a domain name, choose a subscription plan, and launch your store.
On the contrary, here are the steps to set up your eCommerce store with self-hosted platforms such as WordPress or Prestashop:
Purchase eCommerce hosting and domain name. Without reliable hosting services and a domain name, you can't have a professional business website.
Install your chosen software. This can be WordPress, PrestaShop, or another CMS.
Set up the necessary features. For example, install an SSL certificate for security and tools for inventory management.
Choose a theme and customize it. You can choose from the platform's directory or install a third-party theme.
Add products. Similar to hosted platforms, here is where you put information about your products.
Which eCommerce Template Should I Choose?
Aside from your personal taste, there is an unwritten rule choosing an eCommerce template – that is, by following the latest web design trends.
To make sure you make the right choice, here are some tips and trends to focus on when choosing an eCommerce template:
Responsive and mobile-friendly. With mobile commerce on the rise, having a responsive and mobile-friendly template is essential.
Minimalistic. Clean and simple designs are more appealing to the eyes than complicated ones.
Easy to navigate. Easy navigation means making your website comfortable to browse. If done right, this will eventually lead to more sales.
Has high-quality images. With online stores, people rely on pictures for insight. Because of that, high-quality pictures are essential.
Clear copy. Inform visitors about your brand in seconds with a readable and easy-to-understand copy.
Conclusion
There you have it, the 15 best eCommerce website templates to kickstart your online business.
Whether you go with a website builder or a self-hosted platform, make sure you choose a template that's most suitable for your brand and products.
If you have any more questions or suggestions, feel free to leave a comment down below.
All in all, good luck with your online business journey.
eCommerce Website Templates FAQ