20 Best Music WordPress Theme Options for Musicians
Creating a well-designed website helps musicians showcase their talents and connect with fans worldwide. For music bloggers and record label owners, it works as a platform to discuss industry news and sell albums, concert tickets, and music merchandise online.
Either way, selecting the right WordPress theme is crucial before building a music website. To guide you in making an informed decision, we've curated the 20 best WordPress themes for musicians and anyone working in the music industry.
This complete list of top WordPress music themes is suitable for bands, solo artists, record labels, recording studios, and music-related websites of all types.

Top 20 Music WordPress Themes
When curating the list for this WordPress tutorial, we considered several factors:
Reviews and ratings. User testimonials provide valuable insights into a theme's performance, ease of use, and customer support. We prioritized WordPress musician themes with positive online reviews and ratings.
Pricing structure. Whether you need free WordPress themes or premium ones with enhanced capabilities, this comprehensive article covers both options.
Design and aesthetics. We assessed themes for their design quality. An attractive WordPress theme helps you deliver a captivating user experience, encouraging visitors to keep browsing your site.
Customization options. Each WordPress music theme should offer personalization, including custom backgrounds, color schemes, typography, and layout variations. This enables you to build a website that reflects your personality and genre.
Music-centric features. Beyond aesthetics, we looked for themes that offer powerful features for musicians. Those include built-in audio and video players, event calendars, discography sections, and integration with music platforms like SoundCloud or Spotify.
Whatever your venture is, installing these WordPress themes will help you establish a strong presence in the music field.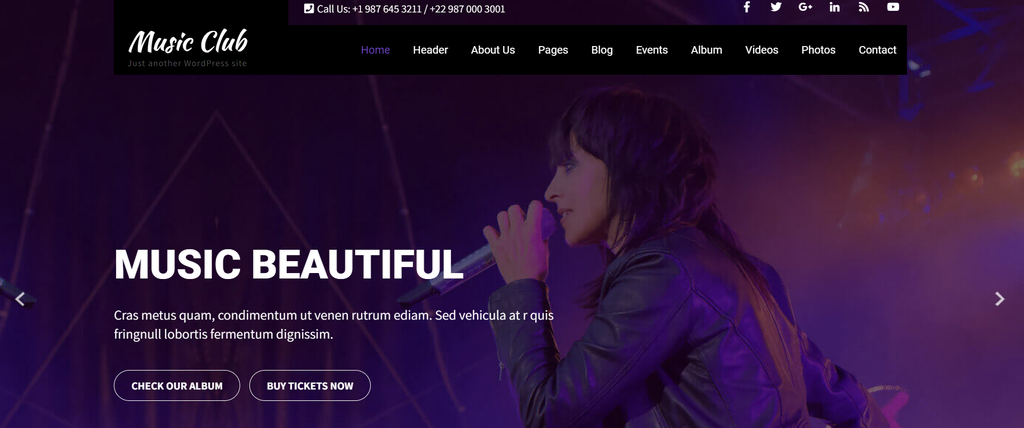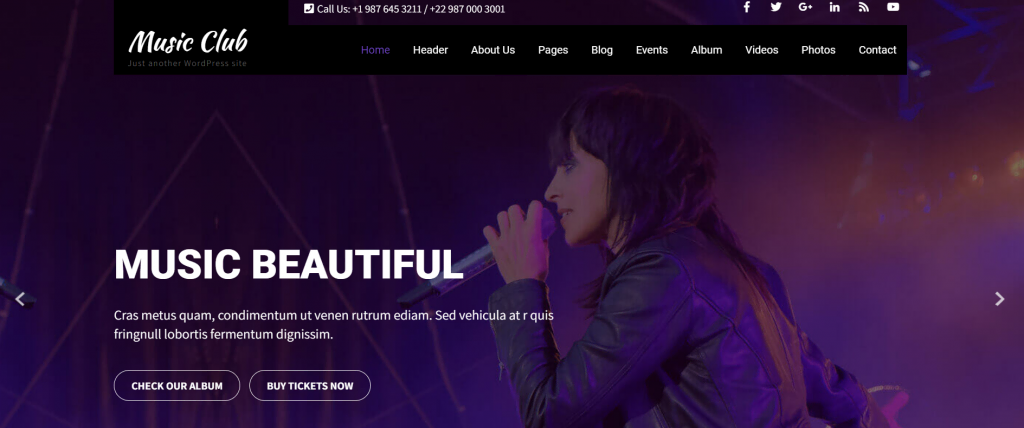 Theme Stats:
Rating: 4.9/5
Best for: solo singers, music bands, and instrumental musicians
Price: $29/license
Music Club Pro helps local musicians connect with a global audience, thanks to features like social media integrations and multilingual support.
The Theme Options panel makes it easy to customize the website to your liking, whether displaying live performances, publishing behind-the-scenes blog posts, or selling music-related merchandise.
Moreover, unlike some premium WordPress themes on this list, Music Club Pro offers lifetime support and theme updates.
Key Features
Music-specific features. It includes an MP3 player, an event countdown timer, and an album sliding carousel.
Easy customization. Tailor the website to your specific needs using a wide range of layout styles, post formats, colors, and Font Awesome icons.
SEO-friendly. Built with WordPress SEO best practices in mind, Music Club Pro helps attract organic traffic to your music website.
Social media integration. Connect with your audience and fans on platforms like Facebook, Twitter, and Instagram.
Drawbacks
Some users have said that the Theme Options panel can crash when opened in multiple browser tabs, which can lead to data loss.


Theme Stats:
Rating: 4.9/5
Best for: music merchandise and ticket sellers
Price: freemium (pro plans start at $47/year)
Astra is a multipurpose WordPress theme built for speed, flexibility, and extensive customization.
Its lightweight design ensures swift loading times, which is crucial for retaining visitors. This competitive advantage can significantly impact your music website's search engine rankings and user engagement.
Astra may not have music-specific features like a music player or a calendar for upcoming events. However, you can integrate those elements into your website using third-party plugins and page builders.
Key Features
Built for speed. Its clean code and lightweight design ensure fast loading times, providing users with the best browsing experience.
Pre-designed templates. This theme provides a vast library of pre-designed templates, making page creation quick and easy.
eCommerce integration. Astra seamlessly integrates with WooCommerce, making it easy to sell tickets, merchandise, and music online.
Social media widgets. Easily display your latest posts and connect with your followers through integrated social media widgets.
Drawbacks
Besides the lack of built-in music features, the extensive customization options might be overwhelming for beginners.

Theme Stats:
Rating: 4.9/5
Best for: record labels and talent management companies
Price: starts at $79/license
If you own a record label or entertainment company, Phase makes it easy to manage multiple artists and projects.
You can create custom artist profiles and put their tracks on display by embedding music players from Spotify, SoundCloud, Mixcloud, and more.
Available from $79/license, this premium music theme includes an extended version of WPBakery Page Builder and the Slider Revolution plugin. These tools enable you to create an interactive music website with stunning animations.
Key Features
High customizability. Set up your website quickly with over 150 pre-made templates and plenty of layout possibilities.
Custom artist posts. Create artist profiles and highlight their discography, events, galleries, and videos.
eCommerce capabilities. Enhance the user shopping experience using an AJAX-powered shopping cart and wishlist.
Playlist manager. Integrate your artists' tracks from platforms like Spotify, SoundCloud, Mixcloud, Bandcamp, and Reverbnation.
Drawbacks
Some reviews mention that Phase is a heavy theme, often resulting in slower loading times.


Theme Stats:
Rating: 4.9/5
Best for: music marketers and entrepreneurs
Price: starts at $89/year
Beyond a modern WordPress theme, Divi is a complete design framework that offers easy website building, responsive editing, and custom CSS control.
By signing up for $89/year, you will gain access to more than 2,400 site layouts and two powerful plugins – Monarch for social sharing and Bloom for email lead generation.
Given its powerful marketing features, Divi is more geared toward record label owners and entrepreneurs selling music-related items.
Key Features
200+ website elements. Easily drag and drop elements like call-to-action buttons, sliders, and testimonials to customize your music site.
Responsive editing. This mobile-responsive theme enables you to tailor the appearance of each element for different devices.
2,000+ pre-made designs. Divi provides extensive pre-made website layouts, including for a music blog and music venue page.
Built-in split testing. Experiment with different designs and element placements to see which ones convert better.
Drawbacks
Like any multipurpose WordPress theme, Divi doesn't offer music-specific functionality, although it does provide music-related templates. Moreover, you need some level of design and marketing knowledge to truly maximize its features.
[DOWNLOAD]


Theme Stats:
Rating: 4.9/5
Best for: music magazines and news sites
Price: starts at $69/license
Zeen is the perfect WordPress theme for creating a music magazine.
In terms of monetization, Zeen provides multiple ad placement options, including strategic spots in the header, footer, and sidebar. The newsletter subscription and paywall system integrations also let you offer premium content to registered users.
In addition, this theme is compatible with Google's voice search – users can discover your articles using voice commands. However, this feature is currently reserved for approved Google News publishers in the US.
Key Features
Monetization options. Create sponsored posts and place display ads anywhere on your site, including the header, footer, and content body.
Google voice search compatibility. Users can navigate and search your site using voice commands, adding an extra layer of accessibility and convenience.
Versatile content presentation. From text-based news articles to visual-heavy music galleries, you can customize each page to your liking.
Paywall system integration. Limit access to premium news articles and offer paid subscriptions using the Restrict Content Pro plugin.
Drawbacks
Zeen focuses heavily on visual appeal, which may result in slightly slower performance compared to more minimalist themes.


Theme Stats:
Rating: 4.9/5
Best for: all kinds of music websites and online stores
Price: freemium (pro plans start at $38/year for 3 sites)
OceanWP has one of the largest active communities among WordPress themes. This makes it easier to find extensive support and resources, including tutorials and online forums.
One of OceanWP's standout features is the advanced level of control. You can customize almost every aspect of your website without touching a line of code.
Furthermore, with over 210 demo templates available, it's easy to pick a ready-made design and build a music website of any kind.
Key Features
High versatility. OceanWP caters to various website types, such as music blogs, online portfolios, and eCommerce stores.
210 demo templates. Import a template, tweak it to match your style, and have a fully functional music website ready in just a few clicks.
Built-in extensions. From adding a side panel to displaying a cart pop-up, you can extend the website's capabilities without installing multiple plugins.
Shop layouts. Display your digital products in grids, lists, or other formats. It's also possible to adjust the number of products per row and per page.
Drawbacks
Some users do not recommend the free version, as many essential features are locked behind a paywall.
Moreover, there were claims that users did not receive refunds despite requesting one.


Theme Stats:
Rating: 4.8/5
Best for: music bands, singers, and DJs
Price: starts at $59/license
Meloo is one of the top WordPress themes for bands that use AJAX for WordPress theme development. It enables communication between browsers and servers without reloading the page. As a result, visitors can play non-stop music while accessing different pages on your site.
Packed with features like a drag-and-drop editor and an event manager, this band theme makes creating and maintaining concert pages effortless.
In addition, the Google Maps integration lets you show the exact location of each tour destination.
Key Features
Continuous audio playback. Visitors can play music in the background while browsing through different pages.
Third-party platform integrations. Easily embed Google Maps, social sharing buttons, and popular streaming platforms like Spotify and SoundCloud.
Events management system. Build hype for your next gig and sell tickets faster by displaying a countdown timer. After the set date, the theme will automatically mark it as a past event.
Advanced headers. Immediately capture the audience's attention by adding images, videos, and maps in the header section.
Drawbacks
Some users face compatibility issues with several plugins, including Slider Revolution and King Composer.


Theme Stats:
Rating: 4.8/5
Best for: all types of music websites
Price: freemium (pro plans start at $69/year)
Neve is a modern WordPress music theme compatible with Gutenberg and popular page builders like Elementor, Beaver Builder, and Divi.
This gives you the flexibility to create all kinds of music websites, from a community-driven music club to a band merchandise online store.
If you need advanced eCommerce capabilities for your music store, consider buying its Business plan for $149/year. It comes with conversion-focused features like multiple checkout layouts, a floating cart, and a product gallery slider.
Key Features
Custom header and footer. Include elements like a music player or links to your latest blog posts in the header or footer.
eCommerce functionality. Display your digital products in a carousel, integrate a search filter, and ensure a seamless checkout process for customers.
100+ starter sites. Speed up website creation with pre-made designs, some of which are tailored for music bands.
Elementor Booster. Neve provides premium Elementor widgets and add-ons for building interactive pages.
Drawbacks
Neve is a multipurpose theme, so you need to integrate additional plugins for music-specific features.


Theme Stats:
Rating: 4.8/5
Best for: musicians of all genres
Price: starts at $59/license
Slide is designed to help musicians, songwriters, and music producers reach a global audience. As a translation-ready theme, you can easily localize the website content for specific markets.
Design-wise, it's possible to create custom posts to showcase your albums, events, and videos. Slide also has a built-in music player, enabling visitors to stream your tracks right on the website.
Furthermore, this theme offers 20 music-focused Elementor widgets, resulting in a more intuitive content management experience.
Key Features
Custom post types. Create different post types for music albums, concerts, photo galleries, and videos.
Elementor widgets. Add music-focused sections effortlessly with 20 professionally designed elements.
Playlist support. Upload audio files and manage your music playlists with an intuitive admin interface. The theme also provides a built-in music player, so visitors can listen to your tracks while browsing.
Multi-language support. Easily translate your website to accommodate audiences from diverse backgrounds.
Drawbacks
Slide is developed by a third-party company, so you may face compatibility issues with WordPress core plugins.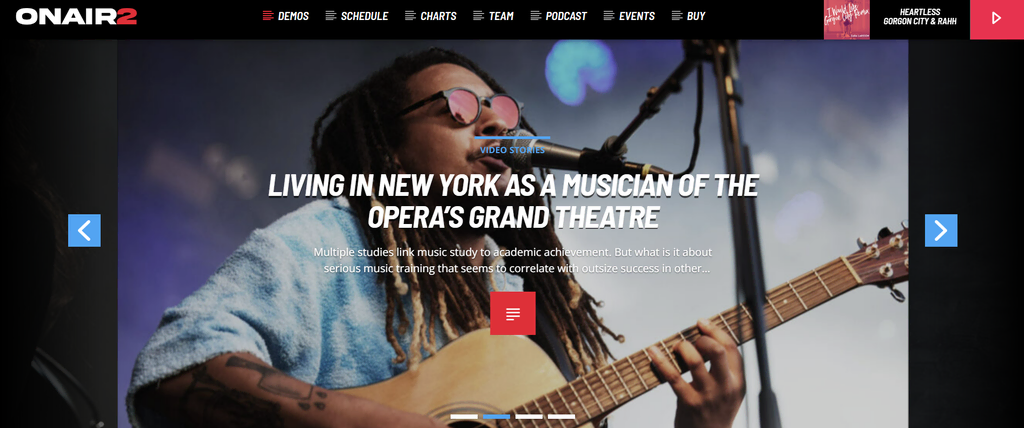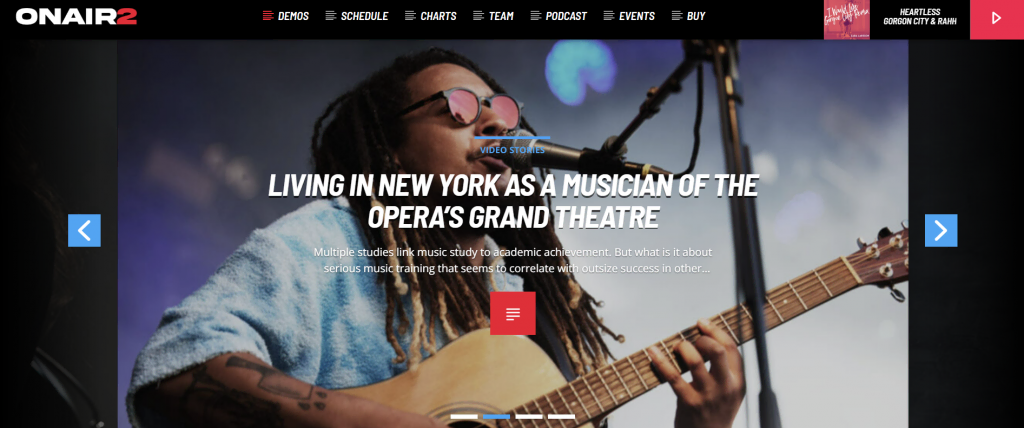 Theme Stats:
Rating: 4.8/5
Best for: streaming platforms and radio channels
Price: starts at $79/license
Onair2 is one of the best WordPress themes for podcast sites, radio stations, and video streaming platforms.
Its well-designed layout and continuous music player will keep visitors engaged from the moment they land on your site.
An integrated event management system is also available. Equipped with a calendar and countdown timer, building hype for your upcoming podcasts or radio shows is easy.
Plus, you can organize past episodes by their upload time or category, helping visitors quickly find what they need.
Key Features
Radio player. Enable uninterrupted music playback with a built-in radio player that supports MP3 streams, SHOUTcast, and Icecast.
Events calendar. Keep the audience tuned in for your upcoming podcasts or radio shows by displaying a countdown timer.
Music charts. Show the most popular songs by day, week, month, or year – the list will automatically update based on user votes.
20+ Elementor widgets. Easily add visual elements, including chart tracklists, streaming app icons, upcoming show carousels, and video galleries.
Drawbacks
Onair2 has basic website editing features. Unless you want to incorporate one of the default layouts, we suggest finding other themes with more extensive customization capabilities.


Theme Stats:
Rating: 4.7/5
Best for: music schools and online classes
Price: starts at $69/license
Melody is a stylish WordPress theme specifically made for music schools and creative studios.
It comes with a built-in booking system, allowing students to reserve slots for classes. This feature eliminates the need for manual scheduling.
Melody is also compatible with LearnDash, a learning management system (LMS) plugin offering pre-made courses and modules.
Key Features
Online class booking. Students can seamlessly book class slots, making it easier for instructors to plan their lessons.
LearnDash compatibility. Access various pre-made courses and advanced learning management features using the LearnDash plugin.
WooCommerce integration. You can sell musical instruments, books, or courses by setting up an online store quickly and hassle-free.
Custom widgets. Boost your site's functionality and provide a more interactive user experience using custom widgets and shortcodes. For example, you can display a content slider and add social media icons.
Drawbacks
LearnDash is not included in the theme package – you must purchase the premium LMS plugin separately.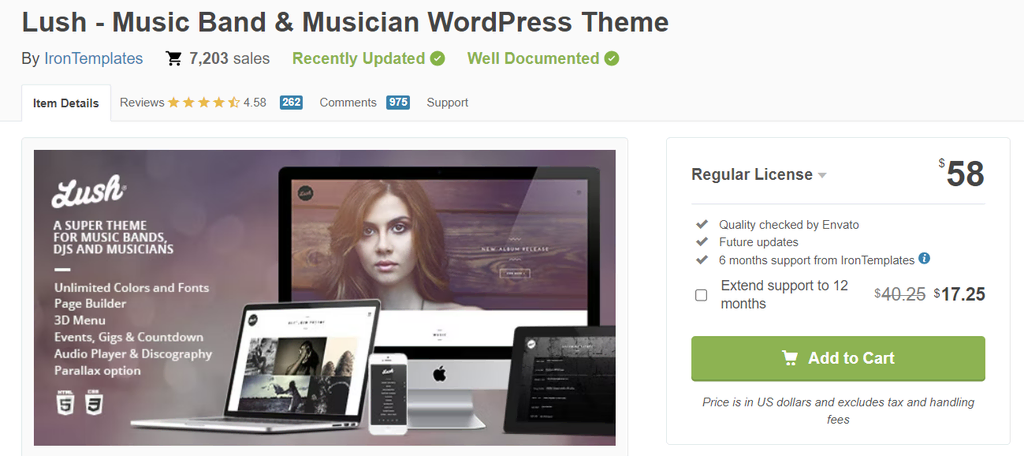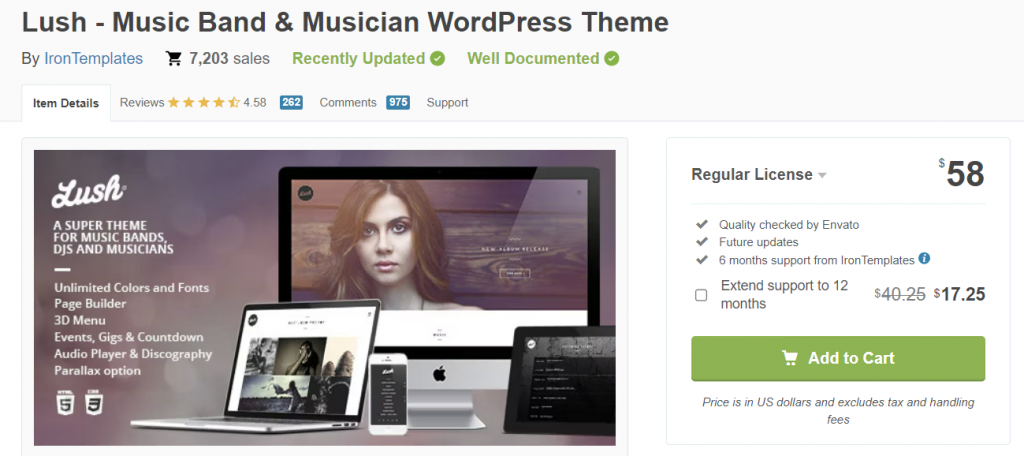 Theme Stats:
Rating: 4.6/5
Best for: singers, music bands, and DJs
Price: starts at $58/license
Lush is one of the top-selling WordPress themes for musicians on ThemeForest.
What separates this theme from others is the 3D push menu. Unlike traditional flat menus, it utilizes three-dimensional transitions to reveal the items, making site navigation more interactive.
You can customize the site further using an easy-to-use page builder, custom widgets, and a wide selection of colors and fonts.
Key Features
3D push menu. It adds a touch of modernity to your website, making navigation more enjoyable for users.
Discography section. Showcase your music portfolio and add purchase links to boost album sales.
Gigs manager. Display your upcoming concerts and include essential details like the date, venue, and ticket availability to keep the audience informed.
Video library. Embed videos from platforms like YouTube and Vimeo. This is perfect for sharing music videos, interviews, or live performances.
Drawbacks
Several users were unsatisfied with the theme's customization features, performance, and code quality.


Theme Stats:
Rating: 4.6/5
Best for: professional artists and music business owners
Price: starts at $64/license
Musico is a premium music theme suitable for musicians, bands, artists, and producers who want to establish a connection with their audiences.
Setting up an online store is also easy with its WooCommerce integration, whether you're looking to sell merchandise or promote digital music downloads.
On top of that, the theme offers eight distinct homepage layouts, enabling you to choose a design that represents your musical style and brand.
Key Features
11 video and gallery layouts. Showcase your live performances and behind-the-scenes moments to connect deeper with fans.
70+ pre-designed templates. Create visually appealing pages for your discography, albums, videos, and music players.
Elementor integration. This builder plugin lets you move elements around and customize each page without requiring any coding.
Advanced font management. Choose from over 500 Google Fonts or upload your custom typography.
Drawbacks
Since it's not a free WordPress theme, Musico is more geared toward record label owners and professional artists.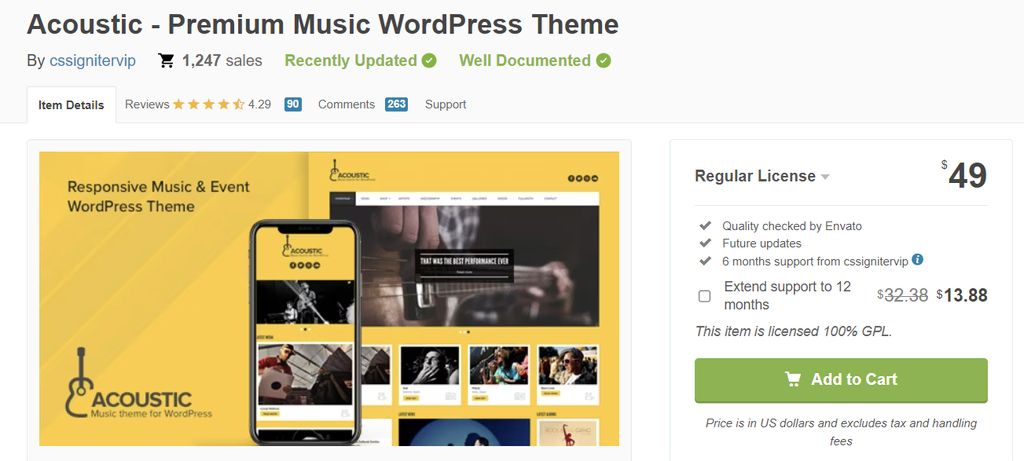 Theme Stats:
Rating: 4.3/5
Best for: musicians of all genres
Price: starts at $49/license
Acoustic is one of the best-performing WordPress themes for musicians. Built with the Foundation framework, it offers the perfect blend of responsiveness and extensive functionality.
From managing events and music albums to showcasing images and videos, this WordPress theme lets you customize every aspect of your site without coding.
What's more, with 25 color schemes available, it's easy to mix and match different combinations to align with your personal branding and genre.
Key Features
Homepage layout options. Choose from four different homepage options that best represent your brand. Each layout offers a unique design and feature set.
Tracklisting management. Create playlists and place them anywhere on the website using simple shortcodes.
Content slider. Incorporate easy-to-swipe sliders to showcase your latest tracks, events, or special announcements.
Discography. Build a dedicated section for all your music albums, singles, and EPs, making it easier for fans to explore your work.
Drawbacks
The Acoustic WordPress theme lacks new customer reviews – the last one was submitted three years ago. As such, it will be harder to assess the theme's latest performance before making a purchase.
[DOWNLOAD]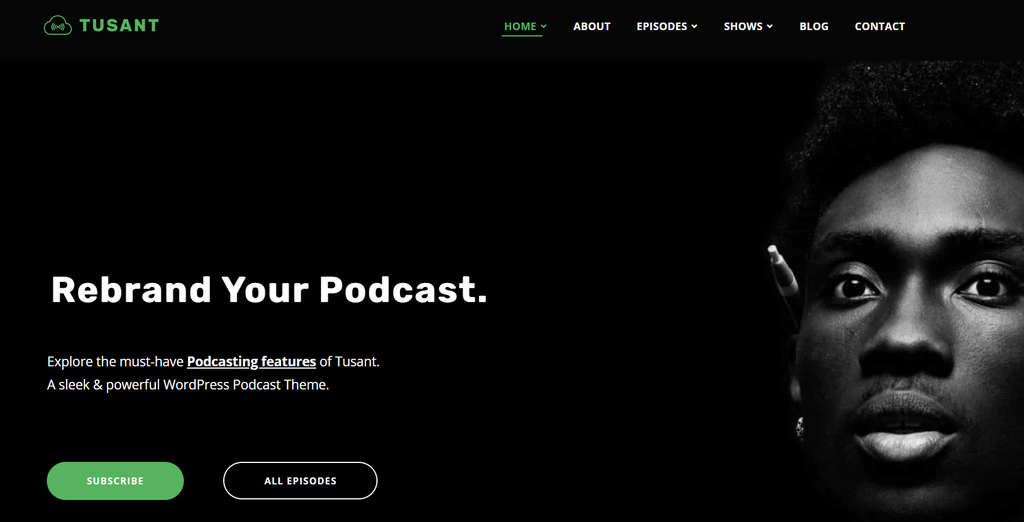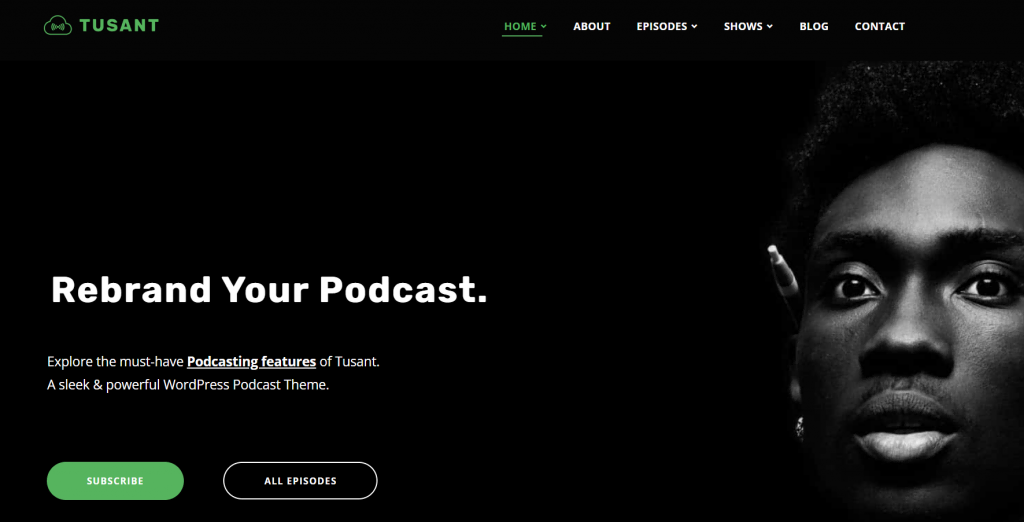 Theme Stats:
Rating: 4/5
Best for: music podcasters and video bloggers
Price: starts at $69/license
Tusant is a modern theme for music talk shows and podcasts, compatible with major podcasting plugins like Seriously Simple Podcasting, PowerPress, and PodLove.
Apart from offering layout options to showcase podcast episodes, this theme also includes the Podcast Subscribe Buttons plugin. Easily place the CTA button anywhere on the site and watch as your subscriber list grows.
Furthermore, Tusant supports audio and video playlists – perfect for artists and music videographers.
Key Features
Podcast platform compatibility. Seamlessly integrate your existing podcast platforms into the website, including Libsyn, Spotify, and Buzzsprout.
Media support. Vloggers and streaming service providers can easily put their video and audio playlists in the spotlight.
Flexible layouts. Feature content as you see fit, whether using grids, carousels, or infinite scrolling.
Vast color schemes. Play around with different color combinations, and create a website look that matches your brand identity.
Drawbacks
Compared to some other themes on this list, the customization options for Tusant are limited to the Elementor page builder.


Theme Stats:
Rating: 3.7/5
Best for: audio streaming platforms
Price: starts at $59/license
If you want to build an audio streaming platform, Bepop is a viable choice. Focusing on user interaction and engagement, visitors can easily create a playlist of their favorite tracks via a submission form.
When it comes to page building, the theme is integrated with the WordPress Gutenberg editor. You can easily add, remove, or customize blocks to create a layout that suits your content.
Another key feature is the seamless search bar. This lets visitors find their favorite tracks quickly, ensuring a seamless browsing experience.
Key Features
AJAX load page. It significantly reduces your page loading time, resulting in an improved user experience.
Versatile music platforms. Feature a diverse range of music content on your site, whether it's from YouTube, Shoutcast radio, Hearthis.at, or SoundCloud.
Interactive experience. Users can create playlists, like and download music, and even remove tracks or albums through a front-end form.
Seamless search. With the AJAX-based search bar, visitors can find and engage with your content without reloading the page.
Drawbacks
Some reviewers suggest that Bepop has unsatisfactory customer support, contributing to the lower rating of this WordPress theme for musicians.
[DOWNLOAD]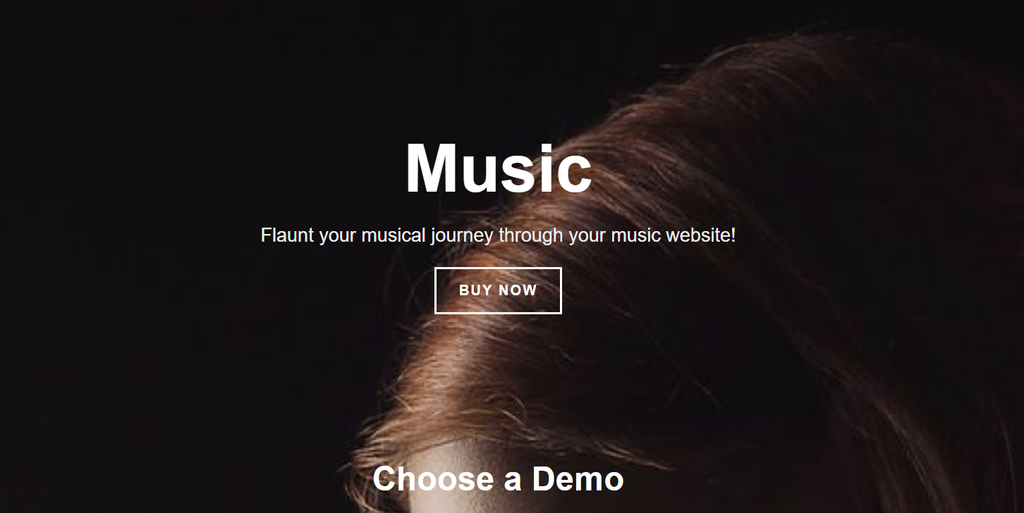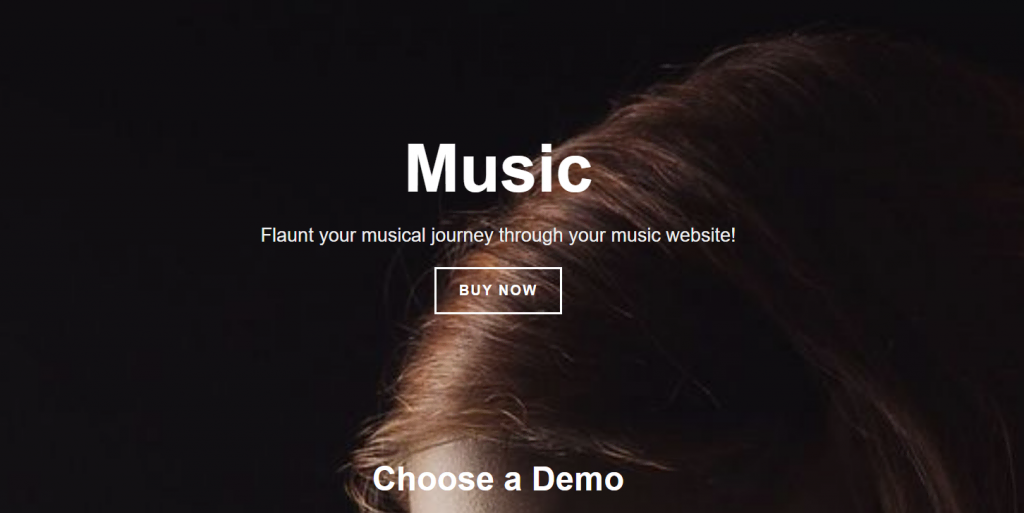 Theme Stats:
Best for: up-and-coming music artists
Price: freemium (the pro plan costs $59.99/year)
My Music Band is a free WordPress theme for musicians that is an excellent choice for solo singers and music bands looking to create a modern music site effortlessly.
This minimal WordPress theme has a homepage that is simple and clean, putting the spotlight on your latest music videos, new album releases, or upcoming tour dates.
Priced at $59.99/year, the pro plan includes advanced tools like custom widgets and a featured image slider.
Key Features
Featured music content. Highlight blog posts about your latest albums, upcoming gigs, or special announcements.
Playlist manager. Create organized playlists and let visitors stream audio content using a built-in music player.
Testimonials section. Share reviews or quotes from fans, music critics, or industry professionals to build credibility.
Portfolio section. Display any discography, milestones, awards, and recognitions you've received in your music career.
Drawbacks
The free version of this WordPress theme lacks WooCommerce support, which some other themes offer at no extra cost.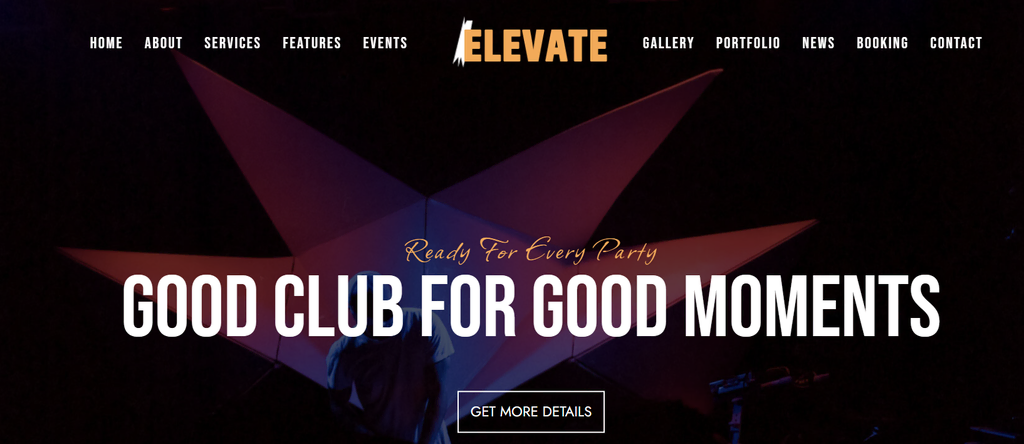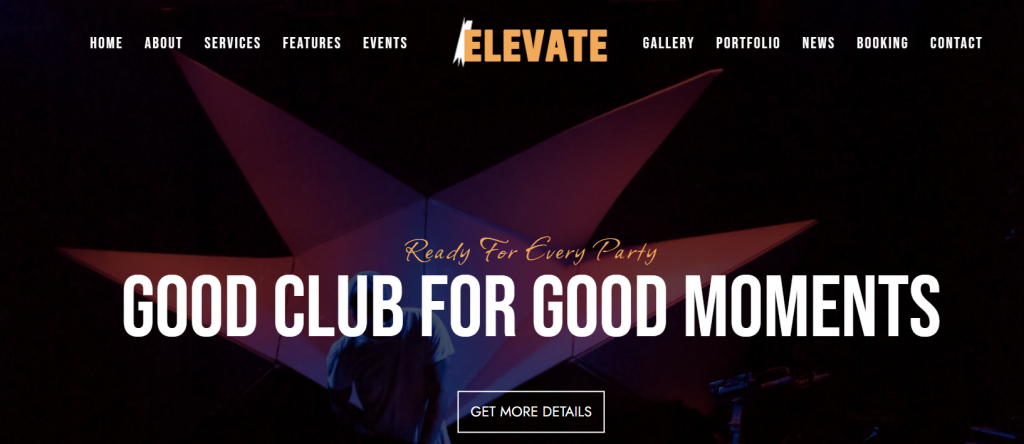 Theme Stats:
Best for: club owners and concert promoters
Price: freemium (the premium version costs $39/license)
Elevated Lite is perfect for businesses that provide live music experiences, from nightclub promoters to concert organizers.
This music WordPress theme has a built-in music player and equalizer graphics, making it easy to market your music festivals or club events.
Moreover, you can showcase photo galleries from past events and provide details about upcoming performances, including artist line-ups and ticket information.
To access more widget and page template options, over 650 Google Fonts, a default contact form, and better layout controls, purchase the premium Elevate license for $39.
Key Features
Music player and equalizer graphics. Create an immersive audio experience and encourage the audience to sign up for your next show.
Event and artist sections. Visitors can easily get all the information about future events, including ticket prices and performing DJs or bands.
Contact Form 7 compatibility. Seamlessly integrate the Contact Form 7 plugin to manage inquiries and bookings.
Fully responsive. The theme is designed to work well on all screen resolutions, ensuring a seamless user experience across various devices.
Drawbacks
With only 2,000+ active installations, Elevated Lite is not as widely tested as some other WordPress themes for musicians on this list.


Theme Stats:
Best for: music photographers and bloggers
Price: freemium (the pro version costs $59.99/year)
With a heavy focus on visual content, the ScapeShot WordPress theme is well-suited for music photographers and video bloggers.
The Services section enables you to offer different types of services, such as concert photography, artist portraits, or album cover shoots.
Musicians can also take advantage of this versatile WordPress theme, as it has a couple of music-focused child themes – ScapeShot Music and ScapeRock.
Key Features
Sections Sorter. Arrange various sections on your music-focused website for an organized look.
Grid portfolio. Show off your photography skills and stunning music portraits with an elegant grid layout in the Portfolio section.
Ready-made templates. Easily build a WordPress site to sell music stock images or promote your music photography courses.
Technical support. The theme developers provide support for any issues or questions you have.
Drawbacks
Not many user reviews for ScapeShot are available, but users can install the free theme to accurately test its performance and responsiveness before committing to the paid option.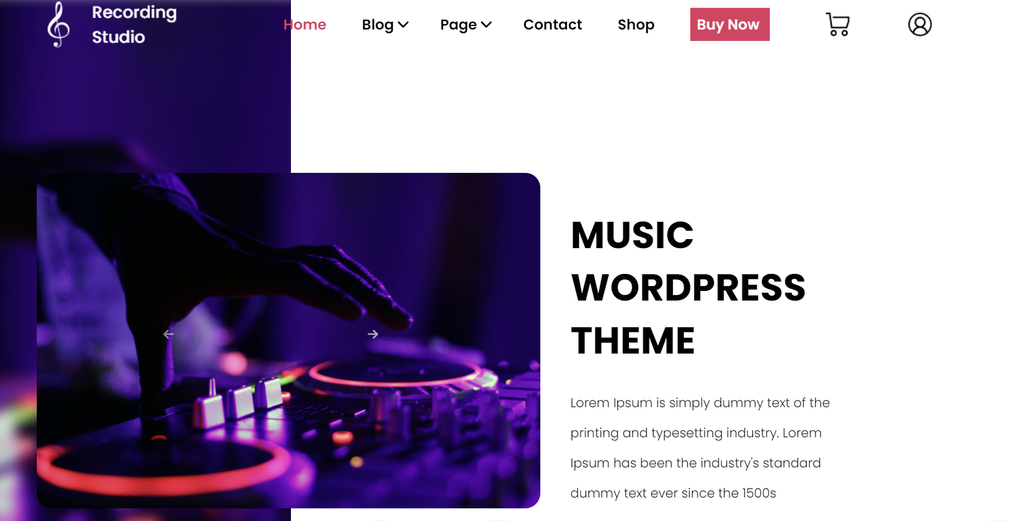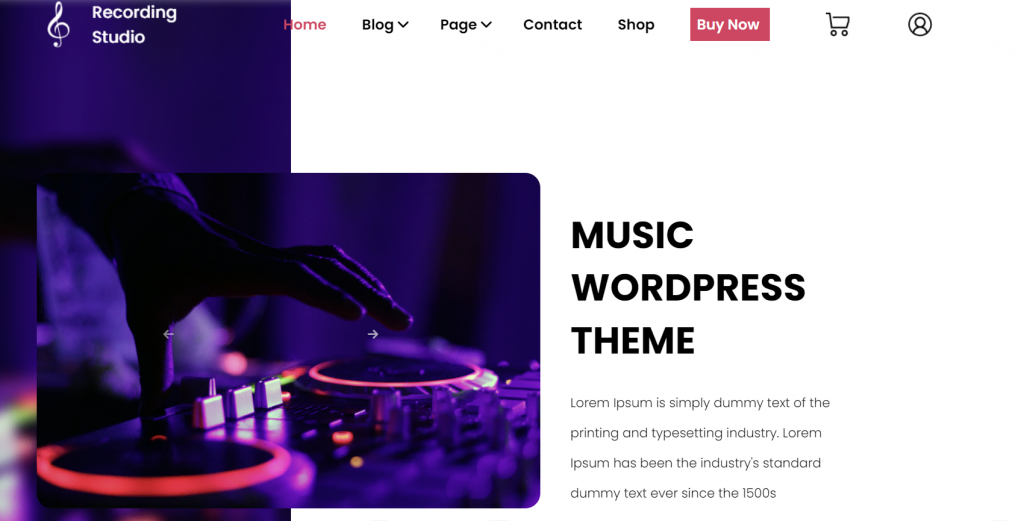 Theme Stats:
Best for: recording studios and record labels
Price: freemium (the premium plan costs $40/license)
Music Recording Studio is a translation-ready and lightweight theme compatible with the latest WordPress version, WooCommerce, and all major browsers.
Designed for record labels, it offers layout templates to promote studio services, such as audio editing, sound mixing, and voice recording. It's also convenient to create dedicated sections for studio equipment, recent records, and session bookings.
Although the free version enables theme customization, you must buy its premium plan for $40/license to unlock custom backgrounds, colors, headers, and navigation menus.
Key Features
Cross-browser compatibility. The theme works seamlessly across different web browsers, ensuring a consistent user experience.
Theme bundle. Create any type of website with ease. By purchasing the premium version, you will get over 240 themes in one package.
Testimonial box. Highlight positive customer reviews to add credibility to your music business.
Clean and efficient code. Developed with clean code, Music Recording Studio adheres to WordPress benchmarks.
Drawbacks
The Music Recording Studio theme only has around 200 active installations with no user reviews, making it difficult to gauge its reliability in the long run.
Factors to Consider When Selecting a Music WordPress Theme
Building a successful website takes more than just choosing a stylish theme. It's also crucial to purchase a reliable WordPress hosting service to guarantee maximum performance.
For example, Hostinger's managed WordPress hosting solutions ensure your website will benefit from top-notch protection and fast loading speed. It also provides optimization features like object caching, a global content delivery network (CDN), and automatic image optimization.

After signing up, you can install WordPress in one click or transfer your existing site to Hostinger at no additional cost. Our free website migration service is available for unlimited websites and is handled by our expert migration team.
Once done, it's time to select the right music WordPress theme for your site. Here are several must-have features to look out for in great music themes:
Search Engine Optimization
To optimize your WordPress website for search engines, select themes that prioritize SEO-friendly features. Look for clean and optimized code, fast loading times, and compatibility with popular SEO plugins like Yoast SEO.
Mobile responsiveness is also crucial, since Google tends to rank mobile-friendly websites higher. Additionally, themes with built-in schema markup support can improve your music site's visibility in search engine results.


Social Media Integration
For musicians looking to build a following, having the ability to add social media icons is non-negotiable. This way, visitors can share your audio and video content on various social platforms, boosting your online presence.
Compatibility With Audio Plugins
Verify the theme's compatibility with WordPress audio players to showcase your music. Be sure to read user reviews and the theme's documentation to find any issues related to audio plugins.
These steps are important, as compatibility errors can disrupt your website's functionality and user experience.
eCommerce Functionality
If you plan to sell music, merchandise, tickets, or digital downloads, look for themes that support eCommerce integration.
One of the best eCommerce plugins for WordPress is WooCommerce, offering features like a seamless shopping cart and multiple payment options to streamline the overall shopping experience.
This plugin also enables you to create attractive product pages with optimized descriptions, images, and pricing.
Conclusion
Whether you're an artist, record label owner, music photographer, or blogger, selecting the right music WordPress theme for your website is critical.
Beyond aesthetics, look for responsive and SEO-friendly themes, as they can significantly impact your online presence and user experience.
It is also beneficial to consider features like social media integration, eCommerce functionality, and compatibility with music-related plugins.
To accelerate your research process, here are the best paid and free WordPress themes for musicians based on different use cases:
Astra and Neve are multipurpose themes with a rich template selection, giving you the flexibility to build any type of music website.
My Music Band is a freemium WordPress theme suitable for up-and-coming musicians seeking affordable solutions.
Meloo and Slide offer comprehensive music-related features designed for professional musicians with a larger budget.
Melody offers an integrated booking system and LearnDash compatibility – perfect for music schools and online classes.
Elevated Lite and Phase suit music-related businesses like record labels, concert promoters, and talent management companies.
ScapeShot is a visual-oriented theme, making it an ideal choice for music photographers.
Zeen is a great theme for music magazines and news sites, while Onair2 is more geared toward radio stations.
Now, it's time for you to explore these themes further and select one that best aligns with your vision. Good luck with your journey in the music industry!
Music WordPress Theme FAQ
Find answers to frequently asked questions about music WordPress themes.
What Is the Best Theme for Music in WordPress?
The best WordPress music theme depends on your specific needs. Popular options include Astra, Divi, and Meloo. Astra provides excellent flexibility, Divi offers a powerful page builder, and Meloo focuses on music-related features.
How Much Does a Premium Music WordPress Theme Cost?
The prices of music WordPress themes can vary widely – premium themes typically range from $29-100. Free themes are also available, but they may offer limited features and customization options.
What Are the Important Features in a Music WordPress Theme?
When choosing the best WordPress theme for musicians, look for features like responsive design for mobile-friendliness, customization options for branding, audio player integration, and SEO tools. Also, ensure the theme's design aligns with your style and genre.