How to Find Out What WordPress Theme a Site Is Using: 2 Easy-To-Follow Methods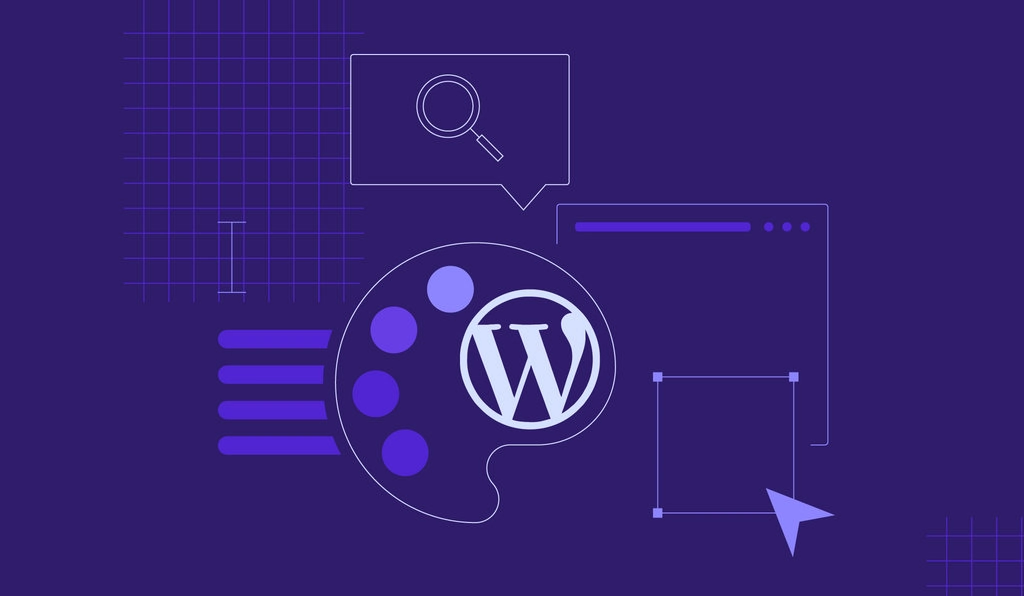 WordPress is known for its huge collection of easily customizable themes. When looking for inspiration for your WordPress site's design, you may come across several sites with visually attractive themes.
While some use custom WordPress themes that you won't be able to get, others may have chosen one that's available in the official directory or a third-party marketplace.
Knowing what theme it is will speed up the selection process, as you can install the same theme and customize it for your website.
In this article, we'll walk you through the steps on how to find out what WordPress theme a site is using.

How to Find What WordPress Theme a Site Is Using
There are two easy methods to find a site's WordPress theme – manually locating it in the site's source code or using a theme detector tool.
Using a Theme Detection Tool
The easiest method to find out a site's theme is using an online theme detector tool.
While it might not be able to detect one if it's a custom theme or the website owner has changed the theme name, it's still worth checking out the site's URL before proceeding with the manual steps.
You can use several online tools to detect what theme a WordPress site is using.
The WordPress Theme Detector by Satori Web Academy is a free online tool with a clean interface. It scans any web page to extract active theme information.
Simply input a WordPress site's URL into the text field and click What WordPress Theme Is That?. The tool will then present the theme name, description, and a link to its homepage.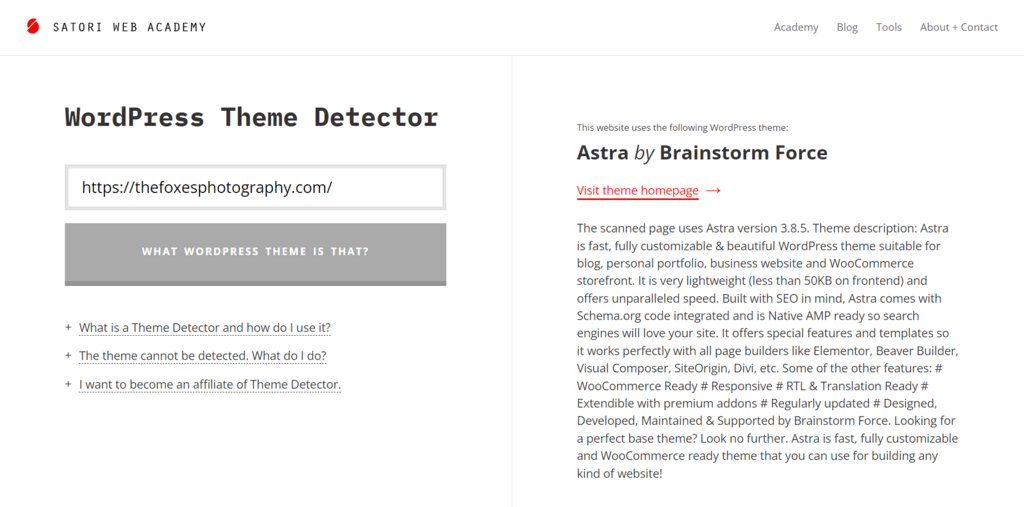 WP Theme Detector is another free tool that provides detailed information about the WordPress theme a particular website is using. Not only does it tell users the name of the theme, but also its popularity, license, and provider.
In addition to detecting WordPress themes, WP Theme Detector also shows which plugins are installed on the website.
To access the theme's official website, users can simply click the Download button.
Alternatively, you can use a browser extension like WordPress Theme Detector and Plugins Detector. This is a convenient way to determine what theme a WordPress website is using, as there's no need to leave the page.
Simply download the extension and pin it to the toolbar. Then, visit the site you wish to learn about and click on the extension.
After it scans the page, a pop-up showing the theme information will appear.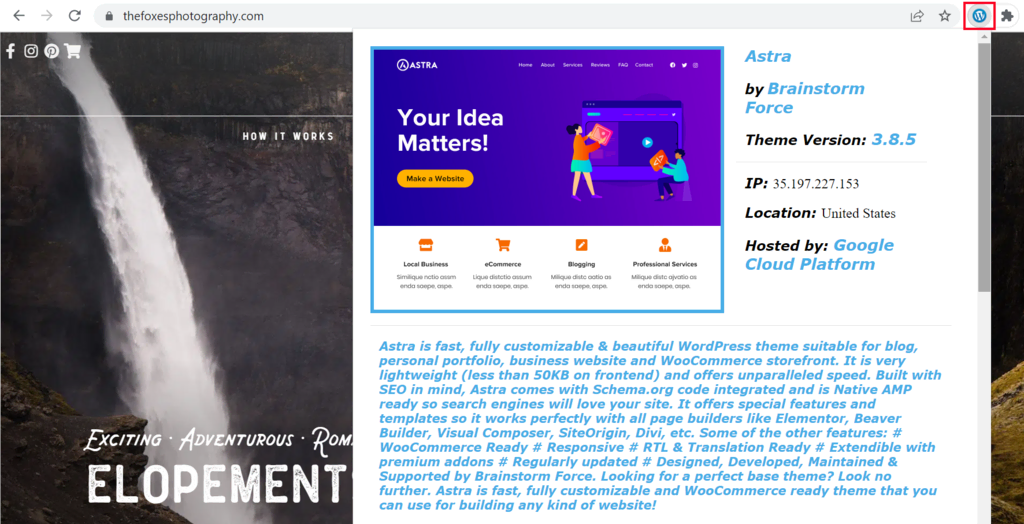 Installed plugins and page builders are also visible if you scroll down.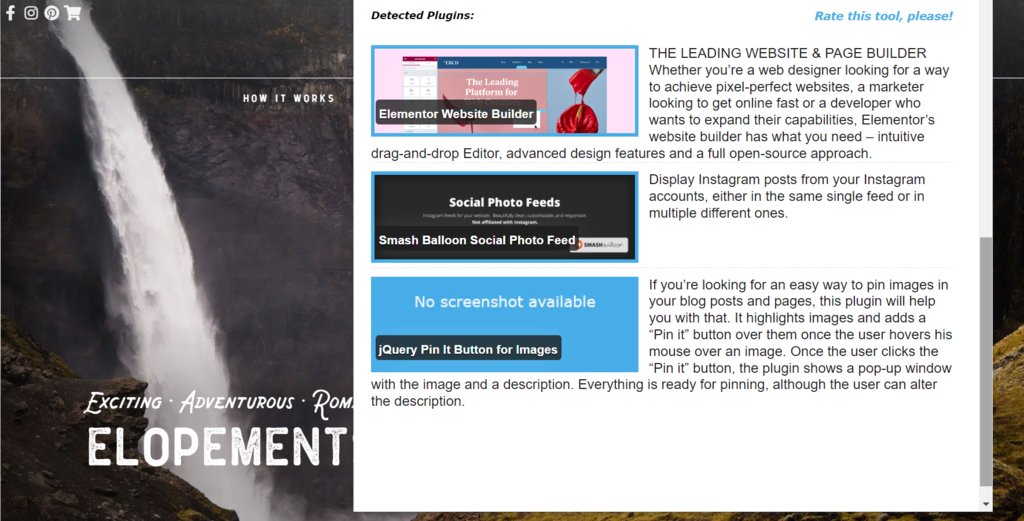 This browser extension is completely free. In addition to Google Chrome, it is available to install on Opera, Firefox, and Safari.
Manually
In many cases, a site owner may have changed the theme name or used a custom theme, which makes a detector tool unable to find the theme information.
In that case, you'll need to find the CSS file in the website's source code. You can use the View Page Source or the Inspect Element tool to do so.
Using the View Page Source Menu
First, go to the WordPress website. Then, right-click anywhere on the screen and select View Page Source.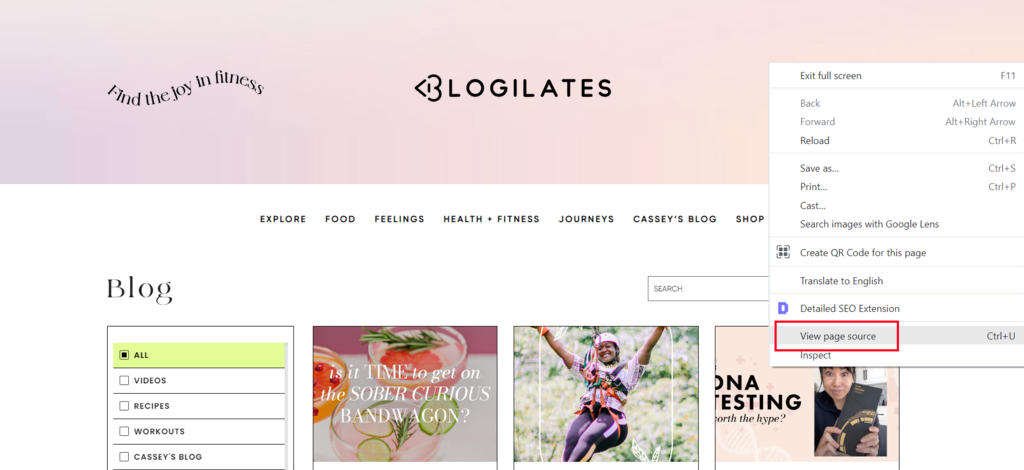 A new tab containing the page's source code will open. Once you click on it, you will see the page's HTML source code.
To locate the theme file, press Ctrl+F and type style.css into the search bar. It should be within the themes directory and wp-content sub-directory.

Next, click on the URL to view the style.css file. The theme header block at the top of the file will display the theme details. In addition to its name, it includes the theme version, author, and URI, which is the URL of the page where you can find more information about the theme.

In this case, Blogilates uses a premium theme available to purchase from ThemeForest, a third-party WordPress theme shop. Simply copy and paste the URI to access the theme's official page.
Furthermore, many WordPress websites use a child theme for customizing their design without modifying the parent theme. To see what parent theme a site is using, simply check out the Template parameter in the theme header block.

Using the Inspect Element Tool
Similarly, you can view a website's source code and access its CSS file using the Inspect Element tool.
On the WordPress site, right-click anywhere on the screen and select Inspect to access the Elements tab.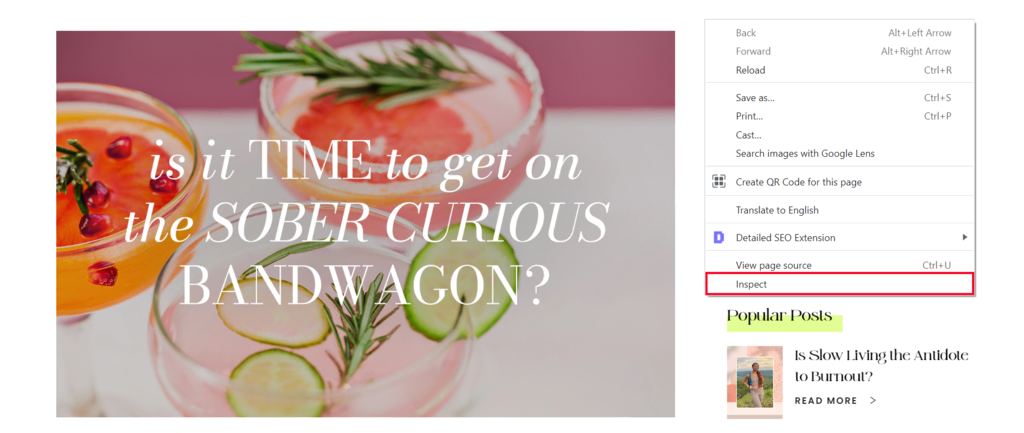 Once the Elements tab pops up, you will see the HTML and CSS code that make up the site. Use the Ctrl+F shortcut, enter style.css, and proceed with the same steps as the previous section.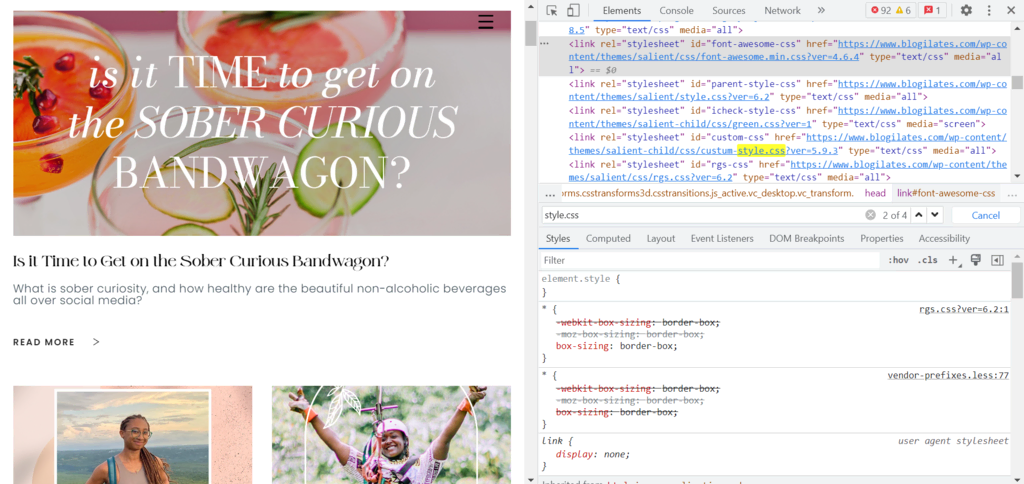 If you only managed to find the theme name in the style.css file, conduct a quick Google search to get more information.
Alternatively, look up the theme on the WordPress theme directory or popular third-party marketplaces like ThemeForest, ThemeIsle, and MOJO Marketplace.
Avoid downloading WordPress themes outside their official sources. Such themes could contain malicious source code, increasing the risk of security breaches and data theft.
Ensure the theme is appropriately licensed, publicly available, and provided by a credible source. Moreover, it's best to pick a theme that is user-friendly, easy to navigate, and loads fast.

Conclusion
Finding the exact same theme a WordPress website uses may serve as inspiration for your own website design.
There are two easy-to-follow methods to learn what theme a website is using:
Use theme detector tools. Simply copy and paste a site's URL to get information about its WordPress theme.
Manually find the CSS file. Right-click on the website page and select View Page Source. Next, press Ctrl+F and enter style.css. Alternatively, use the Inspect tool to perform the same steps.
Now that you know how to find out what WordPress theme a site is using, it's time to visit your favorite WordPress websites and put these methods into practice.
How to Find Out What WordPress Theme a Site Is Using FAQ
Here are some additional information to help you understand how to find out what WordPress theme a site is using better.
Why Is It Important to Know What WordPress Theme a Site Is Using?
Knowing the WordPress theme of a site can help in identifying its design and functionality, which is useful for creating a similar site or troubleshooting issues.
Can I Check If a WordPress Site Is Made By Coding?
No, it's not possible to determine if a WordPress site is coded from scratch or built with pre-existing themes and plugins just by looking at the site. However, you can examine the site's source code for clues.