The Best Website Security Software for WordPress Sites
Website security software is designed to protect your site against online threats. Not only can attacks be costly, but they can make your business look less trustworthy. Therefore, website security should be a priority to protect your data and online reputation.
Fortunately, we can help you find the best website security software for your website. Whether you want to make your site more resilient to spam, credit card hacks, or malware, you can rest assured that there's a solution to suit your business's needs.
In this post, we'll look at some of the most common security threats. Then, we'll show you how to choose the best website security software and explore nine excellent options. Let's get started!
Download Website Launch Checklist
Why Your Site Needs Website Security Software
Without website security software, your site may be vulnerable to several WordPress security issues. These vulnerabilities have been growing since people have been using the internet more than ever since the pandemic began. Not only do we use digital platforms for purchasing goods and streaming content, but many of us have also turned to remote working.
Meanwhile, cyber-attacks have become more sophisticated. For instance, the number of detected malware variants stood at less than 30 million just ten years ago. However, in 2020, this number reached nearly 678 million. Additionally, the Microsoft Digital Defense Report indicates that actors are using techniques that are harder to spot and threaten even the most diligent targets.
Here are some of the most common forms of online threats:
Spam. Not only can spam be off-putting for visitors, but it might also contain malware. Google's crawlers often detect malicious URLs. Therefore, your website might be penalized with a poor search ranking.
Malware. This is probably the biggest threat to your website, with 450,000 new malicious programs registered daily. Malware is used to access private data and drain server resources. It can also make money with ads or affiliate links. Malware can come from emails to employees, redirects, and direct hacks.
Distributed Denial-of-Service (DDoS) attacks. In 2020, 69% of large enterprises experienced an increase in DDoS attacks. These attacks use spoof IP addresses to overload your servers with traffic. Eventually, your website crashes, taking it offline and making your server more vulnerable to malware attacks.
Users can report your site as unsafe if your website is affected by security threats. As a result, search engines might place you on blocklists that warn visitors about accessing your site. These blocklists can be very difficult to get off and will likely deter other users from visiting your page.
Therefore, installing the best website security solutions on your website is vital to avoid these problems altogether. Rather than waiting for an attack, you can prevent security threats from the outset.

How to Choose the Best Website Security Software for Your WordPress Site (6 Factors to Consider)
Now that you know the importance of website security software, let's discuss six essential factors for choosing a provider.
1. Automation
Running a business and a website can be time-consuming. Therefore, looking for a solution that automates security tasks is essential.
You don't have to manually conduct scans and cleanups with an automated security service. Instead, security software runs in the background of your website, so you can rest assured that your website is safe and protected. Then, if an issue is found, you'll be immediately notified, usually via SMS or email.
With automation, you don't have to worry about securing your site yourself. This way, you can focus your time and effort on important tasks such as search engine optimization (SEO) and building your mailing list.
2. Preventative Measures
You'll sometimes need security companies that provide restorative services if your site is hacked. However, wouldn't it be great if the issue gets dealt with before it even affects your site?
Preventative security solutions do just that. The problem never gets past the gates of your website. A great example is a web application firewall (WAF), which prevents malicious traffic from getting to your site.

Additionally, your chosen security solution might use encryption protocols that make data unreadable if it's copied or stolen. Software patching is another preventative measure that keeps your site's software up-to-date and better protected against attackers.
3. Resolution of Common Threats
In your search for website security software, you may come across "all-in-one" packages that offer many tools and services that you might not actually need. Instead, you'll want to ensure that your chosen security company provides the exact protection you require for your business.
For instance, malware is rated as the most concerning type of threat online. Meanwhile, spam emails and DDoS attacks are more prolific in the United States, and phishing is a common problem for financial institutions.
Therefore, while investing in general security solutions is great, it may be more helpful to identify specific vulnerabilities for your website and location. Evaluating your needs can also affect your overall security costs. This is because all-in-one packages often mean paying for a bunch of features you don't use.
4. Customer Support
It's easy to believe that things can't and won't go wrong once your security software is installed. Unfortunately, that's not always the case. Additionally, if problems arise, it's good to know that you can quickly get in touch with people who can help you.
Therefore, we recommend paying attention to the support you'll get with your chosen security software plan. Typically, the more you pay, the better the support. Also, it's important to consider which types of communication you can access.
For example, live chat is great for speedy replies. However, sometimes, it can be more helpful to contact a real person who can provide in-depth guidance.
It can also be helpful to find out what customers have to say about a company's responsiveness. After all, if something goes seriously wrong with your site, you don't want to wait hours for someone to help you.
5. After-Care
We've already discussed the importance of finding a software solution with preventative measures. Additionally, the best website security services offer IT tools to help your site recover after an attack. Unfortunately, if your security platform can detect issues but can't fix them, you may need to hire additional security experts to restore your site.
Consider choosing security companies that provide blocklist removal, run anti-virus programs, and update your website following a security breach. With the right solution, you can get your site up and running again quickly, minimizing traffic and revenue loss.
6. Ease of Use
There are many security tools available for WordPress sites. However, some are only suitable for experienced users. Therefore, they might be challenging to set up for a complete beginner. Also, if this is the case, you may face extra costs if you require professional assistance during the setup process.
Therefore, checking out user reviews can be a good idea. Usually, you can find these on the software's product page. Additionally, Trustpilot is a great site for reading user feedback.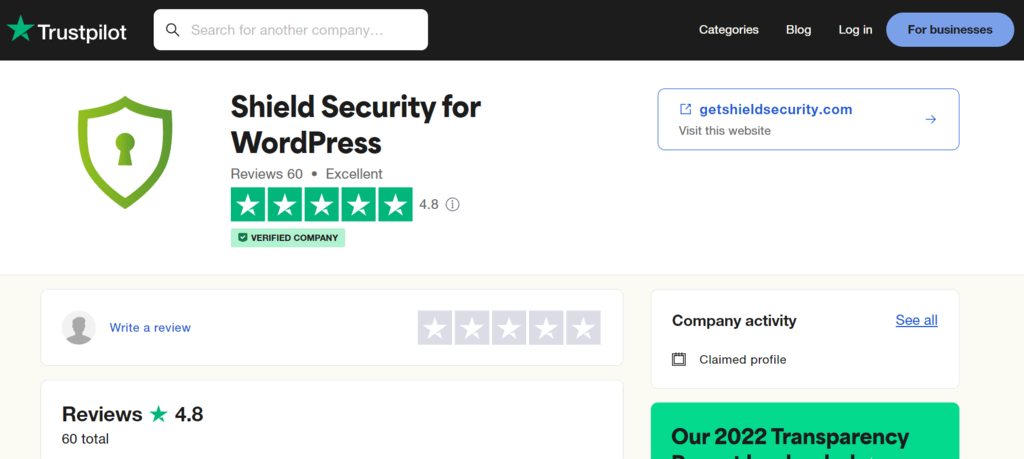 You can quickly scan star ratings and view more detailed customer feedback. You'll also be able to see if your chosen security company responds to reviews.
9 Best Website Security Services for Your WordPress Website
Now that you know what to look for in a security solution, let's look at nine of the best website services for WordPress security.


A content delivery network (CDN) is a global server network that enhances your site's stability and optimizes loading times worldwide. It ensures that visitors, regardless of their location, receive content from the server nearest to them.
Implementing this configuration improves site stability by preventing server overload due to excessive traffic, reducing the risk of website crashes. Additionally, a CDN can protect your site from DDoS attacks and malware.
Hostinger users running on Business Web Hosting and above plans can leverage this in-house CDN solution after registering. Now out of beta, it ensures enhanced performance and security from the moment you start using Hostinger services.
Features
Static website caching for faster site speed
CDN bypass mode and cache purging for quick flush cache
CSS and JavaScript minification
Data center rerouting to minimize downtime
Built-in website security, such as DDoS mitigation, SSL/TLS encryption, and a web application firewall
Price
Hostinger's hosting plans that include this in-house CDN solution start at $3.99/month. All plans come with a 30-day money-back guarantee.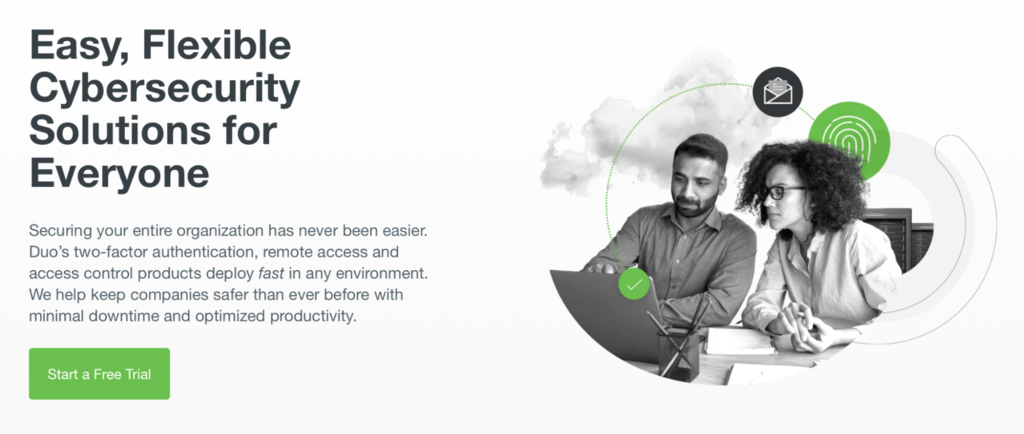 Duo Security is a two-factor authentication service that secures access to your site. It uses two sources to confirm your users' identities, such as a passcode and a message sent to a personal device. By ensuring that users are who they say they are, you can better protect your site against brute-force attacks.
More than that, you can take advantage of adaptive access, which tailors security specifically to your users and their access contexts. You can also go passwordless without scrimping on security for simpler logins and secure your site against phishing attacks.
Features
Secure remote access to strengthen security for remote users
Multi-factor authentication
Device trust, enabling you to find out the health status of devices accessing your apps
Price
Duo Security is free for up to ten users. Then, plans start at $3/month.

Dropmysite is a backup recovery tool that uses FTP, SFTP, or RSYNC to back up and store your files in a cloud database. It's fully automated and comes with a ton of extra tools, including uptime monitoring and performance reports.
You will benefit from a stylish, intuitive dashboard where you can recreate your web files and databases with just one click. Plus, you can download your local backup from anywhere at any time. What's more, Dropmysite is integrated with Google's Safe Browsing, so you can quickly check whether your site has been blocklisted.
Features
One-click restores when files become compromised or accidentally deleted
Secure storage of files on Amazon Web Services
Schedule additional backups as needed at no extra cost
Price
Plans start at $20/month for 50 GB. However, you can also set up custom plans. Plus, you can make the most of a two-week free trial to try before you buy.

Google Cloud CDN is an excellent option for websites that lack an in-house CDN from their web host. Its anycast architecture provides you with a single, global IP address. This way, you can maintain smooth, consistent performances worldwide.
Additionally, thanks to Google's high-performance caching infrastructure, you can deliver content on-premises or in any other cloud.
Features
Price
Cloud CDN offers custom pricing depending on bandwidth and HTTP/HTTPS requests.

Cloudflare is a WAF that analyzes all your traffic to ensure that it's not malicious. It can prevent targeted attacks such as malware, DDoS, cross-site scripting, and Structured Query Language (SQL) injections.
Cloudflare's security audit is automated. However, you can also define your own CDN rules, blocking IP addresses if you notice repeat attacks. Cloudflare also provides exposed credential checks, blocking the use of stolen credentials.
You can determine how you'd prefer to respond to threats. For example, the platform supports blocking, logging, rate limiting, and challenging.
Features
I'm Under Attack! feature (immediate access to additional protections against DDoS attacks)
Analytics and reporting to view blocked threats
Prevention of abusive login attacks using stolen credentials
Price
Prices range from free to $200/month, with a custom option for enterprises.

Sucuri is a WordPress security plugin that includes security optimization, remote malware scanning, and a website firewall (with the premium plan). It also claims to boost web speed by up to 70% thanks to its CDN. Plus, you can get malware removed quickly by security experts.
Moreover, Sucuri provides valuable after-care services, such as post-hack repairs that restore your website to its original state. Plus, the tool takes care of blocklist removal for you, and you can access unlimited cleanups at no extra cost.
Features
A 30-day money-back guarantee on restoring and repairing hacked websites
Blocklist removal to restore your reputation
Unlimited automatic and manual cleanups
Price
There is a free version, while paid plans start at $199.99/year.

LogicMonitor is a Website Monitoring Service (WMS) that operates in the cloud and on your site networks. It creates dashboards that give you insight into your site performance. Furthermore, you'll be notified of any present and incoming threats.
One of the best features of LogicMonitor is the user experience (UX). You can expect real-time actionable alerts and customizable reports. Plus, you can view data in digestible formats, such as beautiful graphs. Upon request, you'll also be presented with custom-tailored dashboards to find precisely what you're looking for.
Features
Phone, email, SMS, or Slack alerts for high-priority issues
Monitoring of network, server, cloud, and infrastructure
Over 2,000 integrations to customize your system and collect the data you need
Price
LogicMonitor uses a custom pricing model. However, you can try it for free before getting a quote.

Jetpack is a multi-purpose plugin made by WordPress experts. It's designed to make your site faster and more secure. For instance, Jetpack provides automatic real-time backups, easy restores, malware scans, and spam protection.
Jetpack is one of the best website security tools for spam and bot protection because it automatically finds and deletes spam comments. It also blocks suspicious activity and prevents brute-force attacks. What's more, Jetpack integrates with WooCommerce to provide top eCommerce security.
Features
Find out exactly which action or person caused your site to crash
Access one-click restores from the past 30 days
Use the comment and form spam protection features (10K API calls a month)
Price
Jetpack offers a free WordPress plugin. However, you can also opt for Jetpack Security, starting at $10.95/month.

Shield Security is an intelligent protection plugin that provides hack repair services. It's easy to set up and use and starts scanning your site straight from installation.
Shield Security protects against hacks, bots, and intrusions. Additionally, it automatically implements solutions such as hack repairs and bad bot blocking.
Furthermore, with its exclusive invisible CAPTCHA-replacement technology, you can limit login attempts, block brute force attacks, and prevent bot comment spam. Shield Security doesn't shy away from preventative services, stopping plugin-vulnerability exploitation, malware injection, password stuffing, and more.
Features
Detects known and unknown malware
Identifies security vulnerabilities in plugins and themes
Automatic blocking of bad bots and malicious IP addresses
Price
Shield Security is a free plugin. However, if you require 24/7 support, you can upgrade for $12/month.
Conclusion
Installing website security software can make your site more resilient to online threats. However, it can be challenging to choose with so many website security companies available.
Fortunately, this decision is easier when you know what you're looking for, whether that's a WAF, a fine-grained login procedure, or a secure place to store site files.
To recap, here are nine of the best website security services:
Hostinger CDN – optimizes website performance and security without the hassle of integration.
Duo Security – a two-factor authentication service.
Dropmysite – a fully automated backup recovery tool.
Google Cloud CDN – stabilizes your server to make it less vulnerable to DDoS attacks.
Cloudflare – a highly-rated WAF that filters out malicious traffic.
Sucuri – an all-in-one solution including malware scanning, SEO spam repair, and post-hack actions.
LogicMonitor – a fully-fledged website monitoring service.
Jetpack – an excellent option for spam and bot prevention.
Shield Security – excels at hack repair with additional security measures such as IP and bot blocking.
At Hostinger, we go to great lengths to protect your website against malicious attacks, including DDoS protection and weekly backups. Additionally, we provide world-class support if anything goes wrong on your site.