How to Make an eCommerce Website – Video Tutorial
Follow this step-by-step guide on how to make an eCommerce website to start making money online.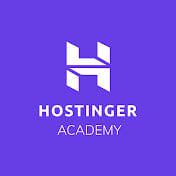 Subscribe For more educational videos!
Hostinger Academy
Subscribe
eCommerce stands for electronic commerce, which refers to all transactions completed electronically. Now, the term eCommerce also refers to online shopping.
In this video tutorial, you'll learn how to make an eCommerce website step by step:
Choose an eCommerce platform
Install eCommerce plugins
Add your products
Set up payment gateways
Secure your eCommerce website
Connect to your social media accounts
Double-check everything before going online
Follow this video guide to find out how to properly execute each step and make a successful eCommerce website.