8 Best Small Business Email Hosting Services in 2023 + What to Look For in Email Hosting
For a business, email is more than a medium to communicate. When attached to a custom domain name representing your brand, emails help to build credibility, establish trust with your audience, and improve your branding.
One of the ways to create a business email address is by using an email hosting service. The email host provides all the resources and tools you need to maintain your professional email address.
If you're looking for the best email hosting service, this article is for you. We compile a list of the eight best email hosting providers for small businesses. Several factors we consider include features, resources, scalability, and pricing.


8 Best Email Hosting Providers for Small Businesses
The following list of the best paid email hosting services isn't in any particular order. Therefore, we recommend reviewing each email hosting service and its pros and cons before making a decision.
If you're still on the fence about owning a business email, we have written a separate article about how to create an email account for professional use and its benefits.

Stats:
Rating: 4.8/5
Best for: small business owners who use Google products
Price: $3.60-$18/user/month
Google Workspace is the best email hosting service for small to medium-sized businesses with a cloud-based workflow and familiarity with the Google ecosystem. The built-in integration with Google Docs Editors, Google Drive cloud storage, and collaboration tools creates a cohesive workspace, improving team communication and productivity.
The email hosting service offers three plans ranging from $6-$18/user/month. New users can test the service using the 14-day free trial and get a discounted price of as low as $3.60/user/month for the first 12 months.
The mid-tier plan, Business Standard, offers small businesses the best value for their money. For $12/user/month, each user gets 2TB of cloud storage and can host and record meetings with up to 150 participants.
All email hosting plans are ad-free and include security features such as phishing and spam protection and two-factor authentication. Each user can add up to 30 domain aliases, while additional premium features for various Google products are accessible based on your plan.
Hostinger offers Google Workspace email hosting for $6/user/month. Our plan provides the same features and email storage quota as the Business Starter plan. It's an ideal solution for businesses, as you can access your email account via the hPanel dashboard, the same control panel that manages your hosting plan.

Stats:
Rating: 4.8/5
Best for: small business owners with a strict budget
Price: $0.99-$2.99/inbox/month with Hostinger
Titan is one of the most cost-effective email hosting providers that cater to small businesses and entrepreneurs. Despite its low starting prices, Titan provides robust features rivaling other popular email hosting services.
For instance, Titan can schedule an email and notify you when the recipient opens it. If you don't receive an answer, leverage the reminders feature to follow up. Email templates are also available to streamline your workflow.
Titan aids team projects by providing advanced filters, shareable calendars, and one-click email import features. The email hosting provider also supports IMAP and POP3 email protocols across web and mobile platforms, making communicating with team members in different locations convenient.
If you have a WordPress website, connect it with Titan's ecosystem using a plugin to access your email account from the admin dashboard. Alternatively, integrate Titan into your control panel using its iFrame widget and APIs.
Hostinger offers two Titan email hosting plans – Business Email for $0.99/month and Enterprise Email for $2.99/month. Both prices are per inbox and include built-in Calendar and Contacts functionality, as well as a web app and two-factor authentication.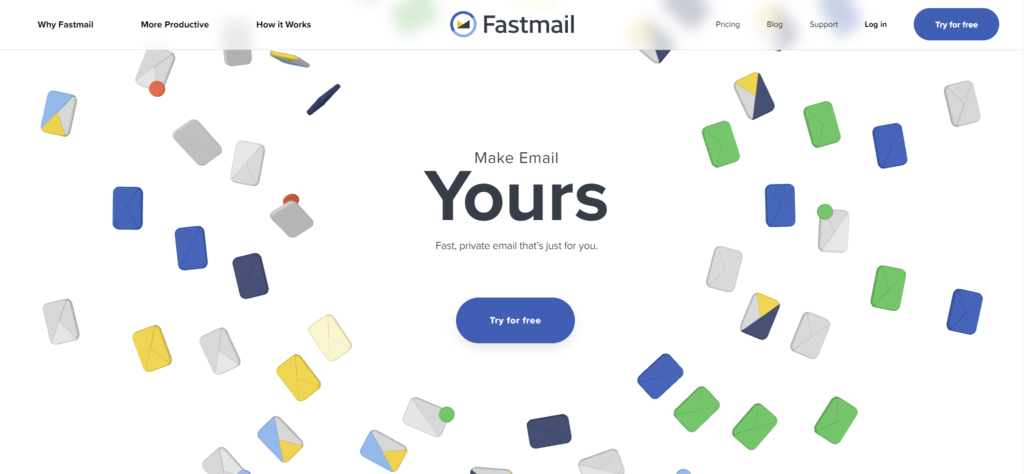 Stats:
Rating: 4.4/5
Best for: small business owners looking for a straightforward email hosting service
Price: $3-$9/user/month
Fastmail is an easy-to-use email hosting solution that focuses on improving team communication. It has an appealing interface with a great UX design and useful features to enhance productivity, which is ideal for small businesses that prioritize efficiency.
Besides providing standard email features like filters and contacts, this web-based hosted email service lets you snooze and schedule emails and set rules to organize your inbox. In the mobile app version, you can also set custom swipes for specific actions, streamlining your workflow.
Fastmail's web and mobile platforms have an intuitive interface that helps with contact, calendar, and attachment management via a single interface. Meanwhile, the recently launched custom themes and dark mode feature enable inbox personalization.
In terms of security, the email hosting provider offers a masked email feature powered by 1Password to hide your primary email address. Fastmail also provides IMAP, POP, and SMTP access and has policies guaranteeing your data's privacy.
This email hosting service is divided into three plans ‒ Basic, Standard, and Professional. Fastmail's Basic plan, costing $3/user/month, only allocates 2GB of email storage and basic inbox customization features.
The Standard and Professional plans offer small business owners better value for money. The former offers 30GB of email storage and integration with Outlook and iPhone Mail for $5/user/month. Opting for the latter gives you 100GB of email storage and the ability to archive emails for $9/user/month.
Fastmail includes a free email domain on all plans, so you can use its email hosting service without registering a custom domain. However, you must be on a Standard or Professional plan to connect a business domain to your email hosting account.

Stats:
Rating: 4.8/5
Best for: small business owners looking for a business ecosystem offering email hosting
Price: freemium (paid plans range between $1-$6/user/month)
Zoho Workplace is one of the best email hosting services that bundle their main service with collaboration and productivity tools. Like Google Workspace, this version of Zoho has an integrated ecosystem that improves the efficiency of your team's workflow.
For instance, Zoho has a chat function that facilitates discussions with multiple users, reducing long email threads. Equipped with meeting tools, the team calendar lets you schedule calls and join them via dial-in if there are connectivity issues.
All Zoho apps and office suites are connected to cloud storage for seamless file sharing. The integration also helps with team collaboration, task delegation, and task tracking. This is useful for businesses with team members working remotely.
The all-in-one dashboard has customizable app widgets that you can personalize to improve your workflow. In addition, real-time data syncs and combined notifications across all apps ensure you're always up-to-date.
Zoho productivity and collaboration apps are available in its Standard and Professional plans for $3/user/month and $6/user/month, respectively. The former offers 30GB of email storage and 10GB of cloud storage per user, while the latter provides 100GB of email storage and 100GB of cloud storage per user.
Alternatively, opt for the mail-only plan for $1/user/month and get basic email features. This plan lets you route messages, add up to 30 domain aliases, and access the built-in collaboration tool. Offline access as well as POP and IMAP protocol support are also available.
If you're on a tight budget, sign up for Zoho's free email hosting plan and host up to five email accounts. Each user gets 5GB of email storage, 25MB of attachment limit, and access to email routing features. Unfortunately, this plan only offers web access and connects to a single domain name.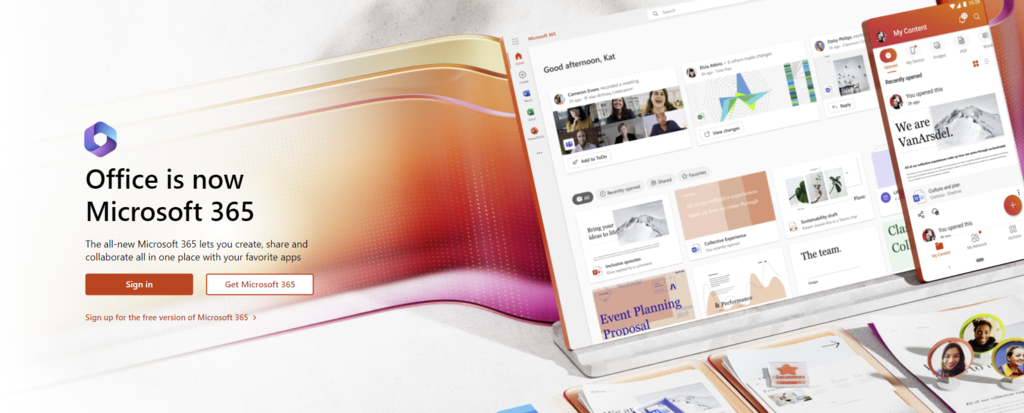 Stats:
Rating: 4.4/5
Best for: small business owners who use Microsoft apps
Price: $6-$22/user/month
Like Google Workspace, Microsoft 365 is the best email hosting service for users familiar with the platform's other products. This email hosting service includes the web and mobile versions of Microsoft Office apps as well as OneDrive file storage for collaborative document editing.
In addition to communication and collaboration tools, the email hosting provider also offers project and customer relationship management apps. You can track tasks, manage client appointments, and create custom surveys.
Microsoft 365 has four plans ranging from $6-$22/user/month. All plans include 1TB of OneDrive cloud storage per user, access to Microsoft web and mobile apps and services, and a custom business email for up to 300 accounts. Round-the-clock live chat and phone support are also included.
The most popular plan, Business Standard, allocates 50GB of email storage per user. For $12.50/user/month, you can hold a meeting with up to 300 participants and download Microsoft desktop apps for offline file access through up to five desktop computers.
If you don't need meeting and call features, the $8.25/user/month Apps for Business plan has all the features you need to enhance business productivity. However, it doesn't let you add a custom domain name or include 50GB of email storage.
As all plans come with the same amount of cloud storage and account limits, upgrading your subscription means accessing better tools to support your business workflow.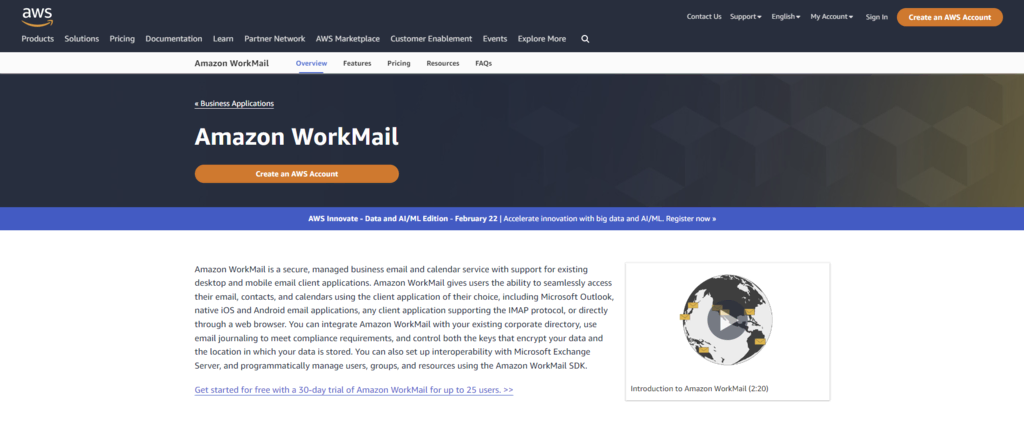 Stats:
Rating: 4.3/5
Best for: small business owners looking for a straightforward email hosting solution
Price: $4/user/month
This managed email hosting service works best for small business owners who prioritize simplicity in managing their emails. Amazon WorkMail only offers one plan for $4/user/month, so you don't have to worry about upgrading to unlock premium features.
As this email hosting service is part of the Amazon ecosystem, you must create an AWS account to access the AWS Management Console. After creating an organization, you can add up to 1,000 email accounts and 100 email aliases per user.
Amazon WorkMail has native support for Microsoft Outlook on Windows and macOS, along with other Amazon products like CloudTrail and WorkDocs. IMAP protocol support enables integration with email client apps like Thunderbird and Apple Mail.
As one of the best email hosting services for small businesses, it lets you set rules to filter all incoming email messages to optimize your mailbox. The built-in spam and virus protection automatically scan emails for malware, while the cloud file storage includes Amazon Web Services security measures to protect your data.
The email hosting plan gives 50GB of email storage per user. You can add up to 25 users for free for 30 days after signing up. In general, it provides sufficient resources and tools to support small business needs at a relatively affordable price.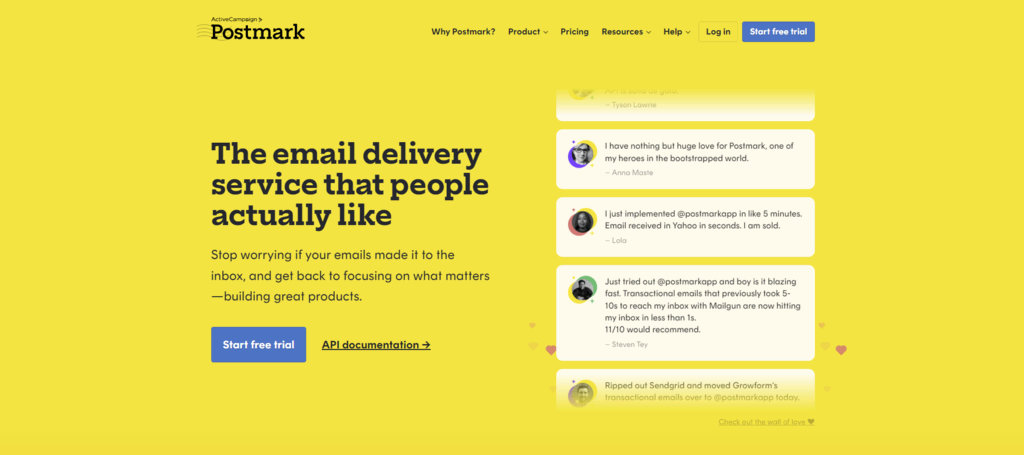 Stats:
Rating: 4.4/5
Best for: small business owners wanting to automate transactional and marketing email workflows
Price: starts at $15/10,000 emails/month
Postmark is a popular email provider geared toward businesses that primarily send transactional and marketing emails. It sells its service based on the number of emails sent and received per month, starting at $15/10,000 emails/month.
The email hosting service's main feature, transactional email, enables personalized email automation based on certain triggers. It's useful for lowering your cart abandonment rate, engaging with returning customers, and increasing customer retention.
Postmark routes emails by separating transactional emails from broadcast ones to achieve optimal deliverability. You can also purchase a dedicated IP for an additional $50/month if you send at least 300,000 messages monthly.
Every email's content, events, and metadata are stored for 45 days. What's more, reports and analytics provide insights into how recipients respond to your emails, which are useful for improving your email marketing efforts.
If you have technical skills or are considering hiring a developer, automate Postmark's functionality using its email API. The support team and API documentation are available to guide you through the integration process. Plus, you can experiment with the API by enabling sandbox mode.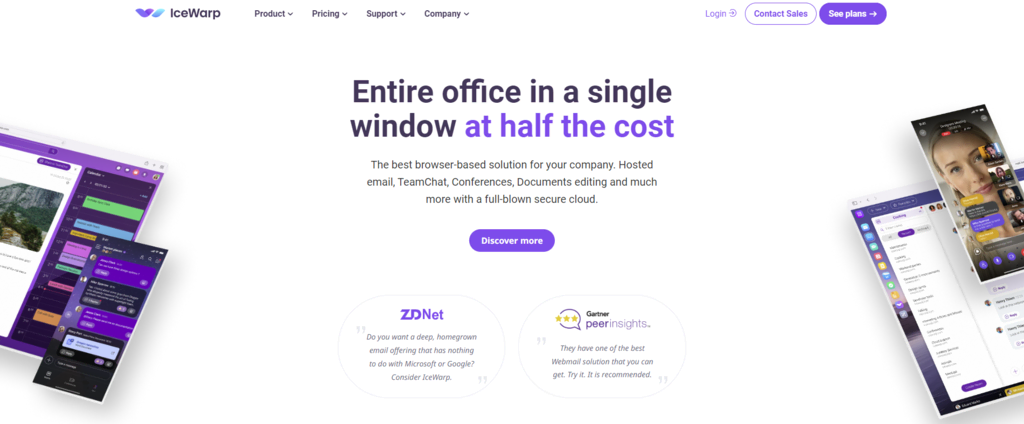 Stats:
Rating: 4.5/5
Best for: small business owners needing a scalable email hosting solution with robust meeting tools
Price: starts at $3.50/user/month
IceWarp is another business email hosting solution with meeting and productivity features. With apps available in web, mobile, and desktop versions and collaborative editing support, it's an ideal email service for businesses with remote teams.
The Conferences app lets you host a meeting with up to 1,000 participants. It comes with screen sharing and real-time chat functions to encourage discussion. Meeting recordings are also available in the call history for 30 days, ready to replay and share via email or link.
Meanwhile, the Documents app automatically saves your work in cloud storage. You can invite non-IceWarp users as external collaborators and have a real-time conversation with them in the document. It's also possible to enable password locking and file tracking features to prevent data leakage.
Currently, email support isn't yet available in the mobile version. However, TeamChat, Conferences, and Files are accessible via mobile so you can stay updated on the go.
The Business plan, costing $3.50/user/month, offers 200GB of email storage and 1TB of file storage. This plan includes calendar, recording, collaborative editing, meeting, and mobile sync capabilities, along with a free three-month subscription. Upgrade to IceWarp Desktop for $7/user/month if you want to unlock the desktop apps.
Alternatively, get the Startup plan for $25/month and unlock all the apps for up to 20 users, equivalent to $1.25/user/month. Mix and match the plans as your business grows to get the best value for money.
Types of Email Hosting for Small Businesses
If you want more email hosting options, consider looking into other ways to host your business email address. Each email hosting solution has its pros and cons, so consider your needs before choosing one.
Email Service From Web Hosting
Many web hosting companies offer email hosting services with their plans. Hostinger, for instance, includes an email account in all its shared hosting plans. The mid and top-tier web hosting packages offer a free domain name to connect with your professional email and up to 100 domain-based addresses.

This email hosting solution is the easiest to maintain, as the email account is in the same place as the web hosting account. It's also cost-effective, especially since you can get a free domain with your web hosting purchase.
However, since the web hosting provider offers the email service as a free add-on, it sometimes has limited features and storage for users.
Third-Party Email Hosting
Many email hosting providers offer dedicated resources and tools to host custom domains. They provide security features protecting your inbox from cyber threats like malware and phishing attacks, ensuring optimal deliverability.
Certain email hosts also let you have unlimited email addresses on multiple domains. Many even offer productivity and collaboration tools to enhance your workflow.
However, you must register a custom domain name if you don't want to use the email hosting provider's free domain. In addition, advanced features and larger storage space are usually only available with higher-tier plans, which may be unattainable for small businesses with limited budgets.
Self-Hosted Email Servers
If you want the ultimate freedom in managing resources, consider hosting a private email server on your local computer. As the sole owner of the email server, you have control over its privacy and configurations, allowing you to personalize it however you want.
For instance, you can create unlimited email addresses on multiple domains. It's possible to allocate different amounts of storage space based on user roles to optimize server resource usage. Depending on the computer's disk space and your budget, you can also enjoy unlimited storage.
Many self-hosted email servers like Modoboa and WildDuck Mail Server offer basic features and security tools to streamline the setup process on your local computer. Alternatively, set up your email server on a VPS for ultimate control.
This email hosting solution is the most challenging of the three despite its flexibility. Since it's self-hosted, the admin must configure their email server independently. Not having the required technical knowledge to maintain it properly can result in costly issues that disrupt the business' workflow.
What to Look For in an Email Hosting Service
When searching for the best email hosting solution for your small business, consider the following factors:
Ease of use. Picking an email hosting service with an easy setup and user-friendly interface can improve your workflow and make leveraging the platform's full potential easier.
Custom domain support. This feature is one of the reasons why businesses opt for paid email hosting services instead of free ones like Gmail. Additionally, having a business email address with a custom domain name helps to improve the company's credibility.
POP and IMAP access. Both protocols let you connect your email account to an email client, making it accessible from multiple devices.
Functionality. Besides basic email functionality, an email hosting provider should offer additional features to enhance team productivity and communication.
Storage space. Consider the amount of email and cloud storage space you get before subscribing to a hosting plan. Make sure you can scale up to accommodate your business' growing needs.
Security. Your chosen email hosting provider must have robust security measures to protect your email from various threats and ensure data privacy.
Pricing. Consider hidden fees and renewal rates when narrowing your options. High-priced email services aren't always better than more affordable ones, so choose an email host that fits your budget.
Conclusion
Many small businesses migrate from free email services to premium ones due to their various benefits. Besides custom domain support, paid email hosting services often offer comprehensive business tools to improve your organization's productivity and communication.
We have reviewed our list of the best email hosting services for small businesses. If you're on a tighter budget, check out Titan and Fastmail or buy a web hosting plan that includes a free domain and email address.
Alternatively, consider Google Workspace, Microsoft 365, and Zoho Workplace for all-in-one email services with integrated business tools. They have great scalability and a wide range of functions, enabling you to scale up as your business grows.
We hope this article helped you find the best business email hosting provider for your company. Good luck!